We'd like to take you through the best utility sinks of 2023 to help make the right selection for your daily chores at home.
Utility sinks are usually located in a specific area to ease your tasks and increase your efficiency. You can put a nice-looking tub in the laundry room to wash clothes, or in the garden to clean tools. 
You can improvise and choose a utility sink with cabinets that can accommodate all your items and accessories. Utility sinks can be equally helpful in washing and storing any household equipment. 
Moreover, there are various types of utility sinks that come completely assembled to suit your needs. What's more, they can be customized to help improve washing and cleaning.
Depending on what you are looking for, we have put together a list of top-quality utility sinks to help you choose the best of the lot available today.
What Is a Utility Sink?
A utility sink is a type of sink used for various utility tasks as the name suggests. It is usually larger than a standard bathroom sink and can be made from different materials such as ceramic, porcelain, marble, stainless steel, and even cast iron. They are usually installed as drop-in sinks which means they are placed in an opening cut into the countertop or cabinet.
This allows for easy installation and great flexibility around the cabinet or counter in which they are placed. Utility sinks are commonly used for laundry rooms for washing clothes, cleaning large items such as pots and pans, pet bathing and grooming, and general cleaning. For these uses, stainless steel sinks are often chosen as they are highly durable and resistant to scratches while also being easy to clean.
Best Utility Sinks and Laundry Sinks
Are you looking for the best utility sink? From stainless steel to cast iron, you'll find the perfect sink for your laundry room, basement, garage, or outdoor workspace. Here is the list of the 11 Best Utility Sink to help you keep your household clean and clutter-free!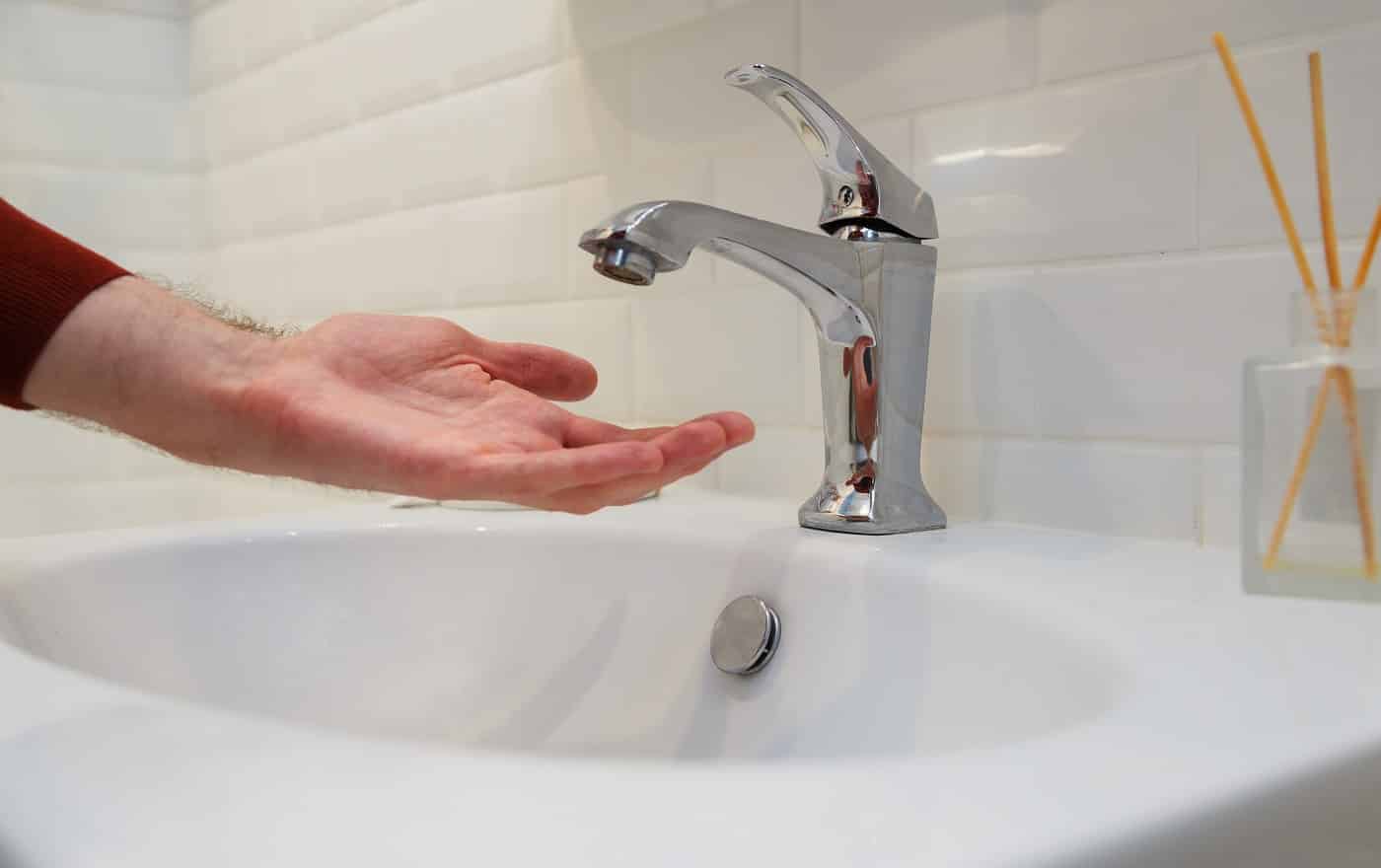 This sleek utility tub comes with a chrome faucet that fits easily into your workshop, laundry room, washroom, or garage area. The laundry tub has a classic look and is also black in color, which adds style to the look of the room where it is installed.
Why Did We Like It?
The best part about this utility sink is that it is both rust-proof and stain-resistant. That helps take care of complex and cumbersome jobs that could otherwise cause damage to the sink. This laundry sink is quite rugged and can help with almost all cleaning requirements at home.
Also, the drain of the sink is molded into the tub for easy drainage. The sink has a standalone base that can be fixed to the floor using pre-cut holes. You will find these holes just beneath the leg-levelers.
The best part is, it is easy to install this sink in the house all by yourself. There is a step-by-step manual available, which is easy to follow. The levelers can be adjusted to sit the whole tub perfectly on rough or uneven surfaces and provide stability.
The tubs are freestanding stations that help in washing and cleaning efficiently.
What Could've Been Better?
Some parts of the tub are made of plastic. For example, the legs seem too thin for the entire apparatus to seem sturdy. Even though the sink has many valuable features for your home, this one problem might keep you from buying the sink immediately.
Pros
Pull-out faucet

Slop sink

Helps ease heavy work

Easy floor installation
Cons
Some parts made of low-grade material

Short life-span
The advantage of having this sink is that it has a faucet with a high arc. That gives you the option of washing large things in the tub. The faucet can also be pulled down for spraying water to remove stubborn dirt. Along with that, drainage equipment and supply lines accompany the set for complete installation.
Why Did We Like It?
The washbasin is large and can accommodate a lot of items. The faucet not only gives more room for cleaning oversized things, but it also helps in making the washing process easy and comfortable. 
Apart from the high-arc, the faucet in this utility sink has both stream and spray functions. It can also be pulled down to blast a stream of water on stubborn dirt and stains. The pull-down function gives the flexibility to maneuver the faucet as you want. 
Moreover, the entire set comes with all the accessories required to fix the sink in place at home. There is an instruction guide and customer support is also available for you to reach out to if there is a problem with the installation.
The best part is, you would not have to buy any accessories apart from the set with this Vetta utility sink providing everything for a clean home!
What Could've Been Better?
The sink is sturdy and can also stand alone. But without fixing it to the floor, or the room's wall, it tends to flex. Some flex is perhaps alright in a sink; the trouble is, this product seems to flex a lot without the necessary stability of a floor or wall mount.
Pros
Both stream and spray faucets

Washes large items

Durable sink faucet

Good design
Cons
Instructions can be difficult to follow

Sink may require wall/floor mounting
The sink is perfect for washing and cleaning all oversized and bulky items at home. The metal legs are sturdy and have a smooth black finish. The legs keep the tub stable even when it is full of water. The utility sink is available in 4 attractive colors.
Why Did We Like It?
If you are enthusiastic about customizing a utility sink, this JS Jackson is perfect for you. The tub comes with plenty of holes and a slop sink without an attached faucet. These holes can be used to customize the sink's abilities according to the kind of utility room that has to be set-up.
So, add a soap dispenser, a side spray, and many other accessories to the sink you like most for the utility room. The tub has several preformed holes that can accommodate any faucet you choose in order to customize the utility sink.
To install the faucet, all you have to do is punch out a 1″ hole in diameter. There are seven preformed holes available in this set. Any 4″ or 8″ faucet can fit into these preformed holes. In case you have a larger or more widespread faucet, just drill holes into the existing options.
What Could've Been Better?
The tub is large and spacious, but the slope of the design is such that it could cause water retention. The pitch of the sink is something to watch out for. You could get this fixed by a professional if the problem occurs while washing and cleaning.
Pros
Fairly easy installation

Rust-free

Durable

Customizable sink
Cons
Might be unstable

Improper drainage
This sink has a stainless steel tub with a large basin. It has a single-handle chrome faucet that includes hoses. The drain is simple without any inner basket. The entire design is sleek and enhances the room's look – be it a mudroom, laundry, or garage.
Why Did We Like It?
The quality of the stainless steel used for the body of this utility sink is high-grade. That ensures that the sink lasts long at home, as the wear and tear are quite slow due to the high-grade material.
Also, the sink is easy to clean and maintain. The body is sturdy and looks good in any room of your house. In fact, it looks as professional as any of the sinks usually found in a cafeteria or a restaurant.
The installation is fairly simple as well. You can do it all by yourself, or get expert help to fix the sink properly in any room. It also offers complete value for money as it combines the functions of a utility sink with great design. The features and look of this sink make it one of the best utility gadgets for a home!
What Could've Been Better?
The utility sink is bigger than the usual utility sink. The disadvantage is that it can occupy a large part of the room which might make your home feel congested and uncomfortable. This product has to suit the dimensions of your room to be worth your while.
Pros
Durable

Handles tough tasks

Easy wall-mount installation

Swiveling faucet
Cons
Early rusting may occur

Might occupy too much space
The KHU24L is one of the largest kitchen sinks that can be found in the utility sink range. It is excellent for washing oversized objects and is built to support all kinds of washing and cleaning. 
So, put it in a greenhouse, or workshop today to wash up all the big items!
Sale
Why Did We Like It?
It is a unique home utility sink that has been inspired by professional sinks used in restaurant kitchens. The designs are made to suit the modern home, so you would surely be happy when you notice those square-shaped designs.
The body of the sink is resistant to denting, as it is made of T304 stainless steel. It also has an 18-gauge thickness. These features aid both strength and longevity of the utility sink. It has NoiseDefend soundproofing technology that lets you enjoy a quiet time while washing and cleaning.
Also, the utility sink is long-lasting with corrosion and rust-resistant features. The resilience of the sink makes it a handy tool to clean and wash those oversized items at home that could be difficult to wash otherwise. 
Lastly, the sink's finish is satin smooth; it can easily fit into your home and match the interiors flawlessly. 
What Could've Been Better?
You might notice that water does not go entirely down the drain while washing utensils, clothes, etc. The water may not flush down 100% after cleaning because of the angle of the base of the sink. You could get a professional to fix the problem if this occurs.
Pros
Durable

Easy to Clean

Rust-resistant

Resilient
Cons
Some plastic accessories

Faulty drainage
The tub is made of polypropylene and can stand on its own. In other words, it is a freestanding tub that can be mounted on the floor. The 14CP also has a great look and sturdy body that complements your house both in terms of style and stability.
Why Did We Like It?
A simple utility sink can be very handy for washing and cleaning which is a daily requirement in all households. The 14CP utility sink is excellent for light and everyday jobs at home.
What's more, the sink can be put outside in the yard and used for multiple functions. For example, clothes can be washed just near the clothesline on a bright, sunny day. The small yard tools can be cleaned up right after use. All the more, the installation in the yard can be done quite quickly without any trouble. 
So, for the yard installation, all you need to do is buy a simple adapter that would attach the hose to the utility tub. Let the drain run out into a tree hole or a large plant, and you are ready to wash the dirt off all your tools, utensils, and equipment!
What Could've Been Better?
The leg levers are an essential part of the sink that stabilizes it in the utility room. However, be cautious about the leg levelers that come with this setup. They do not support the weight of the entire sink for long-term use sometimes. Check the levelers before choosing this sink. 
Pros
Easy floor mount installation

Easy to use

Easy to operate
Cons
Non-durable materials

Average leg leveler performance
The utility sink is constructed with strong materials such as stainless steel and PB MDF. It has a high-arc faucet that can swivel easily. There is also a cabinet beneath the sink with two Shaker-style doors. The cabinet gives plenty of room for storing things in the utility room.
Sale
Why Did We Like It?
The cabinet and the Shaker-style doors are sturdy and have a simple yet unique design. The sink can look good in any utility room at home. Just place it where your washing and cleaning jobs need to be done.
Also, the storage area of the cabinets is quite big; it can accommodate a lot of things related to the chores that you do at home. For example, the white cabinet can store laundry, washed clothes, soaps, cleaning agents, detergents, etc., all in one place for your convenience.
Moreover, the cabinet is useful and decorative, as it can tuck away the small things you need while enhancing the house's overall look. The good news is that the cabinet and the sink combo are pretty easy to install by yourself.
Lastly, the faucet has a toggle switch that can help turn either stream or spray functions on as per your need.
What Could've Been Better?
The sink is prone to denting if a heavy object is put in it or accidentally dropped in, without you meaning to do so. Otherwise, you can freely wash any lightweight thing that needs cleaning and store it away later in the cabinet. Maintain proper precautions while using this gadget. 
Pros
Easy and clear instructions

Deep sink

Easy to install

Sturdy
Cons
Might need wall mount

Cannot handle much weight
The sink and cabinet combo have a faucet with a flexible neck. The cabinet is pre-assembled which helps save time during installation. It is made of brushed nickel and Shaker-style doors that enhance its look. It is good for everyday use and decor with ample storage space and an excellent finish.
Why Did We Like It?
The sink is made of 19 gauge stainless steel and serves as a powerful agent in cleaning and washing at home. It is handmade and features an integral backsplash as well. The sink also has a center drain location and a pre-drilled faucet hole. There is a matching strainer for your convenience at all times.
Also, the sink bowl is large and spacious, with a 13-gallon water capacity. Fix it in the laundry room or the garage and find the perfect utility for this new Transolid sink. The faucet has a flexible neck covered with white silicone, which looks good with the entire product.
You would love the garden hose adapter that comes with the faucet. The dual-function spray head with a 1.8 GPM flow rate and the ceramic disc cartridge are impressive additions. All these parts and features make this faucet superior in quality and design.
What Could've Been Better?
The utility sink is excellent if you have lightweight things to wash. The features and functions of the sink make it a good value for money. However, make sure your requirements at home are not heavier than the sink's weight limit. Do be careful and attentive about its weight-bearing capacity.
Pros
Easy to use

Adjustable legs

Easy DIY soap dispenser installation

Multiple function faucet
Cons
Small laundry load capacity
The 040 JS6503SS from Jackson Supplies is a rectangular-shaped tub made of metal, plastic, and ABS. It has a freestanding mode of installation. The faucet of the utility sink has metal shanks and handles and is constructed of metal overall for a sturdy and solid performance over a long duration.
Why Did We Like It?
Both the tub and the faucet are made of resilient and good-quality materials. That gives the tub and the faucet durability and an excellent finish. You definitely have a good buy in hand when it comes to the longevity and look of this tub.
The convenience of having this sink is that it solves all your washing and cleaning problems in one go. The high-end faucet adds far more functions and style than the good old kitchen faucet to your specific utility room!
Also, the faucet has a high arc and leaves lots of room for washing and cleaning bulky clothes and other items. The arc also helps avoid the need to maneuver the faucet to wash things, making it easier for you to focus on getting them cleaned quickly.
Finally, the sprayer can be pulled down to wash those corners and edges that are difficult to reach while washing.
What Could've Been Better?
The sprayer is of great utility as it washes off stubborn dirt from clothes and other items. But the sink tends to flex when the spray hits the back of the basin. That could make you uncomfortable as the product might seem fragile and make you hesitant about its durability.
Pros
Multipurpose utility kitchen

Illustrated step-by-step instructions

Rust-proof metal legs

Compatible with garden hoses
Cons
Sink flexes with strong spray

Trap may need early replacement
The RVU6100 is a 16-gauge premium utility sink built with stainless steel that has a modern look. The sink is perfect for mudrooms, laundry rooms, and other utility rooms. In fact, the stainless steel construction is best suited for the mudroom, but can easily adapt to different kinds of rooms.
Why Did We Like It?
The bowl in the utility sink is big and can accommodate large items for washing and cleaning. At 12″, it can fit any big bucket, so you can even wash your boots in the sink! The rinse grid of the sink is made of stainless steel that allows water to flow freely.
Moreover, the material protects the sink bottom from getting scratched by heavy or long hours of washing. The brushed finish of the sink helps hide scratches. The body is built and finished to match standard appliances in the kitchen.
What's more, the grooves in the drain are designed to perfection. There are four grooves in the drain at the bottom of the sink channel water that bends towards the drain. That helps in keeping the sink dry and clean.
Finally, the sink is covered in heavy SoundGUARD padding that minimizes noise while it is in use.
What Could've Been Better?
The stainless steel material is A-grade and can last quite a long. But the sink, unfortunately, has to be handled with care. The corners and the body are prone to bending and denting and cannot be used roughly. That means an accident might leave unwanted bumps and scratches in the body.
Pros
Rust-proof

Stain-proof

Thermal insulation

Easy waste dispensing mechanism
Cons
Stainless steel material can bend easily

Rust spots may occur
This utility tub is an upgrade from the previous one and is constructed of ABS plastic and metal. The mixture of materials makes the tub great for long-term use. Not only that, the faucet is an updated version of the previous one with multiple functions.
Why Did We Like It?
The high-rise faucet is excellent for filling up buckets and cleaning dirt off difficult items. It has a tall arc that gives plenty of room in the sink for you to be able to clean oversized and heavy items.
The best part is that the faucet need not be moved around at all due to the kind of space available with the high-rise arc. Also, there is an attached side sprayer that can be used to hose down dirty items easily.
Also, the thermoplastic tub is a well-built and long-lasting friend in your utility room. It has a large capacity and is made so that it can easily match the look of your home. Just fill the water up to the brim in the sink. See for yourself how stable the tub is standing on its sturdy metal legs and adjustable feet.
What Could've Been Better?
The drainage in the sink could be a bother as the sink is flat-bottomed. The slope could need fixing, which would mean getting professional help and additional expenses. Apart from that, this utility sink can be a good option for your daily needs in the house.
Pros
Durable kit

Easy to use

Rust-free metal legs

Budget sink
Cons
Incomplete water drainage

Could need careful installation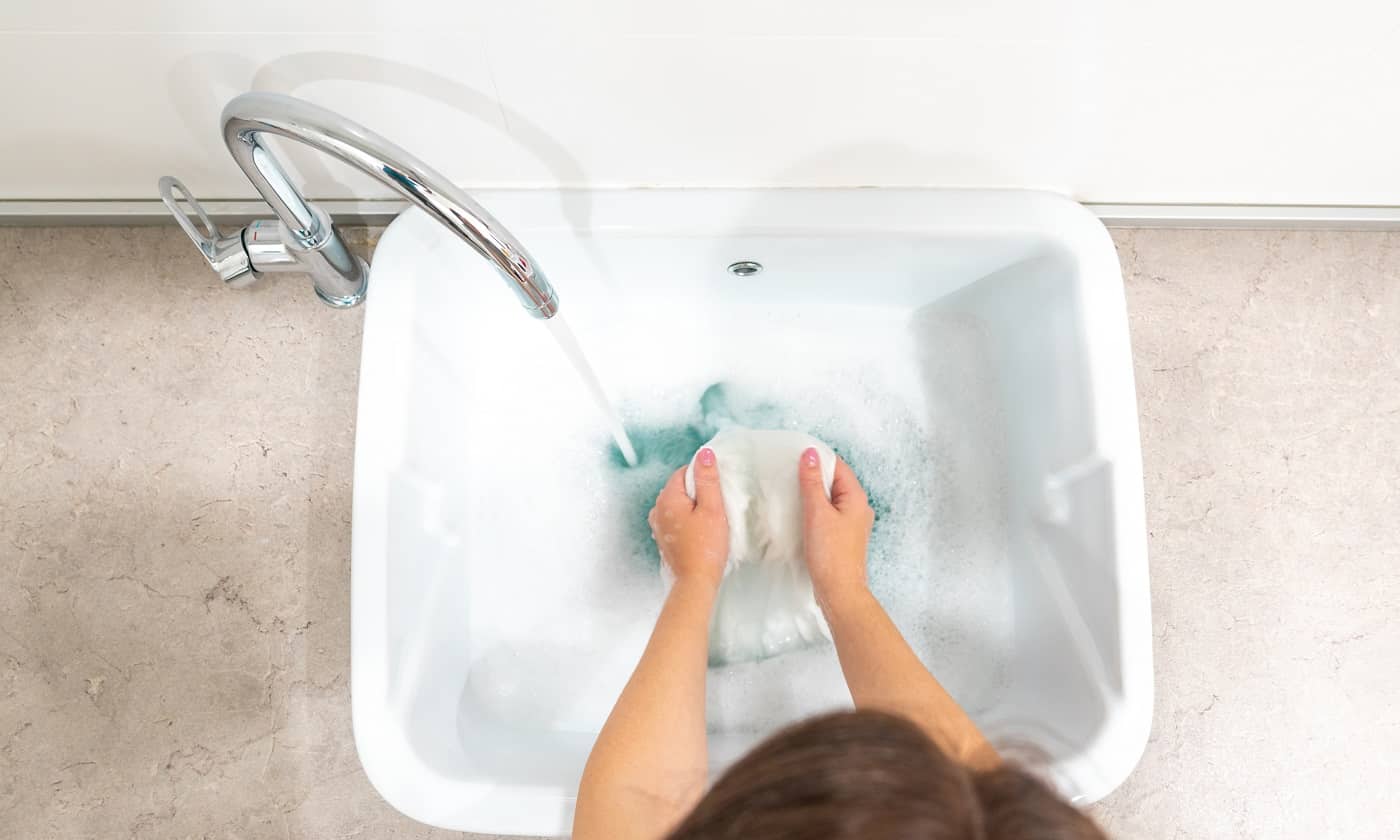 Benefits of a Utility Sink 
Utility sinks are a great addition to any home, offering the perfect place to clean up after projects, a safe place to wash your pets, or more commonly: a place to take care of laundry.
These versatile sink ideas can be installed in a base cabinet, mounted on the wall, or even as a floor-mount sink, they come in all materials, shapes, and sizes. A stainless steel laundry sink is the most common sink, and the most common mounting type would be undermount sinks, this sink setup is ideal for those who want a utility sink that looks stylish and modern.
Utility sinks are also incredibly durable and easy to maintain, making them an excellent choice for busy households. With so many benefits to choosing a utility sink, it's easy to see why they remain popular today.

It is worth noting that your home deserves to look great and a utility sink can help in that regard as well as it keeps the less-desirable day-to-day washing activities off the main sink, thus allowing you to splurge on the main bathroom sink or kitchen sink without worrying about damaging it.
It goes without saying that a dedicated space for a laundry room, a mudroom, or a wet room can also increase the value of your home overall, a feat to which utility sinks come in as well.
Factors to Consider When Selecting a Utility Sink
Size
When selecting a utility sink, it is important to consider the size of the sink to ensure it will fit in the allotted space. Consider the size of the room, the size of the countertop, and the size of the sink itself.
Measure the area and compare the dimensions of the sink to make sure it will fit properly.
Measuring the items that you are planning to wash regularly and how easily they would fit into the wash basin is the important sizing tip. As you can imagine washing a large pet in your small utility sink in the wet room might be impossible, in this case, a large sink would be fitting.
Material
Utility sinks are typically made of stainless steel, cast iron, or plastic. Each of these materials has its own advantages and disadvantages depending on the specific application. Stainless steel is durable and easy to clean, while cast iron is more expensive but also more resistant to wear and tear, enameled cast iron can last for centuries and look like new after decades with a new layer of enamel. Plastic sinks are generally lighter and more affordable, but they are less durable.
Price
Utility sinks can vary widely in price, depending on the size, material, and brand.
A major factor in deciding how much the utility sink upgrade is going to cost is deciding how you plan to use it and the areas of the home that it will cover. A kitchen or bathroom sink might need a more upscale look and premium material along with a better fit and thus bigger installation costs while mud room or laundry room sinks might come with a cheaper installation cost.
Soaking laundry is also different than washing pets so the style of the sink is extremely important in pricing, a freestanding cast iron sink might be a bit more utilitarian and better for washing pets than a beautiful under-mount stainless steel utility sink in a laundry room, which would only hold laundry and would be less expensive.
Make sure to do some research and compare prices before choosing the right style of the sink for your use case. Consider the quality, durability, and longevity of the sink when making a decision, rather than just looking for the cheapest option.
Installation Method
The installation directly affects the functionality of the sink. For instance, freestanding sinks are relatively easier to install but are smaller than those mounted on the floor. Similarly, under-mounted sinks are mostly installed near countertops.
It all comes down to your room's layout. So, use your best judgment and buy accordingly. These are some of the popular sink mount types.
Freestanding – These models can be installed anywhere, and they usually come with a cabinet.
Wall mount – These types of laundry sinks are attached directly to the wall and are suitable for those with limited space.
Undermount – Installed beneath countertops.
Floor mount – They can be mounted on the floor by screwing into it.
Weight
A laundry sink's weight may be the least of concerns, but it's an important factor nonetheless. If you opt to go with a wall-mounted option or an undermount option, you will need to provide extra support for stability. However, floor-mounted options do not have this problem. Again, it mostly comes down to the construction of your laundry room.
Drain Positioning
The drain is mainly located in the center of the laundry sinks; however, many models have them on the corners. Sinks with off-centered drain are more versatile as it lets you keep items on one side and wash them on the other side.
Sinks with a drain in the middle allow for better drainage as the bottom is usually sloped toward the hole.
Utility Sink Buyer's Guide
It is alright to feel overwhelmed even after reading our comprehensive reviews to choose the best utility sinks for your home. Just follow the buyer's guide that we have added to this review. We realize you need important insights to pick the perfect sink that can help ease tasks at home.
A utility sink is an appliance that can last for a long time. You must always look for an option that you can use for many years, like a refrigerator or a cooking range. Luckily, many utility sinks offer not only longevity but performance, versatility, as well a finish to match home décor.
You will not even need to change the look of your home when you decide to buy a sink for the chores that are frequently performed at home. These latest sinks in our review will help you in quick and easy decision-making to set up a utility room..
Also, we have factored in the latest technology and features of the best utility sink in the market. Just consider the following characteristics before homing in on the sink you want to buy.
Durability
Always check for durable material in the main parts of the utility sink to ensure you are getting the best deal. For example, in a sink that offers a tub, adjustable feet, legs, cabinets, a faucet, etc., each part should guarantee the quality of the materials that are used.
So, if the base materials of the utility sink are durable, you stand a better chance of investing in a superior sink that can last you for a long time, utility sinks are made in all materials, and cast iron utility sinks can be as durable as plastic ones if the use case is correct, a plastic sink is a great option for temporary spaces or places in which only light use cases are carried out, such as washing light textiles.
That should keep you on top of your buying options.
Look and Finish
There are many utility sinks or laundry sinks that are popular for their design and finish. Sellers and manufacturers alike usually share the shapes of the sinks, or the color, for you to be able to match a sink to the décor of your home.
In fact, there are quite a few sellers who assure that the look and finish of their product blend in with the style of your home. Look out for words like 'modern,' 'sleek,' 'stylish,' and 'high-end' to add to the list of advantages of the utility sink you are planning to buy.
Once that is done, you are ready to go!
Performance
Evaluate the faucet functions, the sink, drainage, etc., to see how they compare to other utility sinks in the reviews. Some utility sinks may have faucets with multiple functions that are useful for your utility room.
Or, a drain might be designed to soak in water and dirt better than others. It might be a good idea to assess what you require most for the utility room and then come to your decision.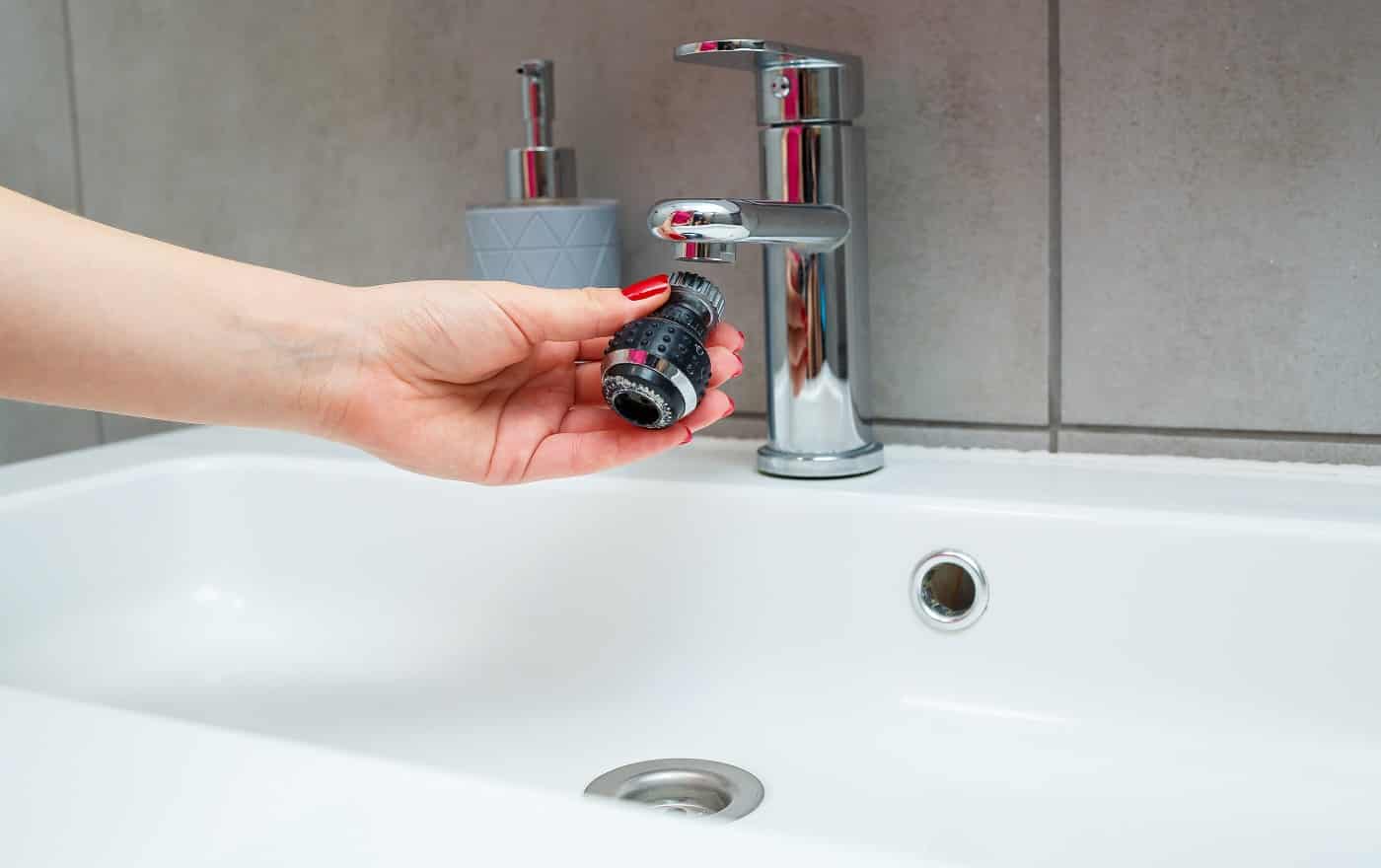 Best Utility Sink FAQ
What are the advantages of having a utility sink?
The advantages of having a utility sink include increased convenience and functionality, as they can be used for a variety of tasks such as washing hands, laundry, and cleaning.
How does a laundry sink differ from a utility sink?
A laundry sink is typically smaller than a utility sink and is generally used for specific laundry tasks such as hand–washing delicate clothing or submerging items in water.
Is a utility sink a necessary addition to a laundry room?
A utility sink is not a necessary addition to a laundry room, but it can be a useful addition for more specific tasks.
What is the best type of sink for a utility room?
The best type of sink for a utility room is one that is durable and easy to clean. Stainless steel or porcelain sinks are often used in utility rooms.
What is a suitable size for a laundry room sink?
The size of a laundry room sink can range from 18 inches to 24 inches wide. The depth of the sink should be at least 8.5 inches for proper water drainage.
Is it possible to construct a cabinet around a floor-mounted sink?
Yes, it is possible to construct a cabinet around a floor–mounted sink.
What are the available options for a utility sink style?
Common styles of utility sinks include drop–in, under-mount, wall–mounted, and pedestal.
Best Utility Sinks Verdict
Utility sinks are like other household appliances that can wash your clothes, tools, etc. but better, more utilitarian, a feature that comes with the sink by design. They are specially made for the ease of cleaning items by designating areas in the house for such particular tasks.
The Black Utility Sink is sleek and stylish. It also has a standalone base that does not need support from the rest of the tub. JS Jackson Supplies 040 JS6503SS Utility Sink has a high-arc faucet that can help you do bulky washing jobs in the sink.
But without a doubt, the Transolid TC-2420-WC Utility Sink is the best on offer. It has a great metal faucet, a sturdy thermoplastic tub, and a big 19-gallon capacity. These features combine to form a durable and versatile utility sink for your home.
We hope that those daily chores seem like a breeze once you have made your selection. Good luck!
Related Articles
DIY Storage Ideas-How to Build Kitchen Storage Under the Sink