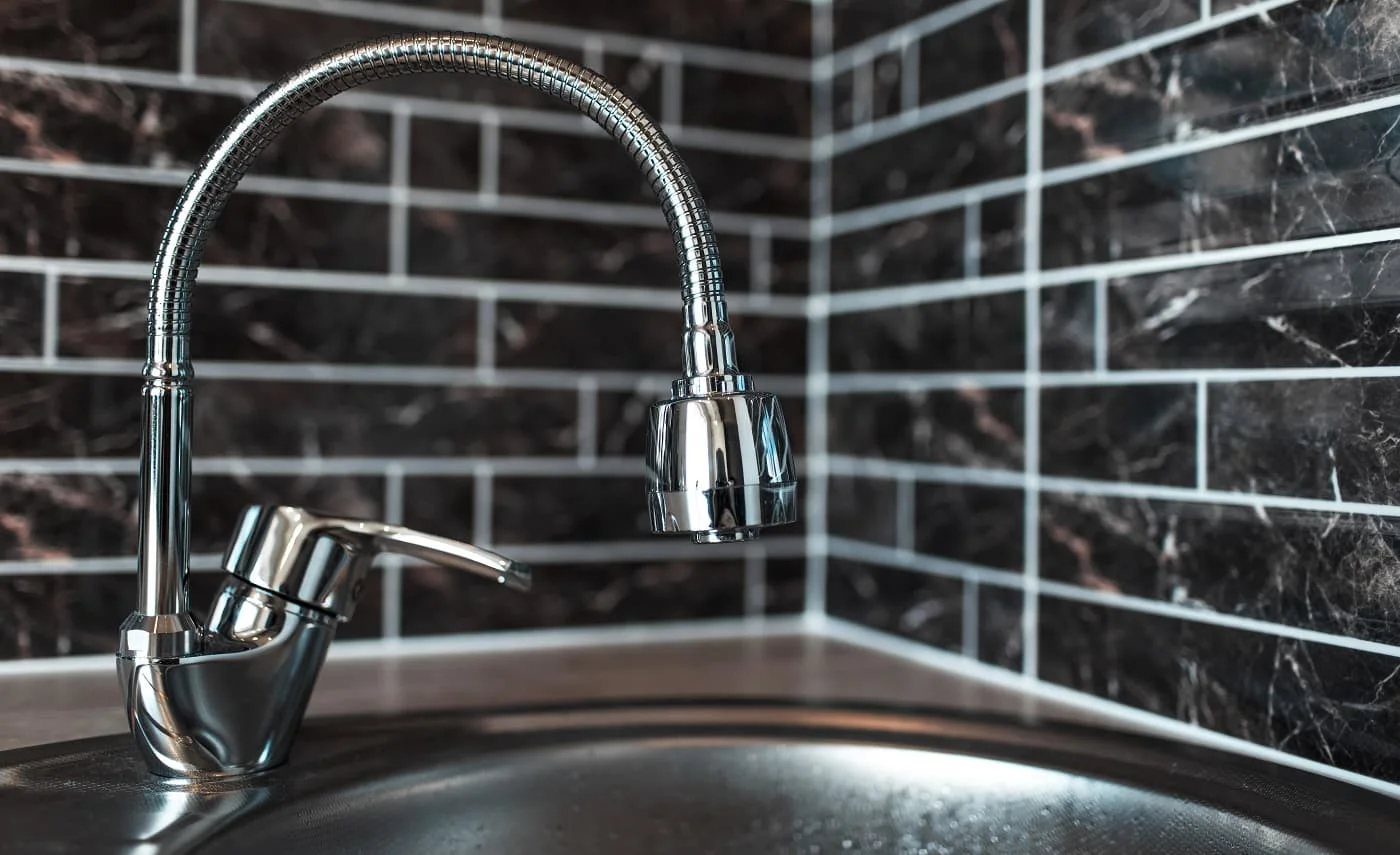 How would you like to add a sleek and elegant kitchen faucet to your kitchen? Sounds good, right! The K-596-VS will give you just that. 
It is one of the latest offerings by Kohler and can enhance the look and aesthetics of your space immediately. That's not all; this one ranks high when it comes to convenience and durability. Once you have it placed in the house, rest assured that it will serve you for years to come. 
Moreover, you can move the faucet head easily, clearing up space for larger utensils in the sink. We were very impressed by the kind of value that is added along with the impeccable design. 
Moving on, we will talk about its features and the pros and cons in the following sections. This is then followed by a buyer's guide, which will help you in making a decision. So, get your favorite beverage and read on to know all about them. 
Dive in now! 
Kohler K-596-VS Review
Sale
We have listed the features here for your benefit. Read on to know them all! 
Durability
We had no questions about the durability of this product after having seen it for the first time. It is constructed entirely out of premium metal, so it will be able to survive for years without corroding, even after being in constant contact with liquids all day. 
Next, it has a valve that is made of ceramic, and it prevents cases of corrosion inside. Now, corrosion is a problem that is related mainly to faucets, but rest assured that you will not be bothered by it. 
Moreover, it has a very protective finish and will resist corrosion. You do not have to worry about rusting, too, thanks to this layer. The brand claims that it will look new for years to come. 
What we would recommend here is to keep cleaning the surface to enhance its durability and prevent minerals from building up. It is equipped with the MasterClean™ technology, which will aid you in the process. 
Convenience
One of the most important features here is the convenience that is offered. This is a pull-down faucet that can be handled easily. You can work with one hand and use the other to hold kitchen utensils and work with them. 
Next, the neck can be rotated in all directions, and you can move it at 360 degrees while working. This way, you can use the entire sink space when needed. It will also help you keep large utensils or cookware without the faucet interfering. 
Moreover, we were impressed with its excellent ergonomics, and its implemented ProMotion® technology. It has a braided hose and a swiveling ball joint, which makes it flexible, allowing continuous smooth movement. 
Another feature that increases convenience is the DockNetik® magnetic docking system. This will lock the position of the spray head after you have set it. So, the position stays even when you are not using it till you make an effort to change it. 
Moving on, it has a temperature memory feature to ensure that the faucet remembers your preferred temperature. This will let you turn it on later to get water of the same temperature that you had obtained earlier. 
Multi-Function Spray Head
You will love its 3-function spray head that helps in making its cleaning and entire operation process versatile. There is a sweep-spray option that will leave a powerful stream to help in handling a large amount of grease or resist stains on plates. 
Then there is the stream option, which is slower and works with less force. This is perfect for easy and moderate cleaning needs. If you want to shift to a stronger flow, there is a button that needs to be pressed. The water force is then increased by 30 percent. We also loved the ease of access, and you can easily shift among modes. 
What's more, this even comes with sculpted buttons that can be used with soapy and wet hands. You do not have to wash your hands every time before touching the buttons. 
Finish
This is indeed a very elegant and beautiful product that has 3 premium finishes to choose from. You can choose among matte black, vibrant stainless, and polished chrome. None of them tarnishes easily, and the sophisticated finish lasts for years to come. 
Simply select one on the basis of your kitchen décor, and you will easily add to the overall ambiance. For example, if most of your cookware is made of stainless steel, go for the polished chrome, and it will fit into the kitchen just right. 
Moving on, it does not take up too much space, thanks to its design. We were very happy about its compact size, which allows it to fit into narrow spaces. 
On the other hand, if you have a minimalist kitchen, then the matte black finish will look good. It is stylish and will fit right in with solid colors. 
Installation
When it comes to installation, there are generally 3 ways of doing it. Thankfully this supports both 3-hole and single-hole configurations. It will easily blend well with most kitchens, and the pack comes with all the supplies needed.
There are rings and lines already provided in the pack, so you can hope for a smooth process without the need for professional help. If you have prior experience, choose the DIY route!
What Could've Been Better?
Some customers report that they have faced issues with leakage over time. However, this item is backed by a limited lifetime warranty and comes with excellent customer support. So, if you face any issues, rest assured that the brand will help you solve them. 
Next, the product is not fit for low spaces as it has a considerable height. Measure the space that is available first and compare it with the size; if it fits, only then proceed to purchasing it.
In case the space is low, and you are using the sweep-spray mode, water might get spilled as it is very strong. This happens, especially if you have a small basin, but don't worry; you will get the hang of it over time. Once you do, this same feature will help you clean dishes quickly. 
Pros
Single and 3-hole configuration

Equipped with MasterClean™ technology

Resistant to rusting and corrosion

3-function spray head

Strong metallic body
Cons
Issues with leakage

Not fit for low spaces
Kohler K-596-VS Buyer's Guide
In this section, we will discuss some of the requirements that you should check for before purchasing. Make a note of this before proceeding, and you should face no issues. 
Flexibility
Kitchens will see utensils and cookware of different sizes. And sometimes, the faucet may act as a hindrance and reduce space. Now, if you can turn the faucet head up to 360 degrees, then it can be moved out of the way when needed. This will allow you more flexibility, and you can work with ease. 
Temperature
Gone are the days when you would only get cold water from your kitchen tap. Now in most cases, the water will be temperature controlled. Check if the faucet remembers the temperature and water flows at this same temperature even when turned on later. 
Resistance
Since faucets are going to see a lot of water, it is important that the material used should be resistant to rust and corrosion. If that is not the case, you can get contaminated water that touches the rusted interiors before falling out. 
The outer surface could also look old and dull. But with a proper metal finish and ceramic valve, you can get clean water at all times. Remember to check the description carefully before purchasing. 
Spray Patterns
Some utensils can be delicate and would need a moderate or light flow of water, while some stains might require a lot of water force. A good product should be able to offer you both at the same time. You should have an option to shift between them when needed. Also, the shifting process should be easy. A simple button works great in this case.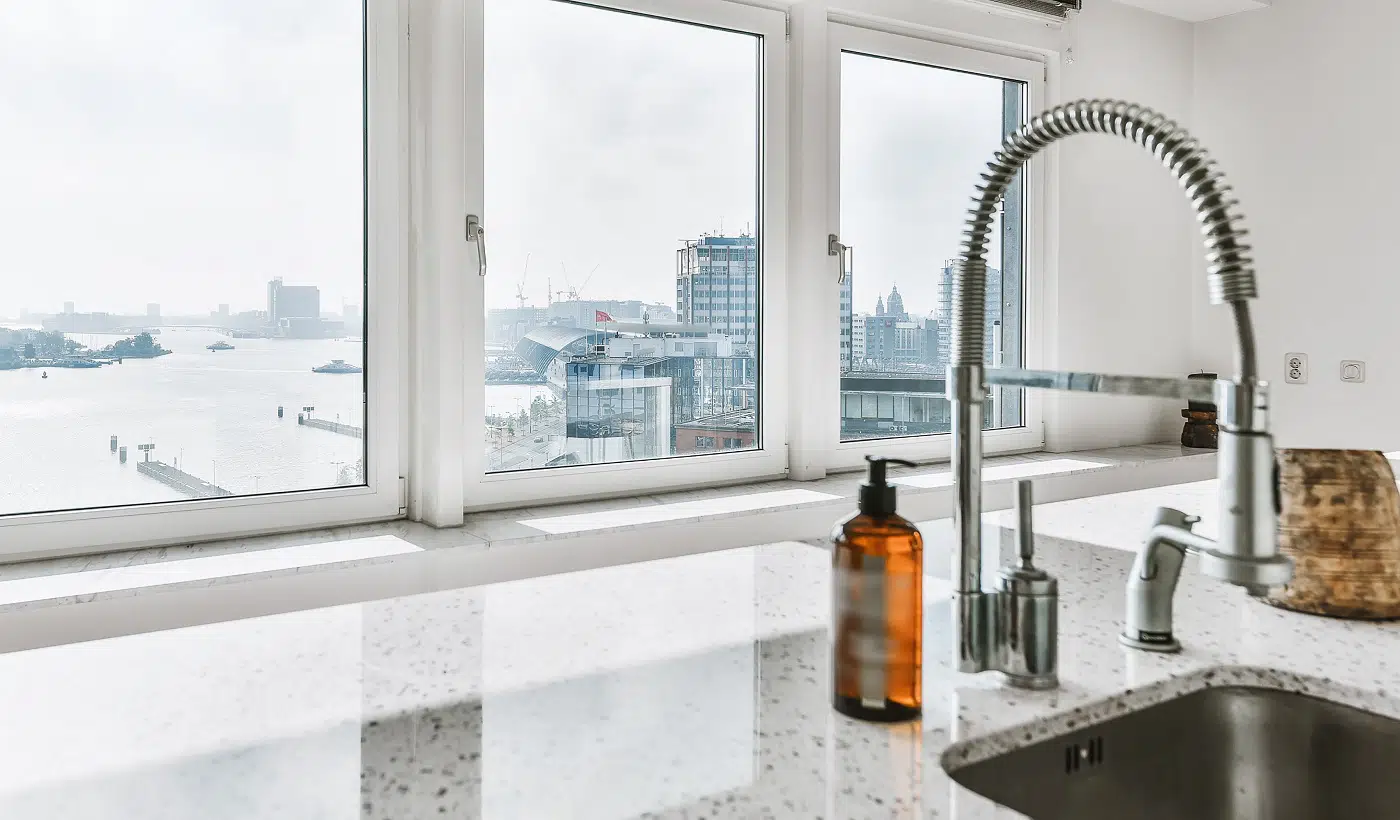 Kohler K-596-VS Verdict
If you were looking for the ultimate faucet that ranks high in style, durability, and convenience, then you have finally found a match. The Kohler K-596-VS offers the perfect combination of features and will look beautiful. 
Just ensure that it is installed well. If you have no experience with installation, it is best to get professionals for the task. But if you have worked with faucets before, you may immediately start the process as all the parts are provided. 
With this, we will take your leave. Let us know if you have any further queries in the comment section below. 
Take care!
Related Articles