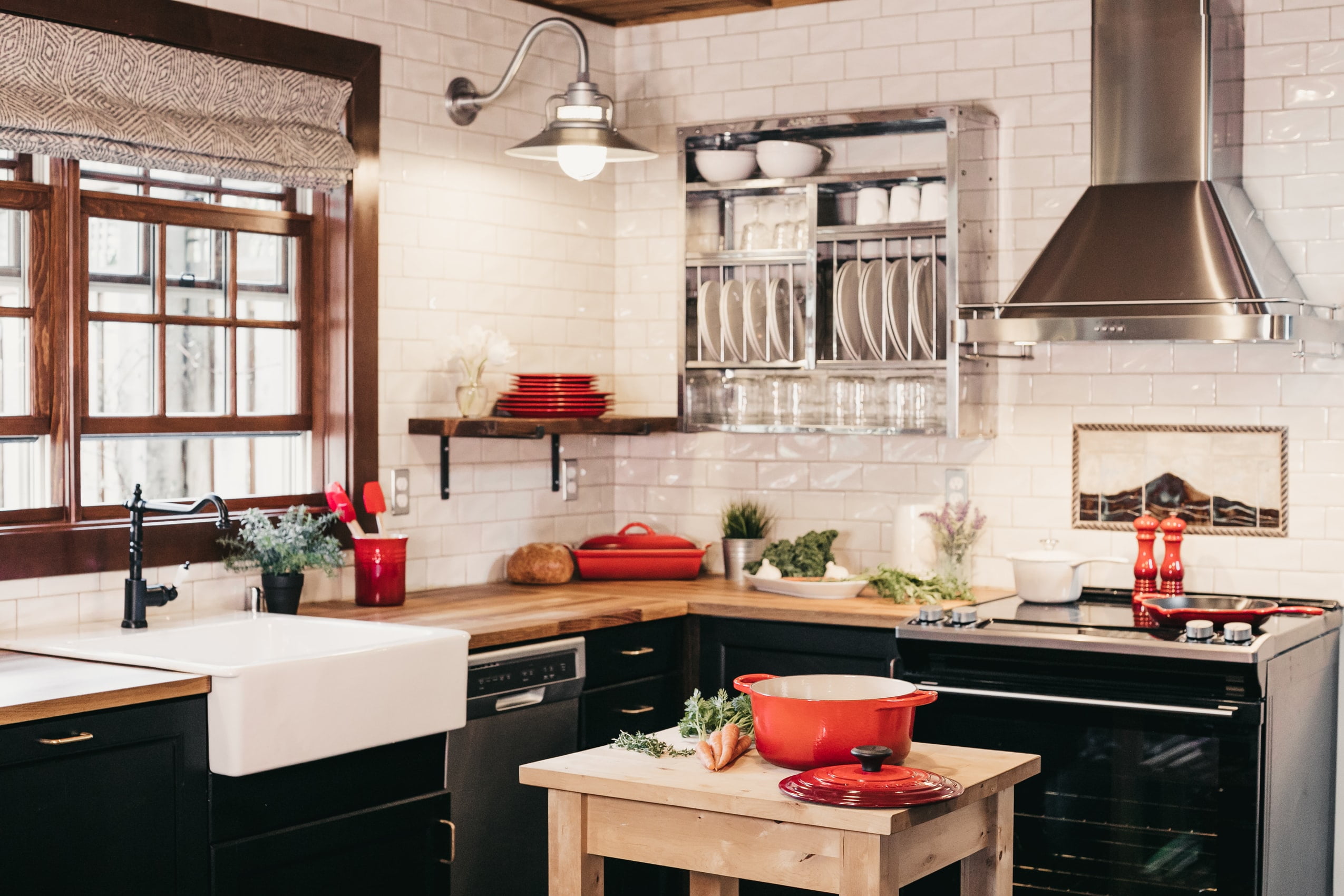 Disclaimer | This article may contain affiliate links, this means that at no cost to you, we may receive a small commission for qualifying purchases.
Quality farmhouse sinks tend to be grand and lavish. A farmhouse sink that has been properly installed turns into the focal point of any kitchen space. For their bold style statement, farmhouse sinks have become all the rage of late.  Irrespective of which interior theme you chose for your kitchen, you'll find a farmhouse sink that goes well with it.
If your house is draped in industrial interior design, then you can go with any high-quality stainless steel farmhouse sink. In a similar manner, sinks carved out of metallic alloys can also complement minimalistic aesthetics.   
If your house's interior is wrapped in classic motifs, then you can opt for fireclay farmhouse sinks. Copper farmhouse sinks could also be a better option for classic and rustic interior ideas. In short, a farmhouse sink picked in right material will seamlessly fit into any type of interior. This is the reason why many homeowners who want their kitchens to complement the rest of the interior are resorting to the installation of farmhouse sinks.
To keep up with this ongoing trend, here we are with the 13 best farmhouse sinks of 2022.
All the listed farmhouse sinks have some distinctive features. So, they are not ranked in any particular order. We have only numbered them for your convenience. However, before delving into the detailed review discussion of the best farmhouse sinks of this year, we want to set aside a section for all those readers who have only heard the phrase 'farmhouse sink' and don't actually know what it really is.
Best Farmhouse Sinks
| No. | Name of Sink | Distinction | Dimensions [in.] | Material | No. of bowls | Installation Type | |
| --- | --- | --- | --- | --- | --- | --- | --- |
| 1 | KOHLER K-6427-7 | The Perfect Farmhouse Sink | 40.75 x 25.38 x 12.38 | Cast iron | 2 | Under Mount | |
| 2 | Kraus KHF203-36 | Best Low-Priced Farmhouse Sink | 35. 87 x 20. 75 x 10 | Stainless Steel | 2 | Under Mount | |
| 3 | Zuhne Prato 30" | Best Single Bowl Farmhouse Sink | 29.75 x 20.75 x 10 | Posco Stainless Steel | 1 | Under Mount | |
| 4 | Houzer PTG-4300 | Best Single Bowl Fireclay Farmhouse Sink | 20 x 33 x 9.2 | Fireclay | 1 | Apron Front | |
| 5 | Kraus KHF203-36 (KPF1612-KSD30CH) | Best Double-Bowl Farmhouse Sink | 35.9 x 20.75 x 10 | Stainless Steel | 2 | Apron Front | |
| 6 | Regallo True Fireclay Reversible 30" by Moccoa | Best Reversible Fireclay Farmhouse Sink | 30x19x10 | Fireclay | 1 | Apron Front | |
| 7 | Adams Farmhouse Apron Front Kitchen Sink | Best Copper Farmhouse Sink | 33 x 22 x 9 | Pure Cooper | 1 | Apron Front | |
| 8 | Ruvati Drop-In Stainless Steel Kitchen Sink | Best Farmhouse Sink+ Workstation on Budget | 40.75 x 25.38 x 12.38 | Stainless Steel | 2 | Top Mount, Drop-in | |
| 9 | Zunhe Ostia Reversible | Best White Fireclay Farmhouse Sink | 30 x 18 x 10 | Fireclay | 1 | Apron Front | |
| 10 | Bocchi Classico Fireclay | 100% Natural Fireclay Farmhouse Sink | 30 x 18 x 10 | Fireclay | 1 | Apron Front | |
| 11 | AKDY Apron Farmhouse Handmade Stainless Steel Kitchen Sink | Best All-in-One Farmhouse Sink | 20 x 30 x 9 | Stainless Steel | 1 | Apron Under Mount | |
| 12 | FineFixture Sutton 30" Fireclay Sink | Best Butler Farmhouse Sink | 29.5 x 10 x 18.75 | Fireclay | 1 | Apron Front | |
| 13 | Comllen 33 Inch 304 Stainless Steel Farmhouse Kitchen Sink | Sleek Farmhouse Sink | 18 x 13 x 0.8 | Stainless Steel | 1 | Apron Front/Undermount | |
Highlights
Made of chip and crack-proof enameled cast iron

Custom-made for 36" apron-front cabinets

Comes with Kohler Cast iron lifetime warranty 
Kohler Co. has been around for over 140 years. Based in Kohler, Wisconsin, this American company is known for its high-quality plumbing articles and accessories. They have also forayed into the manufacturing of cabinetry, tiles, and electromechanical items (engines and generators).
And there is a reason why we are starting our list with Kohler K-6427-7- Whitehaven and calling it a perfect fit: its double bowl construction comes with self-trimming under-mount installation and offers great resistance against chipping and cracking.  
If you are looking for a durable piece of sink that doesn't just offer better functionality but also act as the centerpiece of your cabinet and kitchen, then you will love this fixture from Kohler.
Are you dealing with many pots and pans? Do you want to separate out gravy-ridden dishes and glasses? Well, the double bowl of Kohler just offers you that functionality. The smart divide carving out those two bowls is a low barrier so that you can easily deal with large cookware as well. The 9" deep basin means you don't need to refill it again and again.
Kohler K-6427-7- Whitehaven is made from high-grade enamel cast iron and comes with the manufacturer's lifetime warranty. So, you don't have to worry about the rusting underside of the sink or the quickly degrading bowl surface. Such issues won't arise in the first place and even if they do, you are covered with the warranty.
With the assortment of more than a dozen exclusive colors and ridge-like surface texture, Kohler just further sweetens the deal.
Pros
Self-trimming under-mount construction makes the installation a breeze

Enameled cast-iron body ensures exceptional durability

A range of color and designs to play around 
Cons
There are no built-in faucet holes so you have to set them up on your own or with the help of a plumber

The slightly expensive price tag
Sale
Highlights
Round apron-front body

Spacious bowl with 10" deep sink

Comes with special noise dampening feature

Superior drainage system

Protective undercoating to prevent condensation buildups
Kraus is known for making the quality bathroom and kitchen fixtures and that too at reasonable prices. Kraus KHF203-36 perfectly exhibits the mantra of the company. This stainless steel apron-front sink allows you to make a bold statement with your kitchen cabinet. With the spacious deep bowl, you can easily deal with your largest cookware and can take care of all the food preparation that involves cleaning and washing.
With easy clean corners, Kraus makes sure that your bowl workspace remains streamlined and easy on eyes. The most impressive think about this Kraus farmhouse sink is that it is laced with sound-barrier technology. The major part of the sink base is covered with dense sound-absorbing pads that dampen dishwashing and water splashing noise to a minimum. As a result, you get a quieter and comfortable kitchen experience.
Kraus KHF203-36 is made of stainless steel that contains high-grade commercial finish to protect the article from oxidation and rusting. Moreover, the non-toxic undercoating ensures that the underside and base cabinet doesn't get damaged by condensation buildup.
The drainage system of Kraus KHF203-36 is also streamlined to make sure no water gets stagnant in the bowl. With the use of two different stainless steel materials (T304, TRU16) in the making of Kraus KHF203-36, you get a fixture that is corrosion resistant and dent-proof.
Lastly, the bowl surface has a high-quality satin finish that makes sure that the sink doesn't appear all scratchy only after a few uses. Also, it is easy to clean a satin-finished surface. Get this farmhouse sink handcrafted by seasoned artisans for all its distinctive functional features and rich aesthetics; it will gel in with the other kitchen accessories perfectly.
Pros
Have universal  visual adaptability: you can install it with every interior theme

Easy to clean due to superior drainage

Exceptionally durable

Reasonable price

Comes with a lot of additional gear
Cons
There are some complaints of easy scratching

Only go well with sturdy cabinets
Highlights
A heavy-duty farmhouse sink designed for both commercial and residential use

Comes with comprehensive installation manual

Drain stopper with strainer, sponge holder and bottom grind are part of the package

Sponge holder, bottom grid and drain strainer with stopper are also part of the deal
Zunhe is a Texas-based company that makes sinks and other steel accessories for home building and remodeling works. If you are looking for an extremely functional single-bowl farmhouse sink, then your search should end here.
Zunhe boasts about Prato 30" to be equally functional for both residential and commercial spaces. If we lay open this stainless farmhouse then what's most striking is that it is made T304 Posco stainless steel, which makes it nearly invincible to dents and corrosion. It is also worth mentioning here that T304 Posco stainless steel contains surgical-grade compliance; this means it's completely free of toxins that could be harmful to human health.
Besides making Zuhne Prato a sturdy piece of the sink, the use of T304 is also easy functional because it's easy to maintain. A simple damp mopping makes the surface sink all brand new. Like Kraus KHF203-36, this also comes with super drainage and noise-dampening features. The sloped bowl channel makes for quick draining and drying while giving the sink a more finished look. If you are using it in any commercial setting, then its super drainage will definitely streamline the workflow in the kitchen.
All in all, Zunhe Prato 30-inch stainless steel sink is primarily a functional farmhouse sink with long operating life. The lifetime warranty by Zunhe and the compliance of UPC standards for Canada and the USA further ensures its durability.
Pros
Easy to install and use

Scratch and dent-proof exterior

Come with all the necessary accessories

Design that can go well in both residential and commercial kitchens
Cons
The edgy corners might not go well in some kitchen designs
Sale
Highlights
Wide 3 1/3" drain opening

Non-porous, glossy and cool-to-touch fireclay finish

9.25-inch deep bowl 
It's always exciting to blend contrasting interior themes to develop your own bespoke style statement. If your kitchen is draped in modern aesthetics and you want to add a dash of traditional flavor to it, then Houzer PTG-4300 is the centerpiece that you need. Its bonafide European elegance will help you in carving out a divergent visual style in your kitchen space.
Made of fireclay, which is processed at 2200-degree Fahrenheit to develop the glossy and cool-to-the-touch surface, Houzer PTG-4300 appears as finished and sleek as any high-end tile fixture. Moreover, the high-temperature treatment ensures that the surface of the sink remains non-porous. In other words, you get a fixture that remains stain, scratch and crack proof.   
The sink is primarily available in two bowl sizes. You can choose from 30 and 33-inch bowl sizes as per the size of your base cabinet. In short, this Houzer fireclay farmhouse sink can be installed without doing any extensive remodeling and reconstruction of the cabinetry.
Houzer hasn't gone overboard with the color choice in PTG-4300. This fireclay farmhouse is available in classic white and biscuit-brown finishes. This color choice seems intentional and tells us that Houzer wants PTG-4300 to be a luxurious and classic fireclay farmhouse sink choice for users.
Get Houzer PTG-4300 for your kitchen if you want to give the space an authenticity through classic kitchen accessories but without making any compromise on the primary function of the sink.
Pros
Oozes with craftsmanship and quality

Wide-bowl sizes (30 and 33-inch) offer functionality along with aesthetics

The fireclay material is not prone to chips, cracks, and scratches
Cons
It is heavy and one needs to take extreme care in its installation
Highlights
Made of premium lead-free T-304 stainless steel

Contains commercial-grade satin finish

Comes with rubber padding and Stone Guard undercoating for quite kitchen experience

Contemporary apron front design to make a style statement
Kraus has made sure that its range can cater to the entire consumer base of stainless farmhouse sinks. This Kraus farmhouse sink is as good as the one we have discussed earlier. But here you get two bowls to clean your kitchenware. We all know that it's just get easier to sort out the dirty dishes and utensils when there are two bowls to work with.
Like the earlier discussed KHF203-36, this model also contains that superior noise-cancellation feature and quick drainage. Moreover, the satin finish of the fixture makes it easier to clean it without breaking a sweat. We would suggest this double-bowl farmhouse sink to commercial users too.
A distinctive design feature in this Kraus farmhouse sink makes it stand out from similar variants offered by other manufacturers; it has uniquely curved corners that enhance its design appeal and make the cleaning of the sink a breeze. These sleek, round edges also make for free-flowing workspace.
Stone Guard coating is another distinctive feature of this steel farmhouse sink. Stone guard sprays are usually used in the automotive industry for sound cancellation and material protection. Kraus has made use of this innovation in the making of KHF203-36 (KPF1612-KSD30CH). The sound dampening rubber pads are sprayed with Stone Guard to provide the best possible quieter kitchen sink experience. This innovative coating also cuts down the underside condensation of the sink.
Pros
Double-bowl basin

Easy to clean and maintain

Rust and stain resistant

Durable dent-proof body
Highlights
Multiple apron-front options, under-mount, flush-mount, built-up 

Reversible installation, arched edge in front /arched edge in rear 

The handcrafted kiln-fired clay body

40% thicker than the same farmhouse sinks from other brands
Let's be honest, handcrafted fixtures have their own distinctive appeal that can't be imitated through any factory-manufactured item. Moccoa is one of those ceramic manufacturers that cater to all those users who have that knack for handcrafted home fixtures.
Regallo True Fireclay 30" by Moccoa is a handcrafted reversible farmhouse sink. It is called reversible because you can install it from either side. The sink is glazed at 2200-degree Fahrenheit to remain antibacterial for all its functional life. A basin material with intrinsic anti-bacterial properties is easier to clean as compared to other materials. People who are more conscious of kitchen hygiene should definitely go for this farmhouse sink.
Besides getting the durability from high-temperature glazing, Regallo True Fireclay sink is literally a sturdy piece of a farmhouse sink. Moccoa boasts about it being 40% thicker than similar models from other companies. This extra thickness automatically extends the operating capacity of the sink amid heavy use.
The temperature treatment also makes it resistant against the acids and alkalis. This means you can use OTC cleaners on Regallo True Fireclay farmhouse sink without worrying about their side effects on the fireclay surface.
Moreover, its cool-to-touch surface gives you the freedom to drop hot pans straight from the oven in the bowl without inflicting any damage to the sink. This sturdy handcrafted fireclay kitchen sink is worth every single cent of its price.
Pros
The most flexible installation details

Durable in every aspect

Easy to clean

Offers classic finish with the handcrafted kiln-fired clay body
Cons
You will need extended flange if you are going to install a garbage disposal with it 
Highlights
Carved out from sturdy 16 gauge pure copper

Apron front installation to match modern kitchen designs

Spacious and deep single bowl

Can fit in with any standard kitchen drain line and garbage disposal
So, a handcrafted sink is a thing, right? We will extend the discussion on this 2022 fade to discuss another artisan-made farmhouse sink, but this time the material is not fireclay.  Sinkology is offering consumers with a copper farmhouse sink that is hand-hammered and molded by its team of expert artisans.
The rustic finish of Adam Farmhouse sink will prove to be the most striking feature of your kitchen. A bronze bowl with apron-front installation—you can't make a stronger visual statement in your kitchen than that.
Besides all its artisan and visual distinction, the sink does extremely well on the functional front too. The 30" bowl along with 9" depth is designed to cater to all types of kitchens. Although cooper is hard to maintain and clean, Sinkology has designed this sink in a way where you can easily deal with it through a simple wash of warm water and soap.
Some people might have an issue with the rapid discoloration of the bowl. But that's what comes with an accessory designed to give off antique and classic vibes. Also, if you are taking good care of the sink, this won't be an issue. By polishing the sink once in a while, you can maintain its quintessential copper sheen. 
Pros
Distinctive pure copper body and deluxe apron-front installation

Large and deep bowl that can take care of all the unclean kitchenware at once

Price is reasonable given the handmade-nature of the fixture
Sale
Highlights
Made of 16 gauge thick premium steel

Comes with built-in cutting board, colander and rollup rack

Slopped bottom and drain grooves ensure quick water drainage
What if we told you there was a fixture that can take care of all your kitchen activity? Well, there is actually one in the form of Ruvati workstation. It's actually a drop-in top-mounted farmhouse sink that comes with accessories of cutting board, rollup rack and colander. So, with a single installation, you can set up your entire kitchen workstation.
While making their product wholesome, Ruvati hasn't compromised on any of its details. For instance, this farmhouse sink is made of T-304 stainless steel with 30" bowl length and 10" depth—a configuration that you will find among all the best stainless steel farmhouse sinks. On top of that, the Ruvati sink is thicker than what competitors are offering.
Ruvati drop-in stainless farmhouse sink is covered with rubber padding on the exterior of the bowl from all sides. This rubber barrier provides thermal and noise insulation. The four drain grooves inside the sink on a tilted bottom allow quick draining and drying.
The sink design is also enhanced through the tightly curved inside-corners of the bowl. The brushed steel finishing is an added bonus. These design features also prevent any waste and chemical buildups on the bowl lining and edges.
The kitchen sink can be used with any sort of garbage disposal and the two-hole faucet openings allow you to have both water tap and soap dispenser. All in all, this Ruvati workstation can be your best kitchen investment.
Pros
Offers wholesome kitchen utility

Thick and high-grade steel ensures long-lasting operations

Fitted with sound-dampening pads to allow noise-free kitchen experience

Brushed finishing makes it easy on eyes and easy to clean
Cons
Scratches

Difficult installation
Highlights
Handcrafted fireclay body

Reversible design that can be installed in both plan and fluted apron settings

Despite classical construction, it is compatible with garbage disposals

All parts and accessories are made in Italy
A white-finished square-bowl front-apron sink— this is what our collective memory recalls when we hear the words 'classic kitchen sink'. Zunhe has facilitated the comeback of that quintessential sink with its Ostia reversible farmhouse, designed and handcrafted by the skilled Italian artisans.  
If you are looking to make a classic statement in your kitchen décor, then go for this simple and functional offering by Zunhe. The deep bowl makes for efficient dishwashing. You can deal with the entire stack of dirty dishes in one go. Also, install it either with a smooth plain side or ridged side. This flexibility ensures you can easily install it all by yourself and with your preferred style.
Moreover, the high temperature-treatment of the article makes it resistant to chips, stain, and cracks. Whether you are spilling hot water into the sink or disposing of used ice cubes, you don't have to worry about how it will affect the clay surface.  This is the reason why a Zunhe Ostia Reversible farmhouse can continue to serve you beyond its operating life.
Last but not least, Zunhe makes the offer more wholesome by adding drain strainer and grid protector to it. In its price, you won't find a quality glossy fireclay farmhouse kitchen with all those accessories.
Pros
For its quintessential Italian finesse

Can withstand extreme temperatures

Easy to clean and maintain

Comes at a reasonable price
Cons
The fireclay makes it heavy and you will need experts to install it

You will need a deep steel flange for the installation of garbage disposal
Highlights
Made from casted natural fine fireclay

Comes with removable protective bottom grid and strainer

100% non-porous 
Here is yet another fireclay fixture that has ended up in our list of best farmhouse sinks. Made from 100% fireclay that is treated at a high temperature to become a non-porous, stain and chip-resistant material, Bocchi Classico is relatively compact than the other fireclay farmhouse sinks that we have discussed here.
With 28.5" length and 8.5" depth, it gives a more streamlined look, and on top of that, the rounded edges ensure free-flowing workspace. Moreover, the non-porous characteristics of Bocchi Classico are far supreme than matte stone and other composite materials.
Bocchi also boasts about using its patented Clean Plus+ technology in the making of this fireclay farmhouse sink. As per the manufacturer's claims, the use of this innovation makes cleaning the sink easier, keeping its brand-new finish intact all through its use. It's important to mention here that a bottom grid and strainer are also part of the deal. So, no worries about the burned pan bottoms staining the glossiness of the fireclay surface.
However, the most striking thing about Bocchi Classico Fireclay farmhouse sinks is the variety that it offers. It is available in different colors and you can install it in apron-front and under-mount settings. Lastly, single and double-bowl construction gives Bocchi Classico a universal appeal.
If you are looking for an apron front farmhouse sink for a narrow-base cabinet in a sturdy fireclay material, then Bocchi Classico should be your automatic choice.
Pros
A compact and functional farmhouse sink

Comes with bottom grid and draining strainer

Chip and stain resistant

Easy installation
Cons
The size might not be good for bigger kitchen spaces

The monotonous nature of design might not go with many different kitchen themes
Highlights
Double-ledge workstation design

Made from 18 gauge handmade stainless

Cutting board and adjustable colander are included in the assembly

Complete rubber padding and undercoating to ensure quiet dishwashing experience

Streamlined design saves a lot of cabinet space
Here is another wholesome fixture that makes to this list of best farmhouse sinks of 2022. Today when residential spaces keep getting shrunk, homeowners look for the most compact and functional home fixtures on the block. The idea behind AKDY Farmhouse kitchen sink is this: To offer homeowners a fixture that they can use for multiple tasks.  
This is the reason why AKDY farmhouse sink comes with a light-wood cutting board. Moreover, one has to commend the manufacturers to make the overall design of the article so space efficient. Amid providing 30" long basin with the depth of 9", you get enough space beneath it for cabinetry, all thanks to rear-placed drains.
Apart from compactness, you also get a quieter kitchen experience with AKDY stainless steel farmhouse sink. It is amply padded and undercoated to cancel out all the noise of splashing and tinkling of kitchenware.
Besides the standard AKDY Apron Farmhouse Stainless Farmhouse that comes in the dimensions of 30"x20"x9", you can also go with customized options. AKDY offers homeowners these options to accommodate their unique size requirements.
On the aesthetics front, AKDY Apron Farmhouse kitchen sinks offer a unique and stunning combination of glossy steel and lusterless timber finish. You can't get such an all-around finishing from any other sink installation.   
If you are looking for a space-efficient farmhouse sink that can also serve other kitchen purposes, then go for this AKDY product.
Pros
Stain and scratch proof body

Compact size and overall construction that saves a lot of underside space

You get a built-in cutting board
Cons
Poor cleaning routine can lead to stain formation

May not go well with every kitchen design
Highlights
Made through original slip casting technique

Glazed at 1600-degree Celsius for better durability

Comes with offset drain feature 
FineFixture is yet another 30" bowl farmhouse fireclay sink that can add that classic and earthy touch to your interior. It is made by artisans that are expert in slip casting technique. As a result, you get a fireclay sink that is impressively shock and impact proof unlike the many porcelain items available in the market. The glossy finish of Sutton 30" makes it easier to clean and maintain it.
The rectangular outline of this farmhouse sink doesn't only draw out classical aesthetics. It can also seamlessly go with any minimalistic or industrial-style kitchen. The 30" length along with 10" depth of this farmhouse's bowl can take care of any dishwashing capacity.
Many people drop the idea of installing a fireclay farmhouse because of their bulky weights. So, even when they want to add the feel and look of conventional fireclay sink piece, they opt for metallic variants for their easy installation.
Fine Fixtures has taken care of this downside of fireclay accessories in the manufacturing of Sutton 30". It only weighs around 85 pounds which is quite lesser than the weight of other fireclay sinks of the same dimensions. You can install a FineFixture Sutton 30" without needing a team of plumbers and without doing extensive base cabinet reconstruction
Last but not least, a luxurious look and feel is always guaranteed with the installation of Sutton 30"!
Pros
The universal design that complements both classical and modern décor themes

Have the exclusivity of a handcrafted fixture

Crack and stain proof

Lightweight in comparison to other fireclay farmhouse sinks
Cons
You will need professionals for its installation

Some customers have complained about the spots development at the bottom over a period of use
Highlights
Made of 304 series stainless steel

16 gauge sheet thickness for durability

Comes with sound dampening pads

Comes with undermount apron style installation

Weighs only 30 pounds
What are the qualities of a perfect stainless steel farmhouse kitchen sink? It is sturdy, durable remains scratch proof and can easily handle all dirty kitchenware. You get almost all those features in Comllen farmhouse kitchen sink. It is made of 16-gauge, 304 series steel sheets, which is good enough to give the assembly the desired durability and stability.
Moreover, this steel is inherently resistant to impacts, which makes Comllen a scratch-proof farmhouse sink. With its dimensions too, Comllen shows why it is one of the best farmhouse sinks. The spacious 33" length and 10" depth ensure that all of your dirty kitchenware can get into the bowl. Furthermore, the rounded inner corners of the bowl allow gives you a free-flowing workspace, which is also easier to clean and maintain.
The shape of Comllen is also designed to elicit a modern style statement. Its smooth shape and non-edgy corners make for a stylish cabinet addition. What's more, it's one of the lightest farmhouse kitchen sinks on the block.
If you are looking for an 'instant installation' that doesn't need any professional supervision, then Comllen 33 Stainless Steel farmhouse sink will be the perfect choice for you.
Pros
Made from the best stainless steel variant

Amply padded for noise cancellation

The satin finish makes it easy to clean

Its sleek design goes well with every contemporary interior theme
Cons
There are some complaints about lose screw fittings; in other words, it might not be suitable for all types of cabinet platforms
So, these are the 13 best farmhouse sinks on the block. We hope that you can find one from the list that can seamlessly fit with your kitchen while providing all the functional benefits and without straining your budget.
If you are in a hurry and don't have the time to get into details, then here's a quick overview chart for you featuring all the farmhouse kitchen sinks that we have discussed above. 
A Short Guide to Farmhouse Sinks
All those people who have recently started taking interest in household and especially kitchen accessories might not know how farmhouse sinks are different from any other sink and how they should be chosen. In this section, we are going to give a necessary introduction to this kitchen accessory in a question-answer format.
Why this sink is called farmhouse and how it is different from other sinks?
The 'farmhouse' in the name comes from the fact that these sinks were conceived during the 17th century for use in European farmhouses with no running water supply. So, manufacturers of that time introduced sinks with spacious bowl sizes that could hold a large amount of water.
And they are different from the contemporary sinks because they don't entail any cabinet and countertop space between the user and the bowl. You actually stand directly in front of the bowl of a farmhouse sink.
Is there any difference between apron-front and farmhouse sinks?
Most people tend to use these names interchangeably although these are two different sink types. Apron-front sink, as the name suggests, is finished on the front side only. In contrast, a farmhouse kitchen sink is finished from all four sides. However, most farmhouse kitchen sinks are installed in the apron-front configuration which adds to the confusion.
Can farmhouse sinks only be installed in kitchens?
There is no hard and fast rule regarding the installation location of a farmhouse sink. Nonetheless, they are best utilized in kitchen spaces.  Their large bowl size, however, allows you to use them as makeshift bathtubs for toddlers and pets as well.
Are they always single-bowl?
Well, the actual idea of a farmhouse sink is to have a large single bowl with great volume capacity. However, the contemporary farmhouse kitchen models are available in a double-bowl configuration as well. Our list also includes some double-bowl farmhouse sinks.
What is the most durable and affordable sink material?
It majorly depends on your use and the manufacturer you choose. But there is a general consensus among experts that granite composite is the most cost-effective and durable material for farmhouse sinks. Stainless steel and fireclay also offer great value for money.
A Short Buying Guide for Farmhouse Sinks
Before signing off, we would like to put down a brief buying guide for farmhouse sinks. With some of the basics in mind, you can always get the best possible farmhouse sink deal available no matter what year and month you are buying in.
Material
Always consider the material while assigning a budget for a new farmhouse sink. Granite, stone, and premium fireclay farmhouse sinks are generally expensive than the stainless steel ones. Moreover, steel farmhouse sinks are neutral to every interior theme and design. You can install them in any kitchen space.
Drain Size
Usually, farmhouse kitchen sinks come with the drain size of 3.5 inches so that it can install with the standard drain lines and garbage disposals. However, you might also get different drain sizes (e.g. off-center drains) in some of the farmhouse sinks.
If you don't want to get into an exhaustive installation with plumbing modifications, then always ask for a farmhouse sink with a drain size of 3.5 inches.
Cabinetry
Farmhouse sinks are installed on the cabinetry of the kitchen. As per experts, a sink must always be 3 inches narrower than the cabinetry for a better installation. Also, fireclay and granite farmhouse kitchen sinks are heavier than the metallic ones. So, you may also need to add some reinforcement to the cabinet for better support of the sink.
Number of Bowls
Even though the majority of farmhouse sinks come in a single-bowl configuration, you can also get the ones with double-bowl tubs. If you tend to sort out dishes during cleaning, then go for double-bowl farmhouse kitchen sinks. But, keep in mind that they occupy more space and might narrow down the movement in any small-sized kitchen.
By remembering these basic details while buying a farmhouse sink, you can get yourself a kitchen accessory that will last for years to come.
Pro Tip for Maintenance
Apart from following the cleaning and maintenance guideline given by manufacturers, always put a stainless steel grid at the bottom of the sink. It helps in leveling the water evenly when the sink bowl is overflowing with dishes. And more importantly, it protects the base of the bowl from scratches and scuffs of the pots and dishes being thrown in the sink.
Related Articles
13 Best Double Bowl Kitchen Sinks
Why Your Water Dispenser Might Leak & How to Fix It?
47 Splendid Rustic Countertop Ideas For Your Kitchen
How Does A Touchless Faucet Work | Expert Talks
13 Best Commercial Kitchen Faucets Right Now
How to Remove a Stuck Faucet Handle
13 Best Kitchen Sink Faucets to Consider | Buyer's Guide + Reviews
53 100% FREE DIY Farmhouse Table Plans for Your Rustic Dinning Room
How to Repaint a Fireclay Farmhouse Kitchen Sink
13 Best Electric Kettles Right Now | Buyer's Guide
10 Best Food Scales | Buyer's Guide and Reviews
15 Best Electric Smokers  – Guide & Budget Picks
13 Best Kitchen Shears Right Now Reviewed
13 Best Mini Freezers for a Chilly Year
10 Best Hot Dog Rollers | Buyer's Guide and Reviews
13 Best Cappuccino Makers to Enjoy Today | Buyer's Guide
11 Best Bar Stools Today | Buyer's Guide and Reviews
5 Best Copper Sink for Legendary Designs
7 Best Sink Protector Reviewed
13 Best Double Bowl Kitchen Sinks
13 Best Kitchen Sink Faucets to Consider | Buyer's Guide + Reviews
How to Repaint a Fireclay Farmhouse Kitchen Sink
13 Best Undermount Bathroom Sink