Storing icicle lights in a light box with compartments is the best way to ensure the lights are stored tangle-free for the next holiday season. Putting the wrapped lights in a Ziploc bag or bubble wrap will further keep them protected.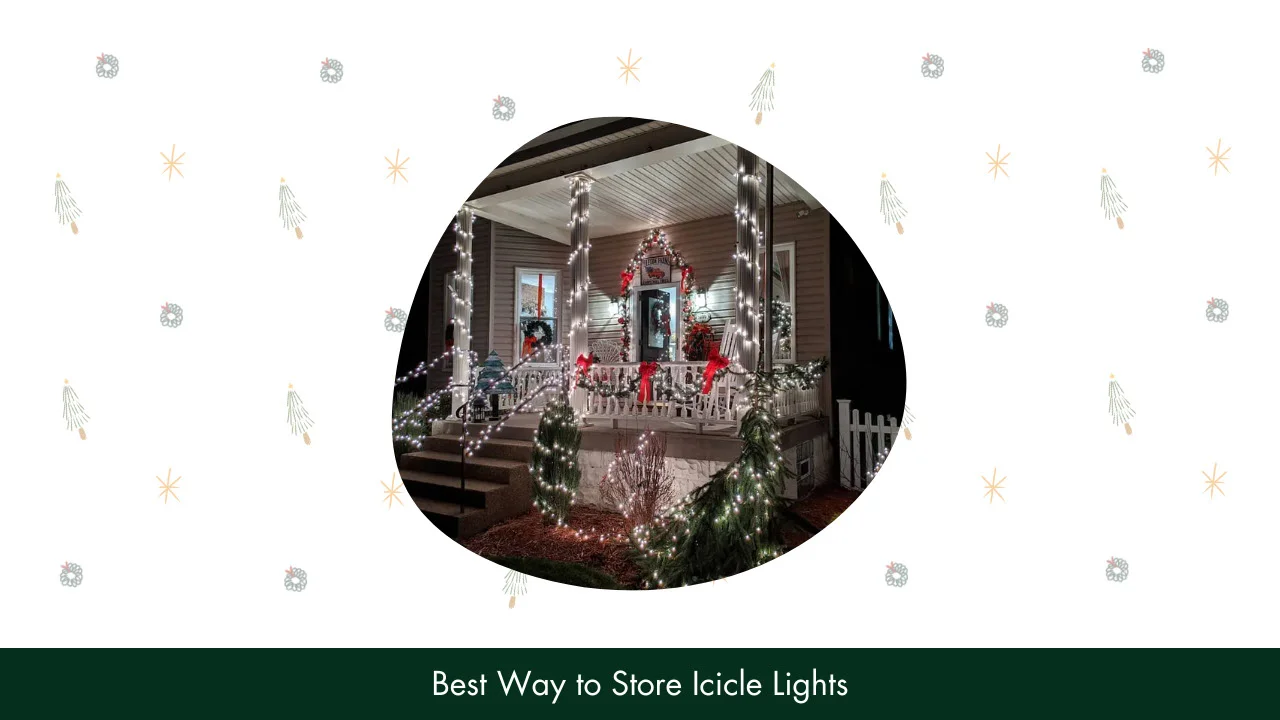 Icicle lights, a frugal alternative to the customary nubby Christmas string lights, are among the more tasteful iterations of holiday decorations. 
Though modest, each bulb in icicle lighting lasts about 75,000 hours– that's beyond 3,000 days! You can reuse them year after year by storing them properly, but because they are tangle-prone, many find storing icicle lights challenging. 
Nevertheless, here are tangle-free tips and tricks for storing icicle Christmas lights. Keep reading, then! 
Best Way To Store Icicle Lights For Christmas
These dangling, versatile icicle lights, when installed on a Christmas tree or other areas of the home, lend a wintery theme to the Christmas décor without overwhelming it. And because they last for a good number of years, storing them properly will allow you to use them in Christmas decorations without buying new ones. 
1. Prepare The Lights For Storage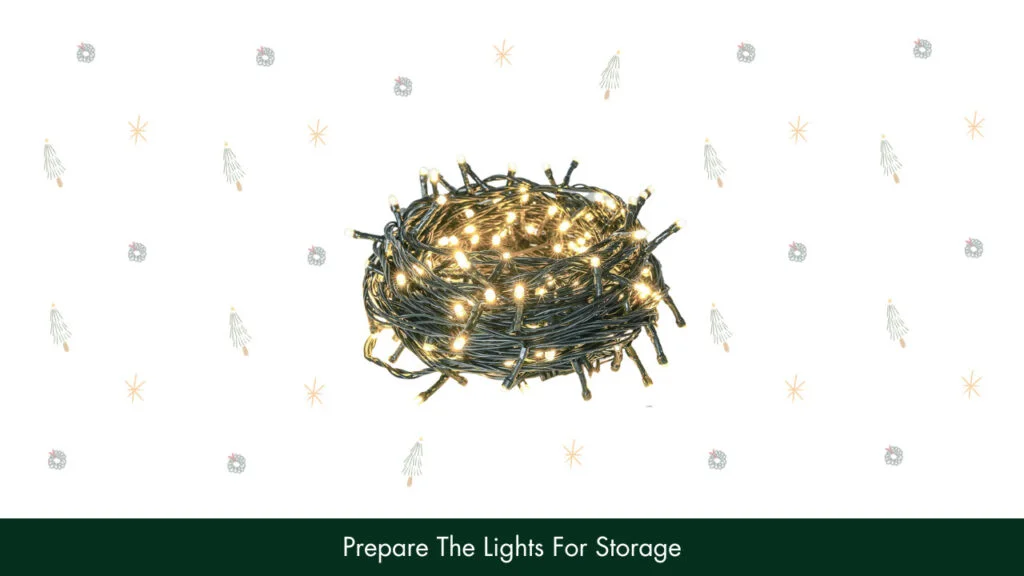 Icicle Christmas lights feature lengthy cords and are delicate in nature, which is why they get tangled very easily. Storing them in a tangled condition will render the lights useless, so detangling them is necessary.
To detangle the icicle Christmas lights, take a small segment of the tangled lights and unravel it slowly and carefully, twisting and turning the wire around a book, tabletop, or other flat surfaces. 
While detangling, keep the tension on the strands and let the ends of the wire hang off the edge, so they don't get tangled again. Also, keep an eye out for the bulbs to ensure they don't crack or break in the process. 
As soon as you're done with one section, proceed to the other section and untangle the strands in the same manner. Be sure to straighten out the strands in the same direction; otherwise, the lights will tangle again. Occasionally, hold the light strings up to check if they are crooked or aligned in a straight line. 
Then, remove debris and dirt by scrubbing them with soapy water using a toothbrush. After a while, rinse off the lights with water and wipe them dry with paper towels or clothing, which will make them as good as new. 
Tip
Don't forget to inspect each and every bulb by holding it up in the light to see if there is any physical damage. And test the functionality of the string lights by plugging them into an electrical outlet.
2. Choose The Right Storage Container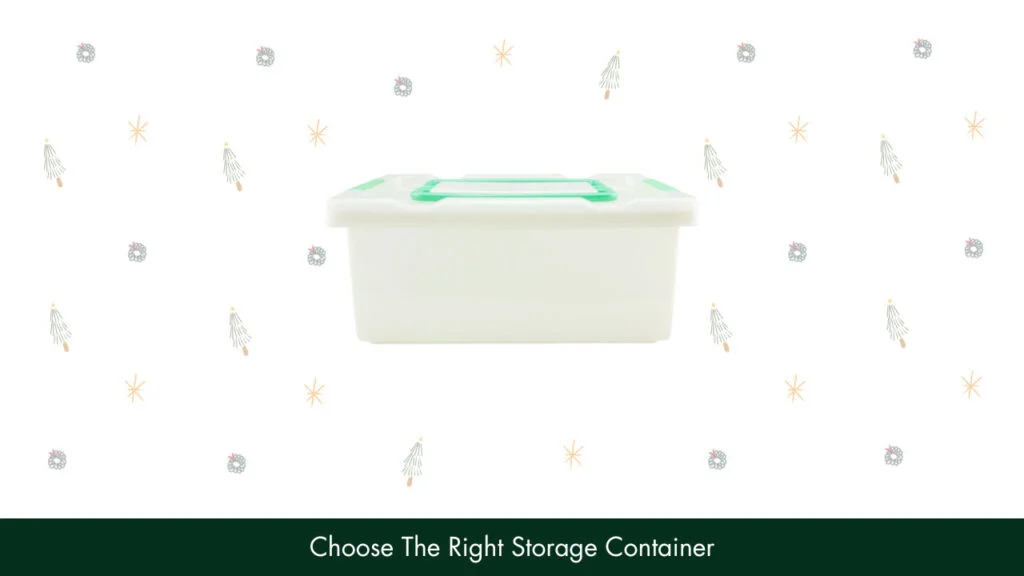 Store icicle lights in a plastic storage container after taking them off the Christmas tree. However, that isn't the only way to store your Christmas lights and there are several other containers that can be used as storage bins for icicle lights. 
In regards to icicle light storage, containers that come with spools are my go-to pick because they prevent the lights from getting entangled, no matter how long they are stored. Such containers are available online but be sure to go for high-quality boxes that come with a dozen set-and-store fasteners. That's because such a storage bin prevents light strings from turning into perilous knots and keeps them tied up in neat loops. 
Another viable option for storing Christmas lights is to use PVC piping. All you need to do is wrap the light strings around the pipe, secure them with an elastic band, cable tie or a zip tie, and that's it. 
Or perhaps, simply use the original box to store icicle lights, as it keeps them protected. 
Tips For Selecting The Right Size And Material For The Container
Consider the space where you'll store the lights

Choose a container that is large enough to hold the strings of Christmas lights

Go for boxes made of heavy-duty polyester, preferably 600D

Boxes with acid-free lining are a bonus

Make sure the walls are sturdy

An easy-access zipper and reinforced handles are a must-have

Choose a storage box that comes with an ID window
Labeling The Storage Container For Easy Identification
Labeling the Christmas light storage container is important if you don't wish to spend countless hours searching for them the next holiday season. Writing directly on the plastic box, using masking tape and printable labels– I tried almost everything, but nothing worked. 
So, here's a new solution to labeling the storage box of the icicle lights: creating a name tag. 
Only 3 things are needed to label the box which is used to store Christmas lights, and they are:
Binder clips

Badge holders

Zip ties
Here's how to create a label for your Christmas light storage box:
Write "Christmas light" on a piece of paper

Using a utility knife, cut it to the size of the holder

Insert a zip tie and secure it properly

Squeeze the binder clip to take off its handles

Insert it inside the zip tie loop and reattach the handles

Clip the badge to the cover of the container
3. Coiling And Wrapping The Lights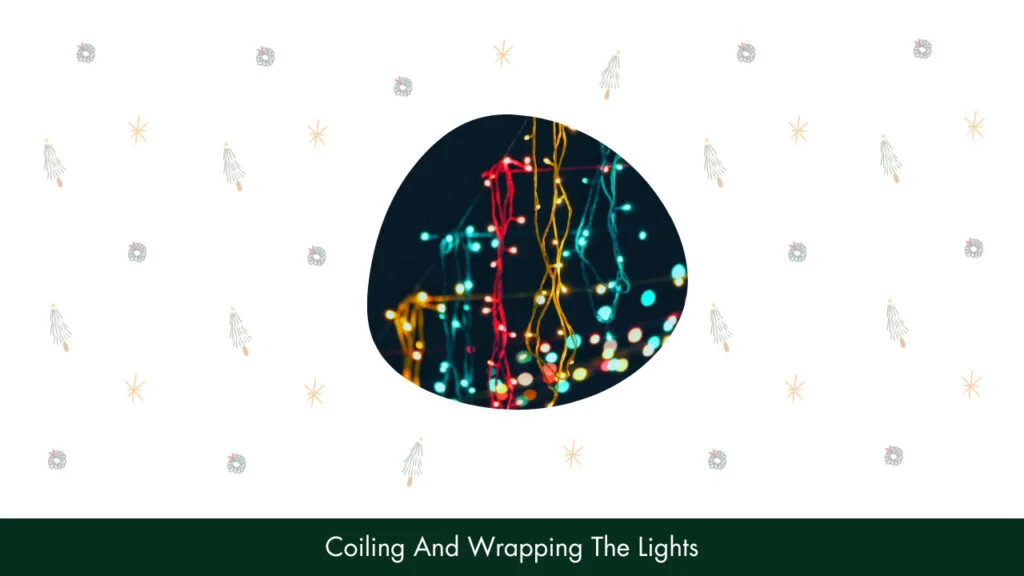 Prior to storing, you'll have to wrap the lights around a reel or a bobbin to make sure they do not get entangled in storage. Here's how to coil and wrap the lights like an extension cord so that they remain tangle free. 
Step 1
Place the light in the storage container. Take one end, and start wrapping it around the cardboard from the bottom up in a winding motion. 
Step 2
Use your hand to create a neat and tidy circle and continue wrapping them like you'd coil long extension cords until you reach the other end. 
Step 3
After the lights are wrapped around the storage box or tube, take a rubber band or two and tie it around the coiled lights to secure them. 
4. Storing The Lights In A Safe Place
After wrapping and coiling, you'll have to store the Christmas lights in a safe place so that they are in a usable condition next year. 
The best areas to store your Christmas lights are away from sunlight in a cool, dry space, such as closets, attics, garages, or waterproof garden sheds. Whichever place you decide to store the light, make sure the roof isn't prone to leaking; otherwise, water will damage the lights. 
Prior to storing Christmas lights, wrap the lights in bubble wrap or add a few packets of desiccant within the box. Then shut the lid and store it wherever you intend to. 
For extra protection against pests, dust, and moisture, wrap the lights in a tissue paper or paper towel. You can even use Ziploc bags to prevent mice from chewing the strings. 
Tips For Maintaining Christmas Lights
Dispose of broken or damaged bulbs 

Use wooden ladders instead of metal ones 

Replace broken or burnt light bulbs 

Use a light tester to check each incandescent light bulb 

Hang them on a clothes hanger to prevent them from entangling. 
How long can I store icicle lights?
With proper maintenance, you can store icicle lights for about 4 to 6 years. However, in the meantime, don't forget to replace broken or damaged bulbs. 
How do I know if my icicle lights are no longer safe to use?
It's best to dispose of your icicle lights whenever the wires turn brittle or are exposed because then the bulbs become unsafe for use. 
Can I store icicle lights outdoors, or should they always be stored indoors?
Icicle lights will be usable the next Christmas and holiday season only if you store them indoors away from the heat source. Exposure to the rays of the sun, water, or other elements can damage them, rendering them useless. 
Conclusion
Like Christmas trees, icicle lights are integral to Christmas festivities. 
From the fence and the front porch to the tree, icicle lights are versatile and make the festive season bright and merry. Once purchased, they can last for a long time– the only thing you have to do is store them properly to reap their benefits for years. 
Cleaning dust, debris, and other impurities from the lights are essential. Thereafter, coil the lights around a cardboard or tube and put them in a box, and store it in a cool place. 
Remember, excess heat and water can damage the lights, so take extra care when it comes to storing them. Hopefully, you learned a thing or two about storing icicle lights to celebrate a merry Christmas!