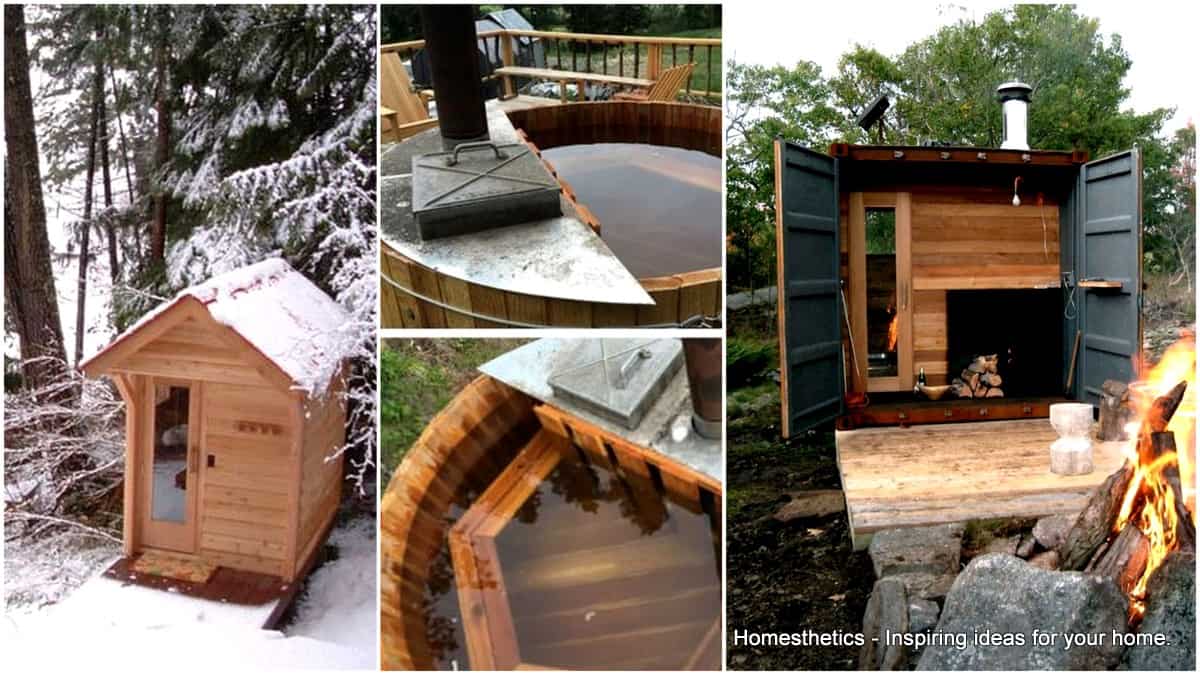 I love water. It has this strange quality that just soothes you, on a physical, mental and spiritual level. Be it the placidly cold water of exotic beaches or refreshing cold showers; water bathes you through your troubles and leaves you rejuvenated.
One of the many ways water has been used primarily as a relaxant is through saunas. The warm steam of a sauna coupled with relaxing salts is so invigorating. You can physically feel your wearisome body let go of the stress as your muscles relax and your mind finds a new life.
There isn't a complicated science to saunas yet this very simple bathing, and body relaxing method is cherished by one and all.
But, haven't you often wondered how a sauna is made or how much it really costs to make or buy one? Is it a luxury reserved only for the user rich or is it something we all can have but haven't really gotten onto having?
Well, you're lucky. There are several do it yourself and starter kits that can ease you through the process and enlighten you with techniques that make it simpler for you to create a sauna.
The following do it yourself and purchasable sauna kits will kick start your road to relaxation.
1. The Outhouse Sauna
Turning your outhouse into a sauna is something that is a simple idea but one that doesn't strike us all that often. But, here this outhouse was redesigned into a sauna, all with a changing room and a storage room. The lady who built this sauna did it all on her own.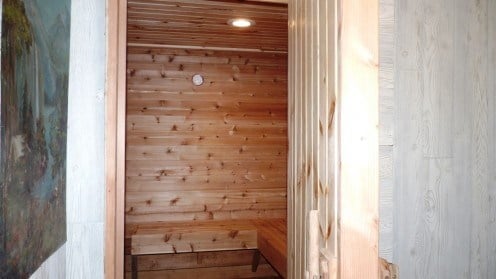 More details at hubpages.com 
2. The On The Go Sauna
This is the age of mobility. Almost anything and everything can be done on the go now, and people are almost entirely dependent on vehicles these days. You have RVs that are moving houses and then actual mobile houses that you can drag behind your car. In this spirit, a bunch of people thought a portable sauna would be something really interesting, and it kind of is.
If you want to have an absolutely relaxing sauna while taking in beautiful views around you, this sauna is it. To know how to make it, check the design manual.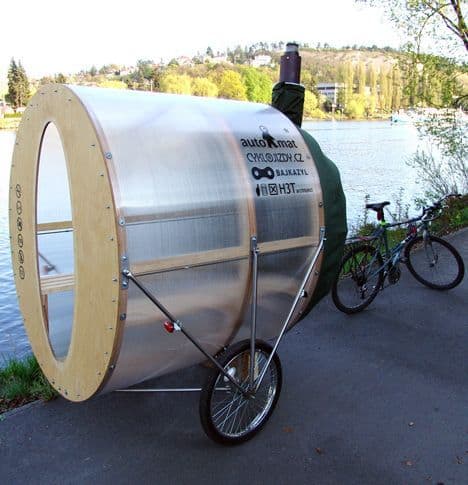 More details at treehugger.com 
3. A Sauna In The Shed
Sheds are usually used as glorified old stuff dumpsters. They don't add anything actively to the value of your house and are seldom visited. But, what if you didn't have a lot of stuff to keep in them and want to add weight to the shed's existence? Turn it into a sauna-like this one. You have extensive instructions to proceed with the plan.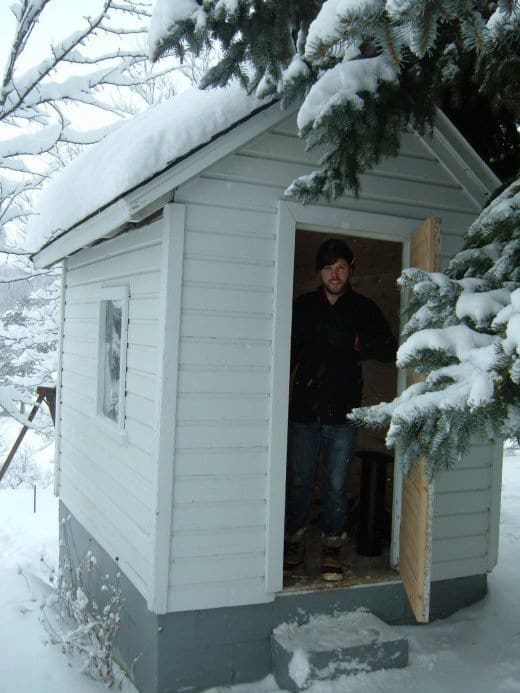 More details at dengarden.com
4. Sauna Manuals For Your Convenience
There are people who know how many people fancy having their own sauna. And that is why this site does a great samaritan's job by providing you with an abundance of sauna design plans laid out in intricate details.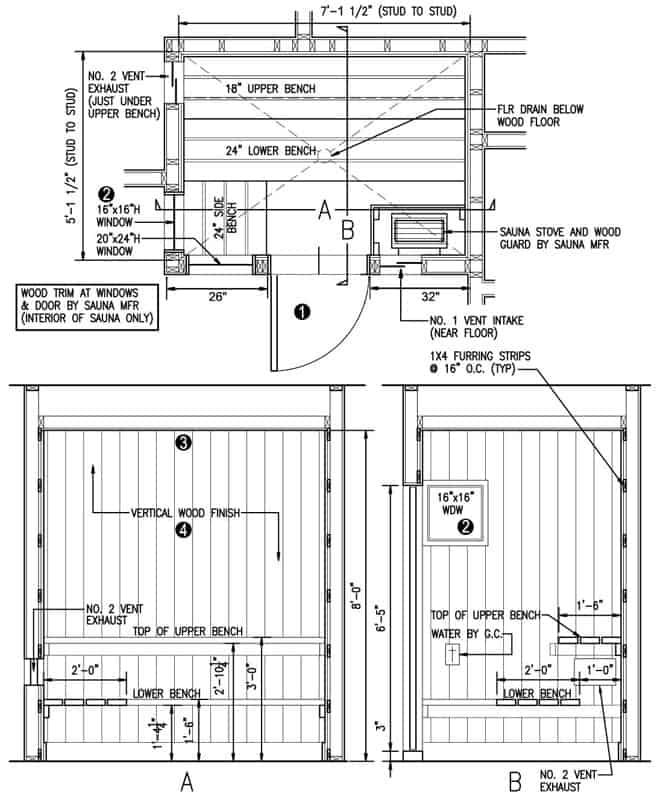 More details at saunaplanning.com
5. The Beer Barrel Sauna
A barrel sauna. Hmm. Looks like a mini hobbit house. Though this sauna was not built by people looking for a DIY solution to their sauna dilemmas, it is still a worthy purchase. Moreover, it is not the only barrel or round shaped sauna out there. In fact, you can definitely make one for yourself all on your own.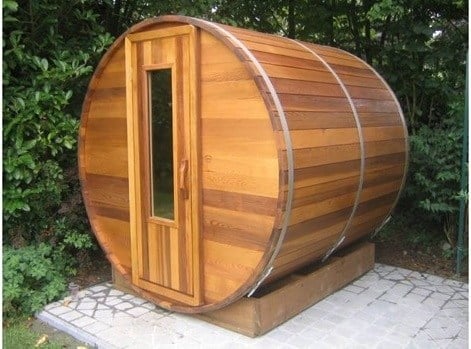 More details at cedarbarrelsaunas.com 
6. Apartment Saunas
This is for people who want a sauna in the apartment and do not have enough space to build one in it. These compact saunas are extremely efficient and space saving. But, yes, they are not DIY products, rather commercially manufactured ones. That shouldn't deter you from making your own apartment compact sauna.
More details at apartmenttherapy.com 
7. How To Build A Sauna In Different Ways
There is more one than one way to create a sauna. You can either go ahead and build it from the very roots, or you can buy do-it-yourself sauna building kits. This one particular site helps you in both regards by giving you a load of freely accessible sauna building plans and these folks have been at it since 1974. That's a lot of experience under the belt to take tips from.
More details at homesaunakits-since1974.com
8. A 4×5 Sauna Kit For the Outdoors
Who doesn't love a small and cozy jacuzzi? Likewise, a comfy little sauna can be your friend too. This particular sauna eases your work even more by ridding you off the task of doing it from scratch as it comes with a kit and a manual, which in no time will help you get sauna bathing.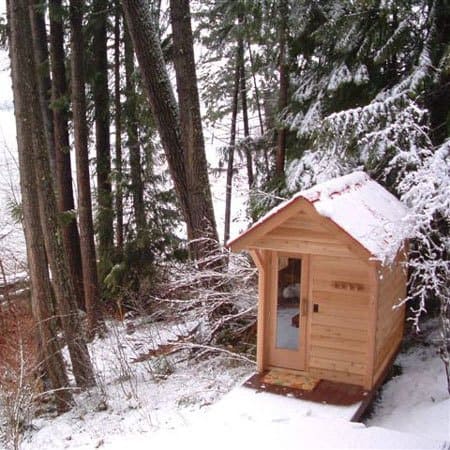 More details at cedarbrooksauna.com 
9. The Firebrand Sauna
A firebrand sauna that you can make on your own sounds like an exciting idea to pursue. Moreover, it has an old time charm to it. And just like good old times, this sauna wasn't born out of a kit. It was made from scratch in all its rustic appeal. Thankfully, the knowledge isn't as restricted as the instructions, along with images, can guide you through the process well enough.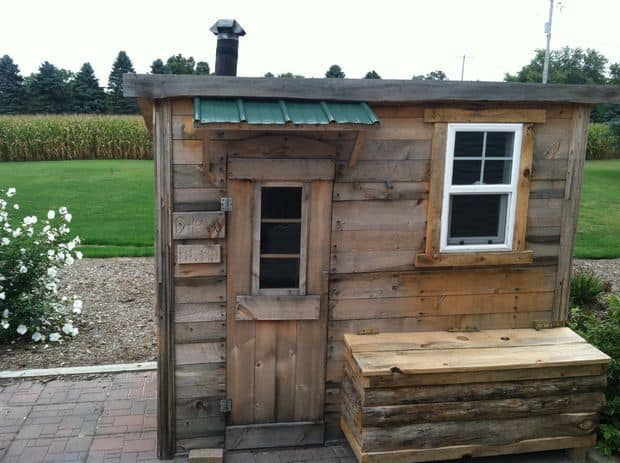 More details at instructables.com 
10. A 5×6 Sauna Kit For Outdoor Building
Small saunas are popular, not only because they save space, but also because they are easier to build and maintain and are more comfortable. And manufacturers know this time-tested fact very well, which is why this 5 by 6 feet sauna comes with a kit, so that you can do it on your own without sludging through the roots.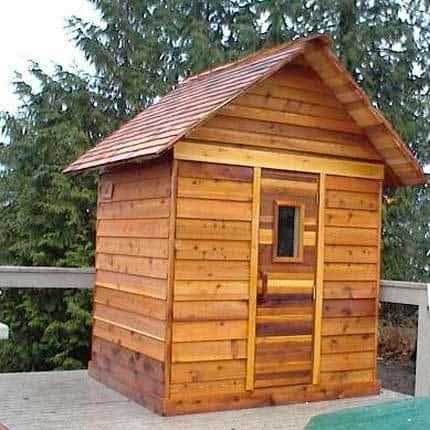 More details at cedarbrooksauna.com
11. A Hot Tub Cedar Wood Sauna
A hot tub is a magical thing, and no, I don't just mean the famous magical time warping hot tub from the famous comedy film starring John Cusack. Firebrand hot tubs are very old fashioned and are a lovely substitute for a full-fledged sauna. They provide you with almost the same warm and comfortable experience, and you can make one for yourself following this detailed guide.

More details at purelivingforlife.com
12. The Hot Tub DIY
Yes, hot tubs are really alluring and extremely relaxing. They are siblings to saunas and are more private in their nature of service. And just like you can make anything on your own, a galvanized hot tub is not difficult either. Plus, it has an air of nostalgia to it.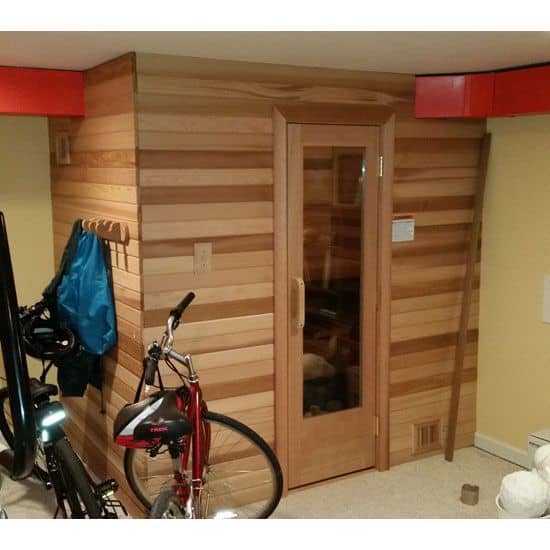 More details on youtube.com 
13. A Sauna Kit For The Indoors
I love small saunas. Really. They are actually quite portable in nature, and if I'm planning to move houses, I would like to have the option of fitting my sauna anywhere, even if time and situation forces me to get a smaller place than I'd love to be in. And having sauna kits only adds to my convenience so much more. Yes, kits are a little heavy on the pocket, but they are a worthy investment. I save a lot of man hours working from scratch and can use the energy elsewhere.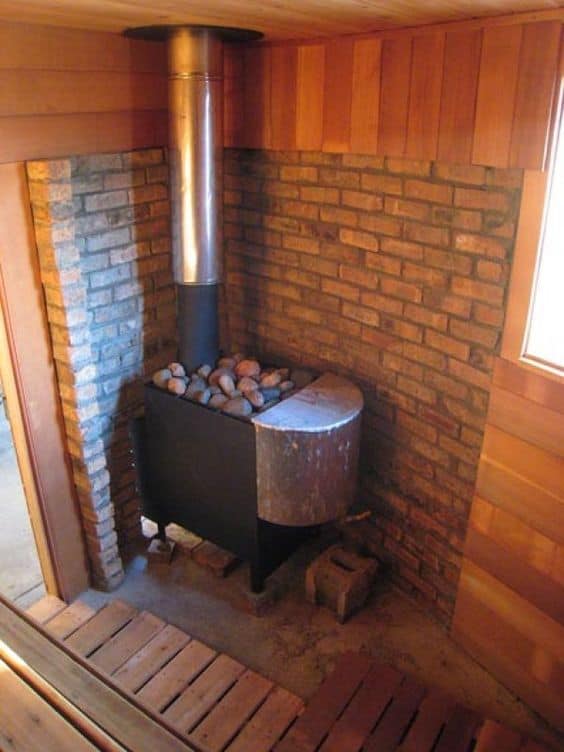 More details at cedarbrooksauna.com
14. A Stove Sauna DIY
One of the things that this tutorial shows that others don't is how you can make your very own sauna stove. Yes. It does bear the risk of failure and must be checked in the safest of conditions, and every step must be taken very carefully. But, once you do make it, it is a rewarding experience.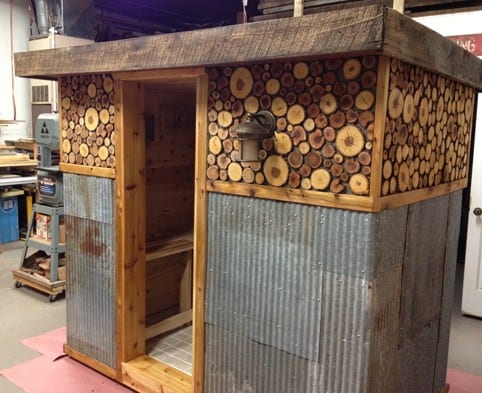 More details at saunapictures.com 
15. Customized Sauna Ways
Yes, you can build your own sauna from scratch. But, what about aesthetics? This one man took extra care of that department and made this extremely beautiful sauna during the winter.
The only downside of this is that he did not share any plans for this and you might have to just do with being inspired.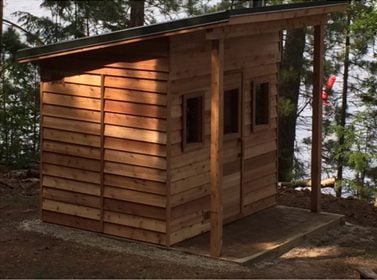 More details at redbarncreations.com 
16. A 6×8 Chic Sauna Kit
This sauna kit is a little bigger than the other ready-made IKEA like kits and is at the comfortable size of 6×8. It can be a little expensive though and not something you might be looking for if budget is your issue.
But, going through the kit plan, you can formulate one for your own and make it for way cheaper.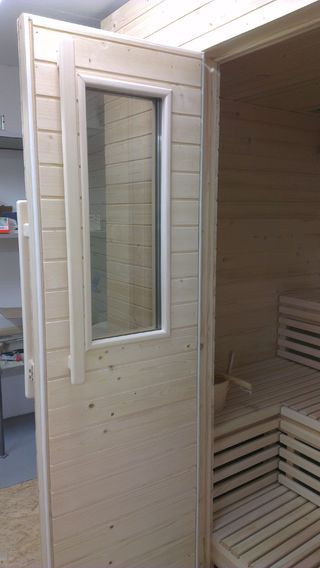 More details at cedarbrooksauna.com 
17. A Sauna Builts Like The Finns
I was once mulling the idea of moving to Finland. It is a beautiful country. There aren't too many people to be bothered by, and almost everyone there owns a private sauna. It makes sense, considering the weather can get intolerably cold. Nevertheless, it is a healthy practice.
The Fins have evolved their sauna techniques over time, and you can now build your own Finnish sauna. It will require more space than usual though.
Plus, this isn't easy to make if you're new to sawing and drilling. This does require a little bit of skill. So, if you know someone who is adept at it, take their help.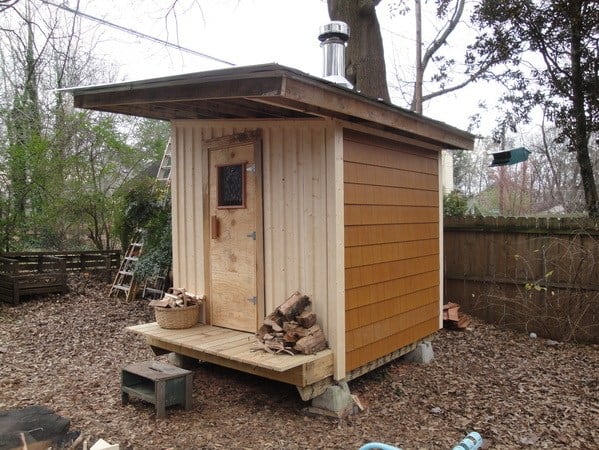 More details at instructables.com 
18. Wood Burning Old School Sauna
Firebrand saunas are special not just because they are exotic to look at, but also because there is this mystic feel that comes from wood burning and heating up your sauna. An old world charm that has its own appeal.
This particular site has very detailed instructions on how to make your own wood burning sauna. It also comes with a lot of helpful images for you to have a clear visual idea of everything.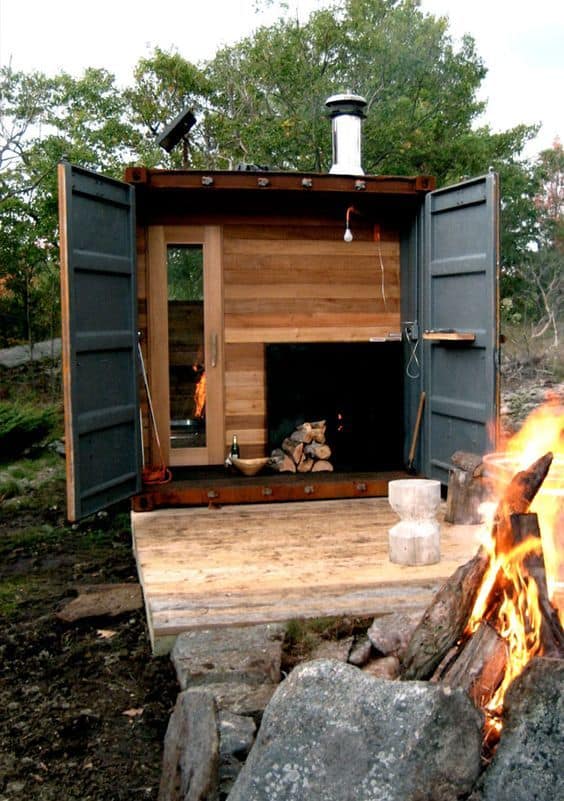 More details at tomakeandtobe.com 
19. A Sauna Box For You To Build
I understand. We can't always go the self-made route. It's not just about the money or level of skill required to undertake a particular task. Sometimes you just want to buy it off, and you'd like to trust the designer's instincts o'er your own. In this case, buying a ready-made sauna is a good idea.
And yes, you can't always afford a great outdoor space to build your grand sauna, and the designers of this small and convenient sauna box know that.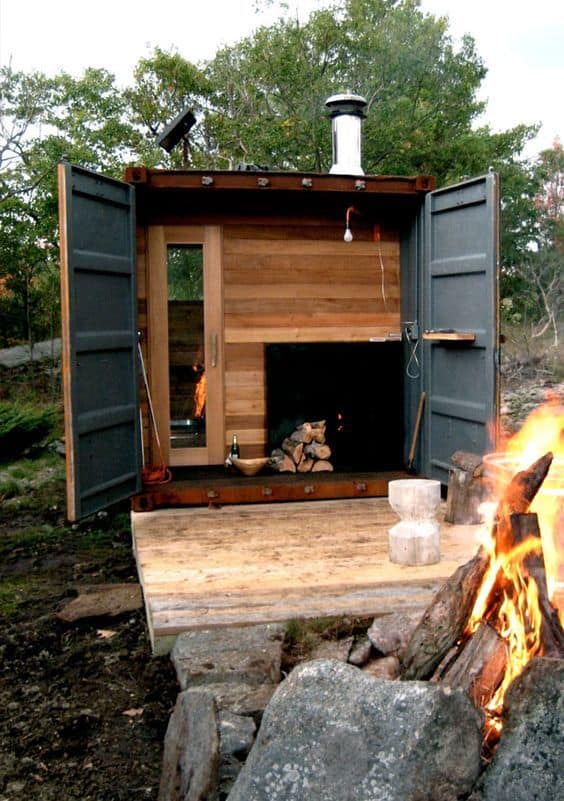 More details at castordesign.ca 
20. A Firebrand Hot Tub DIY
A firebrand fueled hot tub is just what you wish to have at the end of the day. Imagine coming home from a long day at work, throwing away your essentials and just hopping into the tub for that ultimate relaxing experience. All your weariness is melting and vaporizing with the steam and a sweet and comfortable sleep on the horizon.
The process of making this wood burning sauna on your own can be the exact opposite.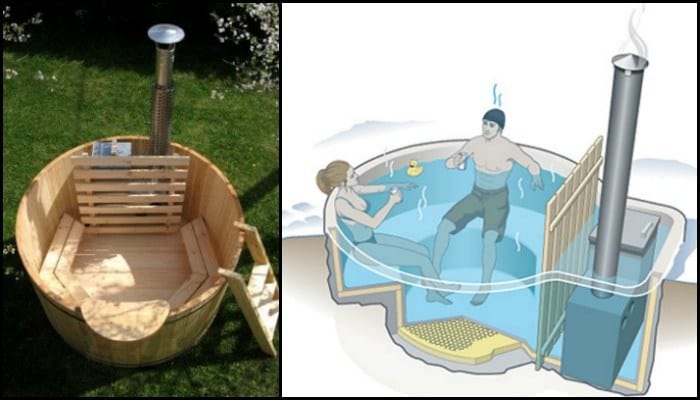 More details at project.theownerbuildernetwork.co
21. A Hot Tub Plus Sauna DIY
Inspiration is key. You never know where inspiration might take you. Imagination just adds more fancy to your flights of whims. This is one of such sauna, and hot tub designs that just might light the spark needed for you come with a blazing idea to make your own fantastically steaming sauna.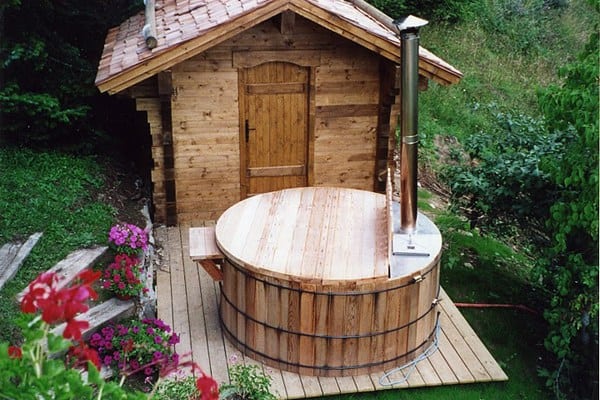 More details at combyo.com 
22. Sauna In A Shipping Container
I love shipping containers, and I love what people do with them. I have seen people make not just custom homes, but also entire complexes out of shipping containers, arranged in futuristic and artistic ways, painted upon and interior designed in more ways than one. So, imagine my delight stumbling upon a sauna made out of a shipping container.
This unique sauna box not just manages to impress you with its surprising material, but it also comes with all sorts of high-tech accessories for you to set up. This sauna also stands out due to the fact that it is solar powered and also has a firebrand stove included. It is also extremely customizable. A win-win for everyone.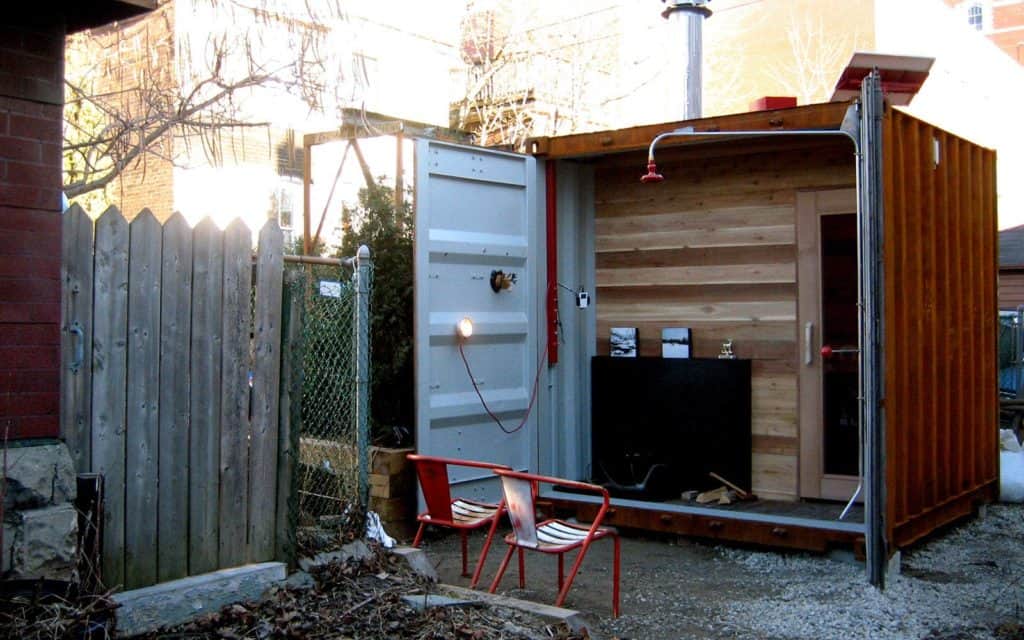 More details at castordesign.ca 
23. Sauna With A Fireplace
A traditional sauna works using firebrand for heating, but what if you had an actual fireplace inside the sauna? You can now add a properly functioning iron hearth and chimney to your sauna by following these instructions. But, do have several safety checks as you don't want to mess with fire. Even though the maker of this sauna has given instructions, you will need to add a little bit of your own input to complete it. Given the plethora of ideas at your disposal, that should not be a problem.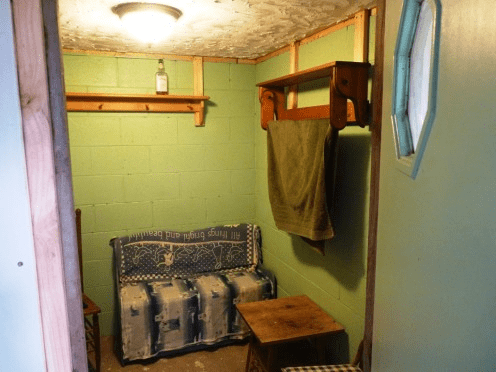 More details at hubpages.com
24. Your Bathroom Sauna
This particular sauna is for those who like to experiment with what they already have. You might be wading in your bathtub or standing under the hot shower and wondering what if you had a sauna in the bathroom instead. And this customized indoor bathroom sauna is the perfect answer to your musing. You can convert your bathroom into a wood-plated sauna if you're going the traditional way or can use an amply insulated infrared sauna. Either way, you will be saving a lot on cost and time by merely custom constructing a sauna inside your bathroom.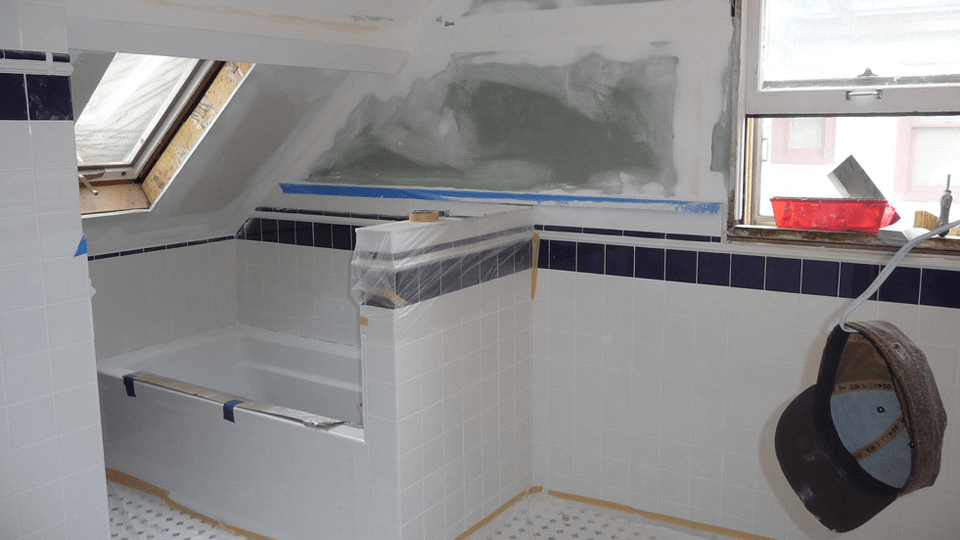 via mymydiy.com
 More details at lifehacker.com 
25. A Near-Infrared Sauna For The Tech Buffs
You might wonder how an infrared sauna works. It does sound really hi-tech but in actuality is quite simple. In fact, the person who built this particular sauna provides immense details about the how infrared sauna is good for you. This instruction also focuses on the upsides of near infrared sauna as compared to a far infrared sauna.
On the technical side, there are quite a few things you will need to build an infrared sauna, and most importantly you will require 250 Watts red heat bulbs. Three of those. But, the upside is that you won't need to go through an extensive renovation, just a pair of scissors are more than enough as you are installing the equipment against a wall, albeit in a closed area for the required effect.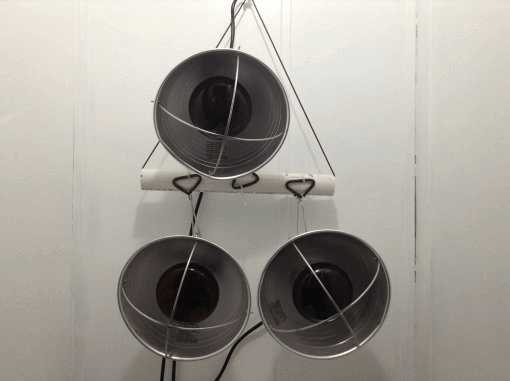 More details at vitalityhealthworks.com 
26. An Affordable $100 Near Infrared Sauna DIY
Getting an Infrared Sauna made or making it by yourself is simple yet can be a tad costly if you are on a budget. For this reason, you can actually make a near infrared sauna for less than $100 through this amazing manual. The person who built this cost-effective sauna has laid out detailed plans and instructions, including all the supplies you will need and what are the safety measures you need to ensure before, during and after you build it.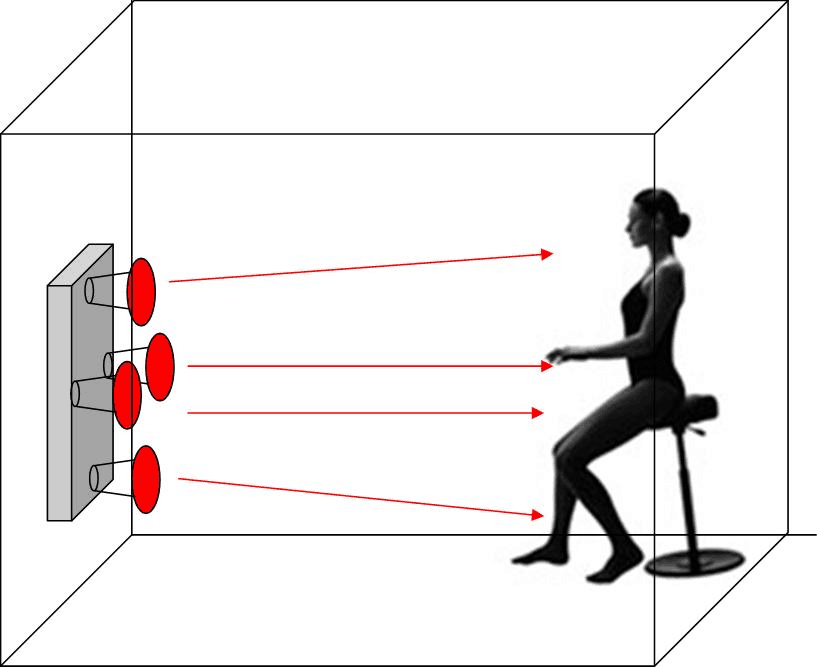 More details at infrared-light-therapy.com 
27. Cost-Free Sauna In The Woods
How affordable do you think a sauna can actually get? Well, as affordable as using just a trash bag and some logs out in the woods. That is something extremely cheap and very easy to make, saving time too. Imagine having a sauna in the beauty of the woods. Relaxing. All you will need is a single log of considerable length, a couple of trash bags, a stone that has been heated up in a fire and some small rocks and stones to secure the trashbags to the ground.
This sauna is quite quick to make, but it won't give you the maximum sauna experience, and frankly, I do not believe any of us is expecting it. Warming up on a chill and windy forest night by having a fifty degrees hot sauna is more than adequate.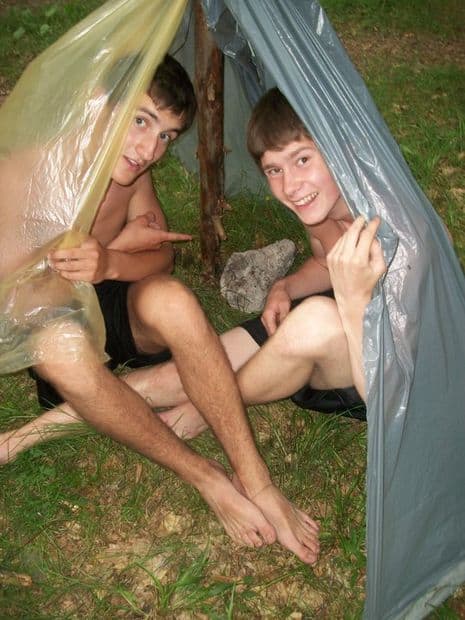 More details at instructables.com 
28. Wintertime Sauna DIY
This Sauna is for those who want to add extra warmth during the biting frost of winter. Taking a shower during wintertime is not a task to envy. In spite of warm water, it can be quite daunting if the cold is pervasive. So, opting for a sauna instead seems more appreciable. You can build your own customized sauna box for the winter and with the aesthetics to wow in no time following these images. You will require big tin sheets, lots of sliced logs, some cedar and an electric heater made specifically for saunas. If you've already made a sauna before, this should be easy. Otherwise, you will need to rummage through plans and come up with solutions of your own to figure it out in its entirety. A fun exercise I believe to keep the mind running and preventing it from freezing.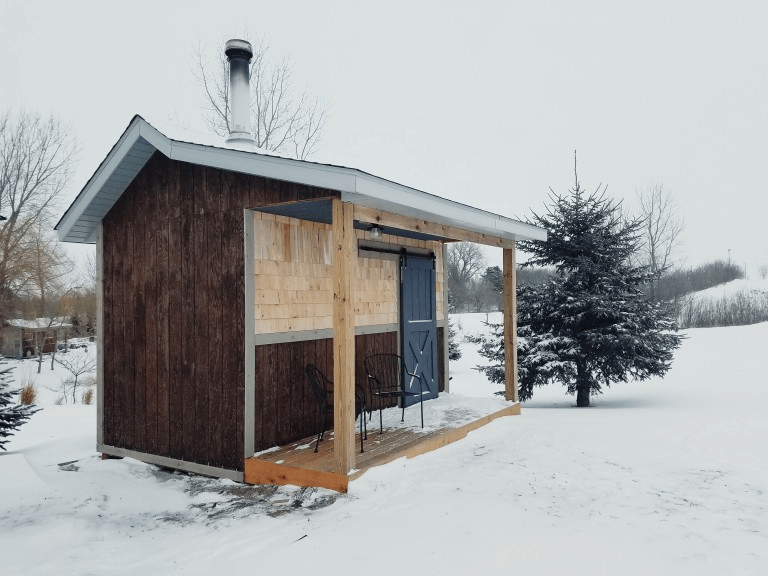 More details at redbarncreations.com 
29. A Homestead Sauna
A homestead sauna idea is very easy to implement, especially when you have enough set of instructions for its creation. All you will need to figure out is the size and place of your sauna installation, and from thereon you can proceed to building the sauna. There are a few things to keep in mind before you lay the ground for work and the manual does list out the dos and don'ts clearly.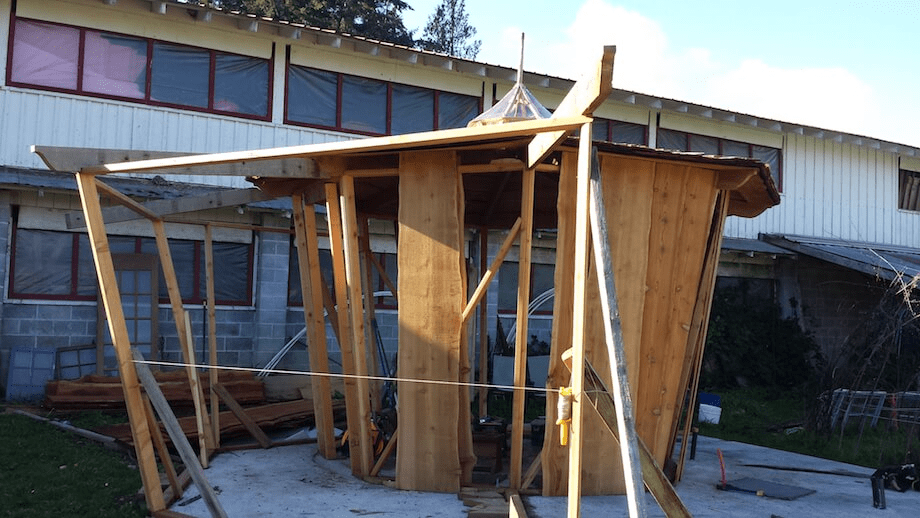 More details at niftyhomestead.com
30. DIY Spa Sauna
Why stop at making just a sauna when you can push it a little more and turn it into a spa complex instead? Experience the magical comfort and nourishing of a spa right in your home. This will require a lot of space in the outdoors right outside your home, so if you're an apartment or an urban dweller, this is not an option you can go for, unless you do have a roof apartment.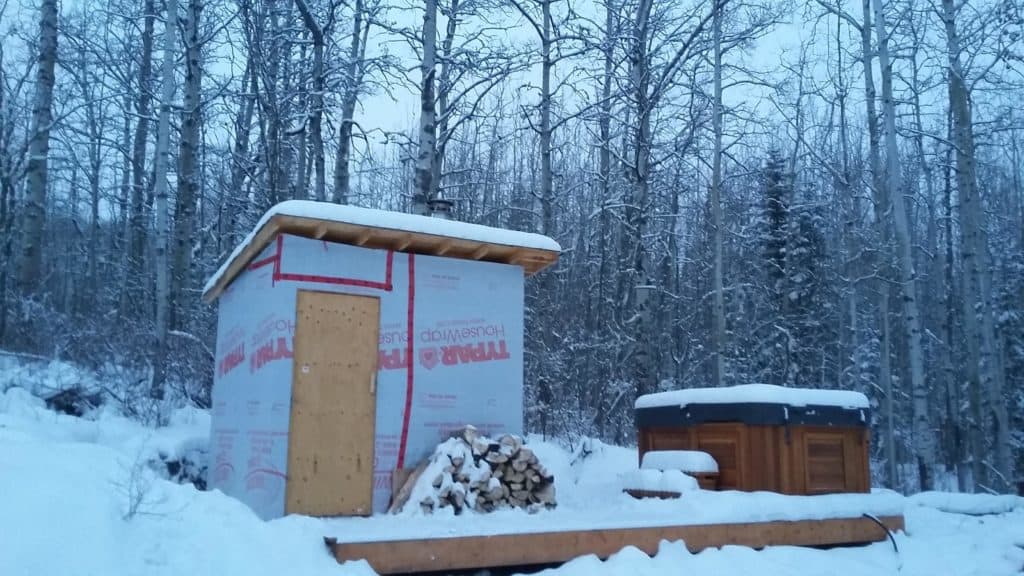 More details at imgur.com 
31. A $150 N-I Sauna DIY
A near infrared sauna can be created based on your budget. So, if your budget is higher than a $100, you can actually spend $50 more to make a better NIS. The point is doing it yourself by following detailed instructions is always much better than buying something really cheap from the internet because even though you're thinking about saving money there, you are actually risking serious mortal harm. You have no way to guarantee the functional health of the purchase, and any weakness will bare you to accidents. So, building a sauna on your own is a most recommended option.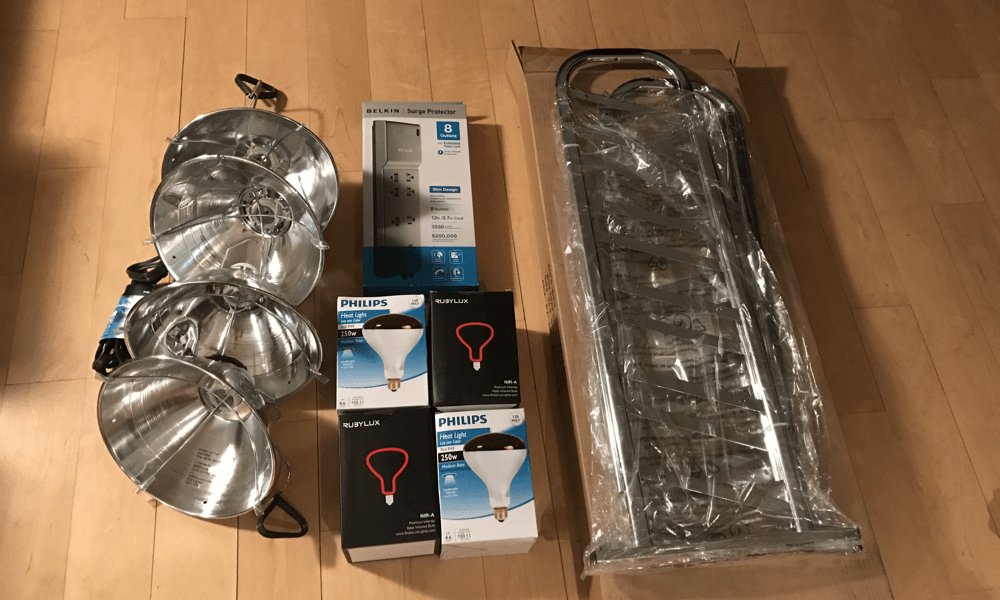 More details at quantifiedbob.com 
32. The Cedar Barrel Sauna
You can make this amazing sauna out in the woods by just using some really good cedar wood. What's great about this sauna is that it doesn't really require any special insulation due to the use of cedar wood. Cedar is extremely recommended for the construction of saunas. What you also need to make sure is the measurement and the compactness of the build, which the builder has detailed in his manual for you.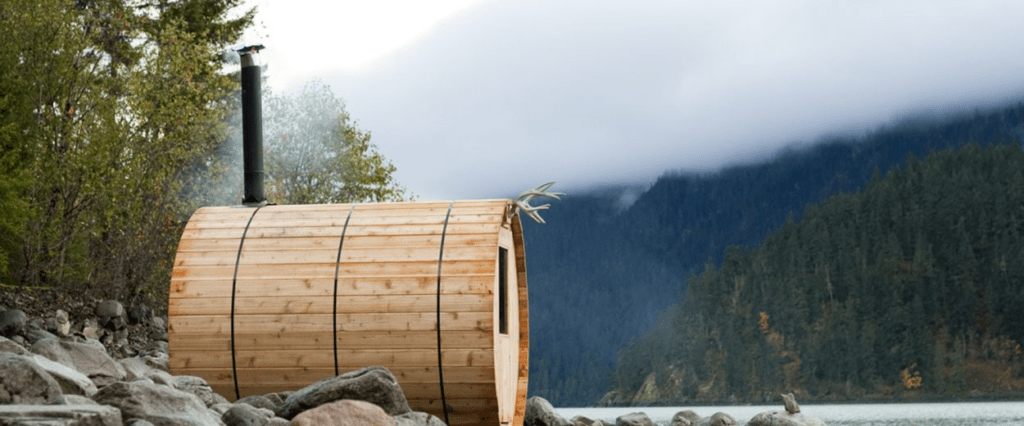 More details at gibbonswhistler.com
33. The Pit Free Sauna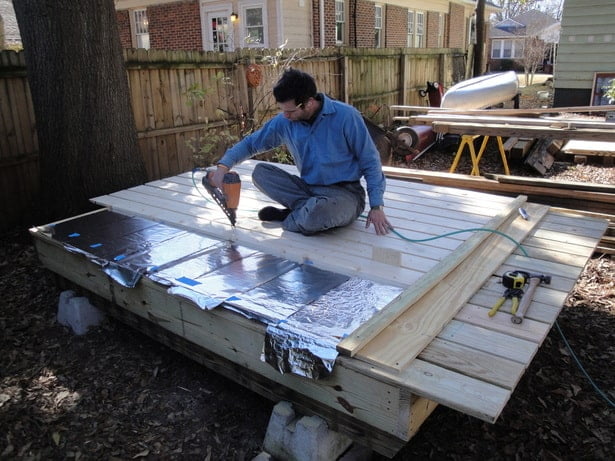 By using aluminum foil and concrete blocks, this builder raised the elevation of the sauna shed, thus removing the requirement of digging anything. Using a stove pipe kit that is insulated solves the heating part of this sauna. It is a little difficult to do it all on your own though. So, call up friends or gather your family to lend you a helping hand and have fun creating something that is truly rewarding upon completion.
More details at tomakeandtobe.com 
So, are you ready to build your own sauna and relax away your days to great health? I believe the answer is indeed. Happy bathing!
Related Articles
How Much Chlorine Do You Put In A Hot Tub?