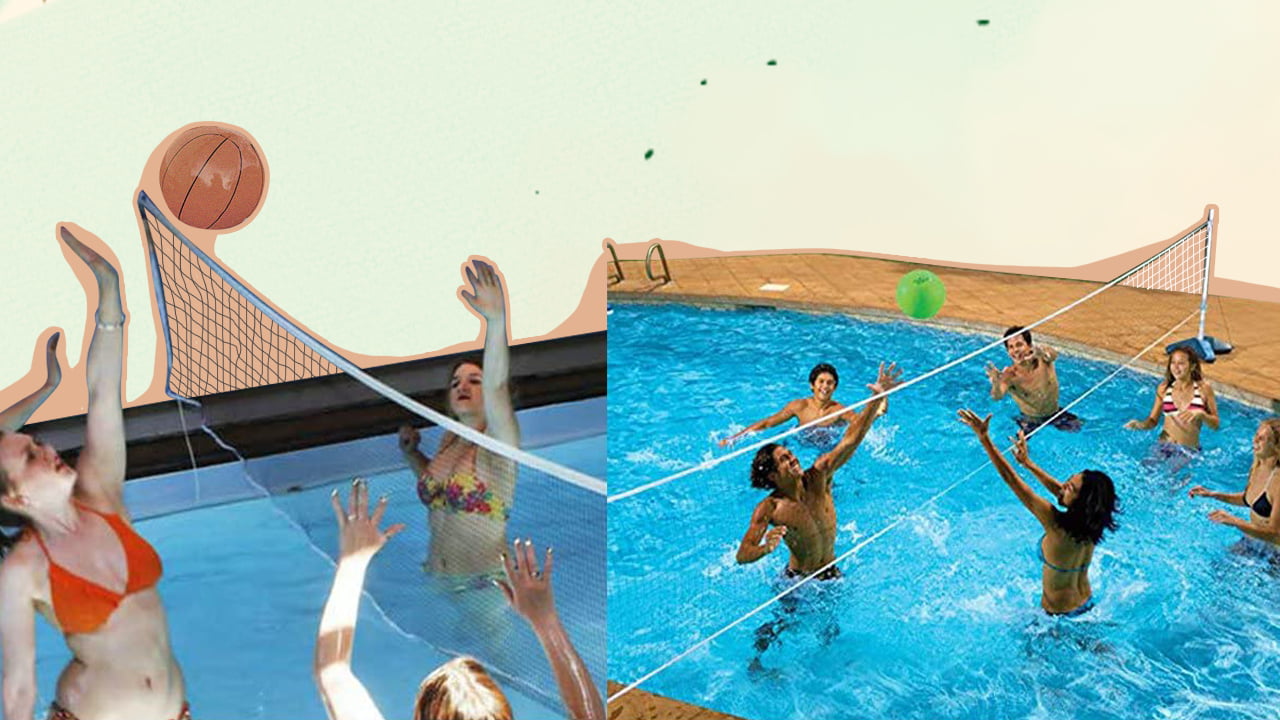 Small pool volleyball nets should be made of trustworthy material to ensure safe play. They are most likely to be non-corrosive and non-sagging. So, besides our favorite pick W.F&STAUB Sport Professional Volleyball Net, we will be reviewing some more top-notch options on the market. 
Pool parties are always special, considering the fun they involve, and every pool party is incomplete without a game of volleyball. So, if you are planning one such party and wish to buy the best pool volleyball nets, then go for it. 
However, make sure you compare the features of each net available in the market. They should be worth the price, after all. So, to make your search easier, we have listed down the best nets for you to check out. 
5 Best Small Pool Volleyball Net Reviews
What we like
Uses high-quality aircraft steel cable

Good customer service 

Ideal size for competitive volley games

Can be used at any place, such as a schoolyard, or beach

Does not corrode
What we don't like
No additional poles provided
This brand's high-quality net with its own net bag, which should help you and your gang have fun at the pool. The nets are made of aircraft steel cables to ensure they never interrupt the play. 
Compared to other volleyball nets in this price range, this net offers superior quality. It is fixed with strong, rigid ropes that are provided at each of its four corners.
Such a construction guarantees that this net can be used in any weather conditions and that it can be utilized for professional games. Also, the high tenacity resistance power of the net will allow you to use it for a long time. 
That is not all; the net is also very easy to use. The stitches are strong, and the net size is quite suitable (32 ft x 3 feet) for all. To keep the stitches from becoming loose, the edges of the nets are double-layered with canvas. 
Size: Universal size (32 feet by 3 feet) | Material: Polyethylene | Portability: can be used easily on indoor and outdoor grounds
Sale
What we like
Uses good-quality polyester and PVC material

Can be used for playing badminton 

Steel wires are given to fix the net at the pole

Double-layer sewing 
What we don't like
Steel wires provided only at the top layer
This is the most inexpensive variant that comes with sufficient features. PVC and polyester are the materials used in the making of this net. It also comes in an ideal size of 32 feet by 3 feet. 
To preserve the stability of the net, the steel wires are only installed at the top of the net. Metal grommets are placed at each corner of the net to ensure sturdiness. Also, note that no dowel rod pockets or dowel rods are provided to retain the shape of the net (while the game is being played).
Furthermore, steel wires are used to make the ropes that are provided to attach the net to the poles. Every border has double-layer sewing to extend the long lifespan of the net. 
Additionally, this net can be easily packaged and kept in the brand's own reusable and transportable bag. To prevent the net from easily shredding, the square mesh is made of PVC material. Lastly, one can even play badminton by using this volleyball net.
Size: Universal size (32 feet by 3 feet) | Material: Polyester and PVC. Metal grommets at every corner | Portability: easily portable
Sale
What we like
6-ply polyethylene mesh 

Provides high-tenacity resistance 

Corrosion-free buckles

60-day complete warranty

Double-layered canvas is used on the top and bottom
What we don't like
Poles are not provided to tie the net
This is the perfect choice if you're looking for the best sturdy volleyball net that can be used in pools and other outside locations. This net is the strongest of all the nets since it is made of six-ply polyethylene mesh. At the top and bottom of the net, there is a double layer of canvas for better sturdiness. 
High-quality nylon ropes are used at all four ends to fit the nets at the poles. 3mm knotless rip-resistant nylon netting is given to ensure its long-lasting use.
Moving on, to keep the net in top condition until the very last day, it makes use of a top cable with high strength and reinforced side tape. Because this net is available in a universal size (32 feet by 3 feet), it can also be used in different volleyball competitions. 
One can add this net to their swimming pool volleyball set because the buckle and other components are corrosion-proof. Additionally, this net can be used in any climate and at any location, including a swimming pool, garden, or schoolyard.
To increase the durability of the multi-layered canvas, double stitching is also added to the net. Plus, customers of this brand receive a 60-day warranty on their nets. And the best part is that there won't be a sturdiness issue because the net isn't overly heavy. 
On top of it, the net height can be changed to suit an individual's requirements. Additionally, a bag is offered to keep the net in. 
Size: Universal size (32 feet by 3 feet) | Material: Polyethylene | Portability: used in schoolyard, backyard, and swimming pool
Sale
What we like
High-quality polyethylene used

Can be used as a fencing net

Multi-thread stitched strong mesh

Comes with a portable bag

Steel wires used in the drawstring
What we don't like
Grommets were missing in the pack
One of our top choices is the CYEELVES portable volleyball net which is known to last long. The high-quality polyester used to make these hefty volleyball nets have strong tensile resistance, ensuring that the net will always be stable. 
Also, the fabrics used at the top and bottom of the netting are double-stitched for better resistance power. On top of it, the net is made of steel wire and PVC network wires, making it very sturdy. The borders of this net are completely made-up of canvas to enhance the look and quality of the net.
Furthermore, to add to its durability, metal buckles have been attached to each of the four corners. The dimensions of the net are 32 feet by 3 feet, with a 4-inch square mesh. And to maintain the shape of the net, side pockets are placed at the corners. 
Another essential fact about this brand is its efficient customer service. If the customer is not satisfied with the product, they can ask for a refund within 45 days. 
Moving on to the usage, Cyeelves volleyball nets can be used in any outdoor space, including schoolyards, gardens, backyards, swimming pools, and beaches. 
In addition, one Cyeelves volleyball net and one high-quality volleyball net bag are included with the item. You can also play badminton with this net. 
Size: Universal size (32 feet by 3 feet) | Material: PVC and steel | Portability: Can be used at any outdoor location
What we like
Good-quality polyester 

Comes with five years of warranty

Steel wires and double sewing on canvas for better stability

Contains metal buckles 

Best for beaches and swimming pools
This net is made from high-quality polyethylene that offers exceptional tensile resistance. To make this net solid and powerful, steel wires are employed at the top and bottom. 
So, it can be utilized for both training and leisurely sporting activities. The participants can also easily change the height to suit their individual needs.
Plus, the corner of the net has a metal grommet to secure it to the poles appropriately. The ropes attached to the grommet are made up of nylon to fix the net perfectly at the poles. And no matter if the location is indoors or outdoors, this net can be used everywhere. 
Moving on to the measurement, this pack includes a regular-sized net (32 feet by 3 feet). Thick polyester is used to make the square mesh. This net also includes a portable backpack that will keep it secure. 
That is not all; every canvas that is positioned at the border has been double-stitched. It can be used by persons of any age who want to enjoy playing volleyball. 
Finally, the brand delivers excellent customer service. From the perspective of the customer, the five-year warranty that comes with the net is excellent.
Size: Universal size (32 feet by 3 feet) | Material: Polyester and metal | Portability: Used indoors and outdoors
Things To Remember While Buying Small Pool Volleyball Net
You can also look up DIY pool volleyball net ideas in case you want to make one at home. But before doing so, it is always recommended that you check some of the essential features of a pool volleyball net so as to ensure a great pool experience. We have discussed them right here to help you out. 
1. Durability
You will want the pool volleyball net to last for a long time if you are going to add it to the pool toys in the house. For that, the mesh needs to be made of heavy-duty steel. Also, kids have a tendency to break things, and the net can easily get damaged if they are not made of durable materials. 
Another thing to watch out for in the case of volleyball equipment is the warranty period. If the warranty period is longer than two years, you can rest assured that the net will be replaced if it does not prove to be durable. However, you can call up customer care to better understand the process. 
2. Weather-Resistance
Your kids may come up with all sorts of ideas, and that could include playing in the rain. While they may love it, the net should also be able to bear all kinds of weather conditions.
3. Portability
Since this is a small net, it should be easy to move it around. Also, kids may want to take it on vacations to place it in pools in the hotels, so make a choice accordingly. If you are just getting it for the backyard pool and do not plan to move it around often, then a heavy net also works. 
Small Pool Volleyball Net FAQs ? 
How high should a pool volleyball net be? 
It is best if the pool volleyball net is at least 2.5-3 feet high. This will ensure that kids and adults both can play in the pool. Also, this measurement is applicable for pools that have a depth of 3.5-4 feet. This gives a total height of seven feet once the net is in place. 
However, if kids are going to play with it, it is best to keep the net a little lower for them to be able to throw the balls in the right way. 
Top Small Pool Volleyball Net Verdict
Before you order a pool volleyball net, ensure that it comes with a user manual. This should make it easy for you to install the net in place. And check if you can secure it properly. If you face any problems while securing it, contact customer care immediately. 
Since kids are going to play with it, you will need to secure it well. Moving on to our top choices, the W.F&STAUB Sports Professional Volleyball Net is our favorite because of its high quality. 
On the other hand, the ATINUS Portable Net is an affordable option for those on a tight budget. 
That's all for today. Have fun in the pool!