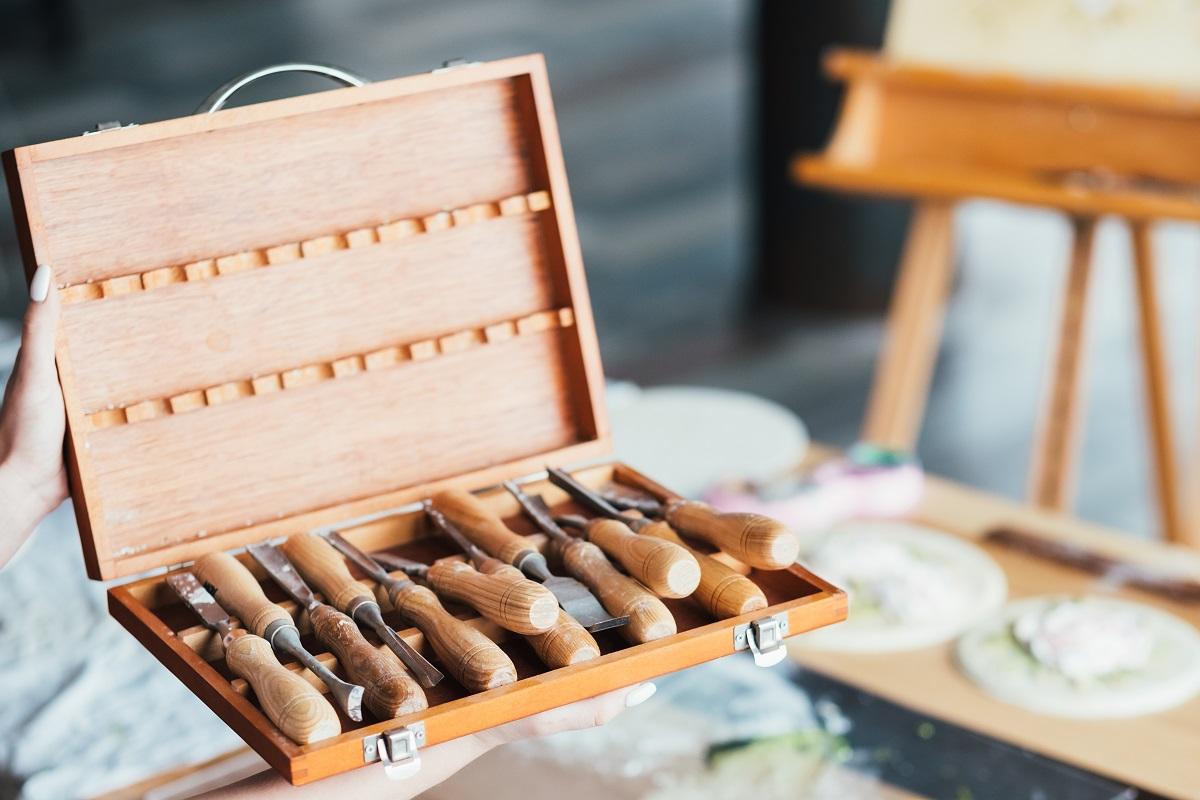 To become a pro at pottery making, you will need the right tools and the best clay for sculpting! 
It is true that many clay artists simply use their thumbs and fingers to make excellent pottery. However, to add more details and bring nuances to clay modeling, it is best that you find the right tool set. Such tool sets have all the right pieces of equipment needed for the job. 
That said, there is no perfect way to select a tool set. It all depends on your requirements and, most importantly, on your level of expertise. For example, when buying clay sculpting tools for your kids, it is best to go for a plastic option. The scale of your clay sculpting project will also dictate the kind of tools you need. 
And in today's guide, we will take you through all that you need to look for when selecting tools for clay sculpting. We have also attached a few top options that you can try. 
So, let's begin!
Things To Remember When Buying Clay Sculpting Tools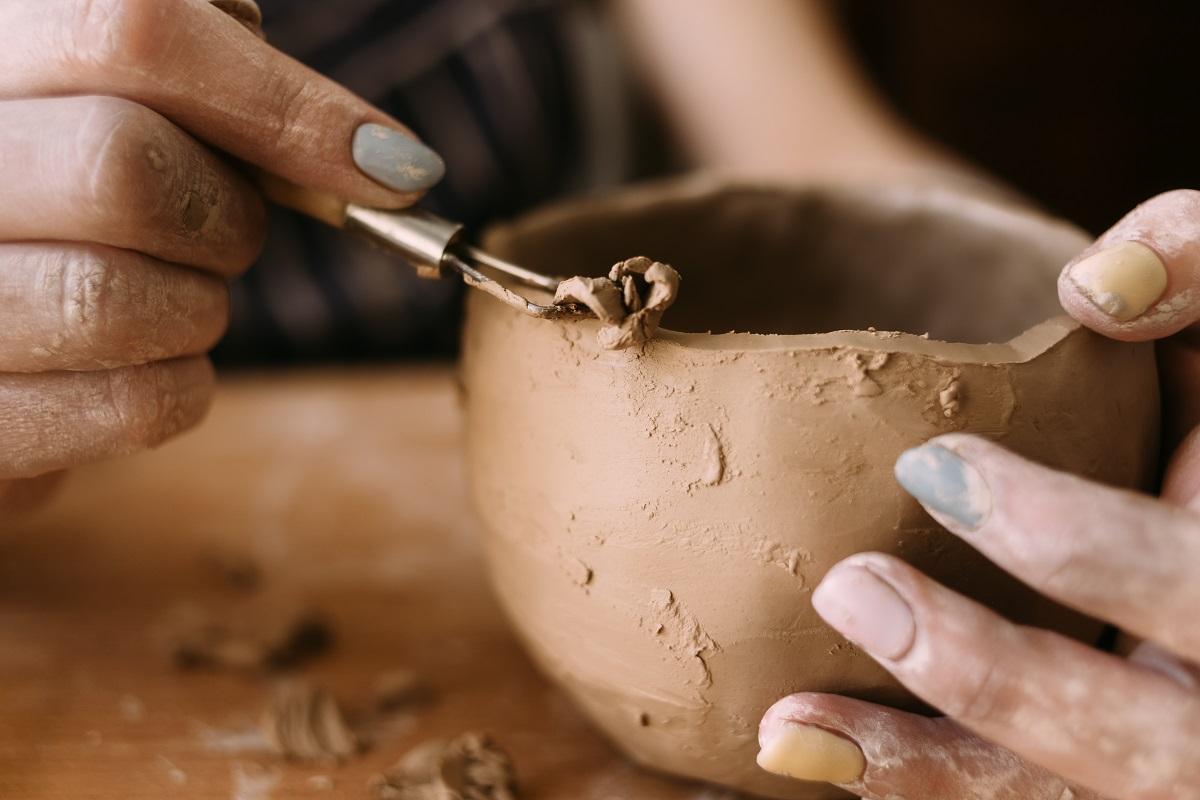 Before we dive into looking at the best clay sculpting tools, it is important to know about a few factors that will help you make the best choice. And, in this section, we are going to take a look at some of those factors.
1. Types Of Sculpting Tools Set
The type of clay sculpting tool that is suitable for you depends on the kind of expertise you have. If you are just starting out, it is best to start small and introduce simple clay tools to your inventory. You might be wondering why we are suggesting this!
Well, if you start without any prior experience, there's a good chance that you will feel overwhelmed handling a massive set of modeling tools. So, we recommend that you get acquainted with the clay sculpting process and pottery tools before investing in a big set that has all the tools. 
However, if you already have some experience and are trying to expand your pottery skills, simply opt for a comprehensive set. Just remember to always check that the quality is good and you are getting the product at a fair price. 
2. Double-Sided And Single-Sided Tools
If you are planning to get a bang for your buck, investing in double-sided tools is a great idea. This simply means that you can enjoy double the application with just half the sculpting tools. 
To make the most of them, you simply have to switch ends. And, voila! You can now use different-sized cutters and loops for mark-making. Most sculptors really appreciate these tools because of their multi-purpose use. 
A word of caution, these tools are not the best choice for beginners. If you are new to sculpting, you might find it a bit challenging to understand how exactly these tools function. 
In most of the comprehensive sculpting tool sets, you will find a mixture of both single-sided and double-sided tools. Once you get accustomed with the single-sided ones, you can move on to using the other variant. 
3. Material
You will find the best tools in a number of materials. The most popular ones are wooden clay  tools and metal ones that come with wooden handles. These variants are widely loved because of the strength of metal metal and wire shape. You will surely like the feel of wood in your hands while sculpting. 
Nonetheless, when sculpting clay, you can choose other options like rubber and silicone if you are looking for a different effect. Select a set in accordance with your preference for the tool material. That said, when you buy a comprehensive set, you will find tools made of different materials.  
In case you are buying a set for kids, we recommend that you select one that comes with plastic tools. These are great for beginners and kids, as there is no chance anyone would get hurt. Plastic tools, however, come with their fair share of disadvantages too, and we recommend that you research well before you make a purchase. 
4. Added Features
To make the most out of polymer clay or other types of clay for that matter, it is best to choose tools that come with additional exciting features. For creative projects to go smoothly, it is not only essential that you use advanced tools, but you also need to explore the best storage solutions. 
While some people prefer storing the tools in a box, there are others who prefer to wrap them neatly in a leather cover. Moreover, you will need a long-lasting clay sponge that will help clean dried pieces and smoothen wet clay. Check if the collection that you are purchasing comes with sponges. If it doesn't, you'll have to buy it separately. 
We have noticed that many sculptors prefer to use an apron to protect themselves from getting mud all over themselves. When investing in a sculpting tool set, you can check if it comes with an apron or not. 
Can Best Clay Sculpting Tools Improve Your Work?
Many clay artists prefer sticking with the tactile experience they enjoy when using just their fingers for sculpting work. However, we have noticed that when you embark on creating more complex models, using just your fingers might not be the best solution. 
This is where tools can significantly enhance the quality of your work. With the right set of tools, creating marks and patterns on clay will become pretty convenient. These tools will make it easy for you to create complex designs by experimenting with different engraving styles. 
Mostly in comprehensive tool sets, you will find ribbon tools, loop tools, and knives, which will help create any patterns and cuts that you desire. If you have a bit of prior experience, you can even use these tools while working on a pottery wheel. 
While these are specialized tools, you cannot devalue the importance of some basic ones when engaging in clay sculpting. For example, the right sponge will enable you to apply water to clay, ensuring that it does not get too wet. 
Also, we cannot emphasize the importance of a good brush. It will enable you to apply glaze and slip, which are much needed for hand-decorated works. To sum it up, always check the full listing of tools before investing in a set, as they will directly determine the quality of your work. 
The Best Clay Sculpting Tools Of The Year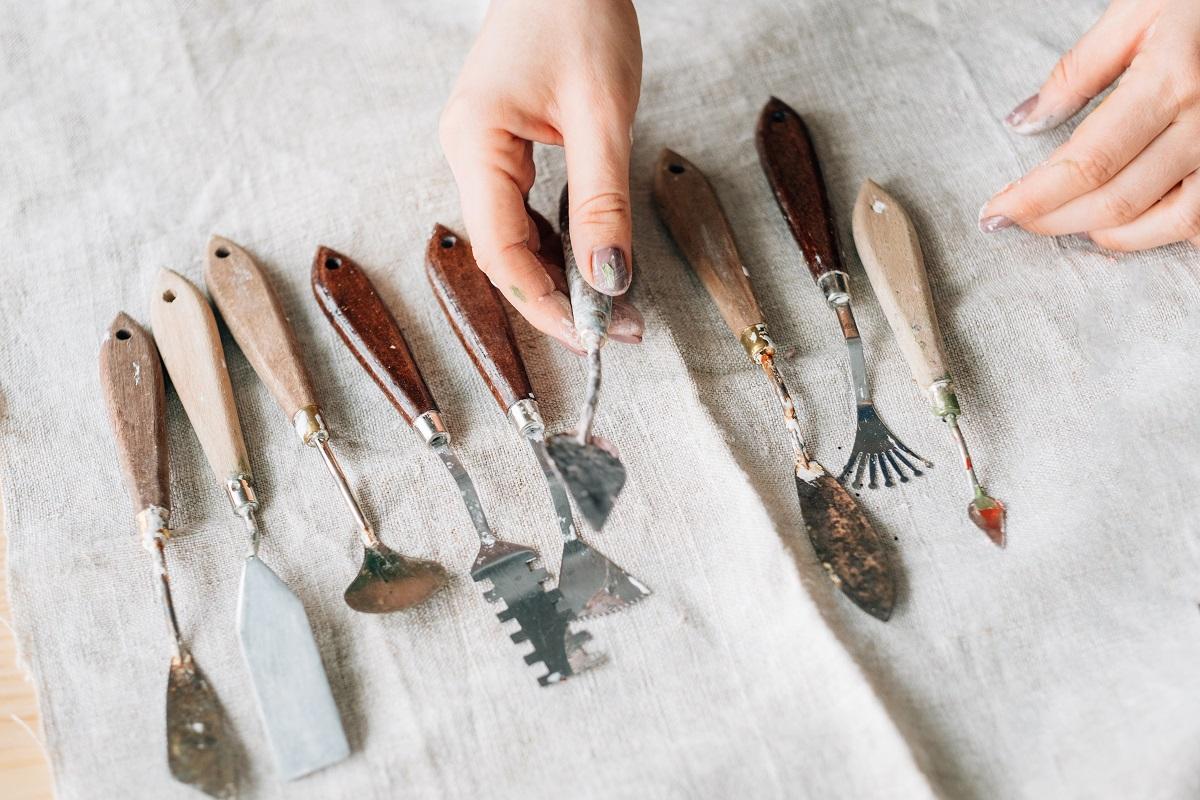 1. Rubfac Seroline Polymer Clay Tools
These 24-piece clay sculpting tools can be a perfect addition to your art space if you want to take the craft a notch higher. 
The set consists of five rubber pens, five wooden clay tools, four plastic styluses, four rubber handle styluses, and five wooden handle ball styluses. Not to mention, you will also get a much-needed pottery sponge included in the package. With a bit of maintenance, these tools can help you work on your clay sculpting ideas. 
2. Meuxan Pottery tool set
If you like to work with a larger number of tools than what was present in our last recommendation, it is best you give this option a try. This Meuxan tool set comes with 30 clay sculpting tools. 
With so many useful tools, you will face no difficulty cutting, carving, modeling, smoothing, and scraping clay. And, most of the tools present in this set are double-sided, which helps you get super creative when you have to sculpt clay. 
3. Sculpt Pro Pottery Tool Kit
For people who are on the lookout for tool sets that are small but multi-functional should give this one a try. It comes with 11 double-sided tools that add a great deal of versatility to your work and expertise. 
However, what makes it stand apart from other sets is the fact that it comes with an aluminum brush that is super helpful for detailing work. To make things easier for the user, the manufacturer has thoughtfully included a plastic covering on top of each tool to prevent them from getting damaged. 
4. Blisstime Clay Sculpting Tools
Often sculptors complain how some tools are uncomfortable to work with and cause hindrance to give life to their clay modeling ideas. Keeping that in mind, Blisstime has introduced this set of 42 clay tools that provide the user with the ultimate comfort. 
The handles of these tools are quite sturdy, thereby preventing them from slipping out of your hands. That said, we noticed that the carving tips of the tools are quite sharp. And, it is best that you use them carefully. 
5. Arteza Sculpting Tools
This multi-functional tool set with 22 clay sculpting tools is quite popular among clay artists for all the right reasons. The tools are made of lightweight wood and stainless steel. This makes all the tools ergonomic, and you won't experience any hand ache even when you work with them for long hours. 
Moreover, this set gets extra points for exceptional packaging. The tools come in a portable see-through plastic storage tube. 
6. S & E Teacher's Edition Pottery & Clay Sculpting Tools
We are sure that the "teacher's edition" tag must have gotten you curious to know more about this product. For people who are on the lookout for multi-purpose clay tools that are easy to use, you must give this item a try. 
The package includes six pieces of sculpting tools, all of which are double-sided. And, the best part is that all the tools come with wooden handles, making them super easy to use. You can use this tool set irrespective of your level of expertise. 
7. Genround Polymer Clay Tools
This polymer clay tool set is the perfect choice for both kids and adults. The versatility of the tools is quite commendable, and you won't need to purchase any tools separately, as all the essential ones are included in the package. 
Also, you get a multi-purpose sponge that enables you to add a glaze or a glossy finish to clay projects. This sponge can also be used to soak extra water during pottery production. 
8. Cynamed Stainless Steel Sculpting Tools
If you have an affinity for collecting exceptional sculpting tools which will turn some heads, we suggest you try this product. This set of specialized sculpting tools is made of stainless steel and will last for a long time with little to no maintenance.
In the package, you will find specialized double-sided carving tools. These tools are great for carving, scraping, shaping, and cutting. All the tools are six inches long and will easily fit in small storage boxes or bags. 
9. Joypea Pottery And Clay Sculpting Tools
With these 42-piece clay sculpting tools, you can easily experiment with clay patterns and textures. If you are feeling experimental, you can even use these tools during Halloween to make unique patterns on pumpkins. 
Because the tools are of a wide variety of shapes, this set makes for a perfect gift for anyone who wants to play with clay. And, the best part is that you can easily ask for a refund if you are unsatisfied with the results. This company offers a 120-day replacement/refund policy. 
Tools For Clay Sculpting Frequently Asked Questions ?
Is it possible to sharpen my tools?
Unless you are a professional sculptor, sharpening or chiseling your wire end tools can be quite a task. If you are a beginner, it is unlikely that you will have the right means required for the task. 
However, if you are using steel tools, you have the scope to sharpen them. Since steel is made of high carbon and is tempered, you can make use of a bench stone to sharpen the tools. Bench stones are available in various sizes, and you can pick one that best suits your requirements. 
What is the best way to clean sculpting tools?
When sculpting clay, you must focus on cleaning the tools once you are done with the day's work. And, for this purpose, we suggest you get your hands on a pack of rubbing alcohol. For this to work best, grab a container and fill it with rubbing alcohol. 
Next, you will need to submerge all the tools in this solution. Let them soak in the solution for about 30 seconds for the best results. Now, get your hands on a piece of fresh cloth and wipe the tools to remove excess build-up of clay. If the stains are too stubborn, you can even consider using an old toothbrush to remove them. 
The grime may not disappear right after you do this step. And, we suggest that you repeat these steps a few more times to ensure that the tools are speckless. Remember that rubbing alcohol is not just the best cleaning option for the tools. It can work great even when you are trying to remove pigments from your hands or the apron. 
To be honest, rubbing alcohol comes in handy when you are working with lighter-colored clay and want to avoid staining it. To do that, you can use an alcohol-based hand sanitizer when putting colors on clay models or after you are done working with clay.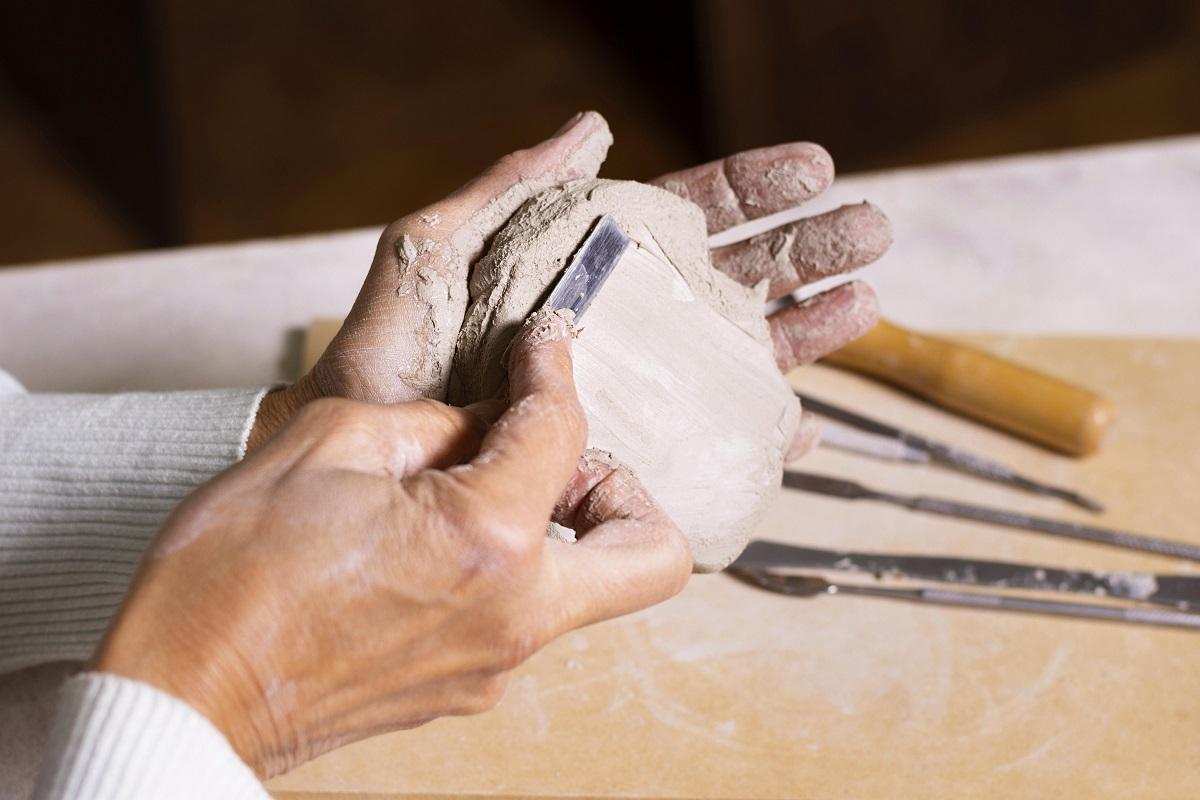 Tools For Clay Sculpting Final Words
With that, we have reached the end of this informative guide. We hope you enjoyed reading it as much as we enjoyed compiling all the information for you. 
By now, you must have understood that one can create magic with clay when they have the right tool set in their inventory. If you are a beginner, we advise that you start small and invest in a set with a small number of tools. These sets will help you get accustomed to the sculpting process before you move on to more professional-level clay modeling. 
The right tool set can indeed be a game changer. However, keep in mind that you must clean the tools timely to ensure they stay in the best condition for the longest time. If you liked this guide, do not forget to keep a watch on this space for more such reads. 
Until next time, happy sculpting!