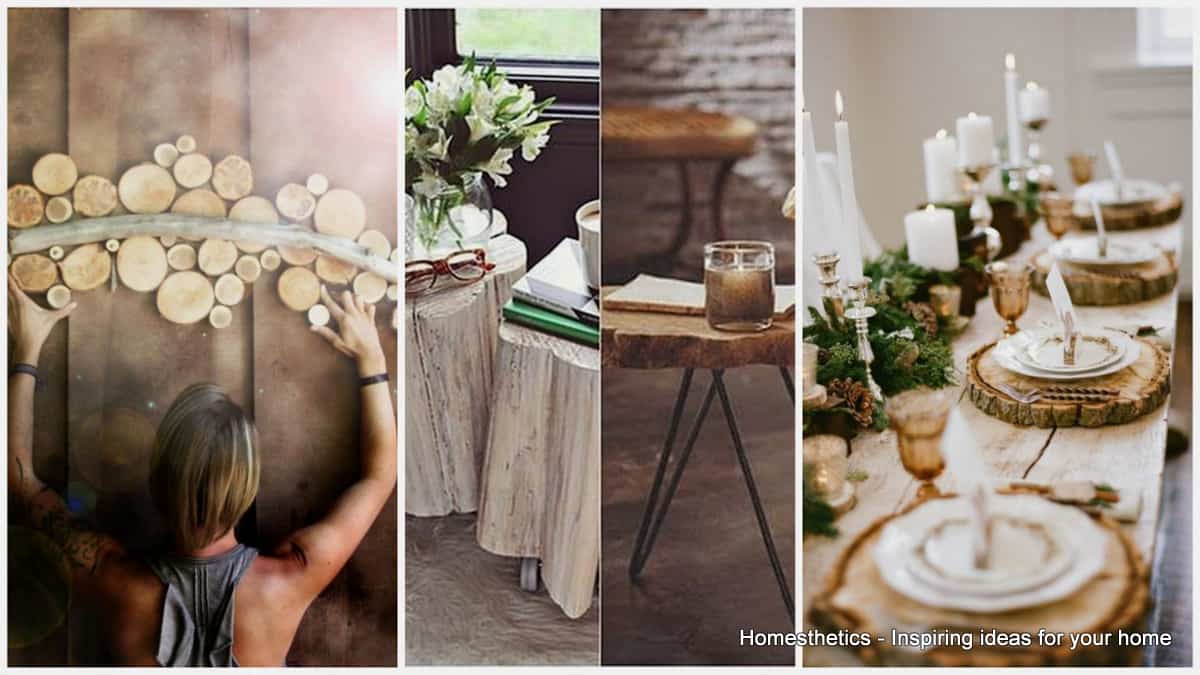 Wood is the perfect material to add equilibrium, coziness, warmth and elegance to any given interior design, be it modern or classical in essence. For ages it has been used as the primary base material for furniture design and even though the modern contemporary age nestles and encourages plastic, acrylic and other synthetic materials, people always go back to their roots and instincts, even if they do not necessary realize it. We live in an era in which cutting down entire rain forests is a daily occupation for the massive companies who are constantly on the search of getting richer and richer, with no regard for the destructed environment left behind.
Nonetheless, leaving pieces of wood already cut to go to waste seems like a crime we should not be responsible for. Recycling , reusing, reviving old items, materials represents the duty of a modern society looking forward its future and to the generations that will follow. It is the right time to teach the young ones about responsibility, proper control and a constant balance between the natural factor and human impact. We were meant to coexist and to offer support to one another and investing time into green solutions, economically friendly is a great starting point.
With this green mind set, today we have chosen the topic of Tree Trunk Ideas, the perfect raw material for modern interior designs. It can serve multiple purposes, from wall art pieces using several sized log slices to naturally looking coffee tables, side tables, delicate candle holders or simple yet gorgeous planters nestling fresh greenery. You can cut up slices of tree trunks and use them as glass coasters or as a rustic basic for your dinner table setting. Use Scandinavian hues like stark white, charcoal grey and mint green to dress up the tree trunks and create a modern fresh vibrant appeal to your interior décor. Enjoy our selection of 35 Tree Trunk Ideas For A Warm Décor and transform your décor today.
Related Articles
39 Spectacular Tree Logs Ideas for Cozy Households
Tree Trunk Ideas For A Warm Décor
1. a large tree trunk slice used as a living room coffee table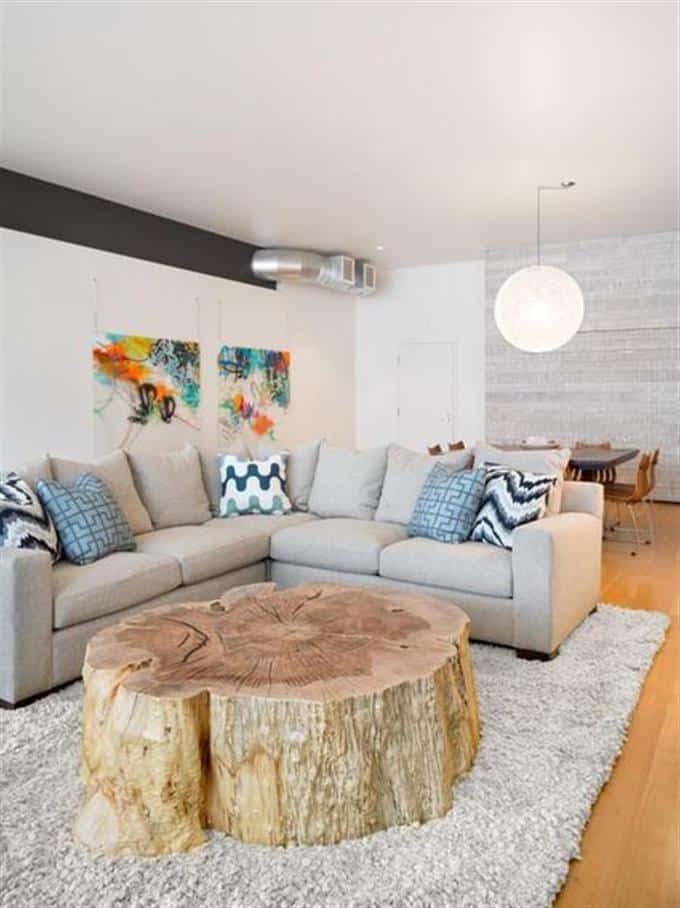 2. three tree trunk parts used in different manners- with wheels, with a glass top and one with sculpted wooden legs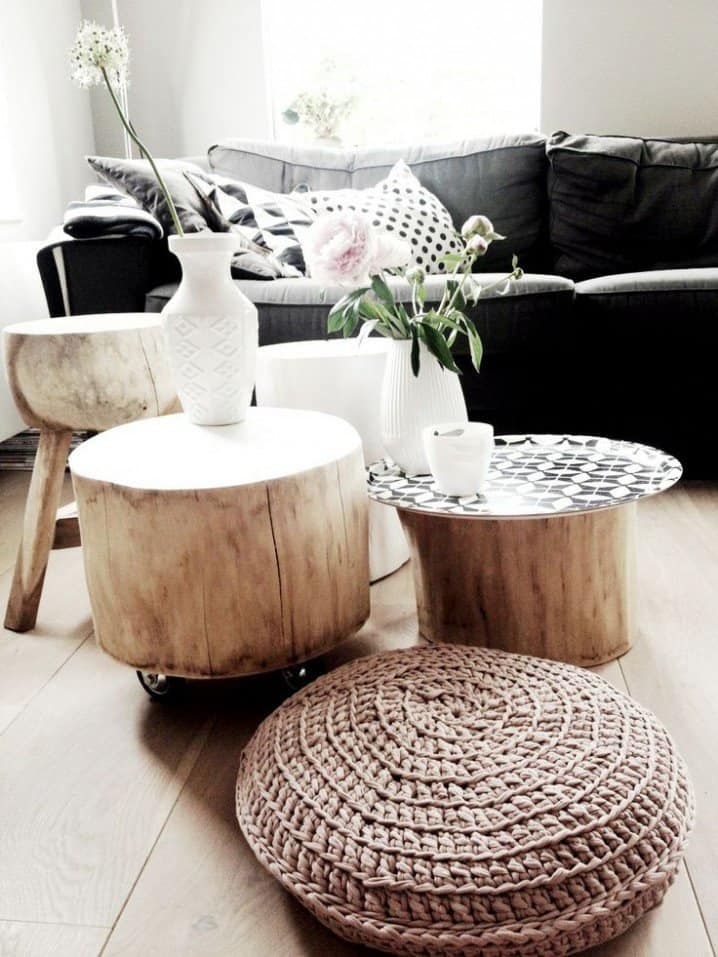 3. stacked tree trunks and logs to form a geometric coffee table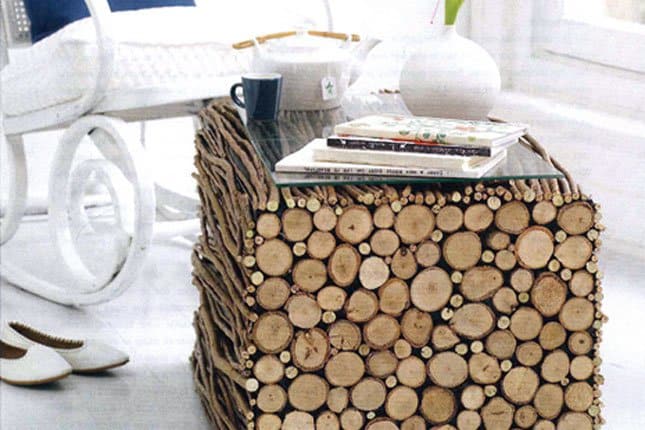 4. two tree trunks filled with glass used as twin coffee tables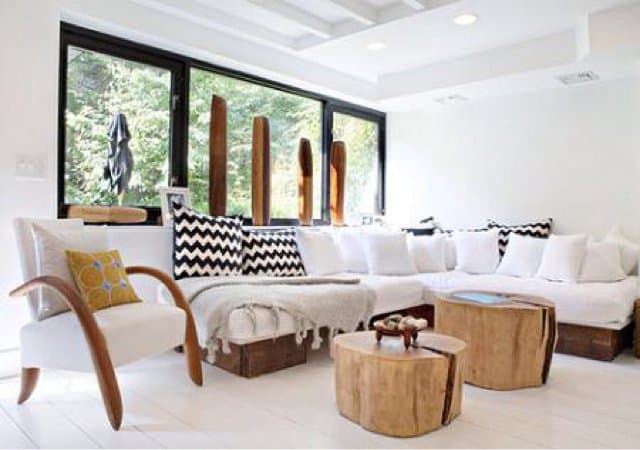 5. three simple tree trunks beautiful in their raw form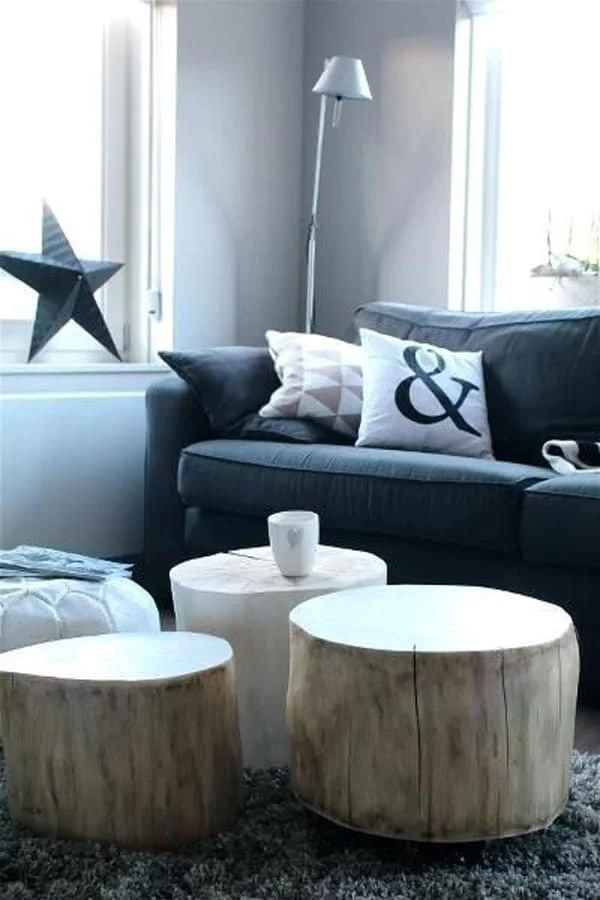 6. tree trunk slices forming a modern  layered coffee table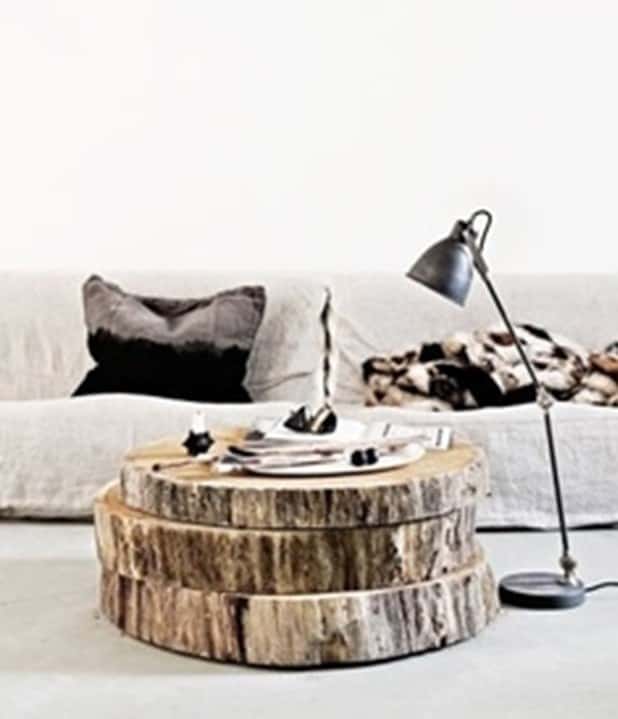 7. gorgeous simple tree trunk side tables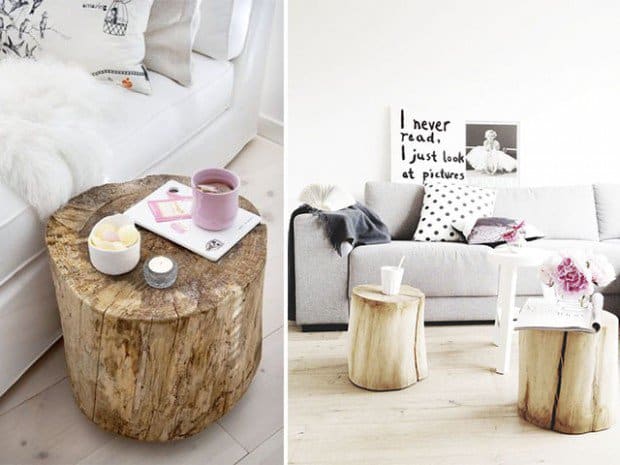 8. a golden touch on tree trunks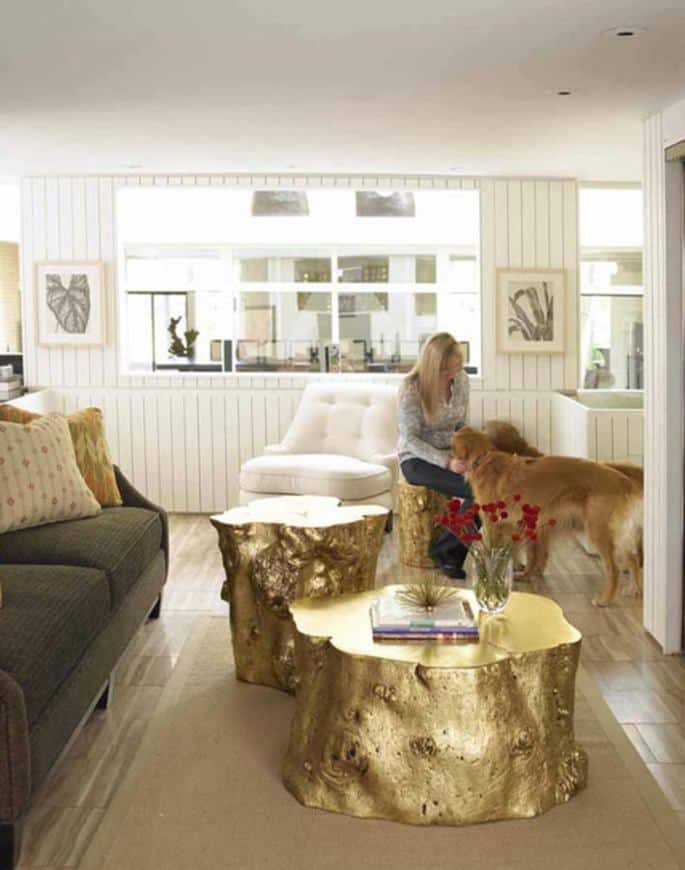 10. tree trunk slices wall décor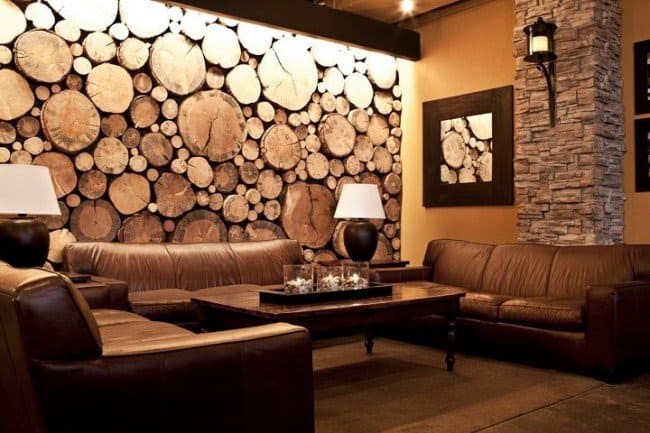 11. wall décor realized from various sized tree trunk slices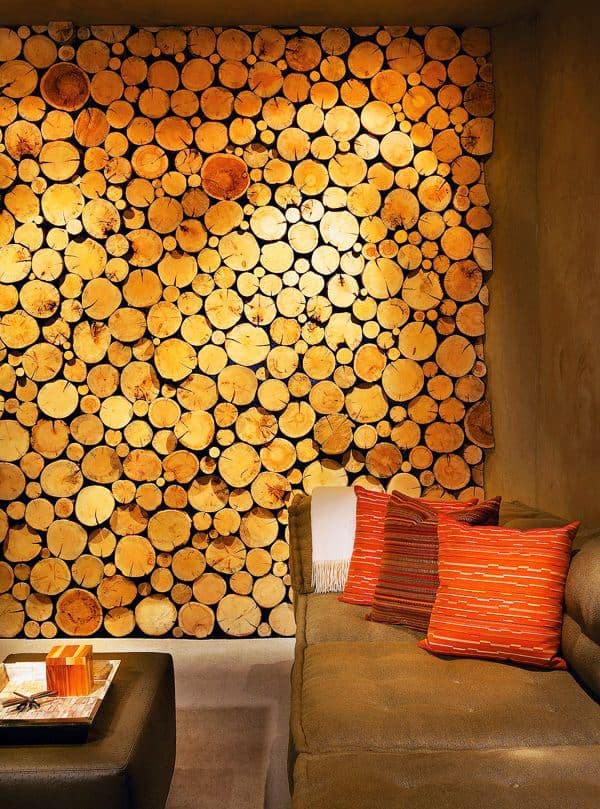 12. a rather rough appeal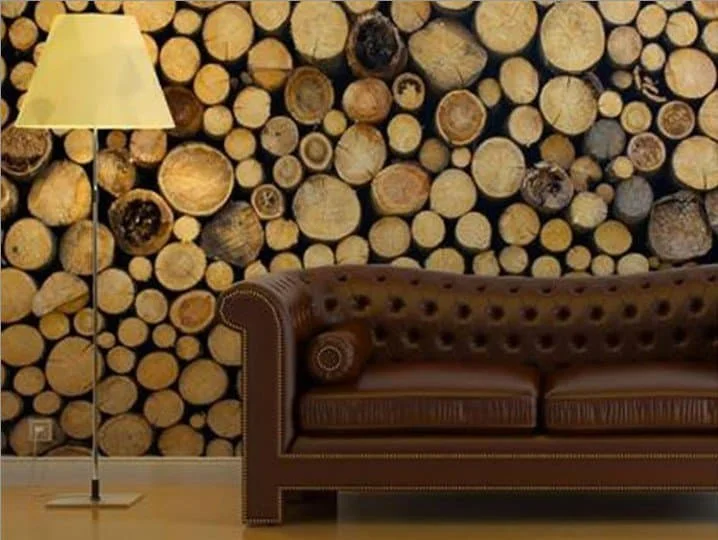 13. one majestic tree trunk SCULPTED and ADAPTED to the shape of a cozy chair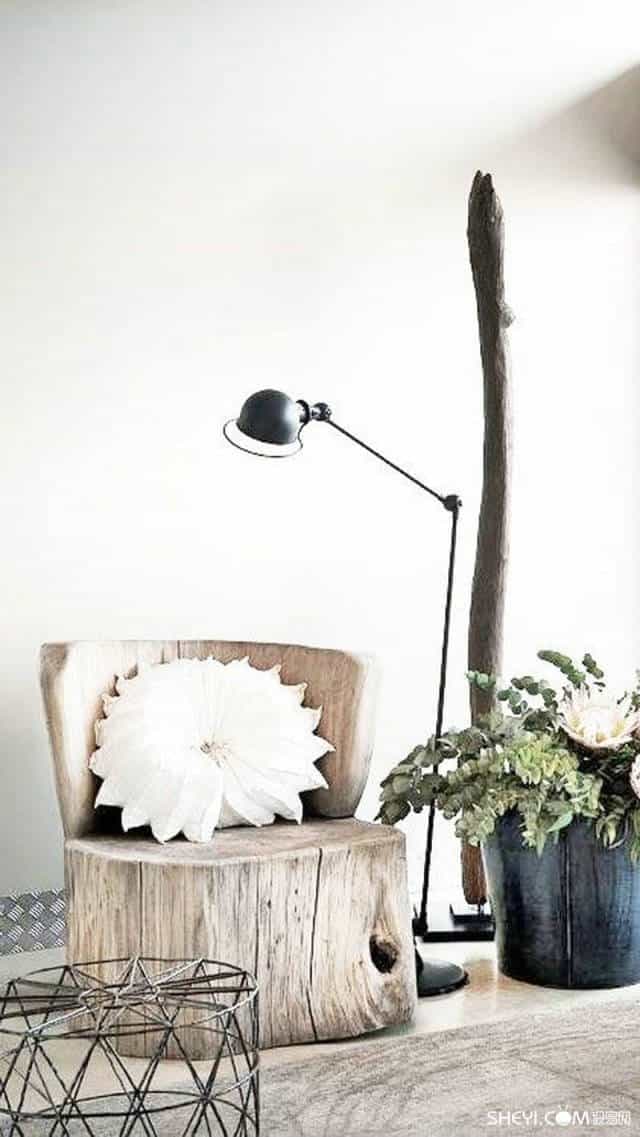 14. adding wheels to a tree trunk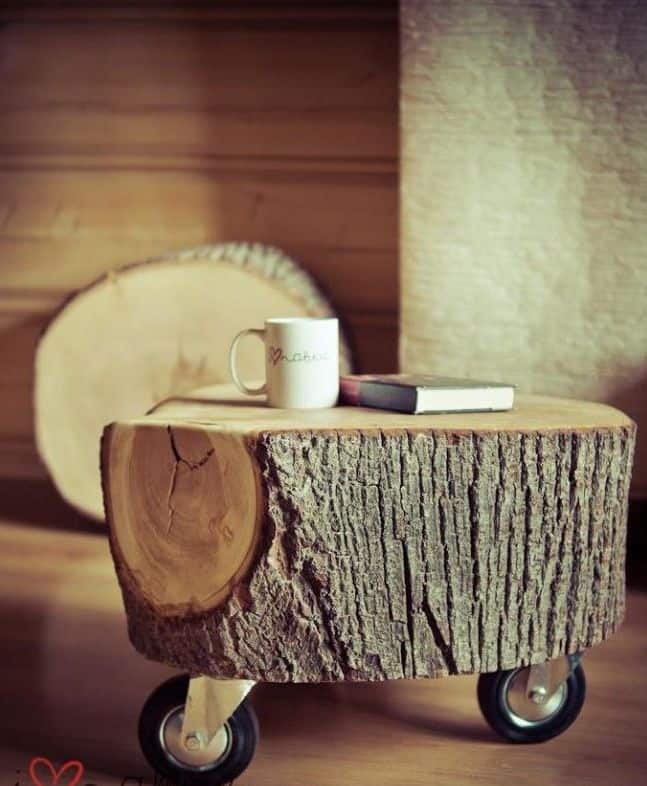 15. or using different SiEZED tree trunks as side tables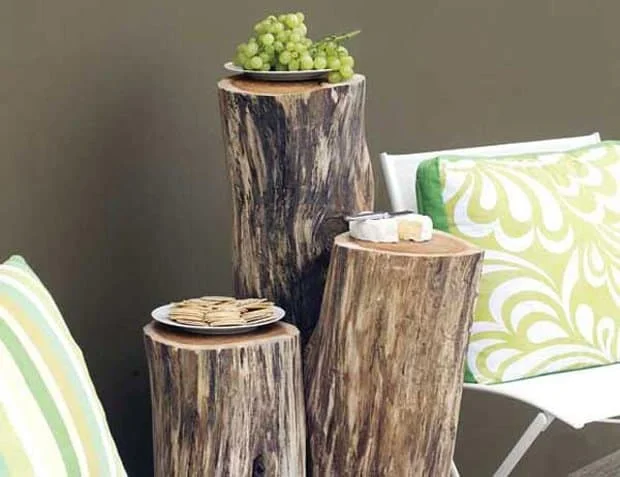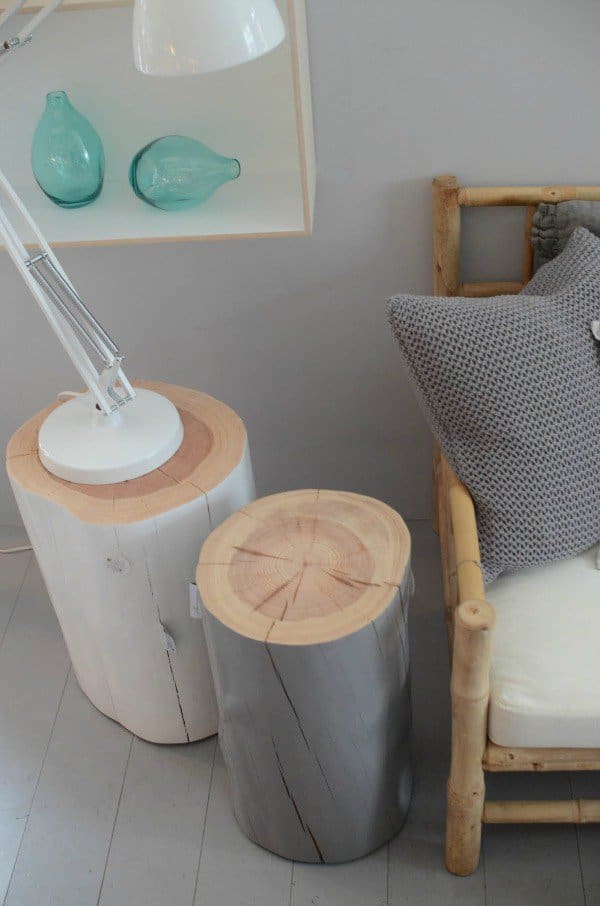 17. the simplest side table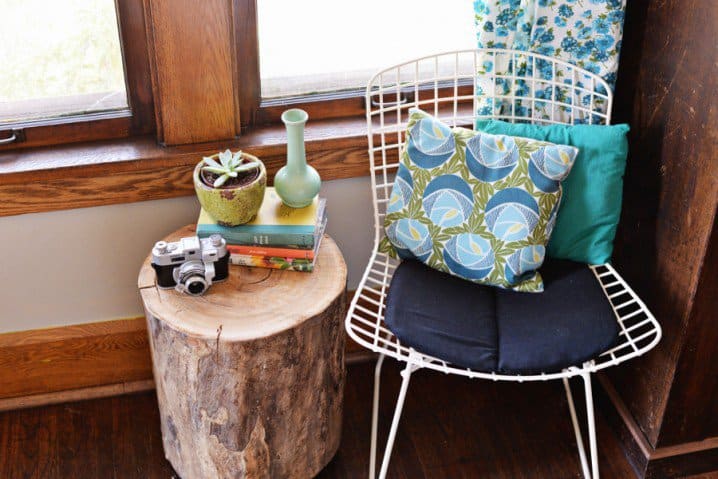 18. a modern sculpted tree trunk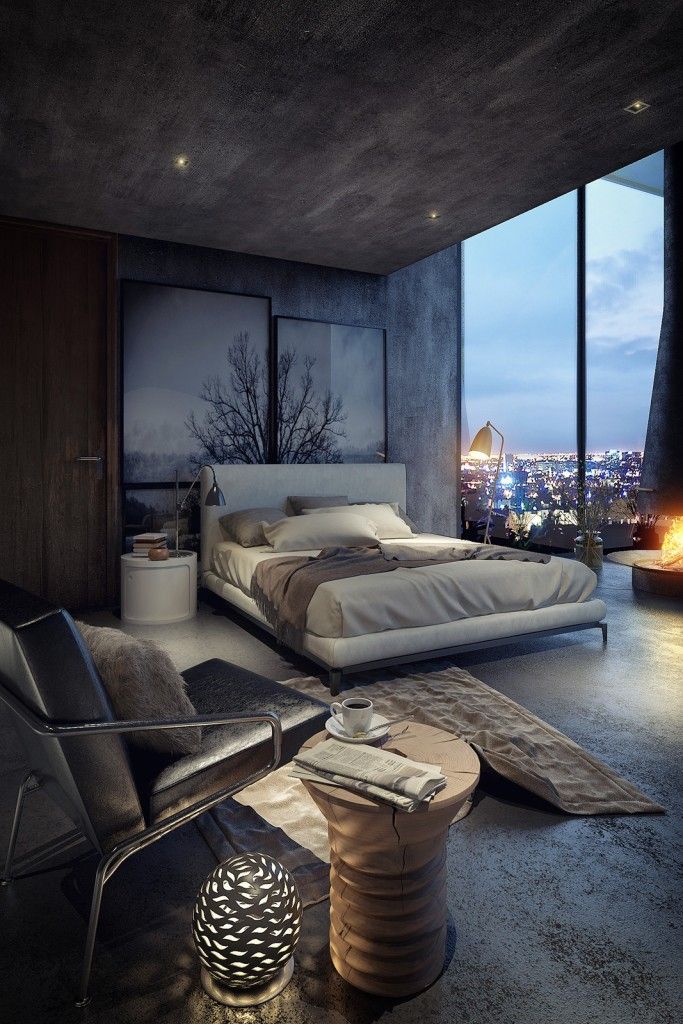 19. such a simple detail that makes all the difference in  plain white bathroom design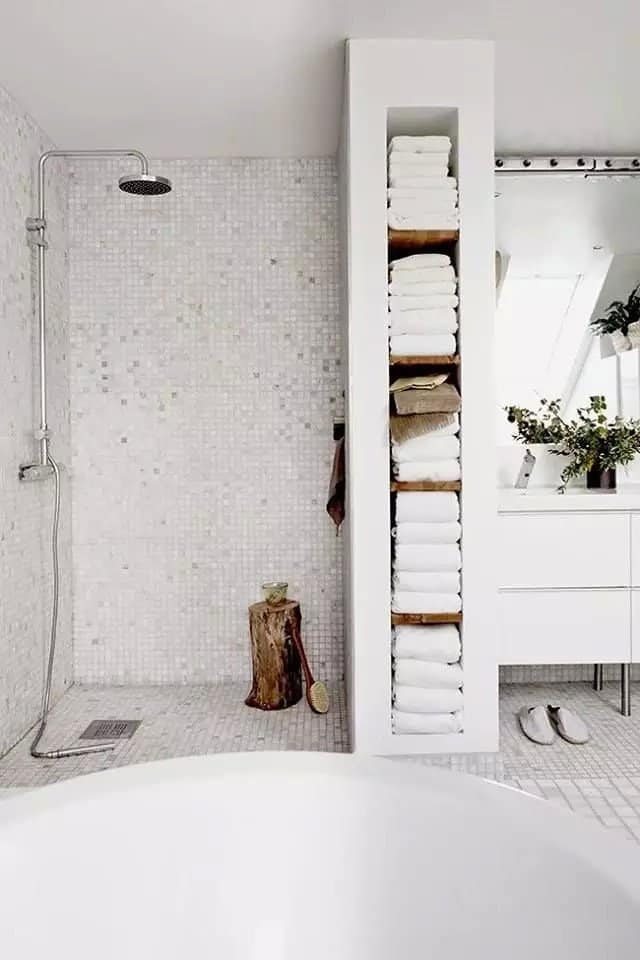 20. tree trunk slices or logs sculpted to form delicate candle holders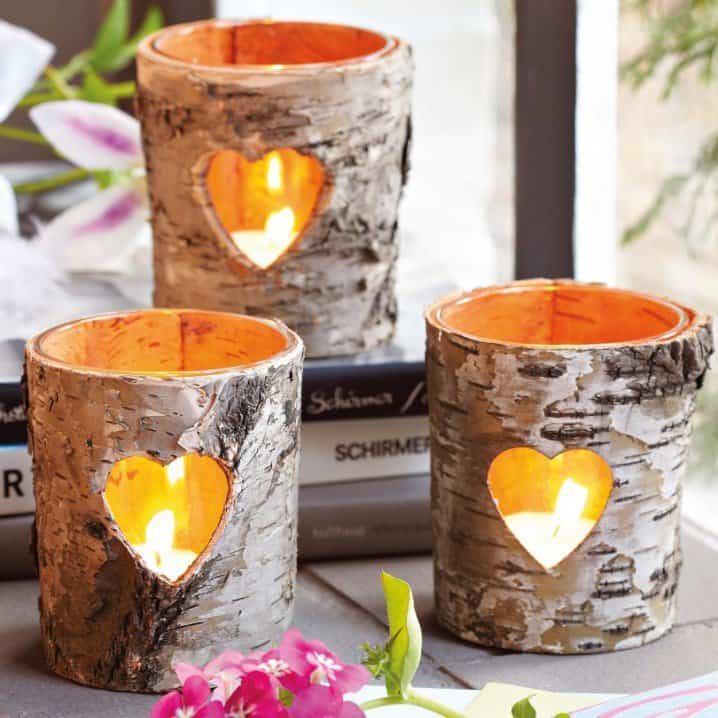 21. here in a simple composition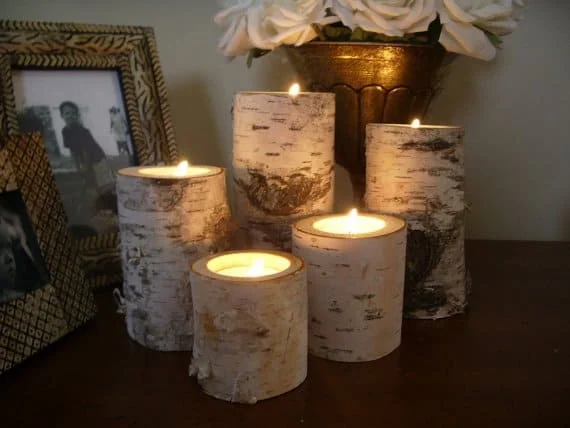 22. log slices forming a wall art piece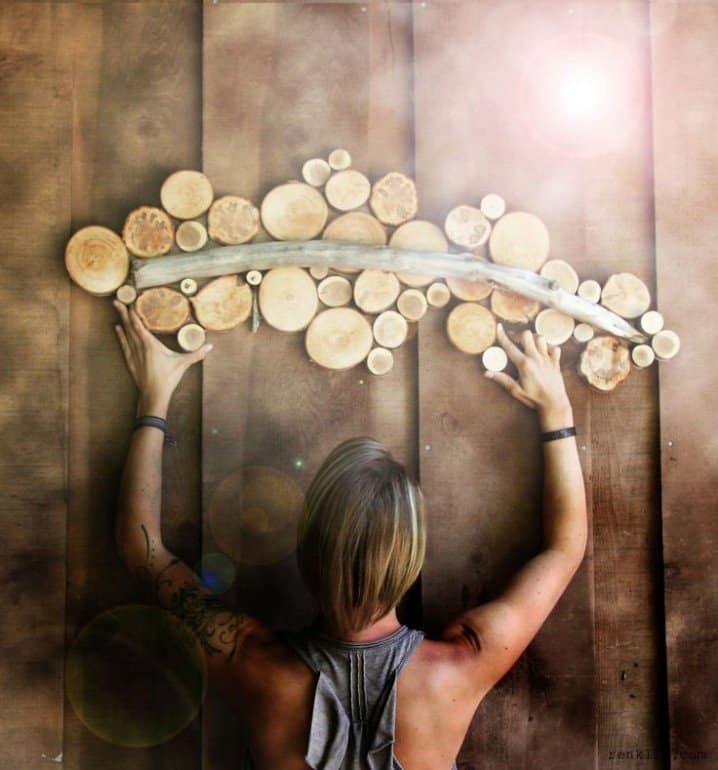 23. a star decoration perfect for Christmas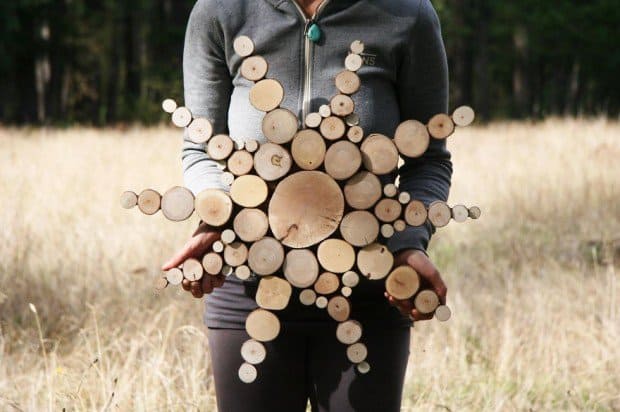 24. CERAMIC filled tree trunk slices serving as home décor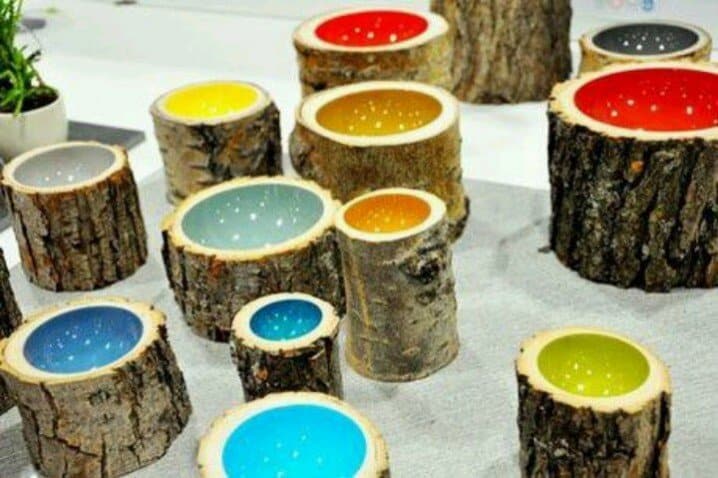 25. wood slices can replace the classical plastic coaster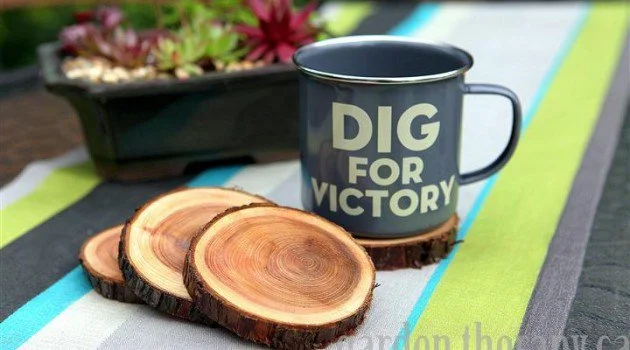 26. or can nestle greenery naturally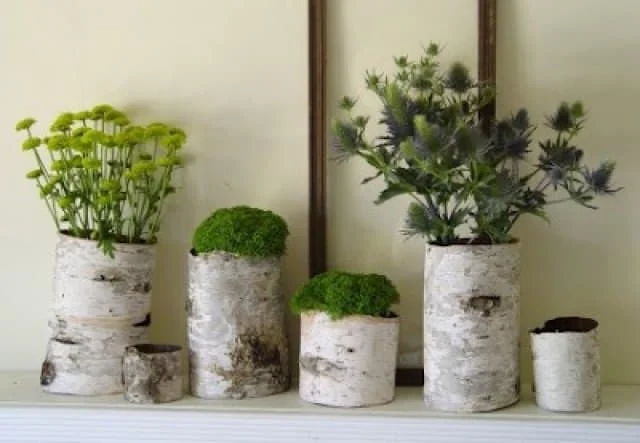 27. choose a rather strange looking piece of tree trunk for an unique side table design
28. an incredibly beautiful tree trunk candle
29. the perfect coffee table for your patio or terrace
30. a beautiful tree trunk lamp/coffee table exuding warmth and modernity at the same time
31. a creative candle holder design
32. a kitchen island constructed on the foundation of a majestic tree trunk
33. hollowed tree trunks used as succulent planters
34. lovely wood slice wall décor
35. lovely dinner table arrangement