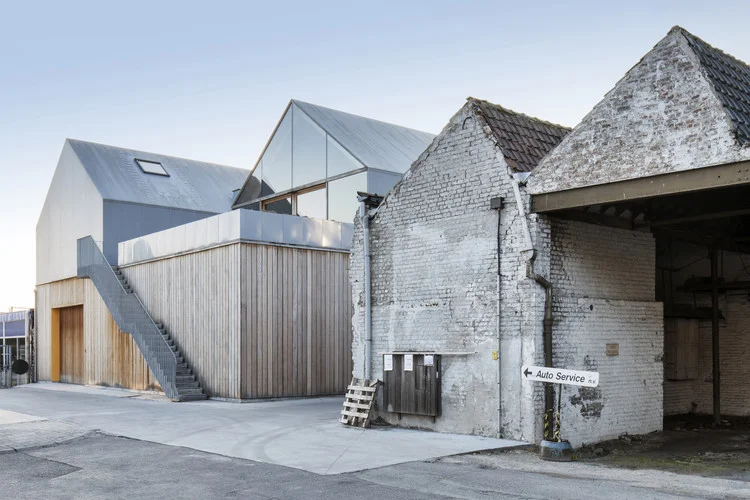 Modern architectural and design advancements have left no stone unturned in ensuring only the best of everything for your house. 
From stunningly beautiful design ideas to highly functional protective measures for your home, the urban decor scenario has royally changed the game for conventional house-keeping!
And one such unbelievably smart and utilitarian weatherproofing idea that you could get for your sweet home right away is "Siding"!
Featured Image | Factory Roof Houses / Delmulle Delmulle Architecten
It is a protective cladding or wall that you could attach to the exterior walls of your house to protect it from the onslaught of weather that includes storm, rain, snow, the sun, and the likes. It maintains a comfortable environment inside the house and keeps the exterior walls from weather damage.
And if you're looking to reap the benefits of an excellent home siding service then do visit the link anchored here!
So, moving on further in this extensive read, we're going to decode all types of siding materials that you could opt for and the benefits of each!
Types of House Siding
Wood
Wooden sidings are the most common type of material used for home exterior sidings. The most significant benefit of wooden siding is its versatility of design and availability in several styles.
It gives a beautiful traditional, organic look to the house as well as maintain a peaceful, natural environment inside and around the house.
The most commonly used type of woods that are used for sidings are pine, spruce, redwood, and cedar. You can either use a wood stain for your wooden sidings or leave it in its natural state.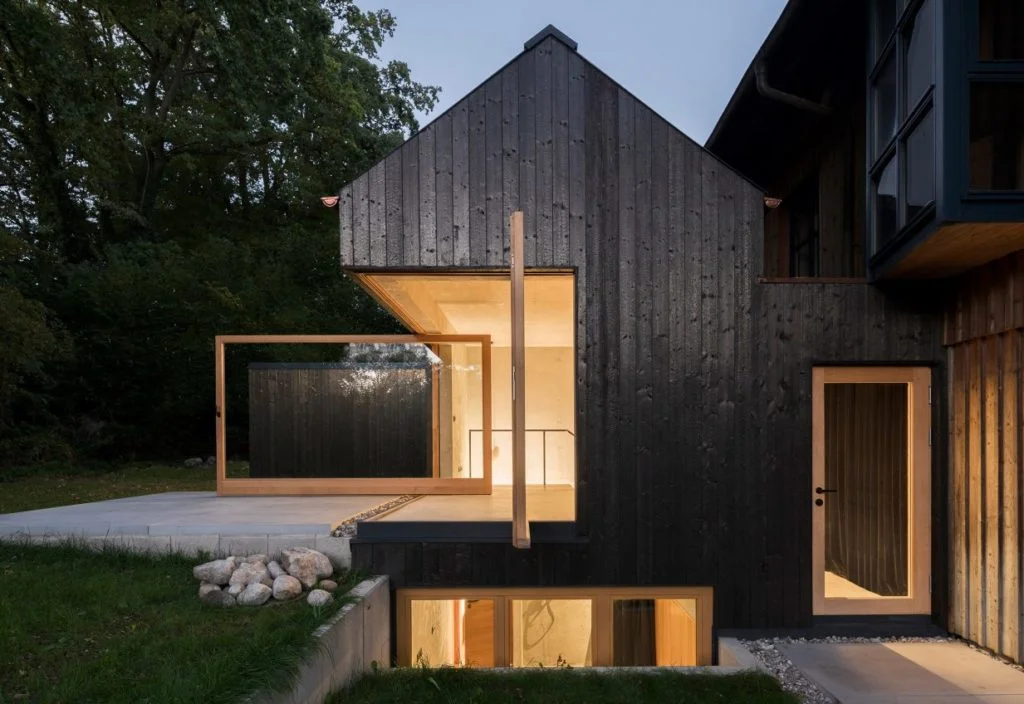 Black House by Buero Wagner
You could also customize the overall style by opting for different profiles in which the wood is applied to your home exterior. Common wood profiles include batten and board, clapboards, drop sliding, shingles, wooden sheet siding, vertical boards and log.
However, wood requires regular maintenance and is susceptible to rot, termites, woodpeckers, and fire. It is also not advisable for your house if you stay in an arid climate or where a forest fire is a common occurrence.
Vinyl
As you might have guessed by now, vinyl siding for home exteriors consists of a synthetic protective material. This is an extremely popular siding option owing to its versatility, durability as well as affordability than most other types of siding materials.
Vinyl siding is easy to install and doesn't require high or frequent maintenance, unlike wooden ones. It can endure weather damage for a considerable period of time.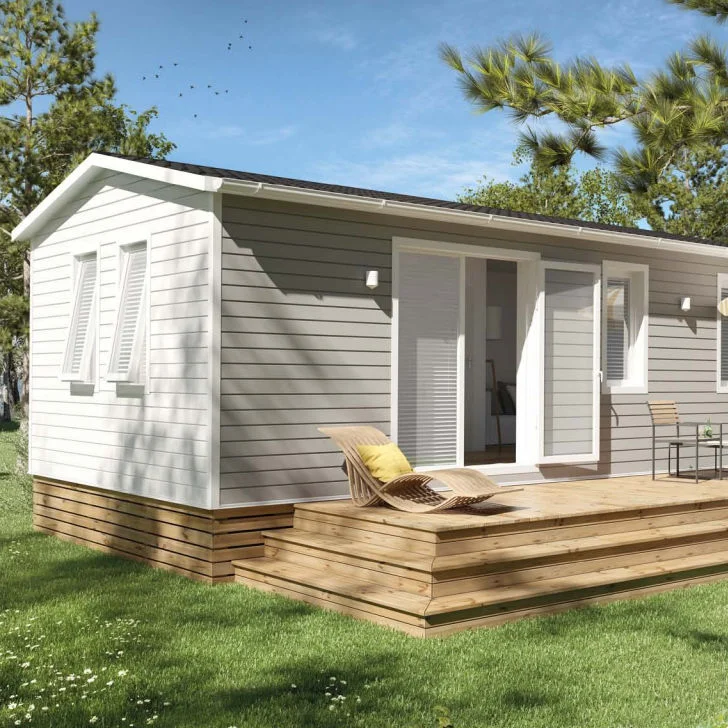 One of the greatest benefits of vinyl siding is its energy-efficiency and insulation which reduces your heating bills significantly in both hot and cold climates 
It is available in a range of different colors and styles such as shingles, vertical panels, horizontal panels, fish scales, beaded designs, and lap.
However, on the downside of it, vinyl siding could not be painted over or customized all that much. Also, it is non-biodegradable, which does have an adverse effect on the environment.
Vinyl siding, if not installed properly, could lead to seepage of water on the inside which may damage the wood under it. 
Metal
Metal is unquestionably one of the most long-lasting and enduring that one could have for the siding options for their home exteriors. It is completely resistant to water damage and hence, does not rot or mold .
Metal siding will always retain its color without fading out, and these can also be painted over. It is not susceptible to pest attack, rodents or insects of any sort and is highly resistant to fire as well. It is also a low-maintenance option to go with.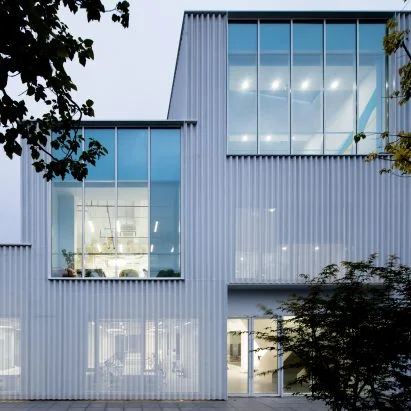 Shanghai Office by Schmidt Hammer Lassen
However, metal sidings are pretty expensive with additional charges incurred on labor, as it is not easily installable. Also, metals will not retain heat and hence can increase the cost of your electricity bills in winter.
While softer metals such as aluminum may dent easily if hit by rocks, the heavier steel will increase your labor charges during installation. 
Brick
Bricks are one of the most durable materials you could ever choose when even when it comes to getting a house-siding as, with proper care, they could last over a century!
There are essentially two sorts of subtypes that you avail in the category of brick sidings: traditional brick masonry which consists of solid brick constructions, and brick veneer, that uses thin layers of bricks.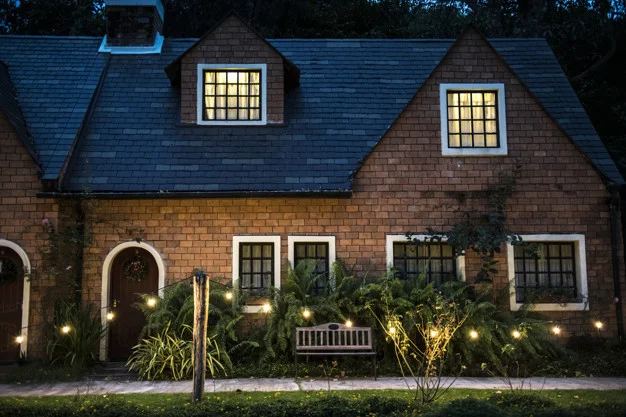 Immensely low-maintenance, a brick exterior usually requires little to no maintenance. You will only need to give it a pressure wash occasionally to clean the surface.
Brick exteriors could keep a pleasantly cool environment inside your homes at all times. But, this could be an issue in winters where you have to have proper heating.
One of the biggest cons of a brick siding is that of cost, as it is immensely expensive. Installation would be a labor-intensive process and might require special skills, in which case you could consider brick-veneer. 
Stone
Similar to brick exteriors, stone sidings bestow a beautiful natural look to your house. It is incredibly durable and weather-resistant needing fairly low maintenance for substantial periods of time. Stone sidings are available in variants of limestone, granite, slate and other natural stones.
Apart from natural stones, you could also get stone sidings in different other kinds such as manufactured stone, natural stone cladding, stone veneer panels, and foam panel "stone."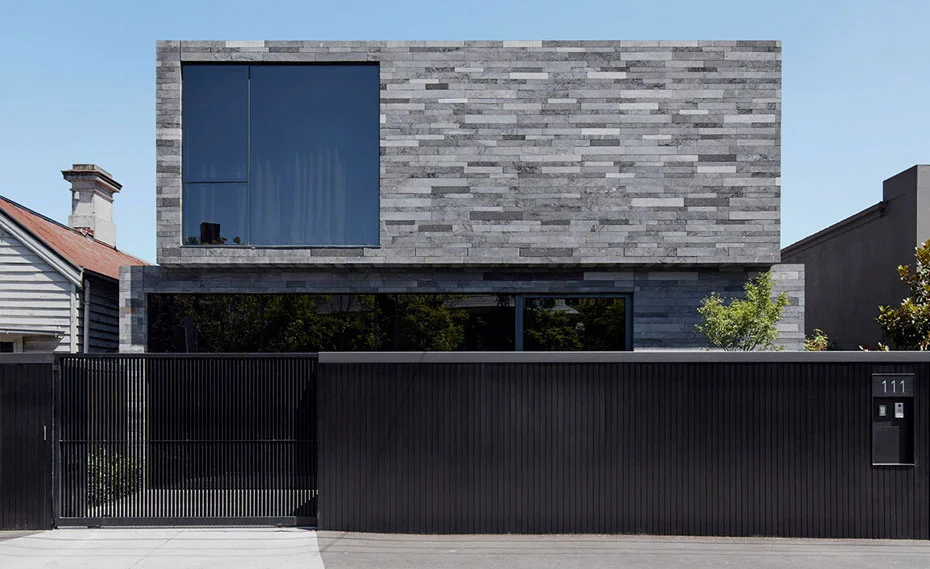 Stone exteriors are completely resistant to moisture or fire damage as well as pest or fungus.
However, the cost of material for a stone siding and installing it could be highly expensive, as it will require professional expertise.
A comparatively cost-effective alternative to natural stone exteriors is a stone veneer siding. These cost roughly half of what natural stones come at and are also easier to install. 
Fiber Cement
Fiber cement is manufactured using wood fibers, cement, and sand.
A fiber cement house siding is strategically created to mimic the nature of natural wood, providing with the benefits of a wooden appeal with the weather-resistant nature of an artificial texture.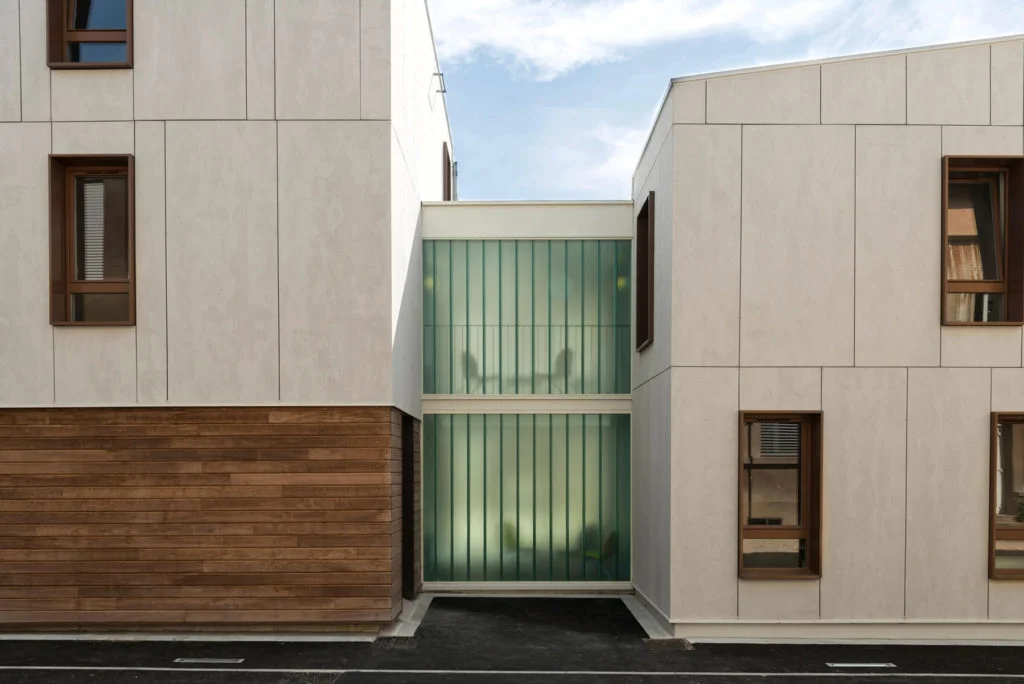 24 Housing Units / Zanon + Bourbon Architects
It is actually more affordable than wooden sidings, durable, and exceedingly easy to maintain. But, the most significant benefit of fiber cement is that it's fireproof coming with a Class A1 fire rating. Additionally, it is also resistant to water and insect damage.
There are two variants of fiber cement: a pre-coated/painted siding and another one which could be stained or colored after it's installed.
However, the cons to it could be that it is expensive to install, being double the price of vinyl ones, and may not be as long-lasting as stone or brick siding. 
Stucco
Stucco is made using a combination of lime, cement, and sand, but it could also be manufactured using other elements and recipes. A stucco siding is similar to plaster and created by layering the mixture all over the exterior of the house.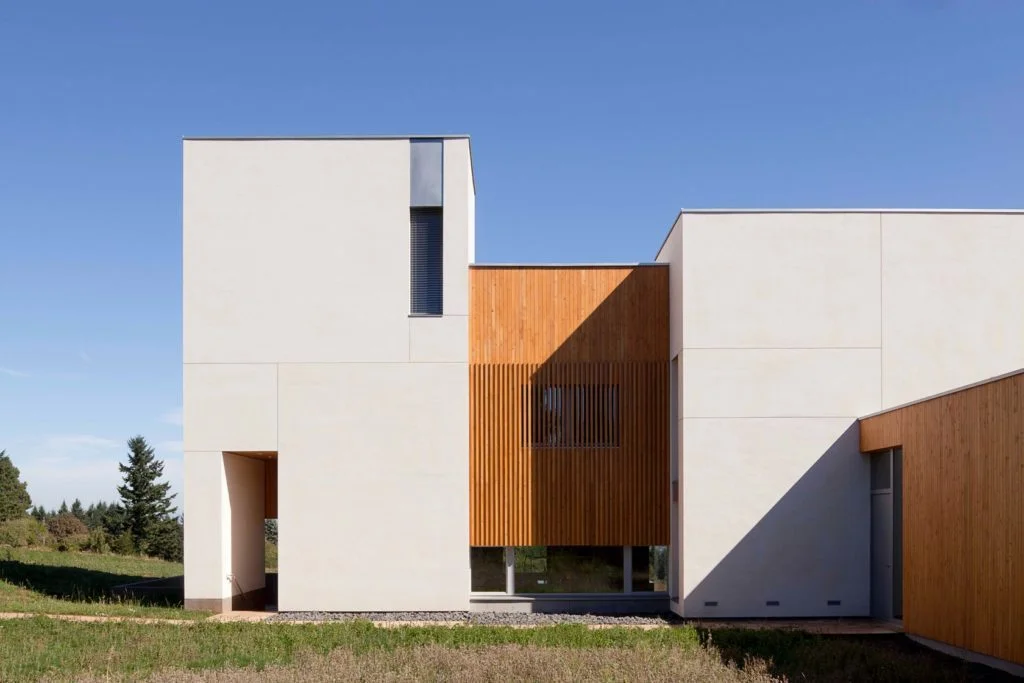 Karuna House by Hammer & Hand
There are many different ways to apply it on wooden, stone, or brick surfaces, and it could be given different shapes and textures.
The benefits of having a stucco siding are that they are long-lasting and provide proper insulation, which helps to reduce electricity bills. It is resistant to fire and requires any additional fire retardants.
But, stuccos do not do well around water and is not a plausible alternative in places that receive frequent rainfalls or remain damp or humid. Also, the cost of installation is pretty steep as you'd require professional help. 
Imitation Stone/Brick
Taken to be the precursor to the modern vinyl, imitation stone or bricks are considered a decent alternative to the more expensive brick or stone exteriors for houses.
Although the popularity of other, more functional and beautiful types of sidings have foreshadowed the fame of imitation stone/ brick that was highly in demand even a decade back, it hasn't completely gone out of trend.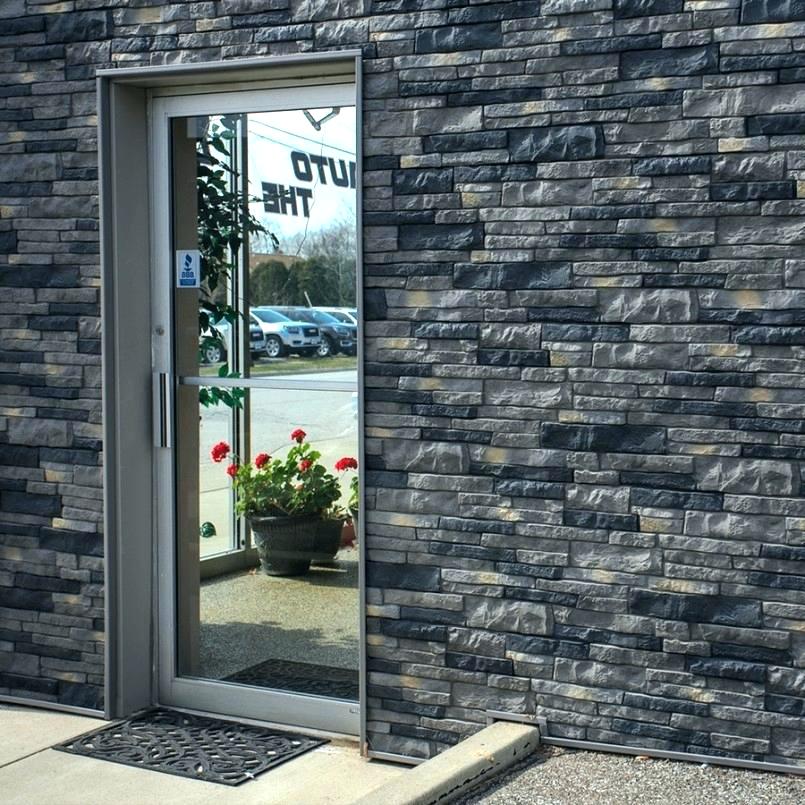 The primary benefit of using this type of home exteriors that they cost substantially less but look almost as good as the real thing!
However, these artificial sidings are not anywhere near stone or brick in durability and susceptible to water damage. These could be used for outhouses and garages, for that matter
Also, it could be difficult to customize them according to the overall look of your house. And honestly, the options we have mentioned earlier are far more superior and functional than these fake stone/brick walls.
Engineered Wood
Engineered wood is made using composite materials, yet looks exactly like real wooden finishes. Engineered wood house sidings are superior to fiber cement or wood-like vinyl owing to the fact that it actually contains real wood.
Numerous strands and fibers are combined together to create a finished product that looks like real wood in every way.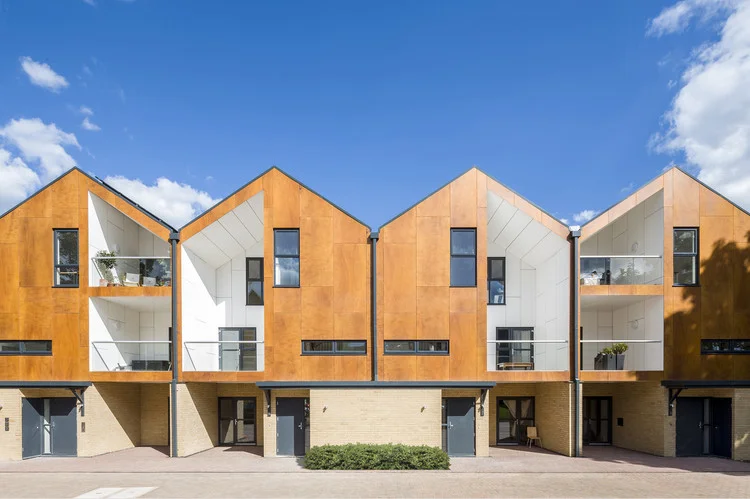 Woodview Mews by Geraghty Taylor Architects
The greatest benefit of getting engineered wood siding is that it comes at a comparatively lower price than other materials and could be customized to suit your preferences.
It is, in fact, a highly durable alternative that could last up to 20-30 years, not requiring very high maintenance for that matter. It is resistant to moisture, fire, and pests, being a decent weather-proof protective material.
However, it can't be repainted or re-stained, and that could be one disadvantage you'd have to do with. 
Insulated
Insulated siding is a way better alternative than vinyl ones, and you could call it an improved version of the latter. It has almost all of the features of the vinyl siding with the huge added benefit of a unique insulating layer, made from expanded polystyrene foam (EPS).
This layer of EPS is fused on the reverse side of the vinyl that provides a snug fit between the real wall exterior of your house and the vinyl material.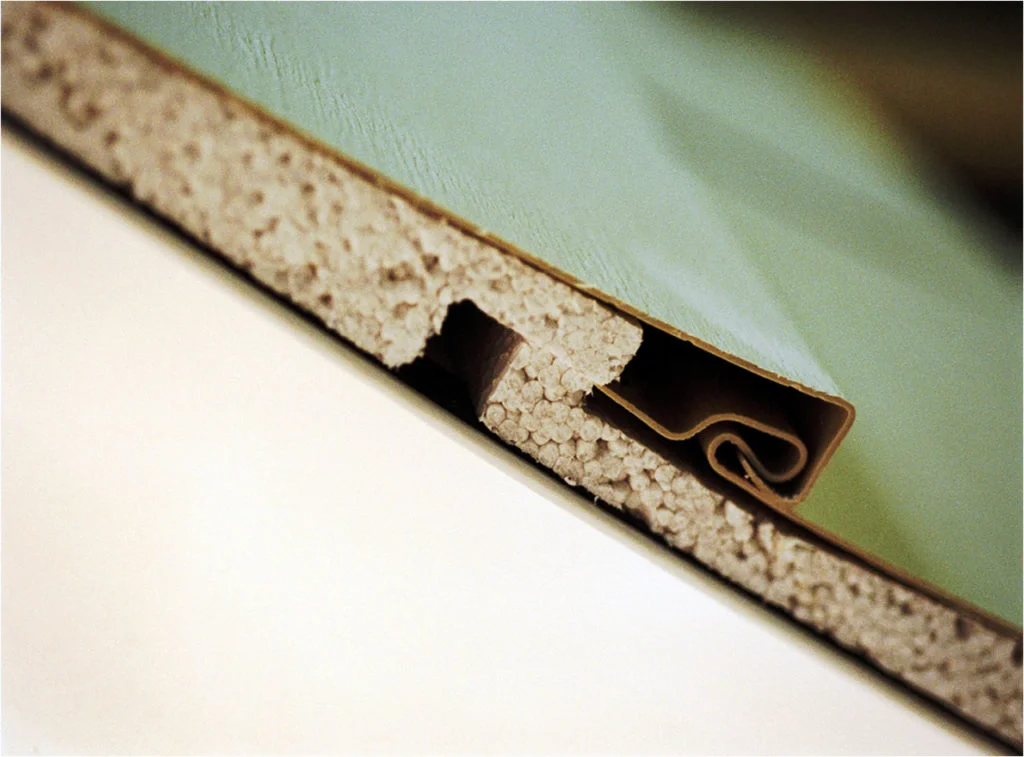 This insulative layer actually provides more than 20 percent more energy than the best vinyl or other insulative siding options out there on the market.
Insulated siding is also an incredibly durable option that could last up to 40 years or more.
While, on the other hand, the disadvantage of using this is that it is not customizable or re-paintable in any way. The exterior may not look all that attractive with the insulative cover unlike most siding do, but it does provide significant value for the money you pay for it. 
Concrete
Concrete is made with a mixture of gravel, sand, cement, and water. These ingredients are mixed well together in various proportions to form a thick paste which is then applied to the exterior walls of the house, much like a stucco, to create a concrete siding. The paste dries to form a sturdy, durable wall siding around your home-exterior.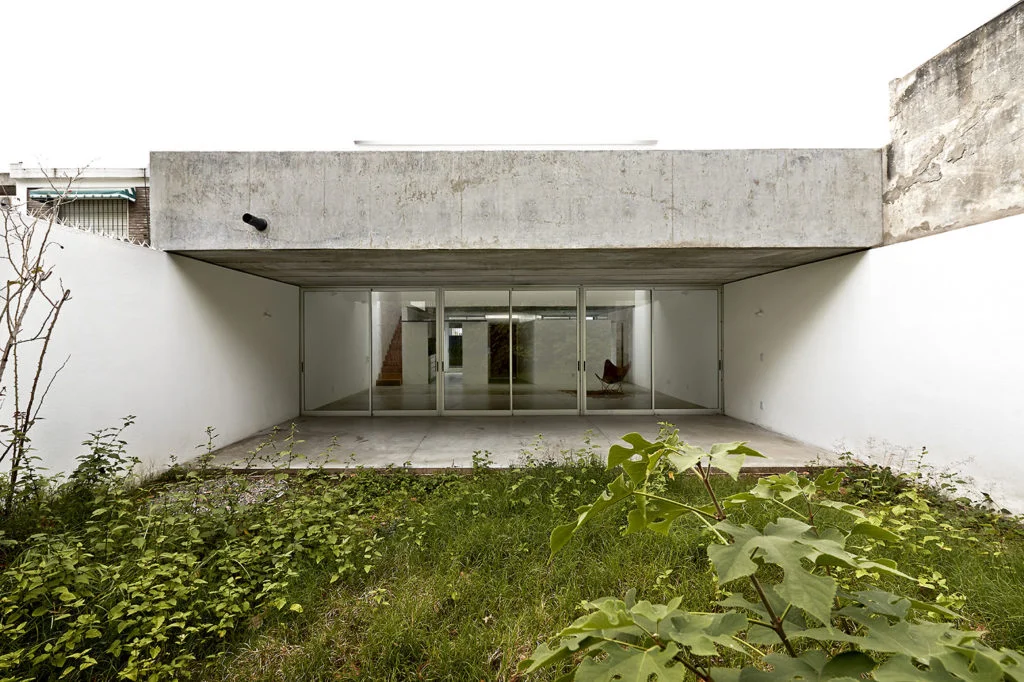 T&G House by Nicolás Campodonico
The cost of installation could be high, and it will largely depend on the complexity and size of the structure of your house.
Concrete sidings are usually considerably long-lasting if formed and mixed correctly and can last as long as stone or brick walls. You can also form them into different shapes and sizes. These can endure natural calamities such as floods, hurricanes, or tornadoes and are also resistant to fire.
Additionally, these can also reduce the cost of cooling and heating owing to its insulative nature.
Glass Exterior
While one may question the efficiency of glass as an exterior or "siding," it can look absolutely beautiful if you do have the budget for it. Glass exteriors will bring all the natural light into the room, always maintaining a cheerful environment inside your house.
However, do make sure that you go for high-grade fiberglass installments, so that is strong enough to withstand the onslaught of weather. Moreover, it should always be resistant to the harmful UVA and UVB rays of the sun.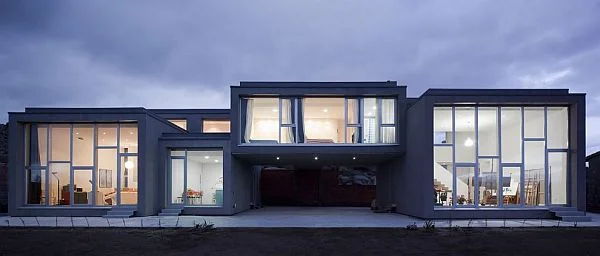 Huete House by BmasC Arquitectos
So, all of these factors make the cost of glass sidings plus installation a highly expensive investment.
Premium quality glass sidings can even work wonderfully as insulative barriers trapping all the heat and preventing them from escaping during colder weather. This will lower your electricity bills substantially!
But, glass floor-to-ceiling exteriors involves high maintenance. You will require to clean it frequently and protect it from external shocks. Also, these will hardly provide any privacy in your space.
Steel Log Siding
Steel log sidings bring the best of both steel and wood for making a great exterior for your house. This combines the formidable nature of heavy-duty steel with the beautiful natural charm of wood to create magnificent exteriors for your homes.
It is resistant to almost all kinds of issues and determinants, including fire and water. And even with everything included, steel log sidings require really low maintenance, lasting for an incredibly long span of time.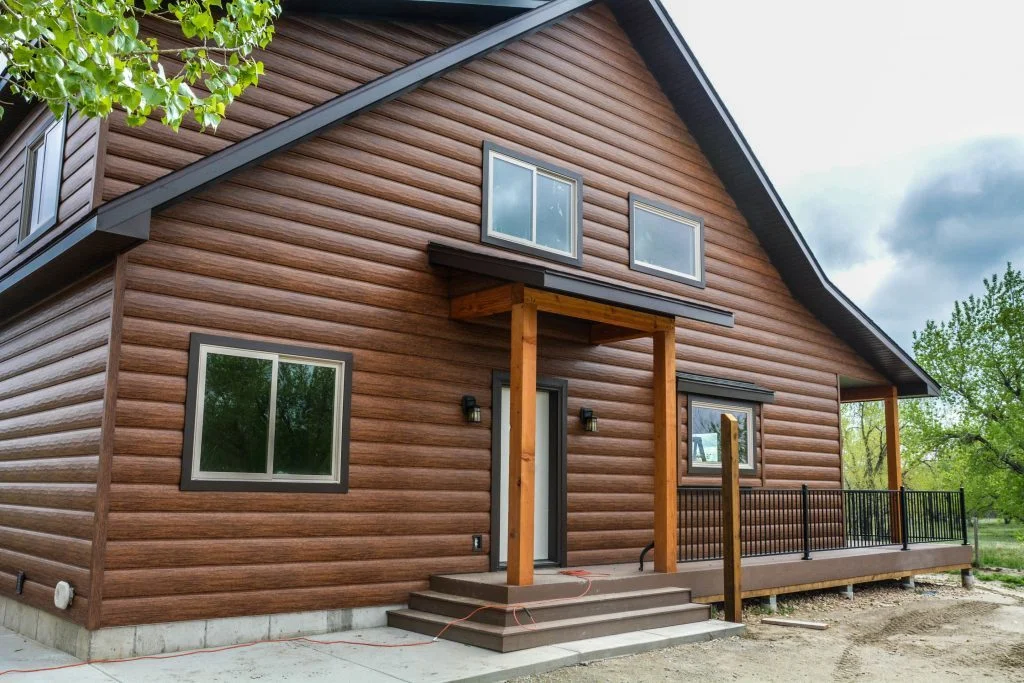 The steel body of the exterior of these protective exteriors are treated with wood grains and made to have impressions those that are made by wooden chinks or hewing, so that looks absolutely like natural wood.
The significant downside to getting a steel log siding is that of the price of the material, which is immensely high. Installing a steel log siding is far from being easy and entails a lot of money labor.
Half-Timbering on Stucco
A beautiful mix of wood with Stucco is one of the ways to get a brilliantly functional siding arrangement for your house. Half-timbering on Stucco is actually style dating back to the Tudor Revival, that made a huge impact, especially during the mid 19th century in England.
To this day, the style is popular for its durability and immense versatility of a functional design.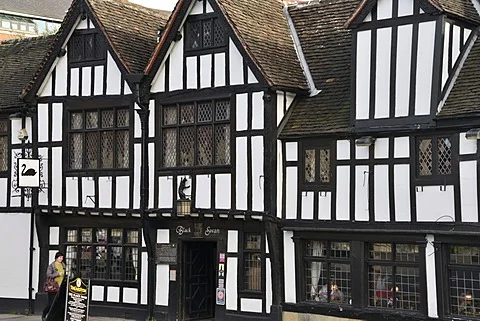 15th century half-timbered Black Swan Public house, Peasholme Green, York, Yorkshire, England
The combination of wood and stucco bring the combined benefits of both these materials into the play of modern architectural ideas.
While the wood makes for a charming organic appeal to the overall structure, stucco ensures the durability of the protective cladding as well as its resistance against inclement climate or fire. It is an exceedingly customizable design which you could design according to your personal preferences.
However, the cost of the material and installation is considerably high, requiring professional skills and assistance.
Wood Shingle Siding
Shingles are made of uniform blocks of wood that may be cut and formed into different shapes. These shapes are cut with a machine that ensures the uniformity of shapes and sizes as well as a smooth texture for the pieces.
A shingle siding is then created by applying the shingles over the wall exterior in an overlapping arrangement.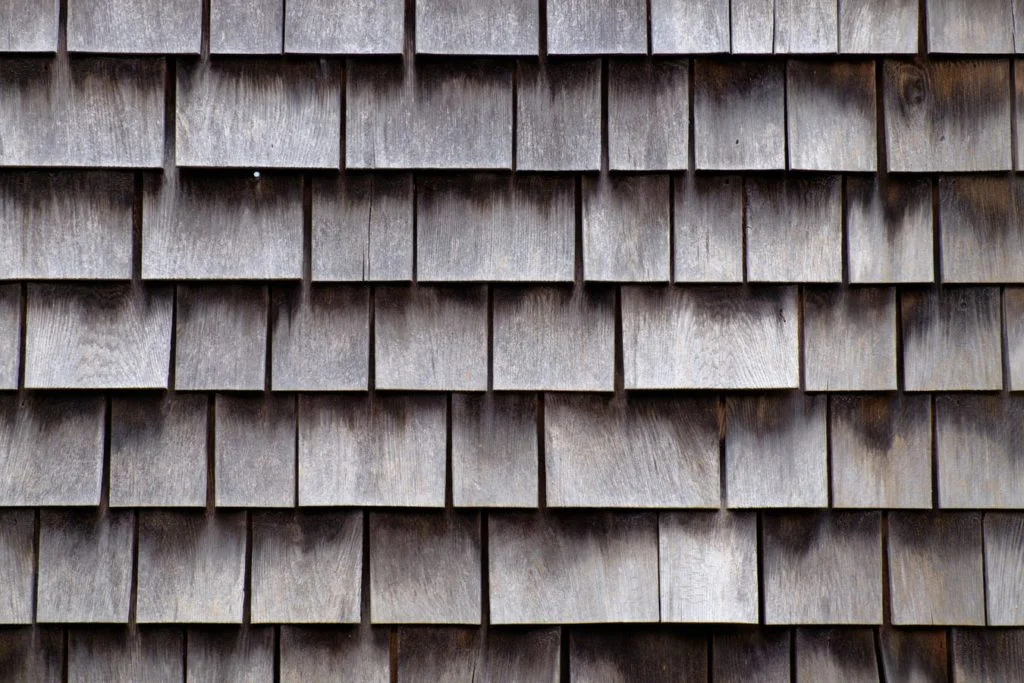 But, the cost of installation of shingles is extremely high and depends on the size and location of your house. Also, these are prone to rot, moisture, and fire damage. 
If you're opting for shingles for a home that tends to get affected by moisture, then go for mildew repellents on the sidings as a protective measure.
Shingles sidings are delicate and need to be stained every 3 years and repainted after 6 years. These could warp or crack in extreme temperature conditions or loosen with time.
Board and Batten
The board and batten siding allows you to be creative in making a protective arrangement for the exterior of your walls using wooden boards of different lengths. You can install the boards both vertically or horizontally. 
These are easy to install and are comparatively affordable than most other siding options. They are also easy to maintain and are available in many different colors.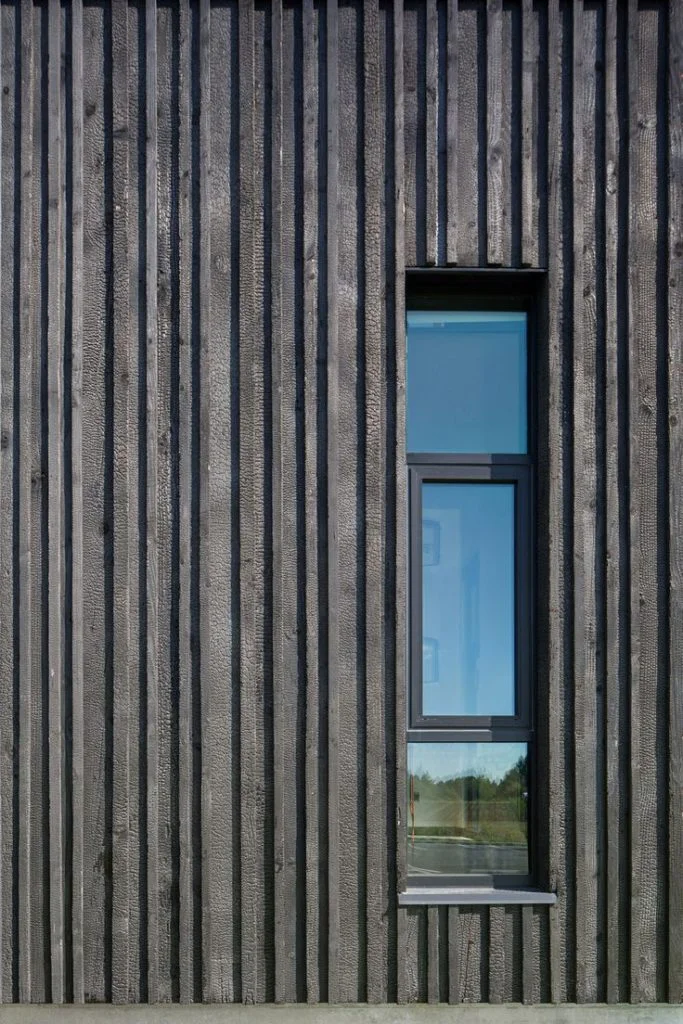 The most common types of woods used for this include cedar, pine, fir, and redwood.
Wood is usually what is used to make board and batten siding, but you could even get vinyl or engineered ones for your wall exteriors as well.
Although these hold up considerably well in harsh conditions, if you end up with the ones that are not well-treated or are of low grade, then they could develop rot and mold or become infested by pests and insects. Also, these could crack in extreme weather conditions.
Log Siding
These are made by piling on logs on top of each other in an interlocking design. The common kinds of woods used for making log sidings include cypress, redwood, cedar, and pine. Before forming the structures, the logs are dried and treated to increase their longevity and endurance. These can be easily stained or painted.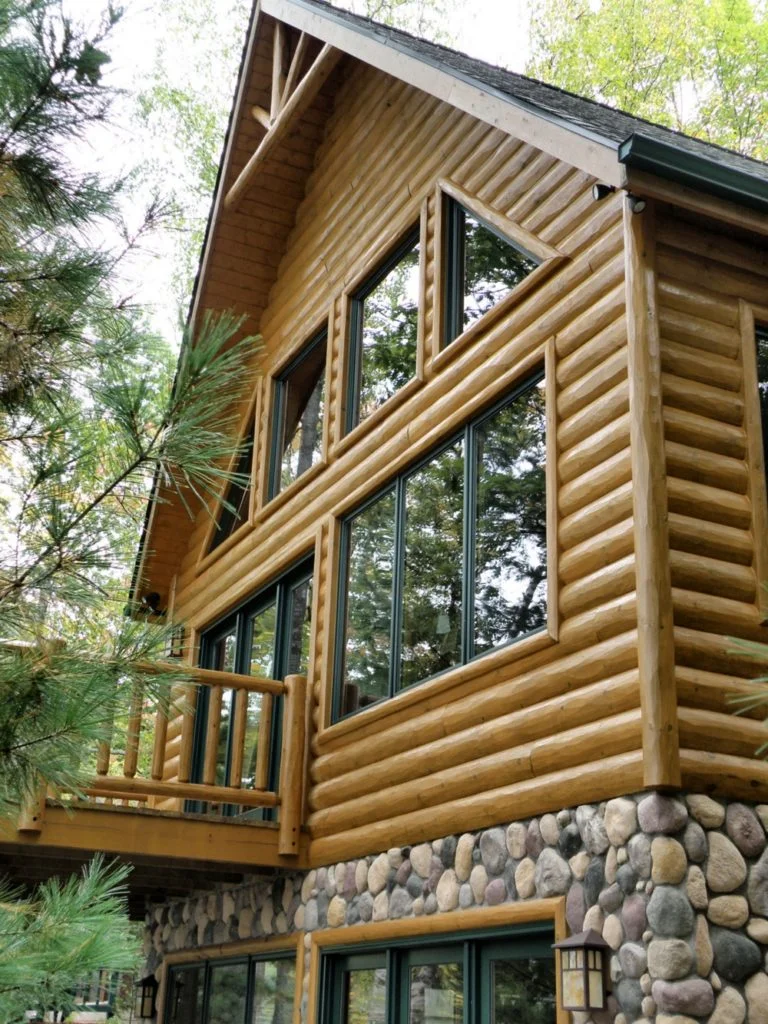 However, the natural state of the logs are usually preferred over painted ones, or they are given just a clear basic coat for the purpose of protection.
Log sidings provide your a natural, cabin-like charm to your house. But, the initial cost of installation of the logs could be high and require professional expertise. 
These are susceptible to moisture, fire, pests, and insects which make the cost of maintenance pretty high for these. Also, if the logs are cracked or so, make sure to immediately seal them up to prevent decay.
Horizontal or Vertical Wood Boarding
In horizontal wood boarding, the protective layer for your wall exterior is made using thin strips of wood that are placed horizontally. In some instances, these might also be arranged using a tongue and groove. If the wooden strips are placed vertically, then that helps accentuate the overall height of the home.
The most common types of wood used in this case include pine, cypress, spruce, or Douglas fir.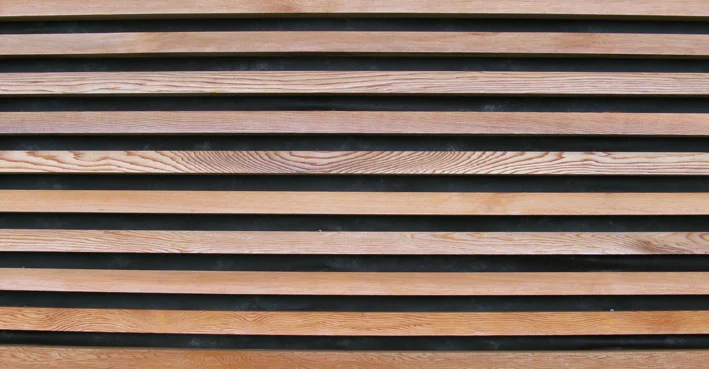 This brings in a beautiful organic look that is natural yet elegant for any modern-design and enhances the curb appeal of the building.
The cost of installation could be high and so can be the maintenance charges. These sidings could be easily customized using stains or paints.
The exteriors will require regular maintenance so that the wood doesn't crack, split or warp or develop rot and fungus. These should be re-stained and repainted every three to six years, which is part of the protective measure for wooden sidings.
However, wooden boarding do maintain a cool atmosphere within the house and greatly admired for their versatile nature and a posh appeal.
Lap Siding
Horizontal lap siding which is also known as bevel siding or clapboard is one of the most popular siding styles out of all that is mentioned here in this list.
It is an immensely versatile design and can be made using a vast range of different materials such as wood (most commonly), aluminum, vinyl, and fiber cement.
It is also available in a vast range of colors and could be customized using different finishes.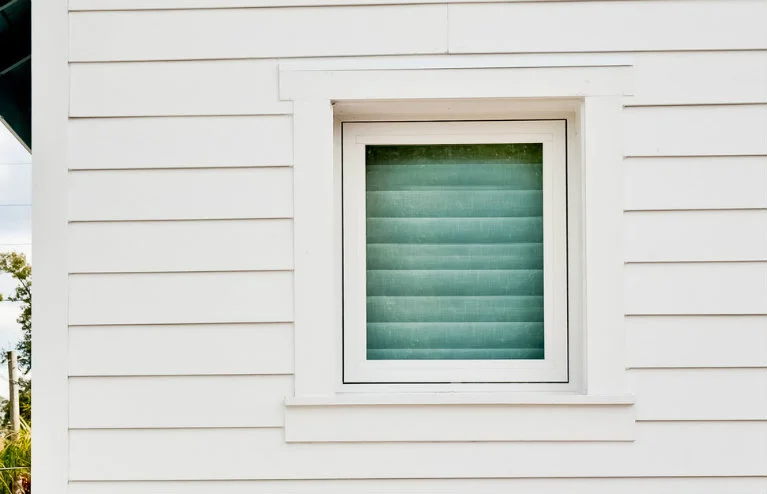 Since its introduction in the during the '60s, lap sidings are used for almost all kinds of structures. These are affordable, and the cost of maintenance for these are low. 
There are many different styles available for lap sidings such as vertical panel, shakes, shingles, fish scales, and beaded patterns or brick veneer pattern that look marvelous on all sorts of buildings.
However, you do have to get your lap siding frequently repainted and caulked to prevent weather damage.
Conclusion
And we that, we come to the very end of our extensive guide on all the types of house sidings you could get right now to protect and adorn your house with!
We hope you liked our effort and got exactly what you were looking for.
And we'll be back with more such stuff real soon!
Till next time!
Related Articles