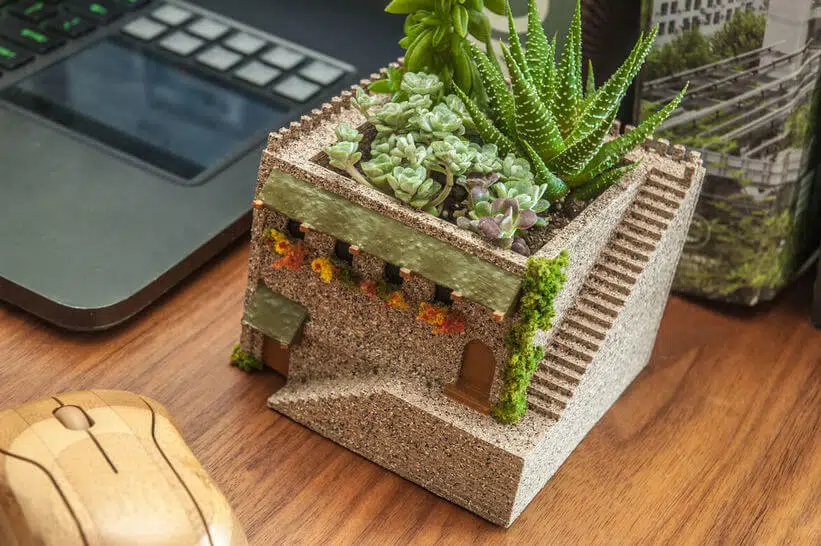 What is the most common way to know the areas in which technology is applicable? Well, you take advantage of that technology and look for areas in which such advantages are needed. And you will at least get one area where that technology is applicable. So, here in this article, we are going to be talking about 3D printing and some useful ideas from that technology. And how this technology is applicable to your home or anyone else's because of the many benefits that associate with anybody's home very easily.
Starting with the advantage that this technology has which is faster production. This a very relevant benefit, because most of the time when we want a product for our home, is when we are not willing to wait much for that product, we just want it urgently. Also, because most of the time some products are only needed while we are doing repair work on some older product that was bought at our place, like say a wall clock or a pen stand or a key stand. All of the above mentioned products can be 3D made.
The other advantage of this technology is that it is easily accessible. You can sit at your home, and look for designs that are good ones for the product that you are willing to buy. Take the design file of that product and upload it on websites to see pricing and compare them. You do not need to step out of your place to buy your favorite designed product.
What else would you need in times like these?
Think of any manufacturing traditional service, say, for example, the service with which you would have bought home a pen stand. Would you be able to have the same sort of accessibility with that technology as you do in 3D printing? So, you get it that 3D printing has overall very many inherent benefits if the products made out of the technology are used in this area of application. In this article, we will be showing you just a few of those ideas.
Featured Image Source: pinshape.com
Useful 3D Printed Ideas
Lamp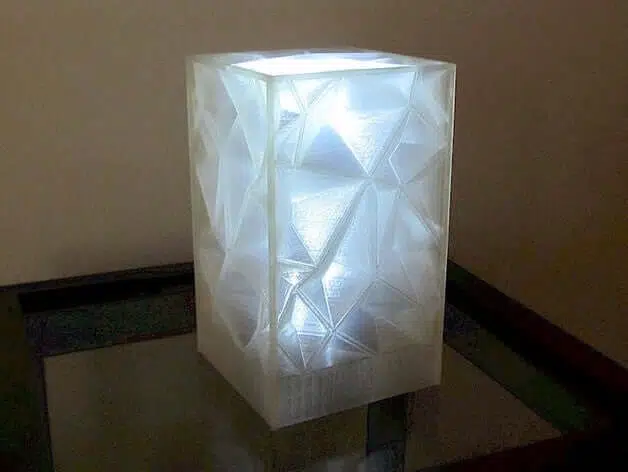 LoboCNC which is the website name of Jeff Kerr on the Thingiverse website has designed a lamp that he has named Crinkle Lamp because the surface of this Lamp contains some wrinkles, and it's not smooth. About himself, LoboCNC says he designs and builds 3D printers, way too many printers, he thinks he might have a problem. LoboCNC has 143 designs, 7 collections, and 2 makes registered on Thingiverse and a huge following of 10303 people. His location shows Bellingham, WA, and his display pic shows a Guitar.
Clock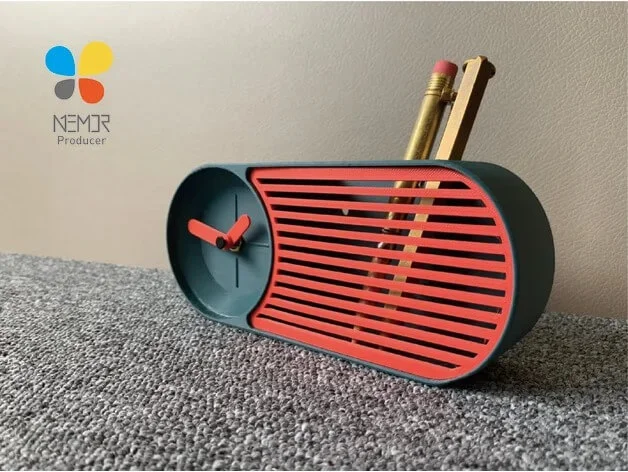 Another designer that is known on the Thingiverse website by the name NEMOR has designed a clock which is called R4. With 17 designs to his or her name, we weren't able to read NEMOR's description because we do not know how to read the Chinese language. NEMOR is a designer, maker, and professional with an advanced skill base. This clock is made on ATOM 2 3D printer, wherein according to the designer the rafts do not matter in this print. The resolution is 0.2mm and the infill percentage is 10 percent. The filament brand used by the designer is Spidermaker, the material is PLA and the filament color used is Gray or Red. The print time taken to print this design is 10 hours if you wish to get 0.2 mm resolution and you require good quality filament. He or She is based in Taiwan, Taipei.
Light Switch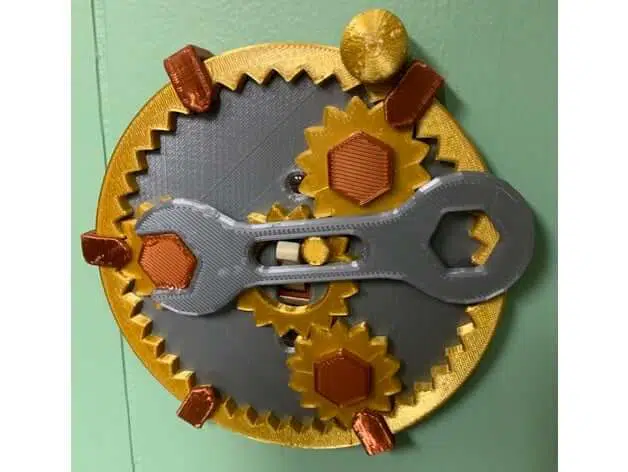 Patrick Immel has made this extremely technical geared light switch cover which is his first print. The designer has one design to his name on the website Thingiverse. He claims to be a professor of Scenic and lighting design at Northwest Missouri State University. In the summary part, Mr. Immel claims this to be his first print made with his new Ender 3 Duet wifi combo. Ender 3 is the 3D printer by the brand Creality.
If you are a person who has a technical background or loves making things complicated rather than simple switching or say maybe Inception, you will like the care taken by the designer in minute regions for this switch. Because it's very unique in the ways it's geared, so essentially one thing is going to lead to the other, and in the end, after all those things lead to each other, there is going to be the triggering of the switch.
Paper Towel Holder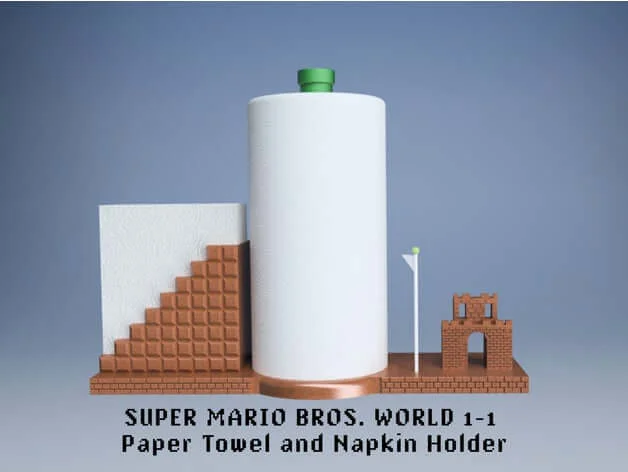 SpaceMonkey42 is a designer in the USA who has 45 designs registered on the Thingiverse website. The designer claims to enjoy designing, making, and printing 3D objects. There are hardly any people who do not know the Super Mario Brothers game and there are even lesser people who knew it but didn't like to play it or even do. For all of you out there, you of course remember when a stage was completed in that game, you had to jump from a block of bricks arranged over each other to grab the flag's top, and the faster, the flight you took, you were able to reach at the top like the rules of Classical Physics.
What makes me talk about Super Mario brothers and that specific point in the game is that the designer seems to be too fond of that phase. And he or she is so much fond of it that he or she has actually implemented that vision into reality as a paper towel holder and a napkin.
Plant Stand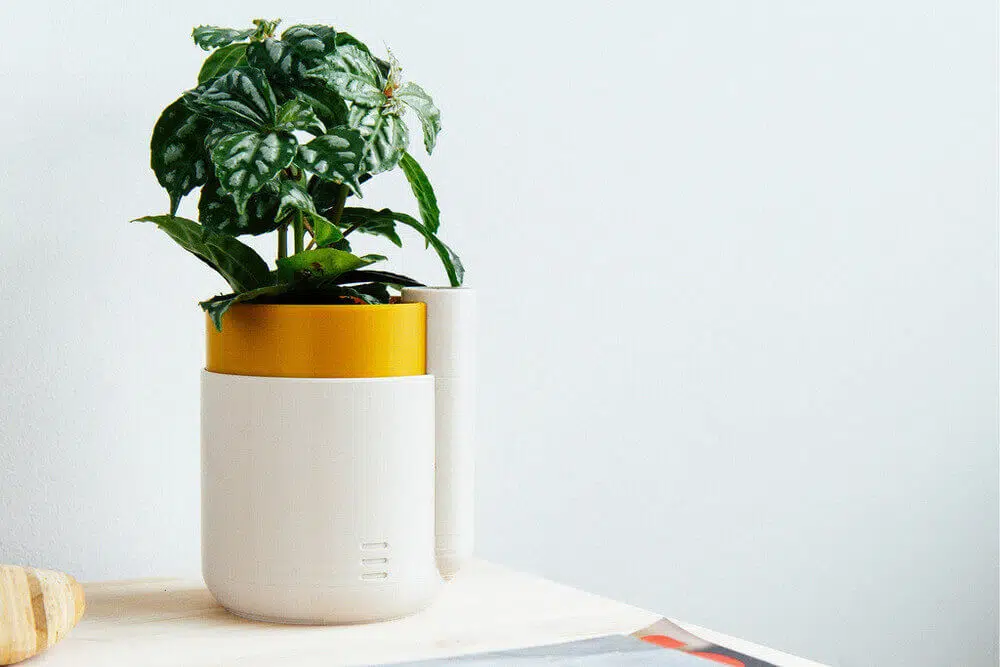 If you love to have plants at your desk, this is probably the most innovative one you are going to know about. A plant stand that can water itself at regular intervals! It's available on the Thingiverse website, the design is made by a designer named Parallel Goods. Printed in material PLA, the design has a layer height of 0.3 mm and an infill of 10 percent. You can even print this design without support structures. If there is a single idea that we were to promote from our website, it would have to be this one. This two-part design is sophisticated and tactile, and it prevents neglect of your household plants. It's a positive win-win scenario!
Pen or Pencil Holder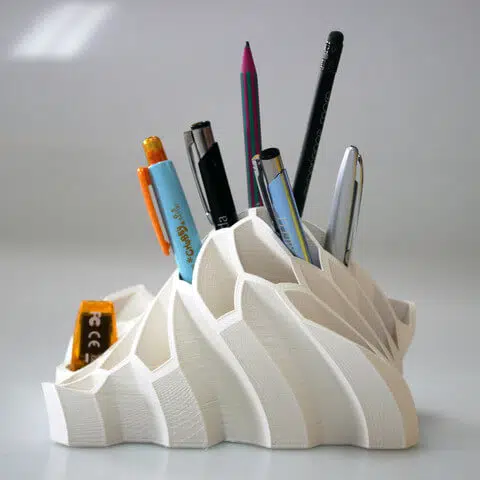 It's unique in its shape. One of the advantages that we didn't mention at the start of the introduction but 3D printing has is the customization thing. You can find this design on Cults, made by 3D designer Bee Very Creative. Check this out and you will love it.
Headphone Stand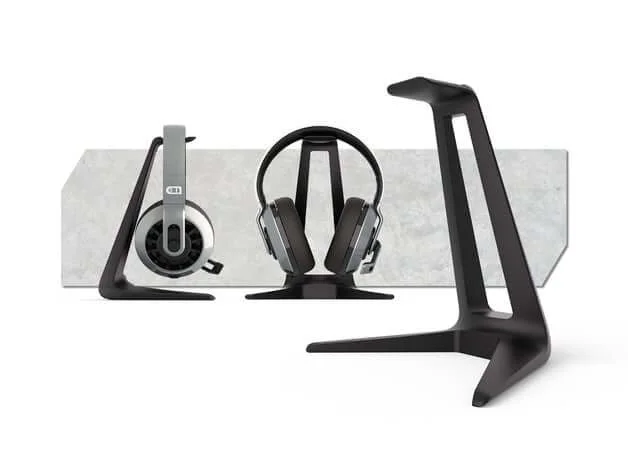 As we were talking about customization is something that 3D printing offers. How about a headset stand like no other? What this essentially means is that you would no longer have to get irritated by the wires getting cluttered. This designer Makerbot at Thingiverse has got you the correct product. Do check it out.
Flower Wall Mount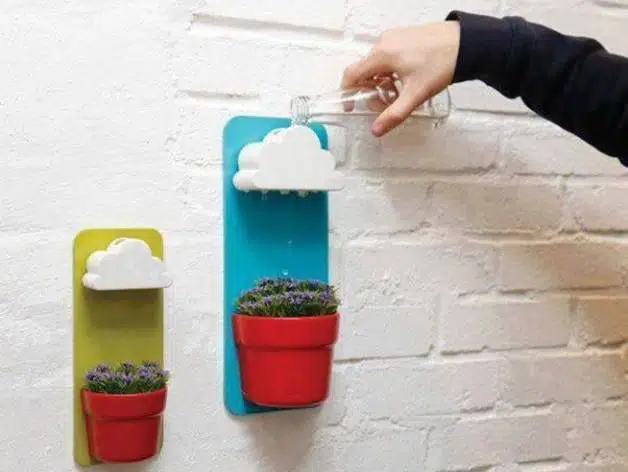 During the 3D design of this 3D print, the designer recommends no rafts. But you will need support structures and a resolution of 0.2 mm with an infill of 10 percent. Uploaded by a designer named 3DPVDB on Thingiverse, these flower wall mounts will be a very suitable thing to hang over your wall, out in the open, or in your home. Just imagine, whatever the weather is outside your window, these wall-mounted flower pots will always brighten up your home! They will tend to your plants by pouring water through a cloud, which then diffuses the water into raindrops. These easy DIY room decor ideas should be filed away for a rainy day, perhaps?
Letter Board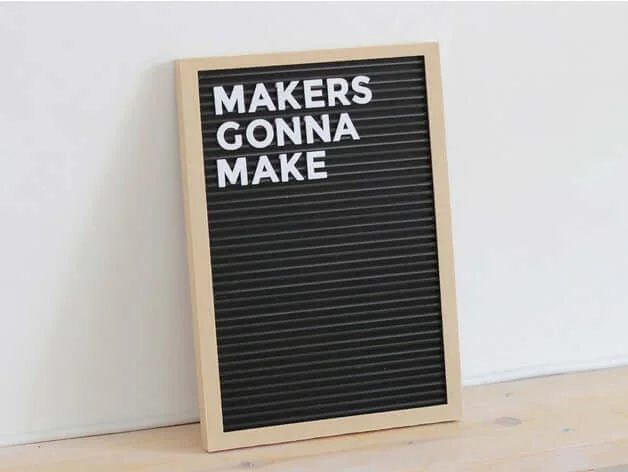 Augustin Flowalistik has uploaded his design of the letter board on the Thingiverse website where you can compose messages at times when you are not speaking with each other. If you are a husband and wife, undergoing a fight, this can be a superb way of communication between you two. If you are a room partner of some other person, who has job timings different than yours, use this letter board to convey to him or her about the plans for the weekend or lack of vegetables in the home or a habit of his or her you don't like.
This is a fully 3D-printed letter board, which can be used to fulfill many purposes. On one hand, you can compose messages using a set of 3D-printed letters and numbers. On the other you can also include it in this room decor idea is a set of 3 standard photo sizes, so you can make smaller letter boards using photo frames instead of 3D printing one from scratch.
Key Holder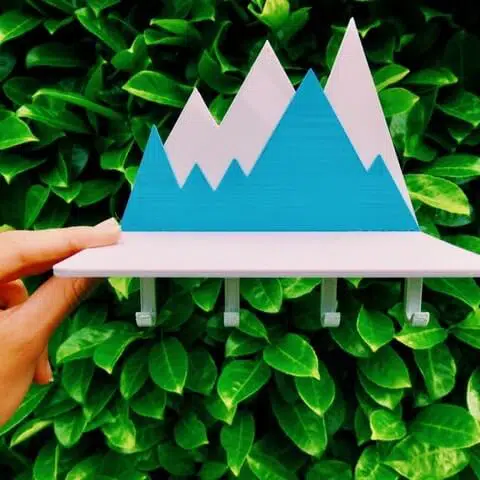 Let's just face the fact that you do not find your keys because you do not keep them in the same place always. Get this keyholder from the Cults website made by Maker_at_Heart designer. And we do not wish to inform you of the benefits of having a key holder.
It's not just a simple key holder, but there is also a shelf included in it which can be the solution to avoid losing small objects after cleaning your pockets. According to the designer you can even use it to hang up clothes. The two-piece of these keyholder designs offers a stylish way of displaying your must-haves once leaving the house, as well. Please note the fact that it can be mounted by using the two M6 holes, or just by applying some mounting tape.
Photo Frame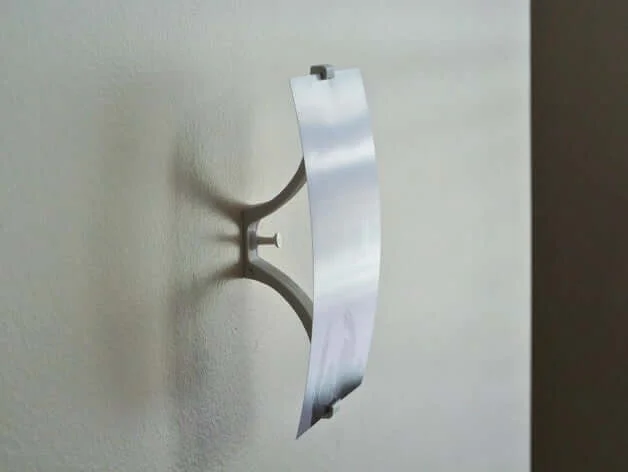 Tosh is the name of the designer who posted this design on the Thingiverse website. The design is not just minimal, but also easy to mount on the wall. By using this photo frame you can make your photos and postcards spring to life. The photo frame has a minimal design, is simple to mount to the wall, and easily prints in an hour or less. You could make a whole bunch in an afternoon for a quick interior refresh.
Trophy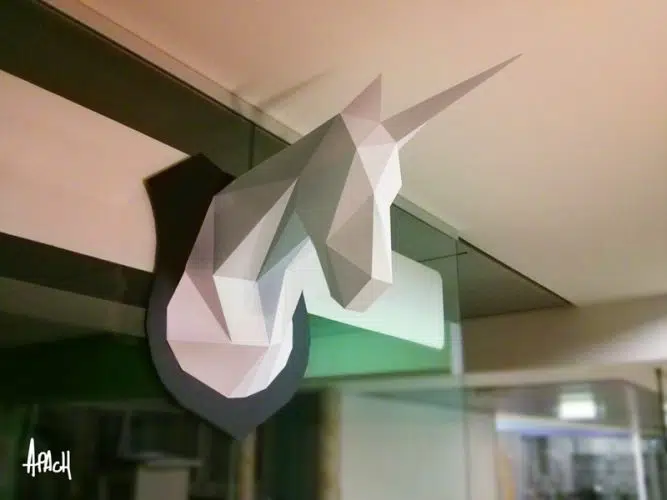 Unicorns are something that you wanted to see, or someone around you is a fan of? Gift him or her or yourself this Unicorn head-shaped Trophy that is posted on the Thingiverse website by Thomas Voillaume. Sooner or later, the possibility always existed of a low-poly design was going to rear its head on this list of DIY room decor ideas. So, what is better to have than a Unicorn trophy? If nothing at all, it is way cooler than a moth-eaten stuffed moose's head, that's for sure. Yeah?
Boxes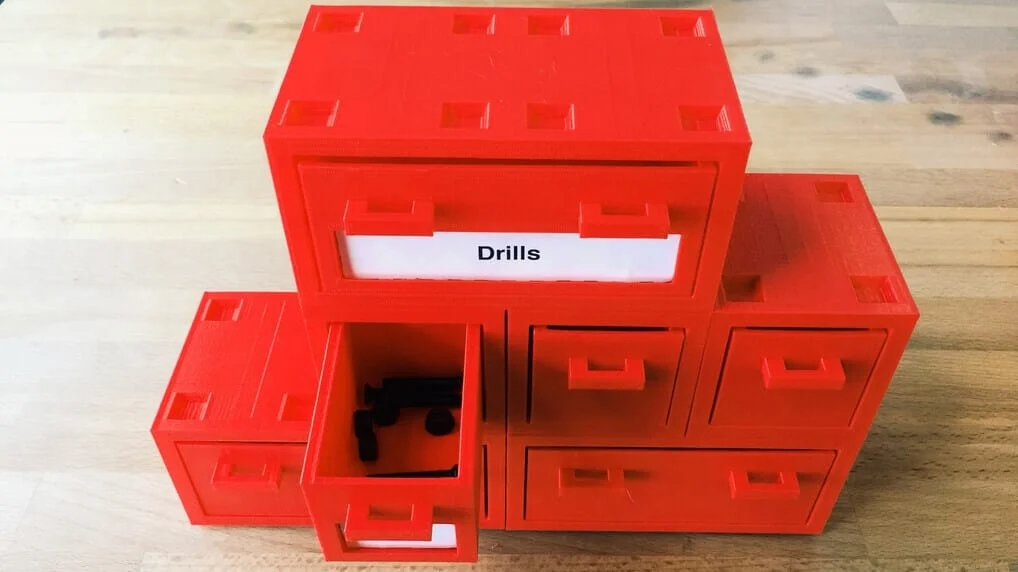 Look around you, home is always a mess, distributing and keeping things arranged into a box and making it more worth living. These boxes posted on Thingiverse by Andrew Askedall are very very appropriate. These boxes are not only a cool thing to 3D print, but they are also useful. They are great for keeping little knick-knacks. Something really smart about these boxes is the design of how the drawers are stackable in any number of configurations, amounting to a veritable Tetris of storage solutions.
You can use them for keeping organizing little sheets of paper, one of every genre into it. And that's how you can land up every time exactly at the paper you wish to see, and not waste much of your time. Do check them out if you have in mind an idea to arrange your home and its stuff.
Conclusion
So, as you will see after reading this article, all the things that are written about are such that they are customized. And that is something that is the real benefit of 3D printing. You can customize it, however, you like it. And home is the place wherein you like to get in things that are more customized. Things that people would not get to see anywhere else. So they are perfect because there might not be any other like them anywhere around you. Their customization is their first benefit, their flexibility is the other. They are useful, they are attractive. Above all, they are technically advanced because they aren't manufactured with any traditional manufacturing methods, but with 3D printing technology.