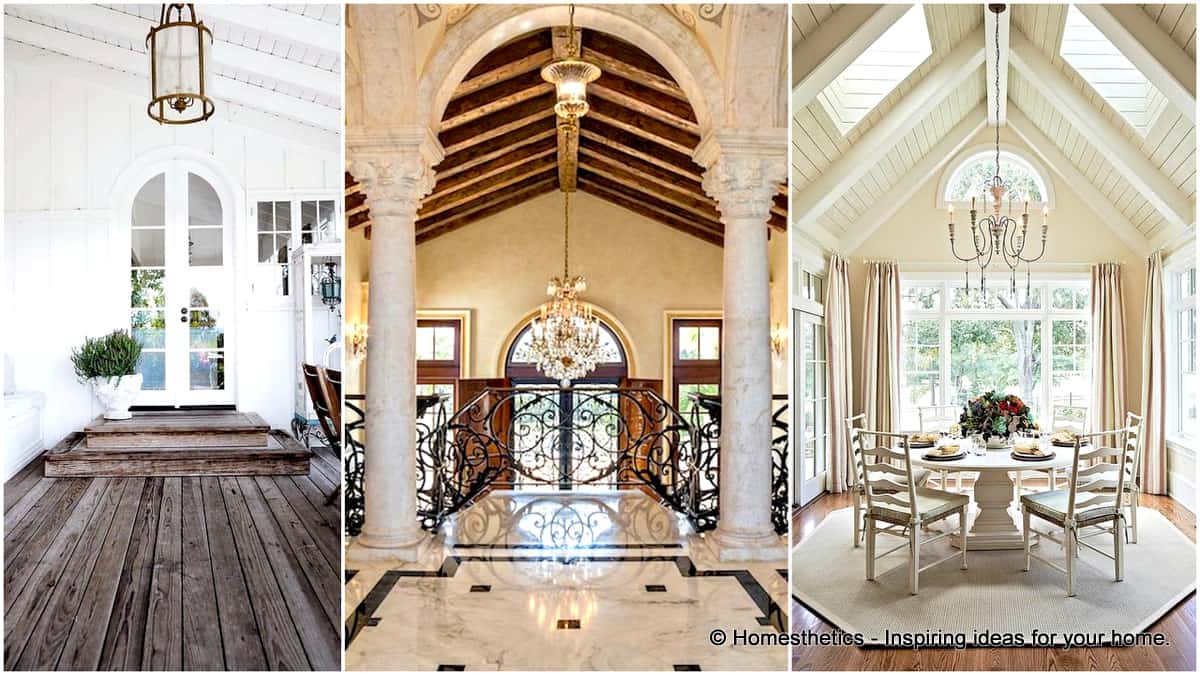 Vaulted ceilings are all about having that open, airy spacious room. It distracts the eye from reality by giving the mind the impression of being in a stupendously large setting. With all its grandeur and sophistication, such an atmosphere allures one into its magnificence and beauty. The obvious challenge of course would be accentuating and showing appreciation to  your voluminous new dwelling place via various designs. Whether or not it's a minimalist design, or one that encapsulates all your versatility, style and uniqueness. The goal is to show-off your Vaulted ceiling to everyone that visits your home. You would never want to neglect that space above your head when so much thought, skill and architecture went into its Vaulted  design.
Here are 16 ways to ensure your glorious Vaulted ceilings get the needed recognition.
Vaulted Ceilings Décor Ideas
1. Best Paint Color For Your Vaulted Ceilings
Finding the most suitable ceiling paint color should be your first priority. You want a color that would blend in well with the theme of your room. This way, your Vaulted ceiling would not seem like a separate, forgotten blank canvas you had no idea what to do with. The color of any room is one of the initial things that will catch the eye of your guests. It tells people so much about your taste, personality and adds such meaning to your room. Providing it's the right color, it would immediately draw attention to everything in the entire area.
Source: decorpad.com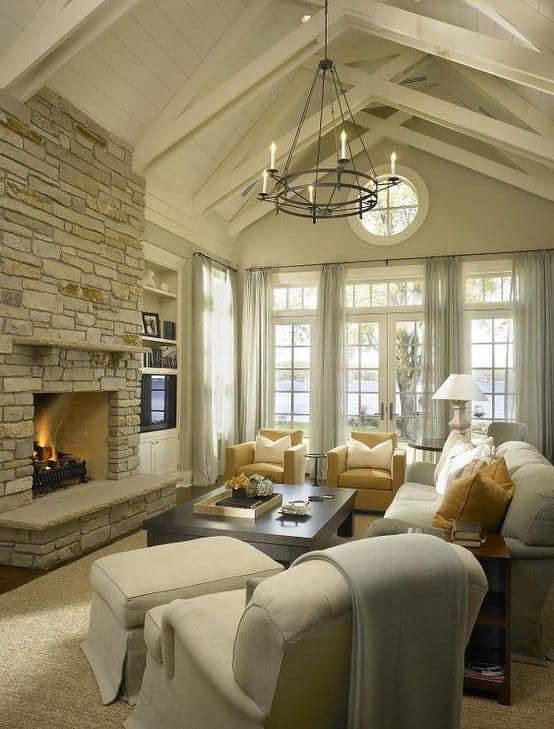 2. Lighting Fixtures – A Must For Your Vaulted Ceilings
Awww wow!!! is the first expression from someone after walking into a room graced by magical lighting fixtures. Your lighting would be the key to illuminating your Vaulted ceiling area. From gorgeous chandeliers to wall lights, they all magnify every inch of your room. If you have a Vaulted ceiling, then you should aspire to have it noticed by your guests. Otherwise, what's the use? Or at times even you and your family members can sit back, relax and soak up the fruits of your labor or well spent money.
Source: myaustinelite.com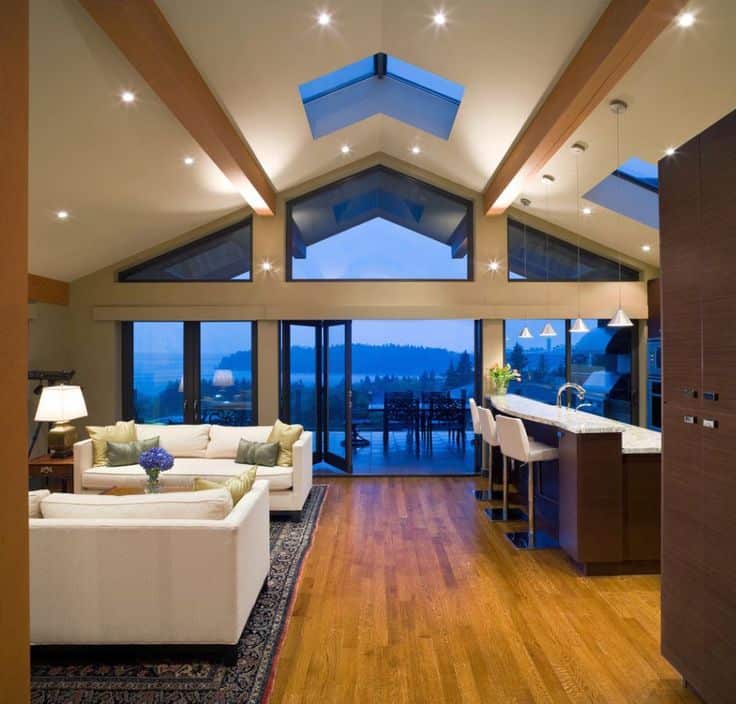 3. Vaulted Ceilings Go Well With French Windows
You may ask why? Then again, thinking about it, you would realize it only makes sense. The whole idea of having a high or Vaulted ceiling is to give the impression of being in a fairly large room. Also to create a more airy, lighted area. Yet still maintaining quite a classy interior atmosphere. Personally, traditional exterior French windows add a chic, yet simple  décor to the inner and outer part of any home. In addition, for a home with a Vaulted ceiling, glass windows and doors would give the illusion of being outside vs feeling stuffy, crammed and crowded in what would be the alternative.
Source: southernhospitalityblog.com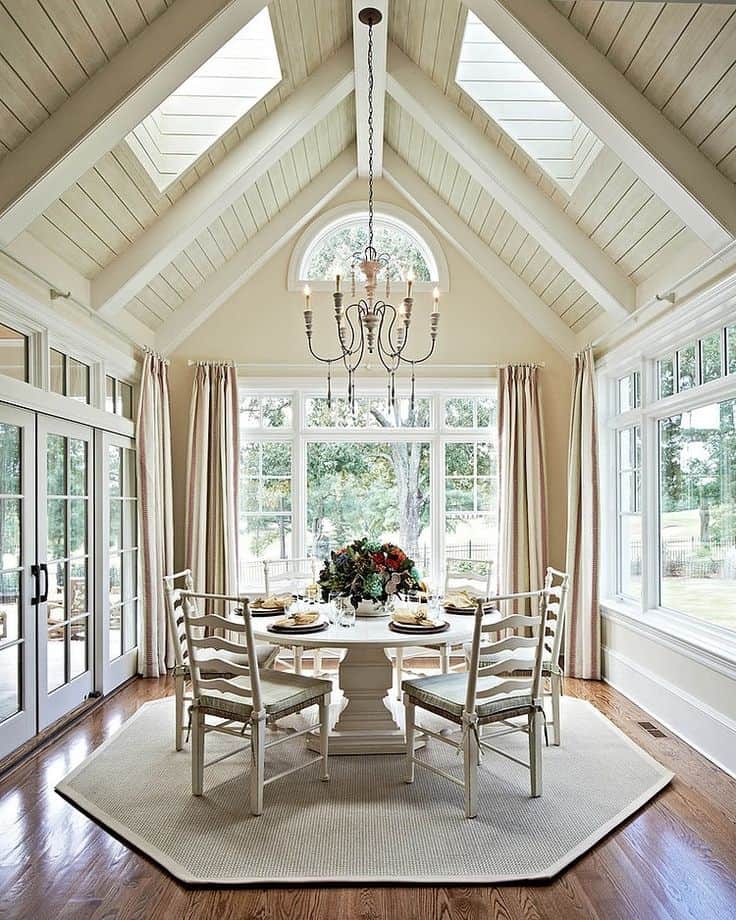 4. Adding Drapes To Your High Wall/vaulted Ceiling
Adding drapes to any décor would certainly transcend it, awakening its fullest potential. That being said, drapes that hang close to your vaulted ceiling, would arouse compliments and attention to its lofty character. The undeniable beauty of your architecture would be incredible. Drapes would carry one's eyes upward and inevitably to your Vaulted ceiling.
Source: homeadore.com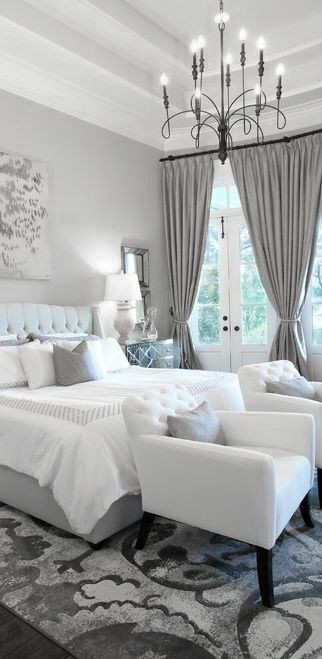 5. Accessorize Your High Wall
Hey! Don't be afraid to go nuts with your wall artwork or lighting. Ensuring of course that the main purpose is achieved. Dressing it with paintings or fancy drawings, better yet family photos will certainly do. You can arrange them in an ascending or descending order if you so desire. This is provided you want them to be along the same slant as your Vaulted ceiling. You should note, this is not a must. Going parallel to the ground or floor of your ceiling would work equally as well. Have fun decorating while bringing your own personal style into the whole color scheme.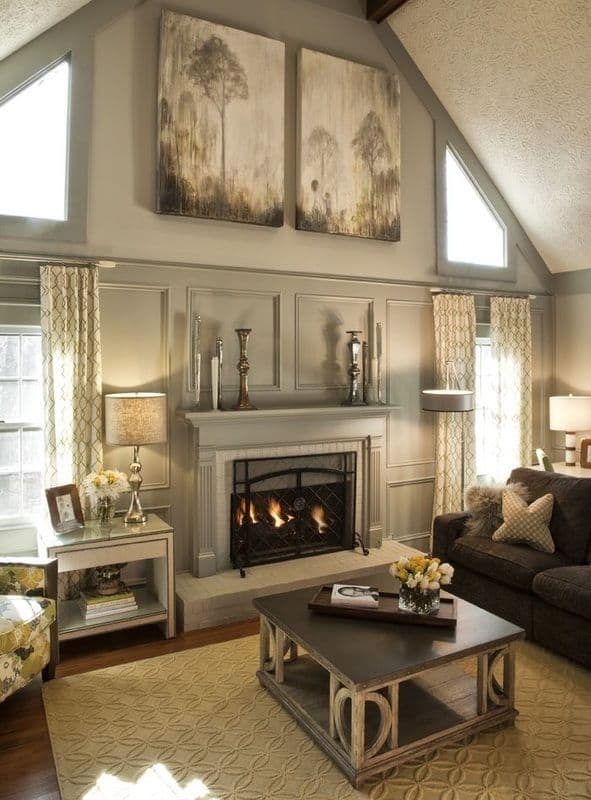 6. Patterned Vaulted Ceilings
Most patterned Vaulted ceilings are either Groin shaped or Cathedral. Groin Vault ceiling can be a bit confusing to comprehend, but once you understand what a Barrel Vault ceiling looks like, not so much. Barrel Vault ceilings have their names because they are in the shape of a barrel, similar to a semi-circle looking up. Now just cross or intersect two Barrel shaped Vault ceiling at their right angle (90 degrees) and there you have your Groin Vault ceiling. This is why the Groin Vault ceiling is also called Double Barrel or Cross Vault. Now here is a reason anyone would want to look up! Oh the beauty of a Groin Vault ceiling plastered with a fine Victorian pattern.
Source: theopulentlifestyle.info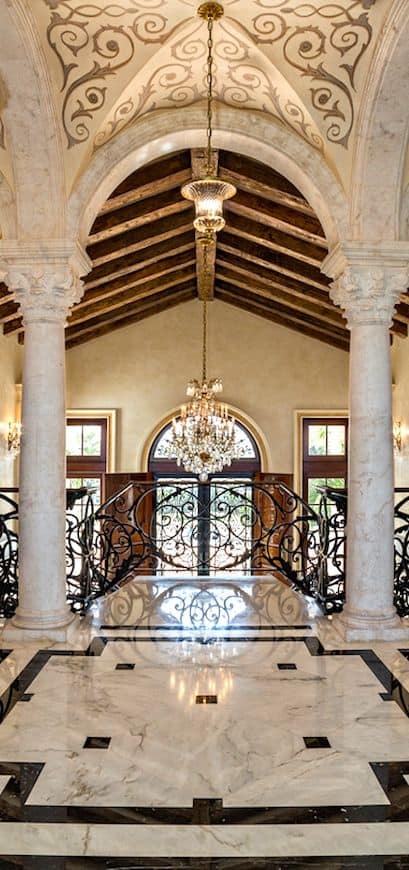 7. Choosing White For Your Vaulted Ceiling/room
If your looking for true beauty (in my humble opinion), nothing stands out more than a Vaulted ceiling painted in pure white. It may not be your cup of tea, especially with kids and a pet. Thus, white reflects lights and makes things appear larger than they are. A white room would brighten and generate a feeling of serenity and clarity to your home. Complete with some Exterior Modern or Contemporary French windows and doors. Voila! Now you have your dream abode. The choice is yours to add another color that would harmonize well with your décor. Black and white always give an elegant, chic look. Black furniture or metallic furnishings would be a stunning contrast to your white wall and ceiling.
Source: centsationalgirl.com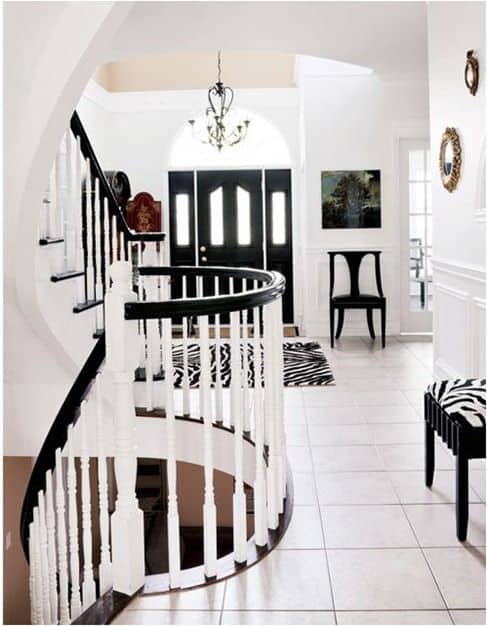 8. You Will Want Your Furniture To Blend In
Without a doubt, having one's furniture color fuse with the hue of your Vaulted ceilings, walls or floor would be the perfect amalgam. Sure the alternative would induce a feeling of disorientation and wonderment.
Source: interiordesigninhome.com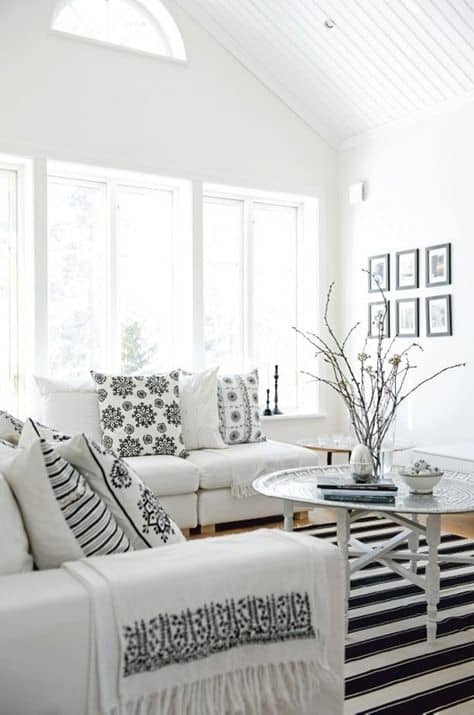 9. Make Your Tv Work For You
One great way to draw attention to your high or Vaulted ceiling is by using your television. Whether your ceiling is Cathedral or Vaulted shaped, adding a flat screen wall T.V would compliment any room. Place it as reasonably close to your ceiling as possible.
Source: homestratosphere.com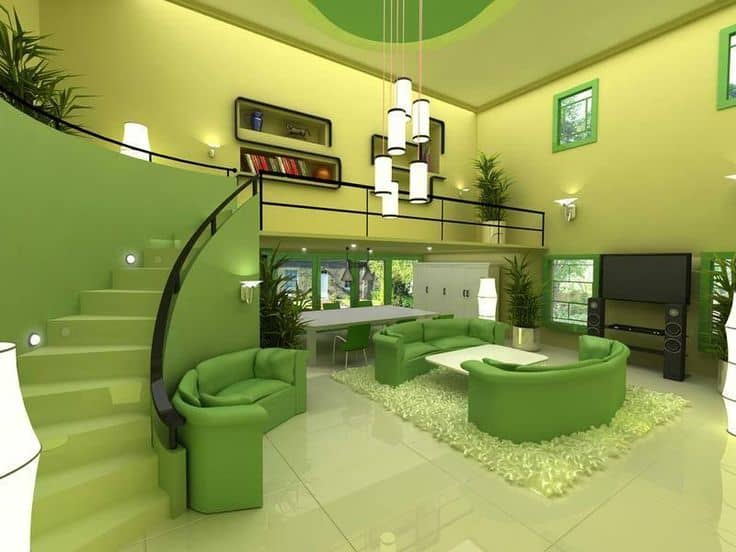 10. Fireplace Under Your Vaulted Ceiling
Having a fireplace with a stone wall that leads straight up to your Vaulted ceiling would be well in place. Depending on the theme of your room, you can go for a rustic, nautical or elegant look. So unless you reside in a tropical area, this is always a classic.
Source: houzz.com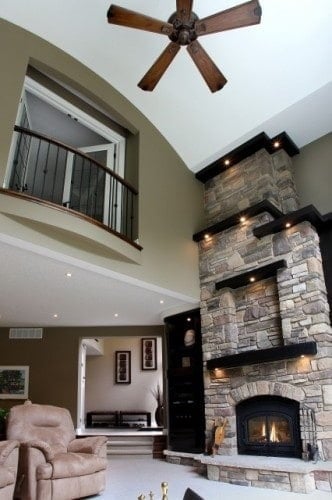 11. Build Beams In Your Vaulted Ceiling
What a way to add character and  charisma to your vaulted ceiling. I love the rustic, country accompaniment the beam here brings to this room. A complimentary finish.
Source: texasarchitectdesign.com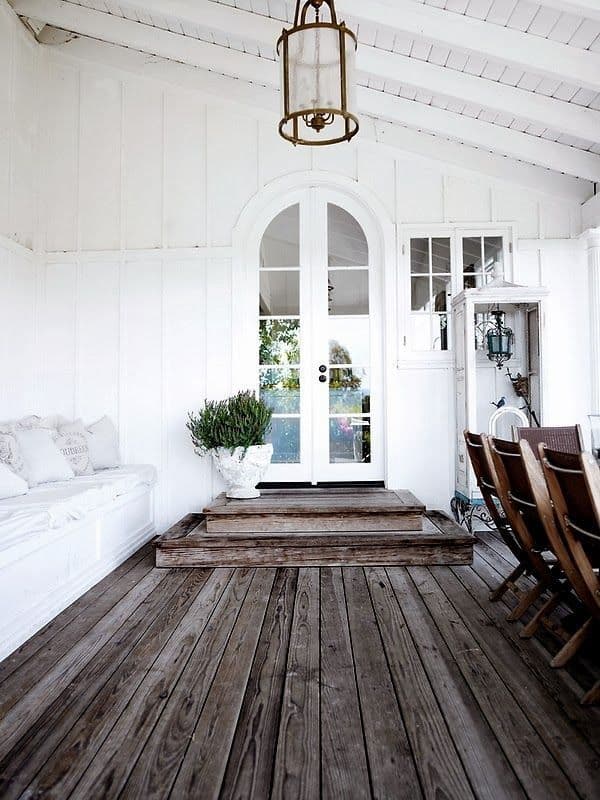 12. Show-off Your Vaulted Ceiling With Skylights
You don't have to own a studio of some sort to have skylights in your Vaulted ceiling. This will only accentuate and do more justice to your roof. So no need to be bashful if contemplating such a bold move. It will certainly bring in more light and give the illusion of being in a bigger area. I say go for it!
Source: homebunch.com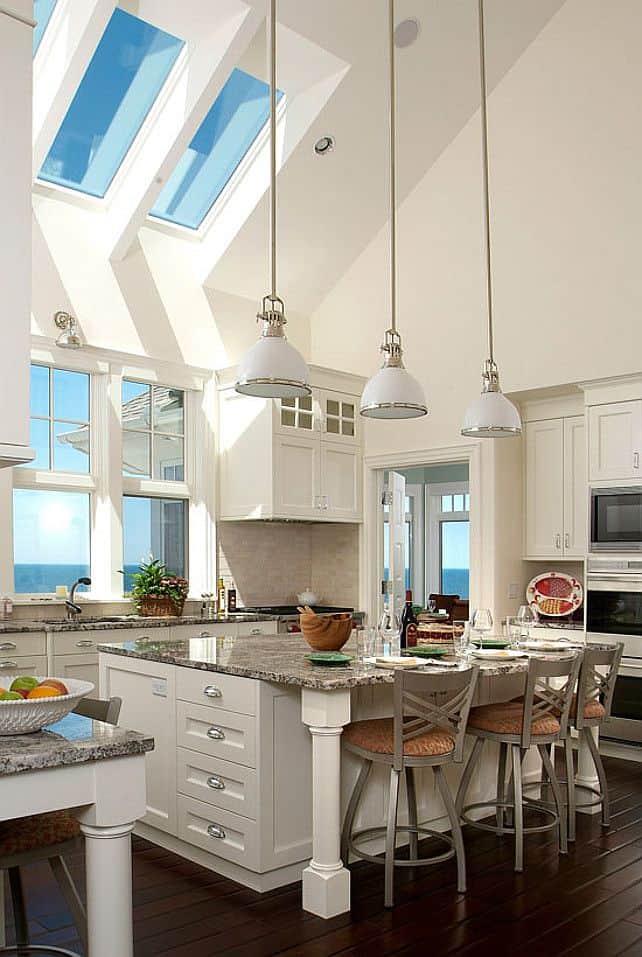 13. Your Vaulted Ceiling Should Be Your Crown And Glory
Talk about adding character and definition to your Vaulted ceiling, if a crown molding doesn't do it, then I don't know what will. You have two choices, hire someone to install them or do it yourself.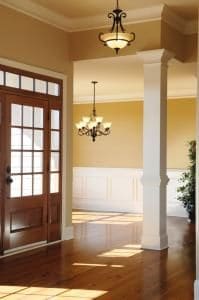 14. A Bookshelf Would Be Great For Your Vaulted Ceiling
A bookcase filled with a library of books all the way to the top of your Vaulted ceiling is another way to go.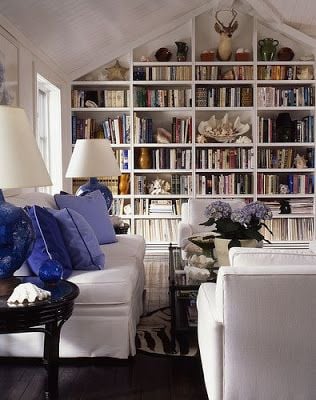 15. The Idea Of A Ledge Or Shelf Under Your Vaulted Ceiling
Oh! The numerous decorative ornaments, lights and plants you can line along this surface just under your Vaulted ceiling. Check out this one.
Source: highlandhomes.org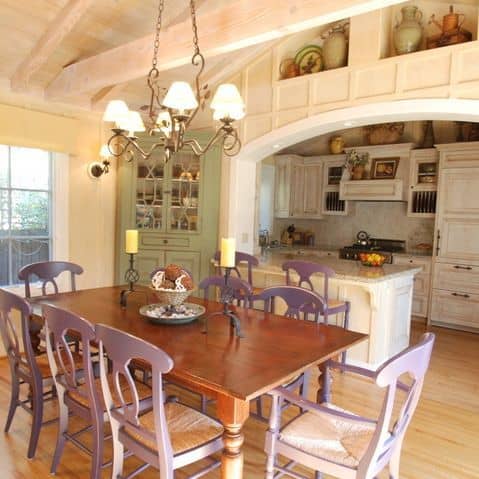 16. A Loft Would Certainly Create More Space
Also known as an attic or upper deck, depending on what use you make of it. Another way to flaunt your sense of style and unique, elegant taste.
Source: takesunset.com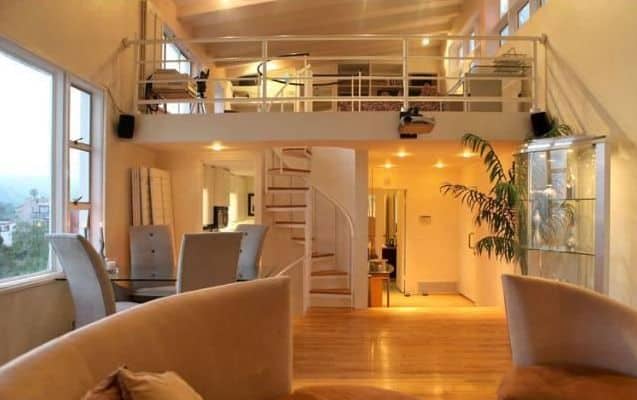 We hope these few ideas were helpful in assisting you in your Vaulted ceiling décor. Whatever you decide to do with your interior designing, have fun and let it reflect you so that the final decision would be yours. We invite you to share your ideas and thoughts in the comment section below.