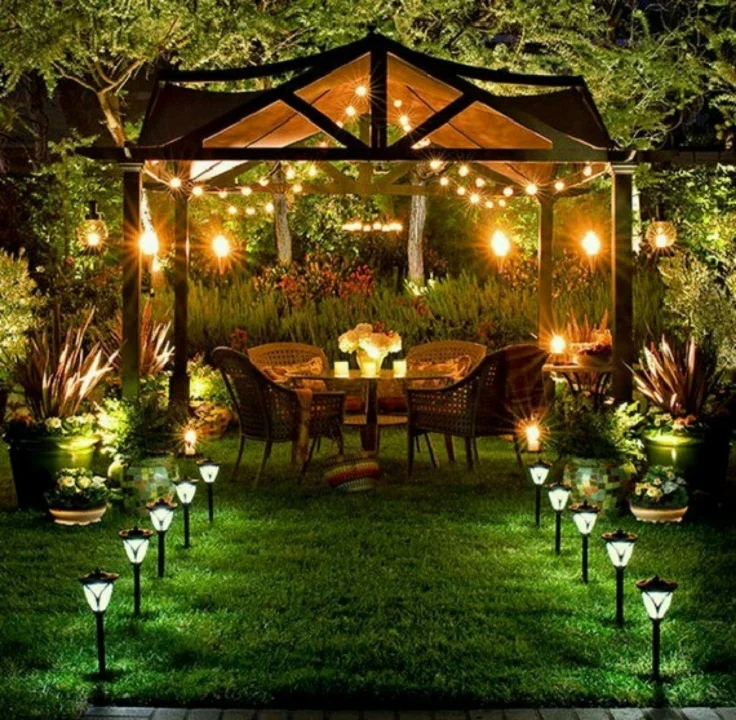 The backyard landscaping ideas series continues with a very enjoyable feature: the patio, an addition fairly easy to build that creates a very intimate environment, ideal for socializing!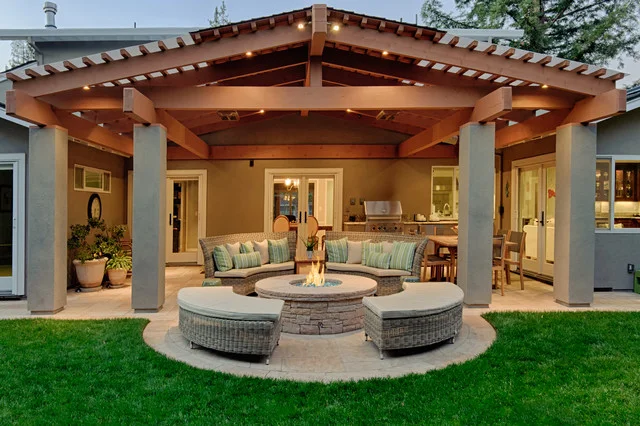 First of all, let us define the patio. The patio is "an area, usually paved, adjoining a house and used as an area for outdoor lounging, dining, etc.". There are hundreds of designs to choose from when designing your backyard but, no matter how it looks like, the patio is in fact an extension of your indoor living space. It can be used as an outdoor kitchen, a living room or perhaps even as a bedroom if you fancy sleeping under the stars. A patio represents a way to extend your home without making the house bigger, in a more fashionable and less expensive way. In the end, this addition will also increase your home's resale value because it's such an appealing environment. A patio, whether it's made of brick, stone or concrete, will greatly enhance our living quality and quite often become the heart of the party as most people prefer spending time outside, in fresh air rather than in between four walls. Planning a patio is essential before you start remodeling your backyard as there are so many options to chose from. You'll have to think about it's placement and size, materials and what amenities you wish it to host. We have previously featured a few ideas on our website: Backyard Landscaping Ideas-Swimming Pool Design, Backyard Landscaping Ideas-Attractive Fire Pit Designs, Pergola Designs Upfront-Transforming Your Backyard Into a Relaxing Environment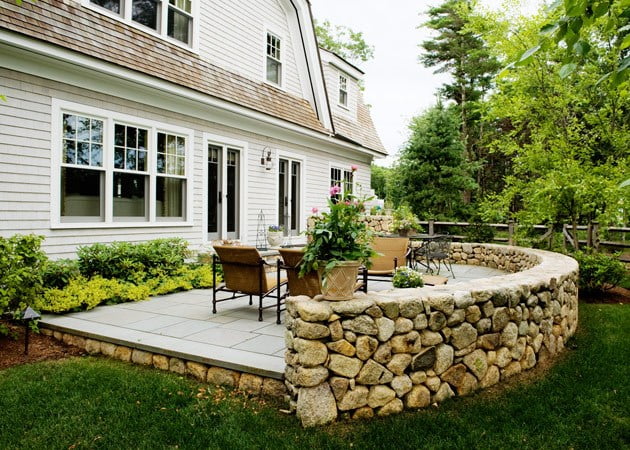 Backyard Patio Styles and Types
Think of your patio as a regular room that has a purpose and will host a certain activity. This implies a certain type of layout, furniture and finishes to match. If you haven't decided exactly what you'll be designing your patio for, here a few examples: dining, cooking, game or movie nights, sunbathing, enjoying a good book and more. You can see now how the furniture can differ from one type to another. Depending on the space available, your patio can serve one or more purposes.
Lounge and Bistro Patio
This is perhaps the smallest patio type there is but the most intimate. A rustic set of chairs and table encircled by blooming flowers will ensure the perfect spot for an outdoor breakfast or a glass of wine in the evening alongside friends or family.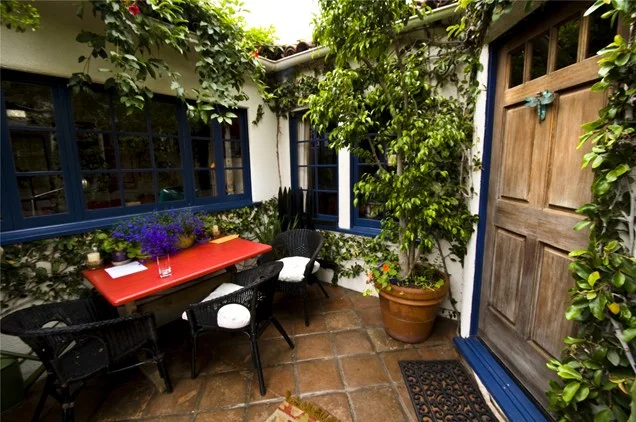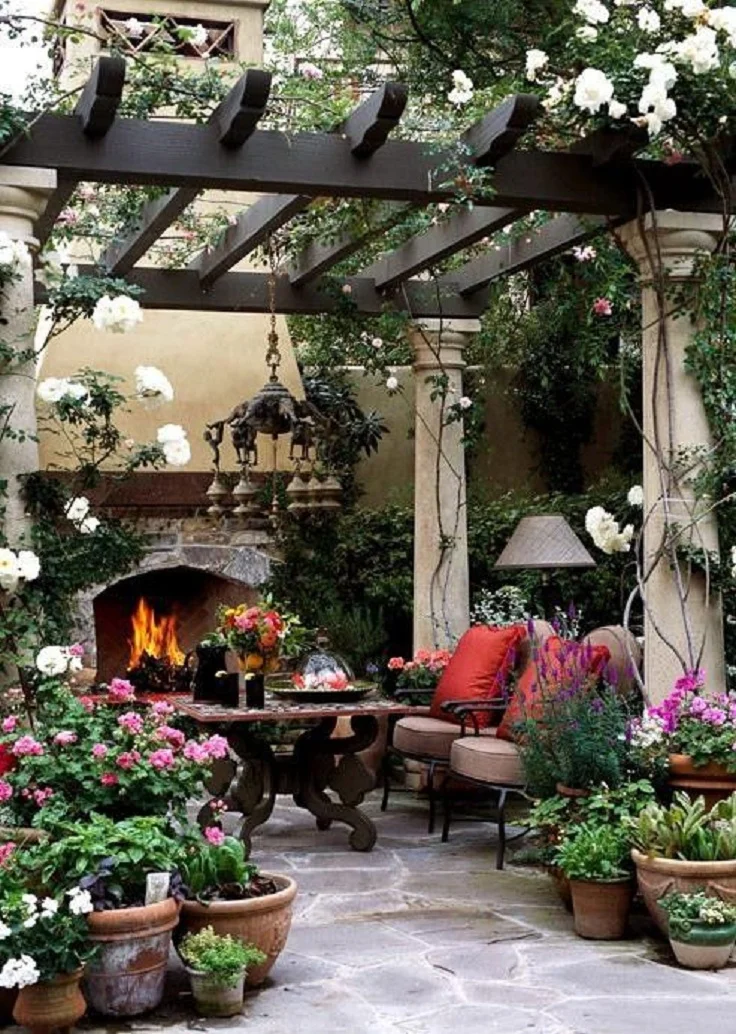 Outdoor Dining Patio
This is probably the most popular type as every person prefers enjoying a meal in a natural environment. And you can be sure that this backyard landscaping design idea will be a powerful magnet for your friends and family. It does require a bigger area, at least 12 feet by 12 feet and preferably, it should be placed near the kitchen to make serving as easy as possible. But more important than that will be its surroundings. Make sure that the environment will feel as natural and rustic as possible.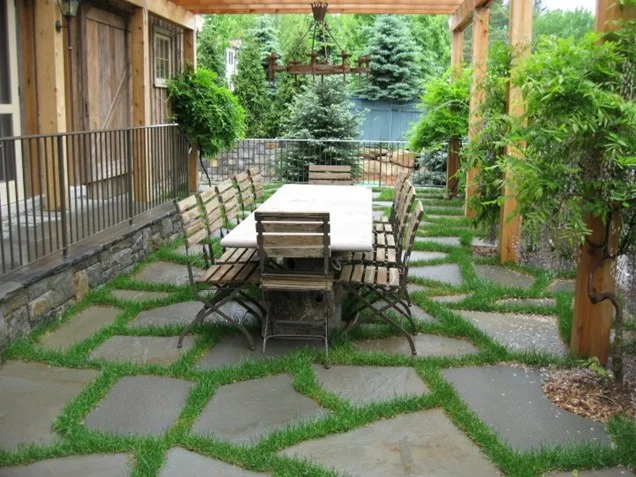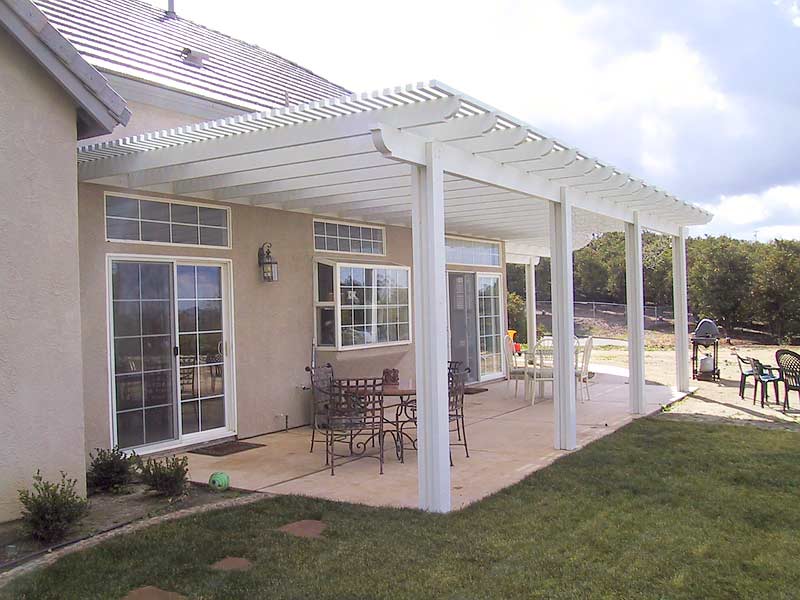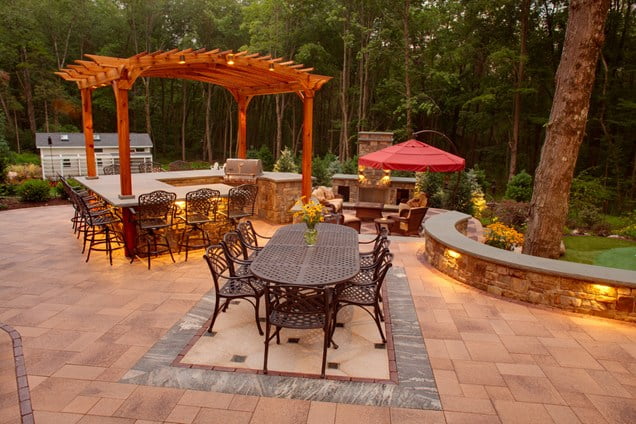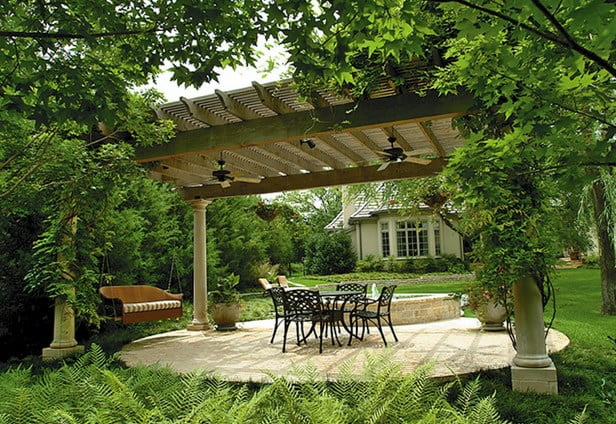 Living Room Patio Design
Outdoor living rooms are incredibly popular. Adding an outdoor living area to your backyard will give you a space to relaxing with friends and family. This style of patio often features a fireplace or fire pit with deep-seating patio furniture and a shade structure. An outdoor living room should be at least 16 feet by 18 feet. Don't forget to include extra space for people to walk around the furniture.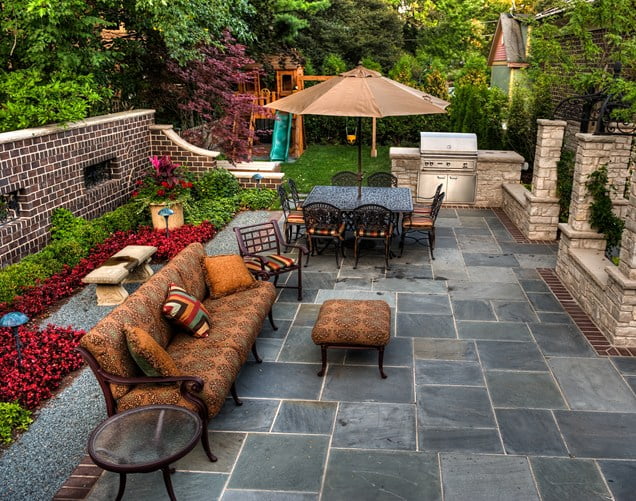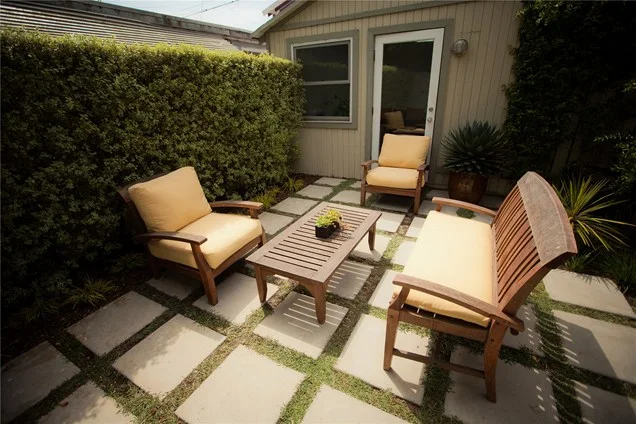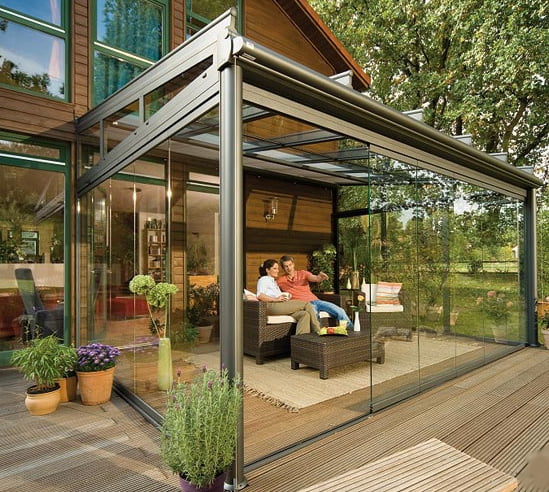 Sundeck Patio Design
This type of design must benefit from a privileged area of the backyard where there is no shade, it's accessible and most likely near a swimming pool. Outdoor comfortable chaise lounges are the perfect type of furniture for this one. The pavement can be different from the rest to mark a specific area, which can be enclosed and decorated in a individual manner and become a focal point.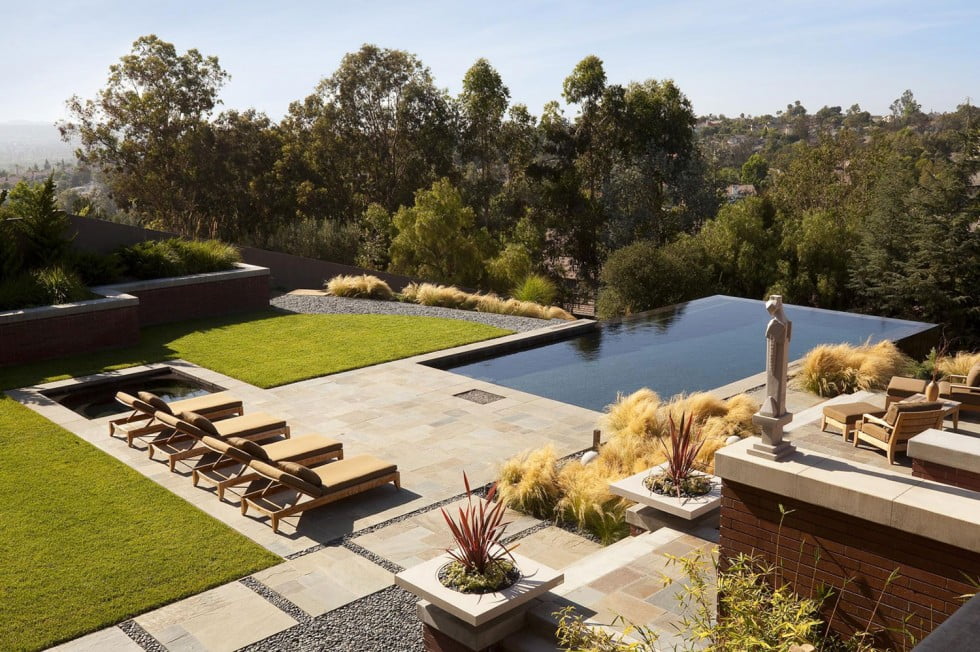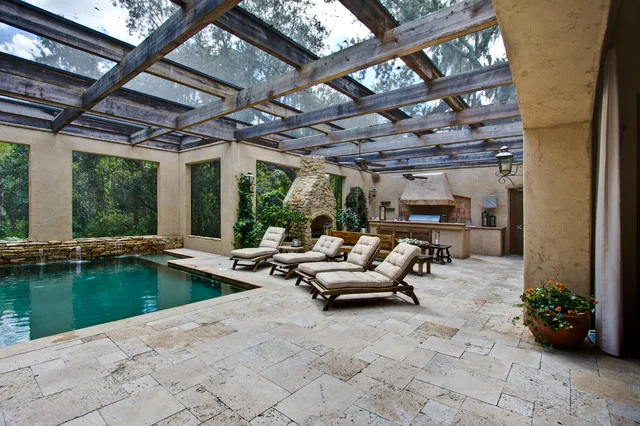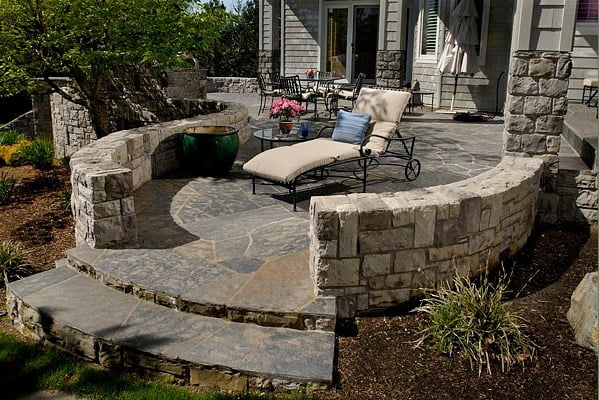 Backyard Patio Basic Design Rules
When designing your own patio it is important to begin with a few things in mind. In most cases, due to a lack of attention to details, people ended up with undersized patios with unusual and unusable shapes, not fitted for their activities. To avoid that, it's best to consider everything from the start. So what should you have in mind? Well, the most important thing is exactly what will you be doing in int? Will you simply enjoy your morning coffee and a nice book in the evening from time to time? Will you invite friends over to talk till midnight and perhaps watch a movie? Or perhaps the entire family will gather at your place on Sunday's to eat lunch and have a good time. Either way, you can see why these questions will determine the attributes of your dream backyard patio. After that you will have an idea of exactly how much space it will take, perhaps what shape and what type of furniture you will be using. Before going into details I suggest that you surf the internet for as many and various examples as possible in order to get a wider view of how you're going to apply the design you have in mind.
Backyard Patio Placement Ideas
In most cases, a patio is best placed on the back of a house. But don't rush into it. There are several things that you need to consider before making that decision. Here are the most important things that you need to have in mind: patio's purpose and future activities, its relation to your home, the amount of space available, the sun factor(some people prefer shade whilst others go for lots of sun, depending on their activities) and last but not least, the views available. After all, your patio will be a thing of beauty and taste, like the rest of your backyard design. Taking advantage of the serene environment you'll create is very important. But the purpose of the patio is the most important aspect. Think about it. For dining events, it should be placed somewhat close to the kitchen. If it will act as an extension of your living room, it should be as close to it as possible. Or perhaps you've set up a small pond (Upcycle An Old Tire Into a Jaw-Dropping DIY Pond !) somewhere in the back and you want to take advantage of it as it's the perfect place to enjoy a steamy morning coffee.
Backyard Patio Dimension Ideas
Take your time to determine your future patio's exact size. Most people end up with one that's either too big or too small. Better if it's bigger but still, you could've used that spaced for a different activity. Also, once it's built, it will be very inconvenient to alter its size or shape. So plan everything with care, taking precautions and thinking about what future events it will host. The first step will be to decide how you will use it. But we've already talked about that. Just keep in mind that everything takes space and when you sum up, it might have to be bigger than you've imagined. Dining might also mean cooking so make room for a barbecue; you could also have a firepit or fireplace(Backyard Landscaping Design Ideas-Fresh Modern and Rustic Fire Pit Design Ideas, Backyard Landscaping Ideas – Exterior Fireplaces Meant to Enhance Your Living Quality). The second step  would be to foresee the amount of people that will be enjoying your patio. Not just for the furniture but circulation area as well. There are certain standards that you can use to determine that. The third step consists of applying your scheme to the dimensions of your backyard. Will it fit? Can it be bigger or do you need to reduce its area to make room for other amenities?
Always remember to use paver sealer on your patio, it is extraordinarily easy to apply a layer and the effects are mind-boggling!
With these ideas in mind we invite you to share your patio projects with us and to leave your valuable feedback in the comment section below.
Related Articles
10 Best Small Patio Tables With Umbrella Hole  
17 Small Front Yard Landscaping Ideas To Define Your Curb Appeal