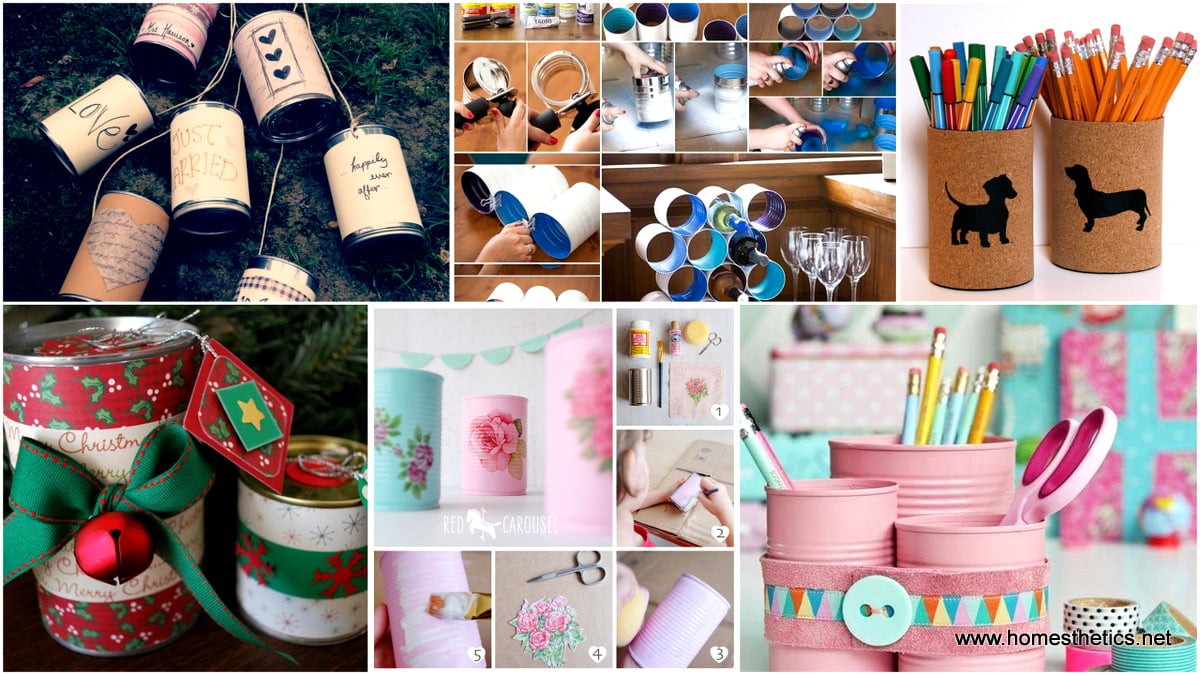 We at Homesthetics love DIY projects and we are a big supporter of the recycling process so today we thought about offering you a short list of 20 Creative Re-purposed DIY Tin Cans Projects That You Must Try. Tin cans are at everyone's reach and usually thrown away and not re purposed properly. Although a tin can can look quite unaesthetic at a first glance it requires little intervention from your part to become an attractive focal point on your dinning table or a cool fun toy for your little one. The ideas are endless and so are the methods of recycling tin cans. One of the biggest advantages of reusing old tin cans is the small investment such decorative objects or organizing items require. Some paint here and there, colorful ribbons, maybe some cork, nails and thread an you are good to start your tin can project. There is no recipe on creating a tin can decoration properly, just get creative and let your imagination do the work for you. Keep a pastel color scheme for a more refined look or g bold with black or bright pink paint and make those ideas really stand out from the crowd.
Related Articles
47 Epic Ways to Repurpose Old Picture Frames at Home
Creative Repurposed DIY Tin Cans Projects That You Must Try
1. Create a pen and pencil holder
Tin cans and a little cork make a perfect pen and pencil holder for your desk.  Add little figurines to decorate them for your little ones.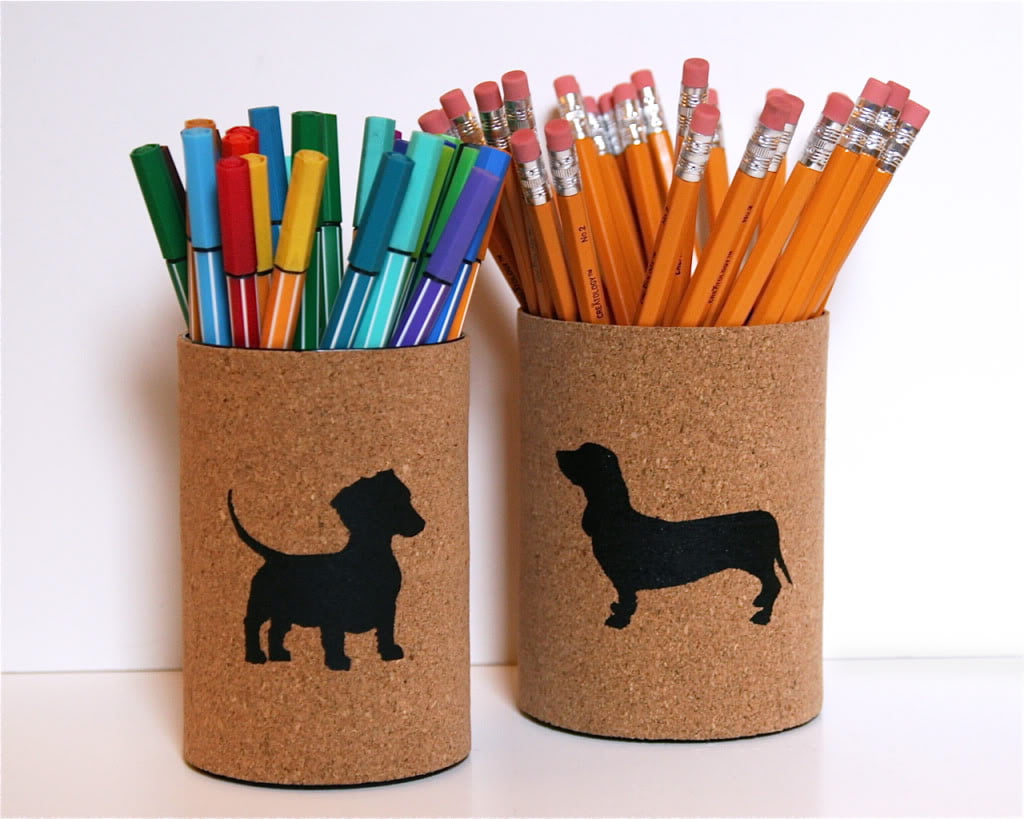 2. Table numbering from perforated tin cans
Have a big dinner party planned? Try painting old tin cans on the inside in a strong color and perforate the cans in shape of table numbers that you can then place to organize your sitting chart.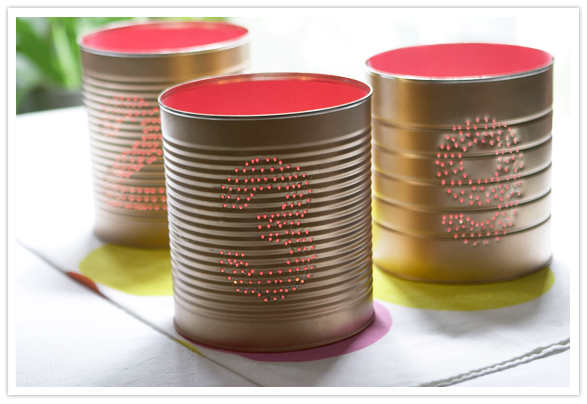 3. Grow seeds in re-purposed tin cans
It is always a good idea to plant your own spices and greens so why not use old tin cans? They would look lovely on your kitchen counter.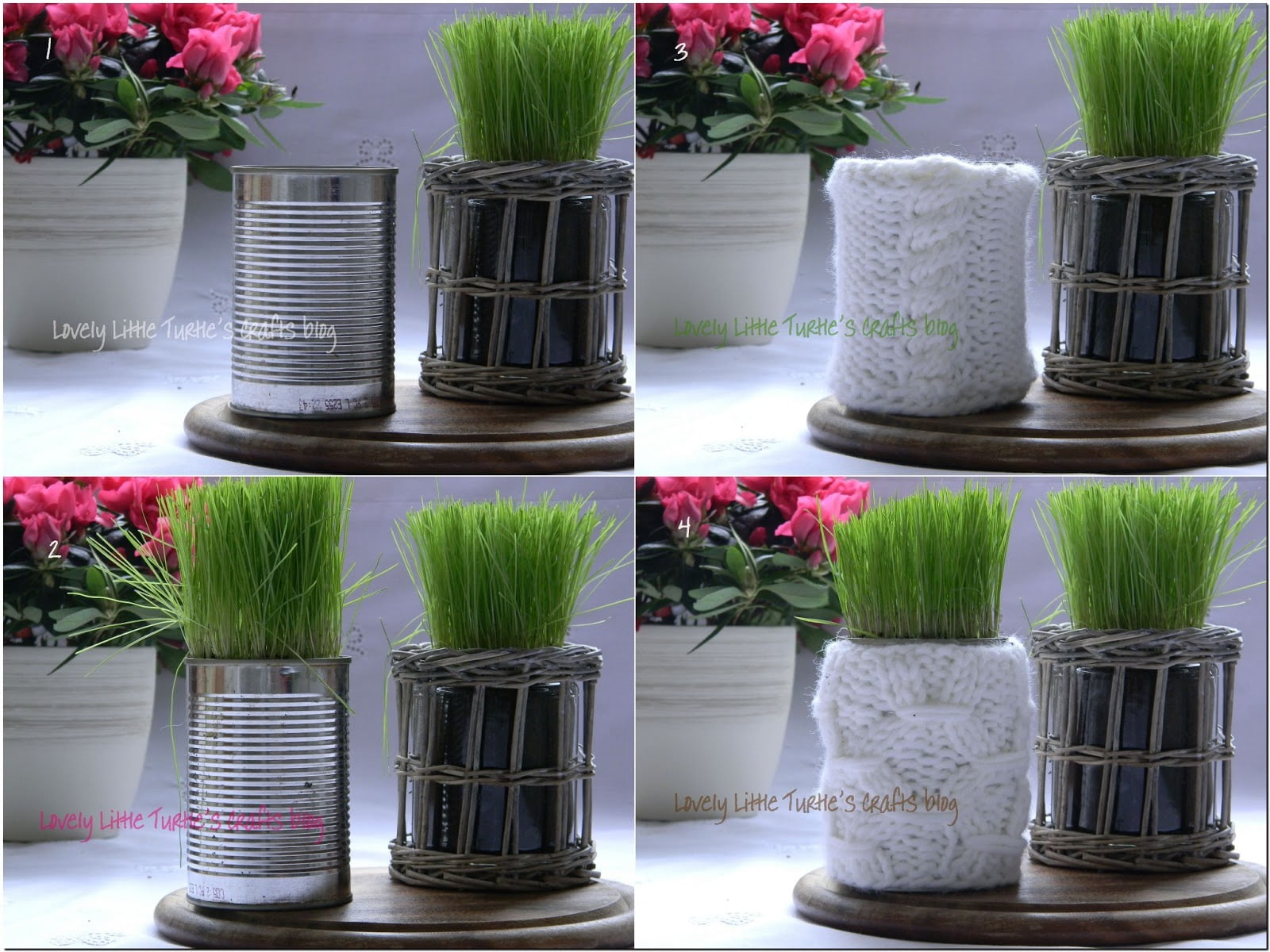 SOURCE
4. Make beautiful flower vases
Pastel colors, a little white ribbon and some old vintage jewelry form together a beautiful set of flower vases perfect as table decorations.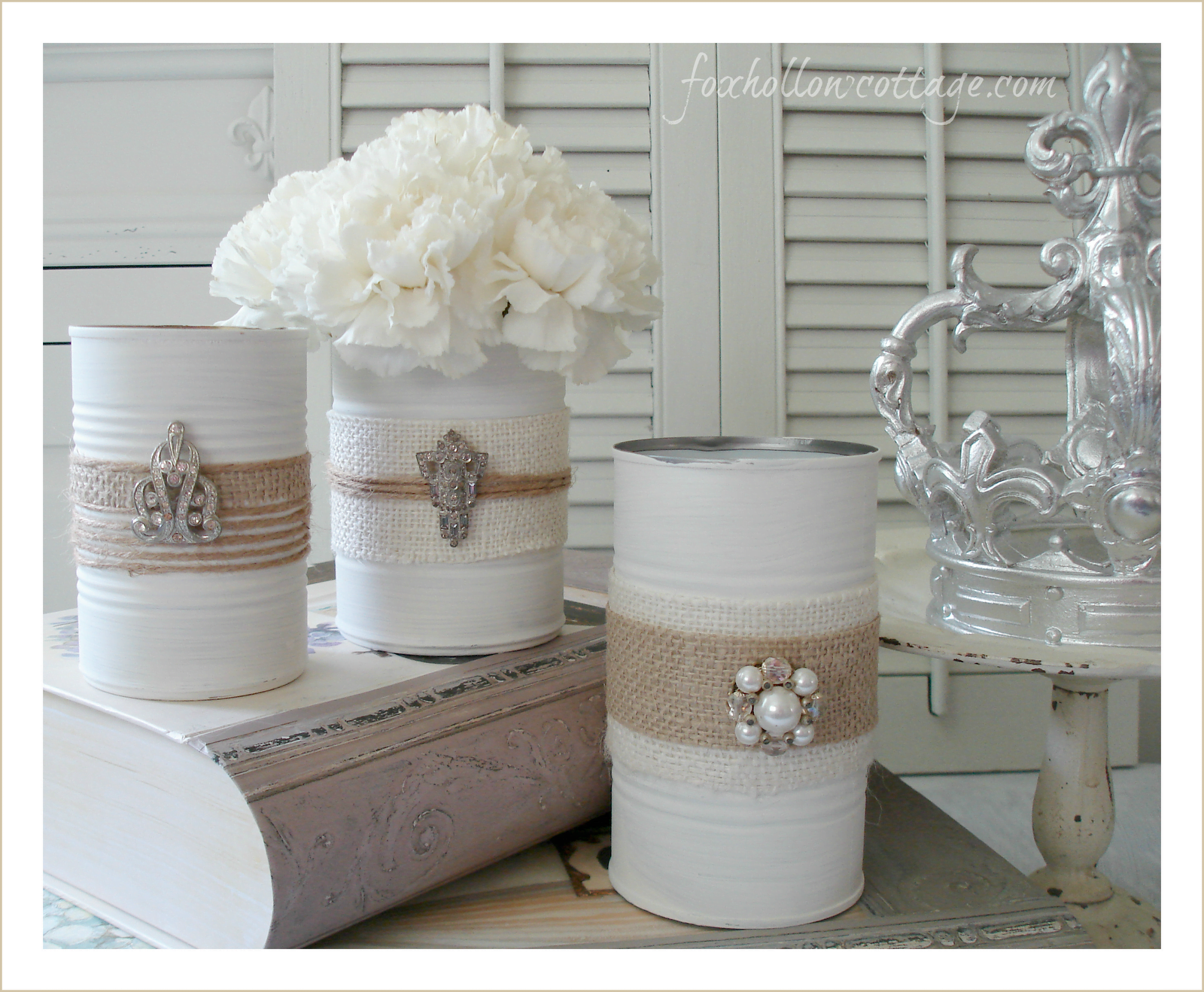 SOURCE
5. Make a funny tin man
If you are a funny person and have little kids, try making a tin man out of actual tin cans and place it in your backyard. It would add a nice touch to the design and the little one will love him.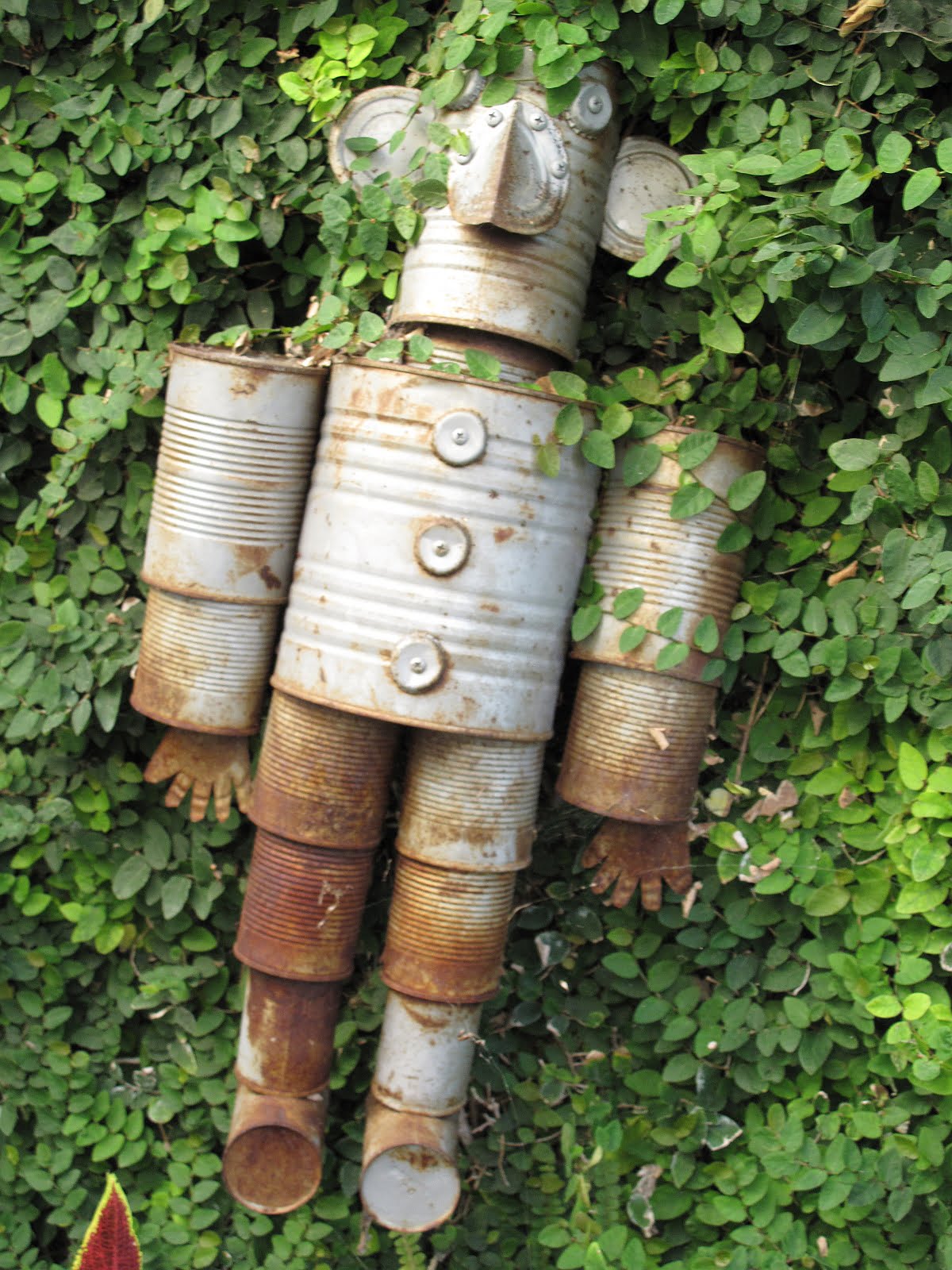 SOURCE
6. Beautiful Just Married Sign
We know some cultures have the habit of placing the Just Married sign hung from the back of the car. It's usually represented out of bottle and tin cans so this is another great idea of how to re-purpose old tin cans.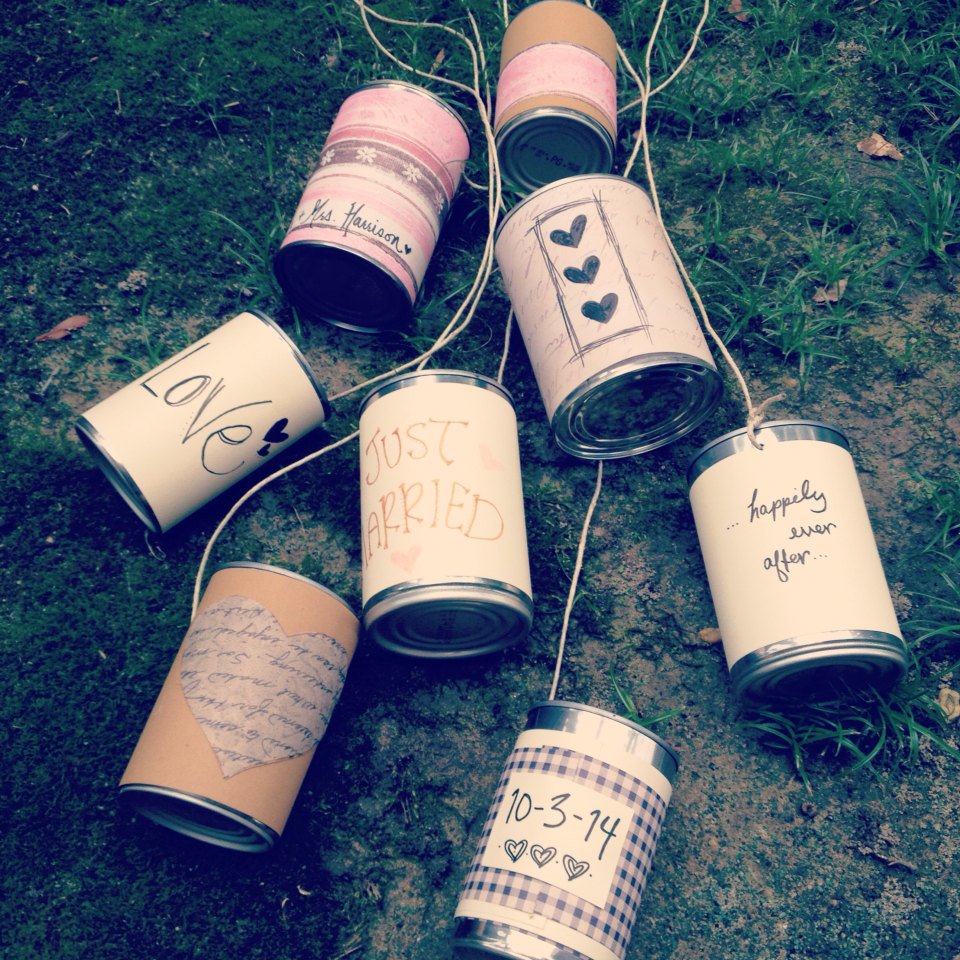 SOURCE
7. Outdoor lanterns for your garden and porch from tin cans
Garden lanterns transform everything at night but you don't have to spend lots of money on fancy lanterns. Make your very own outdoor lanterns out of tin cans by perforating them and placing small candles at night.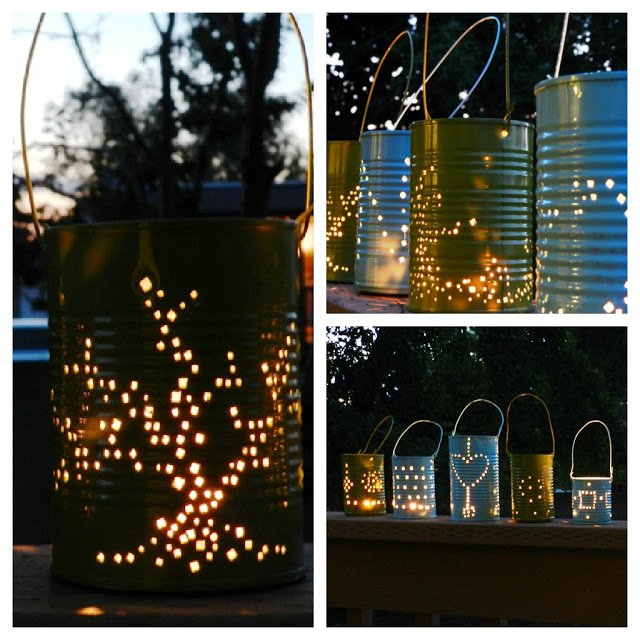 SOURCE
8. DIY Wine rack
Wine racks can get very expensive and there is never enough space for your wine collection. So make your very own wine rack out os top and bottom-free tin cans attached together and painted. You can always add some more.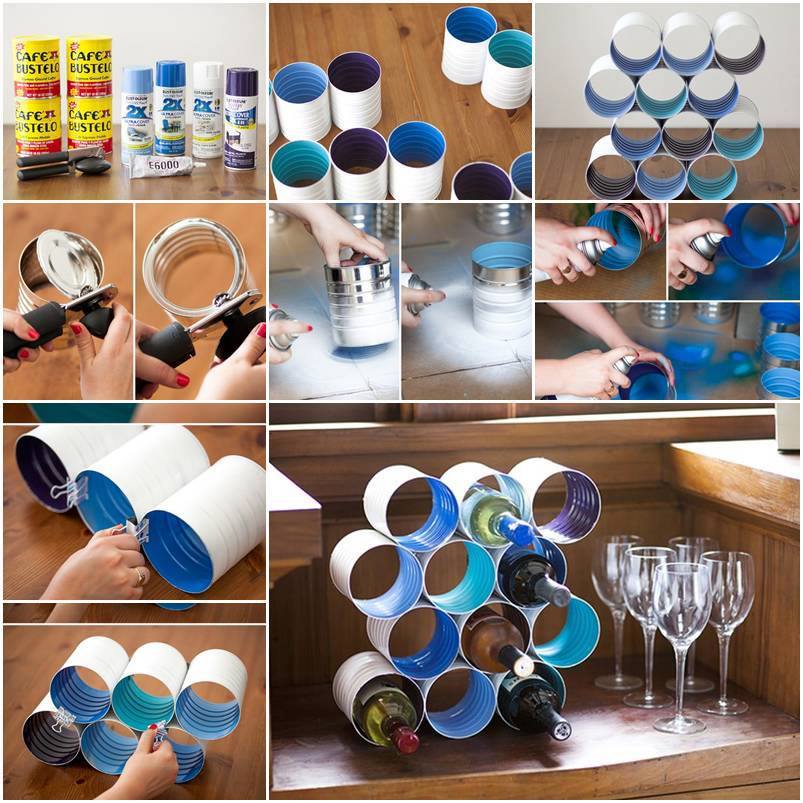 9. Candle holders on the wall
Candles transform any atmosphere and the following pictures offers a great DIY project for a tin can wall candle holder.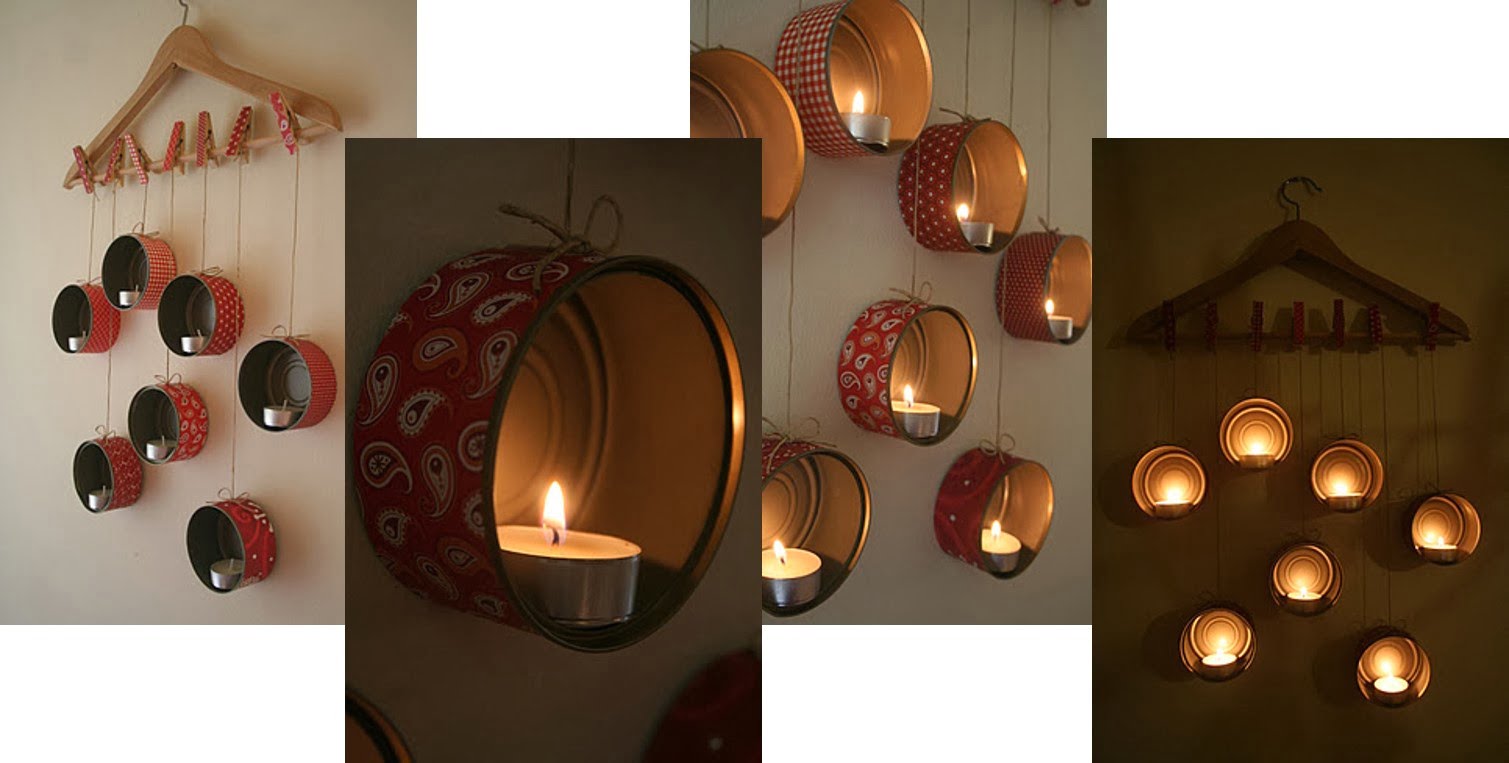 SOURCE
10. Surprise your friends with tin cans gifts
Wrapping presents can be very tricky because the packaging is actually the very first thing the recipient sees. A re-used tin can wrapped in paper decoration can represent a beautiful present box.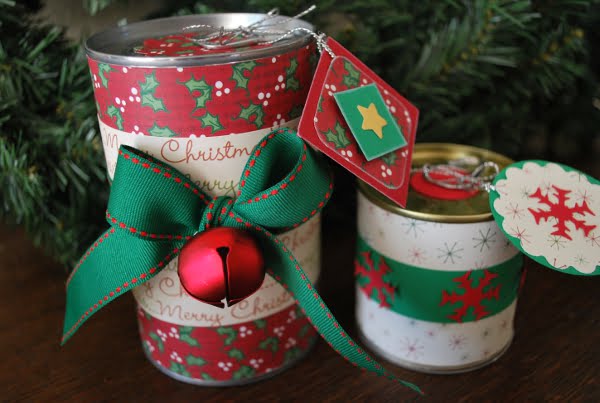 11. Pastel wind chimes
Siting on a porch at night listening to the sound of a wind chime sound perfect so make your own out of degradee painted tin cans.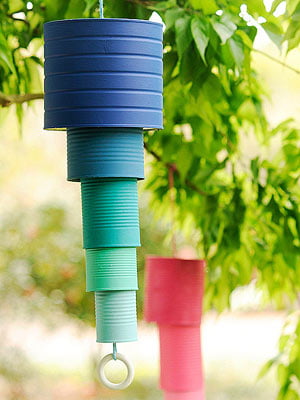 12. Pantry organized with old vintage tin cans
Vintage is in so search our grandmothers attic and find those old rusty tin cans and organize your pantry with them. It will give everything a homey, cozy look.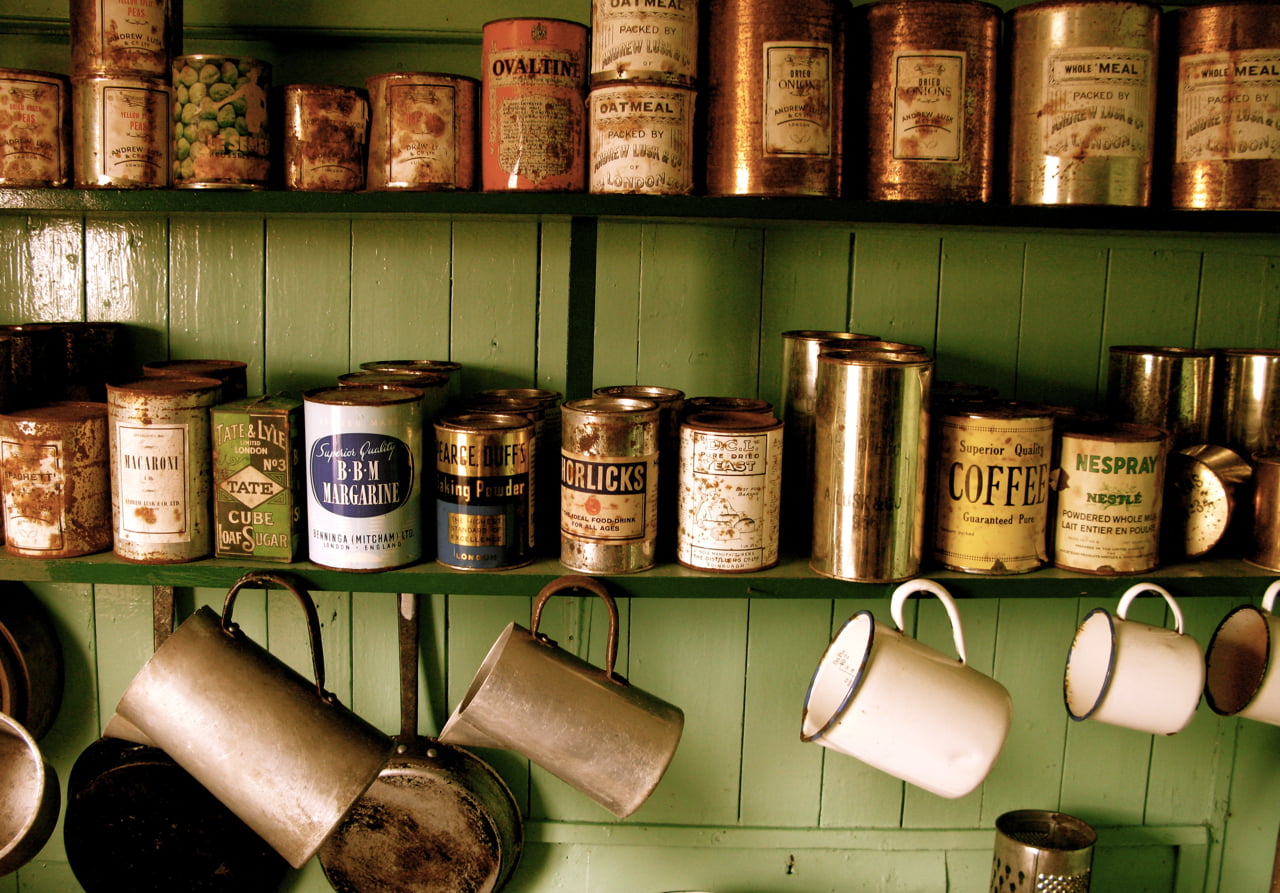 SOURCE
13. Photo display on tin cans re-purposed as flower holders
Picture frames come in a variety of shapes and sizes so why not place a picture of you and your loved one on a tin can? It can also be considered a great present idea.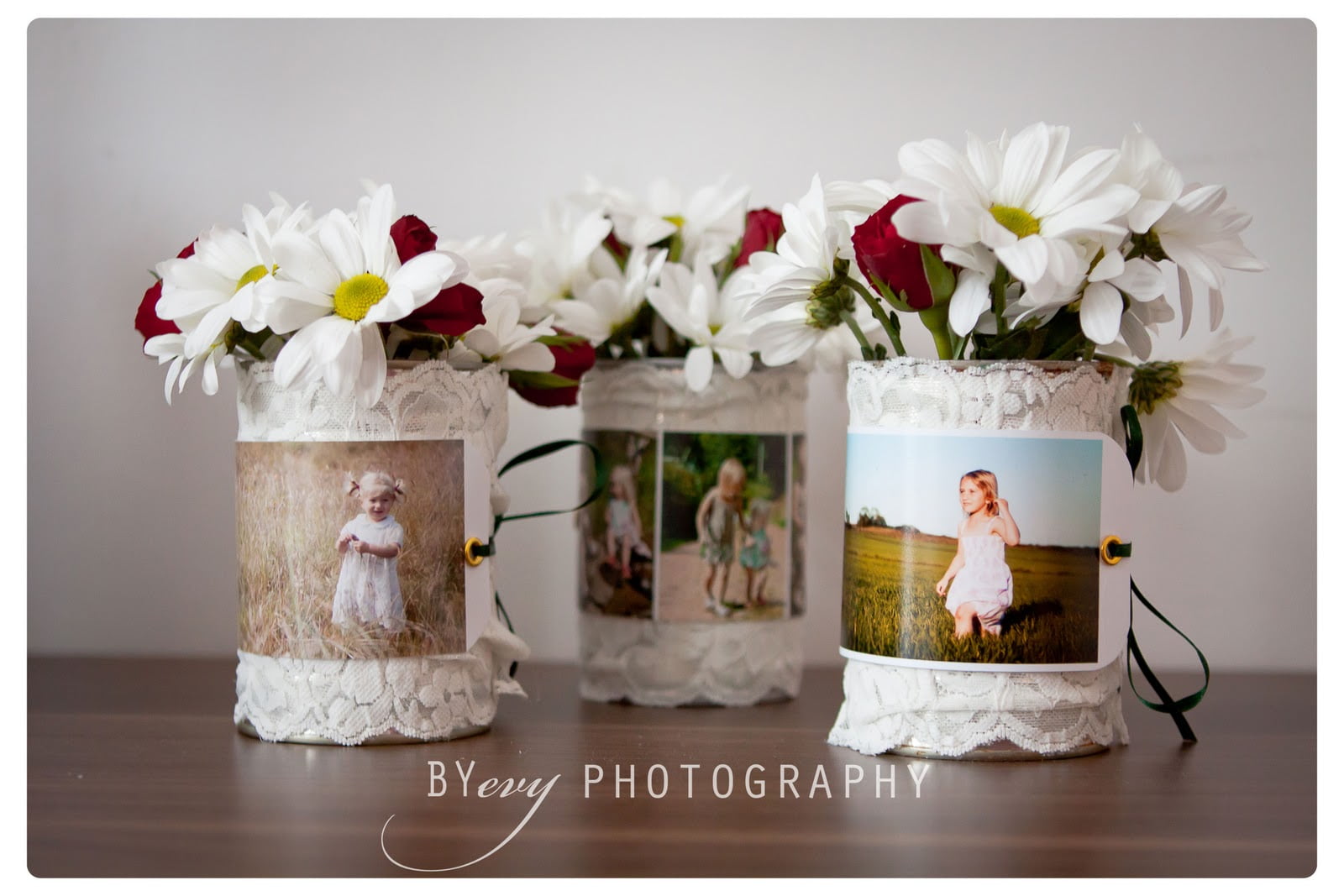 SOURCE
14. Keep your makeup in order with bronze tin cans
Always try and be as organized as possible. It saves you up lots of precious time so organize your makeup utensils with these bronze painted tin cans.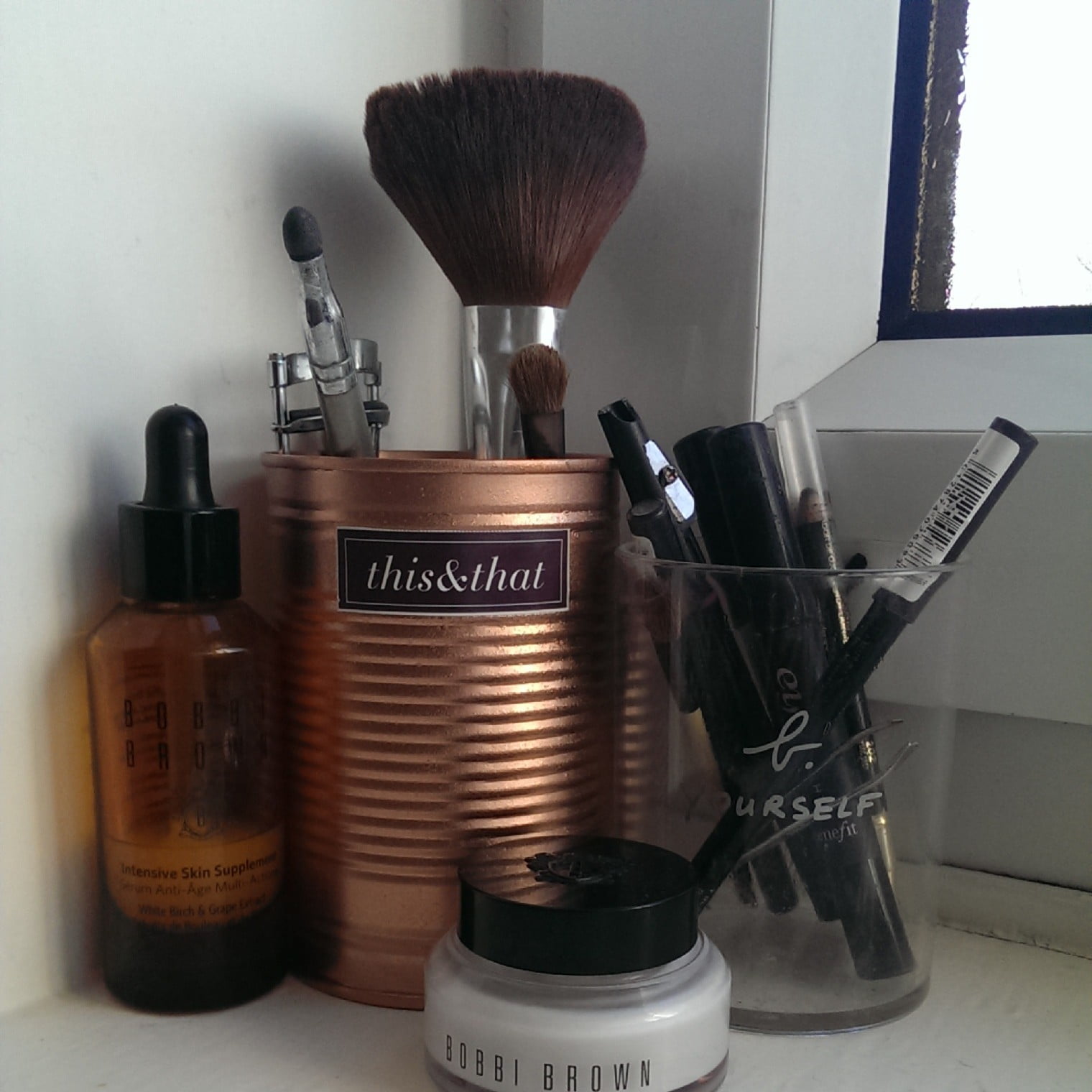 15. Light your desk through a tin can
You can even make a tin can lamp for your desk with little effort. Just be careful not to touch it when its been on for a long time so your don't get burnt.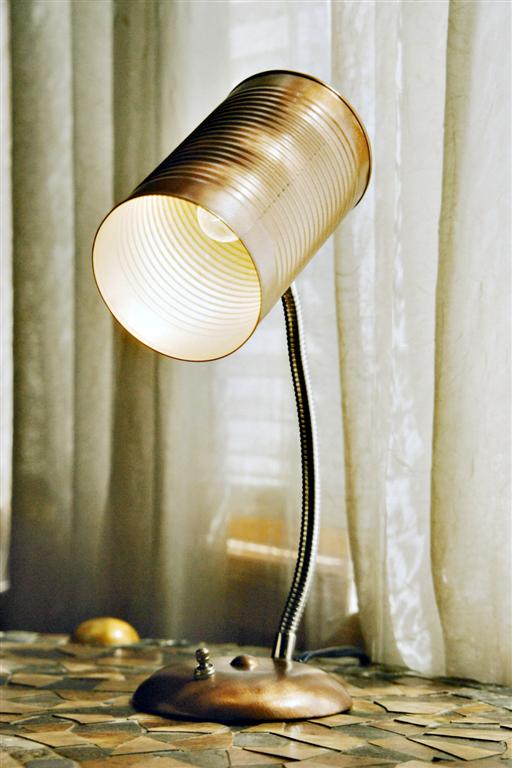 SOURCE
16. Let a tin can tell you the time
Another beautiful Christmas idea that will cost you little to zero money is a vintage can clock. All you need to but is a clock mechanism and voila!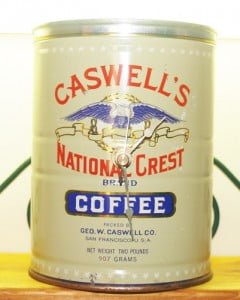 17. Keep your flowers fresh in pastel vases
Pastel look good on everything, even on tin cans. Add some beautiful flowers next to a mirror and you have yourself a gorgeous décor.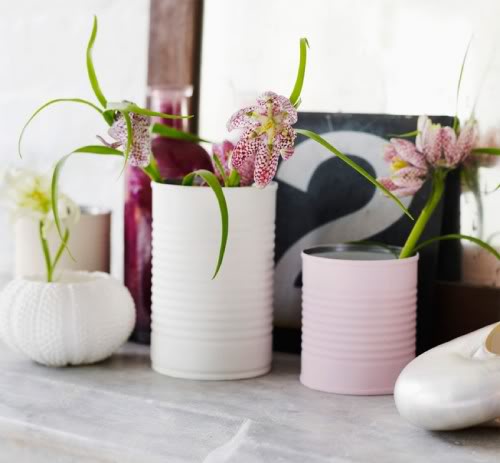 18. Grow your own green spices
Buy some bronze spray-paint and plant your basil, cilantro and oregano for your kitchen counter in your freshly painted tin cans. Add little wood signs painted in black where you can write in chalk the name of the herb.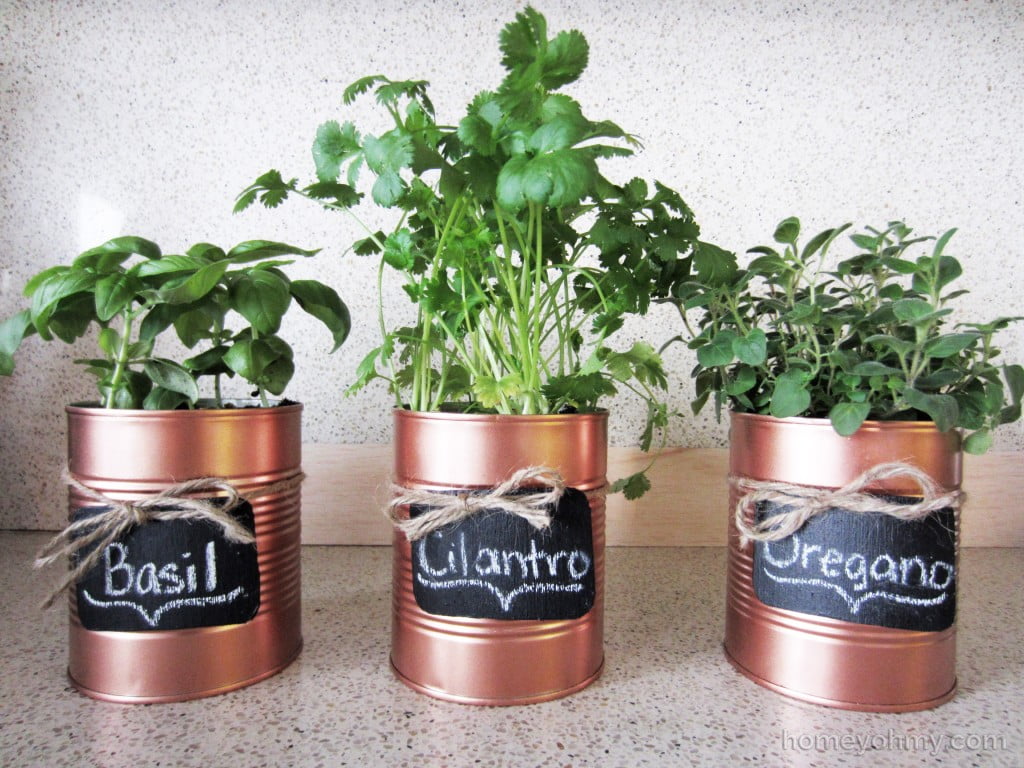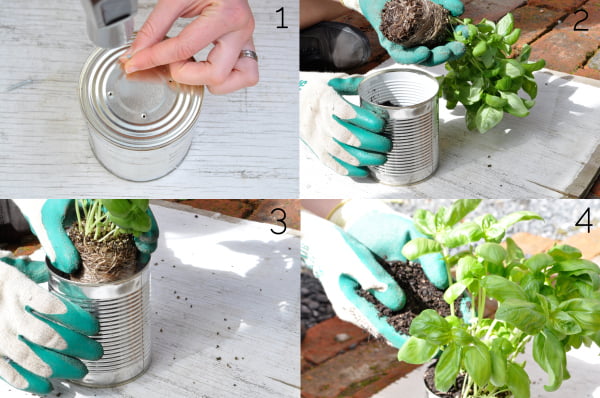 SOURCE
19. Organize your cutlery
Cutlery is always a problem especially when you cook a lot so add some color to your kitchen and make your own cutlery holders out of colorful cans stuck to your wall.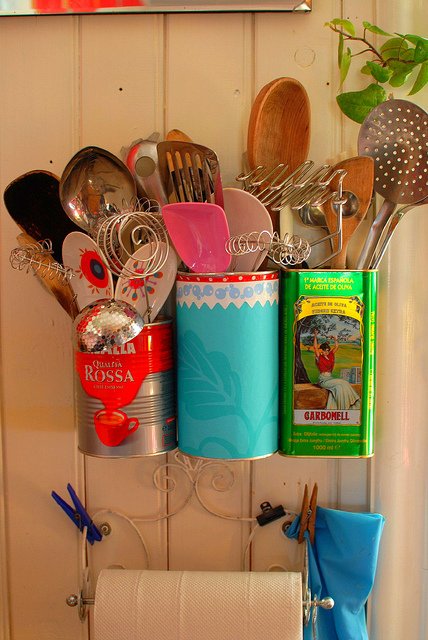 SOURCE
20. Make a tin can wreath
The holidays are coming fast so try and prepare yourself with easy DIY project of merry decoration. A cute idea is a tin can wreath you can place anywhere, even in your garden. Add bold colors and specific ones like bright red for Christmas or orange for Halloween.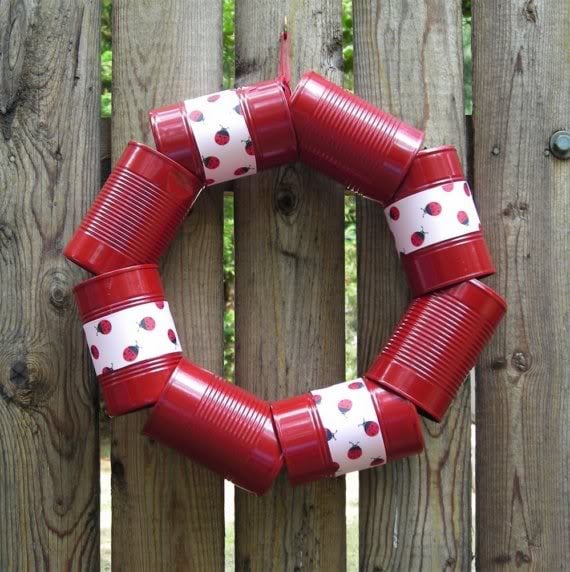 How do you see these simple diy tin can projects? We would love to hear from you !