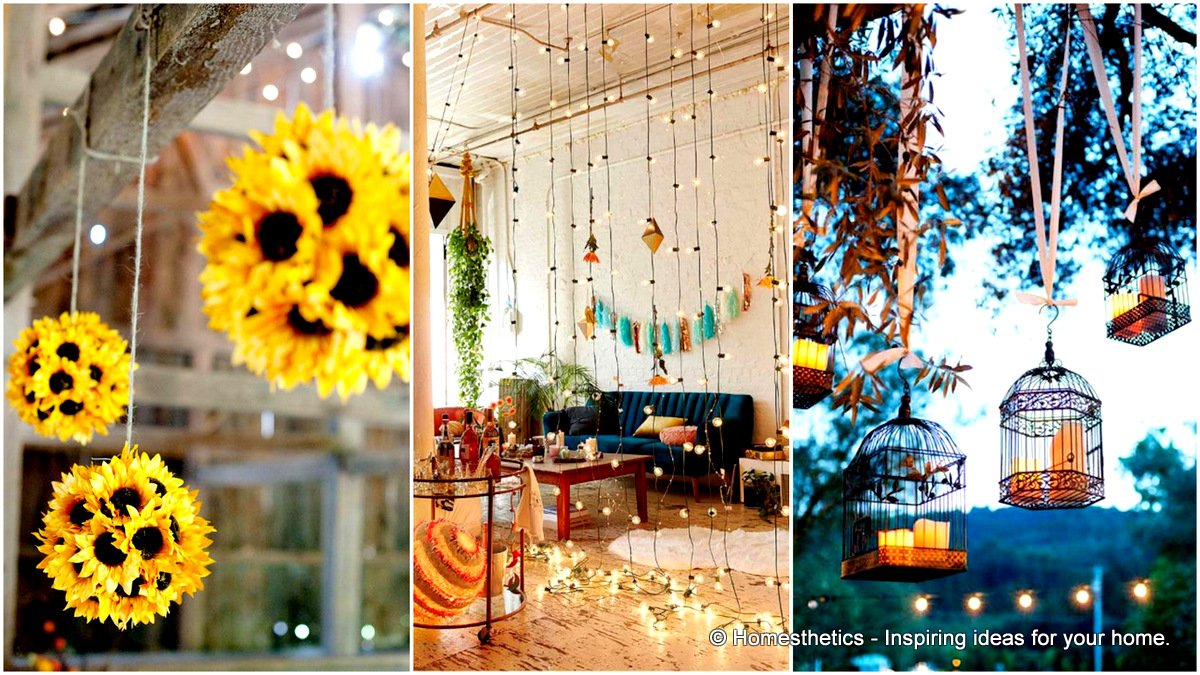 Home decor today has been claimed by the inhabitants, the happy individuals that live in it, those that transform the house into a home. A creative mind claims its own home by personalizing to a great extent, beautifully tailoring the universe around him piece by piece. DIY enthusiasts are the tip of the lance in this movement, customizing every element, designing decor elements for every season, putting everything to good use. Insanely beautiful ceiling decorations have been curated to showcase elements of a splendid decor, all meant to inspire you, feed your imagination.
Ceiling decorations are used in seasonal decor or party decor where hung from the wall, ceiling or pergola they shape space, changing the way you perceive space and adding a design motif to the event. Chic and whimsical, the ideas presented below could easily be realized at home with your friends and family. Cast a glance, surge inspiration !
24 Beautiful Ceiling Decorations
#1 craft paper leaves for your fall decor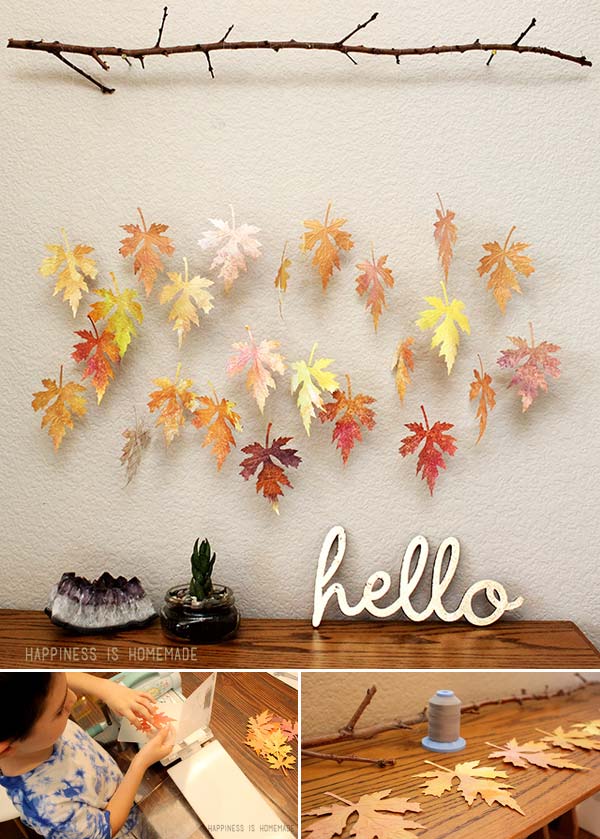 If you find yourself some graphics leaves you can use them for a small, short event. If you choose to install this decoration in your home and keep it on for the entire fall, paper wins. Paper is used thanks to its durability, this decoration can be reused next fall or be gifted to  a happy friend of yours. Simply use scissors to cut out the leaves and paint them; if you have the resources and skill you can use a laser cutter to make them faster; the disadvantage on the laser is cutter is that they loose authenticity, all being identical. Get creative with ceiling paint and mix colors well to obtain that beautiful, natural fall gradient.
Tutorial @ happinessishomemade.net
#2 craft lighting fixtures of great beauty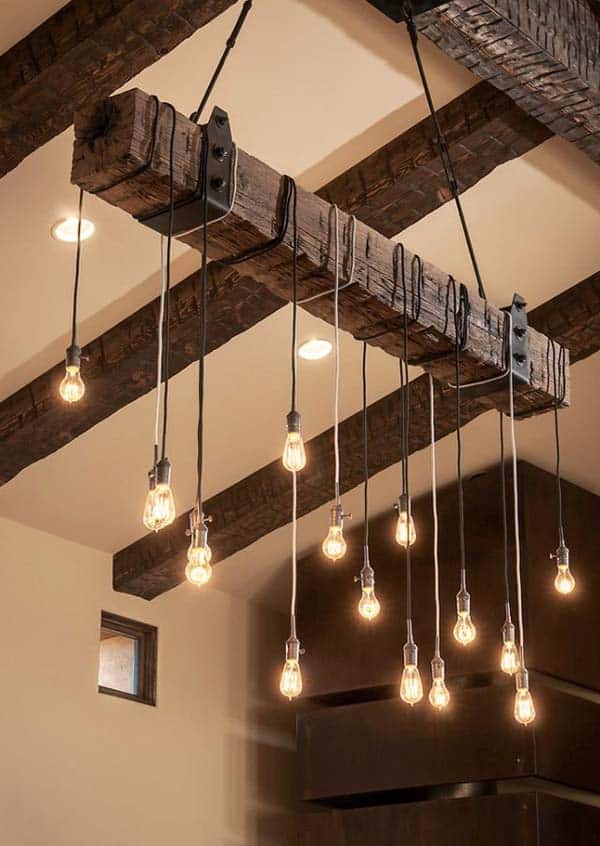 Salvage a wooden beam and use multiple Edison bulbs to obtain depth in your lighting installation. If you have sufficient height in your room, play with the cords of the bulbs and create a playful, creative, light game.
via houzz.com
#3 explore your decor with multiple handmade chandeliers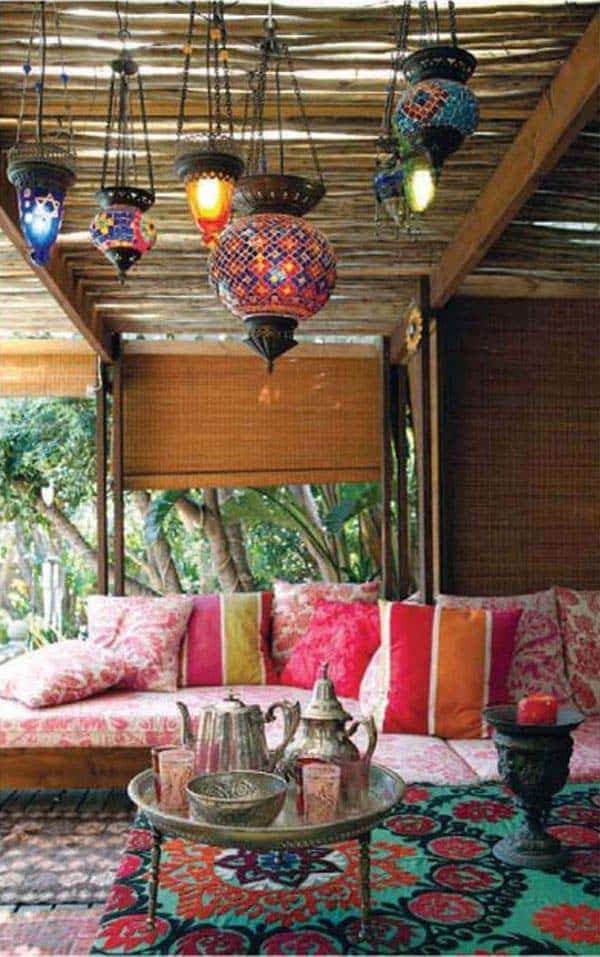 If you are proficient with glass work you can actually craft different chandeliers, play with colors and shapes to obtain a versatile decor.
Source Unknown.
#4 install a cloud for your baby shower party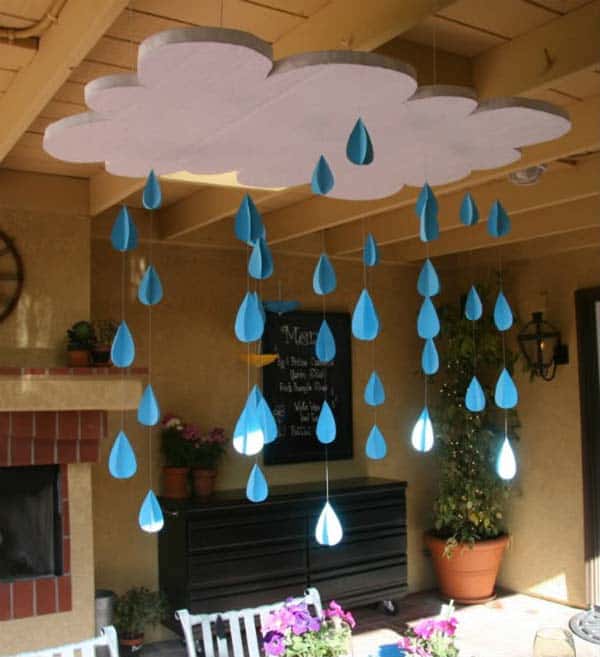 Simple to realize and inexpensive, you can use cardboard and colored paper to realize it in one hour or two. Enjoy your decor.
via somanytables.com
#5 Craft a lace support for your planters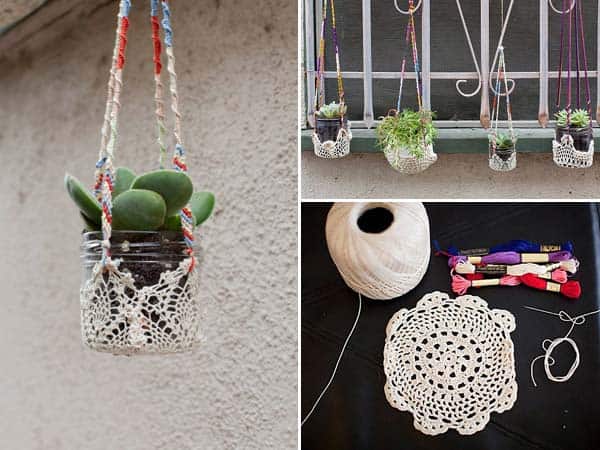 Easy to realize in minutes, lace is able to transform your decor thanks to the delicate, intricate texture added. You can use mason jars to save costs on planters.
via homedit.com
#6 diy mason jar lighting fixtures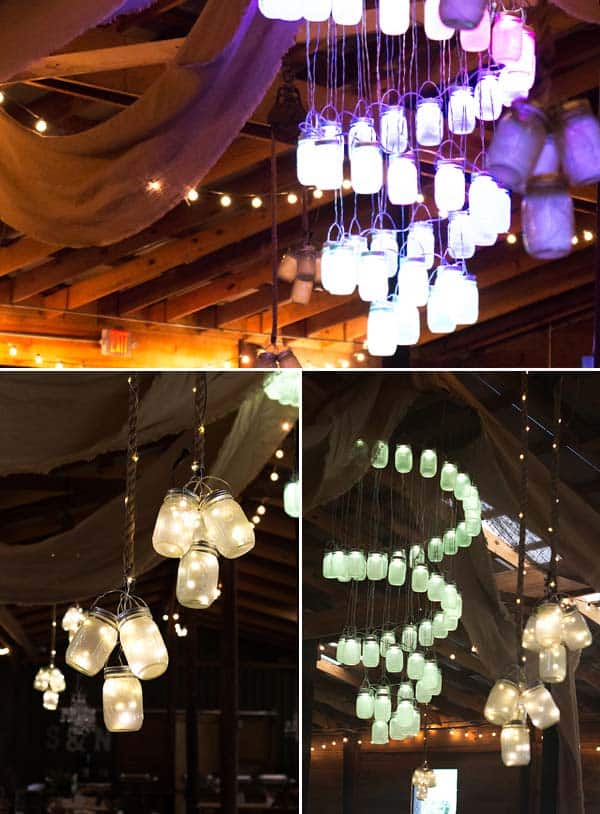 Probably the most graphic installation in our short list, diy mason lighting installations are easy to realize at home especially if you use string lights with a battery system. Simply find a way to arrange them in your decor, design to your advantage.
via sarahhearts.com
#7 realize sunflower globes and suspend them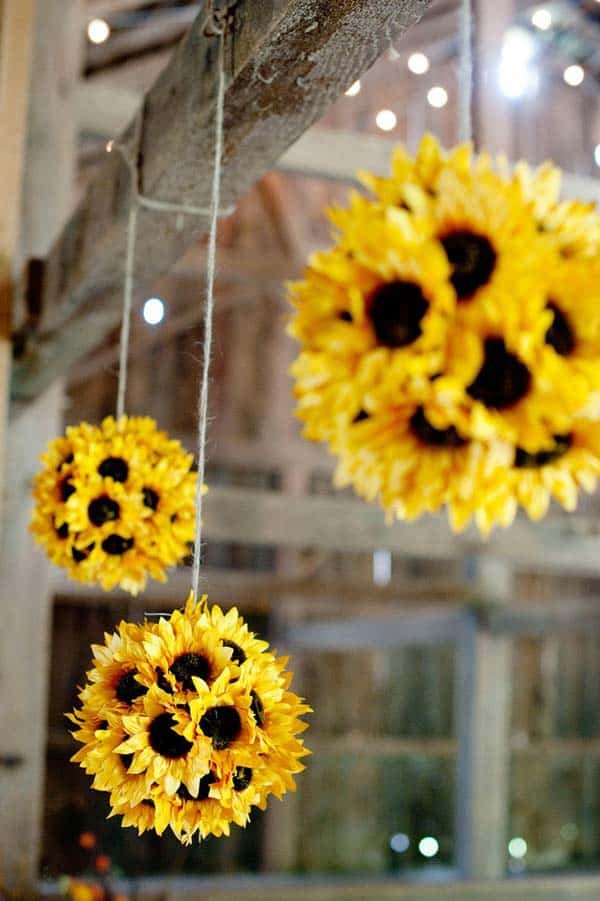 A natural element that will last for a one day event. The craft is very easy to realize and it becomes a focal point of immense beauty in your decor in a matter of seconds thanks to the great contrast between yellow and black.
#8 craft ceiling decorations with colorful melted beams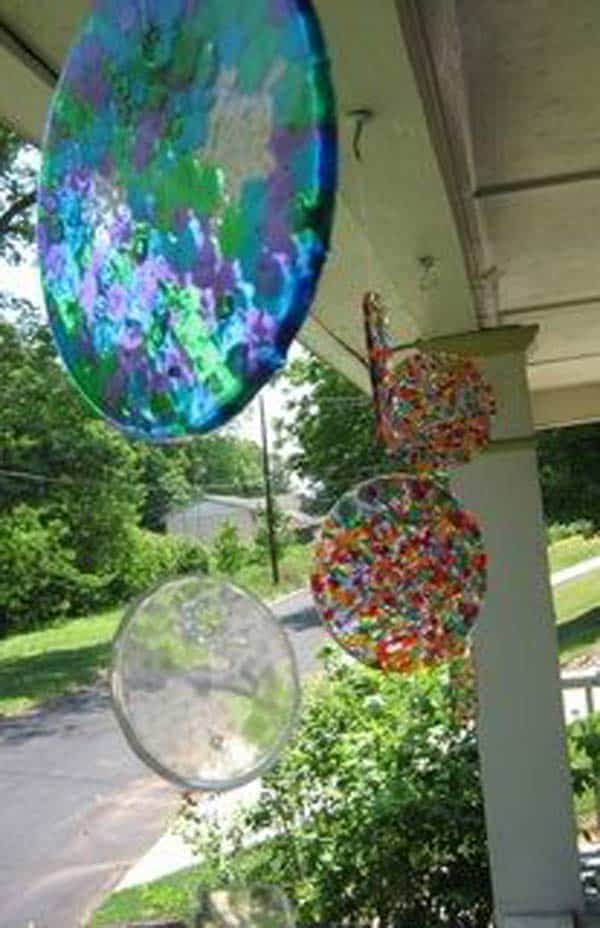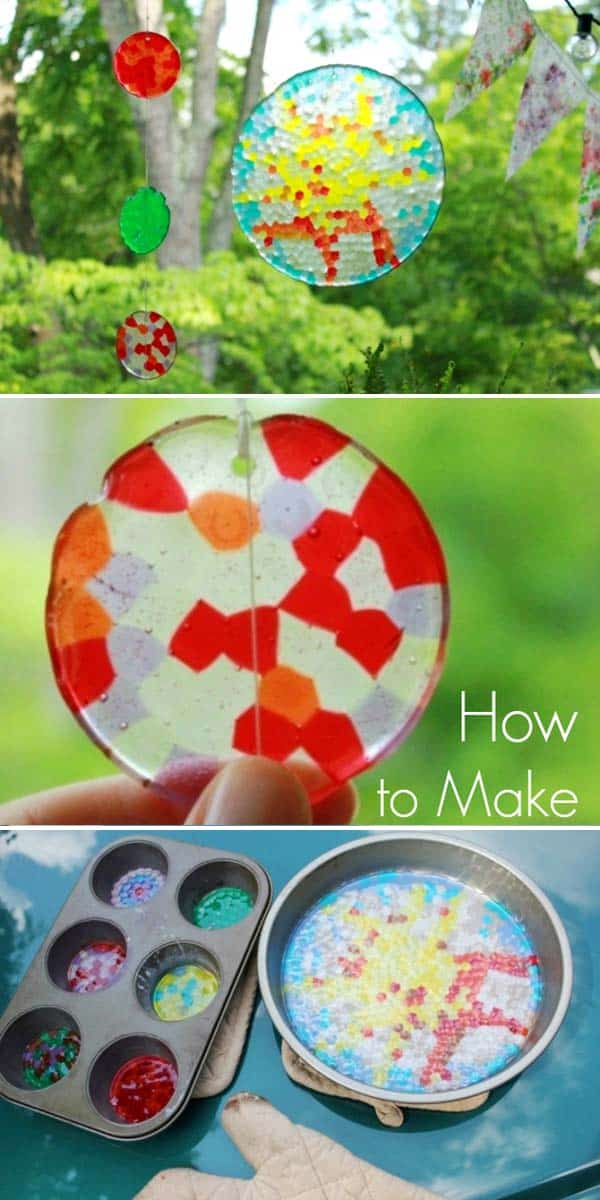 A simple creative craft to realize at home with your loved ones. It opens up great opportunities for your decor and a creative mind can showcase various graphic elements on the medallion created.
Tutorial @  artfulparent.com
#9 create a beautiful butterfly chandelier mobile for your party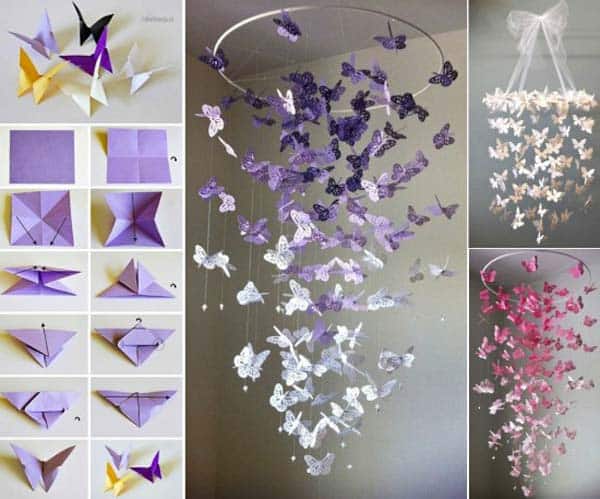 You can use paper origami cranes for this decor piece or butterflies as showcased above. The element of great design can be installed in your child's room after the event or gifted to a happy mom. Simple, beautiful craft.
#10 salvaged wood used to construct an airy floating nightstand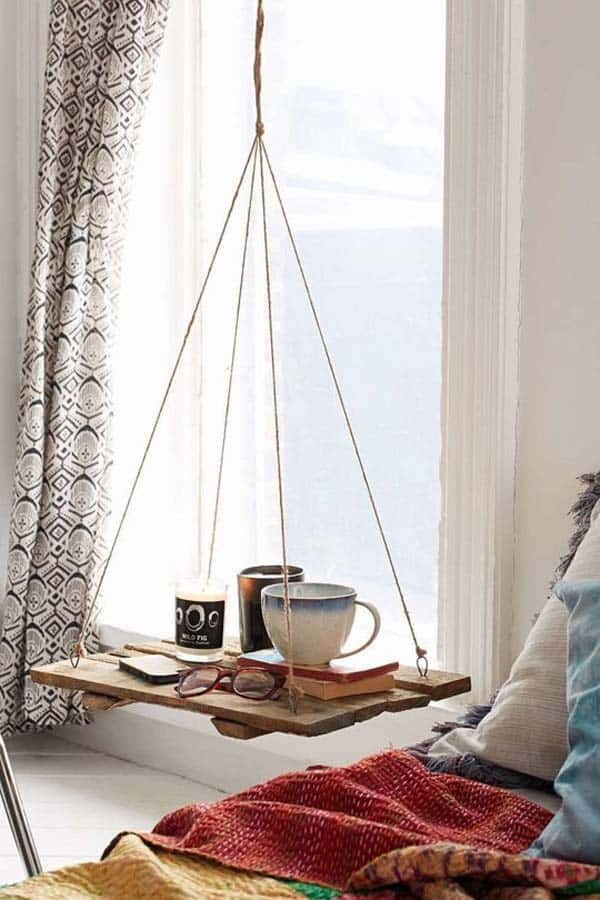 A very unique take on how to create a nightstand. The usual diy nightstand projects are not known to float by the bed but this beautiful craft is certainly memorable. Get creative with simple elements and craft something magnificent.
#11  build a string art globe for your patio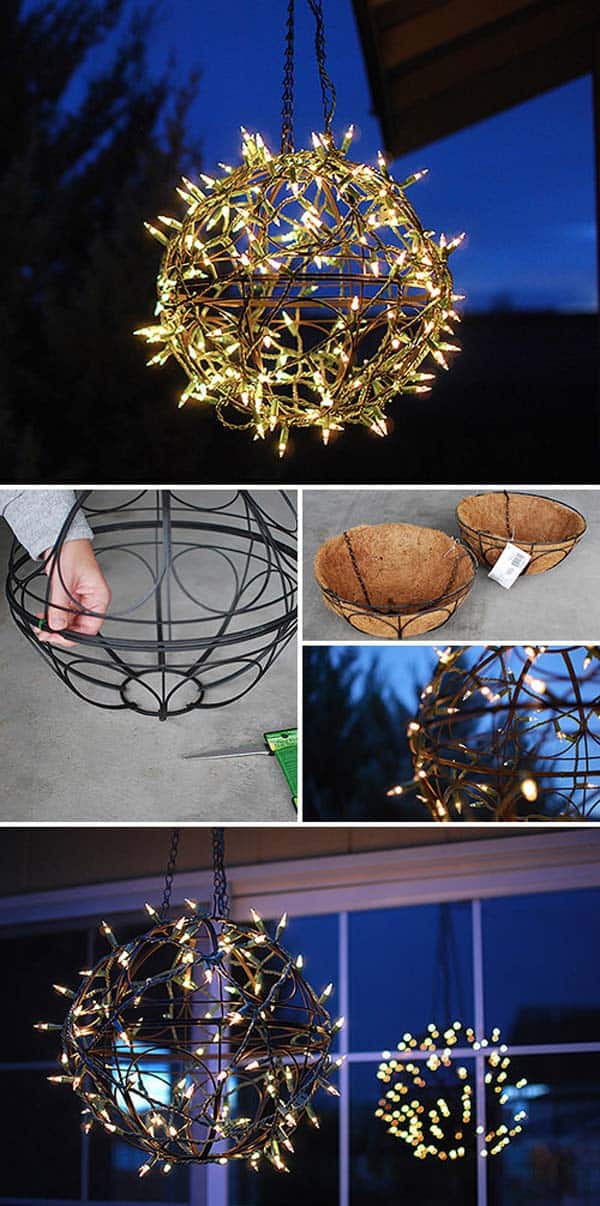 If your event takes place outdoors, string lights and candles are mandatory elements, greenery is a must have too but sadly that is not easy to realize in a day or two. The beautiful craft above showcases how you can use a string or iron structure, sphere-globe-like structure here, to add light in a beautiful, unique way. Glance at the reflection in the window in the last picture; in certain cases these globes can enhance your decor a great deal. Use dark hues on the metal structure.
via thegardenglove.com ; beeskneesbungalow.com ; apartmenttherapy.com
#12  install pom poms or LANTERNS and animate them with string lights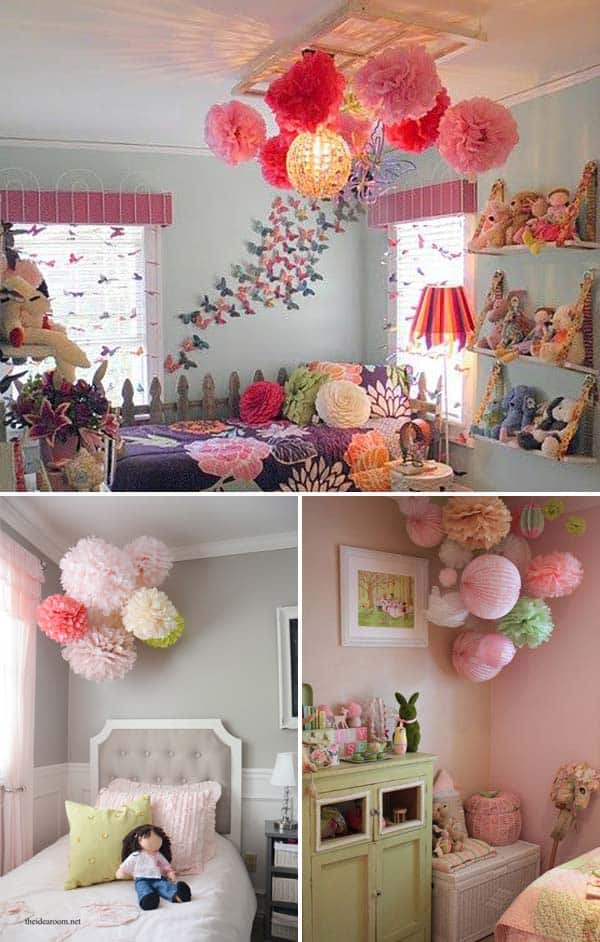 Craft ideas for toddlers are not as present online as you would expect. Certain mobile and pom poms installations exist though and they`re quite graphic, especially when string lights are added into the setup. Craft something memorable for your toddler and forge his dreams and future memories.
via theidearoom.net
#13 craft tealight holders out of whisks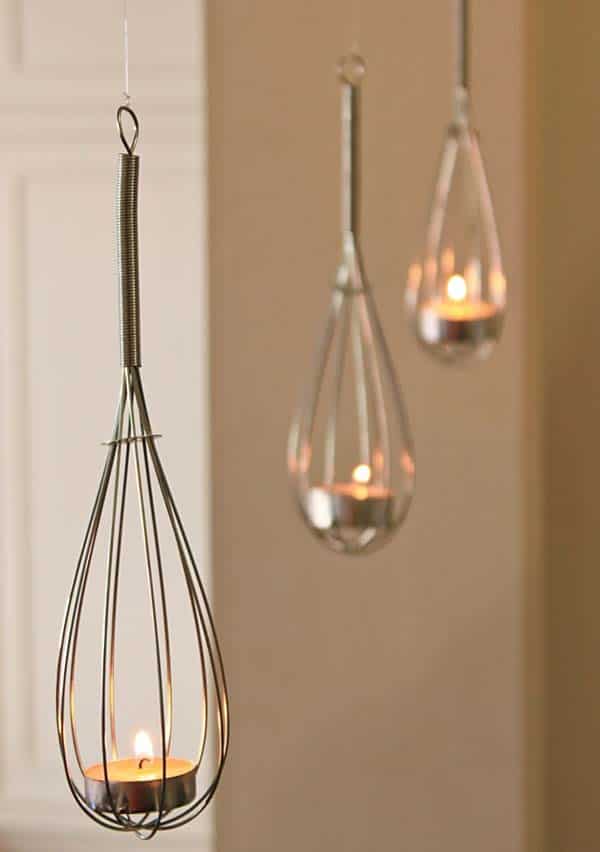 This might not be everyone`s cup of tea but the installation is really unique and far safer than one would expect. Small candles do come in different sizes, pick the larger ones to avoid incidents and create something beautiful.
via abril.com.br
#14 Tailor a DIY hanging chair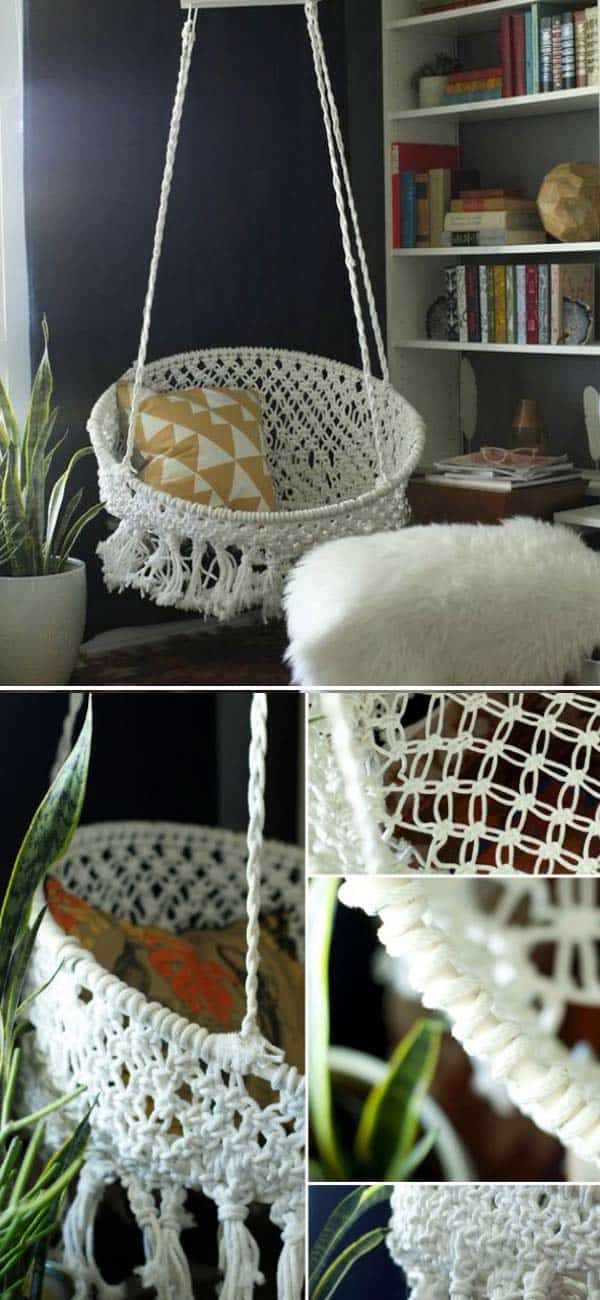 A craft that requires time and skill. Devotion to a rewardful craft that will emphasize any decor.
Tutorial at @ classyclutter.net
#15 use airy suspended gardens to shape a beautiful space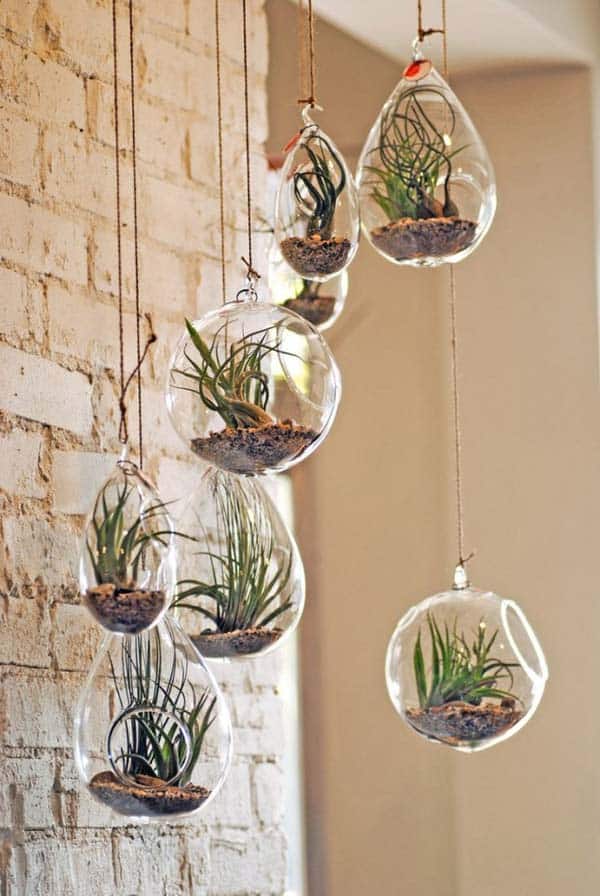 Air plants have their own universe in which they thrive. Simple and beautiful, these decor airy pieces have been adopted by many.
via centrogarden.com
#16 use newspapers to EMBELLISH presents on your windows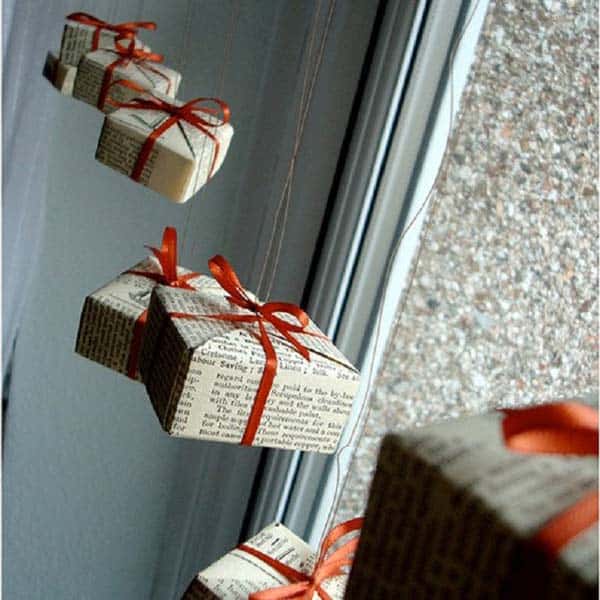 Use old boxes or craft new ones from cardboard, use newspapers or magazines to wrap them up beautifully for the desired ambiance.
#17  wall dividers can be walls of string light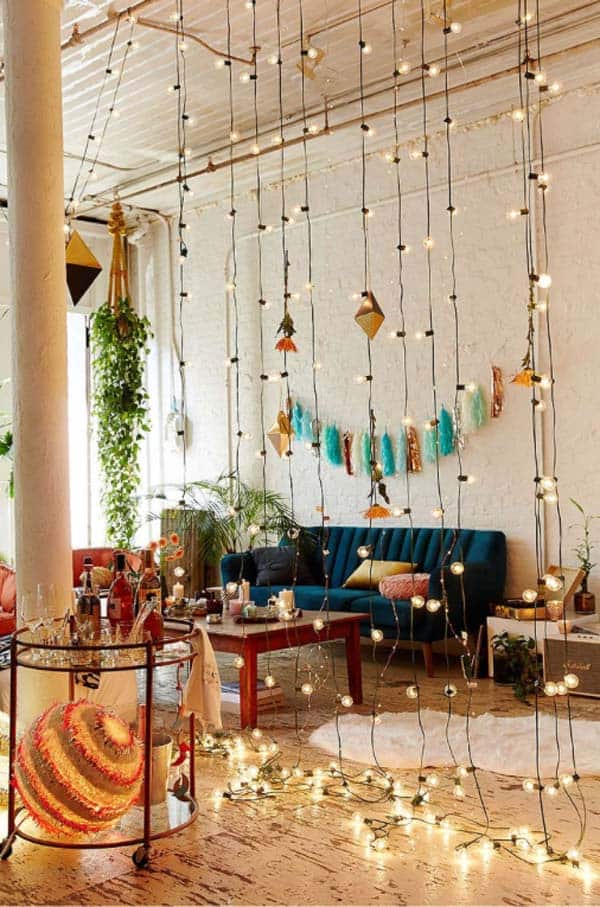 Effective both indoor and outdoors the wall of lights can be used as a breathtaking wall divider.
via buzzfeed.com
#18 use DIFFERENT textures on creative shapes to obtain amazing decor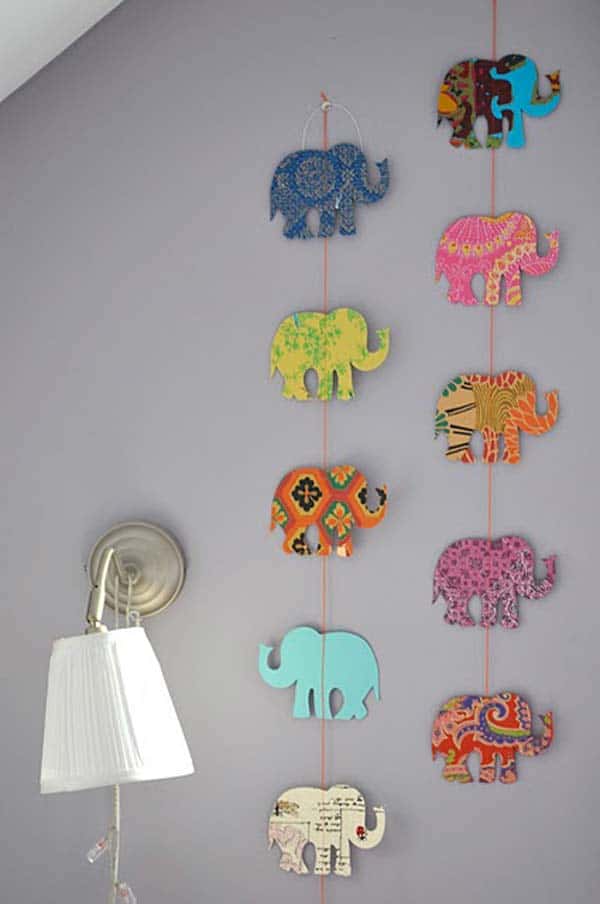 Cut out a shape that is relevant to the decor motif carried by your event and use various textures to emphasize them, versatility and delicacy are attributes that will be added to your decor thanks to the intricate details of the textures used.
#19 create a beautiful shabby chic chandelier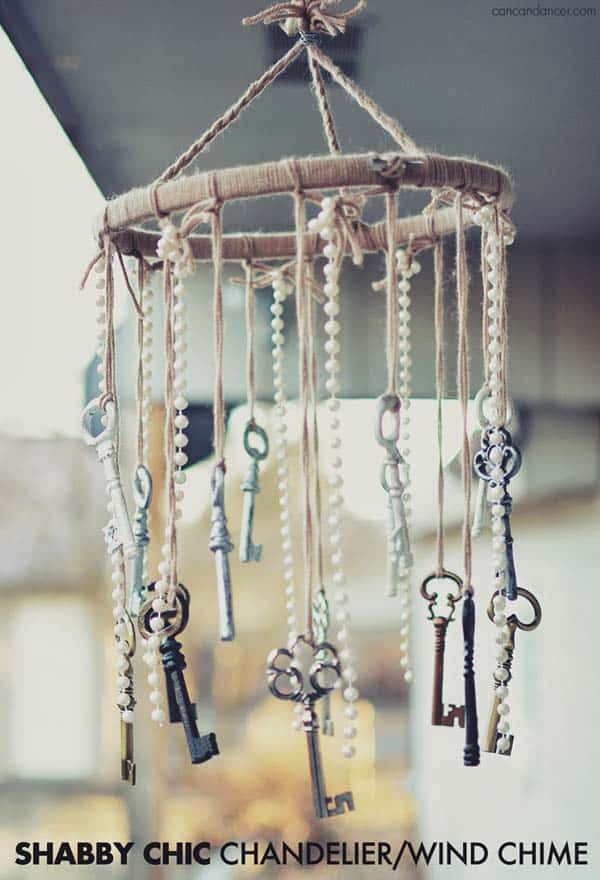 You can realize a beautiful  shabby chic chandelier or wind chime with little to no costs. You can realize this craft at home in one afternoon. Beautiful simplicity in shabby chic clothes.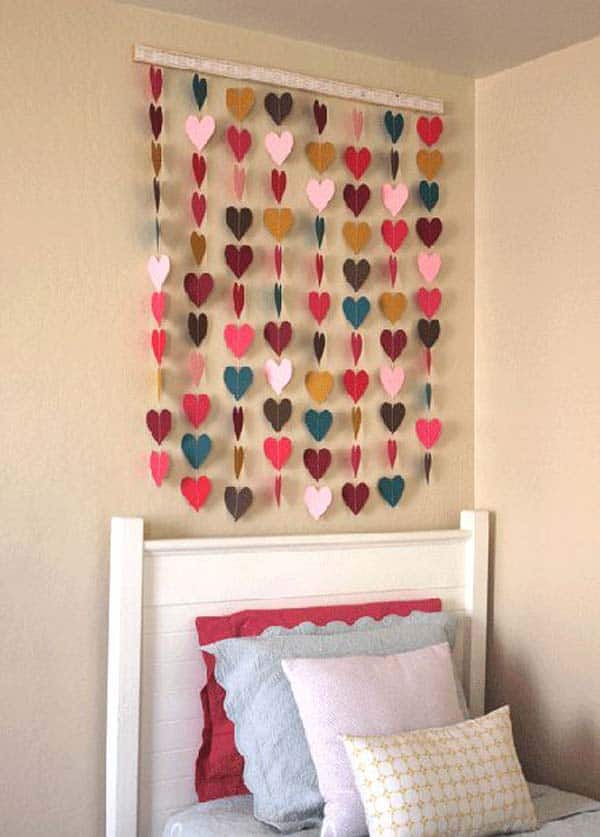 Cut out beautiful colorful paper hearts and create a heart curtain. Graphic and simple, easy to realize.
via craftfoxes.com
#21 Decorate your decor with family photos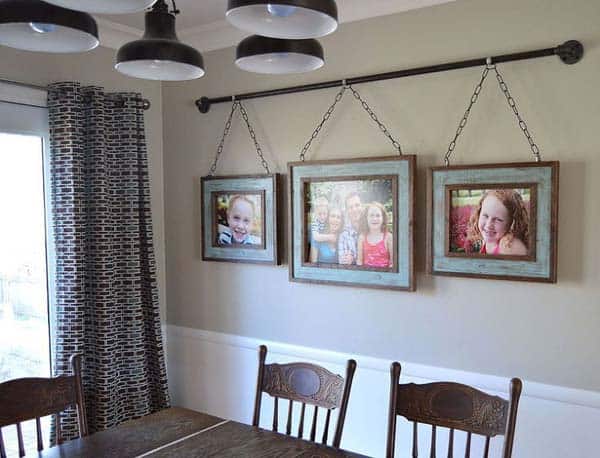 The most meaningful elements in your decor are the family photos, use them as focal points in your decor.
Tutorial @ krusesworkshop.blogspot.com
#22 Beautiful indoor suspended wooden swing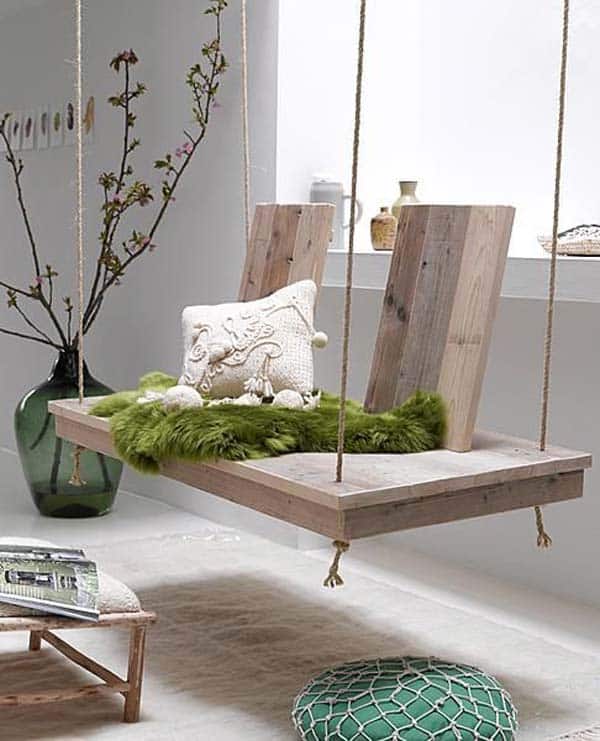 Use salvaged wood to materialize elements of great design. Along with rope and cozy pillows, the end result will be magnificent. Craft with love.
#23 Use traditional christmas elements in your decor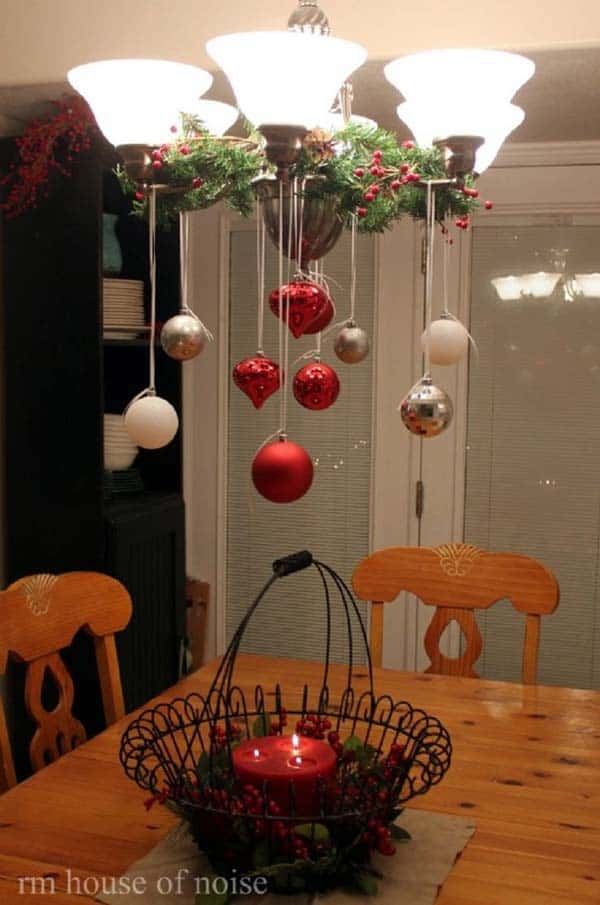 Hang simple elements to your chandelier, window or fireplace mantel and obtain a very merry atmosphere.
Source Unknown.
#24 user birdcages in your decor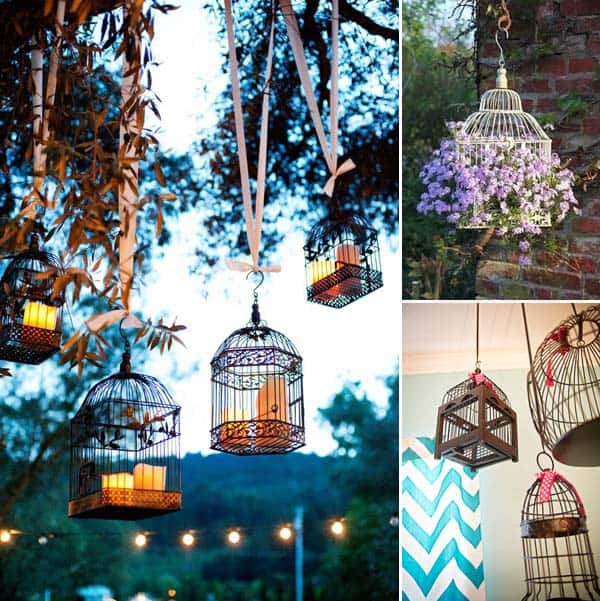 Birdcages simply have a beautiful, vintage allure and thanks to it they can emphasize your decor with ease, whether you choose to leave them bare, add candles or flowers, the space will be beautified. Pure and beautiful.
via frostedpetticoatblog.com : houzz.com
The selection presented above has been diverse enough to instigate you we hope, we would really like to hear what ceiling decorations do you use and in what instances. DIY design elements are items of great authenticity crafted by gifted, patient individuals, they transform their spaces everyday, improving their living quality through simple elements. Do you craft? We would love to hear from you in the comment section below!