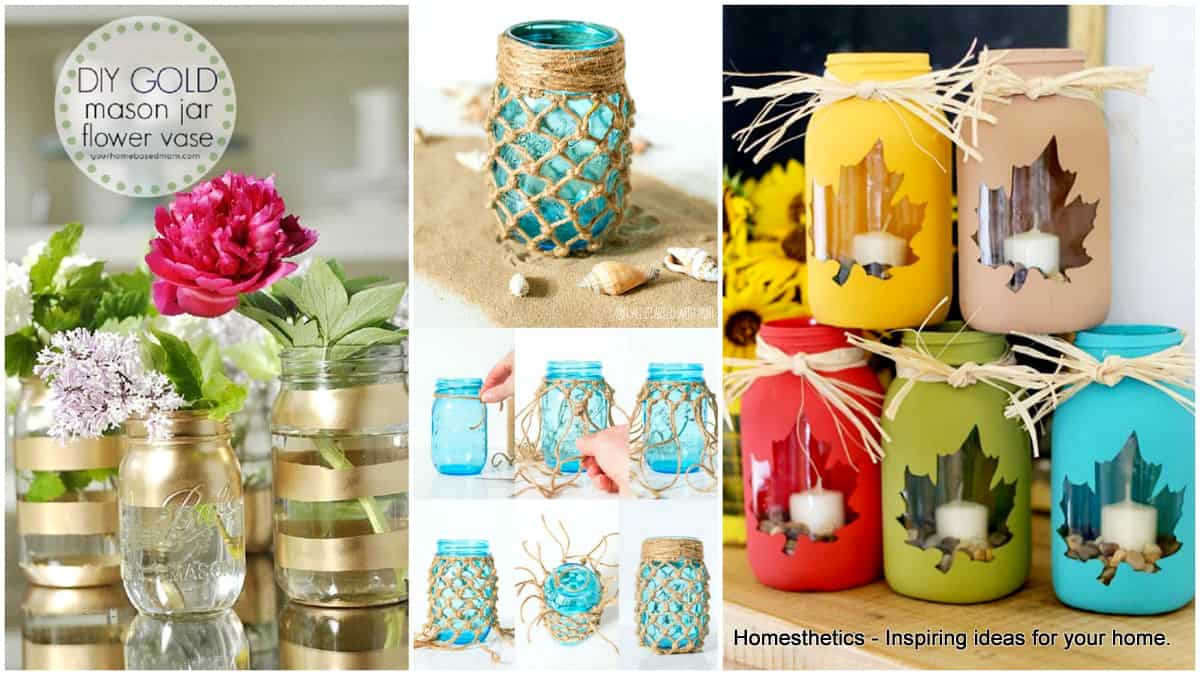 Mason jars are an incredible resource of glass that can be put to good use both functionally and graphically and in the following article we will go through extraordinary adorable diy mason jar crafts that ought to inspire the DIY enthusiasts in the pursuit of the remarkable, the pursuit of reusing and up-cycling.
Cast a glance and surge inspiration; information and gallery after the break.
RELATED ARTICLES
100 Mason Jars Crafts And Projects You Will Love
28 Beautiful Creative Ways of Repurposing Mason Jars
DIY Easter Mason Jars Crafts To Try This Spring
Get Ready For February Early With Valentine's Mason Jars
1. tailor a mason jar utensil caddy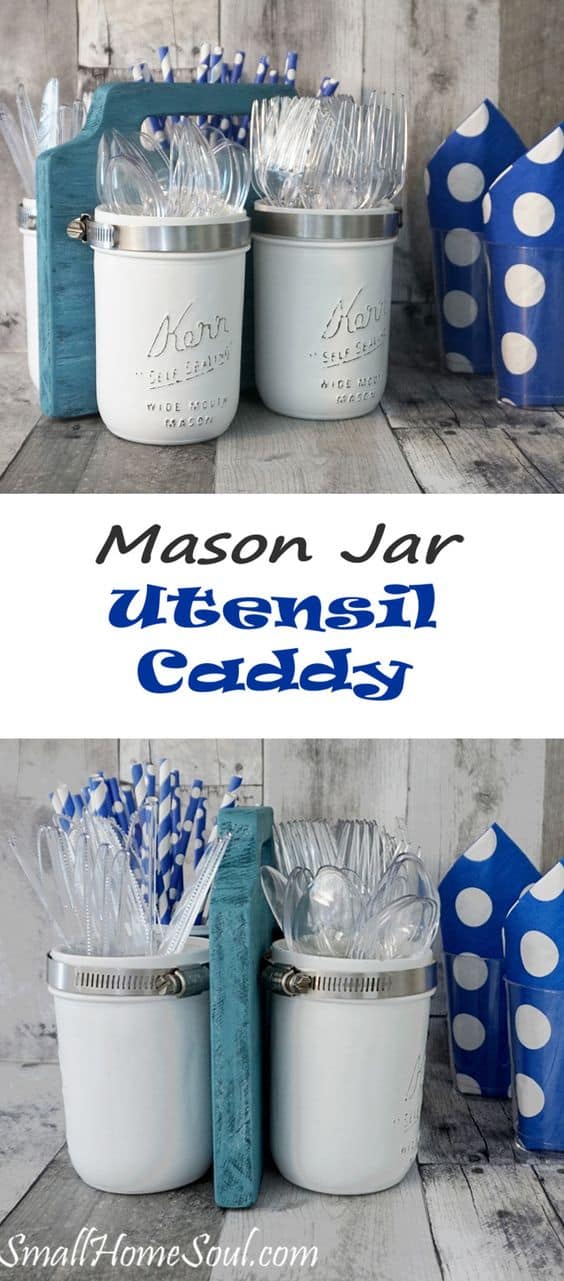 A piece of wood in the right color and mason jars are the main elements of this simply epic craft, grab the colors of choice and materialize epicness.
2. up-cycle a wooden window frame into a beautiful display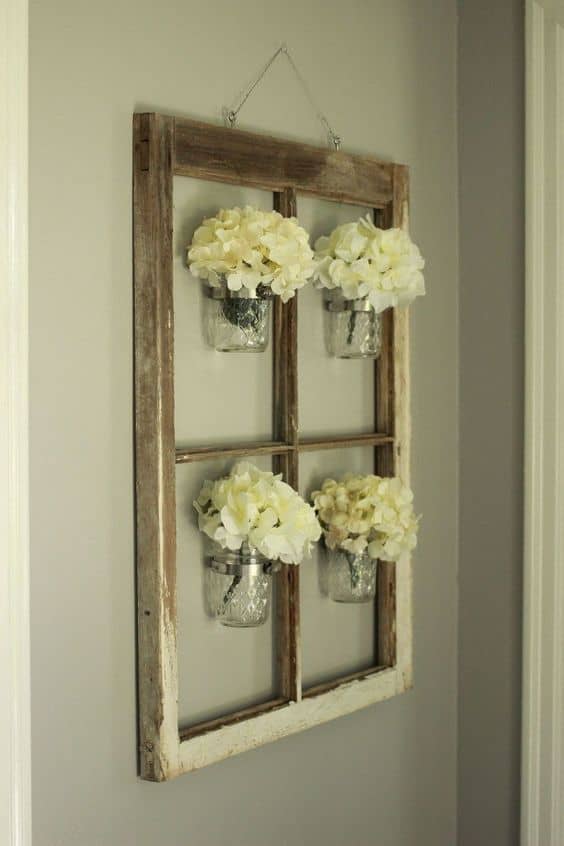 Numerous crafts can be realized with wooden windows yet the most beautiful one is a simple one using glass, flowers and cozy Scandinavian vibe.
via hometalk.com
3. REINVENT your bathroom with the right storage

Simple craft that one could realize in minutes with paint, mason jars and lids customized at home.
4. construct a mason jar tissue holder

Regardless of your design line, this solution will fit. You can make your new piece matte, glossy and even mirror-like with the right spray paint.
5. WELCOME your guests with a flower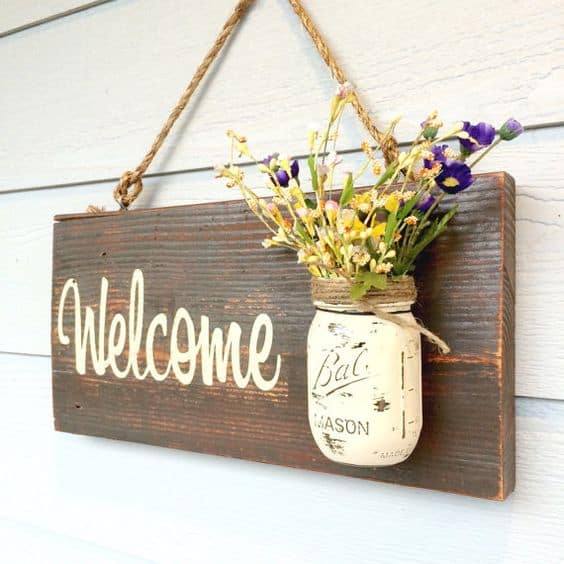 The right message displayed on wood and a flower display are extraordinary assets, put them to good use inexpensively.
via etsy.com
6. create a mason jar fairy light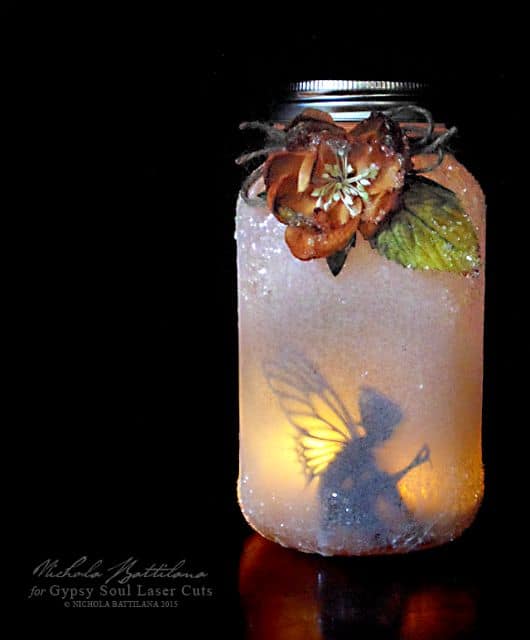 A craft that can be realized for Halloween or simply a special celebration, something that little ones will simply find magical.
via pixiehill.com
7. Invite the fall ambiance with leaves and candles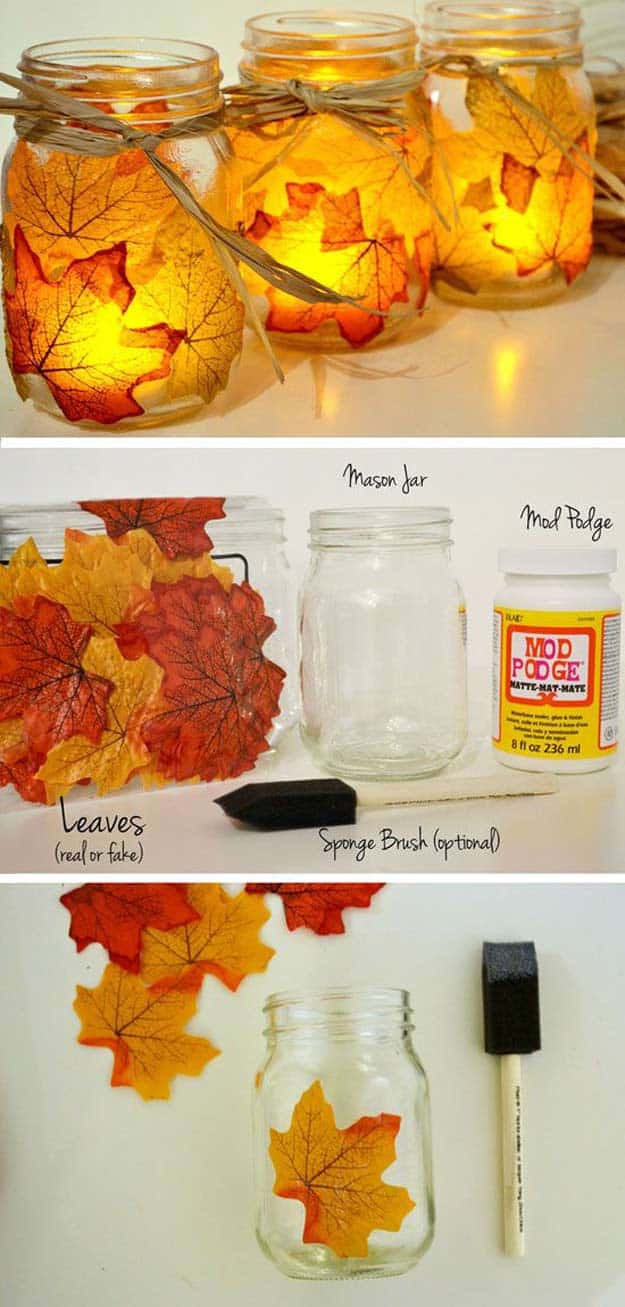 A craft to realize in minutes, a beauty that can be re-used for years and years to come during fall.
8. combine flowers with string lights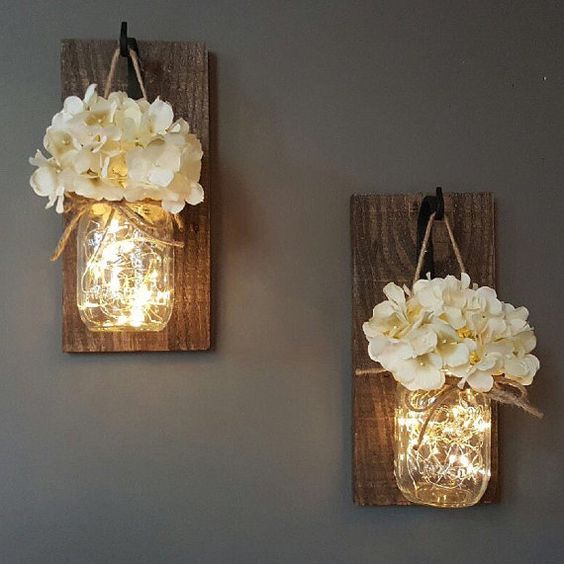 The yellow light truly emphasizes the wooden texture and floral display, use battery-powered string lights and enjoy a simply spectacular look for weeks.
via etsy.com
9. all the fall goodness in a wooden box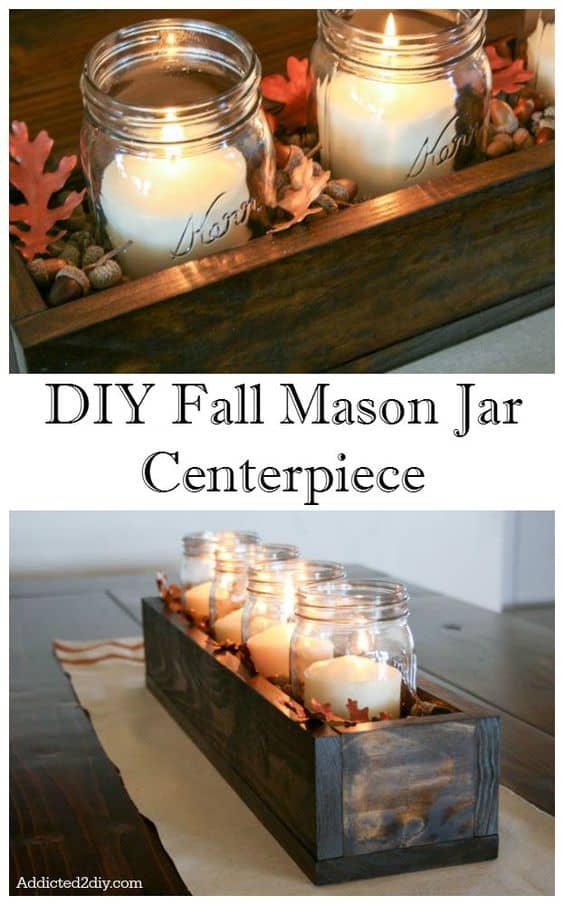 A wooden box centerpiece would do fall a great justice, inviting it to proudly display its harvest in miniature collections on the dinner table. Invite candles, mason jars and leaves into your decor, it will look remarkable.
via addicted2diy.com
10. use up-ycled wood and in a graphic display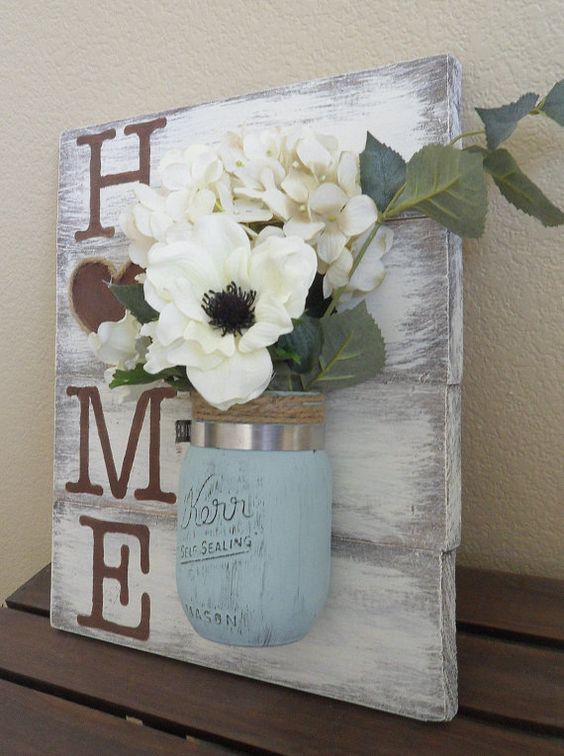 A wooden pallet can offer you all the wood needed, pick a lovely message and install the new flower display and win the day.
via etsy.com
11. Use musical sheets to form splendid votive candles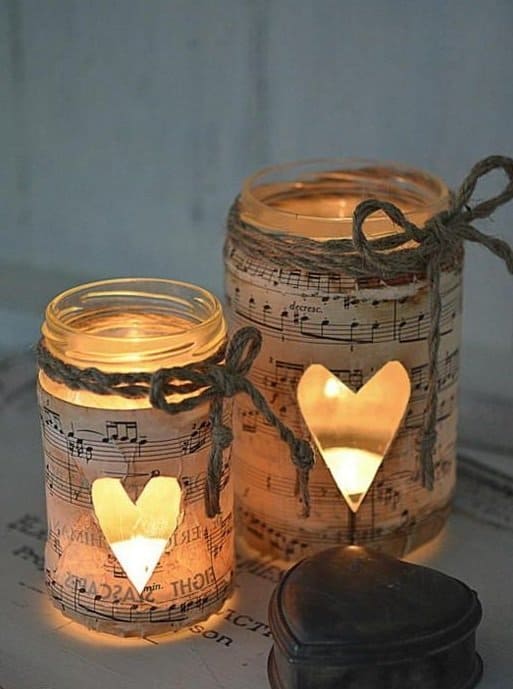 The little craft takes no more than three minutes to realize yet the result is simply spectacular, it will create that warm ambiance that soothes the nerves in an instant.
12.  store your sewing kit efficiently
The mason jar lid can nestle a pillow like area for needles and the rest of your kit can go into the mason jar.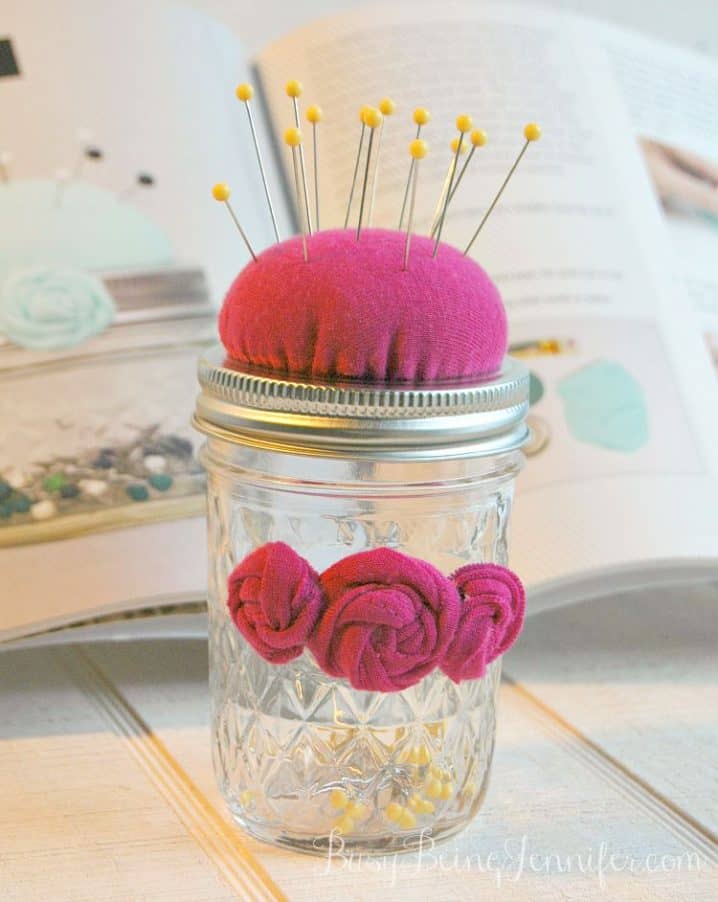 13. Create glitter toy decorations
Use glitter, water, a mason jar and one petite toy to create something new. A whole realm can be assembled to make things look surreal.
14. use mason jars as organizers
Having an infinite resource at your grasp can come in handy and using mason jars as desk organizers is surely an efficient way to put your glass to good use. You`ll have everything at hand and transparency greatly enhances both functionality and aesthetic values.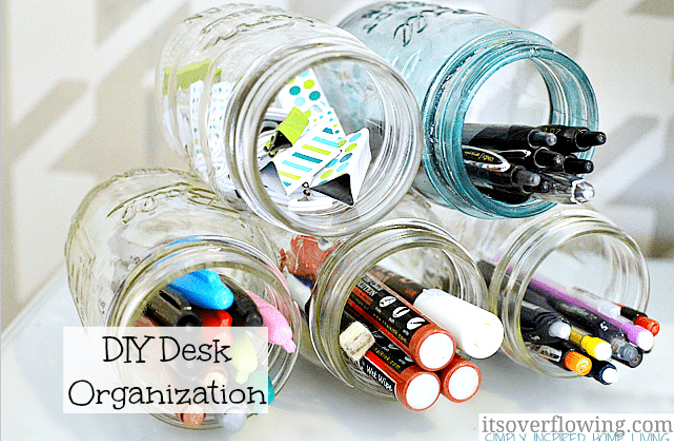 15. Pin your lids onto furniture and create suspended storage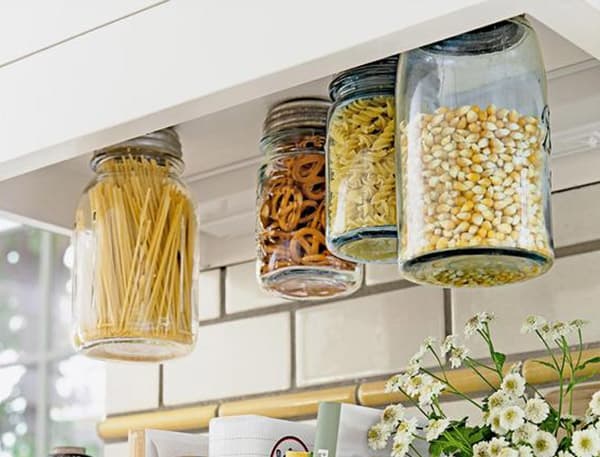 16. create a tiny terrarium for your desk
Petite succulents, sand and just a bit of earth can create you a splendid terrarium to work by. Make your work atmosphere greener in a matter of minutes.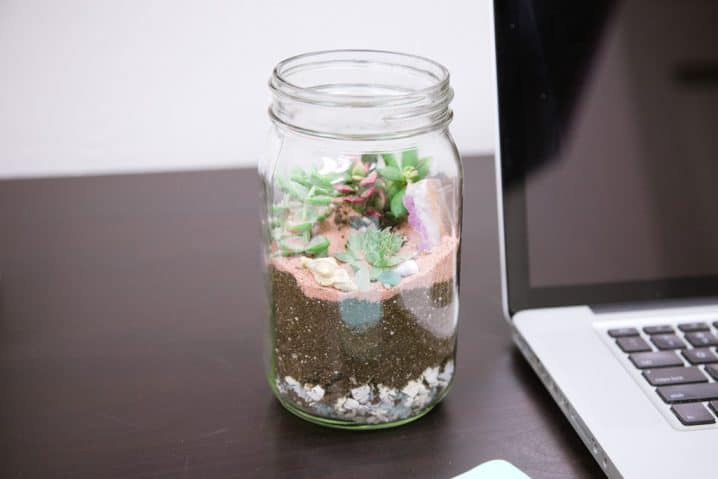 17.  organize kitchen utensils
One label on a mason jar can give it extraordinary organizational features and with great power come great responsibility. Use them to organize your kitchen utensils inexpensively at home.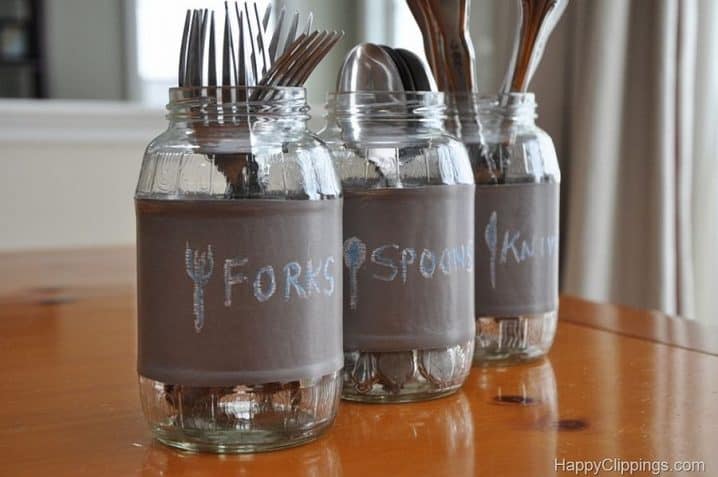 18. Double a vase with lemons for a refreshing look
You can use limes, lemons and grapefruit to create something spectacular in your decor swiftly, the refreshing look is definitely an extraordinary image worth pursuing.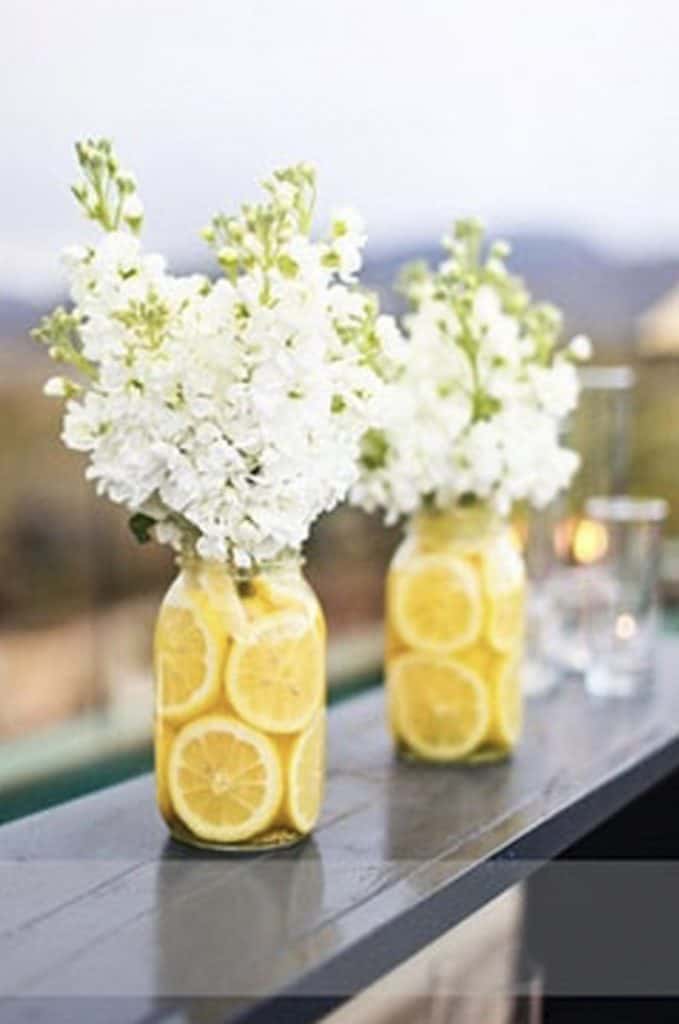 19. create a mason jar for pampering
A pampering mason jar can be a great gift for your friend, simple and inexpensive the craft deserves attention.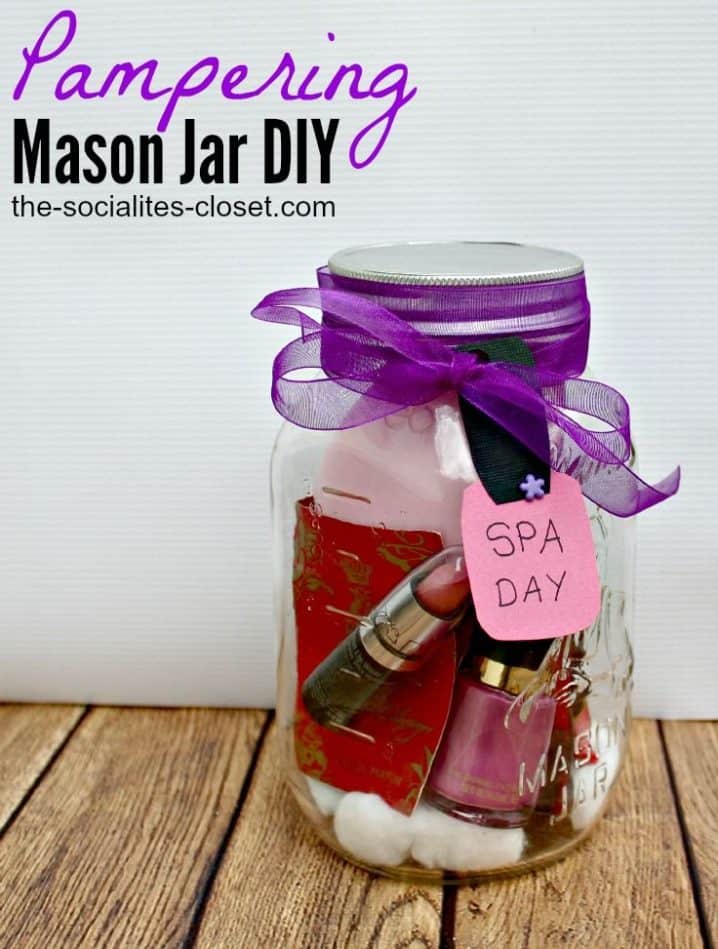 20. create an unique lighting fixture
Re-purposing a mason jar into a new lighting fixture is no-new idea yet it is a timeless one as the immense capabilities of these simple containers are surfacing more and more DIY projects in this area, every day.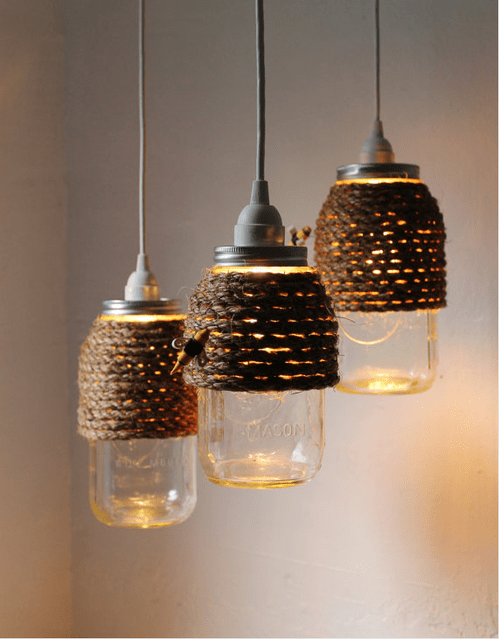 21. embrace fall with simple decor
Create a new set of fall mason jars to enjoy autumn. Make it a group craft for extra-fun.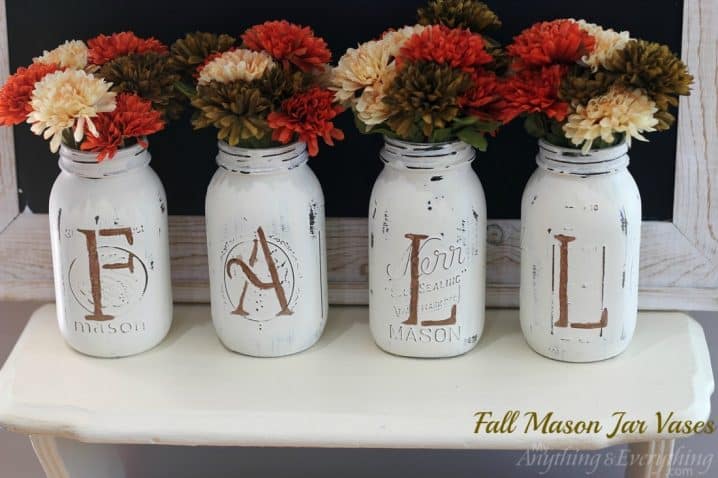 22. build your own mason jar soap dispensers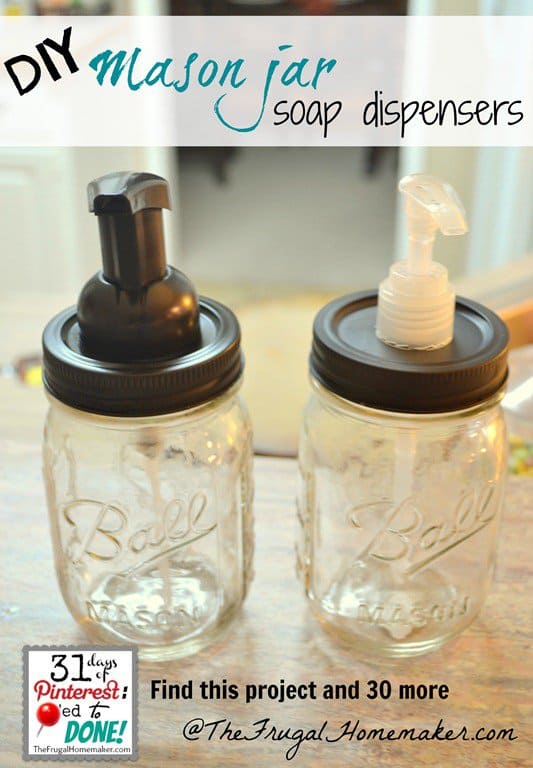 Super graphic solution for a simple simple item. A craft worth enjoying and sharing.

23. create colorful mason jar mini-herb gardens
This can be achieved rapidly with up-cycled textiles, yarn, washi-tape or glass paint. Keep you cooking herbs at your grasp and enjoy every moment.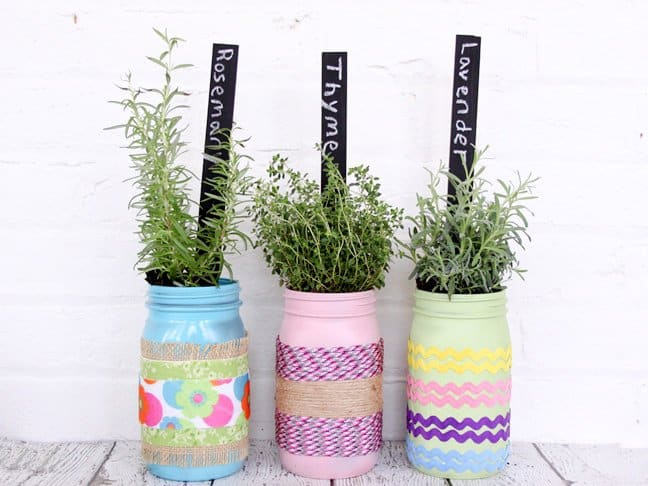 24. create a golden mason jar vase
Use golden spray paint and scotch tape to create a splendid new vase.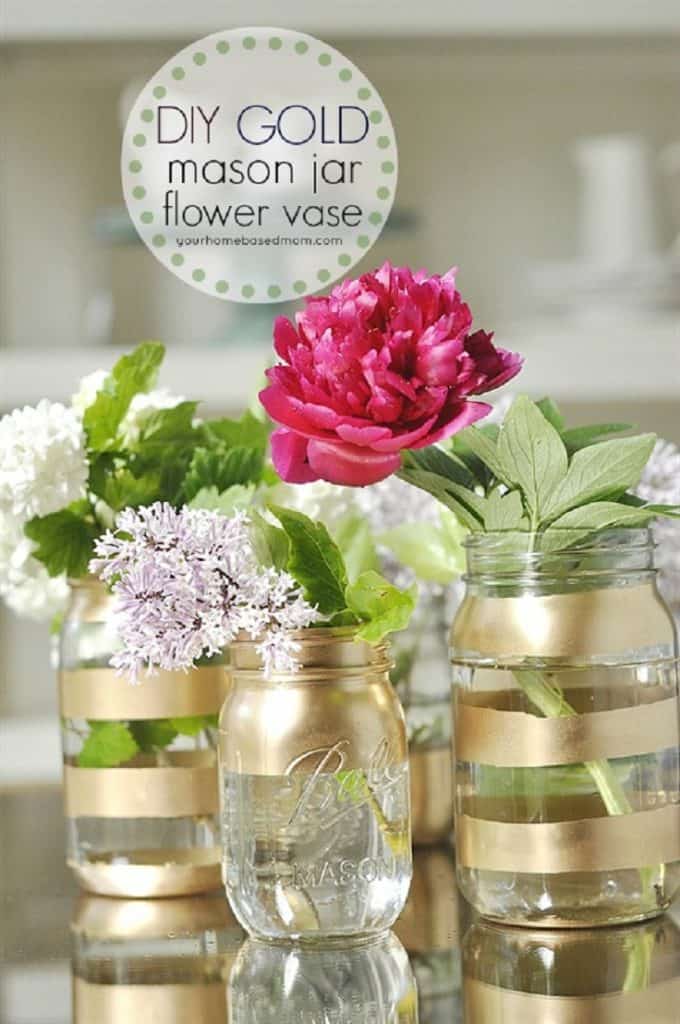 25. serve drinks in style
The serving of drinks in mason jars is a trend that truly caught on lately and with these you simply cannot go wrong, refreshing and colorful, they create a vibrant, airy atmosphere.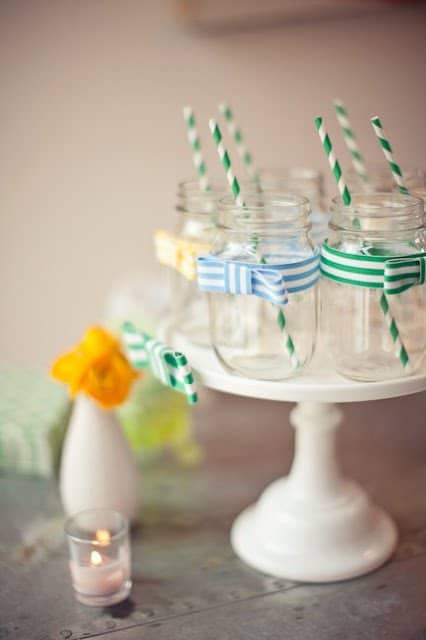 26. Create simple-airy decorations
Inspired by the sea, the airy-shabby chic collection below is something that surprises beyond simplicity.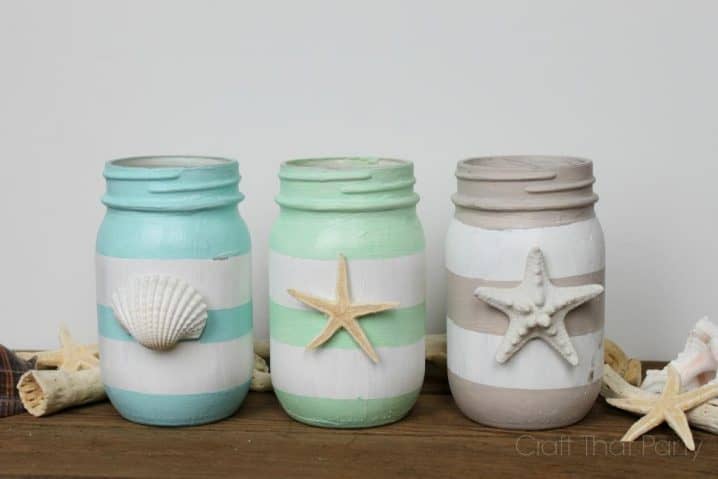 27. Use mason jars to display your succulent collection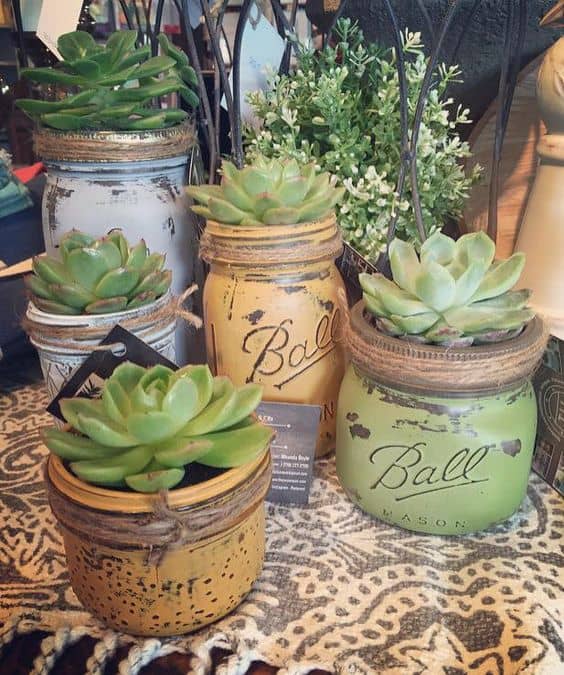 A really graphic and practical craft that will change your plant collection swiftly.
via The Jar Junquie
28. use dollies and lace to create graphic votive candles

29. color embracing fall through a mason jar decoration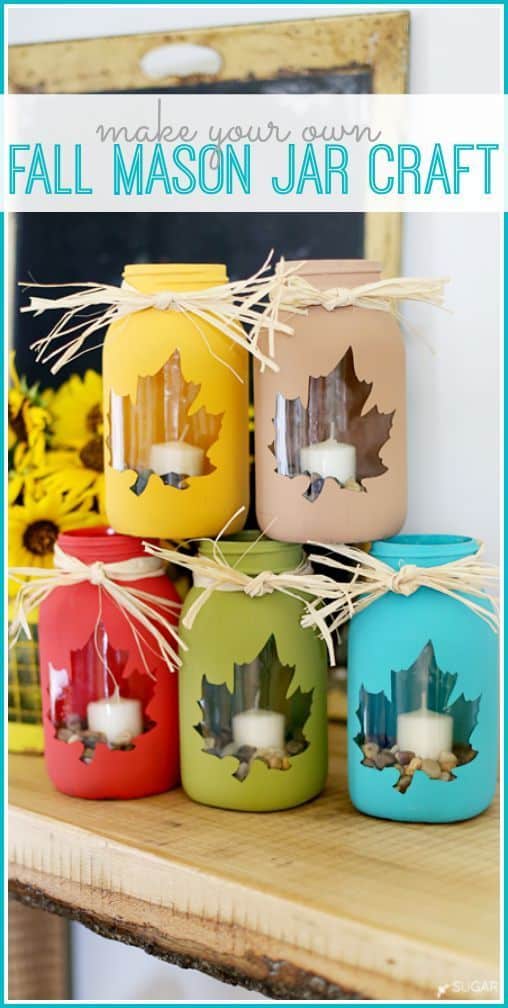 via Sugar Bee Crafts
30. bring the right flag into the picture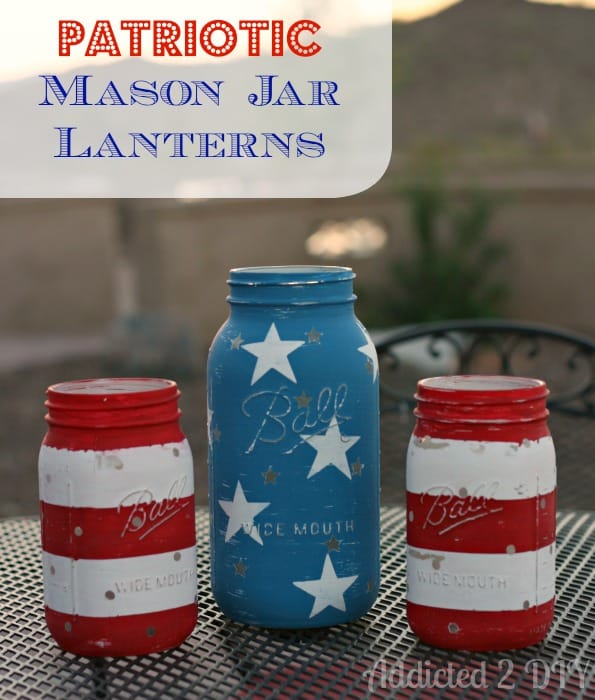 Regardless of country, the patriots know that this craft is worth pursuing.
via addicted2diy.com
31. change your decor with mason jars wrapped in fishnet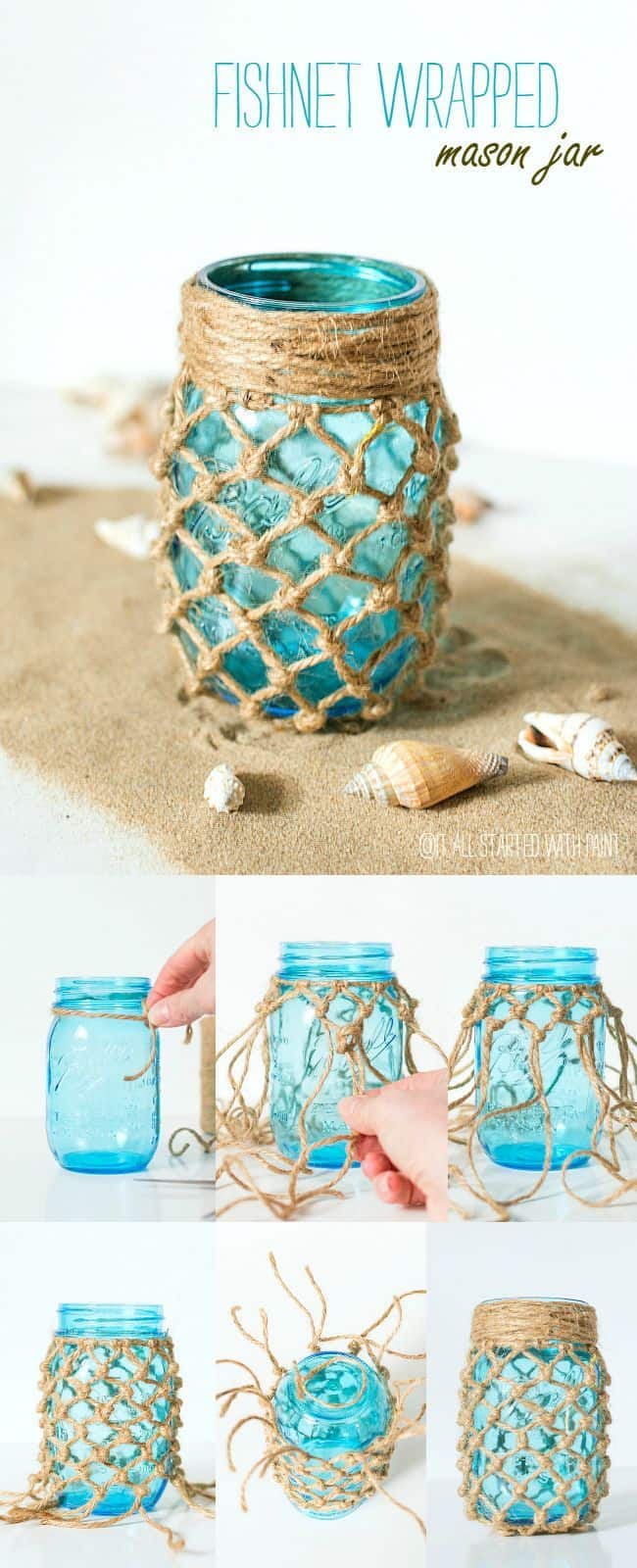 A tiny craft with an exemplary look.
Mason jars are an extraordinary resource that one ought to put to good use. What do you think? We would love to hear your valuable feedback on the subject in the comment section below !