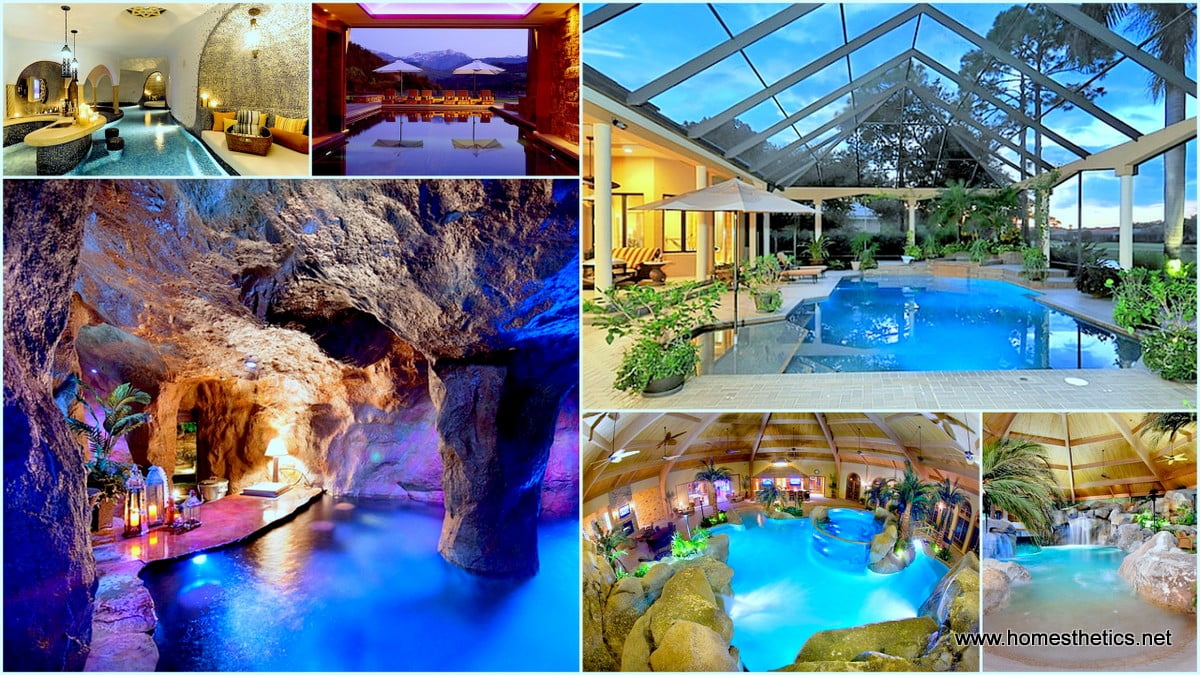 Warmth and coziness, these are the two words defining the winter in our living experience. For some of us thought this warmth and coziness is found in the heated indoor swimming pool that challenges us to leave the snug and cozy textile and go for a swim whilst admiring the snow through zenith lighting. In the winter months, taking a dip outside is a daunting experience without a doubt, one that is unable to maintain you in shape if you are a dedicated swimmer, the problem can be solved by bring the pool in the interior space. Indoor swimming pools are becoming more and more popular each day thanks to clear usability and functionality matters.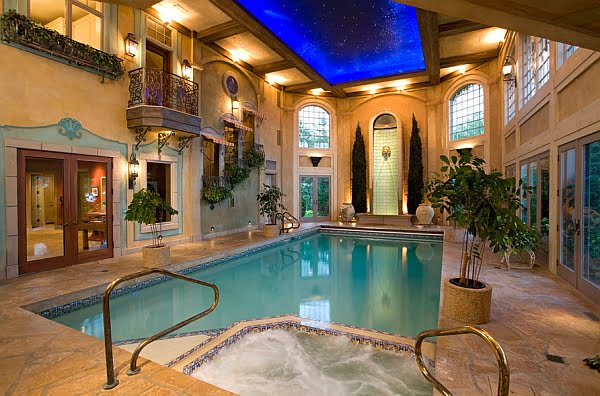 Indoor swimming pools are going to elevate and enhance the ambiance of your interior and like outdoor swimming pools, indoor swimming pools will encourage social interaction of the inhabitants through out the year whilst enhancing aesthetic and ergonomic values in a shattering manner. In this article we have carefully handpicked over 50 stunning indoor pool ideas meant to aid you in your project or simply feed your imagination for your dream home, you will see small or large swimming pools, covered by glass on metallic structure or sheltered by the main mansions, olympic training pools and gym connected swimming pools.
Whether you just sit and relax in your pool or you train for Olympics all year round, the interior swimming pool is a magnificent experience to be enjoyed.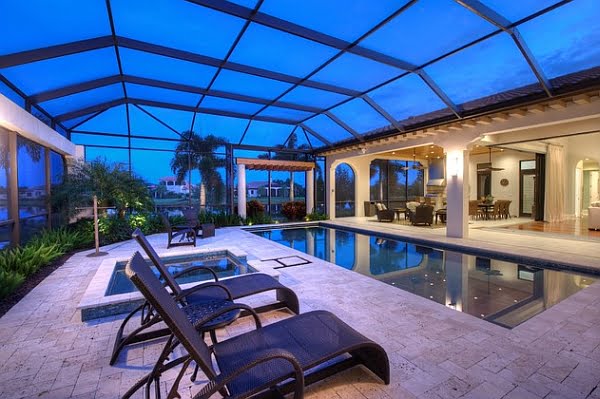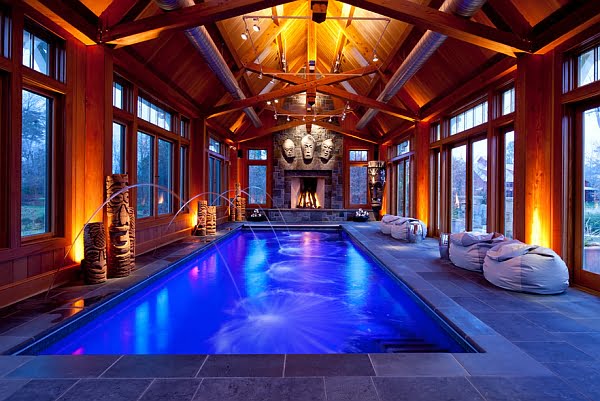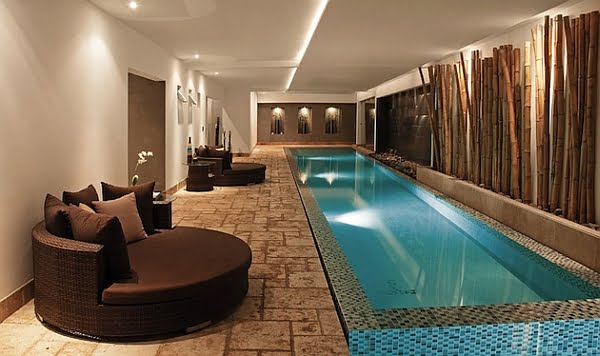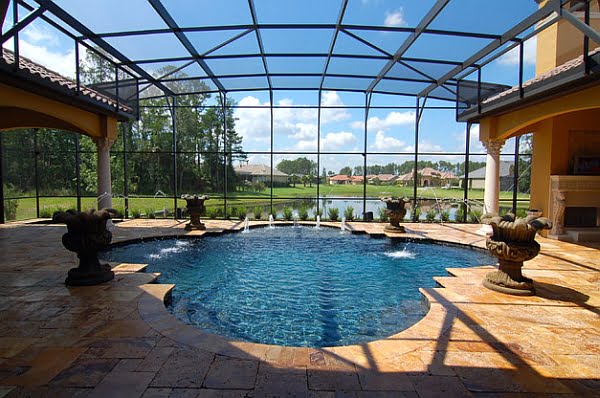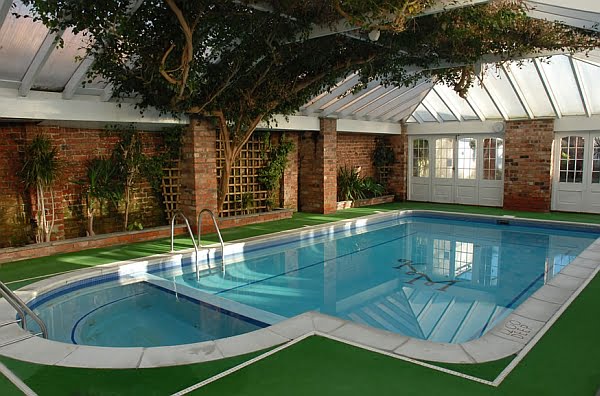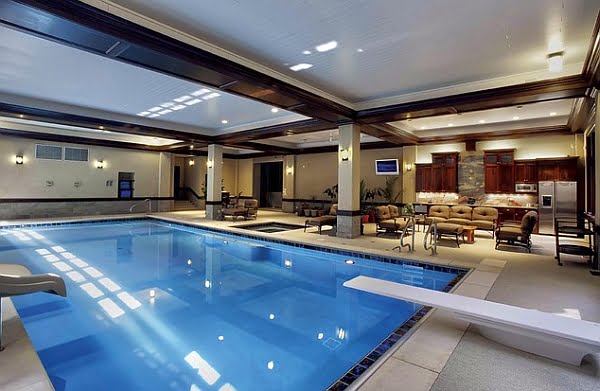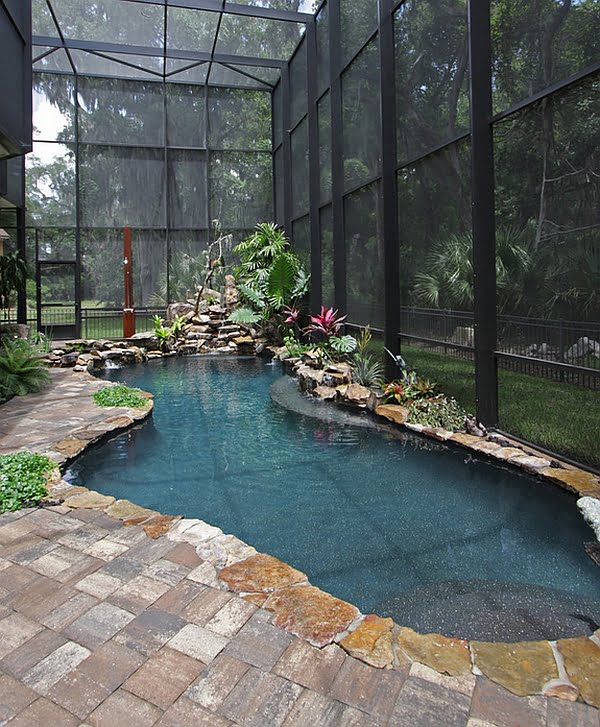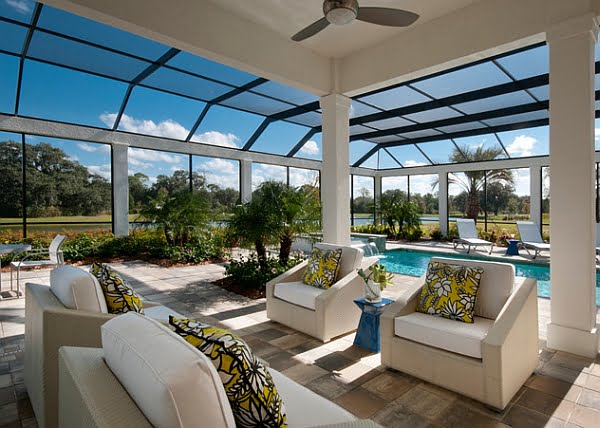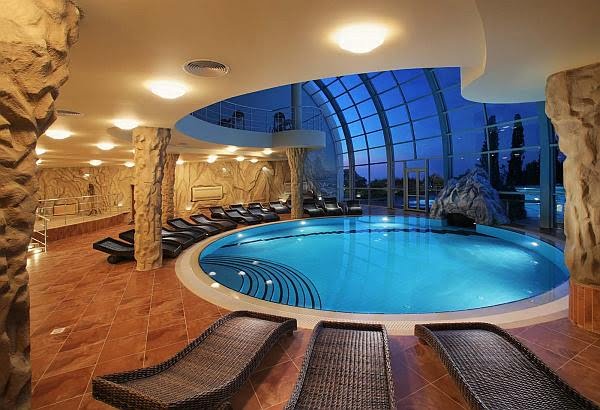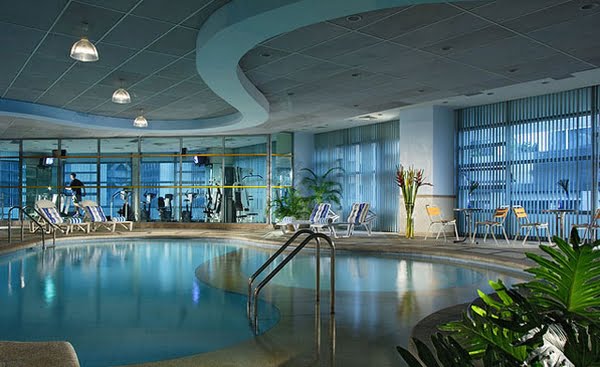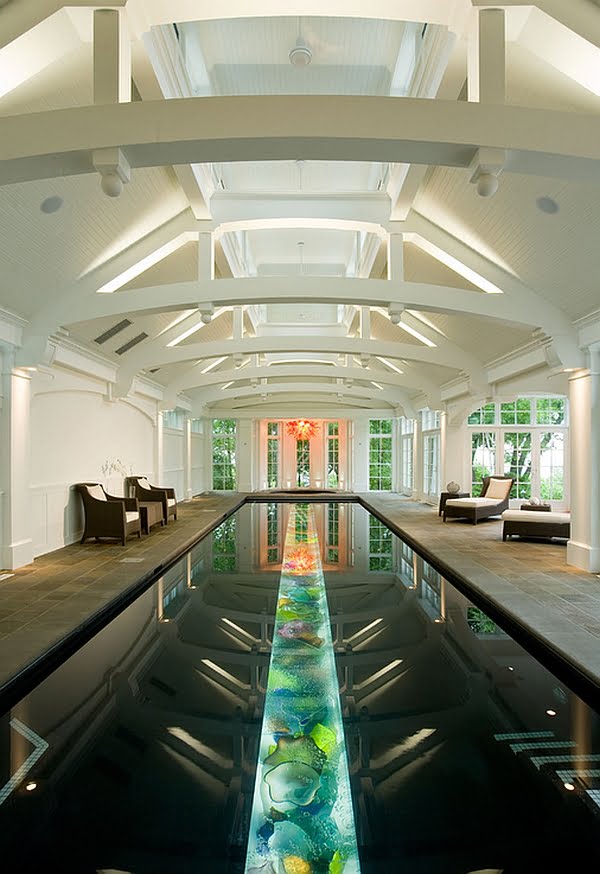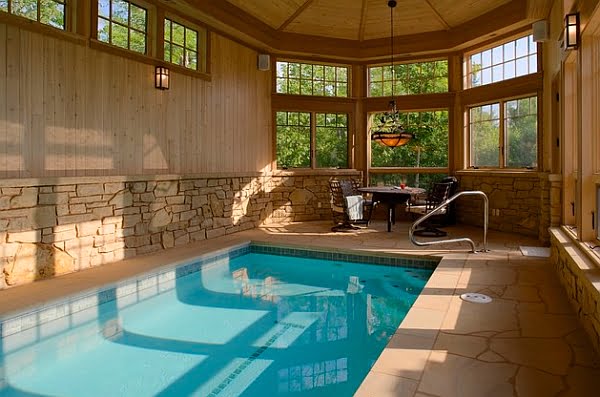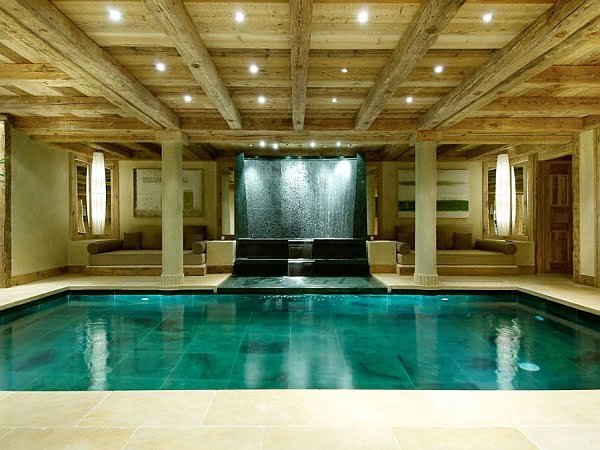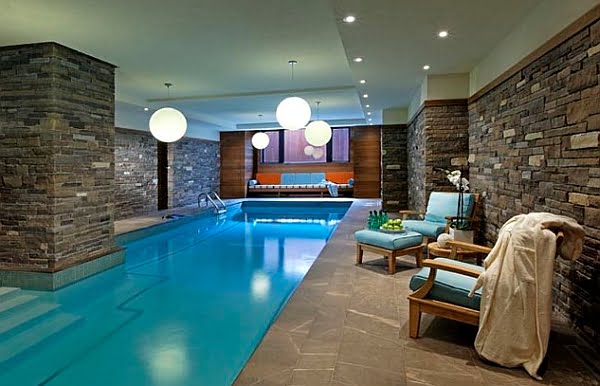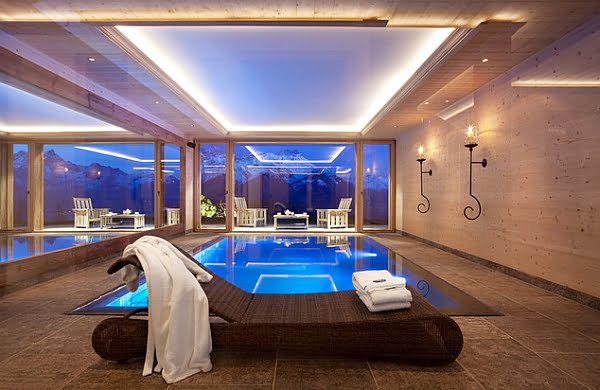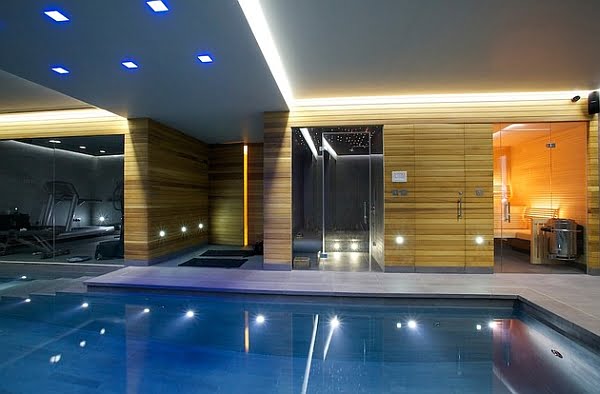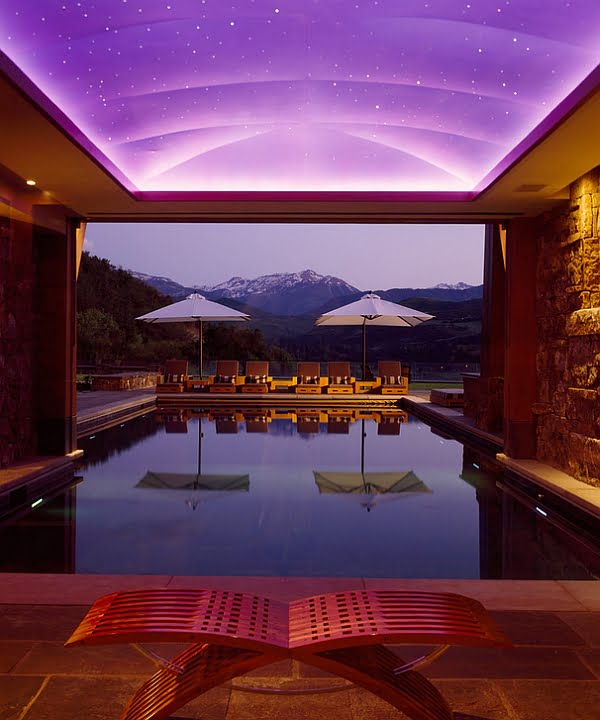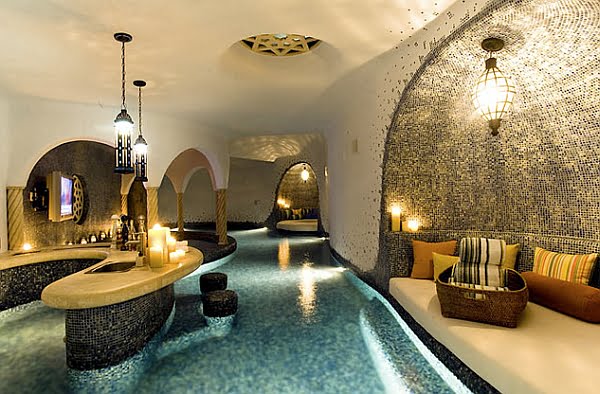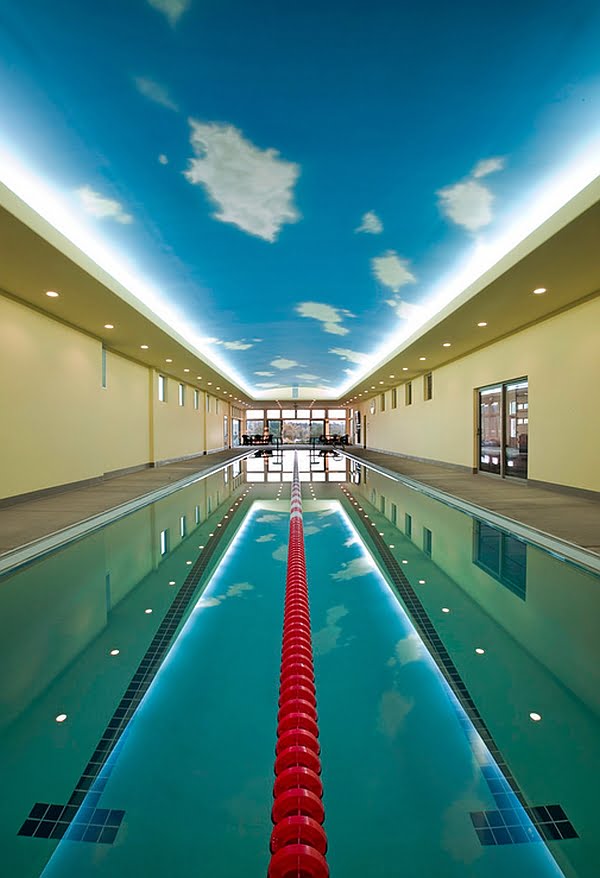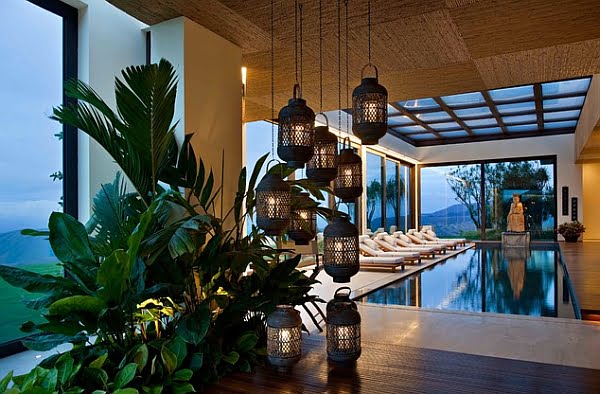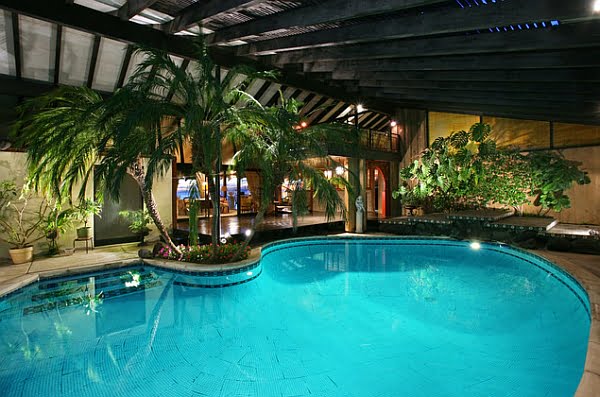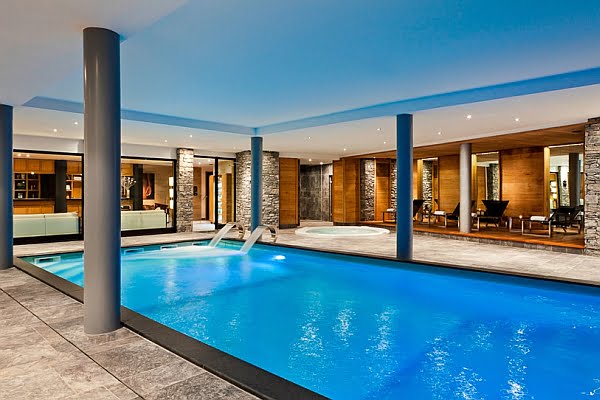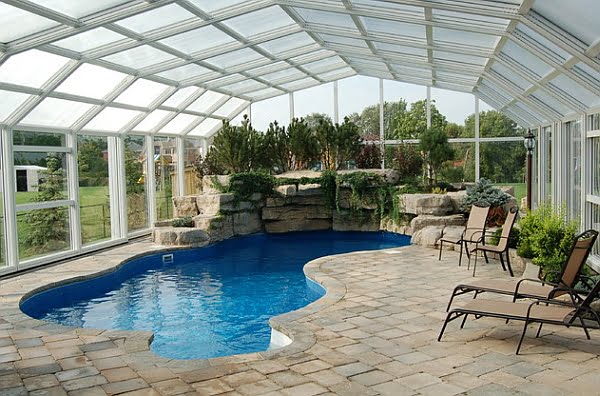 Indoor Swimming Pool-A Spectacular Secluded Retreat
A popular design line, theme and motif for contemporary indoor pools is creating a world within a world, a really big trend these days. This method will allow you to brake the monotony of your life with a surreal alternate world snapped from your busy urban life. Depending on your space and budget you can create a corner of Bali, a rocky mountain-like waterfall for your pool, a Mediterranean like design or a Moroccan one. Imagination has no limits, Google your favorite vacation spot and materialize it in your own home.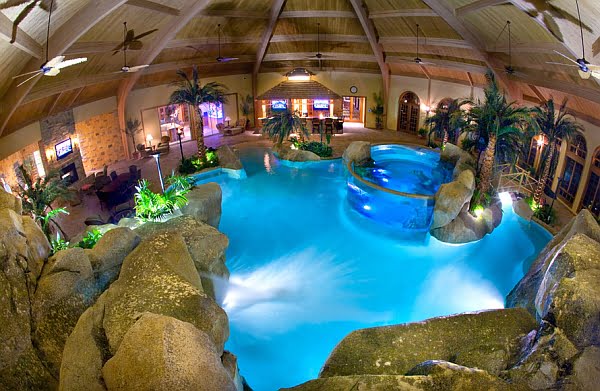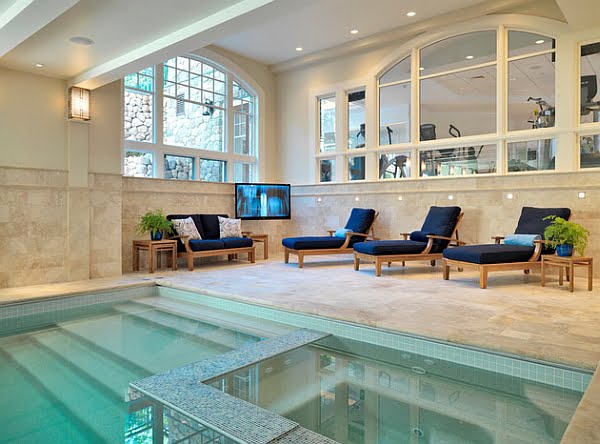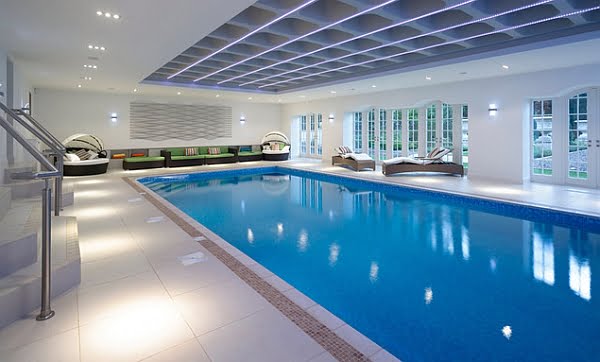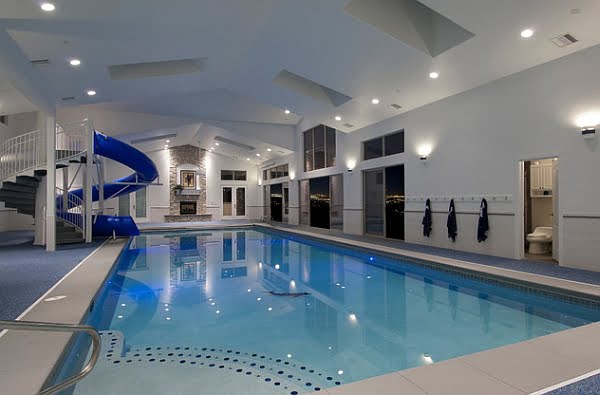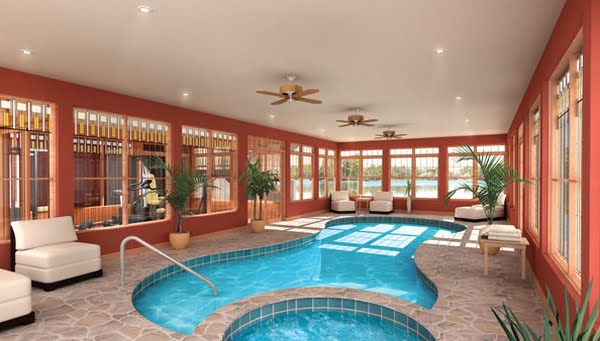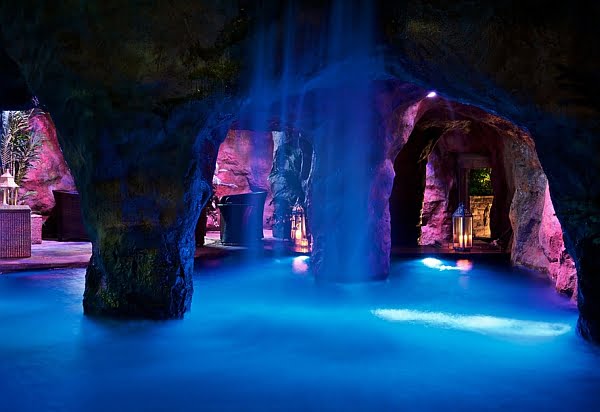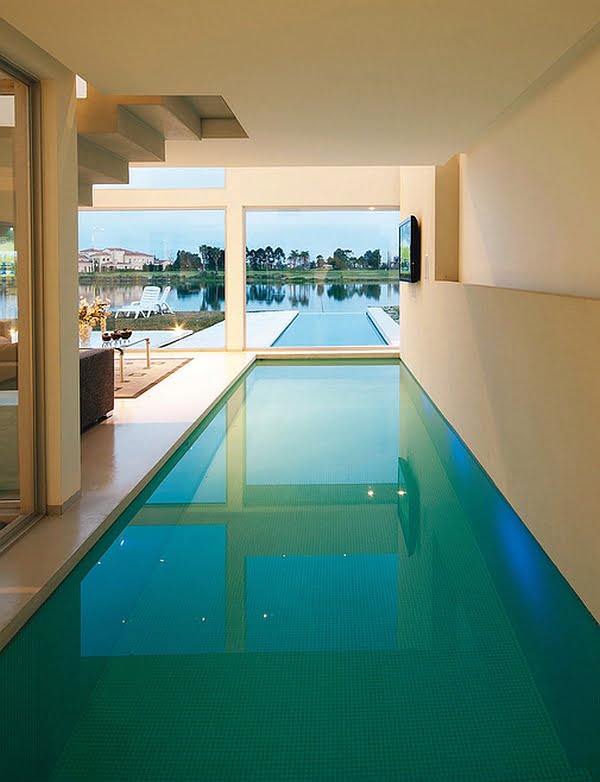 Blurring Lines
For a while now people have imagined indoor pools only surrounded by stoic concrete walls, possibly on all four sides.While this setup is almost mandatory in regions with rough winters in warm winters is not and if conditions do allow you, you can opt for the best compromise. A glass extension of your home on a slim metallic structure that will protect your indoor swimming pool whilst offering extraordinary snapshots of the surroundings, extraordinary natural lighting, the exterior temperature in the summer and the sun`s power to heat up the pool when possible, the best compromise that will allow your to enjoy your swimming pool in the most magnificent matter. These see trough domes will allow you to enjoy extraordinary rainy days in the comfort of your own, possibly, heated swimming pool.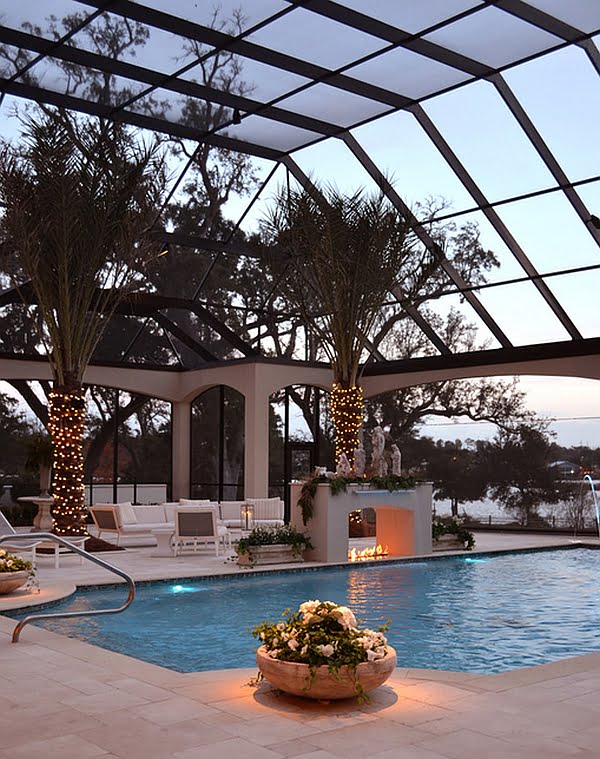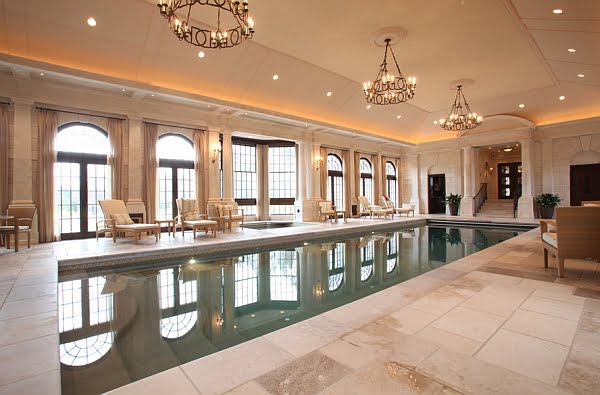 Multidimensional Layered Designs
Happily we are all different and while some of us would like an indoor dramatic escape pool other would like to enhance the design and appeal of their contemporary home. Some homeowners choose to connect their lavish indoor pool to their living room or dinning area in an impeccable composition.
The indoor swimming pools are also easier to maintain all year round, they`re far easier to clean then outdoor pools as well. The right dehumidifier and climate controls systems have to be perfectly in place and in great function though.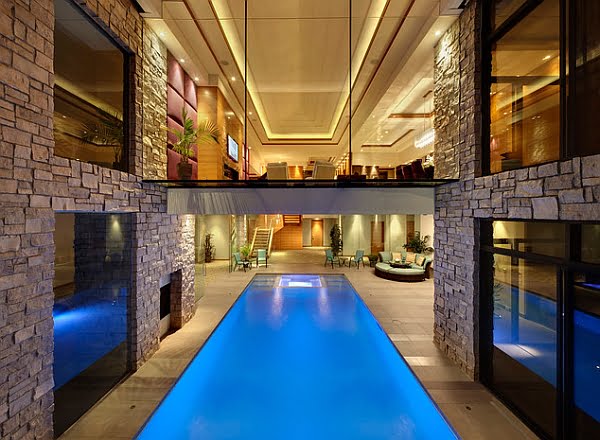 Large transparent roofs will enhance the feeling of space,allow natural ventilation when opened, bring a lot of light and create a very airy and serene atmosphere. Most of these systems are allowing you to choose from complete privacy to unobstructed views and the other way around, these systems can complement a contemporary indoor pool in an extraordinary manner.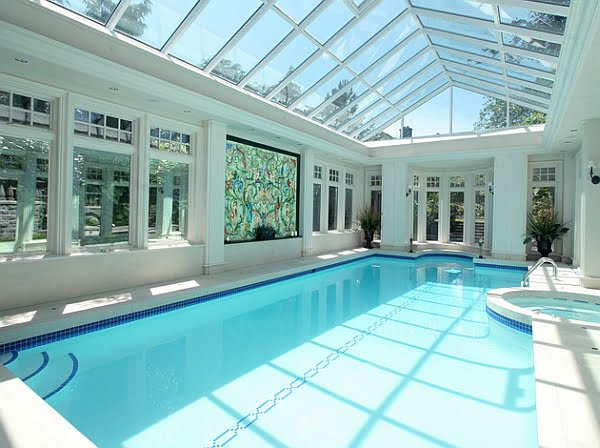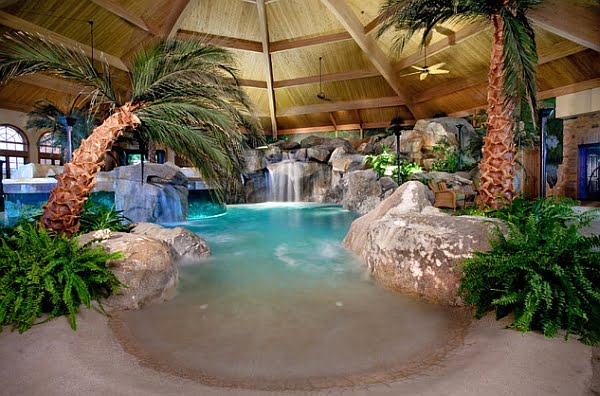 The interior pool is not just a pool. A piece of water in your home must reside in an extraordinary decor. Make no compromises on the deck space, tiles and lighting when you want to obtain a specific ambiance. You will know that the work is not completed and it might even disturb you visually. A huge investment should be enjoyed to the fullest, be sure that you get the desired shape and ambiance .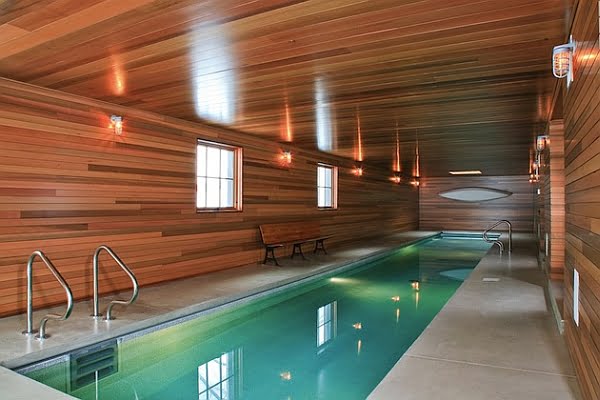 The Setting Under the Spotlight
Light and Lighting plays a crucial and vital role in any interior design but when it comes to indoor pools it`s a whole different story. A dark swimming pool is horrifying for most of us, not knowing that there is nothing in the swimming pool is even worse. Beside the lights in the swimming pool, the ones setting the scenery and ambiance are highly important as well, these can create various effects, from a mysterious ambiance to a highly futuristic one with no shade at all.
Several different layers of lights, maybe in different colors can create a magnificent image,remember you should always consider the current scenery when changing or adding something new.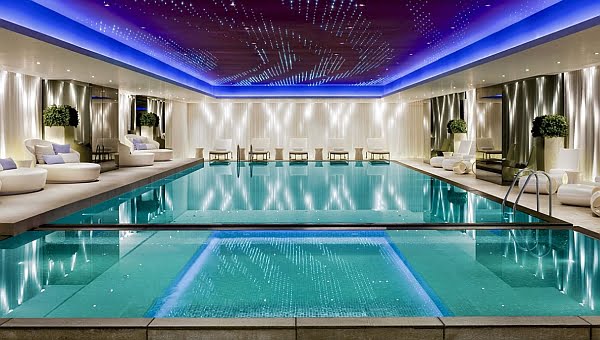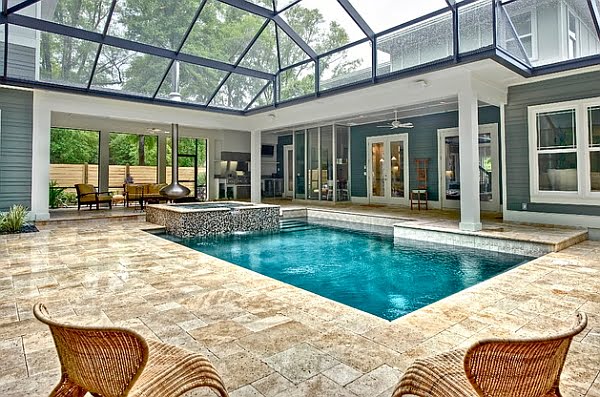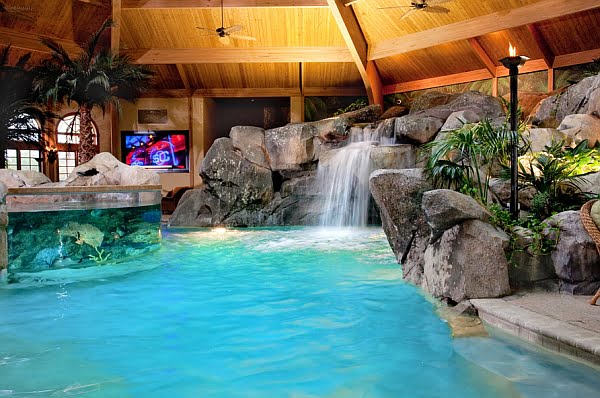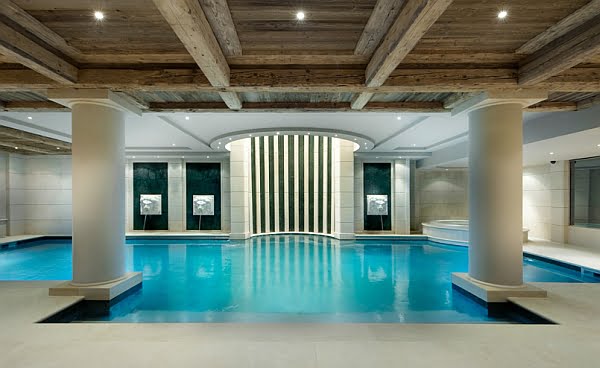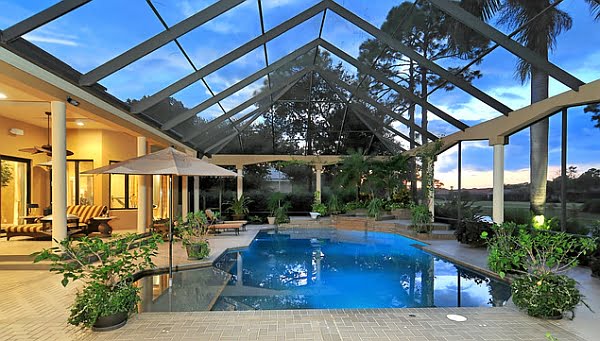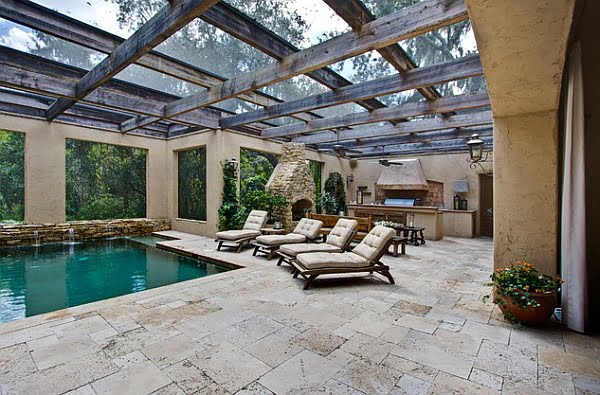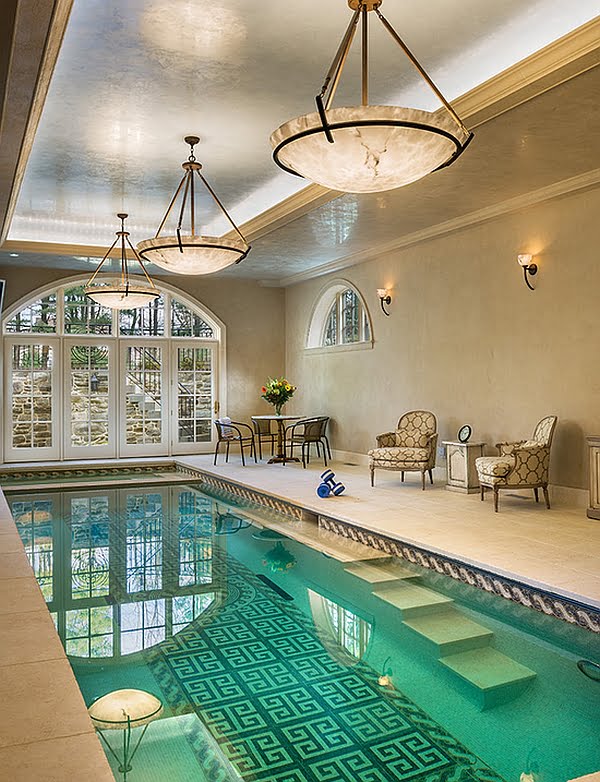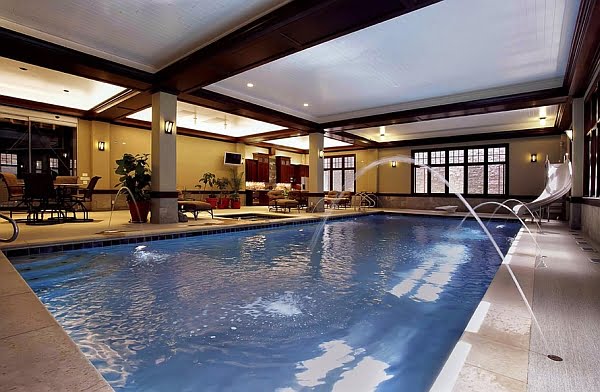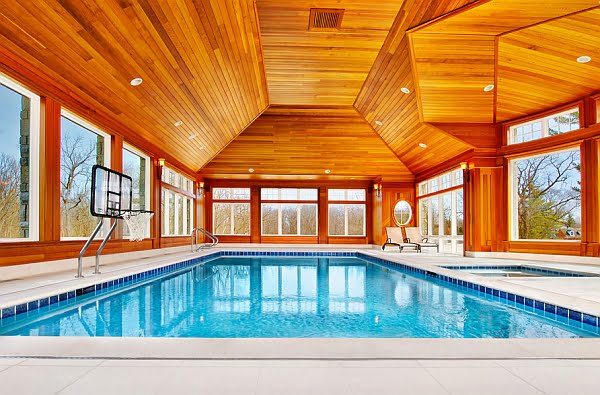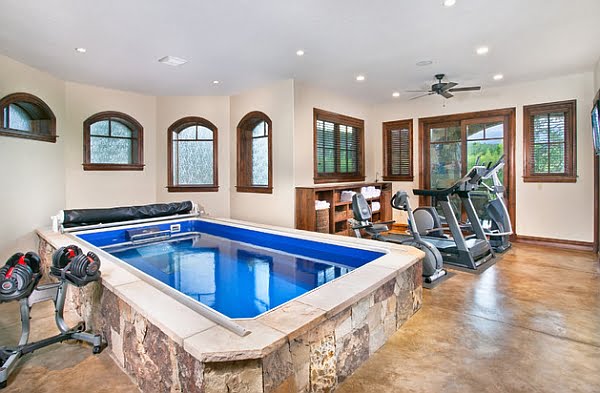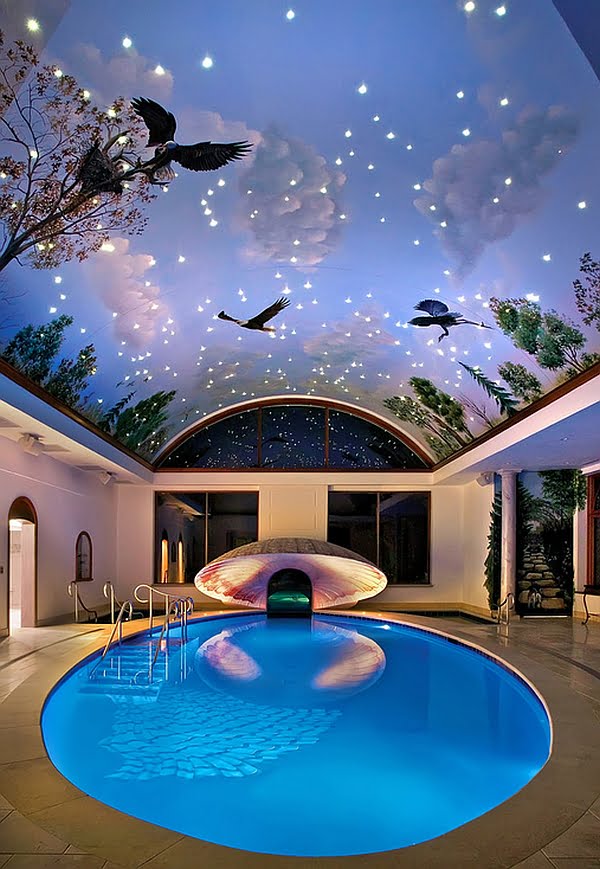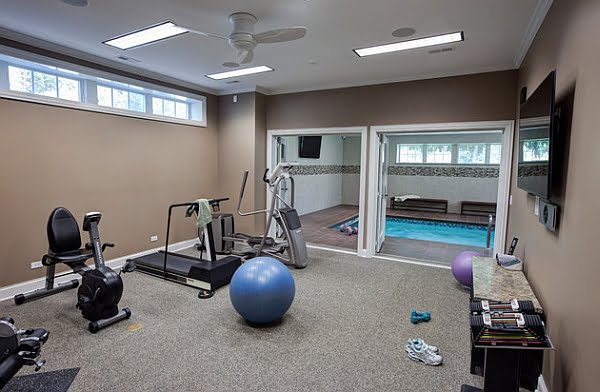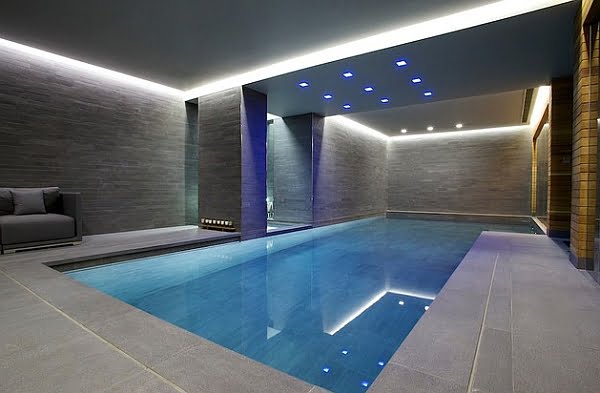 Related Articles
5 Best Above-Ground Pool Pad | Buyer's Guide and Reviews
5 Best Epoxy Pool Paint | Buyer's Guide and Reviews
10 Best Pool Cover Pumps of 2022 | Buyer's Guide and Reviews
Learn How to Install a Spa Cover Lifter
Dolphin M400 with Caddy Review & Buyer's Guide
Top Tier APEC vs. iSpring RCC7 | Water Filtration Systems Compared
Learn How to Keep Chlorine Levels Up In Your Pool