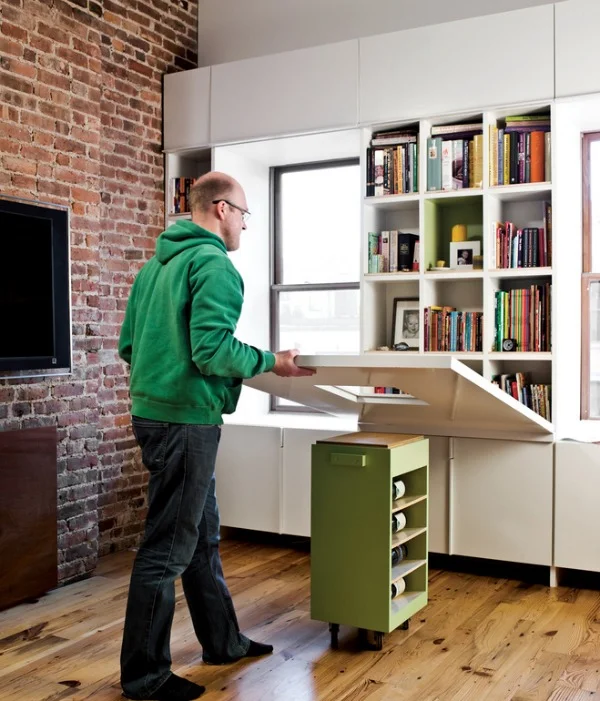 In this world, there are thousands of different homes and happily, they`re all different. I live in a tiny home, a small apartment in the capital of a certain country and I feel that my home is far cozier and warmer than various other big ones. Small apartment designs are in my opinion in no way worse than regular ones. A small space challenges you and imposes a different lifestyle in which you keep your surroundings clean, smooth, and always uncluttered whilst not sacrificing coziness and warmth.
In a small apartment design furniture will enhance its versatility and functionality beyond recognition, an organized small apartment can store a whole lot of realized well and we do see such examples every single day. With this thought in mind, we are going to present further a superb idea that helped us a whole lot in our design: foldable desks and hideaway desks.
Hidden/Camouflaged Desks
For most of us, this solution is ideal without a doubt: space-saving hideaways desks, smoothly camouflaged behind a closet or a dresser hiding away the computing unit that should not be seen by anyone or a simple small DIY desk that you have wanted so much to be yours and yours only. Bellow a small and efficient little desk entitled  Junior Living has been showcased.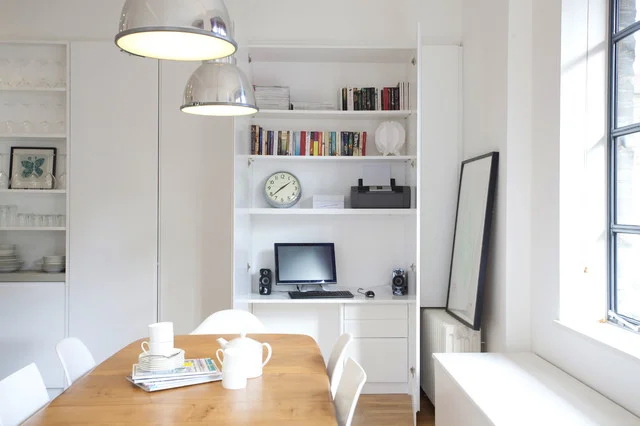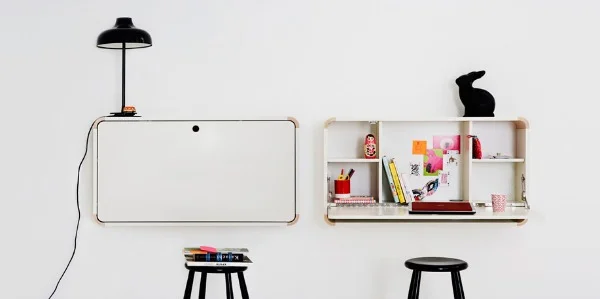 All these great desks, including your own, can look smooth and clean for your guests and friends behind an armoire whilst it remains colorful, vivid, and joyful for your taste. The clean aspect of a room will also enhance the feeling of space making it seem enlarged.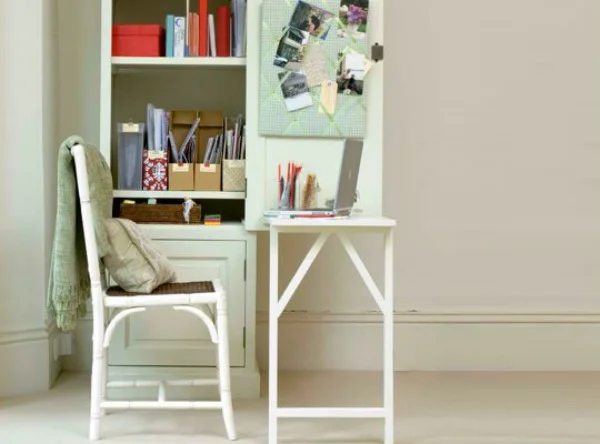 Save space as much as possible with the floating shelf below can be opened and transformed into a wonderful small desk. There is also a small storage area to hide away necessary things that can come in handy quite often. It can be used in multiple setups to match your desires. [Via KMillar]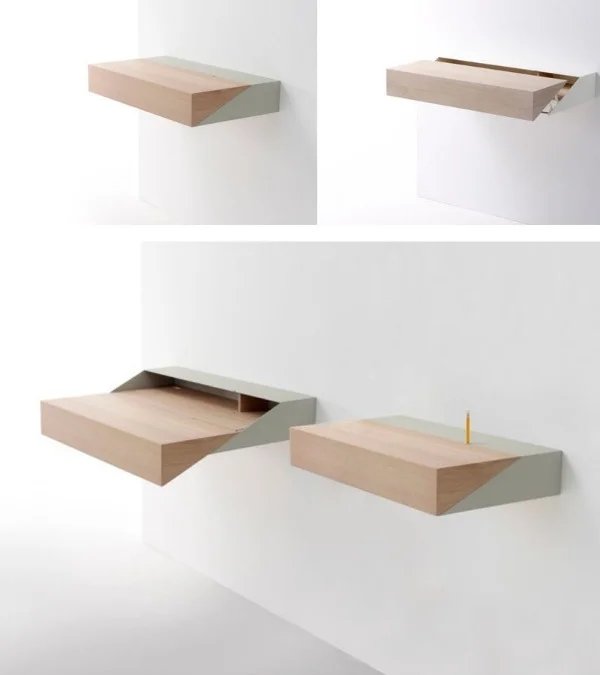 A small red accent will be a bold accent, an instant focal point for anyone that walks in the room. This technique enhances the feeling of space as well. The red refresh the design below as well, diminishing the frigid cold feel of the room and making it more joyful and personal. When closed, the small desk design fits perfectly into the scene through the vintage-like cabinet design.
It also has a small lock that will ensure the privacy of your correspondence or simply protection for sensitive materials that must be hidden from sight. [Via Country Living]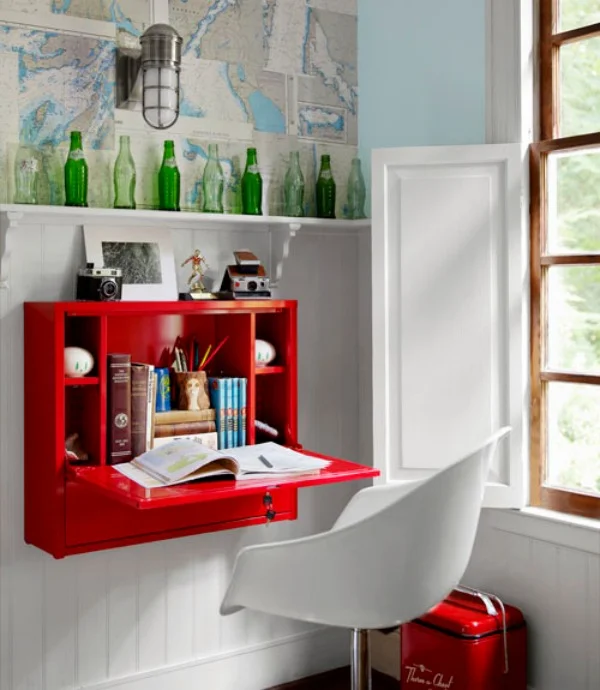 Below an extraordinary piece of furniture embodies a wine rack, a bookshelf, and a desk at the same time, a very creative use of space and furniture for compact space designs. The tabletop is at your service when you need to, it folds down to the little wine rack on wheels which becomes rigid when the square in the middle fits the tabletop.
This method can be used as a dining space or as a working space if needed. In the kitchen, it can create a dining space that is used just once in a while. It`s amazing because the furnishing is highly aesthetic as well. [Via Dwell]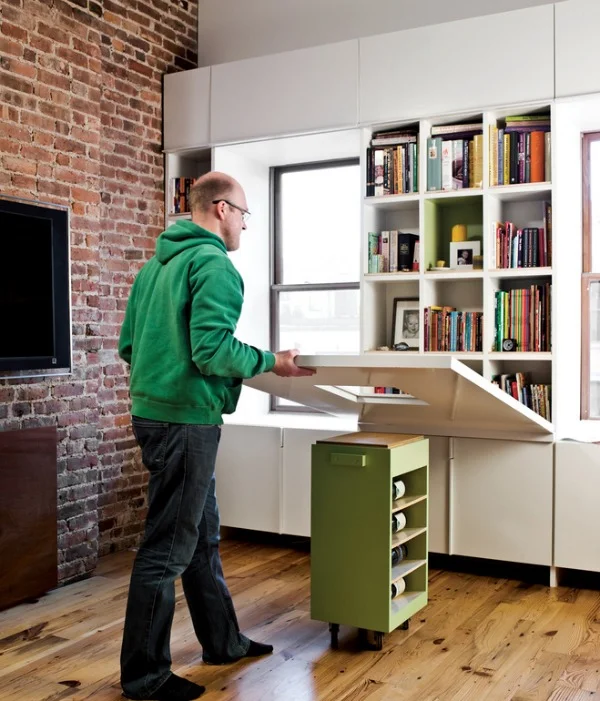 If you can fold your unorganized messy desk into a small piece of art on the wall it would be just fantastic, the small piece below folds into a chalkboard on which you can materialize anything that you would ever want or need. It also features a small coup of storage to further enhance its functionality. [Via Amazon]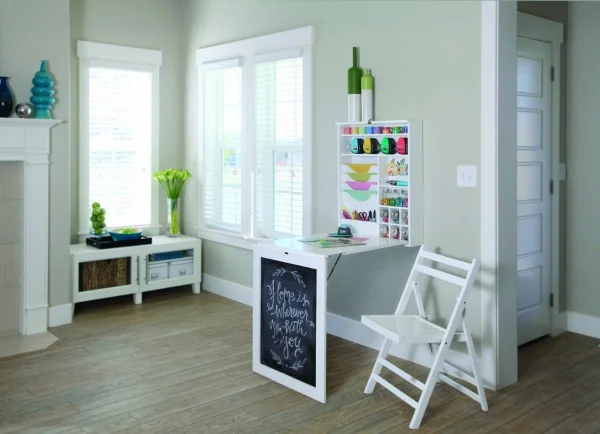 Above and below small and big closets alike are hiding a small desk for small use. Some of us are in need of a comfortable desk when working and this means along with hard work are not giving back a highly aesthetic piece of furniture. In this manner, you would be able to shut the desk closed when you have guests and resume your work later in a beautiful manner later. [Via Bourbon Daisy]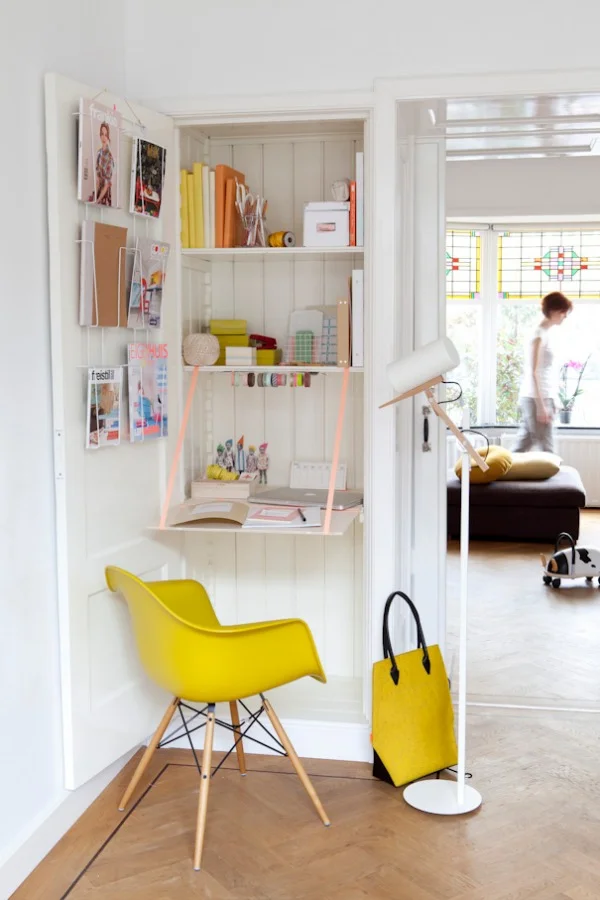 Camouflaged desk by Korn Interior Design
Desks Exposed to Sight
A small folding desk should not be always closed, or hidden, especially if you like it or you`ve created it from scratch, you should be proud of it. A vintage desk design should never be hidden from sight for example. You can use antique kitchen accessories to enhance the vintage look
Having a kitchen drop zone is simply marvelous and highly functional, preventing unnecessary clutter on the kitchen table. Use it just as a serving space while dining to keep the salad, to write a note or recipe when cooking, or as an extension of the bar when not needed. [Via My Home Ideas]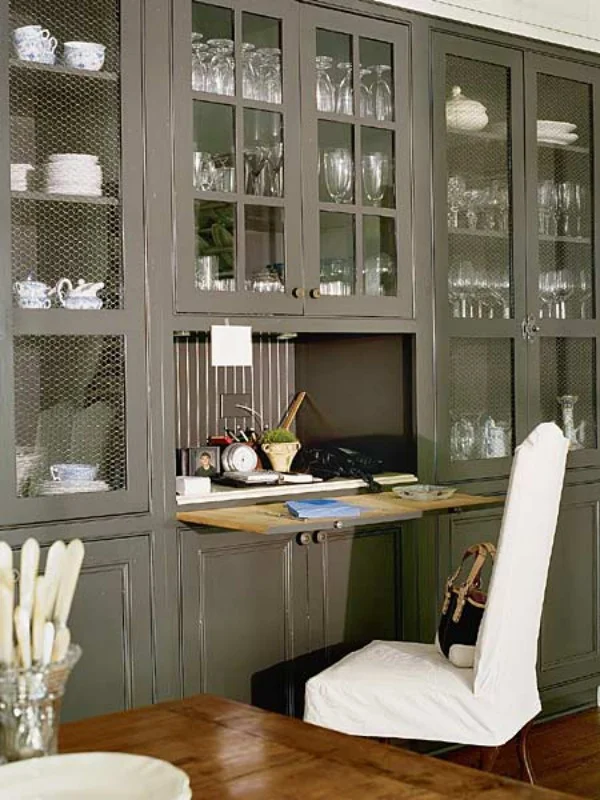 In most cases, a home office is considered a bit of luxury but it can be done if your current setup allows you to take up a little space from other areas. Bellow small folding desks make a statement for their position in another small room, the place and spatiality give the furniture appurtenance easily without disturbing the ambiance. In such cases, in which the desk is a small part of another room the ability to fold it or hide it somewhere is very important. [Via Apartment Therapy]
by Eyco Building Group Ltd.
Related Articles
13 Best Art Desks & Best Drafting Tables for Artists
Acrylic Home Office Desks for Your Interior Design
18 DIY Desks Ideas That Will Enhance Your Home Office
27 Unique Desks and Coffee Tables Materialized in Highly Creative DIY Projects
23+ Ingenious Cubicle Decor Ideas to Transform Your Workspace
Use Simple & Fun DIY Cubicle Decor Ideas to Emphasize Your Desk
31 Super Useful DIY Desk Decor Ideas to Follow
We think these smart small space saving ideas can work in a multitude of designs and it would be sad not to take advantage of them. We would love to hear your opinion regarding space-saving solutions below on Facebook, Twitter, or G+!