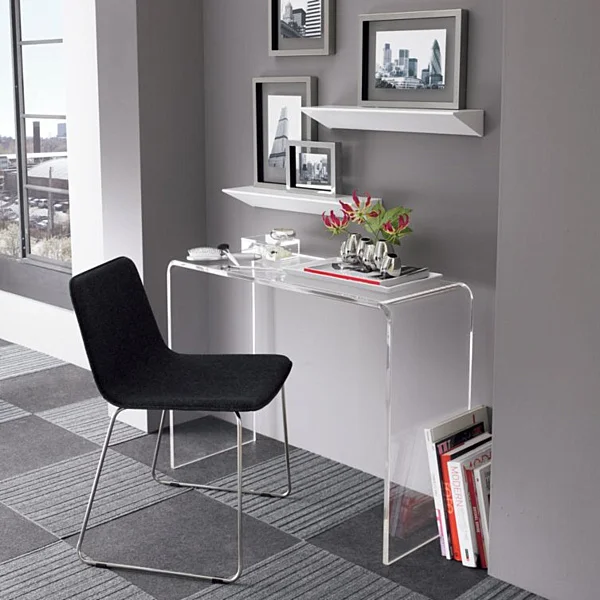 Office furniture should always be associated with efficiency, and a Lucite office desk is a good choice if you want to organize a small corner without intruding too much in a room and keeping things clear and tidy.It's his attribute of transparency that gives the furniture the illusion of taking little to no space and its shine makes everything seem more luxurious . It does have a small inconvenience though: everything is seen more clearer so you have to keep things nice and neat all the time, which can end up being a plus after all.
You can find all sorts of acrylic desks from completely transparent ones to lacquer desktops with acrylic legs. Further on we will present you a selection of acrylic home office desks meant to inspire you in creating your perfect interior design.
Acrylic Home Office Desks for Your Interior Design
1. Acrylic Home Office Desks
The first piece is designed out of 4 smaller ones that slide together and adapt to the dimensions of your interior space. [fromPenny Farthing Design House]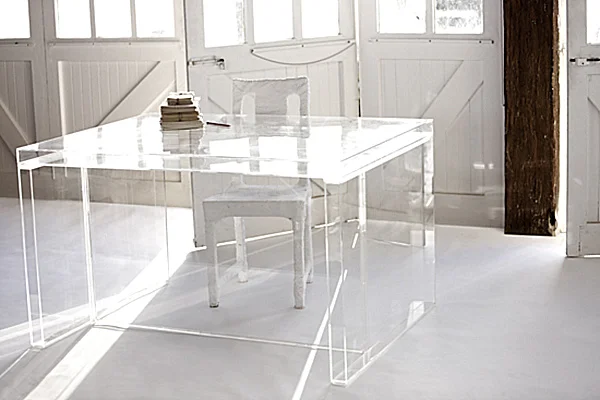 If you like compact, unitary pieces and not divided ones try utilizing a console table .The Peekaboo Clear Console  is a simple form bent to avoid accidents but without having a wide surface to work with. [from CB2]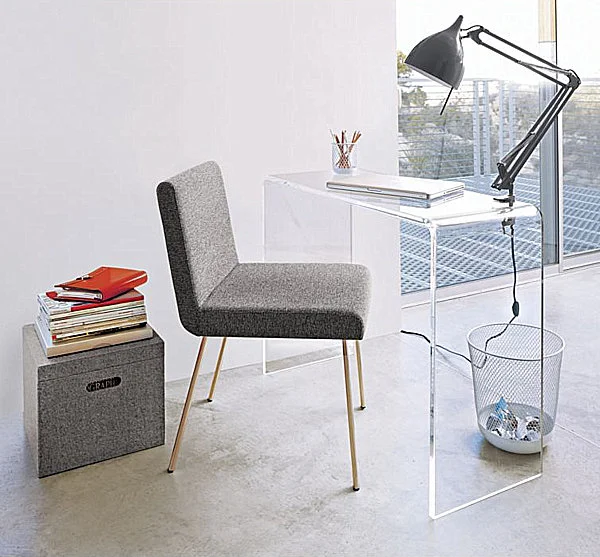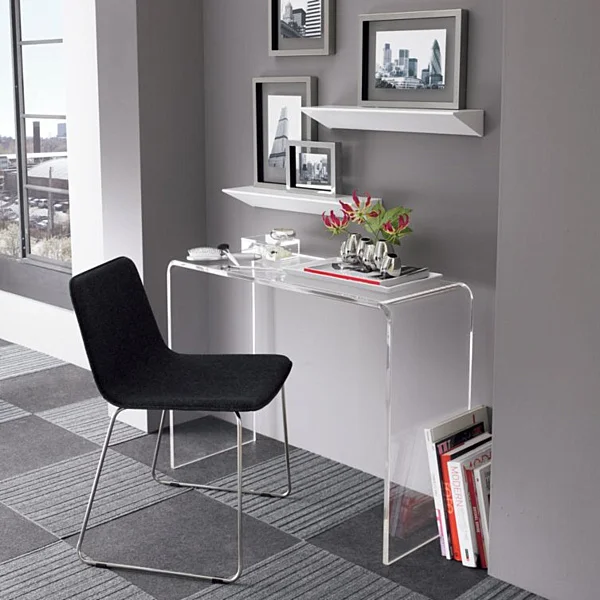 2. Acrylic and Glass Desks
If you like the aspect of sleek clean glass try combining acrylic desks with glass desktops. Such a desk is the Lawrence Desk below.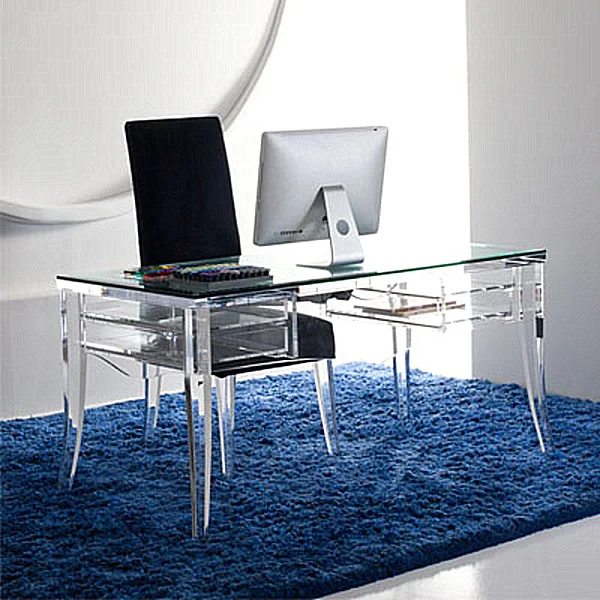 If you have a dining acrylic table to spare you can use it very well as a desk. The Atlas Dining Table  is a piece that can work beautifully as a home desk .[from Acrylics of Naples]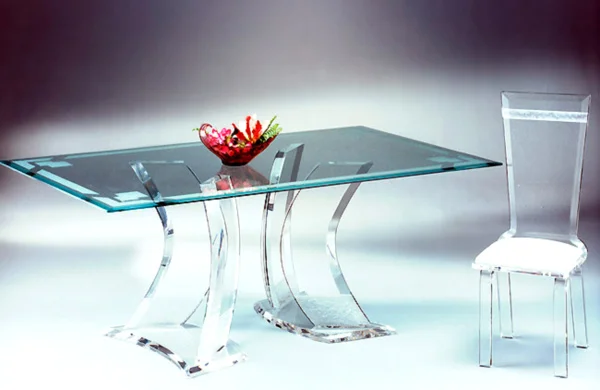 The Apollo Dining Table/desk below features acrylic pedestals that are sold in pairs. [from Allan Knight]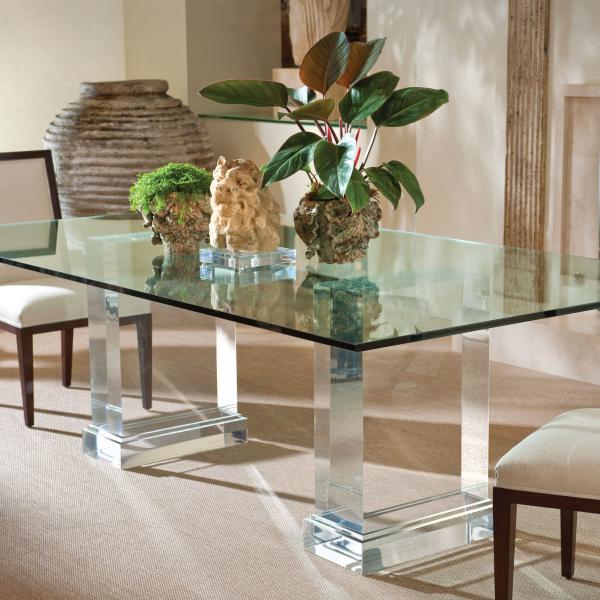 3. Desks With Acrylic Legs
The zebra wood and black granite top of the Lobeira Desk below is quite impressive and in combination with the acrylic legs offers an impressive design. [from Allan Knight]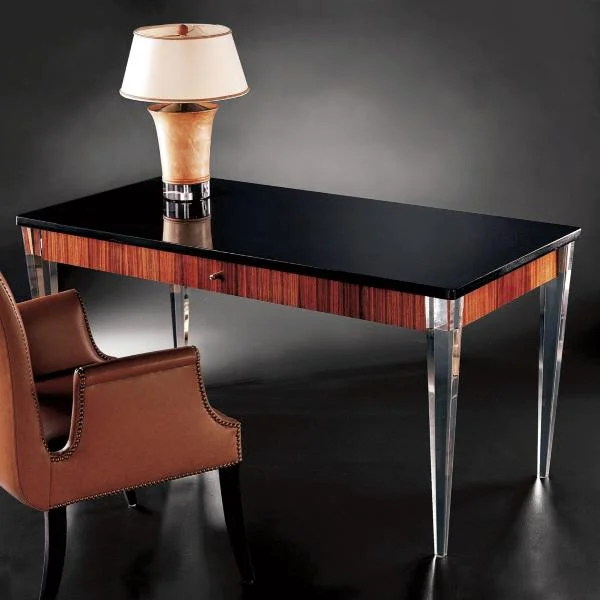 4. Alexandra Von Furstenberg Acrylic Desks
Alexandra Von Furstenberg is known for her colorful bold acrylic designs and her love for clean, geometrical shapes is transposed in her pieces. Neon colors or transparent ones Alexandra's pieces integrate perfectly into any modern design and even traditional ones, contrasting strongly with the rest of the design.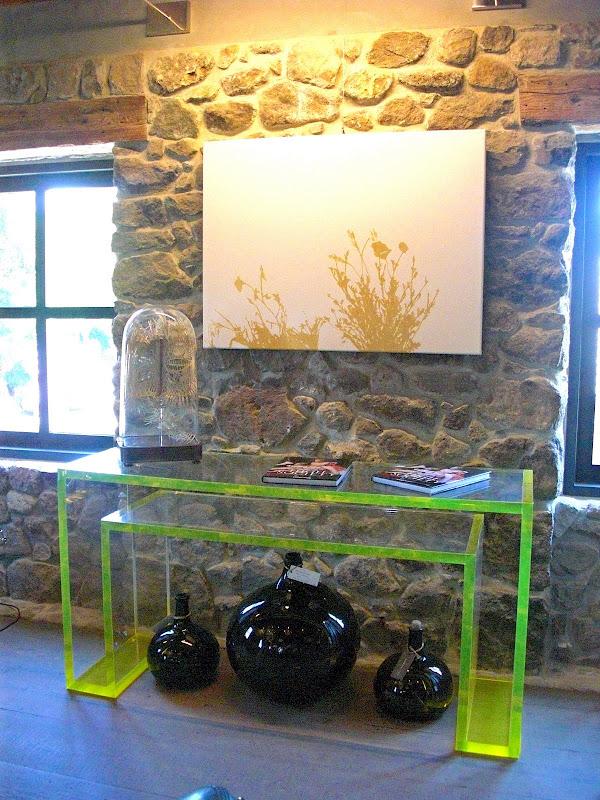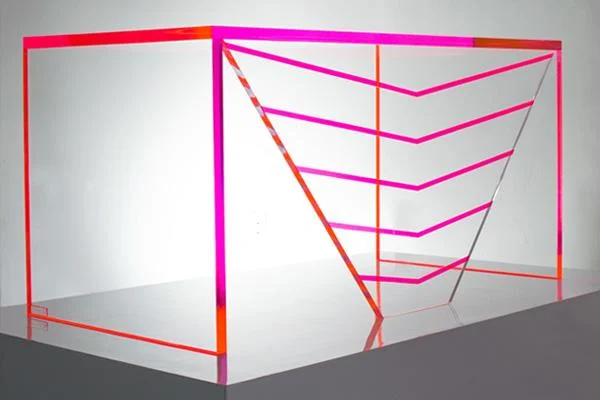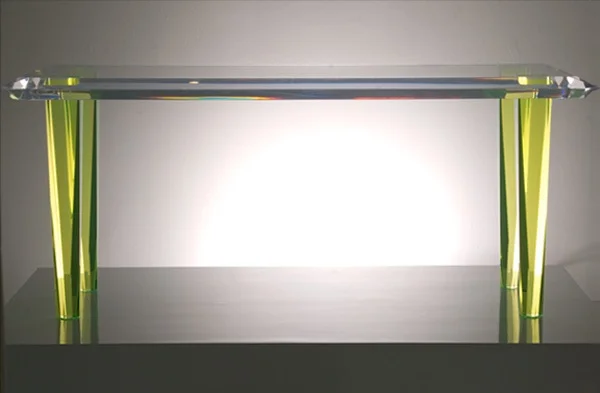 5. Lucite Desks
Lucite is the brand name for the acrylic first manufactured by the DuPont Chemical Company beginning in the 1930s. All Lucite pieces are acrylic, but not all acrylic pieces are referred to as Lucite. In fact, other acrylic brand names include Perspex and Plexiglas. Lucite was initially used in the manufacturing of war materials during the 1940s, but its appeal was eventually noted by fashion and furniture designers alike.
The Lucite desk below mixes the wonder of acrylic legs with the shine of a lacquer top. [fromTarnish & Tinsel]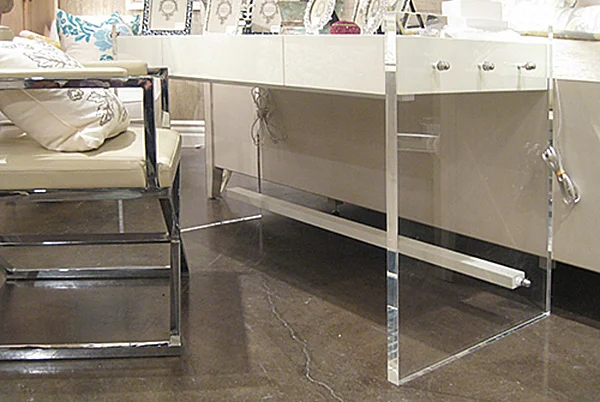 Another Lucite desk by Plexi-Craft (shown below) combines a traditional and a modern styles, customizable  by the purchaser. [from Sketch 42]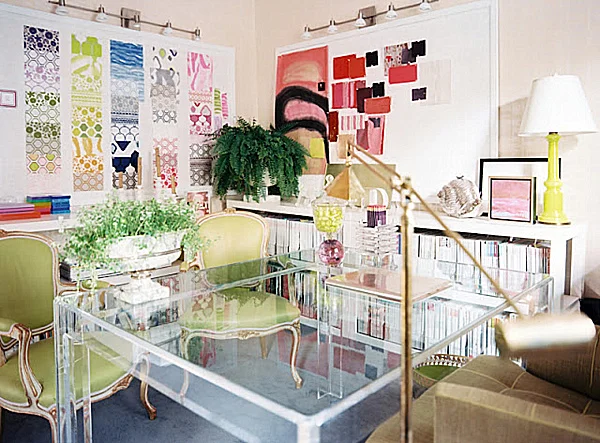 You can use Lucite tables which initially where used for another purpose as office desks and add a plush office chair to make it more personal.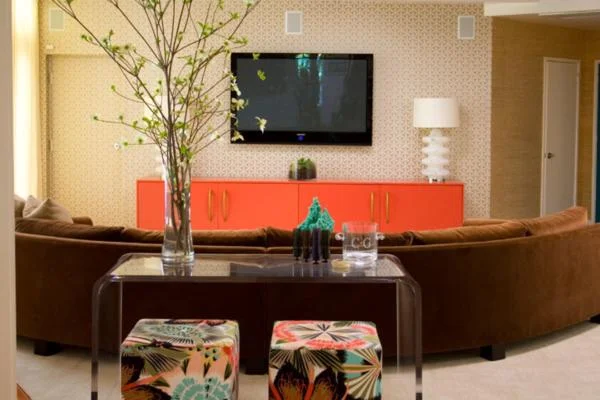 6. Lucite and Glass Desks
Glass is always a good choice to empower an acrylic desk and make it look more elegant and sleek. The piece below has  Lucite base and a glass top.[from AtlantaHomesMag.com via Decorpad]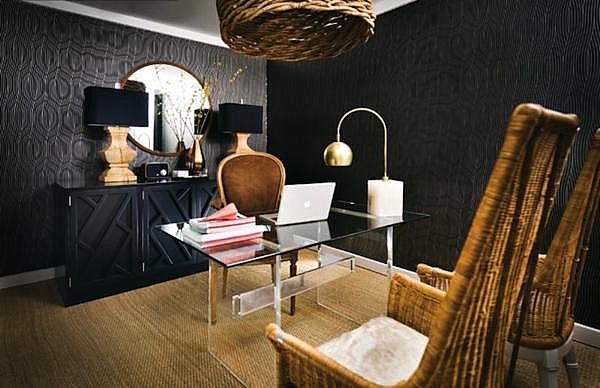 Depending on the thickness of the glass the effect is more or less glamorous.[from Modern 24/7]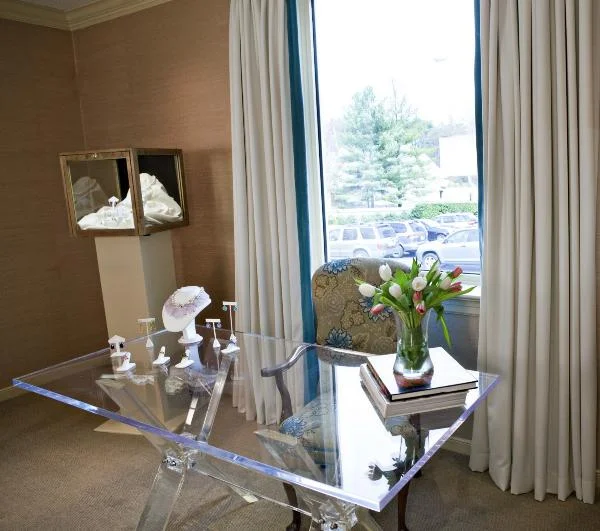 Vintage has its charm and a vintage Lucite desk with a glass top can work wonders into your interior design. [from Janel Holiday Design]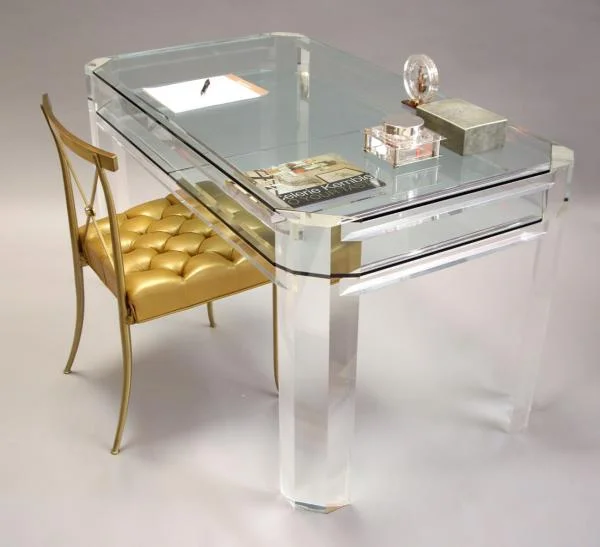 So in conclusion the possibilities when it comes to acrylic home office desks are endless and you just have to keep in mind to be creative and to customize your every piece to make it your own. Be bold and try colored in mass acrylic or a combination of Lucite and glass desktops. Vintage pieces are a great find and if you are lucky to find an acrylic  vintage piece make sure to integrate it in your interior design and exhibit it properly.
Related Articles
13 Best Art Desks & Best Drafting Tables for Artists
18 DIY Desks Ideas That Will Enhance Your Home Office
Space-Saving Hideaway Desks for Small Apartment Designs
27 Unique Desks and Coffee Tables Materialized in Highly Creative DIY Projects
23+ Ingenious Cubicle Decor Ideas to Transform Your Workspace
Use Simple & Fun DIY Cubicle Decor Ideas to Emphasize Your Desk
31 Super Useful DIY Desk Decor Ideas to Follow