Use cardboard dividers, food cartons, storage bags, labels, and DIY organizational methods to keep your Christmas ornaments and decorations safe till the holiday season next year.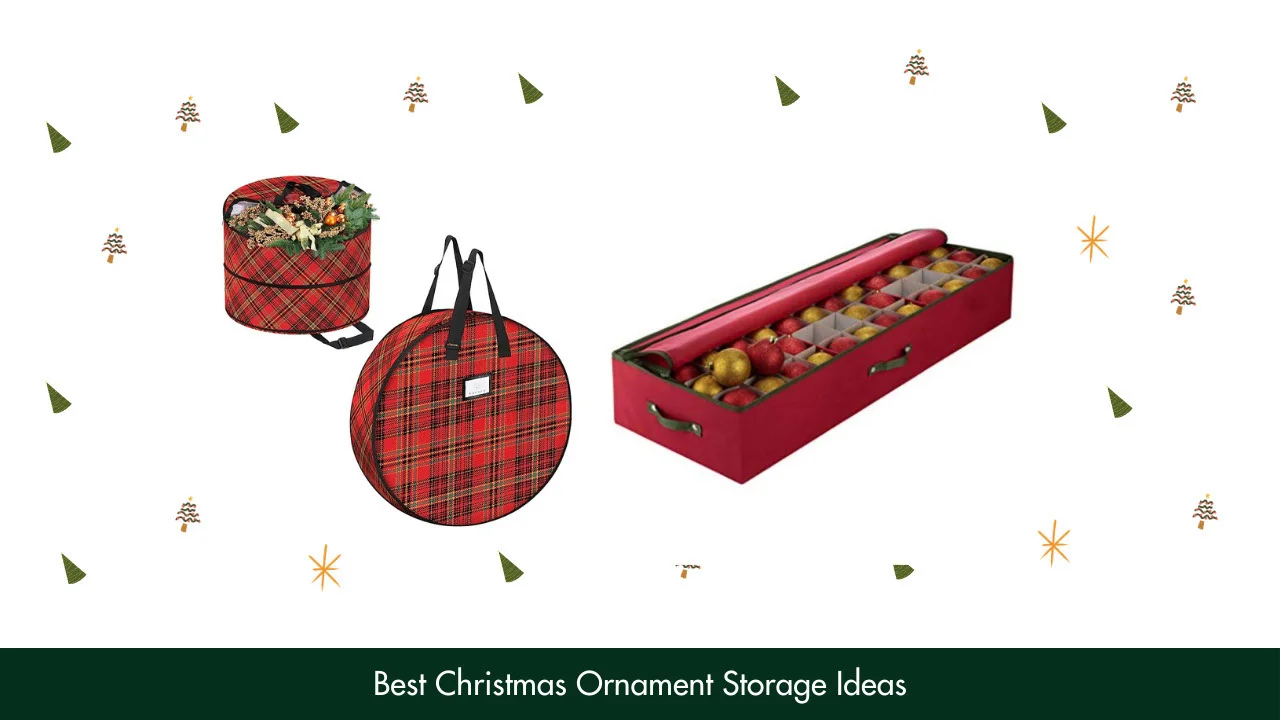 Christmas is the best time of the year, and decorating the Christmas tree along with your loved ones seems more like a fun activity rather than a chore. But what about when you have to take off the decorations and store them away for next year? 
Christmas decorations offer unique storage problems because of how fragile and delicate they are, not to mention expensive. So, if you need some unique storage ideas, read ahead to find a variety of solutions. 
17 Unique Storage Ideas
1. Labeled Plastic or Cardboard Boxes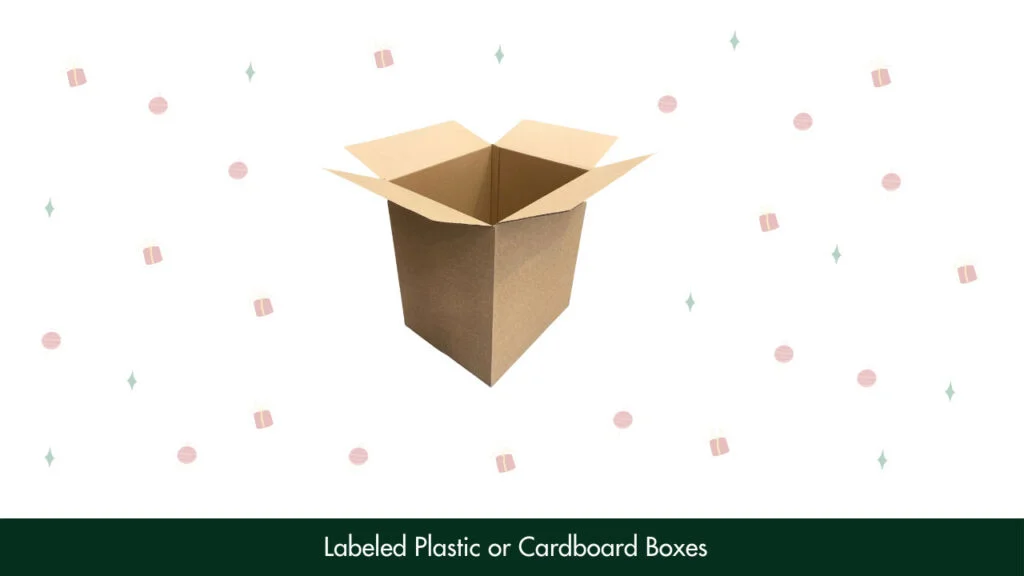 One of the most tricky things about Christmas ornaments storage is finding the required decoration at the right time. Surely you can relate to the feeling of finding all the colors of the ornament except the one color you actually need. This issue can be solved by labeling the different boxes according to the ornament kept inside. You can store anything inside these plastic boxes, from colored baubles to Christmas tree collars.
You can label each cardboard box according to the type and color of the ornament inside. You can also organize the ornaments according to themes if you like to change the decoration theme every year. This way, you only have to open and carry the required box and leave the others be. 
This is a great way to organize cardboard boxes since you can't see what is inside. This way, you won't have to open each individual box to see what's inside. You can also do this with plastic boxes to make your ornament search much quicker. 
2. Disposable Cups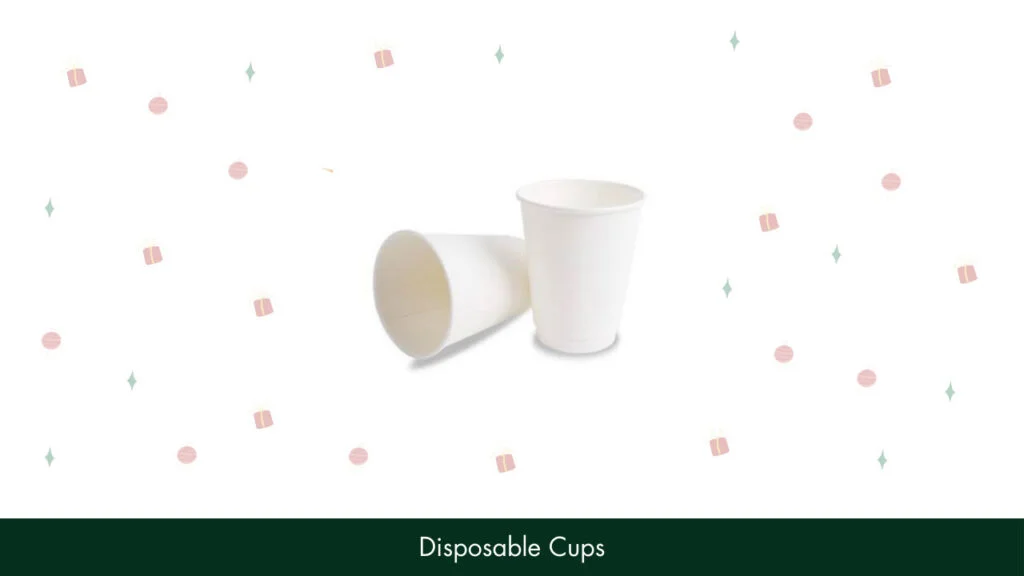 Disposable cups are a great way to store ornaments individually that are fragile and have a higher chance of breaking. Since these cups will prevent the delicate ornaments from clanking with each other, the chances of breaking will reduce. You can also use cardboard dividers to create multiple layers for different colors and types of ornaments. 
You can use glue to stick the disposable cups to a sheet of cardboard. Arrange multiple layers of removable dividers inside just one box. Hence, this is one of the best DIY Christmas ornament storage container ideas. 
Try to use clear storage containers and plastic cups so that you can see what's kept inside easily. 
3. Cardboard Dividers And Tissue Paper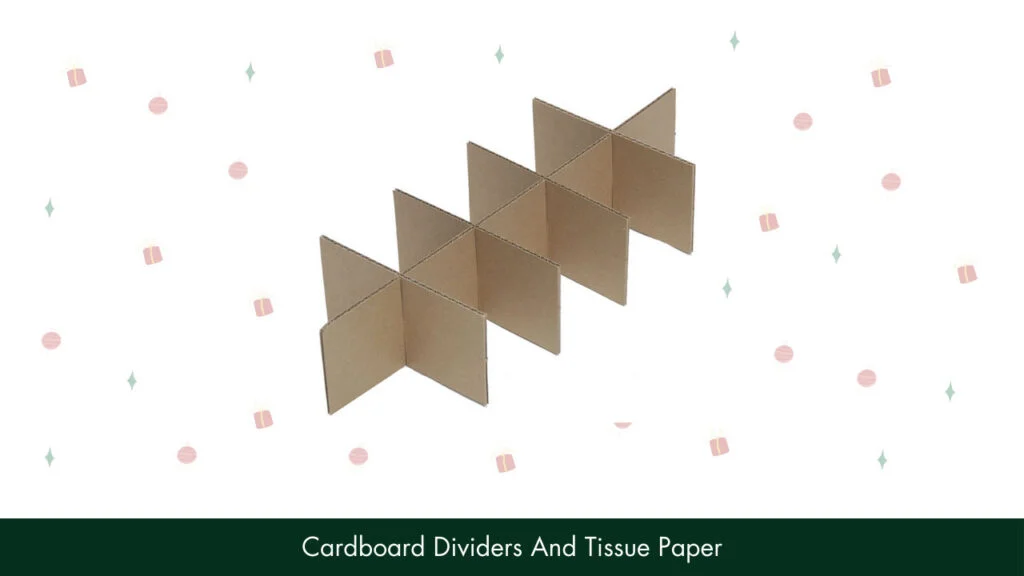 Just like plastic cups, you can use cardboard dividers in ornament storage boxes. This is a great option if you have a large collection of Christmas tree ornaments. Get a few shallow ornament storage containers and use cardboard to create individual compartments inside. This way, you can store fragile ornaments without any chance of them clanking with each other. 
Use tissue paper or ribbon to wrap the ornaments to give them a cushion. This way, you can store Christmas holiday decorations without worrying about them breaking. Try to use clear plastic containers so you can see what is inside each ornament storage box easily. 
4. Reusing Plastic Bottles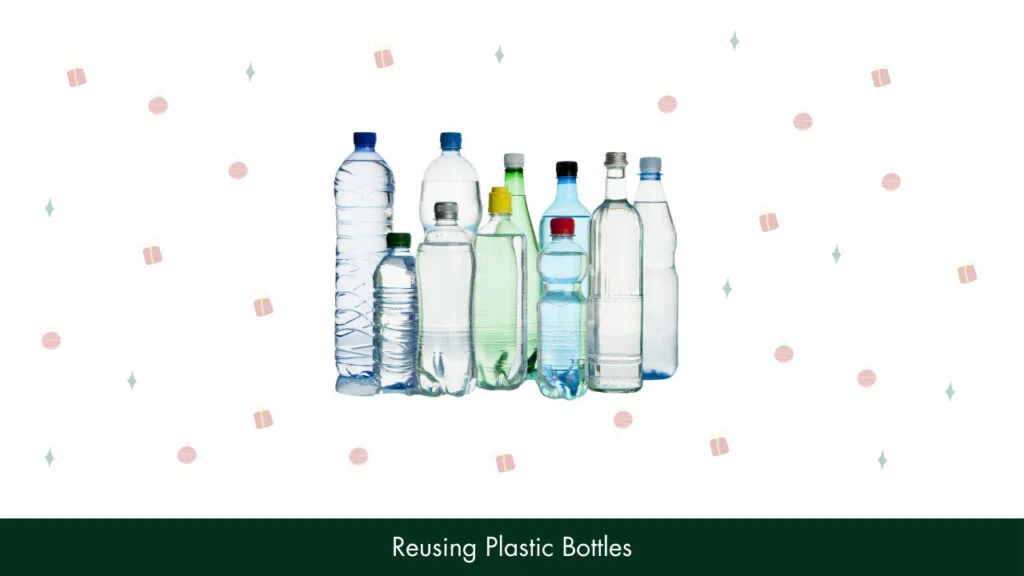 Another great ornament storage idea is reusing plastic bottles. I am all for reusing and recycling plastic bottles. So, this way, you get to store Christmas decorations and reuse waste plastic at the same time. A plastic bottle is great for storing beads and other thin ornaments. Just remember not to stuff too many beads inside one bottle, or they will get stuck. You require some space inside to be able to shake the beads out. 
Additionally, this bead-filled plastic bottle will also double as a great festive noise-maker. Got kids or pets? This would be a perfect DIY toy!
5. Reusing Food Containers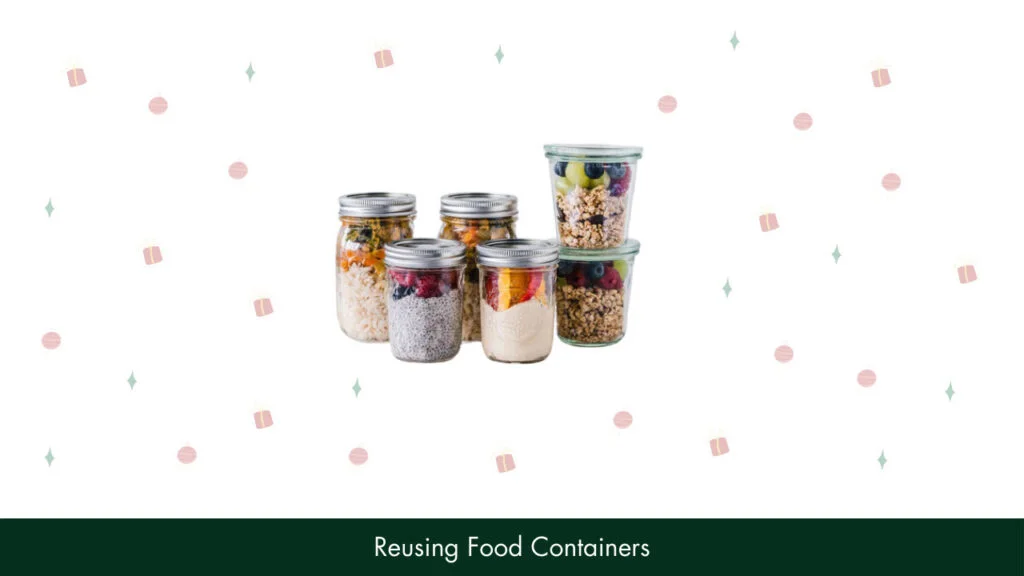 Keeping in line with the reusing theme, you can also reuse different food containers to store Christmas ornaments. For example, apple or orange containers can be used as effective storage containers to store delicate Christmas ornaments. 
You can also use an egg carton in a similar way. Other great options are wine boxes and drink carriers. All these Christmas storage boxes will help protect your cherished ornaments from any bumps or cracks, keeping them safe for Christmas next year. 
For especially delicate ornaments, you can use some tissue paper or cardboard to line the rounded containers. This will provide extra softness and protection. 
6. Use Ziplock Storage Bag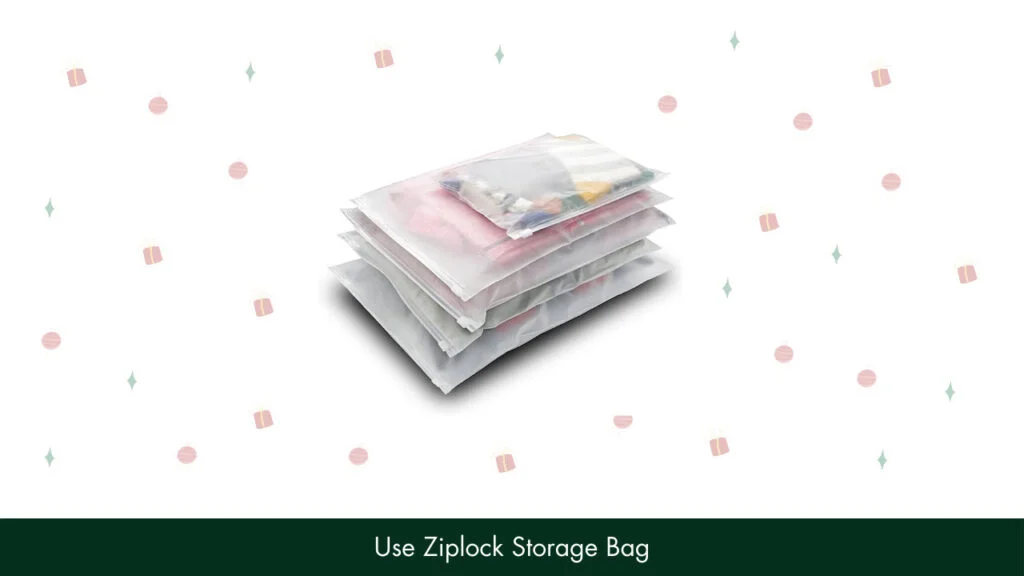 Plastic containers take up a lot of space. So, if you are short of storage space, you can use a ziplock storage bag instead. You can organize the ornaments by colors or themes, depending on your personal preference. Since ziplock (or zipper) bags are transparent, you won't even have to label each bag. You can just see what's inside. 
You can also use small ziplock baggies as an ornament storage bag to keep in cardboard dividers. This way, if your ornaments have any fragile attachments or are covered in glitter, you can protect them from getting damaged and prevent a mess. 
7. Cookie Tins As Containers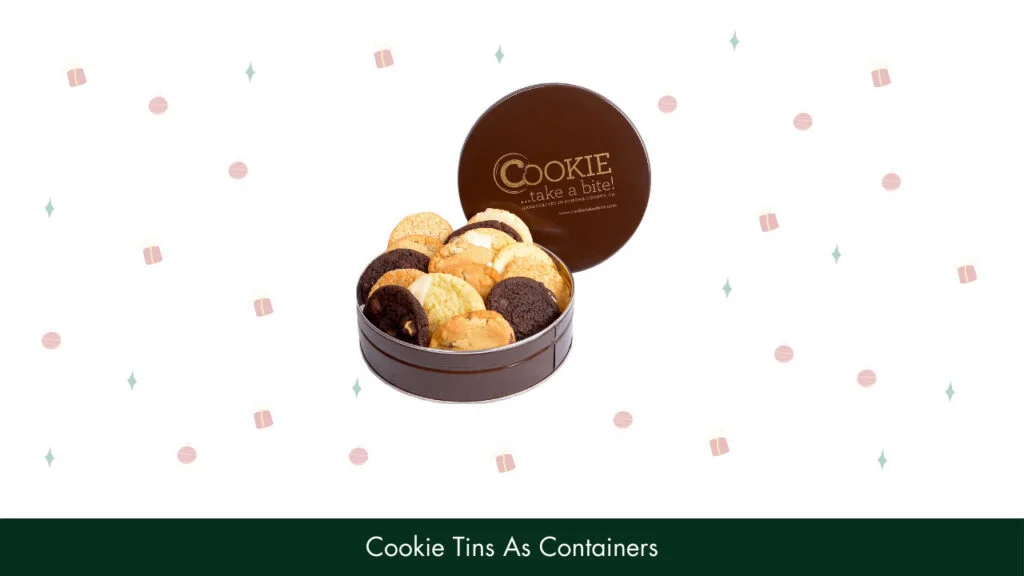 Everyone knows cookie tins are used for storing everything in the world except for actual cookies. So why not store Christmas ornaments inside? You can buy some Christmas-themed cookie tins to keep up with the vibe of the Christmas ornaments. They would look absolutely beautiful and elegant in your storage room. 
Everyone gets some cookies and holiday tins during the holiday season. But most of them end up being stored away to collect dust. This way, you can actually use them for a good and decorative cause. After all, you would be much less disappointed with finding ornaments inside a cookie tin instead of sewing needles, right?
8. Using Coffee Filters As Cushions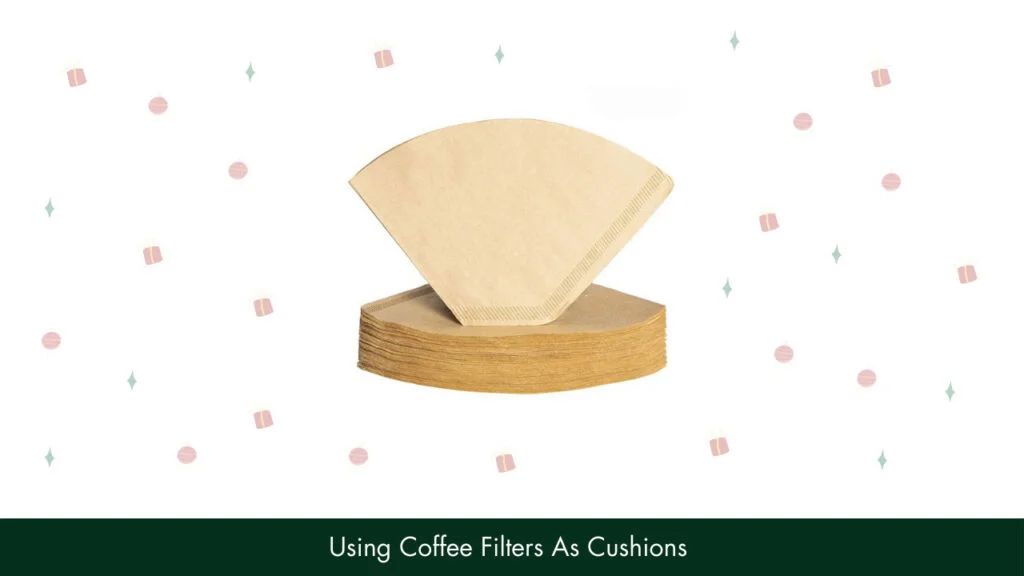 In this age of caffeine favoritism, you might not have regular tissue paper in your house for storing Christmas ornaments. But you can still keep your ornaments safe and cushioned using coffee filters. Coffee filters are actually the perfect size to be used for lining different ornaments, unlike tissue papers, where you actually have to cut them to size before use. 
Whether you keep your ornaments in your own cardboard dividers or in fruit containers, you can wrap the ornament in a coffee filter to keep it safe and sound. The filter paper will help protect your ornaments from scratches and cracks. Even if the ornament is covered in glitter, the filter will prevent the flitter from being scraped away. 
9. Stackable Storage Boxes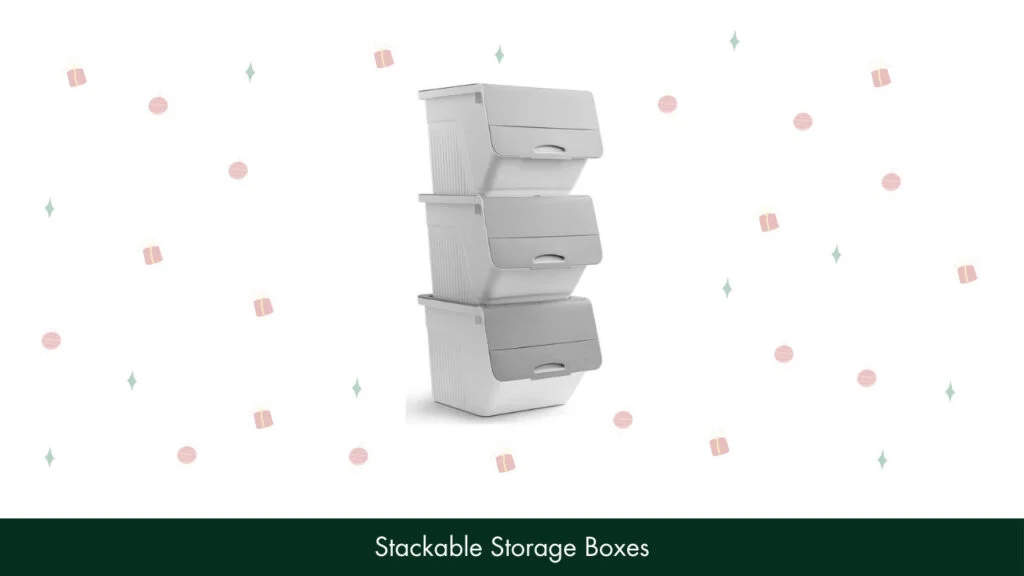 Stackable storage boxes are the perfect example of organization heaven. You can get some clear stackable plastic containers for storing ornaments. Then, stack these boxes on top of each other. And suddenly, you have drawers full of joyful Christmas ornament storage bins!
Store the different ornaments according to colors, types, and themes. Since you can see through all the plastic containers in one go, this storage solution will also help you get inspiration for your Christmas décor. 
Maybe you are interested in red this year, or maybe gold is your calling. Maybe you find a family heirloom or figurine you want to include in your Christmas decoration. Either way, you can find inspiration without having to rummage through boxes and boxes of ornaments. 
If, for some reason, you are not able to get clear stackable boxes, you can use the first storage idea to get some clarity. Label each layer or drawer according to the ornament kept inside. This way, you won't have to search through each box to get what you want. 
10. Removable Trays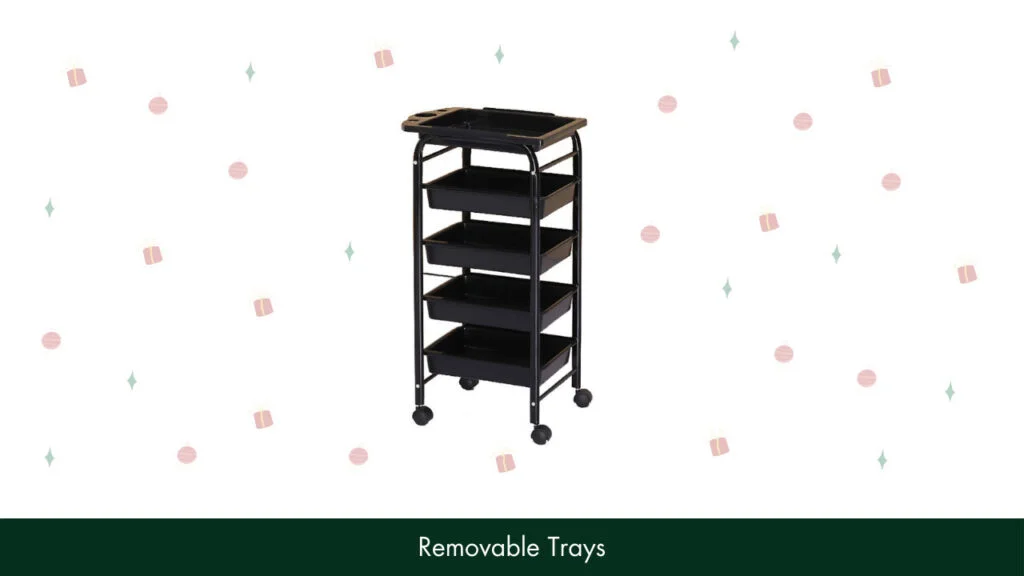 If you are not a big fan of DIY solutions, you can buy a readymade set of removable plastic trays from Amazon. Each pull-out tray will be stored in a single plastic storage bag or container. 
The removable trays will come with their own small compartments so you can store ornaments individually. Most removable trays have standard-size compartments that can fit in most Christmas ornaments. 
The durable plastic exterior will help protect your precious Christmas ornaments from dust, moisture, and bugs. 
11. Hanging Ornament Storage Box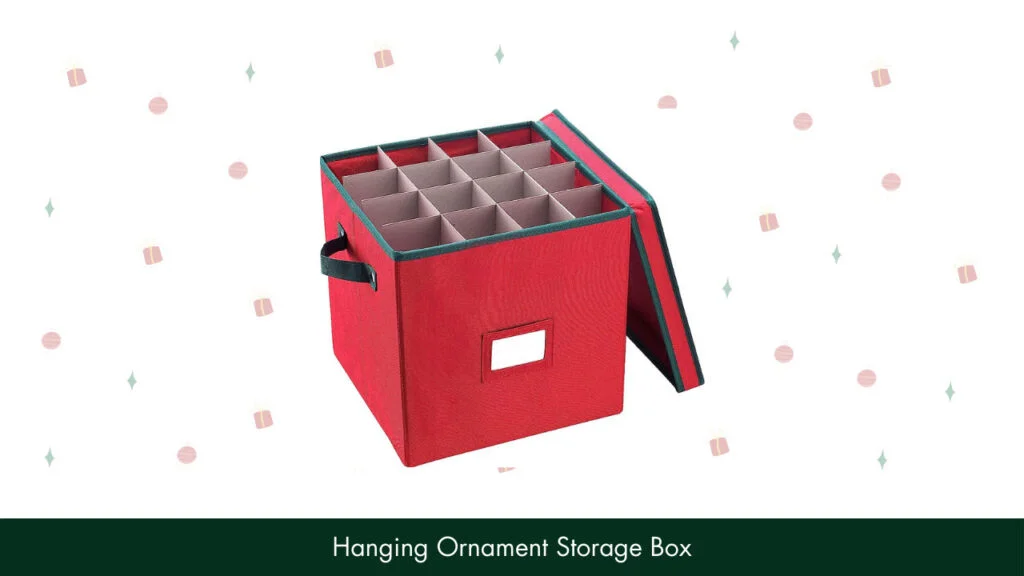 Well, here is another DIY ornament box idea. This is a very easy storage idea that can be used to store Christmas ornaments easily and safely. First, take a plastic box and cut holes on each side to insert metallic or wooden rods on either side. Now, insert the rods from one side to the other. That's it! You can insert as many rods as you like, depending on the number of ornaments and the size of the plastic container. 
Now, you can use various ornament hooks to hang ornaments from the two rods. You can also use the space left beneath to store your Christmas tree skirt or any other décor you would like to keep. The hanging Christmas ornament storage box will definitely keep your ornaments safe for Christmas each year. 
12. Underbed Ornament Storage Solutions
If you don't have any available storage space in the rest of your house, you can always use the space beneath your bed. It remains empty anyway, right? Get a shallow and narrow storage bin so that it can easily fit beneath your bed. This way, you also have the advantage of not having to rummage through boxes in your attic or store room. 
You can try out some removable plastic trays or under bed shoe boxes to store your Christmas collection safely. As you sleep soundly on your bed, you can rest assured that your ornaments are resting soundly under your bed!
13. Storing Christmas Wreaths In A Round Bag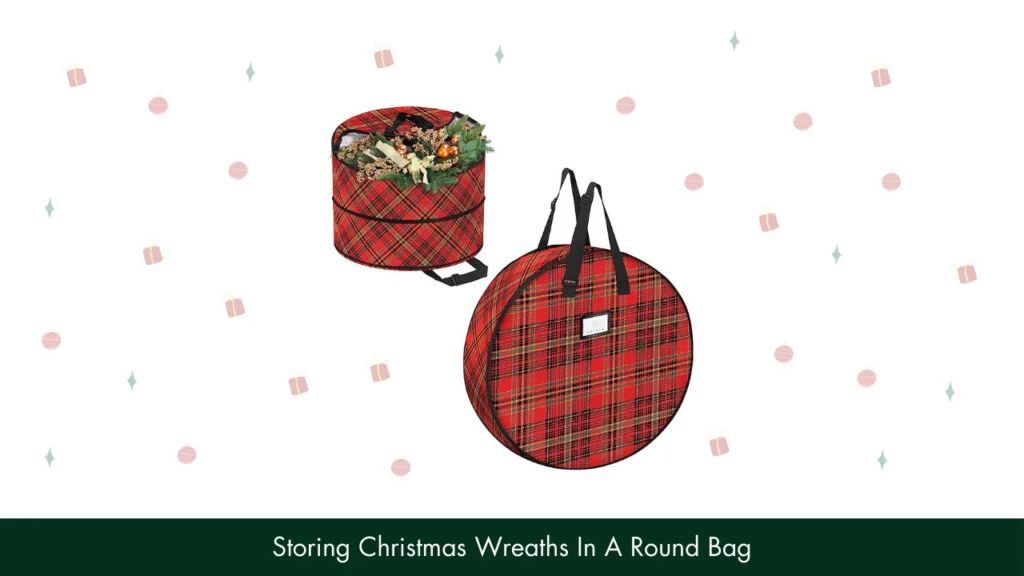 Christmas wreaths are the perfect ornaments because of their festive vibe and lush look. But buying new wreaths every single year can be quite expensive. So, you need to store your artificial wreaths safely so that you can use them every Christmas. 
You can buy a round storage drum to store your wreaths. They are available in multiple diameters and heights. So, you can get one according to the size and number of wreaths you have. Storing your wreaths this way will help protect their trimmings and green look. 
If you get one with a plastic window on top, you can easily see the inside of the round container. Just be careful to keep heavy objects away from the container since anything can easily crush your wreaths and destroy them. Now, you wouldn't want that, right?
14. Hanging Christmas Wreaths
Another great way to store a Christmas wreath is to hang it from a hook somewhere.  Wreaths are quite delicate and tend to break apart very easily. So, storing them in their natural position is the best way to assure that they stay safe. 
Hanging them not only helps keep them intact but also has a visual benefit. You can easily see the variety of Christmas wreaths you have. This will help you in reusing the same wreaths again rather than buying new wreaths every year. 
15. Christmas Tree Storage - In A Big Bag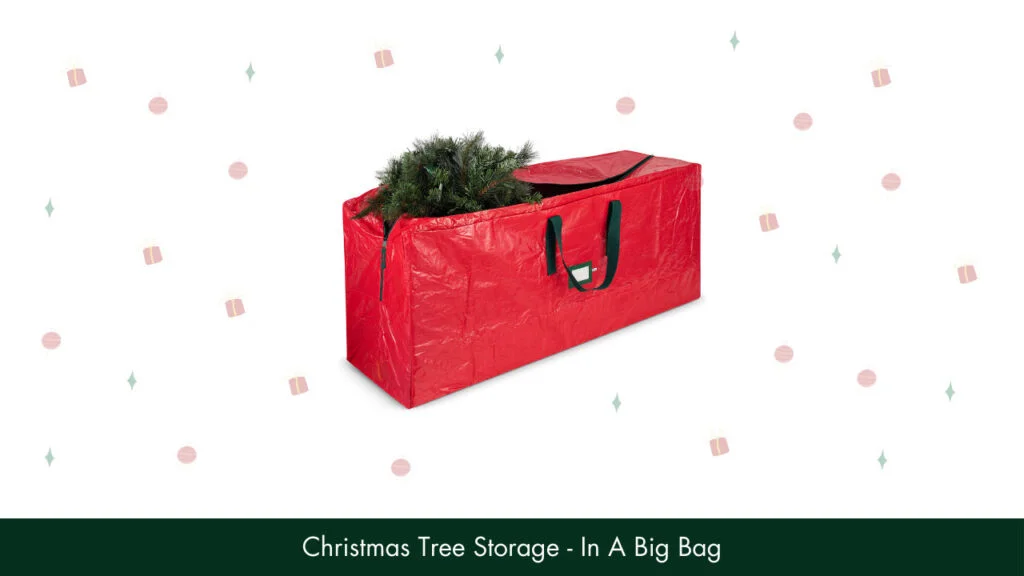 Obviously, if you use real fresh trees for Christmas, you can't store them for use next year. But you can always store artificial trees to be used again next Christmas. First, take down the tree carefully and secure the branches. Make sure not to break any branches while you tie them using a zip tie or a rope. You can also use strips of fabric or any kind of belt to secure the branches.
Then, get a big bag to keep the tree in. Try to get a durable and sturdy bag, as a cheap bag might get ripped due to the branches. 
If your artificial tree has several sections you have to dismantle to take the tree down and you are finding it complicated to assemble them again, you can always label all the sections to make the assembly process much easier. 
16. Shrink Wrapping The Christmas Tree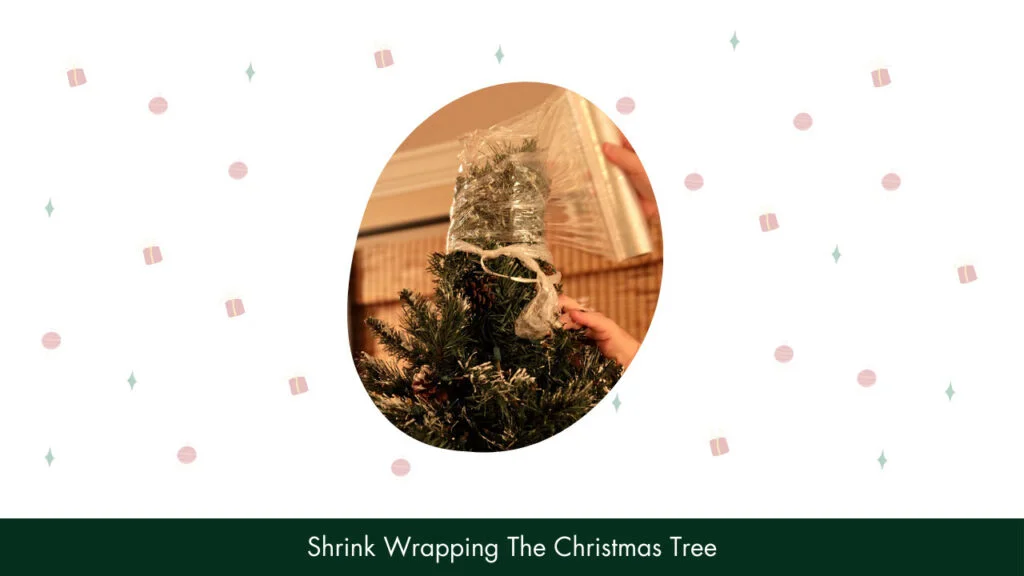 This is another ingenious idea to store your artificial Christmas tree to be used next year. Wrap and tie the branches together to prevent them from scraping the film wrap. Then, take a big roll of cling film and start rolling around the Christmas tree. 
You can actually leave the lights on the Christmas tree in this storage solution. Wrap the tree while it's standing up. Then you store it horizontally in an empty corner of your house. When you have to use it again next year, just cut the cling film using a pair of scissors and unravel the branches. Now, you are good to go!
17. Devise Your Own Perfect Storage Method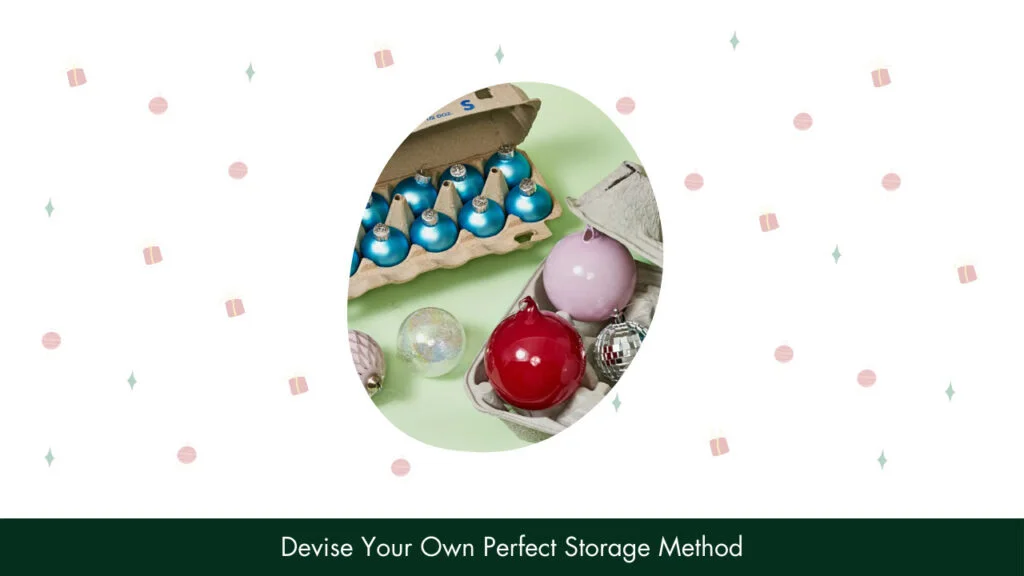 At the end of the day, everyone's choice and amount of ornaments is different. So, you will have to come up with your own system of ornament storage. Keep a separate space just for the storage of Christmas ornaments, like the basement. Label each storage bin with the color and type of ornament kept inside. 
If you decorate your rooms and the outside of your house, label each storage bin according to the location. For instance, outdoor Christmas lights go in a separate box, while Christmas tree lights go in a separate box. Hence, coming up with your own DIY ornament storage method is the perfect way to organize holiday décor. 
How can I organize my own gift-wrapping station?
Apart from Christmas ornaments and decorations, the most fun thing about the holiday season is giving gifts! And, as it turns out, you can make the gift-wrapping process a lot more fun and organized. You just need some wooden dowels and hooks to get started. 
Use plastic containers to keep the wrapping paper and organize them according to the colors, hues, and themes. The visually cohesive look will give you the inspiration to create your own wrapped masterpiece. You can use the dowels and hooks to hang different washi tapes. This way, gift wrapping will become a fun and colorful activity instead of a boring old chore! 
How do I safely store my Christmas lights?
Christmas lights are the most important Christmas decorations. Can you imagine your Christmas tree or your house without lights during the holiday season? Neither can I. So, it is important to store your lights carefully and safely to ensure they can be used next year. 
The best way to store them is to wrap them around something to keep them from unraveling. You can use a wooden rod, a metallic rod, a cardboard roll, a plastic bottle, or a coat hanger for this. Secure the edges with a bit of scotch or masking tape to keep them from unwrapping. 
Pro-tip for you: You can check which lights are working or which ones you require while plugging them in while they're still wrapped around a rod. This way, you can choose the needed lights much quicker. 
The Bottom Line
Storing away the Christmas decorations after putting them up might be the least fun part of the Christmas and holiday season. But your precious ornaments deserve the princess treatment. After all, it will be you who will benefit in the end by saving time and energy otherwise spent on buying new Christmas ornaments. 
This is a game of trial and error. So, go through each of these ideas and find out what works best for you. Your needs and décor items might be different from everyone else's, so the last point is actually the most important one- coming up with your own storage method. 
If you feel too lazy to store and protect ornaments properly, remember that you are only reducing the burden on your future self. Happy decorating (and storing)!