Properly storing an artificial Christmas tree can extend its lifespan by several years, allowing it to last several holiday seasons. Based on tree orientation, size, and decoration options, artificial Christmas trees can be stored in upright storage bags, tree bags, plastic wraps or boxes.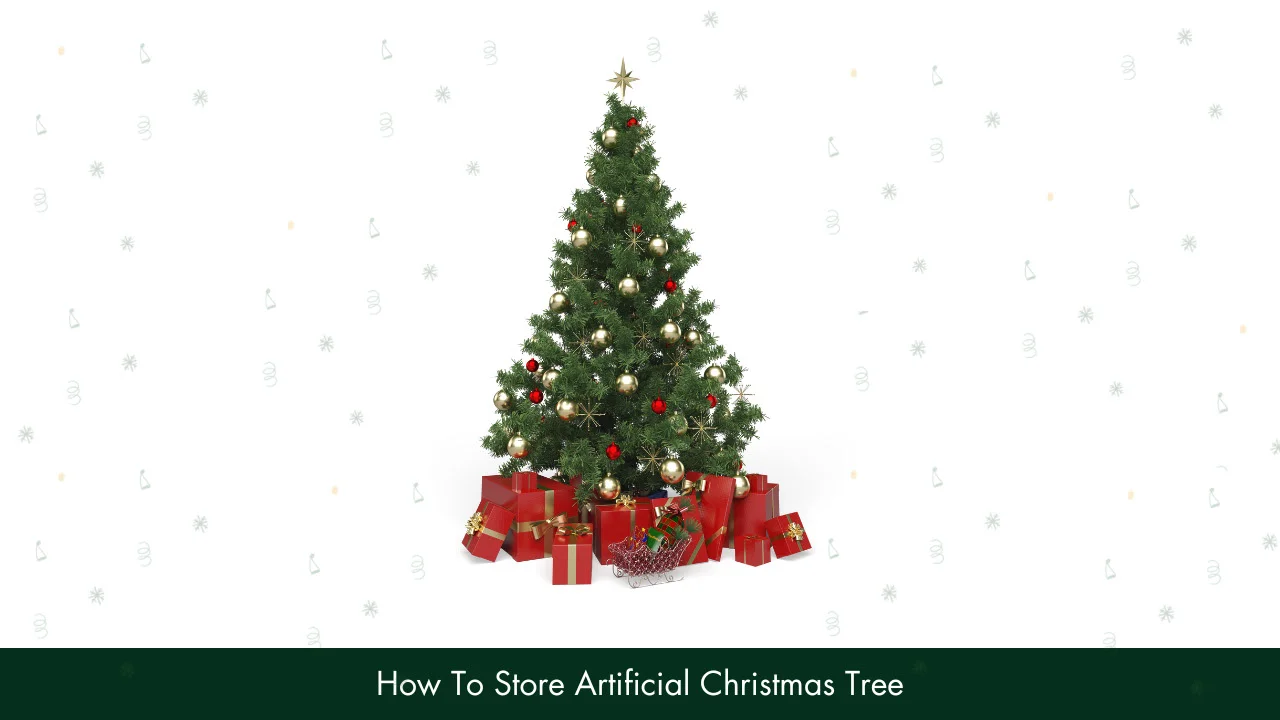 If you ask me, artificial Christmas trees are low-maintenance counterparts to real ones, bringing many benefits over a real tree. 
Despite the relatively higher upfront price, you will recoup your investment in the artificial tree over time by storing it properly. As such, in the long run, artificial trees end up being more cost-effective than real ones, making them preferable overall. 
So, I've created this guide for you to extend the artificial tree's life for as long as possible. Feel free to follow along these steps! 
Why Store A Christmas Tree?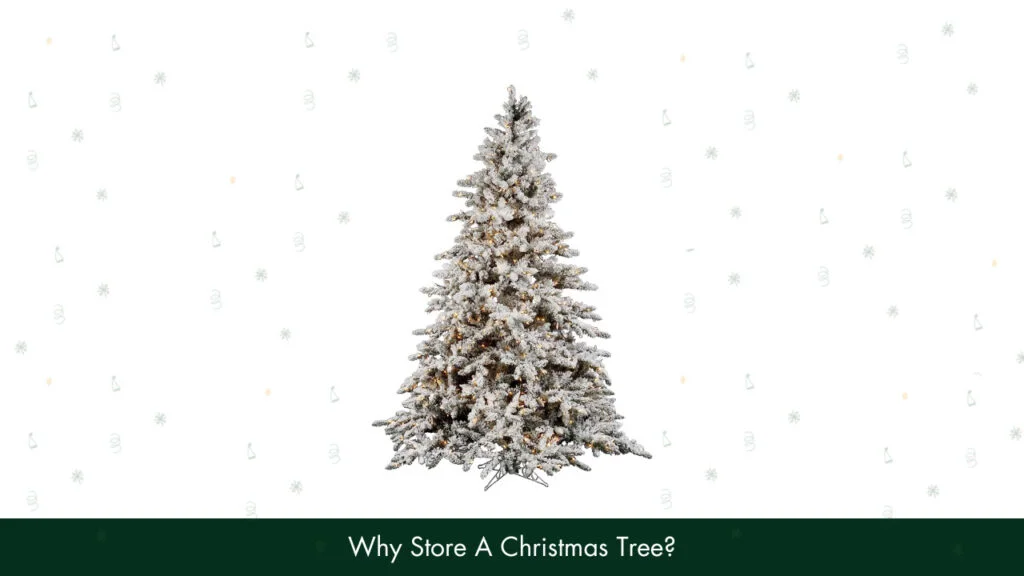 In the modern age, where our fast-paced professional lives take up most of our time, convenience is paramount. After all, maintaining a Christmas tree until the next holiday season isn't always possible, which is where artificial trees come in.
One of the most significant benefits of keeping an artificial Christmas tree is that it can be stored away neatly in a corner of your house. You can keep it in your closet, where the artificial tree will remain in tip-top shape until the holiday season arrives again.
With regular trees, this simply isn't possible, as they would perish very quickly. Moreover, regular trees take up a lot of space, something that is completely avoided by artificial trees.
Another primary benefit of artificial trees is that they can be used year after year without requiring maintenance. With them, you don't need to brush leaf blades off the ground, trim them to keep in good shape, or keep them as a permanent fixture at your home.
Many people like me are also allergic to Christmas trees, which is caused by the mold that grows on the tree. Artificial trees have no chance of aggravating allergies, making them great for those suffering from seasonal allergies.
Year after year, your artificial tree will look as good as new, provided that you've stored it properly. In fact, if you do so, a good artificial Christmas tree can last up to a decade, which saves money in the long run and is convenient as well.
Cleaning The Tree For Storage
Most people need a new artificial Christmas tree after a couple of years, which can be quite costly if purchased frequently enough. The main reason for this is that the tree is not cleaned before storage to ensure it endures the remainder of the year.
So, at the end of the holiday season, you can start by taking all the decorations down and cleaning the artificial Christmas tree thoroughly. Additionally, you may want to make sure that you have a storage spot for all the lights, ornaments, garlands, wreaths, and other decorative pieces. They can take up a significant amount of space, too.
Using some warm water mixed with a small amount of dish soap, wipe the stained areas of the tree down. You can use a spray bottle and a brush or soft cloth for this as well.
Once you've cleaned the tree, allow it to dry completely before storing it. Lingering moisture can damage the tree in storage, after all, drastically reducing its lifespan.
Tip
Before you begin cleaning the artificial Christmas tree thoroughly, consider using a brush or vacuum on low settings to dust it off properly. And to make sure that the tree can handle the vacuuming power, you may test it on the small tree sections at its base.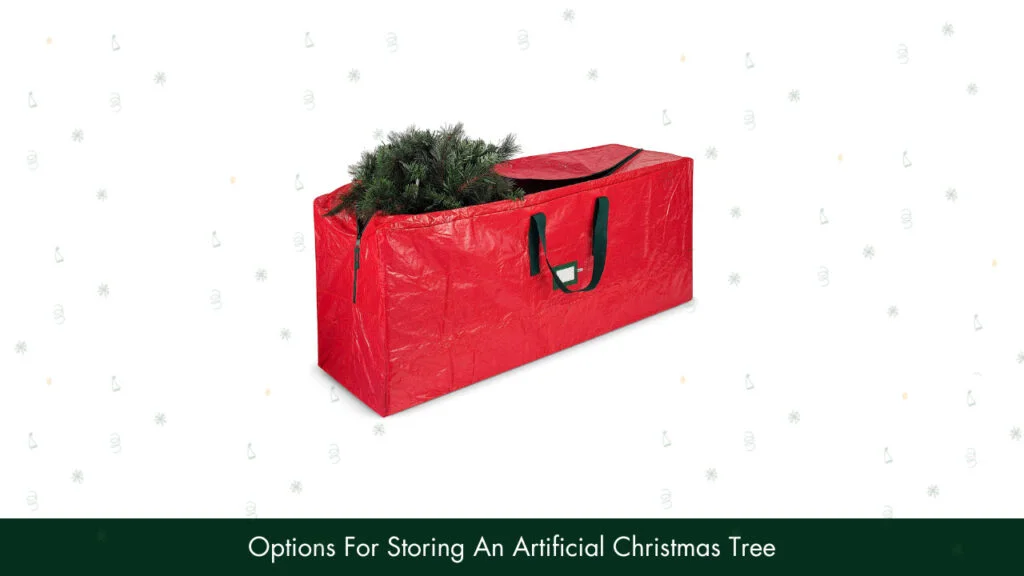 Options To Store Artificial Christmas Tree
For the tree to remain in pristine condition, you'll need to store it in a cool, dry place. The tree needs to be kept safe from the sun, as prolonged exposure to solar heat can discolor or even melt it. And as mentioned earlier, the tree needs to be kept away from moisture.
So, attics and garages make for poor storage spaces for artificial trees. The attic can become quite hot during the summer due to solar exposure, while garages may accumulate moisture during the rainy season. That leaves out the closet, which may very well be the best storage space for artificial trees.
But the storage space alone won't keep your tree safe and in a displayable condition. For this, you'll need a proper means of long-term storage.
Some of the storage options are as follows:
1. Upright Storage Bags
If you have the space for it, then an upright storage bag may be the best option for you. While more expensive than some of the other options, a good-quality upright bag simplifies the storage process.
When you need to have your tree stored upright, simply slide the bag over it from the top and zip it up. And to unpack it, simply undo the zip, and the tree will be ready to be decorated.
Upright Christmas tree storage bags are especially helpful if your artificial tree is delicate or requires a specific kind of care. The tree remains motionless and untouched by external elements, and it can be transported easily in its stand.
2. Christmas Tree Bags
Christmas tree storage bags are some of the most popular options for storing artificial trees as they can easily store them in a compact package. Typically in a box-like shape, these tree bags are easy to carry thanks to the included handles and wheels.
The primary objective of these polyester or canvas tree bags is to keep the tree safe from external elements like humidity, heat, and pests. And the Christmas tree storage bags successfully achieve this, allowing you to take apart the tree for storage and reassemble it when Christmas rolls around.
Artificial trees slide into these bags horizontally once disassembled. They remain free of musty smell and any visible damage after storing them and leaving them undisturbed for the rest of the year.
The only real hassle with Christmas tree storage bags is having to assemble or disassemble them during on- and off-season. This is something that upright bags circumvent completely, making these just slightly less effective.
On the other hand, Christmas tree storage bags are also more affordable than upright bags and take up less space. So, choosing between the two depends on what you need from the bag.
3. Plastic Wrap
You can simply use plastic wrap to store the tree. Plastic is moisture-resistant and durable by nature, making it suitable for larger trees particularly. And for this, you must make sure to compress all the branches carefully without putting any strain on them.
Like upright bags, plastic-wrapped trees don't require the tree to be taken apart to store away. Once wrapped, simply tie a cord or a ribbon around the branches to secure them properly, and your tree is ready to be stored away.
A flaw that plastic wrap does share with upright bags is the storage space it needs, as it does very little to compress the tree. So, if you have the space for it, plastic wrap may very well be a cost-effective and hassle-free way of storing your Christmas tree.
Tip
Plastic wrap is particularly useful for flocked trees, which can lose their visual appeal if clumps of artificial snowfall off from external activity.
4. Boxes
Consider cardboard boxes to be the last resort when storing your Christmas tree.
They offer neither good protection from external elements like heat, pests, or moisture nor do they take up less space than solutions like tree bags. For everything that they are capable of doing, an alternative method can do better.
Moreover, a cardboard box may crush the lights, cause the flocking to fall off, or leave the trunk pole peeking out from a hole. Due to the way, cardboard boxes are constructed, they are simply not very effective at their job.
On the flip side, hard boxes are better at storing trees than cardboard. They lack all the flaws mentioned above while being sturdy and reliable enough to be used for storage.
You may consider hard plastic boxes to be a sibling to the Christmas tree storage bags mentioned earlier. These make storage quite simple and make for one of the best options to store your artificial Christmas tree. And with features like sealable lids and wheels, you won't find any trouble during transport either.
Storage Tips
Here are a few small tidbits that you should be mindful of when storing your artificial Christmas tree. These are simple storage solutions that don't usually require extensive planning, allowing you to adapt as you proceed to store the tree. 
Keep the tree safely in a dry area, away from sunlight or moisture 

Label the Christmas tree storage bag or box when storing it away in your closet 

Remember to store the ornaments in a safe place, preferably close to the tree 

Consider using a dedicated box for Christmas tree decorations 

If you move frequently, consider using a rolling tree stand for upright tree bags 

Use some sodium bicarbonate in the Christmas tree storage bag to prevent foul smells 
When should I take down my artificial Christmas tree?
The answer to this question depends entirely on you. Some say that it's bad luck to take down a Christmas tree before January 6th, while others do it as soon as the New Year arrives. 
From a practical standpoint, you may want to take it down sometime in January to preserve the good looks of your artificial Christmas tree. The festivities slow down during the month, which can be a good time to wind down the celebrations. 
How do I disassemble my artificial Christmas tree?
Most artificial trees share a disassembly process. Once you have taken off all the decorations and cleaned the faux tree, take apart each branch and pack them up separately. You must take care to keep them in a duffel bag so that you don't lose them anytime soon. 
After this, you can disassemble its trunk and begin storing it in a tree bag or box. This can depend on the model as well, so be sure to refer to the instructions manual for any model-specific quirks. 
Can I store my artificial Christmas tree outside?
Storing your artificial tree in a shed or outdoors is a bad idea as exposure to sun can quickly discolor or damage it. The best place to store your tree is in a basement closet or a dedicated storage room. 
How long can I store my artificial Christmas tree?
When stored properly, artificial Christmas trees can last up to 10 years. This longevity is what gives faux trees a leg up on real trees, giving you plenty of value for the extra upfront cash you spend. 
Conclusion
Christmas trees represent delight in the Christmas and holiday season, and by preserving them, you will be carrying the holiday spirit forward each year. Needless to say, it's important to keep them safe so that they last for several holiday seasons ahead. 
There are plenty of considerations surrounding the storage of an artificial Christmas tree, but the storage process itself remains fairly simple across the board. Whether you need to take the tree apart or not depends entirely on the type of storage used and the space you have. 
At the end of the day, choosing a storage option is a matter of what you need out of it. If you need the tree to be ready for display, you can go for an upright bag. Otherwise, a tree bag or box will serve you equally as well.