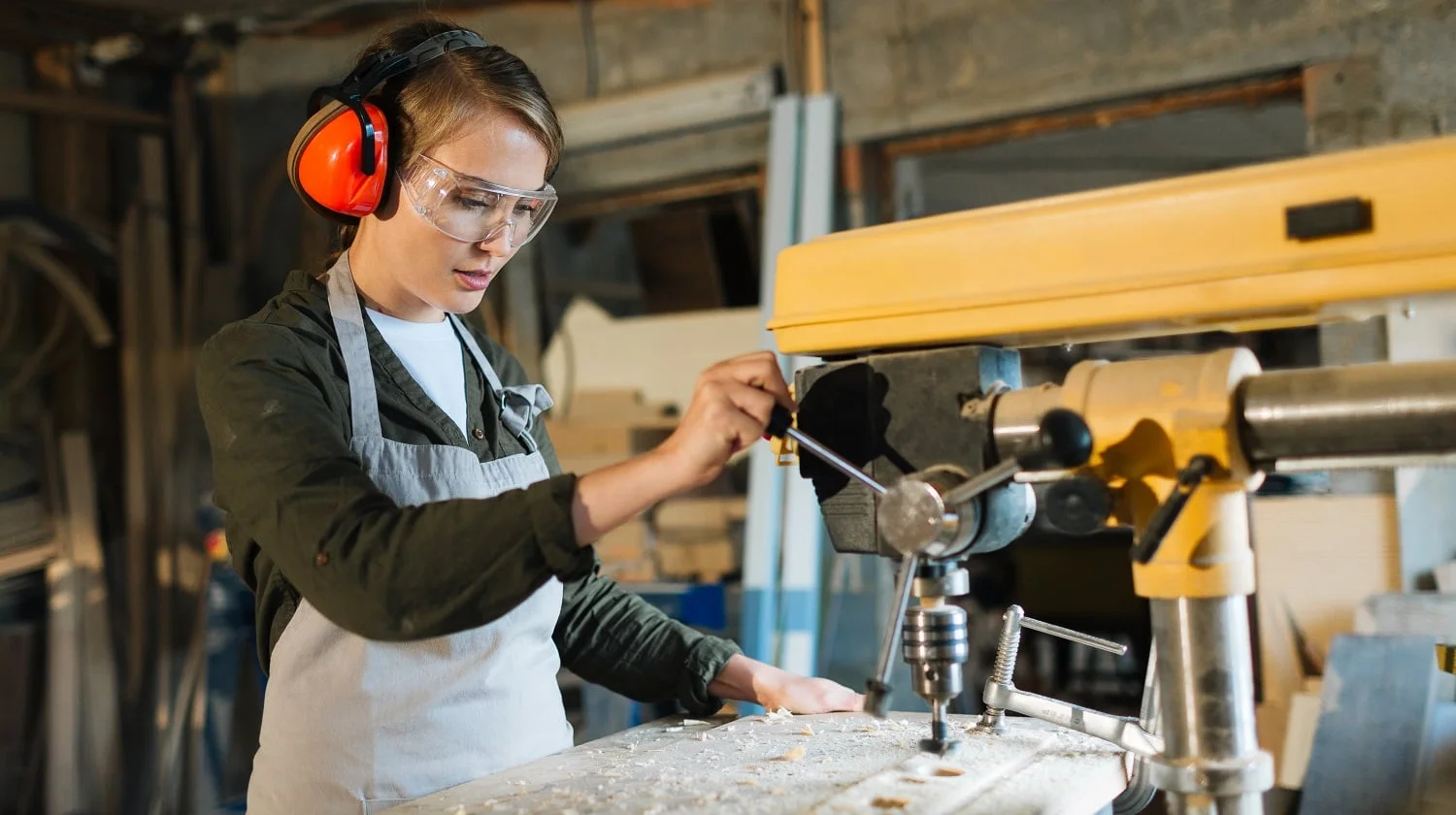 Your workshop or toolshed should be equipped with a complete set of power tools in order to help you tackle any job that comes your way.
That being said, one of the most versatile and powerful tools needed by every professional contractor, homeowner, or woodworker for completing projects is a drill press. However, the problem lies in the selection of the option that best meets your requirements.
You may be thinking – buying a power tool, how tough can it be? Right? Well, it's really not that simple, considering the wide availability of choices in the market.
For this reason, we have come forward with a guide, providing detailed and unbiased reviews of the 13 best drill presses out there. Furthermore, to make your decision-making even simpler, we provide a comprehensive guide towards the end of this article.
So, let us now quickly dive into the reviews to help you gain more insight!
Best Drill Presses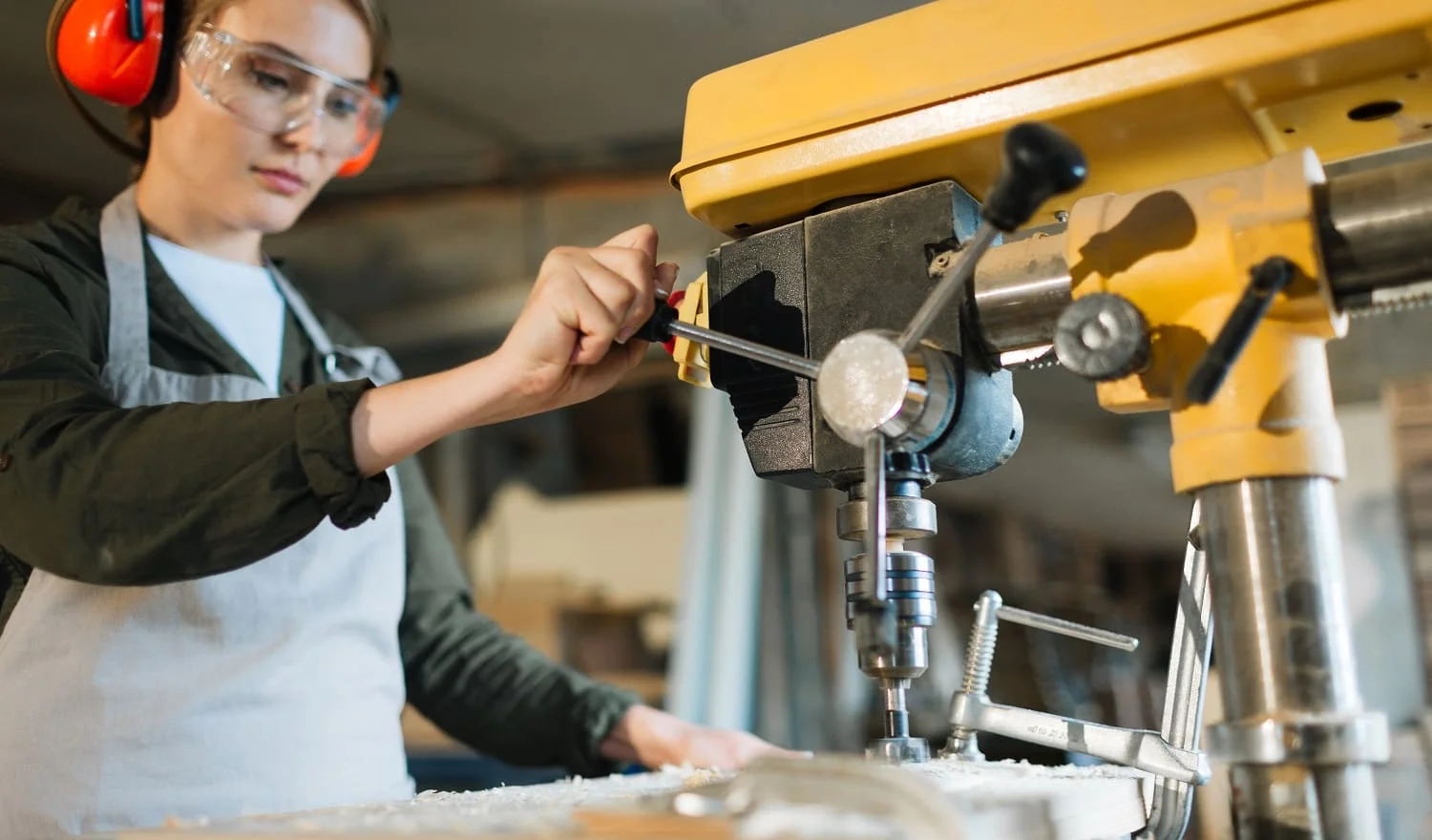 WEN has been a leading manufacturer of innovative power tools equipped with user-friendly and unique features since 1951. Along with delivering an enjoyable working experience, the compact WEN 4208 drill press ensures ample power to drill through plastic, wood, metal, and more.
Why Did We Like It?
Equipped with a powerful induction motor, featuring a ball-bearing construction, the WEN 4208 ensures smooth and balanced performance at each of its five different speeds. Being compact yet powerful, it serves as the perfect addition to your home workshop.
Furthermore, when we talk about versatility, this power tool meets our expectations in every way. With its half-inch keyed chuck, it fulfills the needs of a variety of projects. Not just that, but its powerful motor, 2-inch spindle travel size, and 5-speed adjustability also enable it to drill through any material with ease. 
Well, it doesn't just end there! Apart from powerful performance and versatility, the unit is constructed with a rigid frame and cast-iron base, keeping accuracy and precision in mind.
That being said, you can limit the spindle travel using the depth adjustment knob for a more accurate drilling operation. On the other hand, the work table bevels up to 45 degrees left and right to ensure precise angled drilling.
What Could've Been Better?
Designed to be compact, yet powerful and versatile, this power tool from WEN deserves to be our topmost recommendation. However, we couldn't help but notice a minor flaw related to its work table. Despite ensuring precise angled drilling, it was difficult and time-consuming to adjust. But that is far from a deal-breaker.
Pros
Compact

Key storage keeps track of drill bits

Powerful and versatile

Precise drilling

Durable motor
Cons
Work table difficult to adjust
With its X2 2-beam laser and depth adjustment system, the Skil 3320-01 enables you to drill precise and consistent holes for bigger, bolder projects. From large-scale furniture to other building projects, this serves as a dream tool for every woodworker.
No products found.
Why Did We Like It?
Equipped with a beam laser, this powerful 3.2 amp drill machine is a solid choice for woodworkers who thrive on precise and consistent drilling. Not only this but it is also designed with a tilting work surface that locks between 0 to 45 degrees for a wide range of use. You can easily adjust the work table accordingly to ensure precise angled drilling.
Apart from accuracy, it enables you to cut clean holes through wood, metal, and other surfaces with the help of its 5-speed system. In fact, the ½-inch chuck is capable of accepting larger diameter bits for cutting and woodworking, making it an absolute must-have in every toolshed. 
Furthermore, backed by a three-year Skil Benchtop warranty, the unit is one of the most reliable options on the list. That being said, it is guaranteed to be free from defects in workmanship and materials, ensuring smooth operation for up to three years.
What Could've Been Better?
Ideal for large-scale furniture making and other bigger building projects, this drilling press from Skil promises to offer greater accuracy than a handheld drill.
However, despite the motor being powerful and efficient, we couldn't ignore its continuous, nagging, and buzzing noise caused by vibration. Other than this, we failed to notice any other significant downside of this otherwise excellent tool.
Pros
Precise and consistent drilling

Suitable for large-scale projects

Cast-iron base

3-year warranty

Clean cutting and woodworking
Powered by a 1.5 HP motor, this floor-type drilling press from JET serves as the perfect choice for both professionals and home woodworkers. From medium to large drilling projects, it fulfills its intended purpose efficiently, even in low-light situations.
Sale
Why Did We Like It?
Offering 12 spindle speeds ranging between 150 to 4200 RPM, this 20-inch floor-type drilling press delivers exceptional performance in a variety of medium to large jobs. Teamed with an adjustable spindle tension return spring, it also ensures easy customization of the settings to meet your work requirement.
Apart from this, it is equipped with a smooth travel table that can be raised and lowered to the required point easily. Coming to its precision and accuracy, the model features a 45-degree tiltable work table with a quick-release clamp, ensuring precise and easy angled drilling. 
That being said, it is designed in a way to offer convenient operation and adjustability. Furthermore, we loved the addition of the built-in work lamp, which offers convenient and safe use in low-light conditions. 
What Could've Been Better?
Coming to its minor drawbacks, there were certain issues related to the operation of the chuck as it did not spin smoothly. You might have to use the key constantly, especially while changing bits. However, despite these noticeable flaws, its unique features and easy adjustability make it a recommended option.
Pros
Easy access to quick-adjustment motor

Wide range of speed control settings

On/off switch for safe use

Convenient operation

Built-in work lamp
Cons
Chuck did not spin smoothly
Coming to another powerful drilling press from WEN, this model is capable of drilling ⅝-inch holes through heavy-duty cast iron, wood, plastic, and all other materials. In fact, with its laser beam and beveling work table, you don't have to worry about angles and precision.
Why Did We Like It?
Have you come across a powerful and infinitely variable speed drilling machine cable for drilling holes with precision and repeated consistency? Well, WEN 4214 is the perfect example of such a machine.
Equipped with a 5-amp induction motor, featuring ball bearings for extended life and balanced performance, this serves as a powerful and versatile choice. That being said, with its ⅝-inch chuck and spindle taper, you can drill holes through various materials with ease. In fact, the laser and depth gauge adjustment allows you to work with precision and accuracy. 
Furthermore, the unit has been designed, keeping your convenience in mind. For this reason, it features an LED screen, allowing you to know the exact RPM at every point for easy adjustability. Apart from this, the table roller extends up to 17 inches to support your workpiece, while the onboard work light illuminates it for maximum visibility.
What Could've Been Better?
Despite offering a powerful, versatile, and precise performance, we couldn't ignore the rattling and vibrations of the induction motor and drive. Other than that, there were no noticeable flaws of this sturdy and higher-end, variable-speed drilling press and laser!
Pros
Precise and accurate drilling

Ideal for a variety of projects

Convenient operation

Onboard work light
Cons
Vibrating and rattling motor
Designed to offer trouble-free service for years, this detailed and rugged floor drill from Shop Fox is a safe and reliable choice. Coming to its unique features, its oscillating spindle ensures contour sanding making it stand out from the other recommendations on our list.
Sale
Why Did We Like It?
Equipped with a unique oscillating spindle, a 3-piece sanding drum kit, and 80-grit sanding paper, this floor drill from Shop Fox is capable of efficient contour sanding. That being said, with just a few simple tool-free steps, it converts from drilling to sanding operations within seconds.
You don't have to worry about getting those special sanding or drilling angles right since Shop Fox W1848 offers a removable, 90-degree tiltable work table. Simply adjust the height and tilt angle of the table to accommodate all your workpieces.  
Apart from ensuring versatile use for a wide range of applications, the floor model design adds capacity and weight for a durable build. Furthermore, with its detailed and ruggedly built parts, backed by a 2-year warranty, it ensures safe and reliable operation.
What Could've Been Better?
We loved the robust build and unique sanding capability of this oscillating floor drill. Having said that, a beginner might find it a tad complicated to use and assemble, especially for the first time. The instructions provided for assembly are vague, so you may require some help with that.
Pros
Durable build

Versatile 

Sanding and drilling capabilities

Includes sanding drum kit

Reduces heat build-up
Cons
Not ideal for a beginner

Complicated assembly
Designed to ensure accuracy and precision, the Delta 18-900L Laser Drill, featuring an auto-tensioning belt drive system, is ideal for professional woodworking. Thanks to its effortless speed adjustability and powerful motor, it ensures optimal drilling performance, irrespective of the material.
Sale
Why Did We Like It?
Powered by a 3/4 HP heavy-duty motor, this unit delivers ample power to perform efficiently for various drilling applications. In fact, it features 16-speed settings ranging between 170 to 3000 RPM for optimum performance, allowing you to drill through different materials with maximum consistency.
Apart from this, we were highly impressed by its patented oversized work table, featuring a removable center insert and T-slots for easy clamping. Designed to bevel left and right up to 90 degrees and tilt forward 0-40 degrees, it serves as the perfect workstation for industrial and deeper drilling applications as well. 
Furthermore, it is equipped with user-friendly features for convenient and precise operation. That being said, the flexible LED light improves visibility while the non-tip cast iron base maximizes stability for enhanced accuracy. The drilling press is also backed by a 5-year warranty from Delta, making it another reliable option on the list.
What Could've Been Better?
The Delta 18-900L Laser Drill Press is a powerful option, offering optimal drilling performance, but it lacks quality control. That being said, despite its 5-year warranty, we were not thoroughly impressed by the quality of its components and overall build, something which Delta can easily work on.
Pros
Effortless speed control

Versatile and optimal performance

Better visibility and precision

5-year warranty
Equipped with a 10-amp motor, this incredibly powerful magnetic drill press from DEWALT offers the best-in-class capacity for heavy-duty applications. With an increase in accessory compatibility, it serves as one of the most versatile options in a mid-price range.
Why Did We Like It?
Another exceptional addition to our list, the DEWALT Magnetic Drill Press with its powerful motor and 4-inch drill travel, is capable of performing a variety of drilling operations. Along with offering maximum capacity for heavy-duty applications, it also ensures compatibility with several accessories.
That being said, it ensures versatility at a budget-friendly price, making it an economical option for most buyers. Not only this, but it also comes with a magnetic self-feed cooling tank, which can be placed on the work table or on either side of the tool. It controls the flow of the cooling liquid, allowing a wide range of tool orientations. 
Furthermore, who wouldn't want to invest in a guaranteed tough product built to last for years? Equipped with overload protection to prevent motor damage and accessory wear, this unit is here to last for a long time.
What Could've Been Better?
A prominent drawback related to the product is its 2-speed settings, which offer limited speed control compared to the other options on the list. That being said, the DWE1622K Magnetic Drill does not compromise on versatile use and powerful performance.
Pros
Tough and durable

Heavy-duty applications

Maximum accessory compatibility

Magnetic cooling tank

Versatile
A leading manufacturer in the industry, ShopSeries, brings you a line of innovative power tools designed and engineered to last. One such tool developed for DIY workers and homeowners is the ShopSeries RK7033 Drill, featuring operating speed settings up to 3100 RPM.
Why Did We Like It?
Built to ensure precise performance, this unit allows you to get the job done right with ease. That being said, it is equipped with a powerful 6.2 motor and five operating speeds, enabling you to adjust the RPM according to the material requirements. This makes the tool ideal for precise and repetitive drilling in various materials, including metal, plastic, and wood.
Not only this, but it also features an LED light for improved accuracy and visibility in dark working conditions. Apart from visibility at night, it offers an impressive battery life with fade-free power for uninterrupted performance. Furthermore, you remain informed regarding the available charge at all times, thanks to the battery capacity indicator. 
Coming to its reliability, the drill is guaranteed to remain free of material and workmanship defects for at least two years. Being reliable and easy to use, you can conveniently complete all your projects with speed, precision, and quality.
What Could've Been Better?
We found the work table of the unit to be comparatively small for drilling larger workpieces. It also lacked stability as its top is heavier than its smaller base. However, despite these minor flaws, the solid build and innovative features of this power tool make it ideal for DIY, home projects, and more.
Pros
Reliable

Easy to use

Precise drilling

LED light for improved visibility

Battery capacitor indicator
Cons
Lacks stability

Smaller work table
Equipped with a larger ⅝-inch chuck and powerful motor, the Genesis GDP1005A serves as the perfect choice for DIYs and other bigger projects. Furthermore, being easy to set up and operate; this is a power tool you can count on!
Why Did We Like It?
Powered by a noise-efficient 4.1 motor, this tool from Genesis delivers power and smooth performance to tackle any project. With its 5-speed settings and large ⅝-inch chuck, you can conduct versatile and efficient drilling operations on a wide range of materials.
In fact, it is equipped with an easy-to-access pulley housing, which enables you to adjust the speed settings with ease. Further adding to your convenience, the model comes with a large work table that tilts and rotates up to 45 and 90 degrees, respectively. That being said, it serves as the most budget-friendly option for handling bigger projects. 
Not only this but with its footprint smaller than any floor drill press, it offers ample space, allowing you to work comfortably. Furthermore, it features an LED light, which helps you drill precisely, even in low-lighting conditions. 
What Could've Been Better?
Backed by a 2-year warranty, the Genesis GDP1005A is a reliable choice capable of handling any and every project. However, we need to point out the fact that the quality of the overall product could be better. That being said, it offers some of the best features for a reasonable price.
Pros
Noiseless and smooth performance

Suitable for large projects

Compact footprint

Easy to use

Budget-friendly
Being a trustworthy brand for years, Powermatic brings you the PM2800B Standing Drill, which is best defined by its simplicity and elegance. Not only this but it is also equipped with a number of advanced features, which make it a recommended choice for precise drilling operations.
Why Did We Like It?
Equipped with a 14 by 20 work table, which can be easily adjusted and beveled up to 90 degrees, this tool offers rapid alignment for a better work experience. That being said, achieving precise and accurate drilling operations for various materials and projects is a breeze. In fact, this is ensured for both repetitive and quick actions with its adjustable material stop.
Coming to its versatility, powerful motor, innovative features, and variable speed, make it ideal for all kinds of jobs, including woodwork, DIY, and more. Apart from this, Powermatic keeps the convenience of users in mind while designing its products. For this reason, this tool features a digital RPM readout meter to allow you to adjust the speed of the spindle easily as per the application. 
Not just that, but it also comes with adjustable LED lights and laser guides to help you drill with precision and ease, even in low lighting. 
What Could've Been Better?
To be honest, we didn't notice anything much wrong with this product, except for its quality. With Powermatic being a reliable brand known to offer a line of durable power tools, the unit was expected to have a premium-quality build for its price. Having said that, it is still a remarkable option with a high level of mechanical elegance.
Pros
Ease of use

Precise drilling in low lighting

Easy adjustability

Versatile use
Equipped with a powerful motor, the Grizzly Industrial G7943, with its 12-speed settings, ensures easy adjustability for convenient and quick operation. It offers the features and dependability of a high-end industrial-grade drill at a low price.
Why Did We Like It?
Constructed using heavy-duty components and materials with a powder-coated finish, this benchtop drill from Grizzly ensures durability at a great value. Hence, it is not only affordable for the majority of consumers, but it also offers the reliability of long-lasting performance. 
Equipped with an easily adjustable 12-speed setting, you can set the speed of the drilling machine to meet your requirements. That being said, with its enhanced drilling capacity, the unit is capable of drilling through various materials, including metal and wood, to complete the job with quality and accuracy. 
Furthermore, it comes with a cast-iron table, which can be tilted up to 90 degrees left and right, ensuring precise and angled holes. Not just that, but it also offers precision in low light with its built-in light.
What Could've Been Better?
Despite being a value-for-money product, we noticed a few minor flaws related to the T-slots and clamping kit. The T-slots are unevenly placed, making it challenging to secure accessories and tools to the table. In fact, the table was quite small for large workpieces, so you might have to mount a larger cast-iron table if needed.
Pros
Valuable choice

Heavy-duty and durable

Built-in light

Precise and accurate drilling

Easy adjustability
Cons
T-slot unevenly placed

The work table is small
With a small footprint and lightweight design, this Small Benchtop Drill from Euro Tool is one of the most economical and compact options on our list. That being said, the easy-to-use unit saves space in your workshop to ensure a more comfortable work experience. 
Why Did We Like It?
This small and lightweight benchtop with a platform, measuring 6-¾-inches by 6-¾-inches, is powerful enough to make it ideal for most if not all, drilling projects. In fact, with its variable speeds up to 8500 RPM, it does not limit its application to just small jobs. You can easily adjust the drilling speed to meet the material requirement for diverse purposes.
Apart from featuring a space-saving design, this benchtop model comes with sturdy construction, making it a recommended option available at a reasonable price. That being said, it is an economical choice for those under a tight budget. 
Furthermore, its innovative and user-friendly features at this price range are commendable. Being easy to use, it offers convenience and enjoyable work experience to even beginners with no prior experience using a drilling press.
What Could've Been Better?
A great product, but why is it placed toward the bottom of the list? This is a common question, which most of you would be thinking about by now. Well, the reason for this is its lack of basic and easy adjustability. We found it a bit challenging to adjust the height of the table, but this gradually gets easier over time.
Pros
Space-saving and lightweight

Sturdy construction

Economical

Easy to use
Another unique combination of power and portability, this drilling machine from Jet is equipped with a powerful motor and compact size. Hence, it is capable of tackling any job with enhanced drilling precision, irrespective of the location.
Why Did We Like it?
Last but not least, the Jet 716000 JWDP-12, with its powerful ½ HP motor and compact size, is capable of powering through any material on the go. It features a cast-iron base, measuring 10 inches by 16-⅛-inches to fit workbenches with limited space. That being said, with this drill, you can expect power, portability, and a comfortable workspace at all times.
Coming to its applications, the unit is equipped with all the necessary features required for multiple drilling applications and projects. Not just this, but it also ensures precise and accurate drilling with the help of Jet's innovative X-shaped XACTA laser. 
Wait, there's more! Along with easy transportation, it provides a stable base design for easy re-positioning at your convenience. In fact, Jet also keeps your safety in mind while manufacturing its products. For this reason, the power tool features a large paddle switch for easy shut-off and lockout protection.
What Could've Been Better?
The Jet 716000 JWDP-12 offers power in a compact footprint, making it an ideal option for those on the go. However, we were not impressed by the laser guide of the unit as it could not be adjusted for maximum precision. That being said, since precision is an essential requirement for drilling, we had to place this otherwise excellent option at the bottom-most position of our list.
Pros
Compact and portable

Powerful motor

Ideal for multiple drilling applications

Safe to use

Stable base
Cons
The laser guide was not precise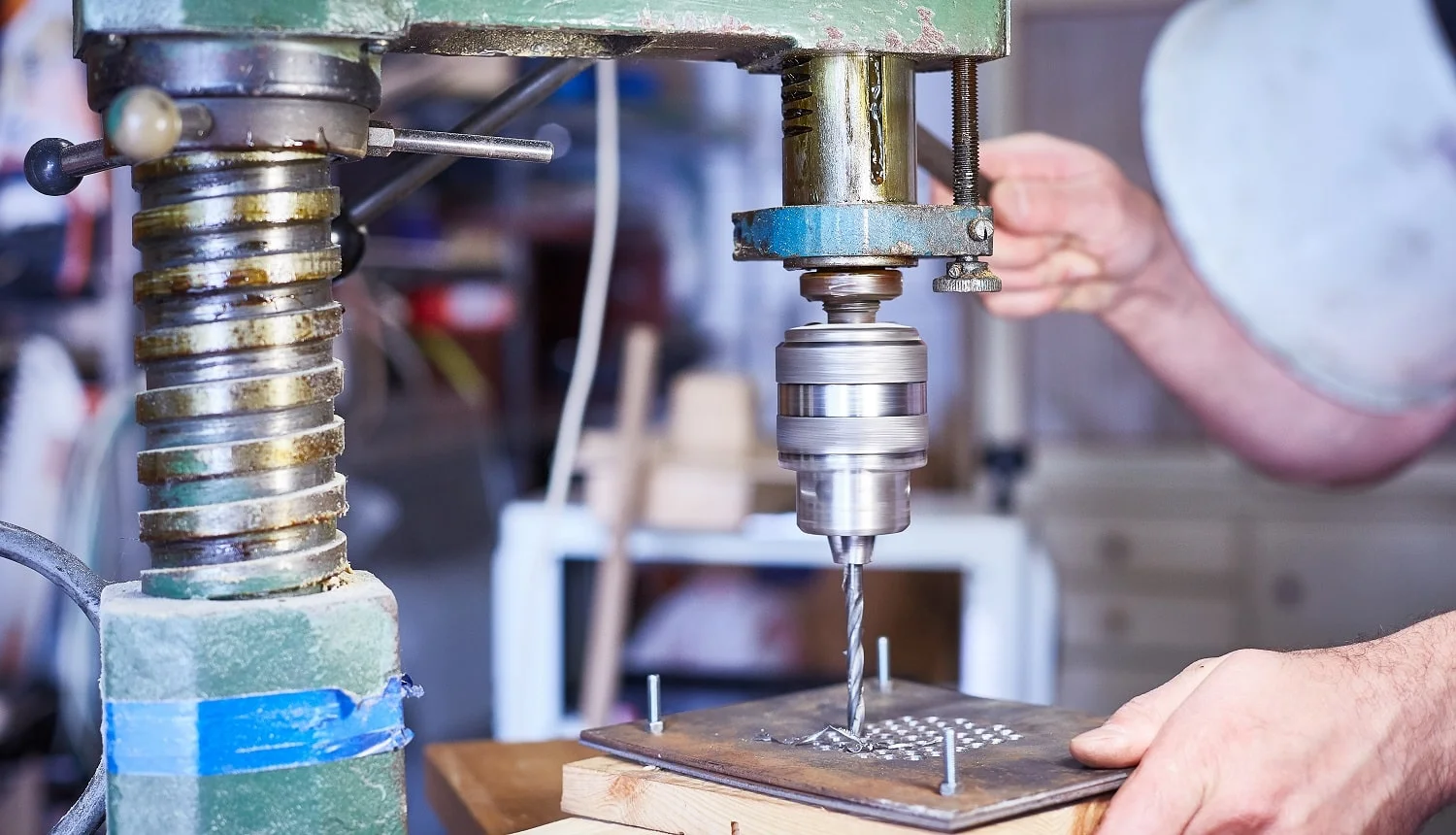 Drill Press Buyer's Guide
After extensive research, we have narrowed it down to the 13 best options and provided reviews for each of these recommendations. However, truth be told, choosing an ideal drilling press from the list of available choices may be tedious and time-consuming.
For this reason, we explain a few critical points in this buyer's guide for you to consider before making a purchase. We assure you that these factors will help you make an informed decision.
Type
Before you decide on going through the recommendations on the list, it is important to know about the two types of drill presses- floor and benchtop presses.
Designed to stand alone, floor drills offer maximum strength and power for heavy-duty and professional jobs. On the other hand, benchtops are fixed to the top of a bench and serve as perfect options for smaller jobs. Apart from this, they save more space than their counterparts, being comparatively smaller and more lightweight.
So, if you require a powerful unit for a professional job, then a floor-type press would be your best pick. For those with limited space in their workshop, benchtops are an ideal match.
Motor
The motor of a power tool is a significant component, which determines its overall power and capability. That being said, consider the horsepower of its induction motor before finalizing a product.
It is better to go for a powerful drill machine with a higher horsepower as it offers versatile use. Not just that, but it will also allow you to handle large projects and tough jobs with ease.
Speed
Drill machines include variable speed settings that can be easily adjusted as per your requirement. Slower speeds are required for the drill to power through tough materials like metal, while materials like wood need a faster speed. 
For this reason, opt for a machine with a number of speed settings and an adjustment feature to allow you to set the speed accordingly. In fact, a higher number of speed settings ensures more versatility.
Precision and Accuracy
Always keep in mind that precision is key when it comes to drilling. That being said, features like a tiltable work table and laser guides play a vital role in ensuring the precise drilling of holes. 
Check for a large work table, which can be rotated 360 degrees and tilted up to 45 degrees or 90 degrees for precise angled drilling. Apart from this, a model with a LED light will help you achieve accurate results, even in low lighting.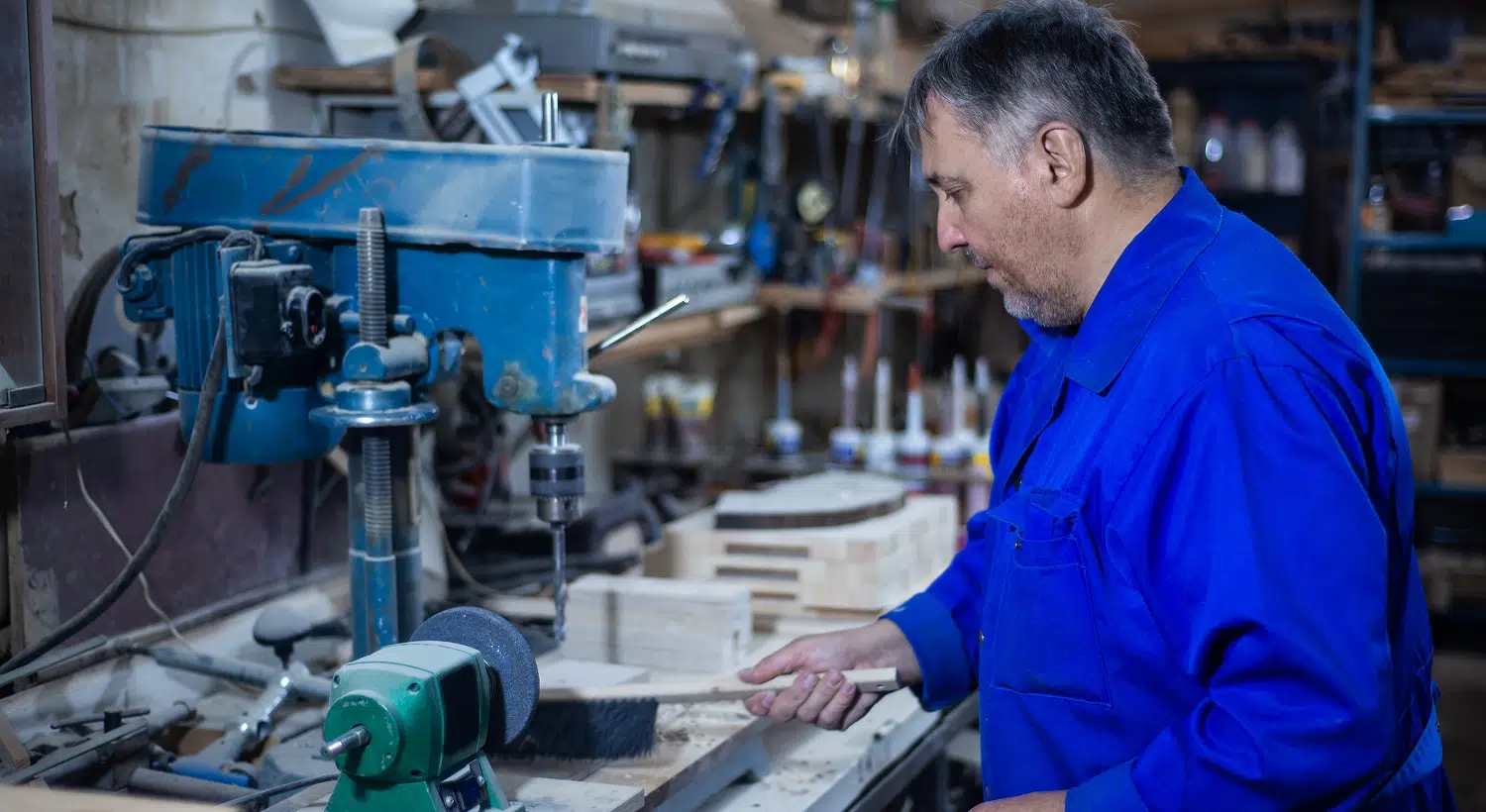 Verdict
From home DIY projects to complex woodworking, a drill press serves as a dream power tool for every homeowner, woodworker, and contractor. Its unique features and powerful motor offer the unmatched potential for completing a variety of jobs with precision and speed.
On this note, we now come to the end of our comprehensive and review-based guide. But before concluding, let us take a quick run-through of our absolute favorites.
WEN 4208 offers powerful performance and versatile utility. Skil 3320-01, with its laser beam, ensures maximum precision and accuracy. On the other hand, JET 354170/JDP-20MF is an ideal option for medium to large projects. Last but not least,Shop Fox W1848 Oscillating Press offers both drilling and sanding operations.
We hope this guide helped you find an ideal option for your project requirements.
Till next time!
Related Articles
Makita vs Dewalt Drill [Differences & Winner]
49 FREE DIY Router Table Plans For an Epic Home Workshop
11 Best Multi Tools Reviewed | Buyer's Guide
13 Best Screwdriver Sets on the Market Today
13 Best Brushless Impact Driver 
13 Best Jackhammers and Demolition Hammers
9 Best Benchtop Jointer for Woodworking