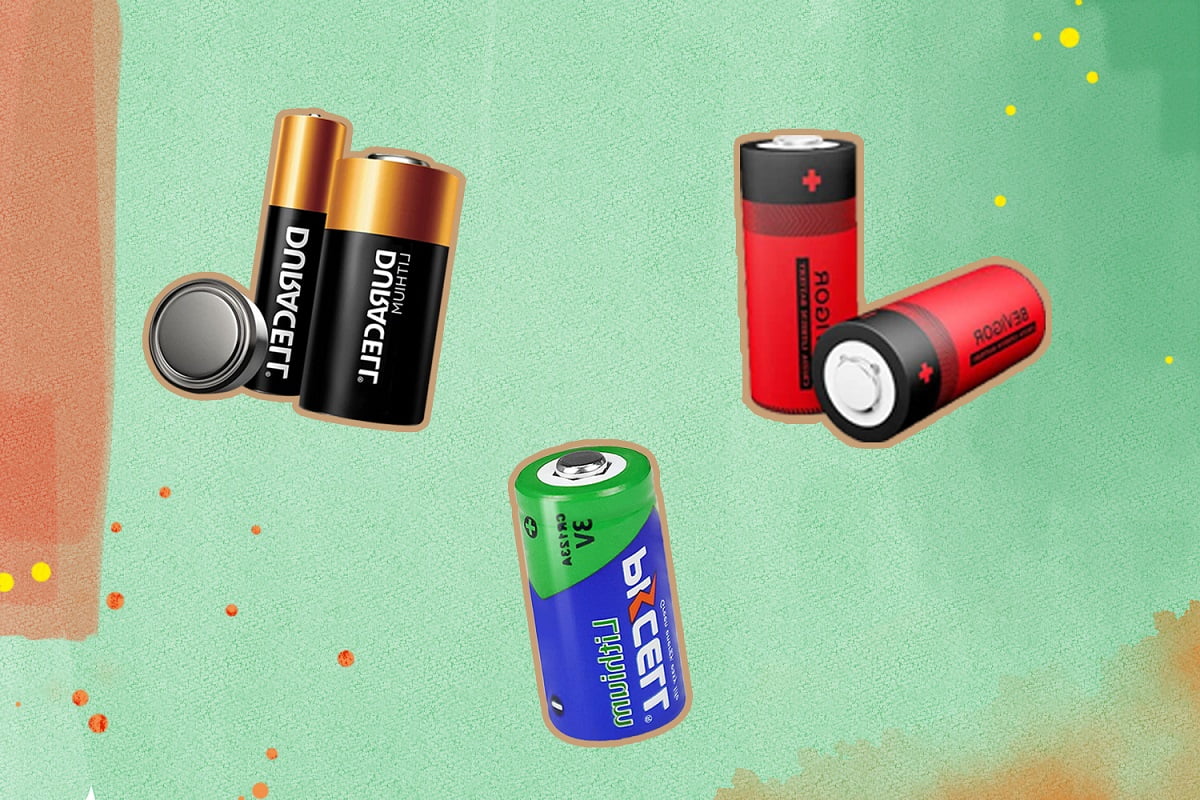 CR123A batteries have become a primary power source for wireless devices and various home devices such as alarm systems. Since CR123A batteries are extremely compact and powerful, they fit easily in all types of alarm systems. 
Nowadays, many alarm manufacturers are making alarm sensors and systems that run on CR123A batteries. 
Notably, alarm systems that use standalone batteries don't require any wired connection. As such, you can easily place them wherever you want without any hassle. Besides, CR123A batteries can be used by many appliances, such as web cameras, smart doorbells, and others. 
So, in this guide, we have listed some of the best CR123A batteries for alarm systems on the market. So, let's begin! 
Top Nine CR123A Batteries For Alarm Systems
Duracell is one of the most trusted brands on the list since it designs some of the best batteries in the industry. The Duracell CR123A 3V lithium battery is designed to be compatible with a wide range of wireless devices, such as lighting equipment, wireless sensors, alarm sensors, security systems, photography devices, etc.
In addition, it has a shelf life of 10 years, which is rare to find in modern batteries. As such, you can easily store extra units for a long period without having to worry about them getting spoiled. 
Another thing worth noting is that the batteries come in packages of 1, 2, 4, 6, and 12. Thus, you can stock up as much as you want for emergencies. Also, the battery comes in a standard battery size which makes it a universal power source.    
If you are looking for something affordable and efficient, then you should try the Panasonic BAT002 3V lithium batteries. Apart from making batteries, Panasonic also designs various household appliances such as TV, air conditioners, music systems, and many more. The ultimate goal of the brand is to bring a smile to every customer's face through innovative and high-performance products. 
The Panasonic BAT002 3V Lithium batteries have an average shell life of 10 years, so you can store them for future use. Moreover, each battery is capable of delivering 3.0 volts and has a size of 0.67" Dia X 1.36" H, making it compatible with most household appliances. The brand also offers a reliable after-sales service if you face any problems while using the batteries. 
The Voniko CR123A lithium batteries come in a pack of 6, with each battery weighing around 3.84 ounces. One of the things we liked about these batteries is the RoHS certification. As such, each battery has PTC protection, circuit overcurrent protection, and an intelligent voltage surge safeguard to prevent accidents. This also protects your home appliances from getting destroyed. 
Another handy feature of these batteries is the leak-free design. Therefore, you can store them anywhere without having to worry about them leaking in the future. Besides, the batteries can operate in extreme temperatures ranging from -40℉ to 140℉. Plus, the battery is environmentally friendly since it lasts longer and doesn't cause any environmental hazards.
Next on our list is Rapthor, a brand that specializes in producing high-capacity batteries. Each CR123A 3V lithium battery has a high capacity of 1650mAh, which is more than a regular battery can offer. As such, it can deliver 10% more power than a normal battery. Apart from that, the batteries have an in-built PTC protection design which prevents the batteries from getting damaged by overheating and overcurrent. 
The batteries also have a low discharge rate which gives them a shelf life of 10 years. Thus, you can easily store extra units for future use. However, you must ensure to store them in the right temperature condition given by the brand.
Unlike most brands that don't offer a warranty for the battery, Rapthor offers a one-year free replacement if the batteries show any defect. You can also ask for a refund if you are unsatisfied with the product.  
AHJ CR123A batteries have one of the most steady voltage curves when it comes to delivering stable power for high-current home appliances and devices. As such, the batteries last three to five times longer than regular alkaline batteries. Besides, they are compatible with a wide range of appliances such as medical equipment, toys, smoke detectors, alarm systems, digital cameras, and more. 
Each battery comes with multiple layers of protection which protects them from overheating, overpressure, and over-voltage. They also offer protection against corrosion, leakage, and explosion, making them safe for long-term use. 
Rapthor lithium batteries are non-rechargeable but still deliver enough power to run your home appliances without any interruption. Each battery has a high capacity of 1650mAh, making it compatible with home and industrial appliances. Moreover, these batteries are extremely affordable since the pack offers 20 units at an affordable price. So, if you are on a tight budget, you should get these batteries since it saves a lot of money. 
Another thing we liked about this brand is that it offers a 100% satisfaction guarantee on all the products. As such, you can replace it or ask for a refund if it doesn't meet your expectations.
Enegitech is an eco-friendly brand that produces reliable power sources that don't cause any harm to the environment. Each battery has a capacity of 1600mAh, which is more than a standard battery can offer. The low self-discharge feature ensures that the cell doesn't discharge quickly while storing them. This further ensures that the batteries last longer without losing any power. 
Apart from that, the battery has a smart protection chip that provides advanced protection against power surges and overheating. The brand also offers a small family comic on the packaging, which provides interesting facts about the batteries through funny images and jokes. 
EEMB is a well-known battery manufacturer that has provided some of the best battery and power solutions since 1995. It designs a wide range of products ranging from lithium batteries to rechargeable batteries. In fact, EEMB is one of the best battery manufacturers on the global market. 
The batteries have a reliable shelf life of 10 years without having a memory effect. This ensures that batteries don't lose out much power while staying ideal. Besides, each battery has received a UL certification, making them safe for household use. Additionally, the batteries have a high energy density core which allows them to deliver three to five times more power than regular alkaline batteries. 
Bevigor CR123A 3V lithium batteries have a capacity of 1500mah, which makes them ideal for various power-intensive home appliances such as security systems, flashlights, and many more. In fact, these batteries can last five times longer than normal alkaline batteries. Apart from that, the batteries have a self-discharge rate of less than 2% per year.  
As such, the batteries will have plenty of power to spare even if you use them after a couple of years or so. Similarly, the new winding structure ensures that the batteries are protected against corrosion and leaking. 
CR123A Batteries For Alarm Systems Buying Guide
Nowadays, most household electronic products and modern gadgets are dependent on CR123A batteries since they are a portable power source. Some devices that require CR123A batteries are music players, cameras, high-density flashlights, and home security systems. Moreover, these batteries are extremely efficient and capable of delivering high performance while being small and compact. 
However, each battery type delivers a different performance, which makes it tough to choose the right one for the alarm system. As such, we have listed a few factors that can help you find the best batteries according to your requirements. 
1. Battery Life
While choosing CR123A batteries for the alarm system, you should always ensure that they are durable and have long battery life. Most brands provide all the necessary information related to the battery life on the packaging. As such, you should always check the packaging to see which brand offers a longer battery life. 
A longer-lasting battery is not only durable but also great value for money since you don't have to replace it frequently. One of the best ways to check a battery life is to see the power rating score on the packaging. Batteries with high power rating scores can serve a longer lifespan without causing any hazard or harm to your home appliance.
In fact, some devices mention which power rating score batteries they require to run efficiently. For example, high power rating CR123A batteries are ideal for Arlo cameras. Thus, you should always choose the one that is compatible with your device. 
2. Affordability
Apart from being durable and long-lasting, you should ensure that the batteries are affordable. If the brand sets a high price for the batteries, you might not be able to purchase multiple batteries for your home appliances and electronic products. Nevertheless, you should never compromise by purchasing a cheaper battery with a poor power rating or short battery life. 
But, if a brand offers more units for a slightly lower capacity, you take the deal since you can power more devices through one set of batteries. The excess batteries that are left out can be stored and used later on when old batteries run out. Such sets are actually more affordable since you can purchase a bunch of batteries at an affordable price. 
3. Shelf Life
Another important factor to consider is the shelf life of the battery. This is especially important if you are planning to store excess batteries for a longer period. In general, CR123A batteries are well known for having a long shelf life since they don't go out easily. As such, the backup supplies can stay ideal on the shelf for about 10 years or so. 
In addition, high-capacity batteries are capable of lasting for a decade without having any drops in performance. On that note, it is advisable to check the shelf life of the batteries if you are planning to stock them for a long time. Some brands even offer rechargeable batteries, but they tend to be a bit more expensive than regular CR123A batteries. 
Just ensure that the excess units are stored in a cool and dry area since excess heat and humidity can damage the cells within the battery. 
4. Eco-Friendly Design
Lastly, you should always consider purchasing an eco-friendly product that doesn't harm or cause any harmful pollution. Most brands prefer to design eco-friendly batteries since they cause less pollution and help to bring down e-waste significantly. Instead of purchasing use-and-throw batteries, you can always opt for rechargeable batteries that can last for a long time. 
Normally, a regular dead battery contains harmful chemicals such as lead, lithium, cadmium, and more, which can be hazardous to your health as well as the environment. Fortunately, a lot of brands are now shifting to more sustainable and eco-friendly alternatives.  
CR123A Batteries For Alarm Systems Final Verdict
With that, we have reached the end of this guide. While choosing a CR123A battery, you should always check the condition of the battery and make sure it doesn't have any defects. Using a defective battery can damage your home appliances which can add a lot of financial expenses. 
Apart from that, you should always check the information on the packaging to see if the batteries are outdated or not. Try not to use expired products since they can damage the alarm system in the long run. 
Before signing off, here are our two favorite CR123A batteries for an alarm system. Duracell CR123A 3V Lithium batteries are our top pick since they are long-lasting and can work with all types of home automation. 
Panasonic  is one of the most affordable batteries on the list that can last for a long period. That said, it's a wrap. See you next time!