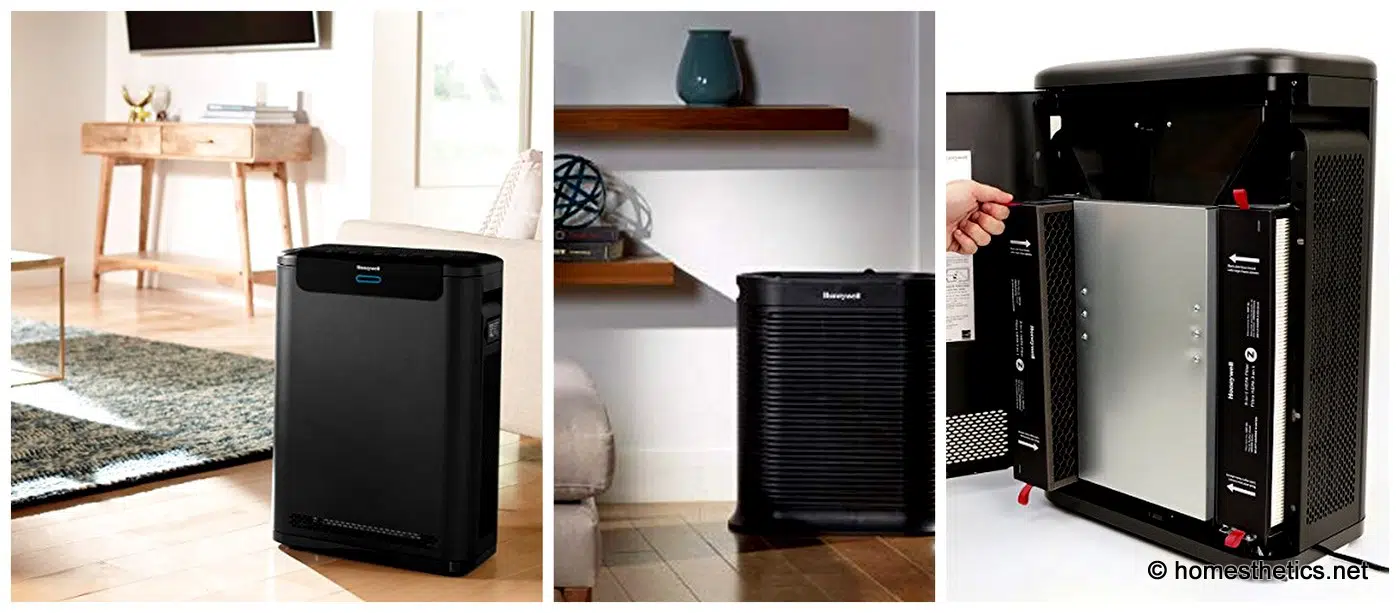 With all that noise around the Honeywell True HEPA HPA300 Air Purifier, we just couldn't keep our hands off it!
Widely regarded as a good player in the HEPA filtration technology category, we wanted to test the features that have contributed to its popularity. Plus, an affordable air purifier should never be off the charts!
Although it isn't entirely free from flaws, we found the benefits to be way more intriguing. So, after using it for a significant period of time, here we are with our in-depth review to help you out.
Let's begin!
Honeywell True HEPA HPA300 Air Purifier Review
Sale
Why Buy This Product?
Before taking you through the details, allow us to introduce you to the brand. As most of our readers may already know, Honeywell is a world-renowned manufacturer of home-based appliances like fans, ACs, coolers, and air purifiers. Likewise, the HEPA HPA300 Air Purifier upholds that reputation with its sleek design, robust filtration system, and seamless touch controls.
On that note, let's dive into the positives one by one…
Design
Starting with the design aspect, the Honeywell HEPA HPA300 is a classic black ribbed purifier, which looks like, well, a majority of the brand's purifiers. Weighing around 17 pounds and measuring 10.8 x 20.8 x 22.4 inches, it's one of the most lightweight units from the brand. In tandem with the sleek structure and integrated grips, users can safely tick portability from their must-have list!
Talking about the material, it has an ABS plastic body for efficient heat and impact resistance. The other advantages include shock absorption and scratch resistance without costing a fortune. So, that's a bonus!
Aside from the strength, what also impressed us was the lack of gaps in the overall design of the body. As you may be aware, such openings tend to allow the unfiltered air to escape into the room, thereby contaminating the area even further.  The front and rear pretty much have an identical appearance with a front air intake, behind which lies the filtration system.
Likewise, the outlet is located near the touch controls at the top of the unit. On that note, the control panel comprises functions like power on/off, check filter indicator, check pre-filter, turbo power cleaning, lights dimmer, and auto-off. The controls are clearly labeled for optimum user-convenience, and you need to use the related control only once to activate the function.
Filtration System
Now, coming to the most important aspect of it all, the unit is actually named after its powerful HEPA (High Efficiency Particulate Air) Filter. In addition, it has the Honeywell A and A+ pre-filters, responsible for the first stage of filtration. 
These filters are integrated with activated-carbon particles to capture large particles more than 0.3 microns in size, like fibers, dust, pet dander, lint, and hair. Aside from that, they play a crucial role in eliminating gases, odors, and VOCs (Volatile Organic Compounds). 
One important thing to know here is that the filters have a lifespan of approximately three months. The check filter indicator will keep you notified about the replacement time, and we'd recommend getting genuine, certified Honeywell filters to ensure high performance.
The second stage of filtration is dominated by the R-certified true HEPA filters for efficiently removing up to 99.7% of microscopic allergens, measuring as small as 0.3 microns. As a result, you can get rid of several contaminants, including dust mite debris, fine dust, pollen, bacteria, mold spores, viruses, etc. 
We are decently happy with how these filters reduce airborne germs with utmost efficiency. Besides, the true HEPA filtration has zero ozone emission (certified by the California Air Resources Board), making it completely safe for use for prolonged periods. This is largely due to the absence of an ionizer that can often produce small amounts of ozone, which may irritate the lungs.
In fact, this two-stage, powerful filtration system equips the unit with a CADR (Clean Air Delivery Rate) of 300 for smoke, 320 for dust, and 300 for pollen. In terms of coverage, it can clean up to 465 square feet five times per hour, meaning the air will get filtered every 12 minutes. We'd advise replacing the HEPA filters every 12 months for best results.
Turbo Cleaning Function
An out-and-out highlight of the HPA300 Air Purifier is the turbo cleaning function that integrates four cleaning levels: general, allergen, germ, and turbo. After you have switched on the unit, tap the power symbol again to switch between the cleaning modes.
For starters, you have the allergen mode that optimizes the unit to filter allergen particles such as dust, pollen, mold spores, dust mite debris, and others. This feature will be especially beneficial during the peak allergy seasons of spring and summer.
Then you have the general cleaning mode that's suitable for everyday air purification. Many users prefer using it while they are away for a vacation to remove large particles and microscopic allergens from the air indoors. Similarly, the germ cleaning mode enhances the germ capturing ability of the purifier.
Lastly, there's the powerful turbo cleaning mode that speeds up the entire contaminant removal process from the air. Upon selecting this mode, the fan begins operating at its highest speed to suck in maximum air from the front intake system, which then passes to the filters. 
We liked how the design has integrated the reference guide into the body of the purifier. It contains a list of instructions that will help users, especially first-timers, to get the hang of things better. You can find it in the small tab near the touch control panel.
Noise Level
Considering its speed and high CADR count, we aren't mad about the 63 dB noise level that it produces operating at the highest fan speed. To give you an idea, normal human conversation produces around 60 dB noise. Sure, it may be slightly difficult to hear other people in turbo mode, but it's nothing that will hammer your ears.
Since you're likely to operate it in the low to medium fan speed (producing 40 to 60 dB sound) for the majority of the time, rest assured about minimal sound interference.
Power Consumption
The HEPA HPA300 has an Energy Star Certification, meaning it saves on your utility bill. Considering that it doesn't have the lowest power consumption, we don't mind saving some bucks!
Additional Features
Among the noteworthy additional features are the auto-timer mode and auto-dimmer mode. While the former allows you to automatically operate the unit for durations of 2, 4, or 8 hours, the latter keeps the light level to a minimum for nighttime use. Apart from that, it has three fan modes, namely, allergen, general clean, and germ.
And as we've already mentioned, the electronic check filter indicators will inform you in advance about pending filter replacements so that you can keep track of the dates.
Finally, it comes with a 5-year long warranty against all defects, which is one of the longest for models in its price range.
Customer Reviews
This unit has been showered with rave reviews by both existing and new customers. While most of them have praised it for its simple yet effective operation, others have talked highly about the user-friendly control panel design. The ability to turn the blue light off for use in the dark has been the cherry on the cake!
What Could've Been Better?
Despite scoring highly on most fronts, there are a number of things that we feel potential customers should be wary about. 
One of the first things that can be a constraint is the high energy consumption. Depending on the fan speed and duration of use, it can consume electricity anywhere between 40 and 130 watts, resulting in elevated power bills. 
Secondly, some users have  lamented the absence of automatic mode change. But if you ask us, we aren't really mad about it, considering that the HEPA HPA300 has a reasonable price tag. However, one area where we'd like to see the brand make improvements is the customer service, or rather the lack of it. It doesn't offer a free shipping policy like some other competitor brands.
Not only that, but you are also required to notify them of any damages within one business day in case of shipping through third-party services. Otherwise, they won't take any responsibility for it. In case of returns and exchanges, customers have to pay for the shipping charge, and should also pay a 10 to 30% restocking fee if the company finds no manufacturing or shipping defects.
Pros
Sleek design and easy touch controls

High CDRA rating

Dual filtration with activated carbon and advanced HEPA technology

Certified for no ozone emission

Four cleaning levels and three fan speeds
Cons
Slightly high power consumption

Customer service is not very customer-friendly
Honeywell True HEPA HPA300 Buyer's Guide
To speak the truth, choosing the correct air purifier requires something more than merely checking out product reviews. Unless you know about your requirements to the tee, it's highly likely that your preferred unit won't serve the purpose, no matter the price tag or range of advanced features.
As such, we have listed some crucial points to keep in mind before making that all-important purchase decision. So, hang in tight!
Room Size
No surprises here that perhaps the most important thing to consider before you can shortest models is measuring the room size. In other words, it's about filtering out (no pun intended) how much space you want to be purified. While desktop units won't certainly be sufficient for large spaces, a large unit may be a bit too much for your baby's nursery or the kid's room.
A good way to figure out the ideal match for your desired space is to check the unit's air changes per hour count, which is nothing but a measure of the filtering air per hour.
For example, a small purifier that turns over the air for a 250 square feet area eight times per hour will do so only four times in a 500 square feet room. Hence, you'd want something with more filtering capacity for the latter. 
And if you still can't decide the area to clean, we'd suggest going for a slightly larger capacity than what you think should be needed to make room for extra space.
Types Of Pollutants Filtered Out
The market is full of specialized air purifiers! So, that's something you might want to consider before buying one. While some units are adept at filtering out smoke and dust, others are designed to catch pet hair, allergens, and germs. If you are looking to subside allergies, then we'd highly recommend opting for an air purifier that does so. 
Similarly, asthma patients should look out for units that remove odor, chemicals, and dust. That's why air purifiers are mostly rated on how well they filter out contaminants. And in case of no specific requirements per se, we'd advise opting for a general air-quality improvement purifier.
CADR Rating
With regards to efficiency, air purifiers have a CADR number to help customers understand the filtering ability even better. And there's no rocket science here; the larger the number, the more contaminants it can filter out. So, if your preferred purifier has a 300 CADR for pollen, it means the unit can reduce pollen concentration while adding the equivalent purified air.
This rating should especially be considered for general air purifiers, with a count of at least 200 for all the categories. However, since the numbers are for best-case scenarios and recorded in controlled conditions, the efficiency may be affected in different environments. Therefore, it won't be a bad idea to opt for higher numbers as long as your budget permits.
Types Of Air Filters
A lot of air purifiers use mechanical filtration, meaning the air, along with its contaminants, is physically trapped as it passes by the filters. As such, most air purifiers use a dual filtration process, where the first stage catches large particles and the second layer removes the smaller variants.
Pre-filters are mostly washable, vacuumable, or disposable. They are usually made of foam or non-woven polyester and may have activated-carbon elements for absorbing gases, odors, and chemicals. 
But what really matters is the main filter that forms the second layer. We are heavily inclined towards true HEPA filters that can clean allergens, pollen, animal skin, mold spores, dust, and a lot more. With an efficiency rate of over 90%, these are a popular choice for air purifiers across brands.
Irrespective of the type, it's always advisable to keep an eye on the replacement time and use only certified, branded filters as replacements.
Power Consumption
The power consumption of an air purifier will largely depend on the filtering capacity. Simply put, the more filtering it does, the more will be the power consumption. That said, units with Energy Star certifications can take some load off the power bills.
Noise Level
For anything that runs on a continuous basis, sound level becomes a vital consideration. Hence, most air purifiers come with low noise operation to minimize user-inconvenience. That said, the sound level can change from one mode to another, so make sure it isn't too loud at the highest setting.
Honeywell True HEPA HPA300Verdict
So, is the Honeywell True HEPA HPA300 worth it? We'd say yes for the most part!
Its dual-filtration mechanism with HEPA technology and different cleaning modes make it an all-rounder. On top of that, the touch control panel aids user-friendliness. It doesn't produce too much noise either, making it a fit for almost any room or office space.
Although it could have employed more automatic features and low energy consumption operation, we are pretty satisfied with how it performs for the price. So, go ahead and give it a try if you want to get a good air purifier without breaking the bank. 
Till the next time!
Related Articles
13 Best Charcoal Air Purifiers
13 Best Air Purifiers for the Baby
13 Quietest Portable Air Conditioners
9 Best Air Purifier for Cigarette Smoke
Coway AP-1512HH Mighty Air Purifier