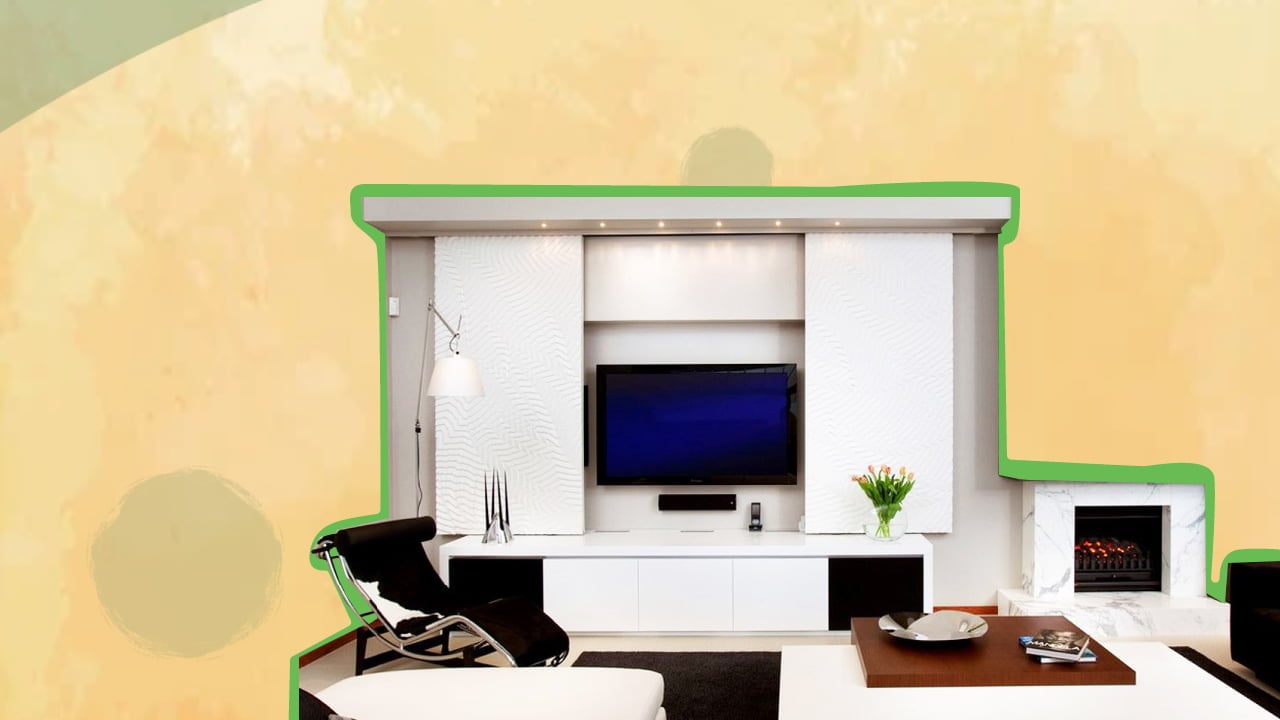 Covering the TV screen with artwork is a cost-effective way to camouflage the TV when it isn't turned on. But if you don't mind shelling out extra cash to enhance the décor of your living space, getting a smart TV like Samsung Frame TV will be the best bet. 
Sure, a wall-mounted television isn't the most aesthetically pleasing item in your living room or bedroom. But it's an indispensable piece if you love binge-watching your favorite shows while hunkering down on the sofa. 
Since choosing between binge-watching sessions and a good interior design is difficult, I've found some creative ways to hide the TV. From creating a gallery wall to installing a TV lift, I've got you covered with a multitude of clever hacks. 
How To Hide A TV + Hidden TV Ideas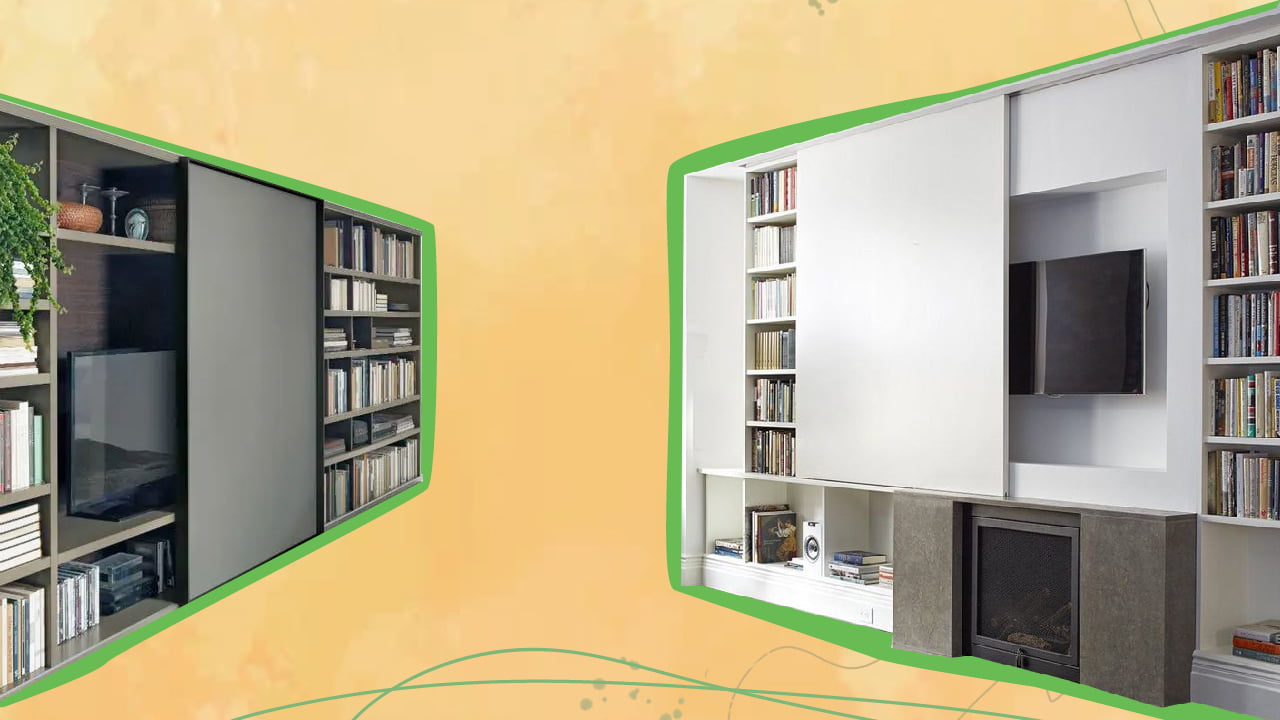 Despite advances in technology, modern televisions with flat-panel displays, thinner frames, and hidden buttons are still considered an eyesore. That's because they don't blend in seamlessly with the décor, so most people prefer hiding or camouflaging the TV screen. 
If you love to watch TV but don't want it to become the focal point of your space, the good news is that you can hide it or minimize its appearance. 
Fortunately, there are numerous ways to hide a TV in plain sight so that it does not appear as a giant black box resting on a console or hanging on a wall. From gallery walls to cabinets or mirrors, I've got you covered with some ingenious ways to hide a TV. 
5 Ways To How To Hide A TV In Plain Sight
1. Cover Your TV Screen With Artwork
During the day, when your TV is turned off, covering it with artwork will camouflage it well. One of the best ways to use art to hide your TV is to have a fixed piece of artwork that could be elevated upwards like a sliding panel. 
Or you can install a flat canvas that can be retracted whenever the television is turned on– basically, acting as motorized sliding doors for the TV. 
If sliding artwork or retractable panels don't appeal to you, a foldable screen with artwork will definitely come to your rescue. Foldable artwork is useful whenever the TV screen isn't in use and unfolded when you turn it on, offering the best of both worlds. 
2. Upgrade To A Smart TV
In a modern living room, a regular TV won't enliven your space as much as a smart TV would. 
Smart TVs come with interactive features and an integrated internet connection to enhance user experience. Since they are standalone products, using digital art to cover the TV screen is one of the most cost-effective ways of camouflaging it. 
To add a personal touch to the space, you can lay out a slideshow of your family photo or your own pictures on the TV screen. Although all smart TVs have the art feature, the Samsung Frame TV has some of the best digital art. The main benefit of owning a framed TV is that it mimics a piece of art, thanks to its flat and thin design. 
Adding a decorative frame will also make the TV look like a framed picture. 
3. Add Cabinet Doors
Wall-mounted TVs, especially those recessed into the walls entirely, make a space less cluttered. 
Still, if you think the big black box in your living room is ruining the beauty of the space, adding cabinetry would be a practical solution. Note that this can only be done if there's enough wall space on both sides of the television for the door to open easily. 
Decorative cabinet doors are also feasible for TVs that aren't mounted to the walls, although you will have to frame the doors first. And if you're not short of space, I suggest going for barn doors (sliding doors). 
4. Install A TV Lift
One of the creative ways to hide your TV is to install a TV lift– yes, you heard that right! 
TV lifts or cabinets are usually installed underneath the bed from which the TV rises via a remote control. Or you can opt for those that flip down from the ceiling. The best thing about TV lifts is that they come in a variety of sizes, so you'll find one for your space without much hassle. 
5. Paint The Wall Dark 
A big black screen against a white wall would make it pop out and divert your visitors' focus (optics) from other accent pieces in the space. 
So, if you're not ready to install cabinet doors or add a TV lift to your space, painting the wall dark will make the screen less prominent. That's because TV screens blend better with darker walls than lighter ones. 
Although most people prefer going all-black in such cases, I suggest opting for navy blue to blend the TV screen with the background. Paint your wall black only if you want your space to appear dramatic or timeless; otherwise, navy blue will be a great choice.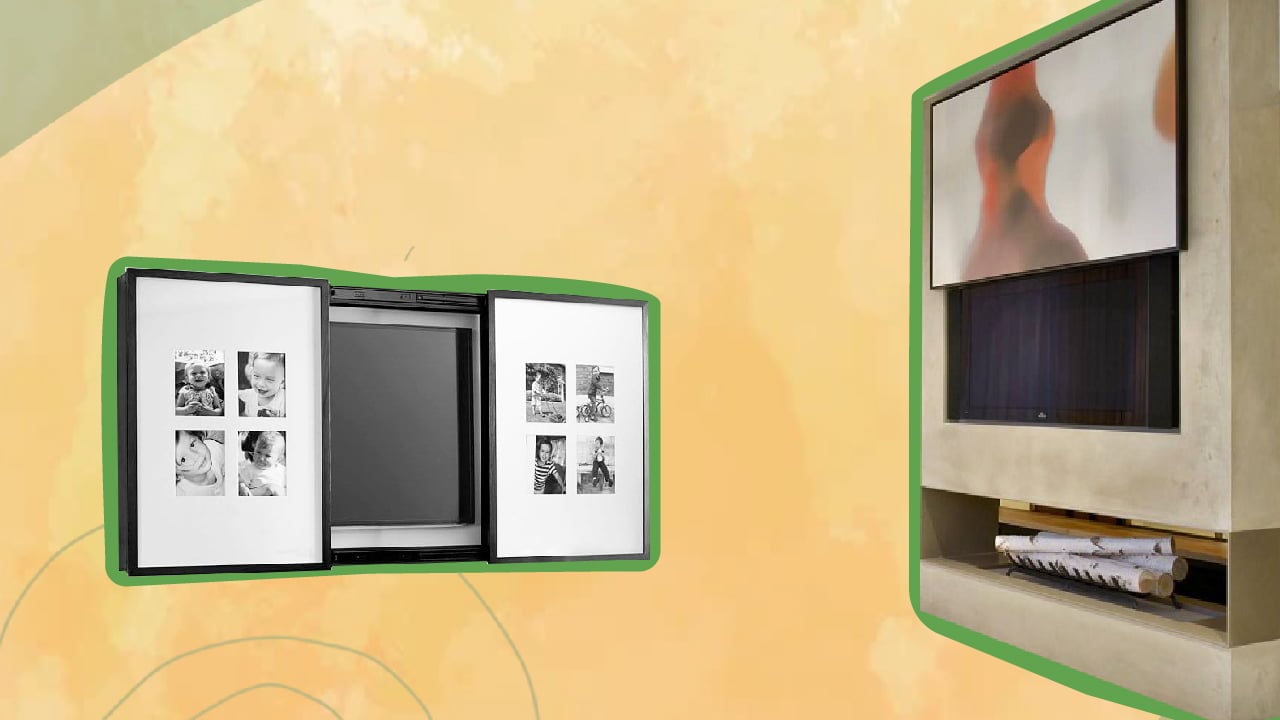 Hidden TV Ideas– 11 Ingenious Ways To Hide Your TV Stylishly
Making your TV as unobtrusive as possible is slightly challenging, and I understand that. That is why I've brought you 11 ingenious modern ways to hide your TV in style. 
1. Distract With Accent Pieces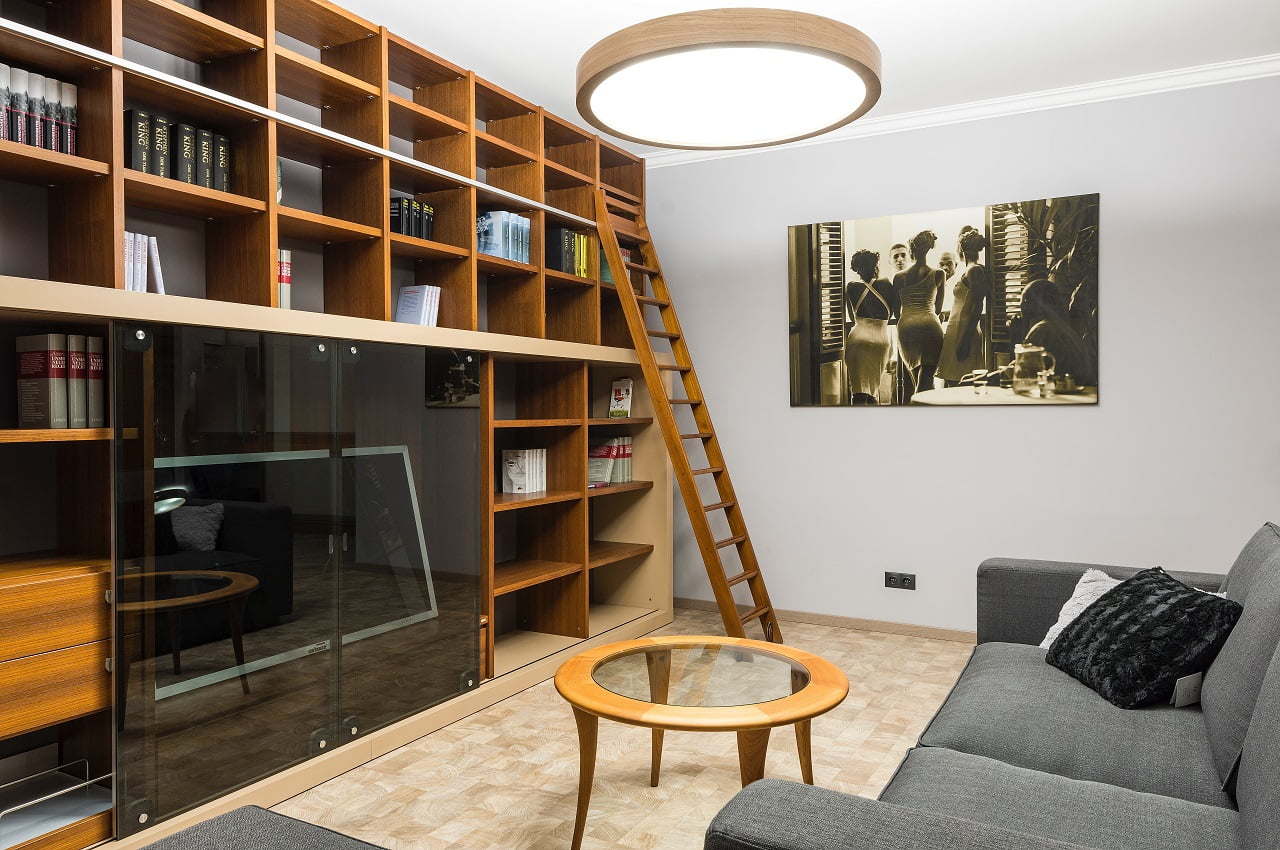 Surrounding your TV with accent pieces can disguise it, diverting the attention of your guests to the other important things in the room. 
Books, wireless lamps, ornaments, or vases– you get plenty to choose from when it comes to decorating the space around the TV. Or you can simply opt for a few glass, ceramic, or gold items and place them carefully in the storage unit. By doing so, your TV will fade into the background and the accent pieces will become the focal point. 
You can also arrange a wood wardrobe and the shelving unit symmetrically to make the space calming and balanced. A bookcase and a pair of armchairs will also be a great addition to the space, on which you can recline and read a book. 
2. Hang A TV Mirror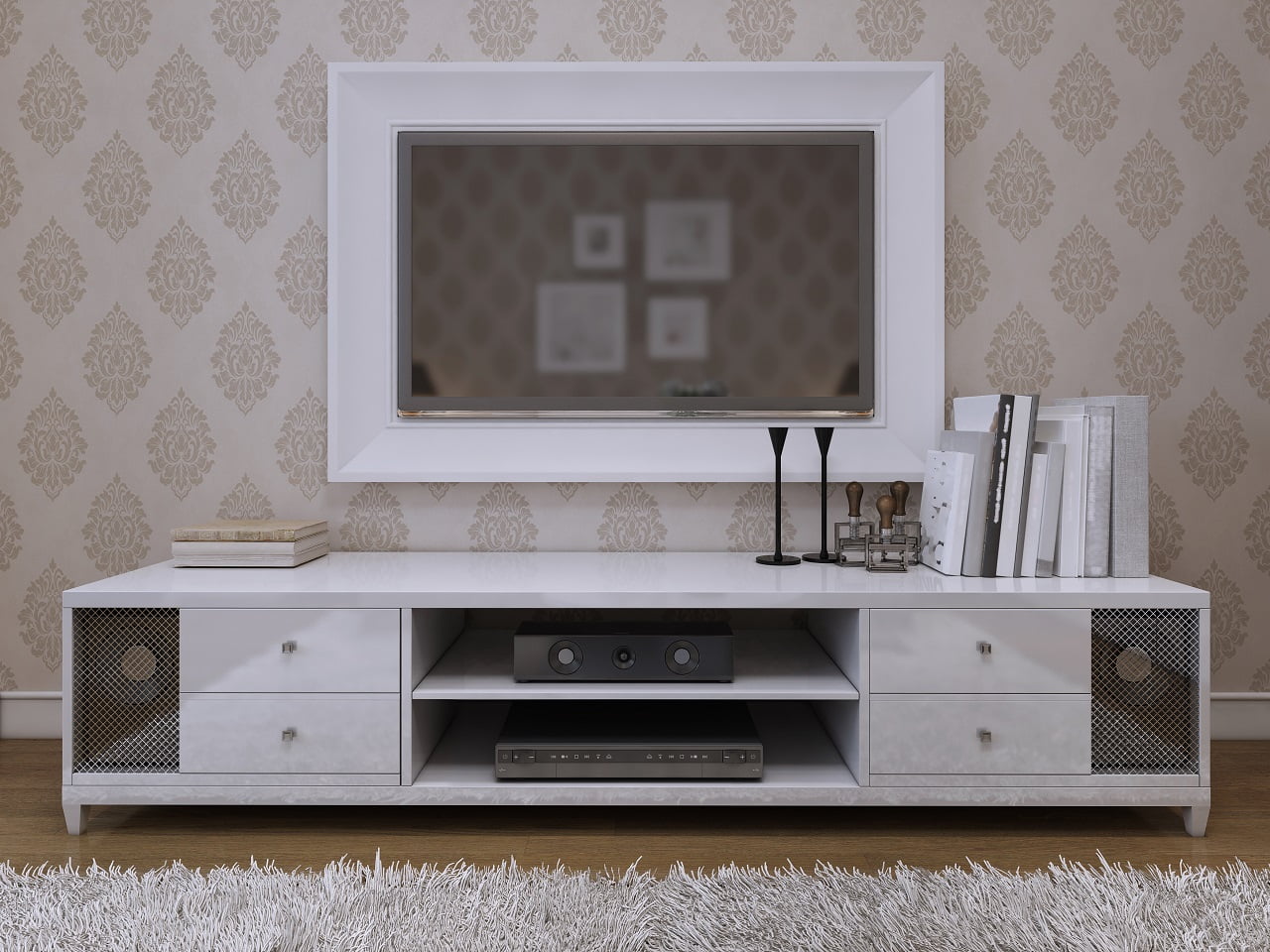 Want to make your living room more friendly and cozy? Mirror TVs are worth investing in if you wish to create a social space not dominated by televisions. 
What's interesting is that mirror TVs are available in a variety of sizes, so you can choose a small or large unit easily. To turn it into a mirror, all you need to do is turn it off, and the TV will disappear. 
3. Place It In The Corner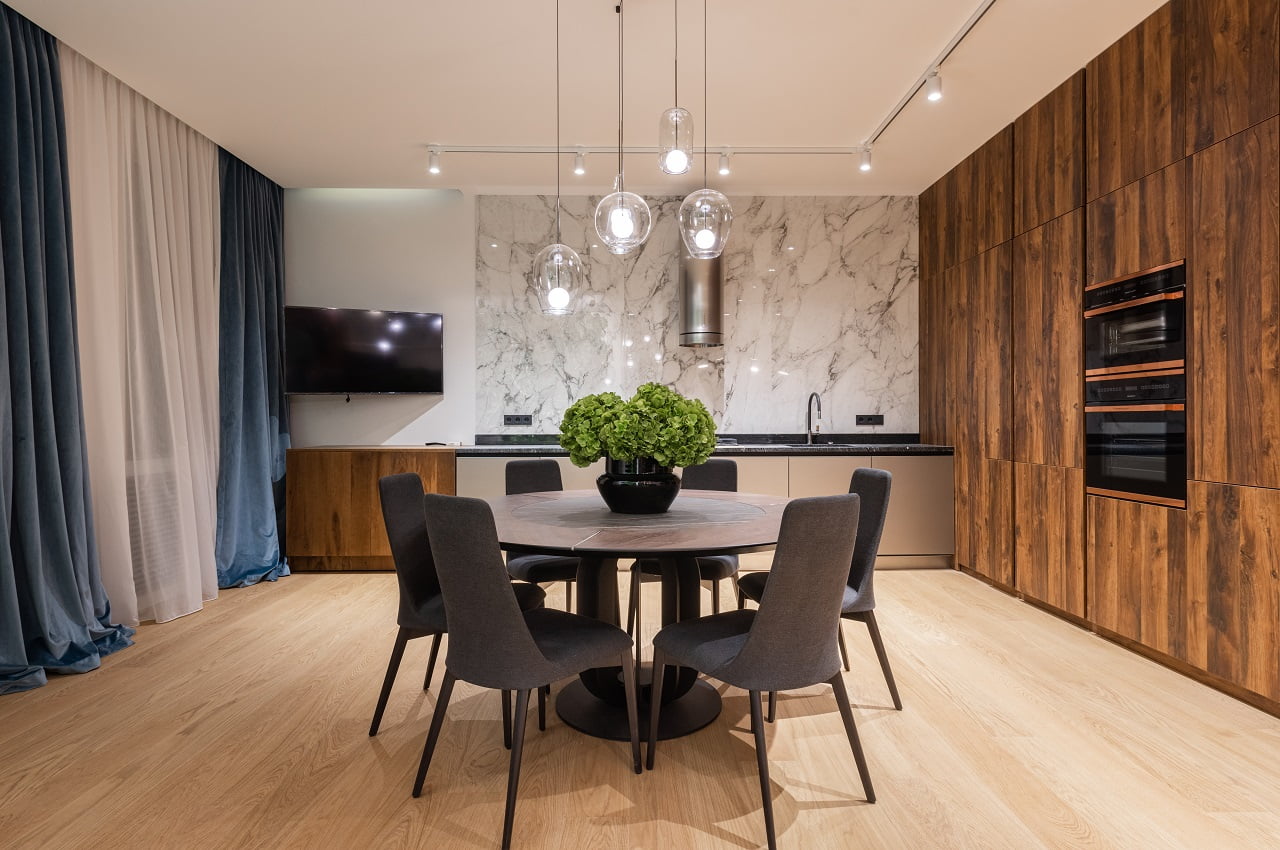 Instead of putting your TV in the center of your living room, slotting it into one corner of the space will hide it from sight. 
Hanging the TV above the fireplace mantel or the middle of the room will dominate the space. On the other hand, positioning it to the side beneath the shelving while painting the backdrop in a dark shade, ensures the TV blends seamlessly with the dark backdrop. 
4. Install A Sliding Panel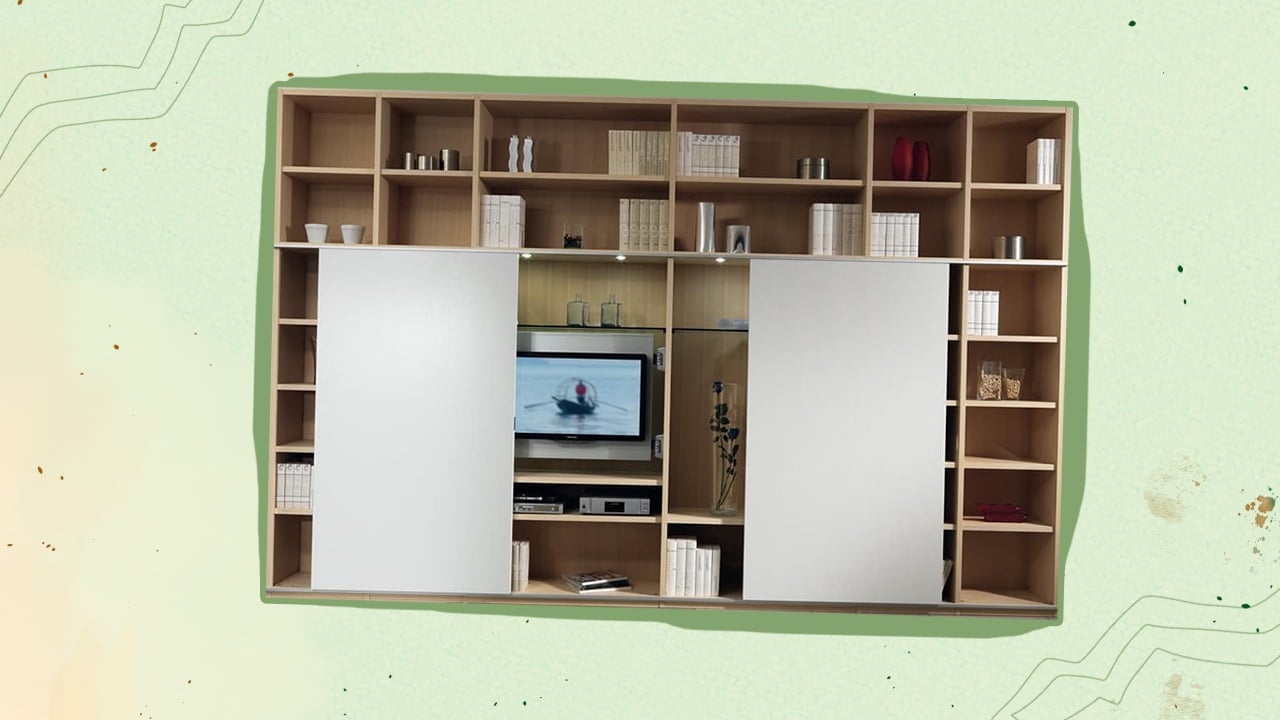 A country-styled paneled wall revealing the flat-panel display is one of my favorite ways to disguise the TV. 
For this, you will have to first mount the TV to the wall and build a shallow cabinet on the four sides. One thing I would like to mention is that creating mesh doors would be a practical solution in case you have a surround sound system. Mesh doors would hide the speakers but make sure that the sound flow isn't obstructed. 
When it comes to mounting TV, you get a variety of options to choose from. Like, a static arm is quite useful for homeowners with limited space, but for optimum viewing, articulated brackets would be the best bet, so the screen can be tilted or pulled forward. 
5. Mix Your Big Black Screen With Shelving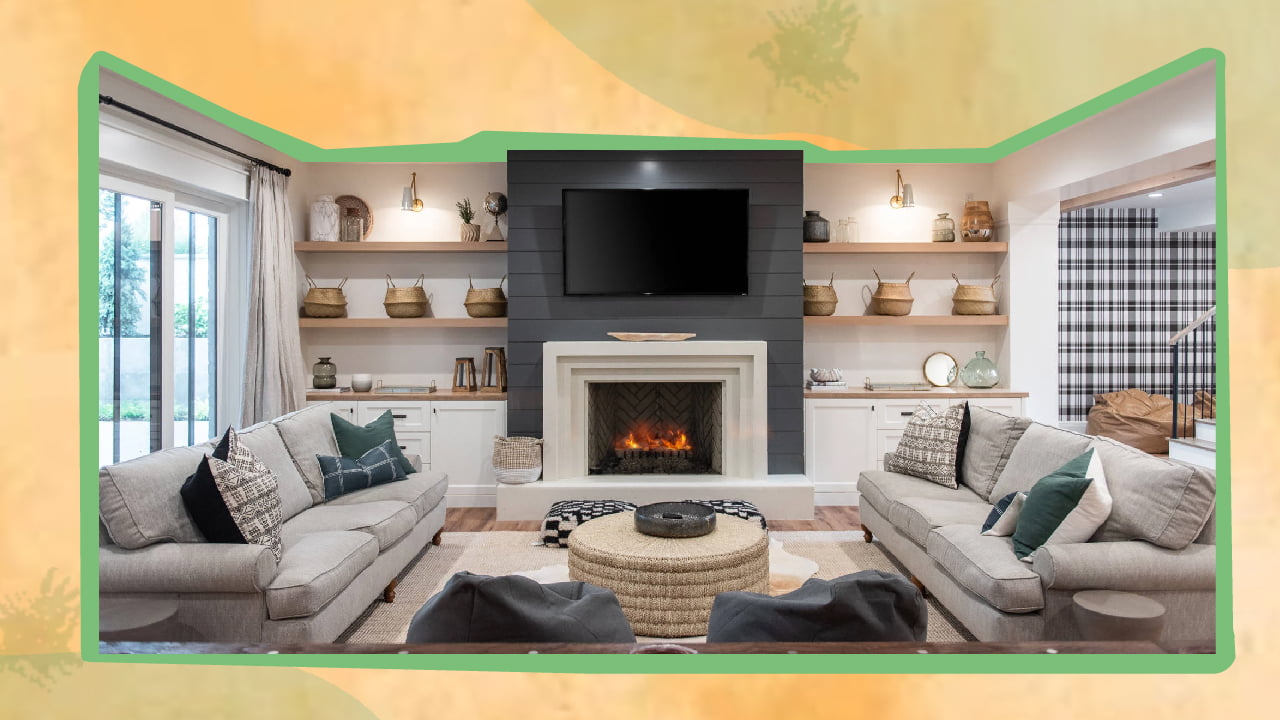 In this approach, you will need a few framed pictures, while the color of the storage must be similar to the bezel of the screen. Place it carefully around the TV, as it will be a clever hack for small spaces, but will also make your TV set appear as part of the display. 
6. Fit Your TV Flush To The Wall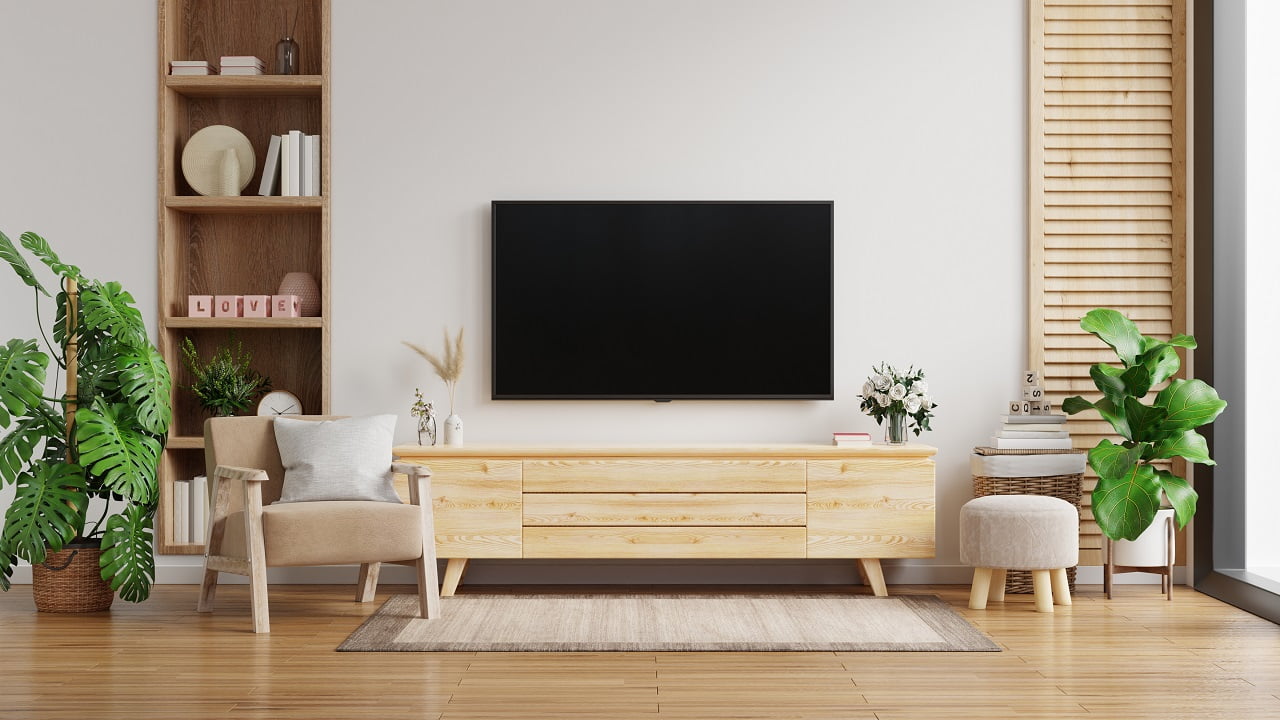 Building a media room from scratch? Well, the good news is that you have the luxury of designing the space as per the dimensions of the big black screen. You can fit the TV in a custom joinery to hide the depth of its screen so that it doesn't stick out and dominate the space. 
7. Add A Bold Media Unit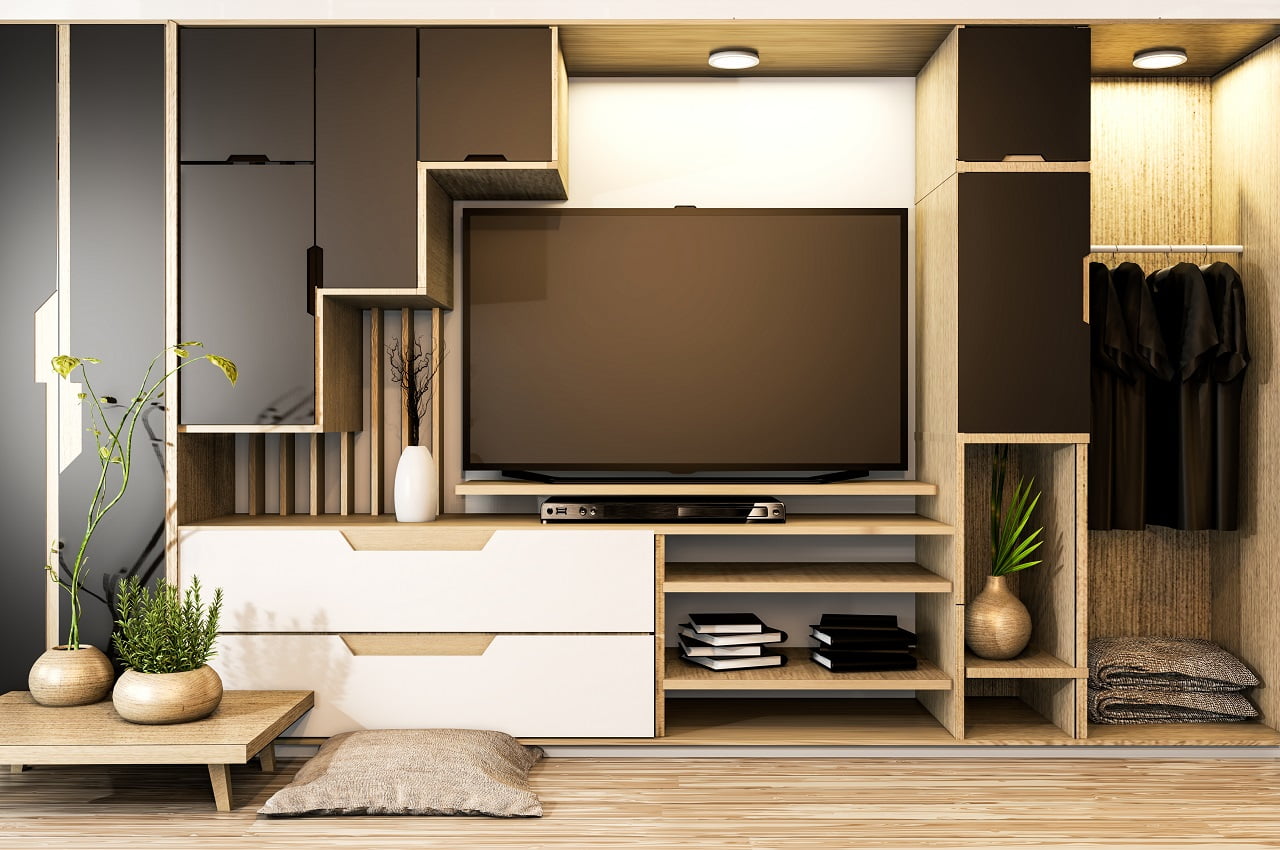 While this may not conceal your TV unit entirely, it is effective in deflecting attention. On rich walnut veneer, install glass shelves and integrated spotlights while adding a few decorative pieces. Now carefully place the TV in one corner of the shelf, and turn on the spotlights to highlight the bold accent pieces. 
Whichever accent pieces you choose, make sure they complement the other furniture in the space. Like, if there's a dining room next to your media room, go for accent pieces that are similar to the items displayed in the dining room. 
And if you have a small space, hang your TV against a dramatic backdrop, and it will blend into it seamlessly. 
8. Get A TV Bed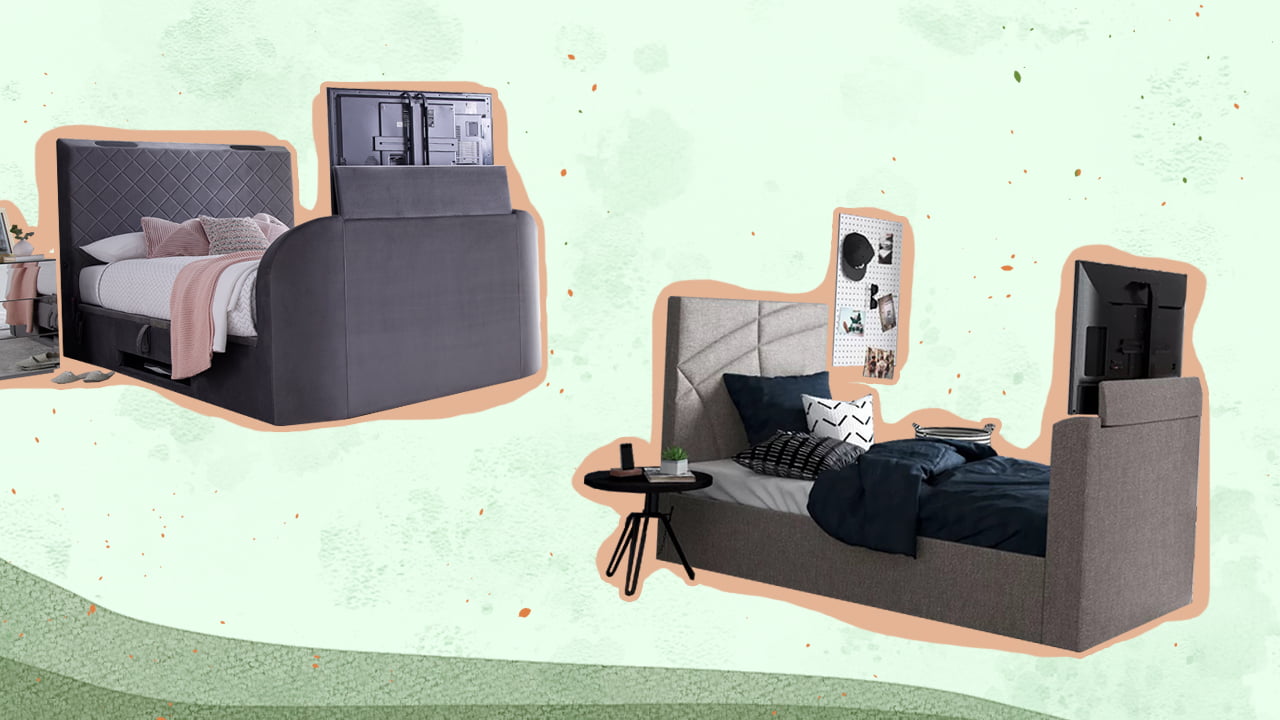 If you like catching up with the latest release on Netflix, adding a TV bed is one of the best ways to hide the TV. TV beds also allow you to create a decluttered space, as such beds hide unsightly cables and wires from sight. 
In a TV bed, the footboard is slightly longer than usual, from which the TV can be raised via a lifting mechanism. 
9. Arrange Your Furniture Away From The TV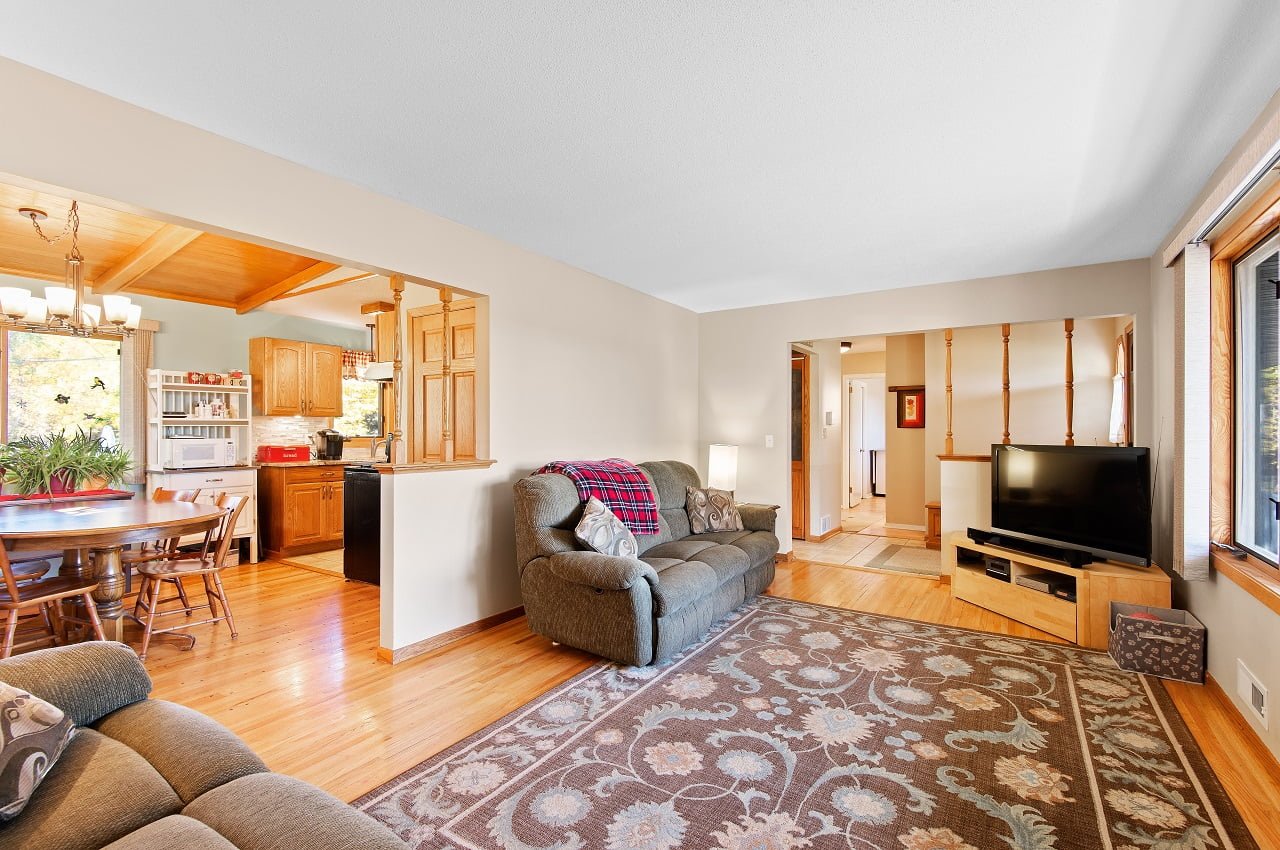 One thing I learned a little late is that angling all your furniture towards the TV can make it the focal point of the space. 
Instead of placing your sofas and chairs towards the TV, arrange them in a convivial setup to deflect attention. This way, the people who come over to your place will know that the space isn't a media room but a living room. . 
10. Invest In A TV That Is A Work Of Art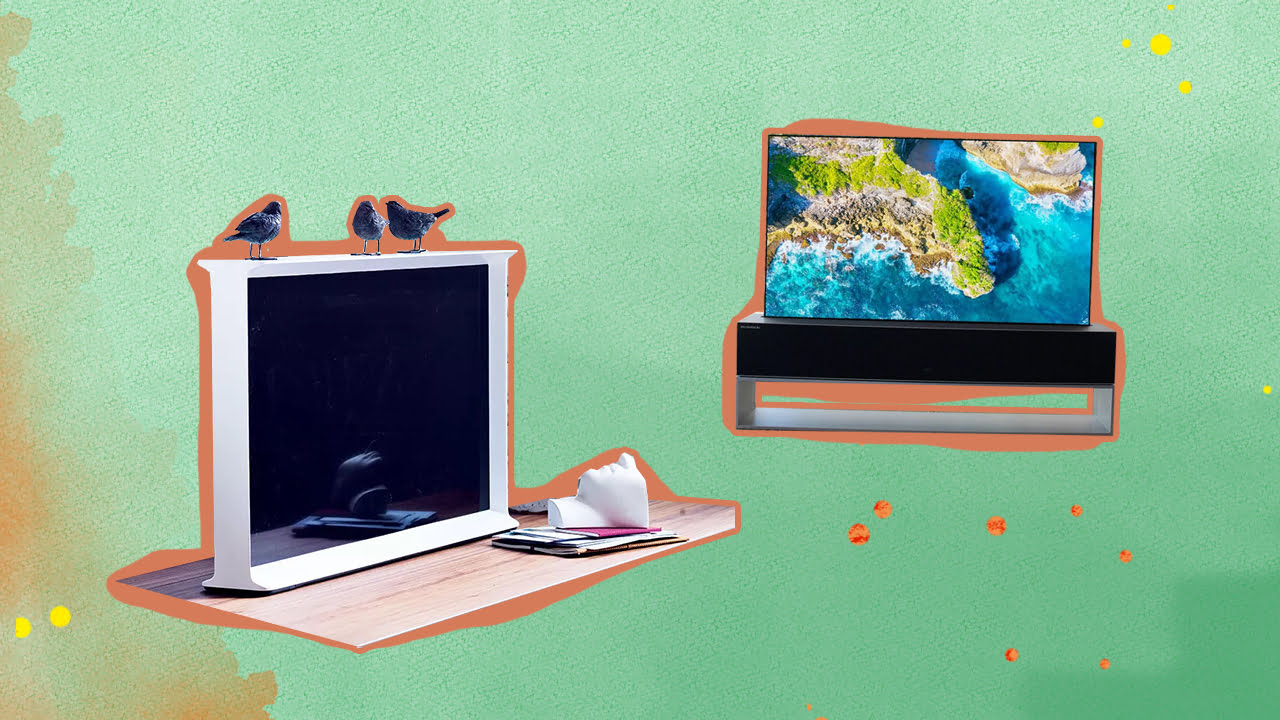 Every interior designer suggests incorporating a TV that works as a piece of art so that you won't have to hide it when it isn't in use. 
Samsung is one such brand that has invented a Serif TV with input from Ronan and Erwan Bouroullec, French interior design experts. The two experts have also added a "curtain mode," which is midway between on and standby mode. 
On such a TV, you can set up a slideshow of your own photograph, view a clock, and access some apps. 
Around the rear, a woven fabric panel is added to keep the connectors out of sight so that your unit should look excellent from each and every side. Other than Samsung, Loewe and Bang & Olufsen offer super-stylish TV sets. 
11. Buy A Projector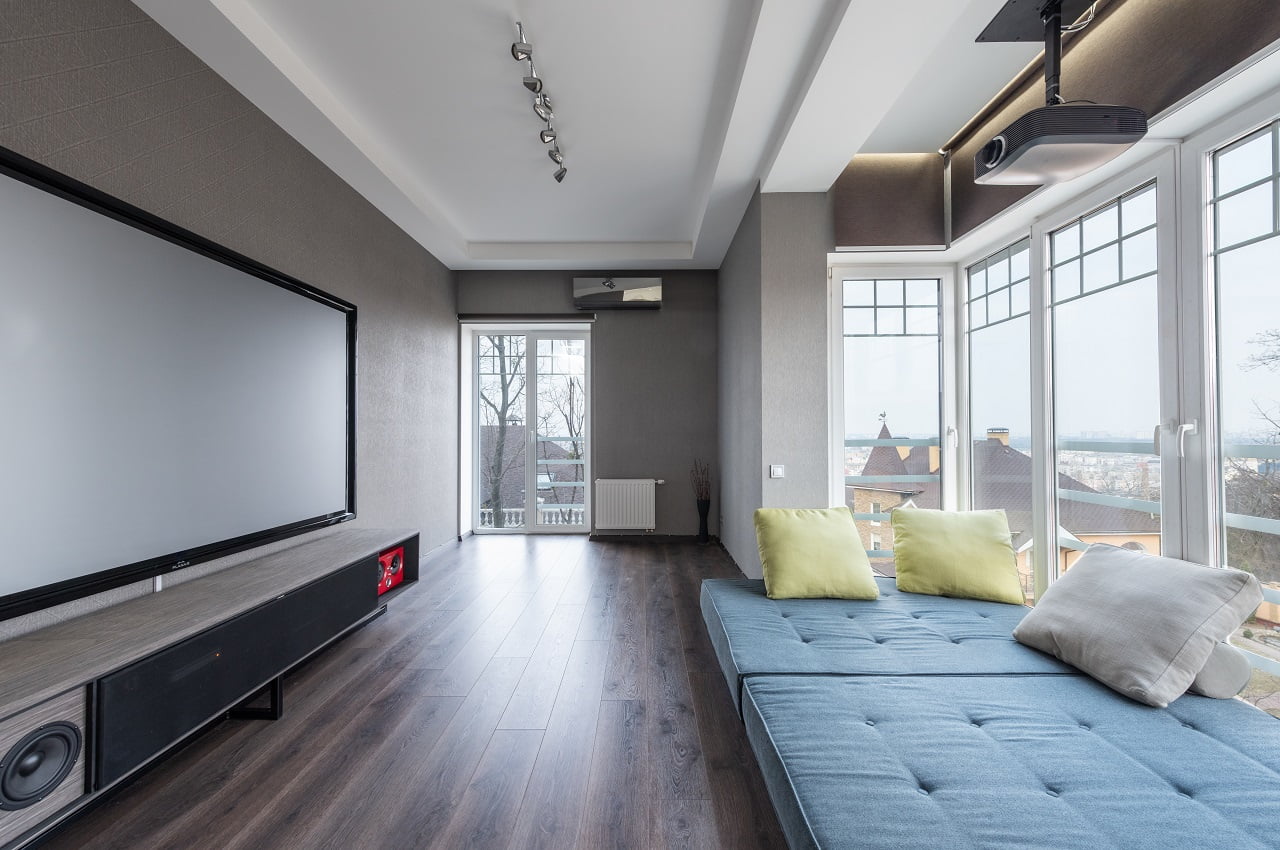 In an open-plan living room, a projector would be an excellent addition because of its high-resolution picture quality, allowing you to watch on a 100-inch or larger screen. Best of all is that the screen doesn't need to be displayed 24/7, meaning you wouldn't have to spend time and resources camouflaging it like your TV. 
For a premium experience, I suggest spending on a motorized projector screen which can be pulled out of sight when you're not watching anything. 
Tip
One of the common mistakes homeowners make is to go for a TV that is too big for their room, because of which they struggle to disguise it. To avoid the hassle, I suggest going for a TV whose center of the screen is right below the level of your eye. That's because peoples' heads tend to drop a bit when relaxing, so mounting it overly high will cause discomfort. 
A TV screen that is mounted too high will make you feel like you're sitting in the front row of a movie hall.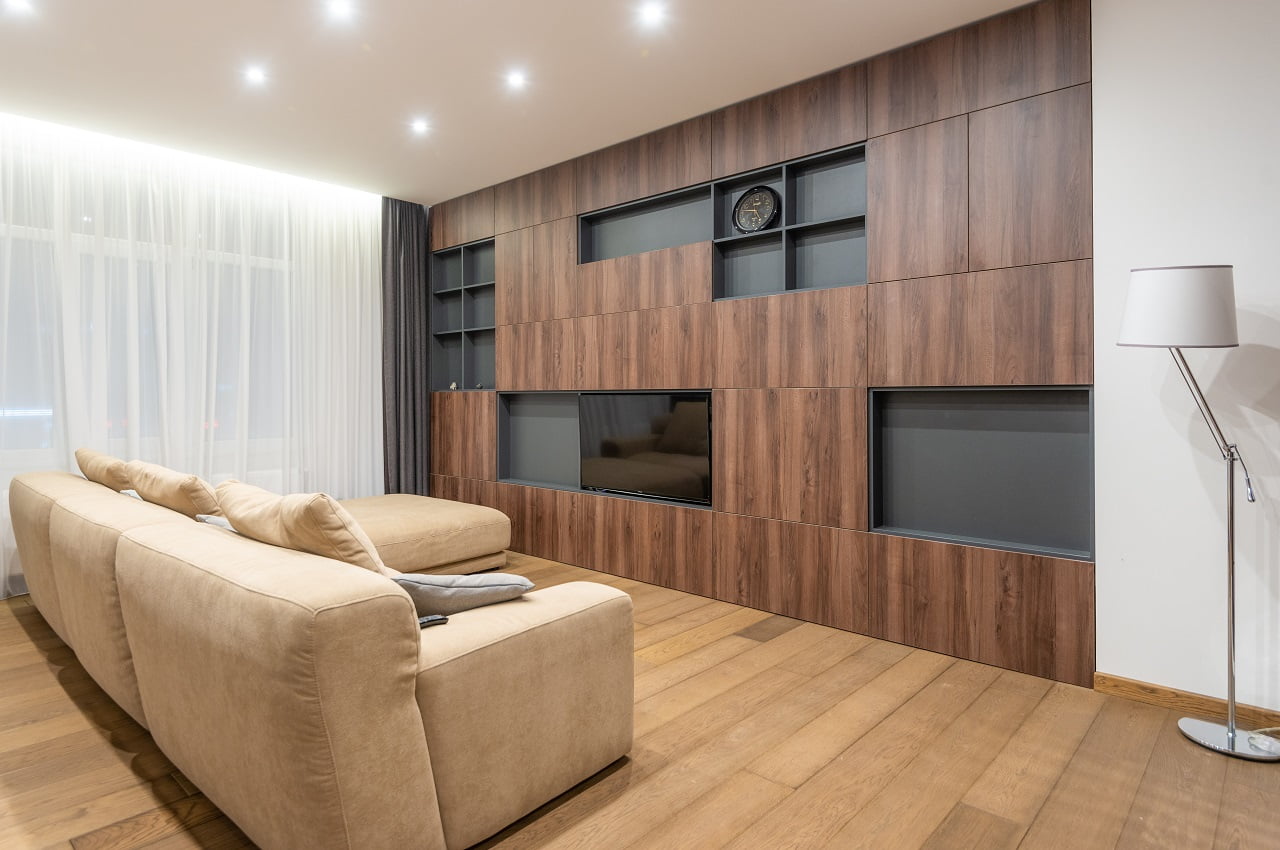 How To Hide A TV Final Thoughts
A TV is an integral part of every living room, but it makes or breaks the harmony of any space where it's placed. Therefore, sometimes hiding it is the only option to emphasize the finest aspects of the room. 
Using a projector or artwork to create a gallery wall or decorating the shelving unit with accent pieces will divert your guests' attention from the plain black screen. And if you don't mind spending a bit to hide the TV in plain sight, installing a TV lift or sliding panels would be the best bet. 
Remember, your budget plays a crucial role in determining which technique you should opt for disguising your TV. You need not spend tons of dollars to camouflage the TV; so, decide wisely.