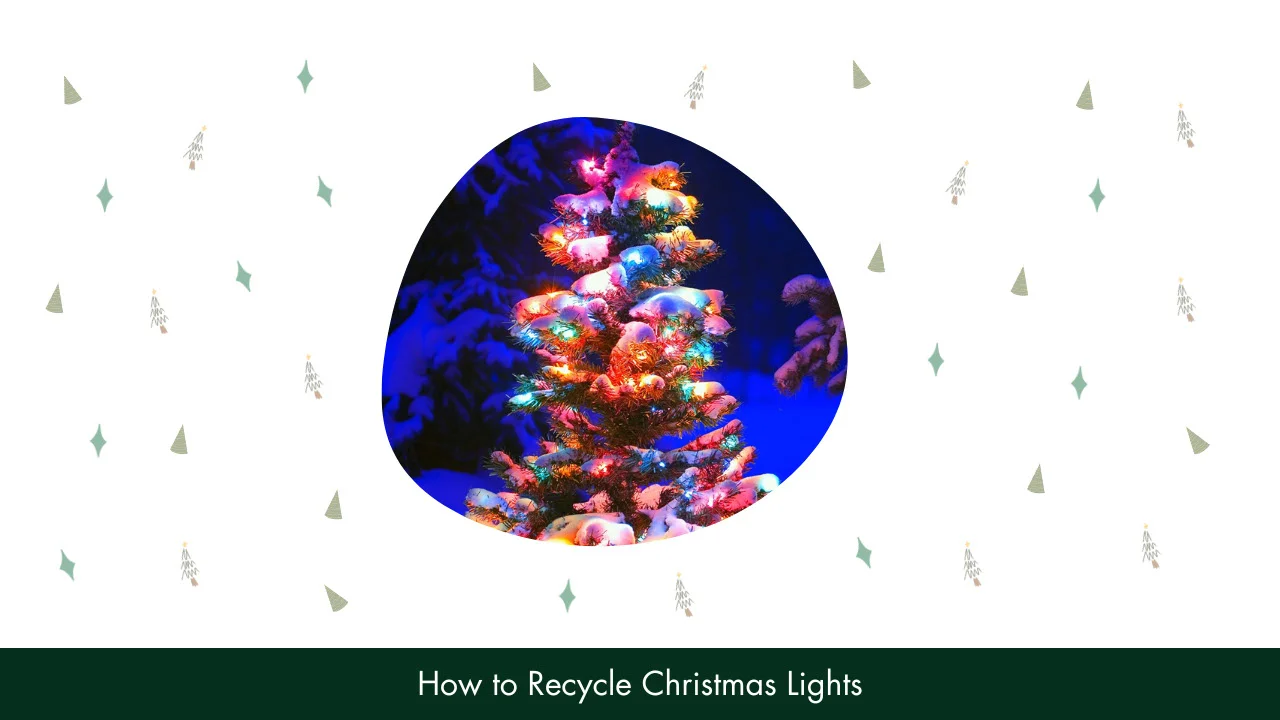 Recycling Christmas lights and decorations is an important step towards reducing waste, and with electric lights, the idea is no different. They can be recycled and repurposed just like any other item. 
Christmas lights are a beloved holiday tradition, adding a warm and festive glow to homes and streets during the holiday season. However, what many may not realize is that the widespread use of Christmas lights also contributes to a significant amount of trash each year. 
Countless strings of broken, outdated, or unwanted Christmas lights end up in landfills, posing environmental challenges. In this article, you will find out the ways to recycle Christmas lights and reduce their impact on the environment. 
Determine the Condition of Your Christmas Lights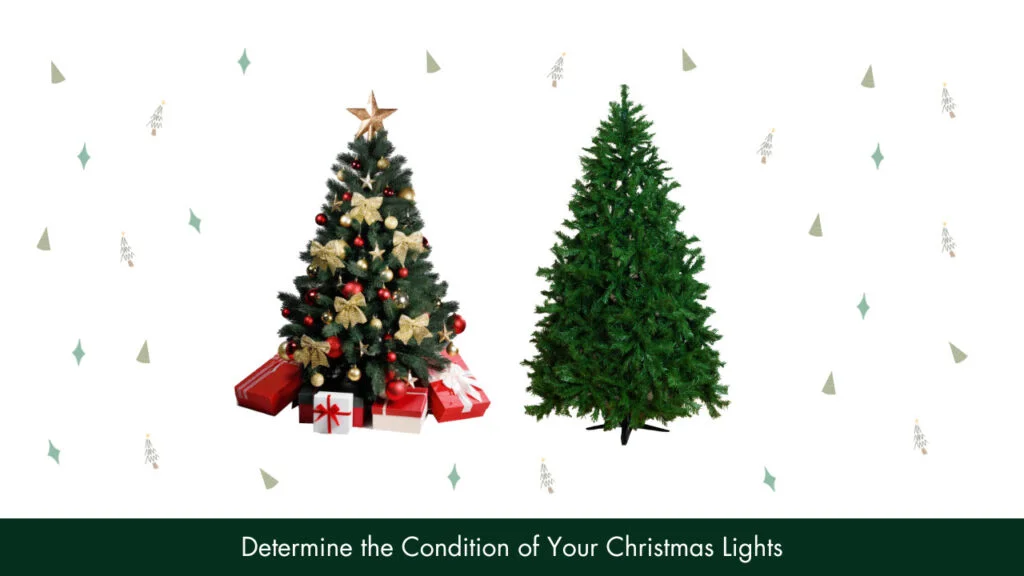 Lights, camera, check! Before you bid farewell to your holiday adornments, it is crucial to perform a little inspection of their condition. Why, you ask? Because not all lights are created equal, and some may require attention before the recycling process.
Based on my first-hand experience, I can say that recycling lights that are in good condition ensure that they can be repurposed. On the other hand, lights that are damaged or broken can potentially cause issues in the recycling process.
Here are some flags to determine if you can consider the option of recycling your electric light strings or not:
| Green Flags | Red Flags |
| --- | --- |
| The holiday lights are made of glass and not plastic or polyvinyl chloride, which can be more difficult to recycle | The old Christmas lights are made of non-recyclable materials |
| They are not damaged or broken, as this can make it difficult to recycle safely | The bulbs are still functional and can be reused or donated rather than recycled as municipal solid waste |
| The old lights have an accepted type of bulb, such as incandescent, compact fluorescent (CFL), or light-emitting diode (LED) | The holiday lights are heavily damaged or contaminated, such that the cost of recycling outweighs the environmental benefits |
| The old holiday lights are not tangled or knotted with other materials | The holiday lights are coated with paint, glue, or other substances that cannot be easily removed |
| The recycling center or program in your area does accept Christmas lights and is equipped to recycle them properly | The bulbs are specialty or unique types that cannot be processed by the available equipment and facilities |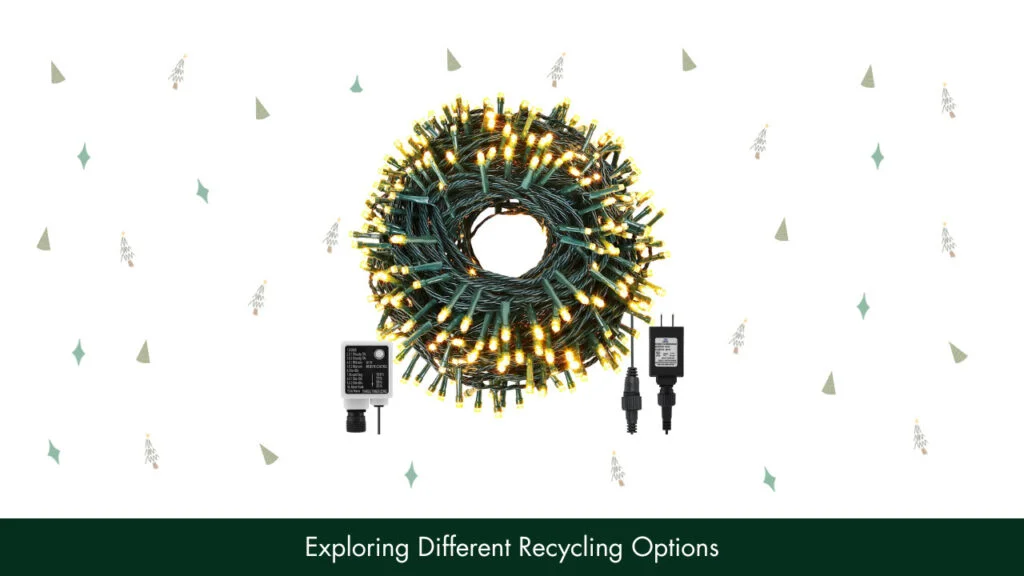 Exploring Different Recycling Options
My research indicates that there are several recycling options available to dispose of unwanted holiday lights in an environmentally responsible way.
One option is to check with your hardware store. Some hardware stores like The Home Depot, Lowe's, Ace Hardware, and True Value accept lights in special recycling programs. Some organizations even offer mail-in programs where you can send in your old lights, and they will recycle Christmas lights for you.
If you prefer to recycle your lights locally, you can look for a materials recovery facility or a local recycling center that accepts electronic waste.
My findings show that many municipalities have designated drop-off locations for electronic items, and they may also have curbside pick-up programs for e-waste. Check with your city's landfill management or recycling agency for more information on available options in your area.
If you're looking for a more charitable option, consider donating your unwanted lights to organizations like Toys for Tots, which may accept new or gently used lights as part of their toy donation programs during the Christmas and holiday season.
Whichever option you choose, be sure to follow safety guidelines for handling electronics, as Christmas lights may contain hazardous materials like lead.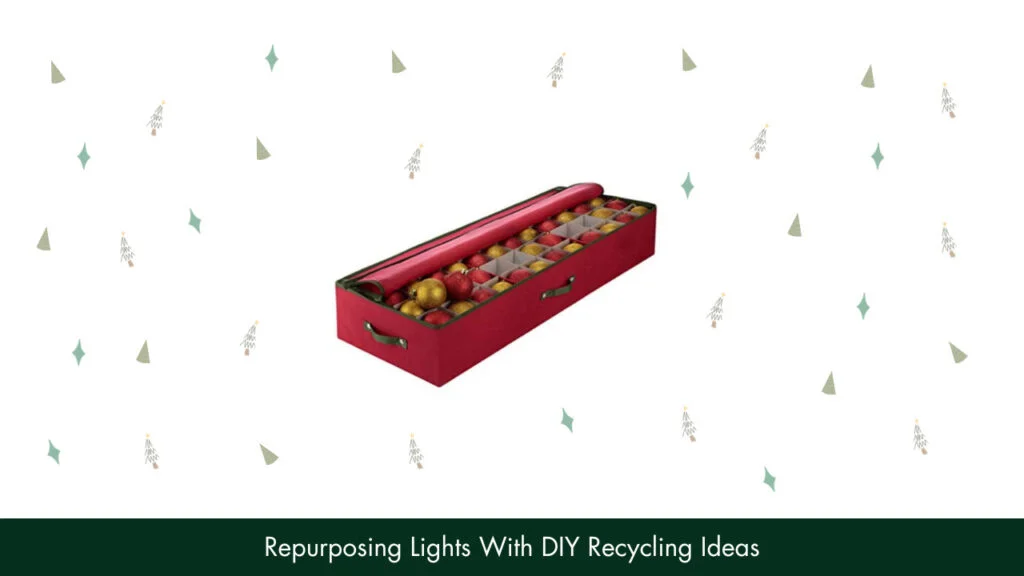 Repurposing Lights With DIY Recycling Ideas
Try these five DIY ideas using string lights that allow you to recycle old Christmas lights while creating a cozy and inviting atmosphere in your space.
First up, you can repurpose your Christmas light strings with a DIY photo display. Attach the bulbs to a wooden frame or wire grid, and use mini clothespins to hang your favorite photos, postcards, or artwork. This unique and personalized photo frame can be hung on your wall, creating a warm and nostalgic ambiance.
Next, you can consider making outdoor pathway lighting using recycled Christmas lights. Align the bulbs along a pathway or wrap them around trees. This not only creates a magical atmosphere for evening strolls or outdoor gatherings but also assures you of a nostalgic feeling every time you look at it.
For a touch of elegance and functionality, repurpose your old Christmas lights with a DIY-lighted mirror. Wrap the bulbs around the border of a mirror to create a flattering look for your vanity or bathroom. It's a simple yet stylish addition that can elevate your beauty routine while giving new life to your Christmas tree lights.
You can make a custom illuminated sign using your old holiday lights. Spell out words or create shapes on a wooden or metal frame using holiday string lights. For cozy and inviting outdoor lighting, you can also try DIY patio or balcony lighting.
Last, but not the least, you can decorate your kids' room with holiday LEDs. You can wrap them around a bunk bed, a play tent, or a bookshelf to create a lighting element that your kids will love. It's a sure way to bring magic and joy to their space.
Can I recycle Christmas light strings with my regular curbside recycling?
Based on our observations, no. Christmas lights are considered e-waste and need special recycling. You may need to check with your local recycling centers for specific instructions. 
Are there any safety precautions I should take when recycling broken lights?
Yes, avoid placing broken lights in your recycling bin. Wrap them securely in packing material or place them in a sturdy box to prevent injuries. 
Can I donate my old Christmas lights instead of recycling them?
Absolutely! If they're still working, consider donating them to local charities or community programs. It's a great way to give back and help others light up their holidays. 
Can LED Christmas lights be recycled? 
Giving it a try showed me that, yes, LED lights can be recycled. But it's always a good idea to check with your local recycling program or center for specific instructions to ensure they're recycled properly. 
What are some creative ways to reuse or repurpose old Christmas lights instead of recycling them?
You can use them for decorative lighting in your home, garden, or patio or repurpose them for crafts. 
Conclusion
Christmas light recycling can help reduce the demand for raw materials, such as copper, and other valuable metals, which are used in the production of new holiday lights. This conserves natural resources and reduces the need for mining and extraction. 
It will also set a positive example for others, encouraging them to adopt more sustainable waste disposal practices. 
By recycling your Christmas lights through any of these ways, you can do your part to reduce electronic waste and prevent valuable materials from ending up in landfills. So, instead of adding to the trash pile, consider recycling your holiday lights and giving them a new lease on life while also supporting a greener and more sustainable holiday season.