A fairy tale forest scene that includes an owl, a tree, butterflies and a tiny Red Ridding Hood follows and yet the extraordinary main focus of the scene are the colorful iconic mushrooms contained. The magic setting will help you create miniature worlds in which everything is possible, there are no limits. The items portrayed are simple to draw yet the color enhances them a great deal making the scene vivid, full of life. The tutorial "Learn How to Draw a Mushroom" is a magical snapshot that can work as an educative instrument in drawing and coloring with your children, your family; it is the 10th tutorial in the Cool Things to Draw Collection that we highly encourage you to visit if you`re interested in sketching and drawing. More information on mushrooms and the step by step cartoon tutorial itself, after the break.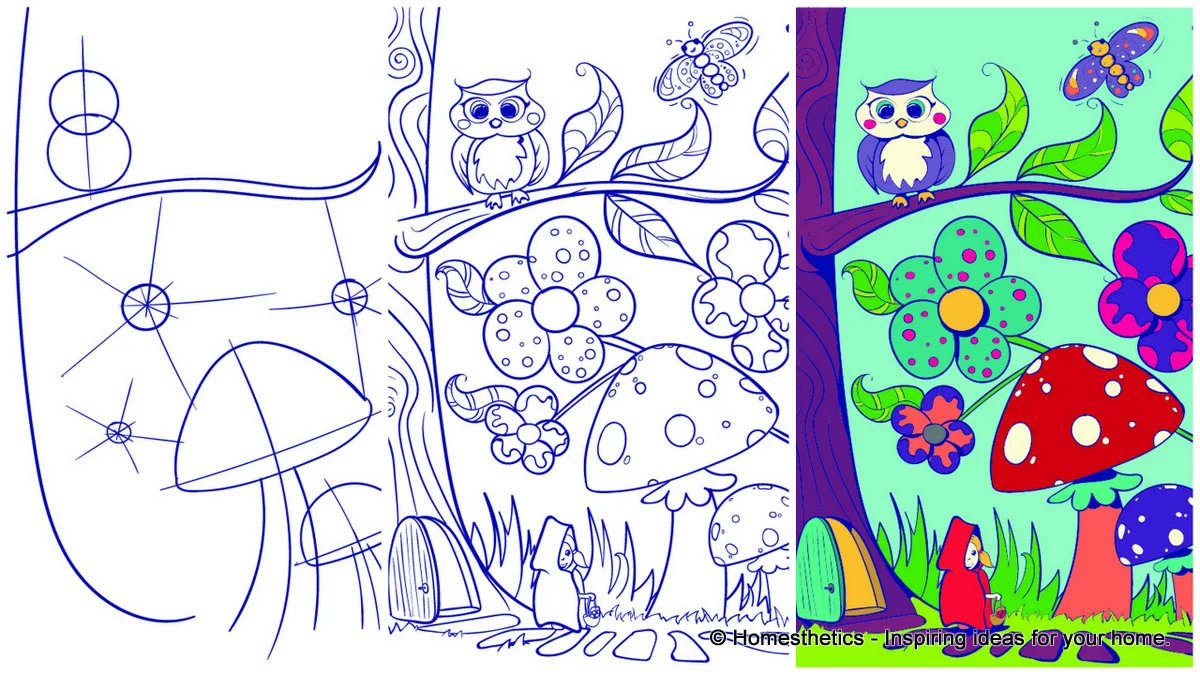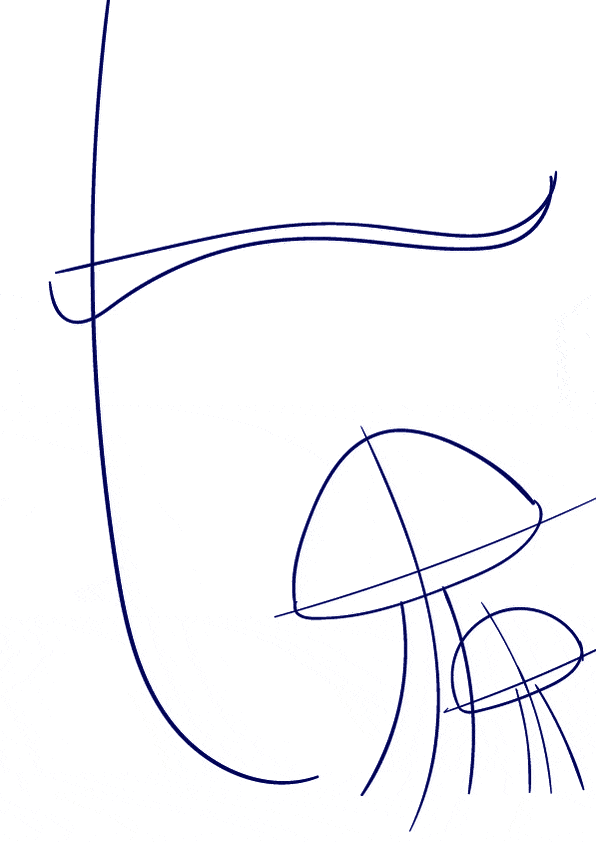 Forests are separate universes in which wildlife flourishes, natural biomes are being created with simply extraordinary relations between the elements. In the following rows fun facts about mushrooms are listed as a bonus in the educative process of drawing. Please note that mushrooms are just one element from thousands, millions in a forest. Mother Earth is unique to say the least.
Mushrooms are also entitled toadstools, they`re part of the fungus family and unlike usual plants mushrooms produce energy for themselves regardless of sun conditions, they require no sunlight.
Traditional mushrooms are a highly nutritious food source, most species contain a great source of B vitamins as well as minerals like copper and potassium, they contain little fat, carbohydrates and salt content, they`re quite unique.
The medicinal properties of mushrooms have been put to good use by Traditional Chinese medicine for centuries.
Numerous modern studies have proven that mushrooms are resourceful in medicine, they`re used in antibacterial, anti-inflammatory and antioxidant solutions. Mushroom are also used to reduce blood pressure, moderate blood sugar, reduce cholesterol, enhance the immune system as well as to reduce stress and help with the fight of numerous types of cancer.
Mushrooms contain up to 90% water.
In certain cuisines the mushroom is considered the meat of the vegetable world.
Most mushrooms grown for human consumption come from controlled, sterilized environments and the most popular mushroom type represents no less than 90% of the mushrooms consumed in the US, it`s entitled the White Button Mushroom. Portobellow and the brown version Agaricus Bisporus entitled Crimini are also popular edible mushrooms.
The world largest producer of mushrooms is China, the country produces more than half of all cultivated mushrooms in this world.
The term used for people that collect mushrooms with the purpose of eating them, in the wild, is Mycophagist. The act of collection can be referred to as "mushrooming" and "mushroom hunting".
In the world there are multiple highly poisonous mushrooms and some of them do look like edible species thus making the "sport" of "mushrooming" risky without proper knowledge.
In the world there are no less than 30 species of mushrooms that actually grow in the dark thanks to a chemical reaction called bio-luminescence that produce a glowing light similar to a foxfire. For centuries certain cultures have used these fungi species to light their path through the woods.
A colony of Armillaria solidipes that resides in the Blue Mountains of Oregon is believed to be the world`s largest organism, the fungus spreads over 2,200 acres (8.9 km2) and it is over 2,400 years old. A small portion the organism lives above ground as short-lived honey mushrooms but the mycelium, branch like vegetation, lives on.
Before synthetic dyes mushrooms were widely used to dye wool and various other natural fibers.The mushroom dyes are organic compounds known to produce powerful, vivid colors.
Learn How to Draw a Mushroom
STEP 1 - start small
Simple lines can easily shape the scene, we`ve started with two mushrooms and one tree. The simple lines are undulated one towards the other creating a feeling of coziness from the very beginning. The reverence lean is simple to make and from our point of view changes things a great deal. Needless to say that from step one things can and should look different on your piece of paper, thousands of shapes of mushrooms can be found in the world, be creative, natural.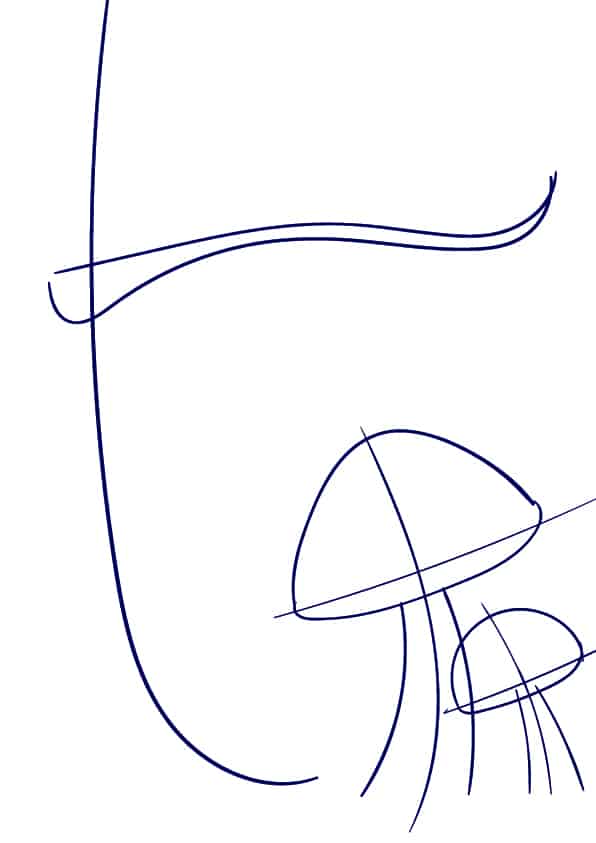 STEP 2 - start the owl and position flowers
To give life to the scene early on the position of complementary elements has been drawn. Notice how the circles and their construction lines already reside in a simple composition that seems tied.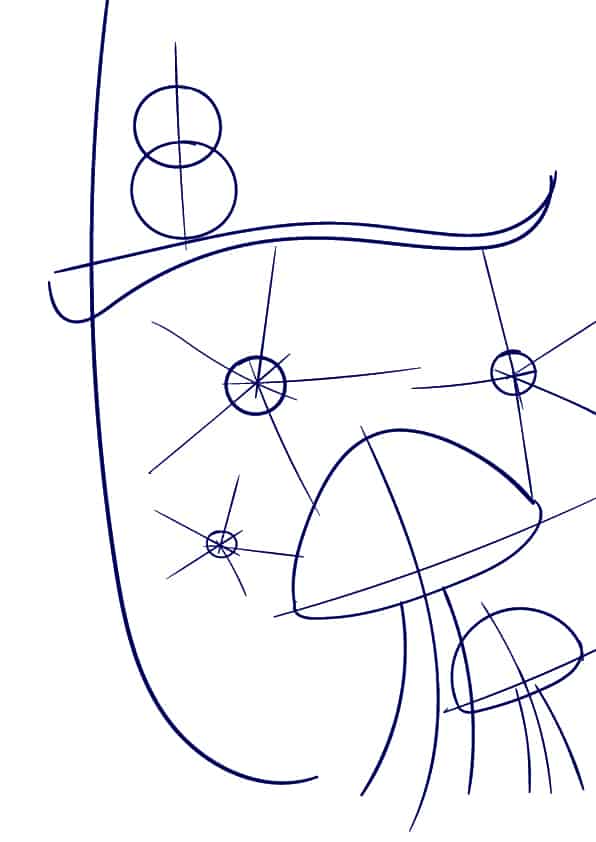 STEP 3 - draw a path and the red ridding hood
In step three we give our elements a scale by inserting human-inspired elements from fairy tales to which one can relate. The Red Ridding Hood walking on a path of small dimensions makes the setup huge, a fairy-tale setting. Flowers bloom here.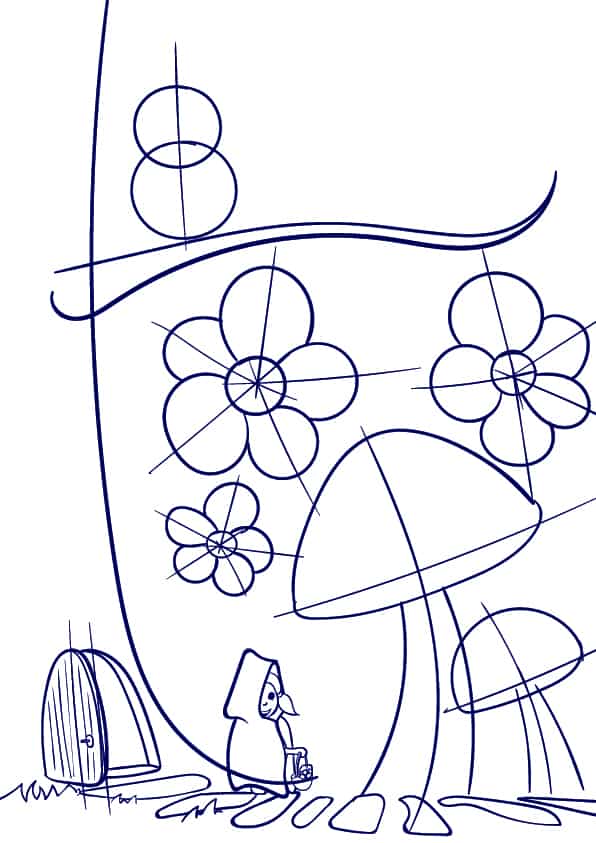 STEP 4 - detailing the owl and inviting a butterfly
Simple small step to make things cozier.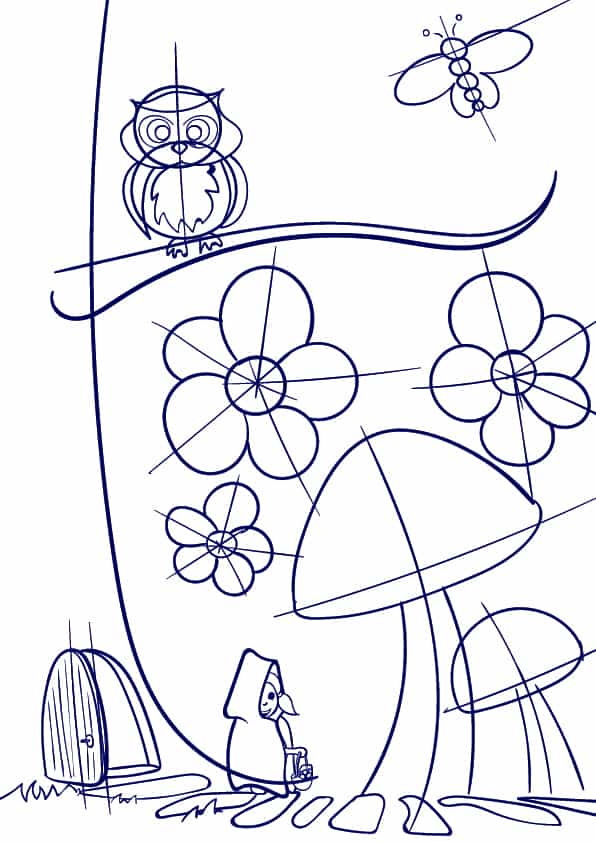 STEP 5 - Vegetation Flourishes
The tree now gains leaves and the grass surfaces underneath the mushrooms.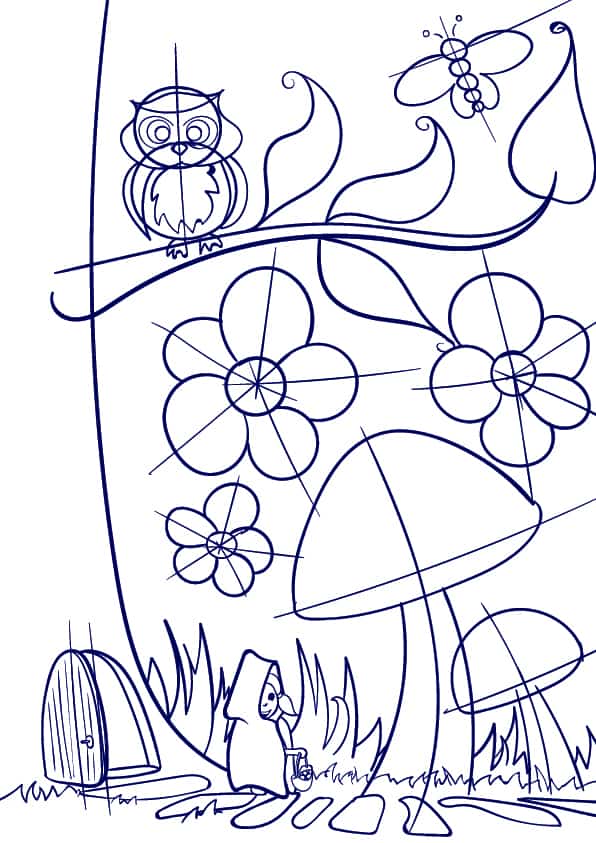 STEP 6 - Construction lines are being erased and mushrooms are being detailed
Certain details appear at this step, the flowers gain some leaves, the eyes of the owl are shaped yet the most important accomplishment is the mushroom level as these get a new shape and adorable spots.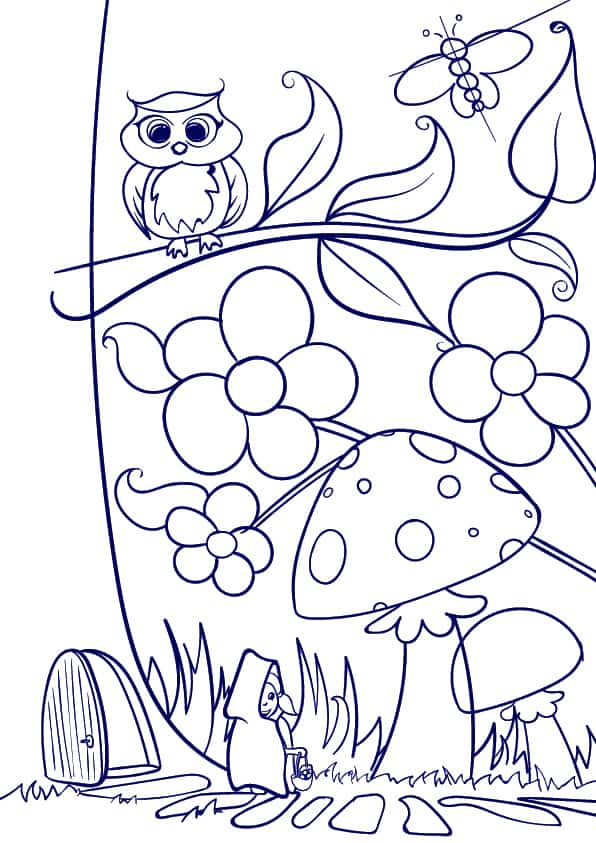 STEP 7 - More adorable spots and details
Lines appear on the tree, leaves, flowers. Spots appear on the mushrooms and butterfly and adorable owl.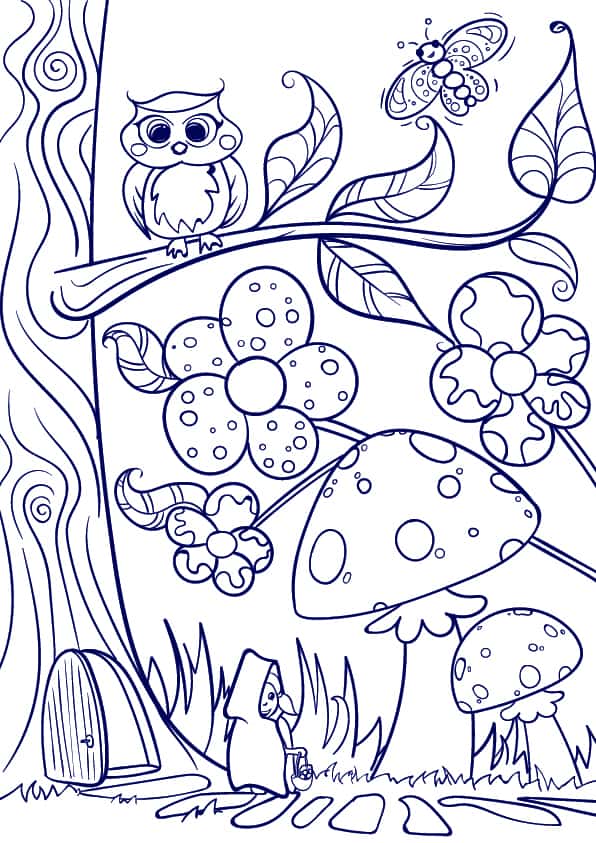 STEP 8 - Adding Shades
Contrast and depth through simple shades is now earned by our piece of paper.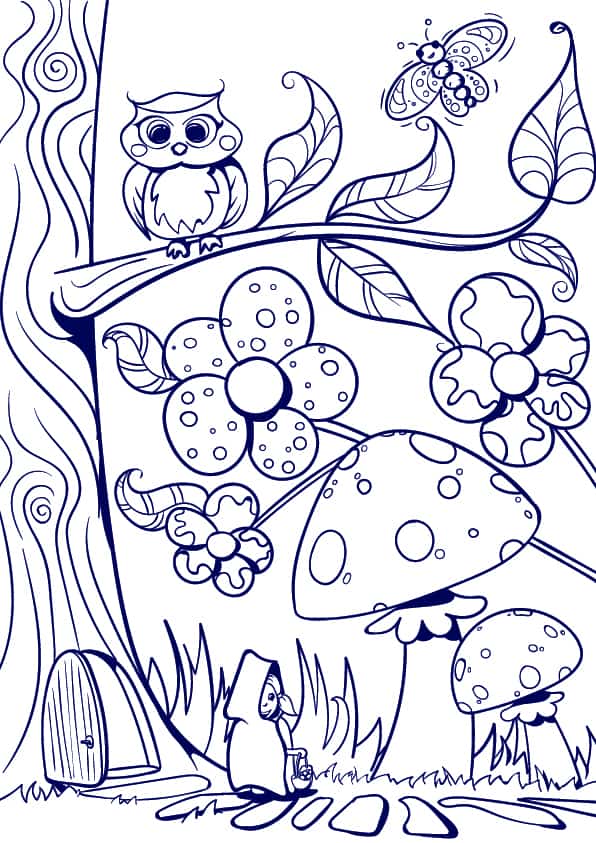 STEP 9 - Coloring the scene
Everything gains color, everything becomes vivid and positive.  In this step the most you are to have fun and enjoy the process as it simply brings joy.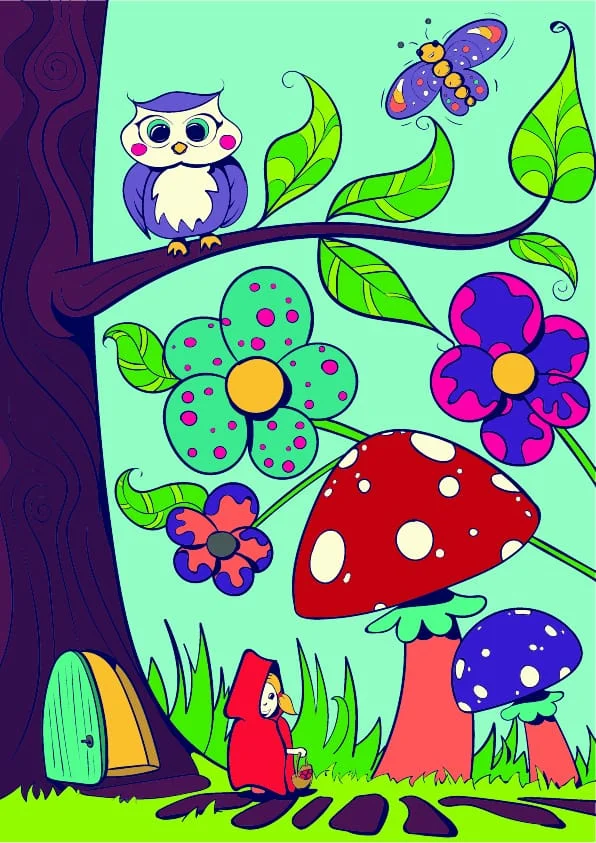 A fairy tale scene drawing tutorial is something that each one constructs out of his imagination, there are no limits and we hope that you have found our setting interesting, educative, positive. We would love to hear your opinion on drawing and coloring with the family in the comment section below.
This feature is part of the "Things to Draw" Collection of drawings realized by Homesthetics Magazine in partnership with Designaissance Studio. The contents of the tutorial are copyright protected as it is the collection itself; if you are interested on sharing the drawings on your website or magazine please contact the magazine. Feel free to print or share the page for educative purposes as this is the definitory purpose of our mission with this collection.
Related Articles
111 Best, Fun and Cool Things to Draw