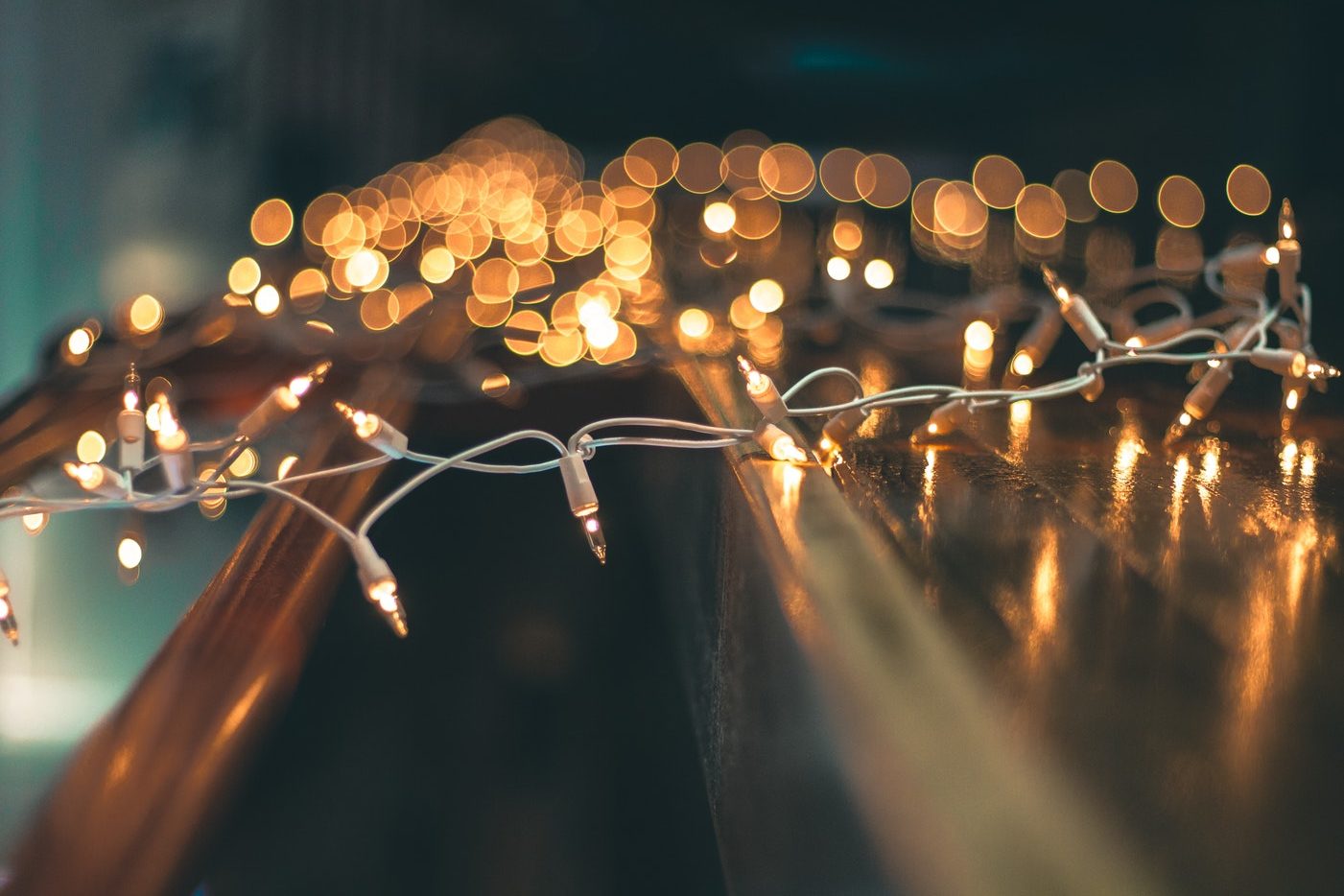 Christmas festivities involve decorating and lighting up your home inside and out. But how should you store the lights for next year after Christmas? 
Icicle lights are an indispensable part of Christmas décor all over the world. They are used for lighting up the interiors as well as exteriors. And with a dash of creativity, these lights add an excellent and almost surreal look and feel to any home. 
Icicle lights look stunning but can be problematic to store once the holiday is over and routine life resumes. They are not the sturdiest lights, and if not stored safely, they might get damaged.

Featured Image via Kevin Fitzgerald@lespaulster11
The most common problem that icicle lights pose is tangling up in a bunch of frustrating knots. So, how do you store icicle lights in a tangle-free, safe, and convenient manner? 
Read on to know the four best products that will help you store icicle lights after Christmas! 
How to Store Icicle Lights After Christmas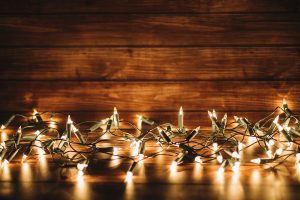 Adams, USA offers wind-ups made from polypropylene that allow you to keep your lights, extension cords, and garlands organized and tangle-free.
These wind-ups from Adams are not only a thing of beauty but are very efficient for storing icicle light strands. Using them will save significant space in your storage bins and maintain the useful life of the somewhat delicate icicle lights.
The wind-ups from Adams feature a simple design that can be effective for storing bulky strands including bulb covers and wire gauge. To make the most of this useful tool, you can wrap two to three icicle light strands on a single wind-up.  If the lights exceed the handles on either side, it is not a concern. Essentially, Adams wind-ups serve as an upgrade for anybody who has been accustomed to wrapping an icicle light strand around cardboard and using tape to secure it.
Adams offers wind-ups in a festive green color in two variants – 2-piece pack and 4-piece pack. The 4-piece pack can hold up to 100 feet of light strands. The 2-piece pack weighs 3.52 ounces and measures 16.5 x 3.9 x 1 inch. The durable handle allows for easy winding and storage. Adams wind-ups are an excellent option to store icicle lights after Christmas.
Sale
Trademark Home Collection offers the String & Store Christmas Light Reels, which is a set of four durable plastic reels in a zippered storage bag. Each of the four reels can hold two 100 mini-light strands or one 150 icicle light strand. You can use the reel to store extension cords also; making this set a must-have for storing all your Christmas lights.
The set includes reels in a subtle green color, and the bag comes in a festive red color. The packaged product weighs 2.5 pounds and measures 10.2 x 9.2 x 9.2 inches. The storage reels have a sturdy build and will help you store your lights conveniently for next couple of years at least.
To use this product optimally and enhance the storage space, wrap the light strand on the reel so that the wire rests on the spool without the light bulbs sticking up. This will also make taking the lights out much more comfortable and tangle-free when you have to use them next year.
The Elf Stor Christmas Light Storage Reels and Bag come with two sturdy reels made from high-quality welded steel. Each reel measures approximately 11.75 inches in diameter and 5.75 inches high. The bag has durable green nylon handles, allowing you to maneuver and transport stored lights easily.
The bag and reels collapse and will enable you to store them without using much space when not in use. The packaged product weighs about four pounds and measures 12 x 12 x 12 inches.
Each of the storage reels has a reinforced seem and can hold up to two 100 feet strings of icicle lights. The Elf Stor Storage Bag provides a practical, convenient, and easy way to store your lights and keep them safe, clean, and organized through many Christmases.
The reels feature a user-friendly design that includes space in the center that functions as an axle and allows you to wind or unwind the lights quickly and seamlessly. Also, the reels have a smooth finish, and there is no way your icicle lights will snag or get stuck while winding or unwinding.
Santa's Bags offers the Tree Keeper SB-10148 that comes with three spools, a versa-clamp, and a storage bag. The versa-clamp attaches to the ladder or rain gutter and helps significantly in putting up or removing lights. Each of the three spools can spin while connected, aiding in light installation. Each storage reel can hold up to 100 feet of mini-lights or icicle lights.
The product weighs about two pounds and measures 14 inches high, 12.5 inches wide, and 12.5 inches deep. The reels are not the sturdiest but are decent for at least a couple of years of use. You can store extension cords, light timers, or other wires as well in this storage bag.
The bag is spacious enough to accommodate the two reels and serves as an adequate storage space for icicle lights when not in use. The design is simple enough for first-timers to use. You might want to purchase multiple bags if you have a considerable amount of lights and a large area to decorate.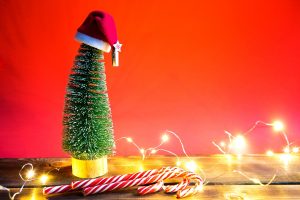 Useful Tips for Using Icicle Lights
There is much more to icicle lights than just storing them efficiently. Here are some valuable tips to guide you through the entire process of using, saving, and reusing icicle lights:
Check the Power Source and Test the Lights – The power source for indoor lights can be a regular outlet, but for outdoor lights, it should be from a Ground Fault Circuit Interrupter [GFCI] outlet. You should also test your lights and check that the entire strand is working before putting it up.
Exercise Caution during Installation and Removal of Lights – Use a sturdy ladder, get help from a friend or family member, and do not keep the lights connected to a power source while installing or removing them.
Managing Wires and Extension Cords – Whether indoor or outdoor, keep extension cords and wires along the walls, and use the correct length to avoid anybody tripping over them carelessly. If you cannot keep it along the wall and it must go through a central space, consider taping it to the floor. In case of exterior lighting, check that the extension cord is rated for outdoor use.
Use a Light Timer – Conserve electricity by using a light timer to ensure that the lights are not on an entire night. A light timer can be set to turn on the lights after the sun goes down and to turn off at midnight.
Indoor vs. Outdoor Lights – In case of exterior lighting, more caution is advisable. You should check that the lights are water-resistant and have a tag marked Underwriters Lab (UL), which proves that the light meets national industry standards with the American National Standards Institute. The lights should be rated for outdoor use.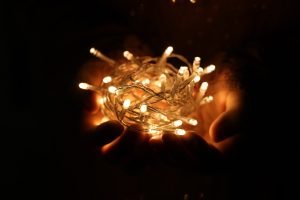 Before The Lights Go Out
The four storage products reviewed in this list, and the five essential tips for using icicle lights are sure to give you all the information you need to make Christmas décor safe and convenient.
Knowing how to manage installation, usage, removal, and storage of icicle lights before the festive spirit kicks in will prevent any accident or hindrance.
Related Articles
13 Best Christmas Light Projector
14 Awe-Inspiring Ceramic Christmas Decorations
19 Christmas Tree Paper Decorations for Delicate Look
12 Best Christmas Glass Tree Toppers for a Jolly Xmas
14 Best Star Christmas Decorations for a Shiny Christmas
19 of the Best Candle Gifts Sets & Baskets for Epic Presents
15 Best Artificial Christmas Trees for Merry Holidays