Staining your walls with lovely colors and reinforcing them with a polyurethane finish has become so much easier. Just take a roller, dip it in paint, and apply.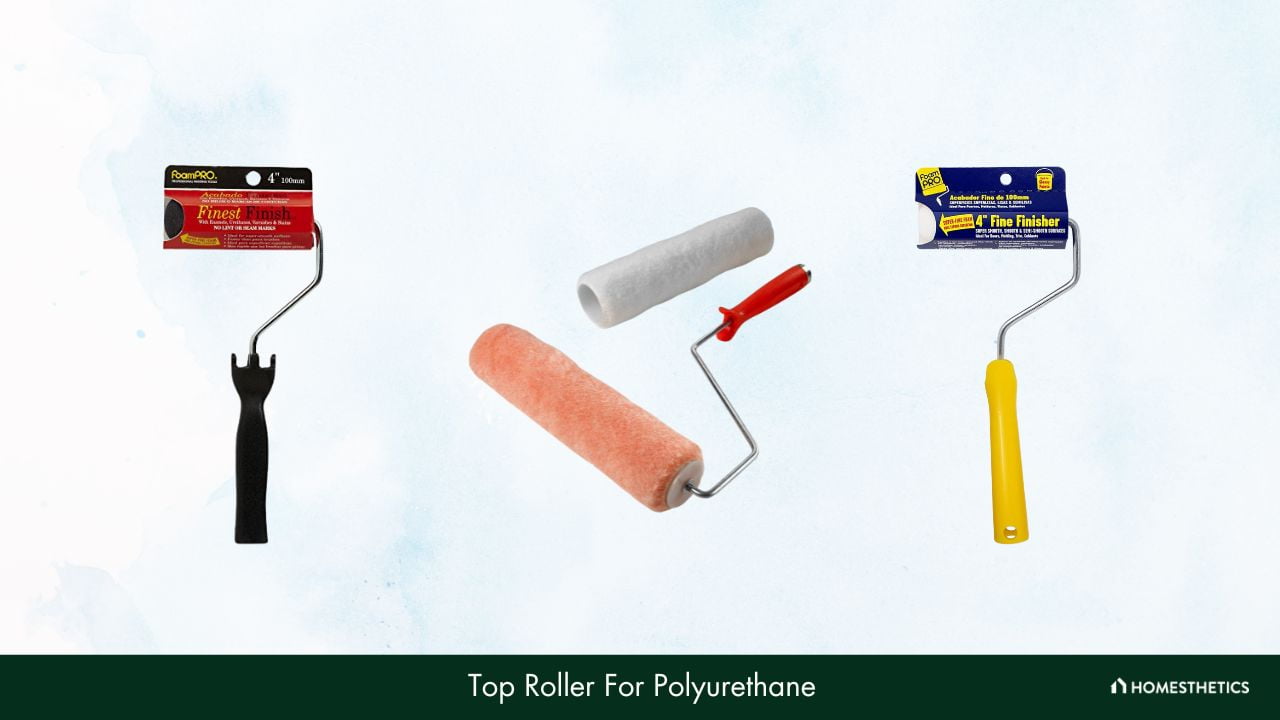 But before we get deep into discussing rollers, let's know what polyurethane is. It is a wooden finish that can add to the beauty of your kitchen walls, deck flooring, tabletops, cabinets, and other wooden surfaces. 
Not only does it add a stunning look to it, but it also protects the surface against uneven moisture and seals even scratched surfaces. Rather than using a paintbrush, you can use a roller for its easy application. 
You will find a whopping collection of these rollers both offline and online. But does each product deliver a perfectly even and smooth polyurethane finish to your surface? 
We know it will be difficult for you to select a suitable roller for your painting job. But don't worry, as we have prepared a list of the best rollers for polyurethane application. So, without further ado, let's dig in!
Top Roller For Polyurethane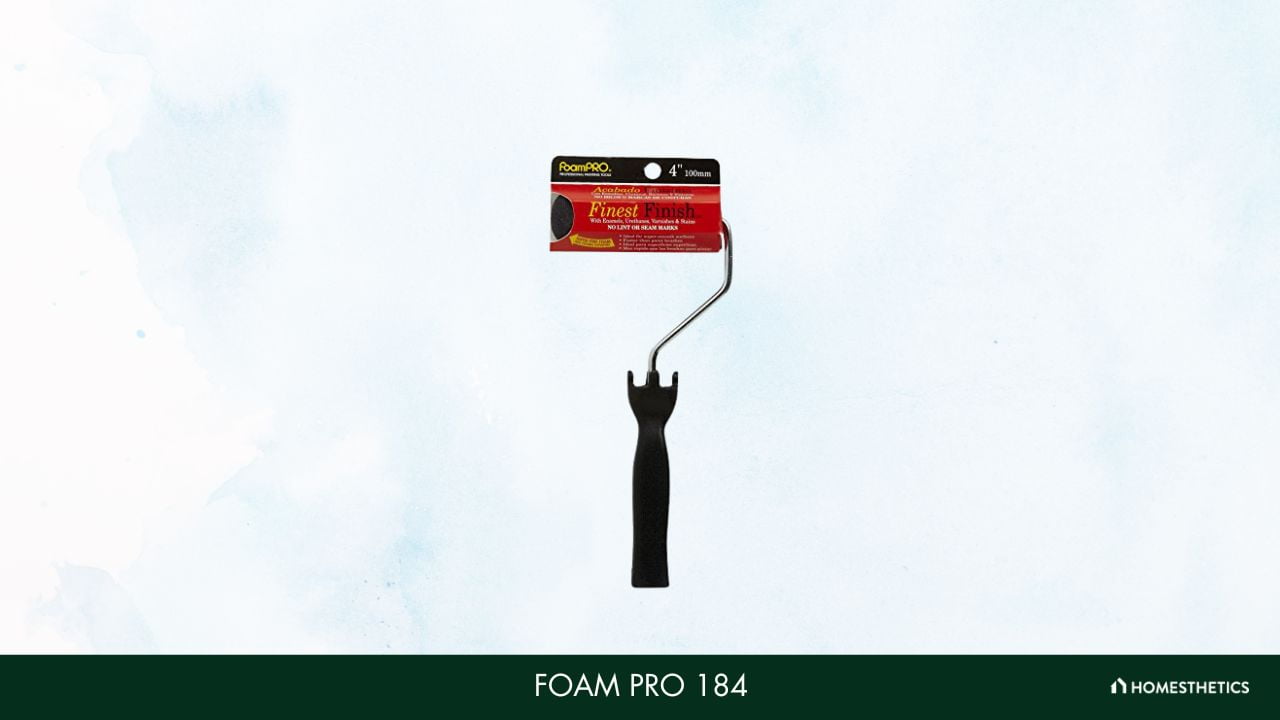 Foam Pro 184 mini roller is a multi-functional polyurethane foam roller. Besides its small size and functionality, its durability and repeated usability make it one of the best available models to complete your painting jobs effortlessly and effectively. Without wasting much time, let's dive into the features of this unit. 
When it comes to painting, this mini roller works like a pro and gives a smooth and gleaming finish to your walls. In fact, people might get deceived by the finish, which is equivalent to spray works. 
In terms of functionality, the roller does everything from varnishing to painting. The foam applier absorbs an adequate amount of paint giving it a lint-free and consistent finish. Besides, foam can retain its finish for a longer time. As the roller absorbs more paint, it will be possible to cover more space with a single dip. 
It can be considered the best foam roller on the market to apply polyurethane. The rounded sleeve edge leaves a thick and spotless coating that ensures greater durability of the finish, making the roller a perfect finishing tool for wooden surfaces. In hindsight, the combination of this roller and polyurethane can prolong the life of your wood floors, furniture, or other wooden surfaces.
Lastly, it has a washable build, and you can use it more than once. Moreover, you get two refill sleeves free on purchasing this unit. 
Although the roller secures a firm grip, you might need some time to get used to the application process. Other than that, we have not found any major disadvantage of the product, as it can surely deliver the expected high-quality finish to your walls.  
What We Like
Gives a spray-touch finish
Quick and easy application
Easy to clean
Provides solid coverage
Leaves no steak on the finish
What We Don't Like
Users might need time to get used to the grip
Size: 4" | Weight: 4 Oz | Material: N/A | Tray: No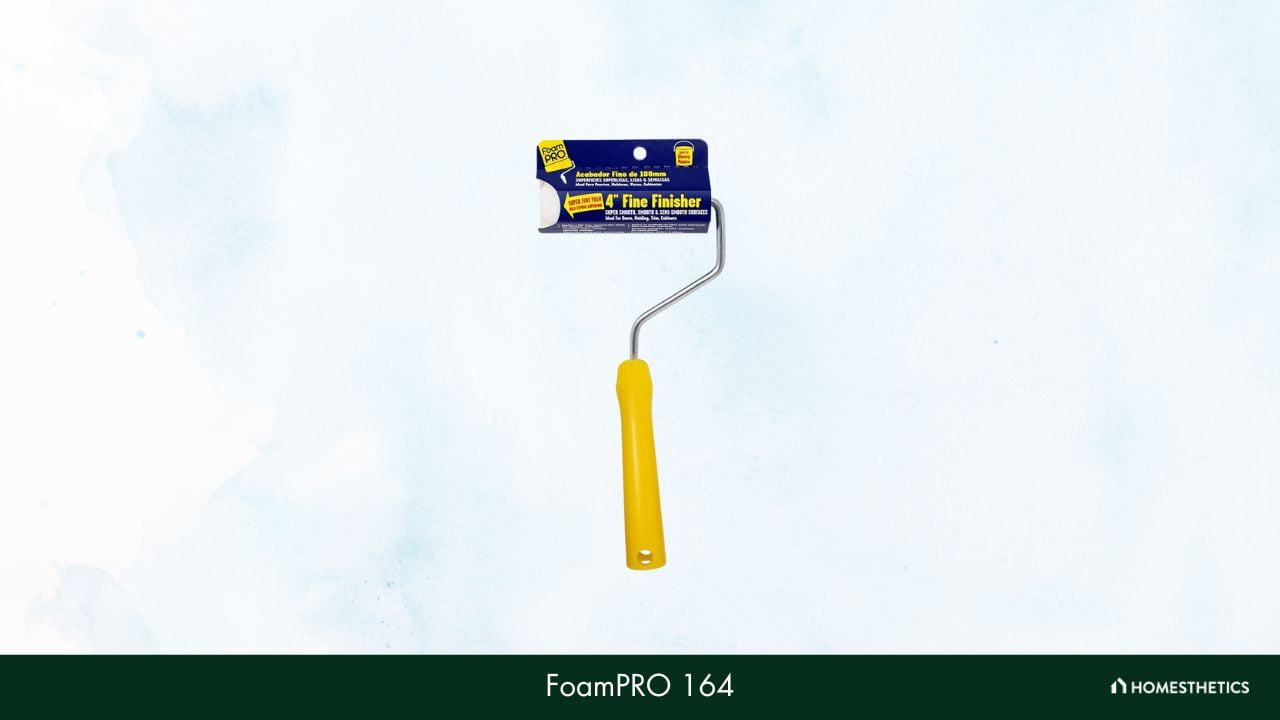 FoamPro has always committed to making it easy for people to complete their painting jobs in less time and achieve better results. And they have taken the FoamPro 164 to the next level in terms of functionality and ease of use. It provides a smooth, even, and glossy finish to your wooden furniture and other surfaces. Plus, you can have an effortless and exceptional painting experience by covering a large area with a single dip.  
This unit by FoamPro goes perfectly with any oil-based finish and works wonders with varnish, paint, stain, and polyurethane. It provides an even and smooth finish with detailed coverage. Hence, it becomes a suitable choice for smaller projects, which require more attention to detail.
Being small-sized, it can cover hard-to-reach places and give users greater control over the painting. But that doesn't mean it lacks speed. The greater soaking capacity of the foam allows you to have sufficient liquid in a single dip, thereby allowing you to work without interruptions. Also, the sleeve can easily be cleaned and dried out for subsequent uses. 
Using this foam roller, you won't have to worry about the grip and it glides smoothly with hand movements, thereby leaving a spotless finish with each swipe. A tight grip also means it doesn't release a nap during application and a thick coating ensures greater durability. Moreover, you wouldn't have to worry much about lint in the finish. 
Despite being a quality high-density roller, it certainly has some downsides. The roller has limited usability and is more suitable for detailed works in small spaces. Also, you might need to change the lint regularly to make the most out of it.  
What We Like
Smooth and clear oil-based finish
Leaves no lint on hardwood floors
Covers narrow areas
Gives lint-free finish
Easy cleaning and application
What We Don't Like
Limited usability
Regular changing of the lint can be a burden
Size: 4" | Weight: 2.08 Oz | Material: N/A | Tray: No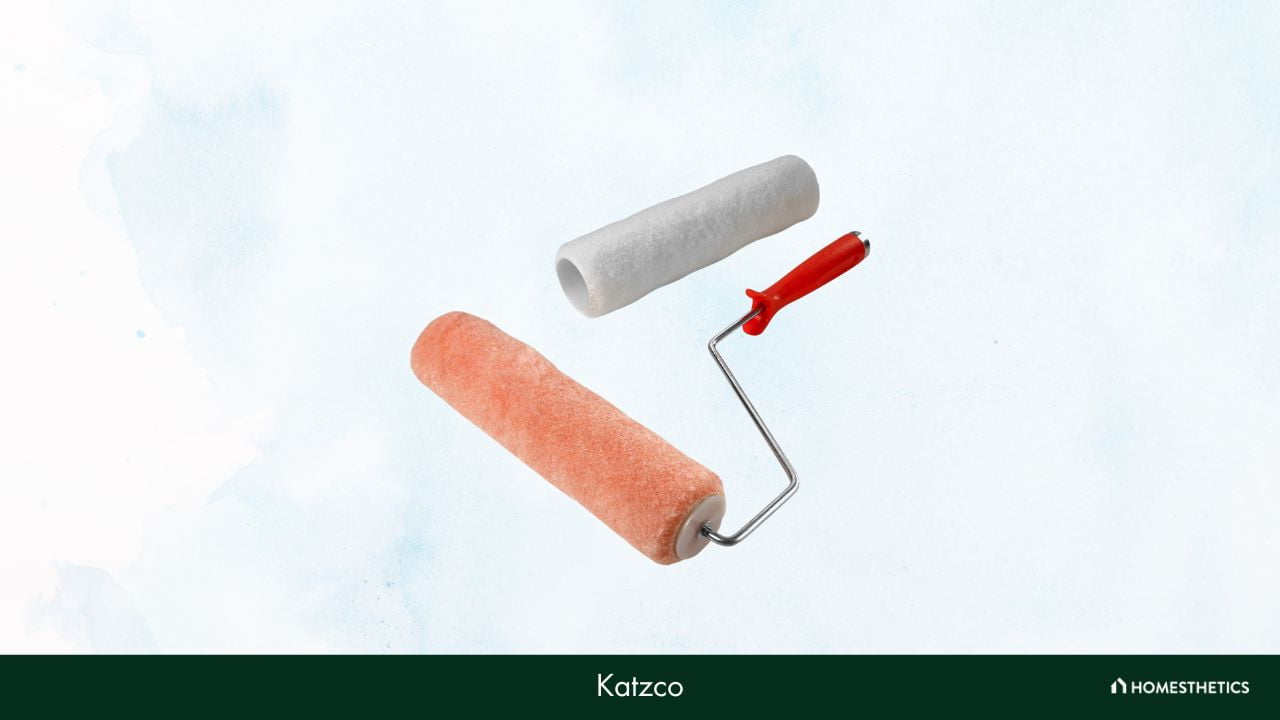 Katzco, a household products manufacturing company, has been delivering innovative solutions to its customers. And this paint roller is no different. It provides a professional painting experience to users and ensures quality results without the need for too many coats. You can have a lint-free finish using this unit. 
If you want a professional and quick painting experience, then the Katzco 743841487844 is tailor-made for you. Its design is such that the foam cover is secured with a 5-wire cage frame. 
Moreover, this unit can fit in any cover due to its small size and interlocking pattern, which enables better absorption and release of paint. As a result, a user achieves an even finish with each stroke and can ensure that the paint is applied quickly.
Added to it, the free-spin movement of the roller minimizes splatter during painting, which ensures quicker application and cleanly. You can rest assured about obtaining a smooth and glossy finish every time. 
Last but not least, it is suitable for any tight areas due to its small size and free-spin movement. Also, it can cover a large area with a single dip, which means you need not invest more in buying paints. 
Despite providing impeccable performance in terms of finish and application, it is only suitable for small-area applications. Apart from that, the roller might not be suitable for extra thick paints. However, if you are looking for rollers to paint a smaller area and a clean finish, then this one will definitely fit the bill. 
What We Like
Smooth and quick application
Leaves no lint
Low spatter application
Reusable foam cover
Matt-free finish
What We Don't Like
Is only suitable for painting small areas
Not usable with thick paints
Size: 9" | Weight: 12 Oz | Material: Acrylic | Tray: Yes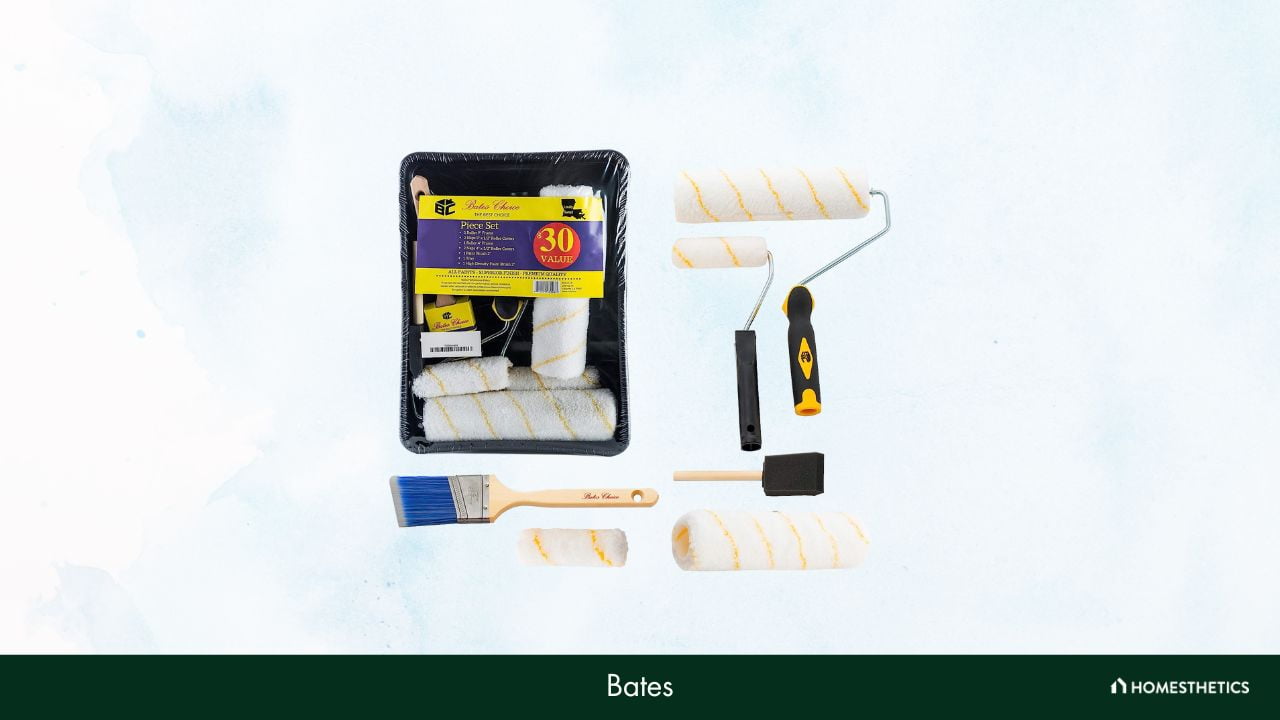 Bates Choice has always been passionate about manufacturing and producing high-quality paint equipment like paint sprayers, paint brushes, rollers, and others at prices that won't break the bank. Its Le23 roller is one such high-quality polyurethane roller that delivers faster and long-lasting painting results.  
his comprehensive package by Bates Choice is a true luxury for DIY workers. It includes everything you will need to paint your house and make it shine. The professional-quality foam paint roller is meant to deliver guaranteed satisfaction due to its high-quality, durable, and superior finish. What else would one want from a roller?  
Both the roller and the wooden handle brush are lightweight and easy to maneuver, ensuring that you can carry on with those prolonged and tedious paint jobs with ease. Moreover, the paintbrush made of synthetic filaments is designed to hold more paint at a time. 
Its top-quality ½-inch nap is perfect for painting a house and is durable and long-lasting. This means it saves time and gets the finish you are looking for. Long story short, it saves your money and is easy to use, meaning you do not have to be a professional to use it.   
Although this paint roller is bound to deliver a durable, smooth, and long-lasting finish, there might be some issues if you use it for a longer time. The synthetic filaments of the roller might come off readily, thereby making it messy and time-consuming. In that case, you will need to change it after a few uses. 
What We Like
A complete paint set
Easy to handle and apply
Provides extra coverage
Gives a lint-free finish
Covers a variety of painting needs
What We Don't Like
Synthetic filaments may wear off easily
Size: 9", 4", & 2" | Weight: 3.52 Oz | Material: Micro-Fiber | Tray: Yes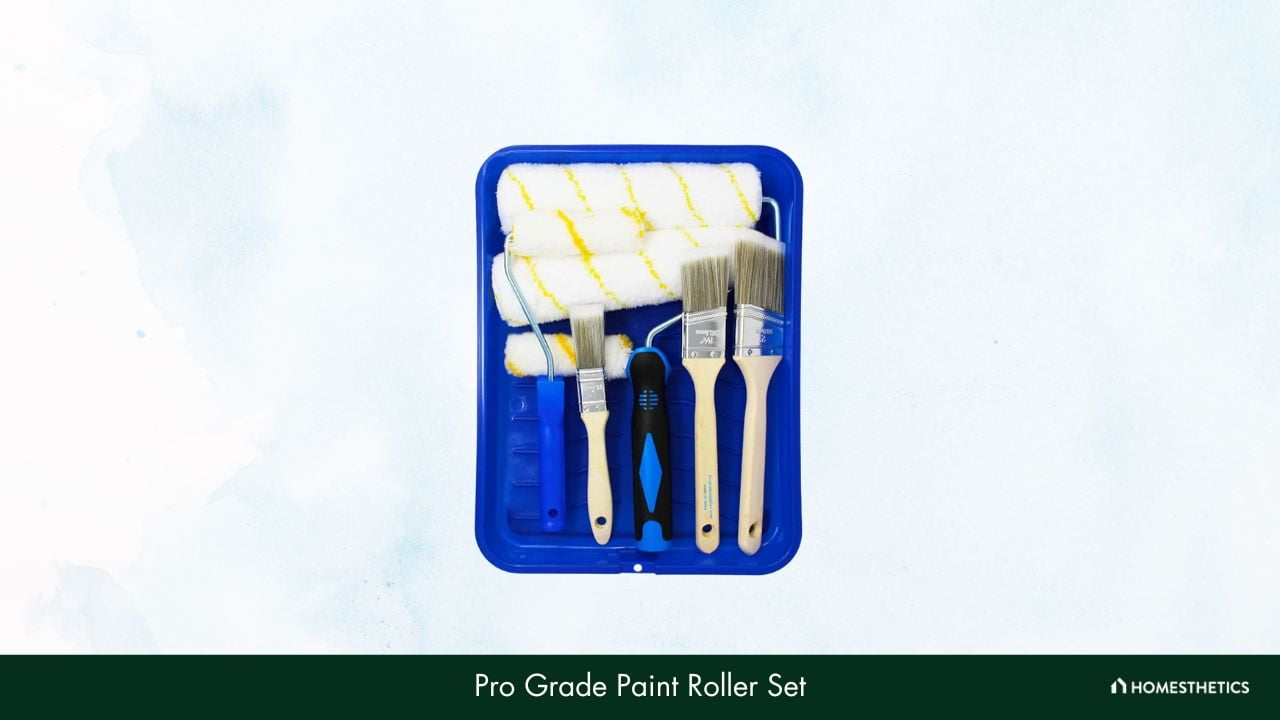 This 10-piece all-in-one painting set by Pro-Grade is best for achieving professional quality painting results for anyone. This is just the perfect set if you are struggling with your staining projects. Just guide the rollers and brush to get excellent results every single time. 
This complete painting set makes your work look professional and provides you with an easy application experience. You can use it to decorate the house with the colors of your choice. 
The Pro-Grade set is designed to serve all of your interior and exterior painting needs, from walls, and ceilings to fences. Its applicators are made of high-quality materials and glide smoothly with your hand movements. Hence, you can carry out your tedious painting jobs with ease and ensure a smooth paint application. 
Apart from that, these paint rollers are extra-durable, washable & made for repeated use. You can easily wash these rollers and use them again and again. Moreover, its no-shed covers ensure a lint-free finish or perfect paint for stunning results. 
Last but not least, the roller leaves thick layers in a single coating and covers large areas in a short time. You no longer have to apply a final coat and save the liquid. These roller sleeves also retain more polyurethane for delivering a smooth and spotless finish in each stroke. 
The toolset can be very convenient for DIYers, but it isn't perfect. Its rollers leave brush strokes behind it, making walls look messy and dull. You might need to apply further paint coats of polyurethane to cover the brush marks, making it a costly affair. 
What We Like
Extra durable and long-lasting polyurethane rollers
Perfect stain finish
Washable rollers ensure repeated usability
Covers a range of painting needs
What We Don't Like
Leaves brush strokes behind it
Size: 9", 4", & 2" | Weight: 1.82 lbs | Material: Micro-Fiber | Tray: Yes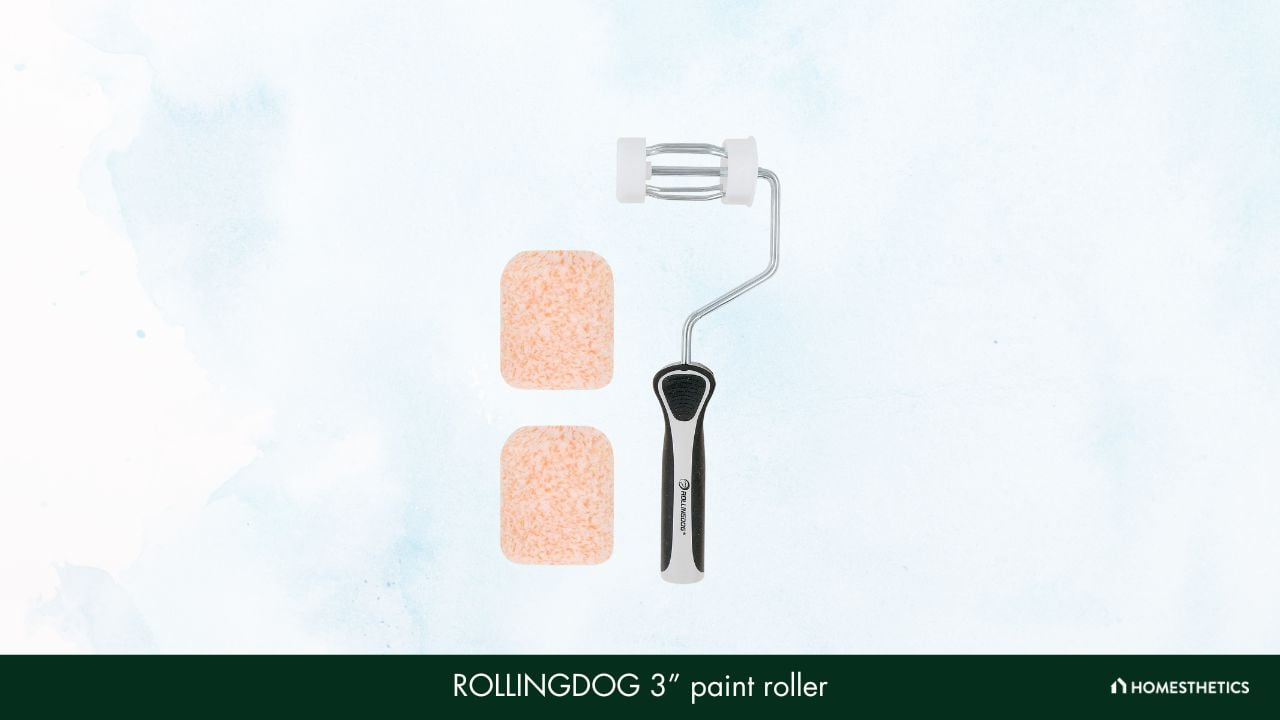 Rollingdog focuses on providing a range of quality and affordable paint applicators to its customers worldwide. Super-micro rollers of the company can be an excellent choice for a painter who will use them more than once. This durable, reusable, and washable paint roller provides you with a professional painting experience and gives your surface a satin finish.  
An all-around paint roller by Rolling Dog is a pocket-friendly choice for anyone who provides professional painting services or who does a single-term painting project. It does not leave brush marks or lines on your surface and gives a clean and smooth polyurethane finish. 
The unit is easy to hold, which makes it glide smoothly over rough or flat surfaces according to your needs, and provides the right balance and control for perfect application. Additionally, its high paint retention ability gives a thick and beautiful solid coating that enhances the durability of hardwood floors, walls, furniture, and other surfaces.  
This unit can be regarded as the best polyurethane roller for arts and craftworks. Moreover, it serves as an optimal choice for people owing to its easy application and ability to deliver a satisfying experience. 
Although the rolling hand roller provides an easy and smooth painting experience and a durable frame, many customers have complained about the poor quality of the main part. They claimed that small roller pieces start falling off and stick to the surface after a few uses. You need to pick up the pieces yourself, which can be a hassle. 
What We Like
Best for interior paintwork
Heavy-duty steel roller frame ensures durability
Works with all paints
Can be attached to an extension pole
Size: 3" | Weight: 6.4 Oz | Material: Micro-Fiber | Tray: Yes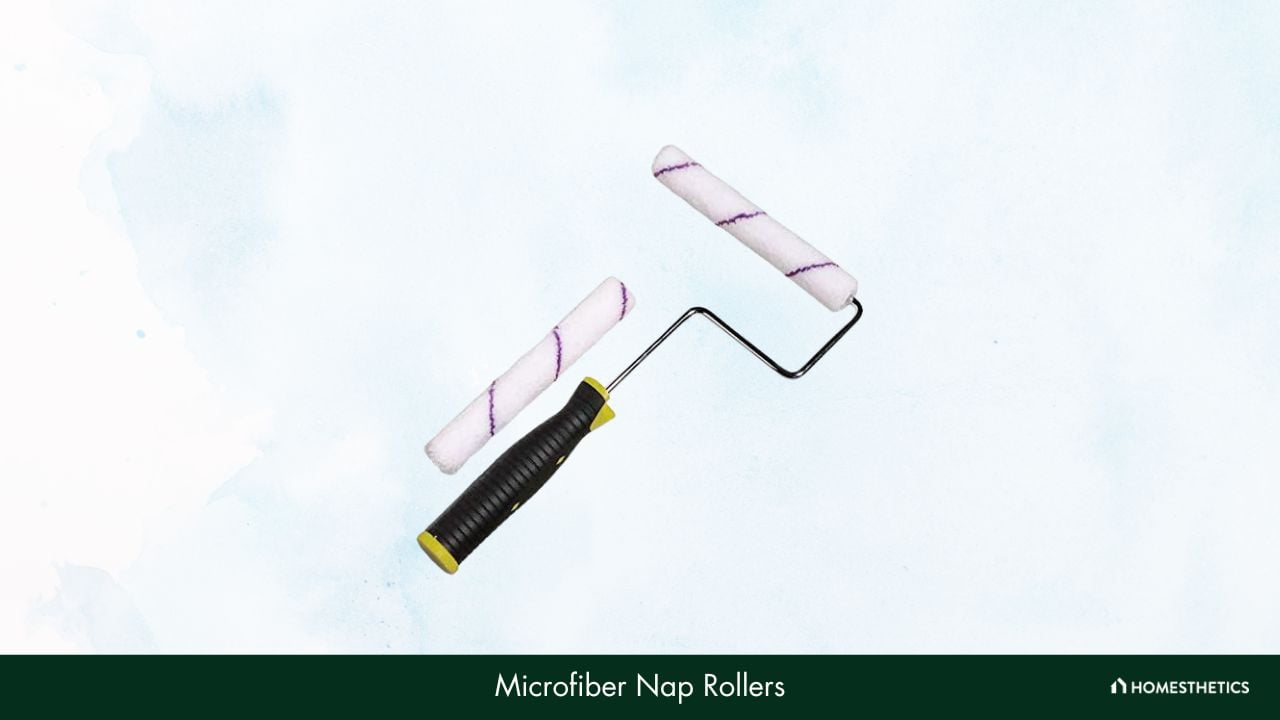 Microfiber Roller Kits are specially designed for professional painters, woodworkers, carpenters, and epoxy artists who always expect the best results. This multi-functional roller is capable of doing a wide number of tasks from painting to varnishing. 
A countertop paint kit is everything one needs to complete a painting job quickly and with a superior polyurethane finish. The microfibers of the foam cover don't allow the solvent to stick in and are perfect for applying finish in tight areas. 
The ergonomic and comfortable handle of the unit is designed for easy usability and therefore ensures a smooth finish even in tough-to-reach areas. Along with that, its durable arm lasts through a number of painting jobs while providing an even and solid finish. Its multi-functionality and durability allow users to perform a wide range of jobs using a single roller. 
Furthermore, the high-density roller ensures retaining more paint for a longer period and avoids any dripping, thereby minimal or no wastage of paint. The light, small but durable roller covers rough and flat surfaces in one coat, without any bubbling or stippling. 
Apart from its exciting features, it might present a number of disadvantages to a user. The major one is that it leaves many odd dot traces after finishing and bits of lint. Other than that, it might not be suitable for all epoxy resin and people might find it easy to use. However, as stated above, this product is mainly suitable for professional painters and workers. 
What We Like
Perfect for wet or dry rolling
Can be used for a range of jobs and projects
Easy to use on edges and trims
Easy to attach with extension poles
Ergonomic and comfortable handle ensures a firm grip
What We Don't Like
Leaves traces of odd dots
Not suitable for all epoxy resins and difficult to clean
Size: 6.5" | Weight: 8.1 Oz | Material: Micro-Fiber | Tray: No
Best Rollers For Polyurethane Comparison Table
Roller For Polyurethane Buying Guide
Now that you have gone through our comprehensive list of the best polyurethane rollers on the market, it might help you make an informed choice of purchasing one according to the task at hand. However, prior to purchasing a roller that gives a lustrous shine to your surface, you need to look at the same thing from various angles. So what are these angles?
Not all rollers are suitable for applying polyurethane and using any traditional roller, you will see a lot of brush marks or lines on your surface no matter how well it is being prepared. In order to get a smooth finish, you need to look into factors including roller frame, length, cover material, and others. Let's get into the details. 
Roller Frame
The material of the roller determines its durability and how long you can use it for polyurethane painting projects. Besides, a good and sturdy design will ensure a tight hold over the sleeve and prevent it from wobbling during the application of paint. It ensures a better workflow with minimum splatters and that your hands do not get strained from holding it for a long time. 
Best polyurethane rollers are made of heavy-duty steel which keeps the rollers intact and ensures better paintwork. Also, these frames are easy to wash off compared to wooden ones. 
Length
A mini roller is suitable for applying polyurethane paint in small areas and ensures a smooth application. Also, it is suitable for staining corners and edges. On the other hand, long stick rollers are best suited for long area applications, like walls or a hardwood floor. 
Cover Material
Roller covers come in different fabrics and sizes. Besides, the sleeve edge impacts the quality of the finish as well. 
Wool cover absorbs and releases a better paint finish during application and can cover a greater area in a shorter time despite its small size. Wool roller sleeves are perfect for polyurethane paints and provide more gloss to your surface. 
The foam cover holds a lot of paint at a time and delivers an impenetrable coating with each stroke. In terms of absorbing liquid better and getting an even finish, foam rollers tend to be a better choice. 
On the other hand, a fiber paint roller works well with all kinds of paints respect rather than specializing in one. These covers deliver a smooth and shiny finish with all kinds of urethane. Besides, they are more long-lasting and easy to wash. Additionally, these rollers prevent lint or dust from mixing with the finished surface. 
Nap Size
The nap size of a roller determines the uniformity of the finish. In this case, a thin one can deliver a lint-free and even finish compared to a thick one.  
Resistance Capability
Synthetic and wool covers come in double-layer sleeves and their core is composed of highly resistant fabric. It prevents any waterborne urethane and solvents from sipping in. This in turn enhances the texture and durability of covers. As a result, using these covers will enable you to save money and cleaning time. 
Clean Finish
In the end, the quality and texture of the finish matter. A polyurethane roller that delivers a spotless polyurethane finish without shedding on the surface will be most suitable. Therefore, it will be viable to look for a roller that gives a lint-free and bubble-free finish during polyurethane application. 
How are polyurethane rollers made?
Polyurethane rollers are typically made through a process called casting or molding. Liquid polyurethane is poured or injected into molds and allowed to cure. The resulting material is then machined to achieve the desired specifications.
Can polyurethane rollers be customized to specific applications?
Yes, polyurethane rollers can be customized in terms of size, shape, hardness, and other properties to suit specific applications. Customization may be necessary for specialized machinery or unique operating conditions.
How long do polyurethane rollers typically last?
The lifespan of a polyurethane roller depends on factors like the application, load, and environmental conditions. Generally, they have a longer lifespan compared to rollers made from other materials due to their wear resistance.
How do I choose the right hardness for a polyurethane roller?
The hardness of a polyurethane roller is measured in durometers. Softer durometers provide better traction and are suitable for applications with delicate surfaces. Harder durometers are used for heavy-duty applications. Consider factors like load, speed, and environment when choosing.
Verdict
With that, now we have reached the end of our comprehensive list of the best rollers for polyurethane paints. We hope you have enjoyed going through the list and will help find the right one for you. 
Before we leave, we'd like to share some of our favorites from the list. The best one within the lot is Foam Pro 184, a multi-functional roller that delivers an exceptional and effortless painting experience to a user. 
If you are looking for a combined set of rollers, brushes, covers, paint trays, and other painting equipment, the Pro-Grade paint roller set will be the most suitable one. It comes with a total of 14 pieces of high-quality painting equipment, which makes your painting job much easier and more effective. 
Now, all you need to do is take your pick, sit back, and relax. Also, do not forget to comment below on which roller you have purchased and your views on it. 
Till then, take care and stay healthy!
Related Articles
6 Best One Coat Paint and Primer
7 Best Primers to Cover Dark Paint
7 Best Exterior Primer For Peeling Paint
6 Best Paint Primer For Rusted Metal
9 Best Pump Sprayers For Staining Fence
9 Best Concrete Stains to Consider
Learn How To Soften A Hard Paint Brush
5 Best Paints For Stucco Reviewed
11 Best Paint For Concrete Walls In Basements
9 Best Paint Brushes For Chalk Paint
13 Best Professional Airless Paint Sprayer
10 Highest CFM Air Compressors 
9 Best 6 Gallon Air Compressors for Your Home & Garage
13 Best Paints for Bathroom Ceilings 
13 Best Paint for Kitchen Cabinets
5 Best Sprayers For Plasti Dip
How Much Does It Cost To Bottom Paint A Boat?
How To Thin Latex Paint For A Wagner Spray Gun
How Much Does Benjamin Moore's Paint Cost?
9 Best Paint Stripper For Metal
7 Best Cold Galvanizing Paints
11 Best Paint Scrapers to Rock
How to Remove Spray Paint from Concrete
7 Best Primers For Covering Red Paint