An often overlooked issue for some and a really passion for others, napkins. A quite odd thing to get excited about when you first think about it. Today however you have options, millions; all of them promising to be better than the other, prettier, softer or more gentle with the environment.
Promises, promises, promises.
At the end of the day it all comes down to one thing only.
Happiness.
You pick whatever napkin you like, whatever appeals to you. In contemporary table settings the number of variables is huge and as a result, so are the options; whether you gather with friends or family, whether is the Christmas eve or a baby shower, there are thousands of options for whatever table setting you desire. It is up to you to make a difference if you fancy the event, it is up to you to embrace change and decorate your setting with whatever elements you like. Greenery can be used, ribbons and Christmas globes can be used, even Santa`s beard can be happily and joyfully used.
Setting a Christmas table is hard work indeed but once you manage to enter the merry joyful state everything will seem like a breeze, natural, calm, warmth and coziness. No huge budget should be granted to this simple event, laughter, joy and loved ones would do just fine. Enjoy every moment to the fullest.
Napkin Ideas For Your Christmas Table Setting
#1 wrap napkins beautifully in complementary colors
via bhg.com
#2 paper quiling art is a beautiful option any table setting
#3 super-creative santa beards decorating red napkins
via belys-kreative-stempelideen.blogspot.com
#4 get creative with one color
Tutorial @ sewlicioushomedecor.com
#5 use a template to create traditional red and green Christmas tree decor for napkins
Tutorial @ littlehouseonthecorner.com
#6 a paper snowflake on greenery can beautifully complement a table setting
via bhg.com
#7 one green napkin on a red plate is a simple traditional solution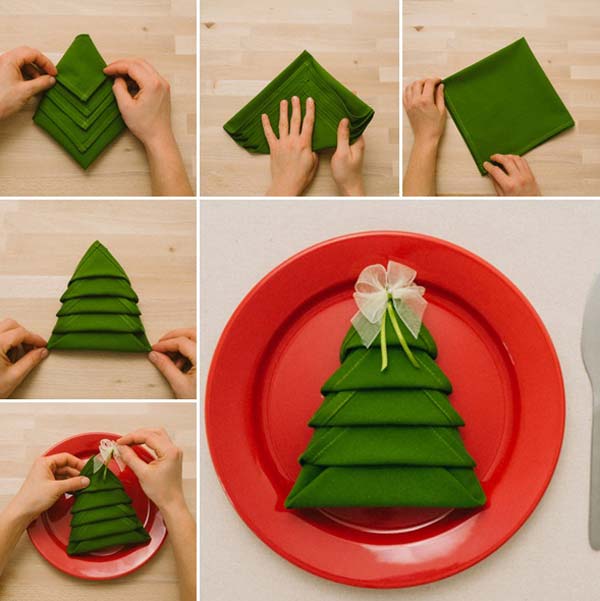 #8 insanely beautiful napkin decor for a really festive setting
#9 happy are the ones that enjoy the gift of a good warm meal
via lifeconnect.info
#10 green Christmas tree napkin with a cherry on top
#11 simple Christmas tree napkin holding a star/ribbon
#12 beautiful red pinwheel napkin fold
Tutorial @ bhg.com   & @ abigslice.com
Tutorial @ beautyandbedlam.com
#13 stack napkins in a merry shape
#14 mark the platting with one letter to mark the seat arrangements
via bhg.com
#15 cutlery beautiful decorated into  festive red and green decoration
Tutorial @ sewmanyways.blogspot.com
#16 Christmas globes can be used with a ribbon with ease
via bhg.com
What do you think about these super delicate napkin ideas for your Christmas table setting? We would love to hear your opinion on the subject in the comment section below.
Related Articles
14 Awe-Inspiring Ceramic Christmas Decorations
19 Christmas Tree Paper Decorations for Delicate Look
12 Best Christmas Glass Tree Toppers for a Jolly Xmas
14 Best Star Christmas Decorations for a Shiny Christmas
14 Best Christmas Tree Lights to Consider This Year
Learn How to Store Icicle Lights After Christmas
Start The DIY Christmas Gifts Process Early
19 of the Best Candle Gifts Sets & Baskets for Epic Presents | Candles Gift Guide 101
76 Best Lego Gifts & Best Lego Sets for Lego Lovers
14 of the Best Gifts for Sculptors in 2022 | Gift Guide
32 Best Gifts for Marvel Fans of the Realm 2022 | Gift Guide
45 of the Best Gifts for Architects in 2022 | Gift Guide