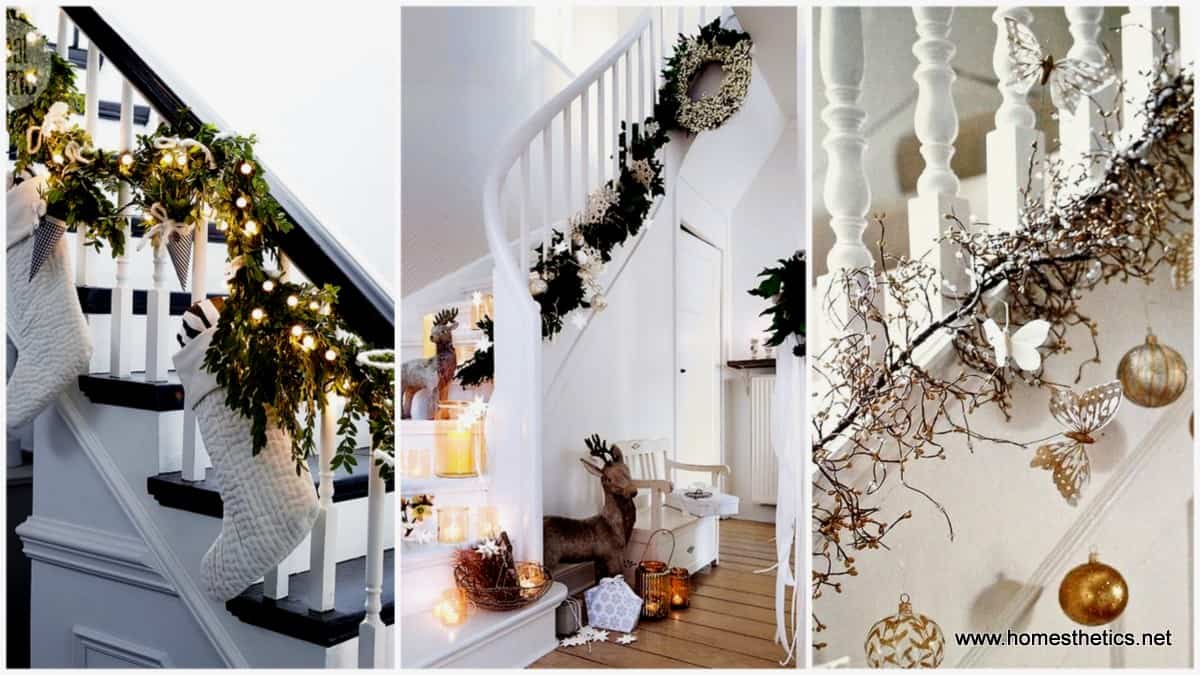 The Christmas season is almost upon us, with advertisements flooding the media reminding the public of everything that is available on sale to heighten the beauty of their home and surroundings in preparation for what is considered the most wonderful time of the year.
One of the areas many people work on to elevate the Christmas spirit in their homes is decking their halls and staircases with some of the most effervescent and yuletide decorations to create an impressive decor. Ponder on these simply yet enlighten ways in which one can produce a Christmas home atmosphere by simply decorating the staircase.
A staircase can be given the traditional evergreen swag with a burst of color by topping off with red bows and a few layer of bells for a cheerful complete design.
To embellish your Christmas decor this season, hang with care a handmade fresh array of garland roping along the wooden bars displaying sprigs of pepper berries and a couple of neatly hung stockings.
As a an added bonus to your staircase decoration, use a pineapple or two to decorate your staircase this Christmas as a symbol of hospitality to your guests.
Choose the option to go on your own by forsaking the classical red and green pine garland for orange ribbons along a flow of bay leaf trailing down the staircase.
Create your own design to stray from the traditional greenery garland drooping down the stairs, by tying a few birch branches and glossy chartreuse ornaments along the banister using a velvet or satin green ribbon.
Envision an indoor staircase in any of the 20 magical and crafty decoration shown in this article to give your home an added yuletide burst of energy without it costing too much.
Crafty Ways To Decorate An Indoor Staircase This Christmas
#1 decorate a staircase  floor with brown ribbons and a faux green garland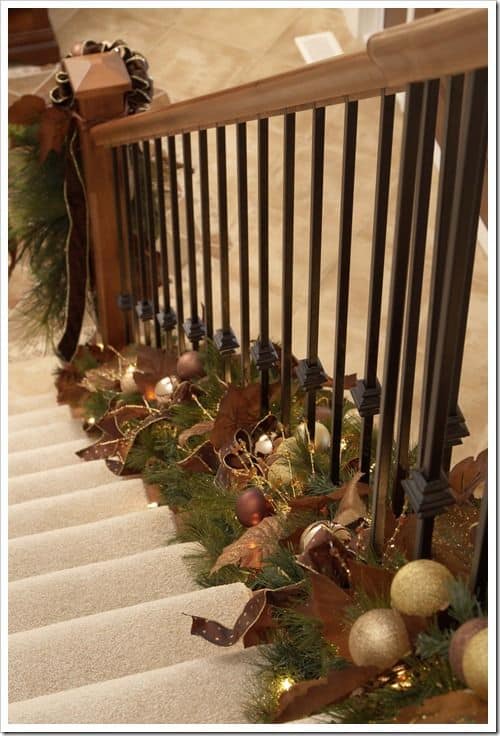 #2 white snowflakes are a compliment to this festive red and green combination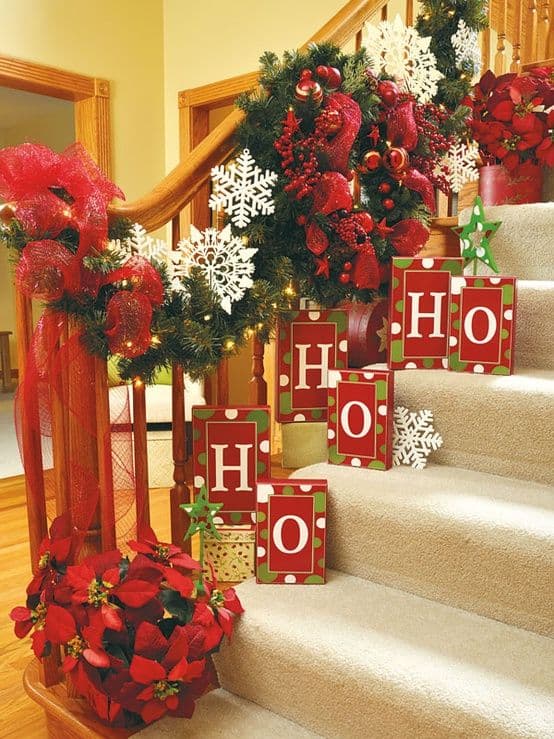 #3 cotton garland with figurines to mimic real penguins  sliding in the snow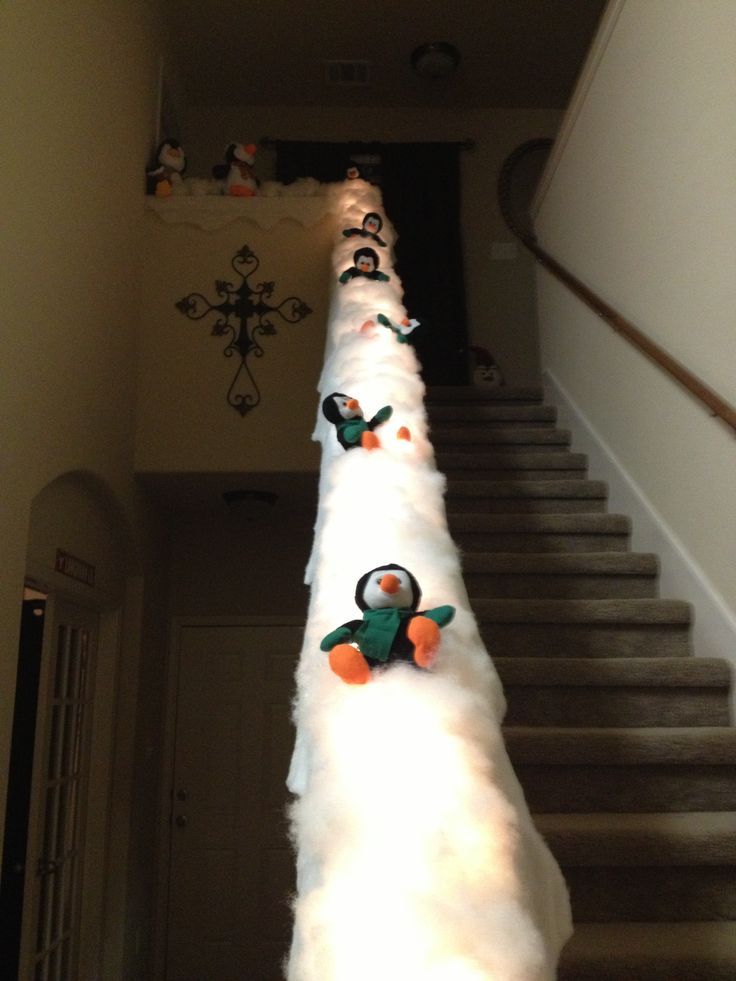 #4 golden painted sprigs with ornaments along a white staircase
Source: queenbee1924.tumblr.com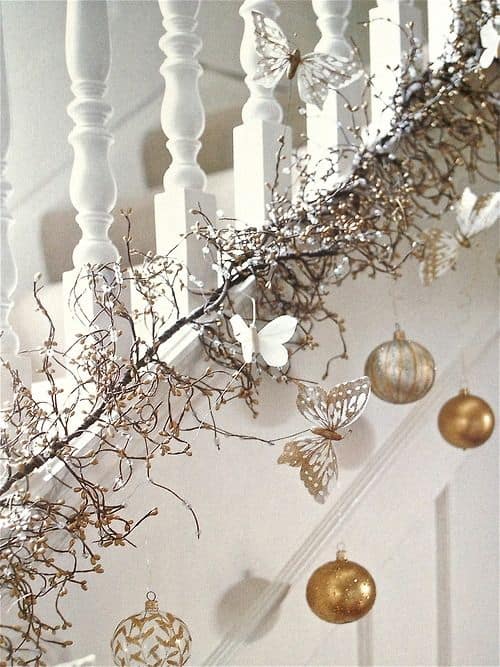 #5 line a staircase with a thrifty mason jar idea
Source: thriftydecorchick.blogspot.com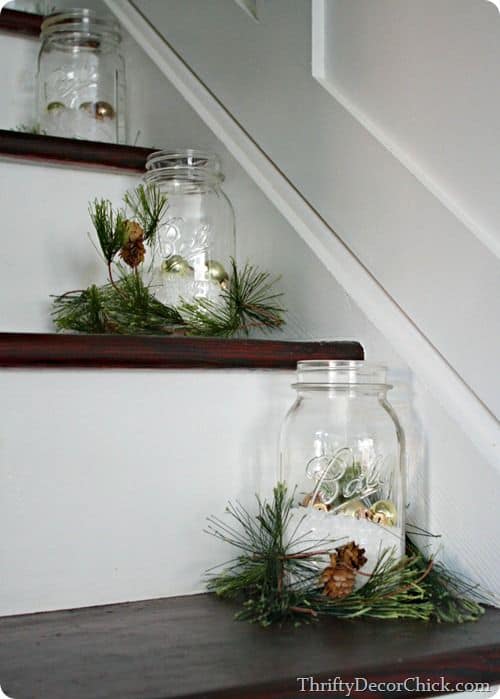 #6  pretty pink and green wreath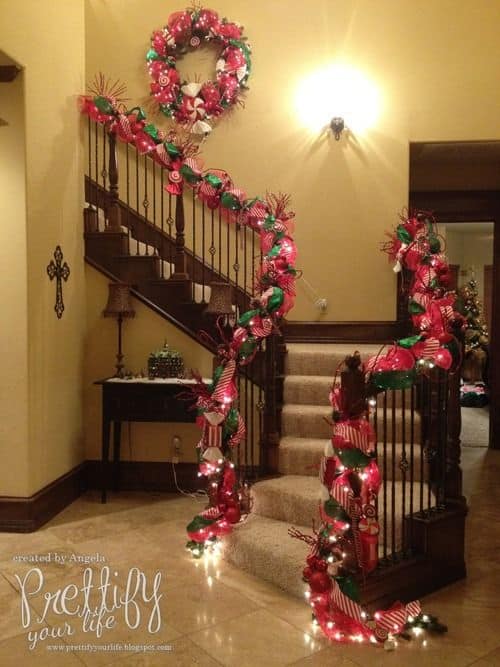 #7 the ingenious idea of a painted white Christmas tree on a brown staircase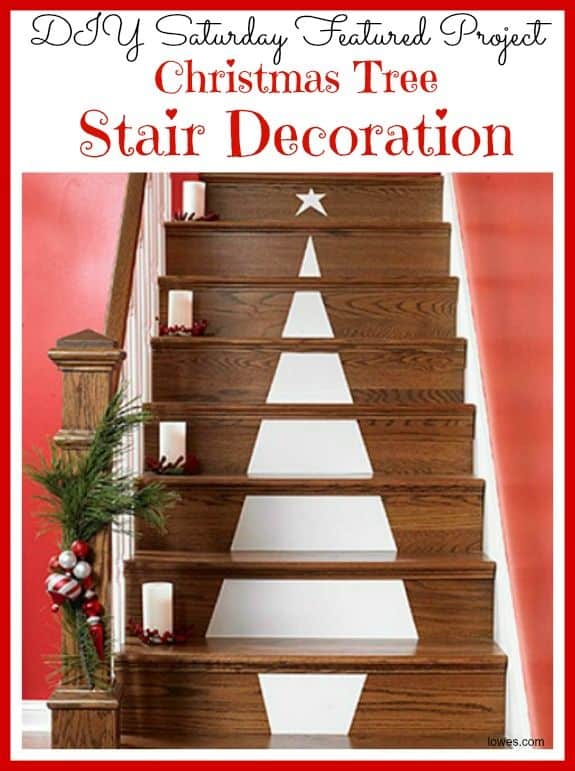 #8 an array of floral design culminating with a faux decorated carriage at the bottom
Source: cy-fairlifestylesandhomes.com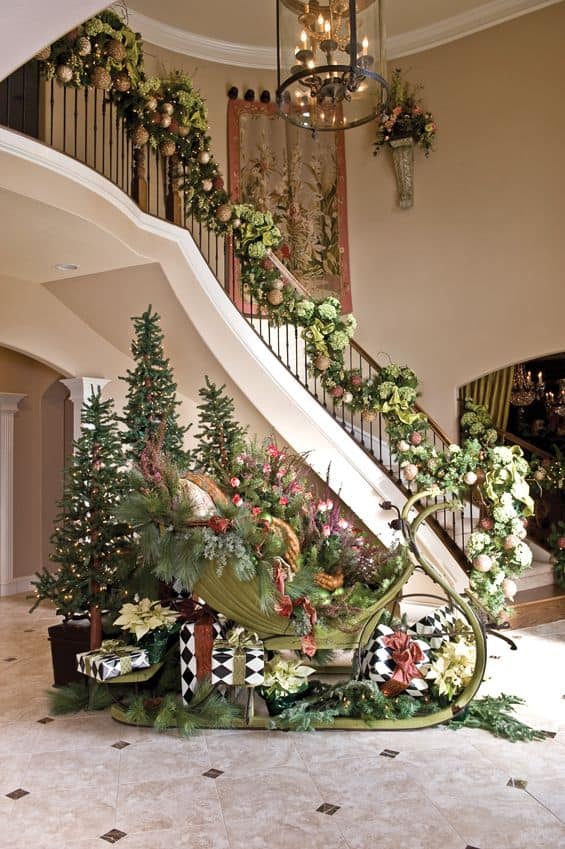 #9 innovative idea to use dry stems and shrubs for a Christmas staircase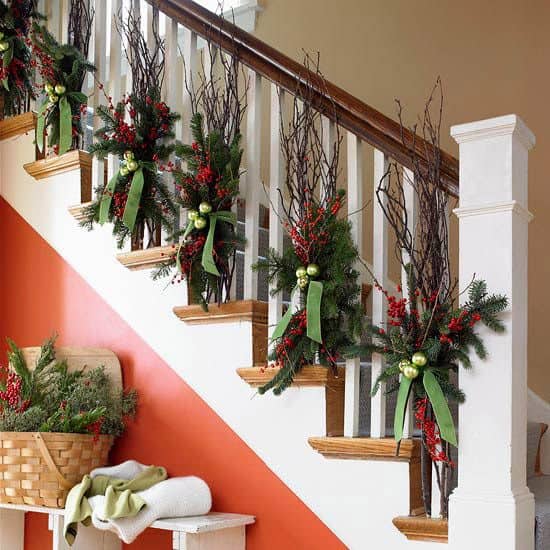 #10 the clever concept to name each stair after Santa's reindeers
Source: todayscreativeblog.net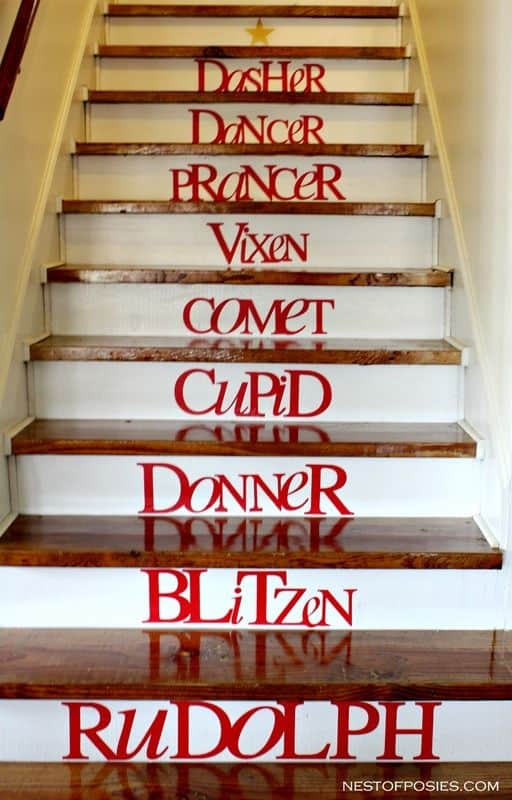 #11 staircase and Christmas tree  with amalgamated decorations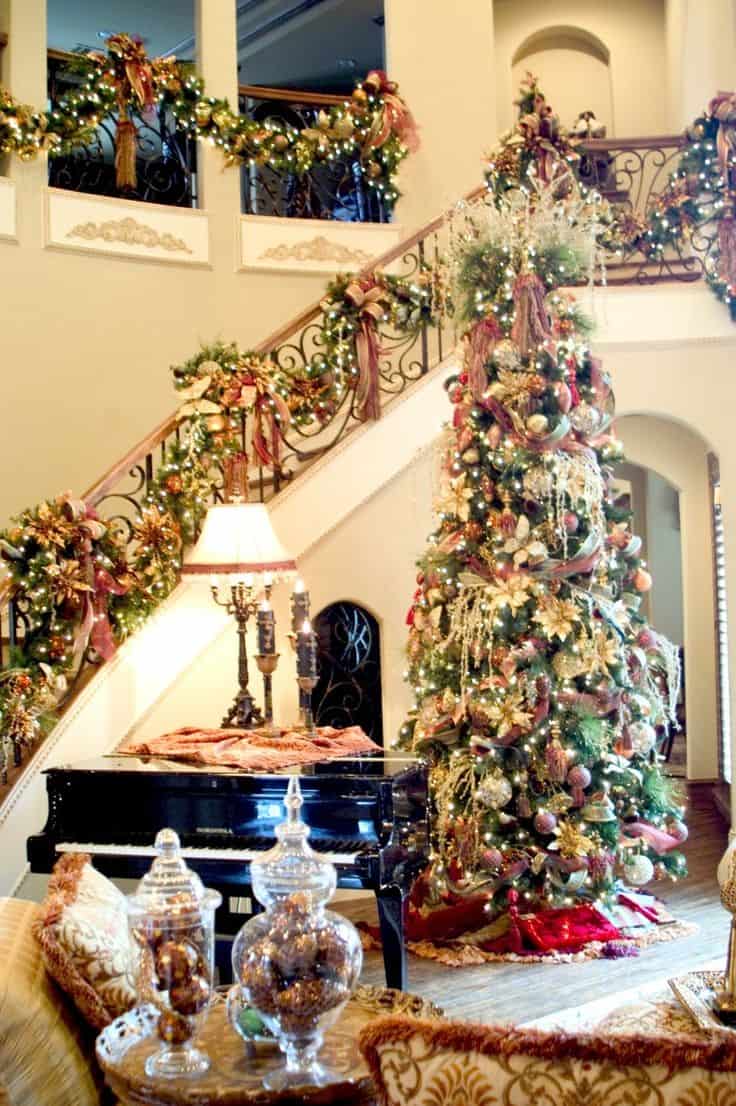 #12 bright string lights can animate a staircase
Source: southernnsassy.blogspot.com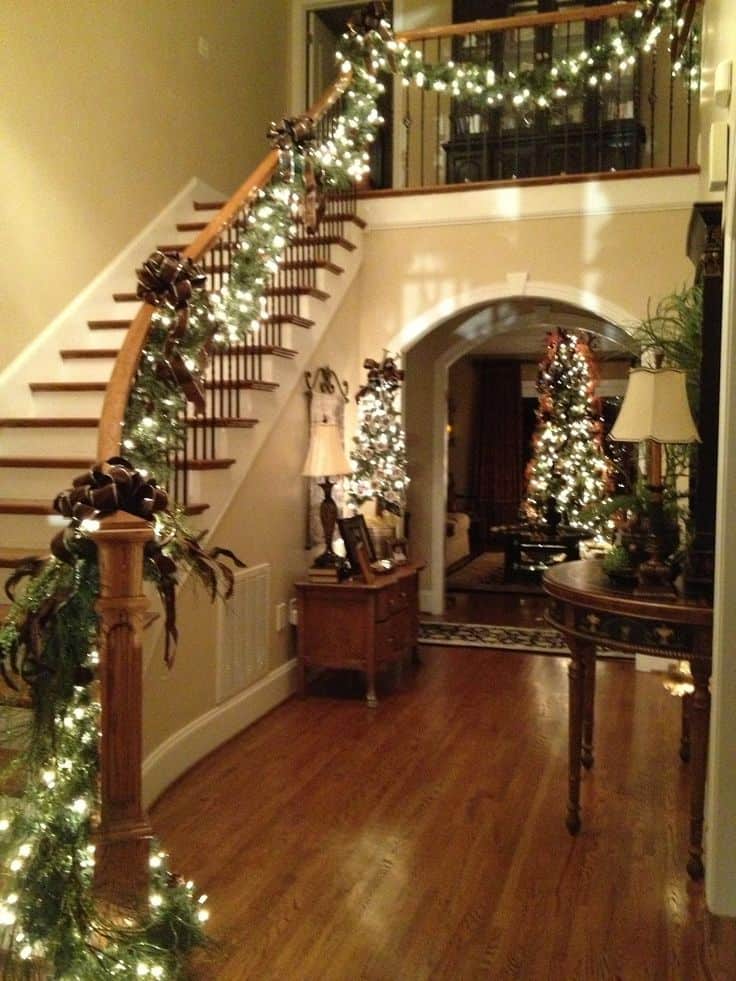 #13 a reindeer and candles can change everything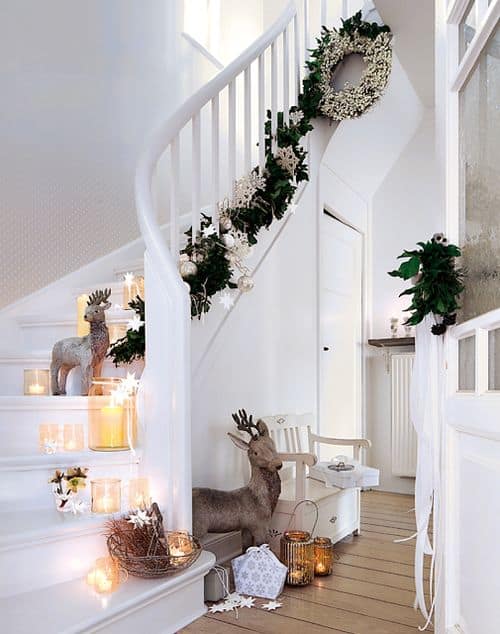 #14 string lights wrapped around the staircase create the illusion of moonlight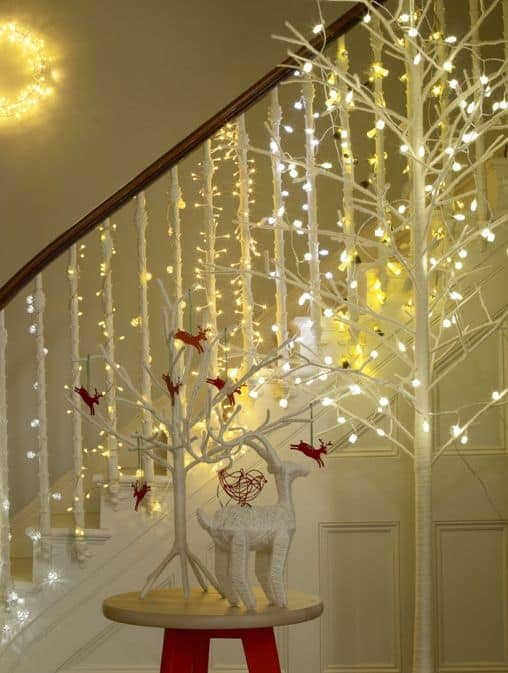 #15 classic Christmas can be awe-inspiring too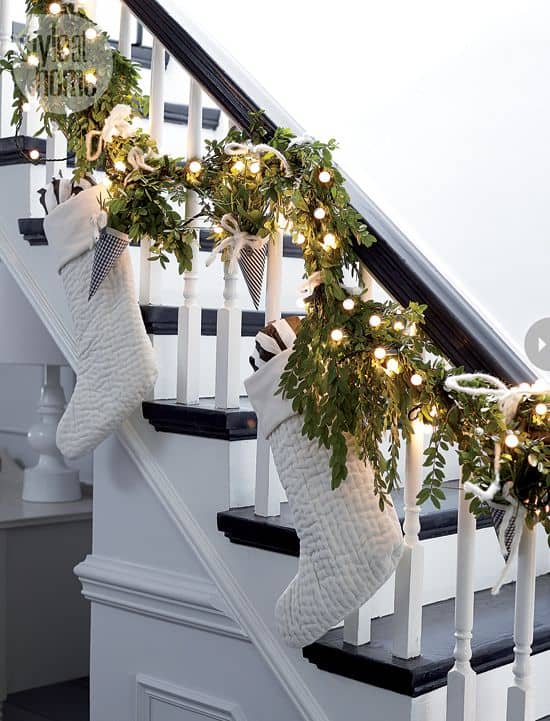 #16 magical spangled staircase fused with spray decorations
Source: celebrateanddecorate.com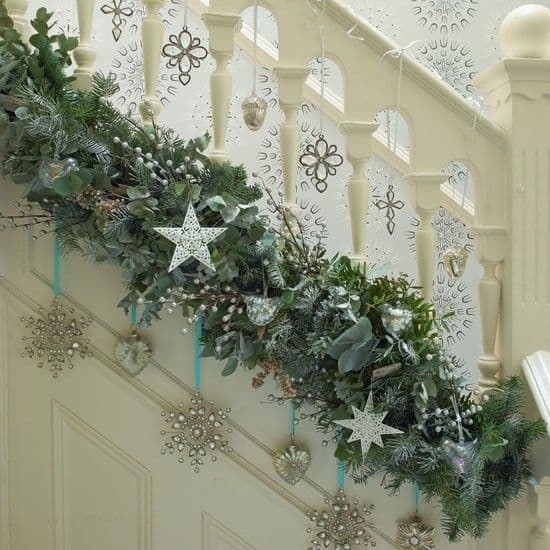 #17 visualize gift wrapped boxes as a staircase adornment this holiday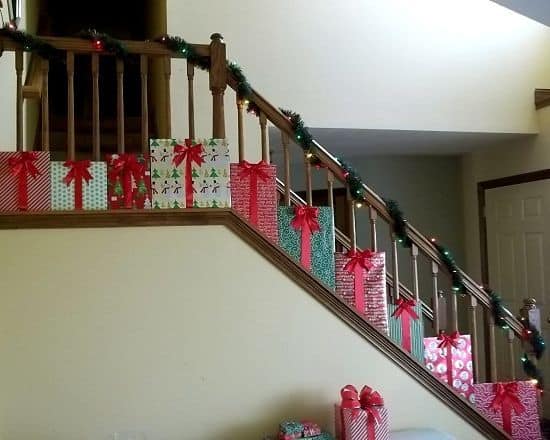 #18 infuse a cozy atmosphere by attaching family photos to the staircase garland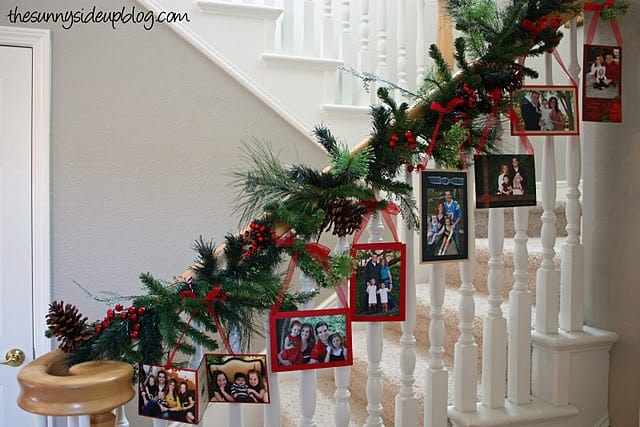 #19 bring a staircase to life with a garland of forestry shrubs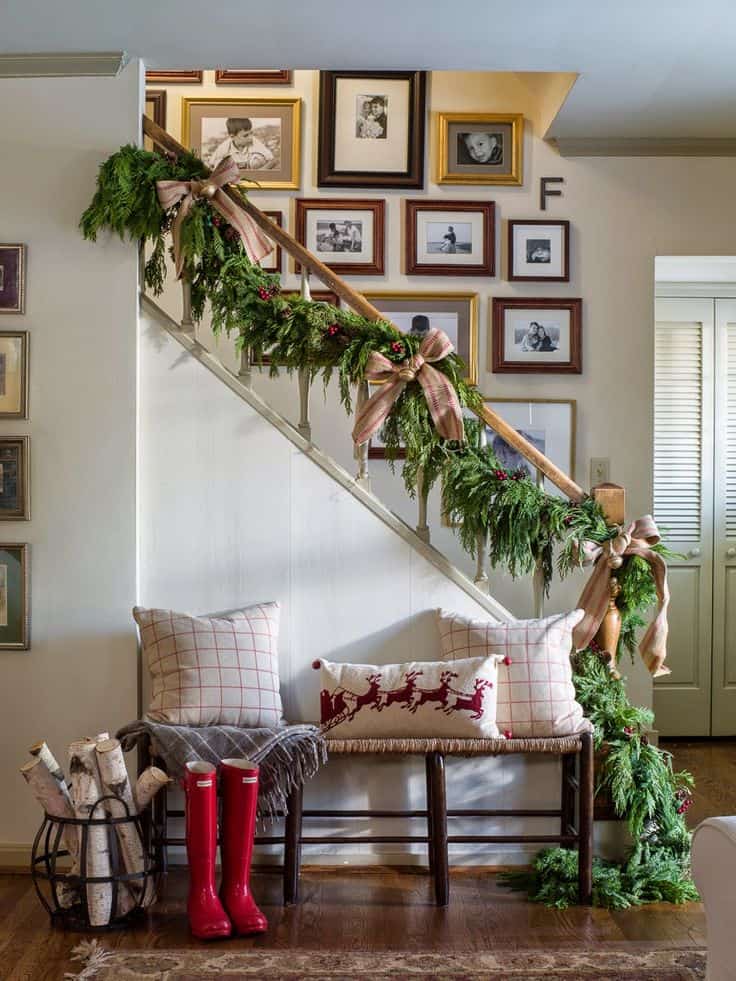 #20 put together a arrangement of using classic red and green colors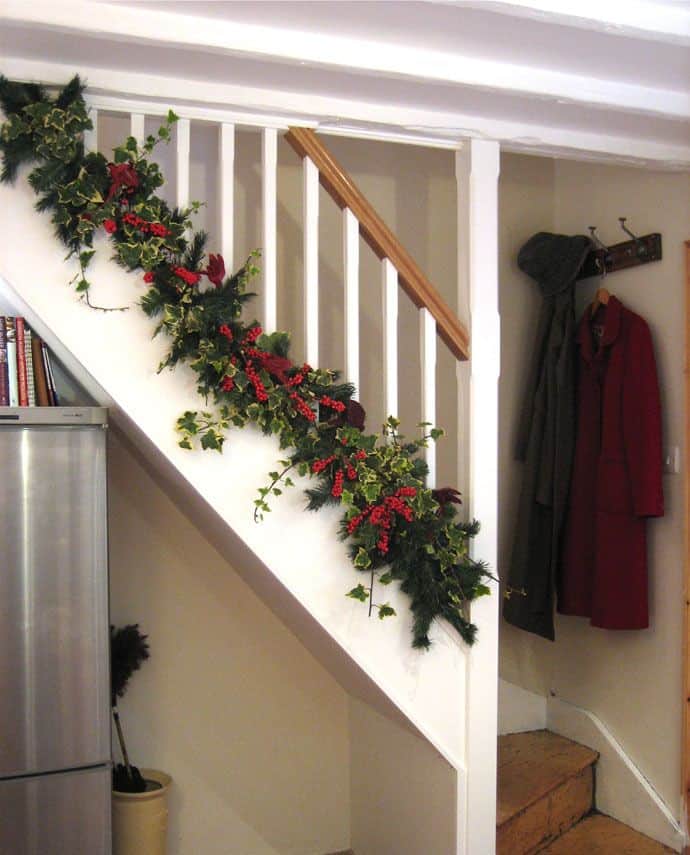 An indoor staircase can be decorated to blend in with the decor of the room or simply stand out. In the spirit of designing a festive home this season which one of these can you imagine on your banister? We invite you to choose your favorite and to leave your valuable feedback in the comment section below.
Related Articles
14 Best Christmas Copper & Rose Gold-Finish Decorations
14 Awe-Inspiring Ceramic Christmas Decorations
16 Best Christmas Glass Ornaments [Bauble & Icicles]
19 Christmas Tree Paper Decorations for Delicate Look
12 Best Christmas Glass Tree Toppers for a Jolly Xmas
14 Best Star Christmas Decorations for a Shiny Christmas
14 Best Christmas Tree Lights to Consider This Year
Learn How to Store Icicle Lights After Christmas
Start The DIY Christmas Gifts Process Early
19 of the Best Candle Gifts Sets & Baskets for Epic Presents | Candles Gift Guide 101
76 Best Lego Gifts & Best Lego Sets for Lego Lovers
14 of the Best Gifts for Sculptors in 2022 | Gift Guide
32 Best Gifts for Marvel Fans of the Realm 2022 | Gift Guide
29 Best Gifts for Interior Designers and Creatives Everywhere | Gift Guide
45 of the Best Gifts for Architects in 2022 | Gift Guide