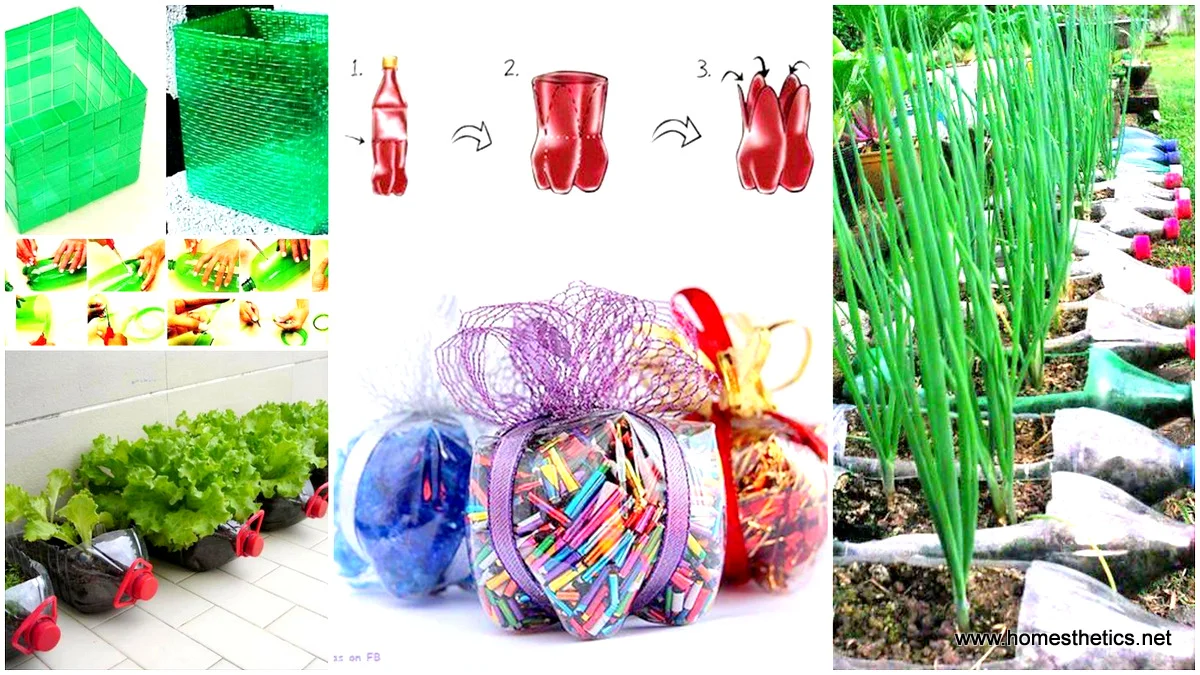 Plastic bottles and glass bottles alike are leaving the environment in thousands of years if thrown away, never fully decomposing without harming the environment a great deal. Raising awareness and reaching sustainable standards is a responsibility for each user and we are strongly encouraging  you to recycle everything you can, everything humanly possible. The second best option is upcycling, basically reusing items into creative diy projects. You can find a dozen projects on glass bottles here and in this article you will discover 23 insanely creative ways to recycle plastic bottles into diy projects creatively, we should actively contribute to clean the environment in our path and happily plastic bottles and wine bottles can materialize extraordinary diy projects thanks to their enhanced durability and sculptural shapes.
Cast a glance at the selection underneath and feed your imagination.
Creative DIY Ways to Recycle Plastic Bottles
#1 Cubical Storage Unit Made From Plastic Bottles
#2 Vertical Wall Storage Organizers Out of Transparent Plastic Bottles
#3 Simply Beautiful Plastic Bottle Flower Decoration
#4 Insanely Smart And Useful Plastic Bottle Broom
#5 Use Plastic Bottles to Seal Plastic Bags
#6 Plastic Bottle Christmas Tree Spreading Happiness
#7 Flower Pots and Flowers Realized From Plastic Bottles
#8 Small Ottoman In High End Decor Realized From Plastic Bottles
#9 Beautiful Bottle Vase
#10 Charging Unit to Declutter Your Space
#11 Plastic Bottle Flower Planter
#12 Plastic Bottle Decorative Christmas Bell
#13 Plastic Bottle Butterfly Decoration
#14 Big Bottles of Water Nestling Vegetables
#15 Beautiful and Thoughtful Bird Home
#16 Small Baskets to Nestle Flowers or Centerpieces Decor
#17 Plastic Flowers Animated by Light
#18 Plastic Bottle Bird Feeder
#19 Candle Centerpiece Realized With Plastic Bottle Necks
#20 Transform Simple Plastic Bottles Into Creative Sweet Gifts
#21 Expose a Simple Plastic Bottle To The Elements and Notice The Results
#22 Grow Your Vegetables Into Plastic Bottles
#23 Create Small Doll Houses For Your Children
What do you think about the ideas showcased above? We would love to hear your opinion in the comment section below.
Related Articles
35 Fun Ways Of Reusing Bottle Caps In Creative Projects
20 Ingenious Bottle Cap Crafts That Will Surprise You With a Smile