Opening a restaurant can seem quite fun, but it comes with a lot of responsibilities, a major one being designing it. 
If you want to ensure that your restaurant is always brimming with happy guests, it is necessary to make sure that they feel comfortable. And for that, you have to pay special attention to designing and implementing a favorable seating layout.
However, it's a job easier said than done. There are many things to consider, and you need proper guidance for that. And to help you design the perfect restaurant space, we have curated this guide to throw light on how to have the best seating layout in a restaurant. 
Without any more delay, let's dive right in!
Related Articles
16 Types of Steak Everyone Should Know
17 Best Office Chairs for Creatives Everywhere
33 Best Types of Office Chairs to Consider for Your Desk
19 Different Types of Mid-Century Modern Furniture
43 Super Cool Bar Top Ideas to Realize
Effective Restaurant Seating Layout
We will start with a list of the most important things that should be on the top of your priority list before you get to the designing part. 
Is There A Need For A Waiting Area?
This depends on the kind of footfall that you are expecting and the overall vibe or ambiance of your restaurant. For example, if you're building a fine-dining restaurant, you won't want long queues in the dining area. 
Not only will this make your restaurant look cluttered but it will also affect the movement of the servers. And there's a good chance that even your customers would not like all that crowd when they are trying to simply enjoy their meal. So, including a waiting area is a good way to prevent any such problem.
No matter the type of restaurant that you will eventually own, we will always suggest that you consider making a waiting area if there is enough space. When you design a nice and welcoming waiting area, your guests can wait comfortably, especially during bad weather, before starting with the meal.
What Appeals To You?
Before thinking about designing the restaurant, it is crucial that you figure out the things that you find visually appealing. After all, the restaurant is going to be an extension of your dreams and vision. So, it only makes sense that the space reflects the person that you are and your sense of aesthetics.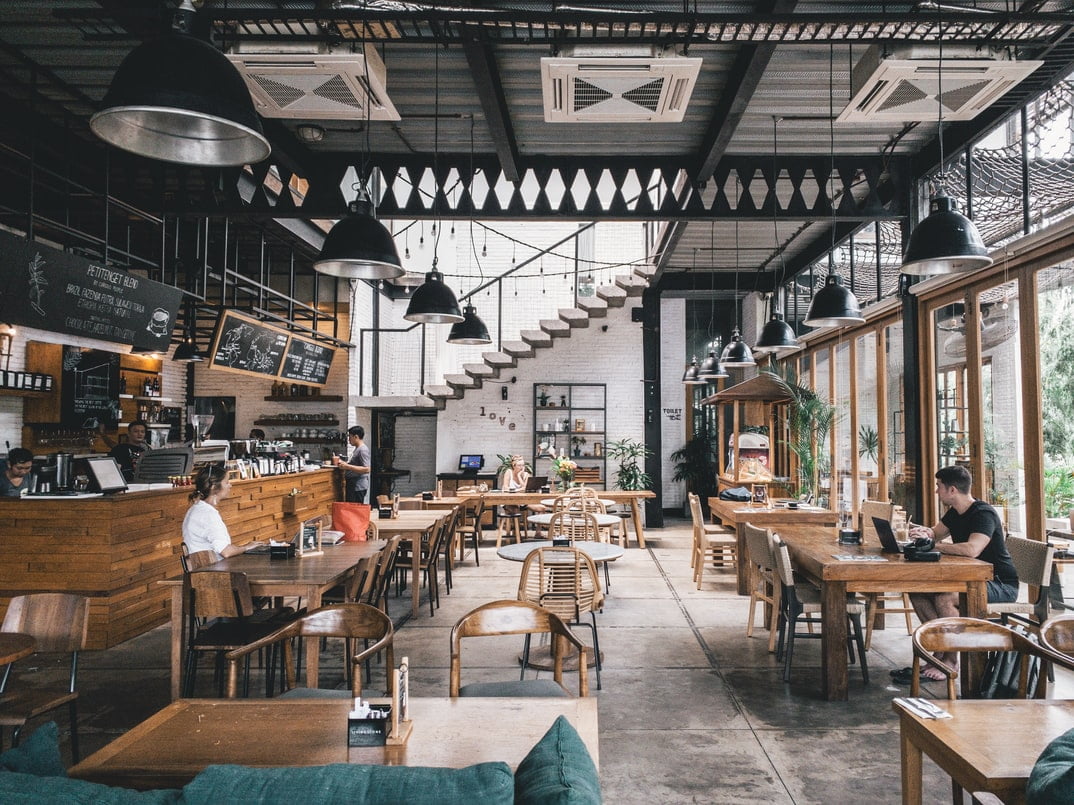 Some people like to keep their restaurant spacious with minimal seating arrangement and a lot of blank space. On the other hand, there are some who like their restaurant to be cozy and warm, where people can come, sit and talk for hours. 
Hence, you need to figure out the kind of vibe that you want for your restaurant before designing the layout. And once you get that right, other things will soon fall into place. 
Plan On Making The Space Inclusive 
It is essential that you think about the different types of customers that you will have and how to accommodate them better when designing a restaurant. Not every customer will be able-bodied, so you should think of installing both ramps and staircases for ease of access. The former will make it easier for customers to enter with a wheelchair without any difficulty.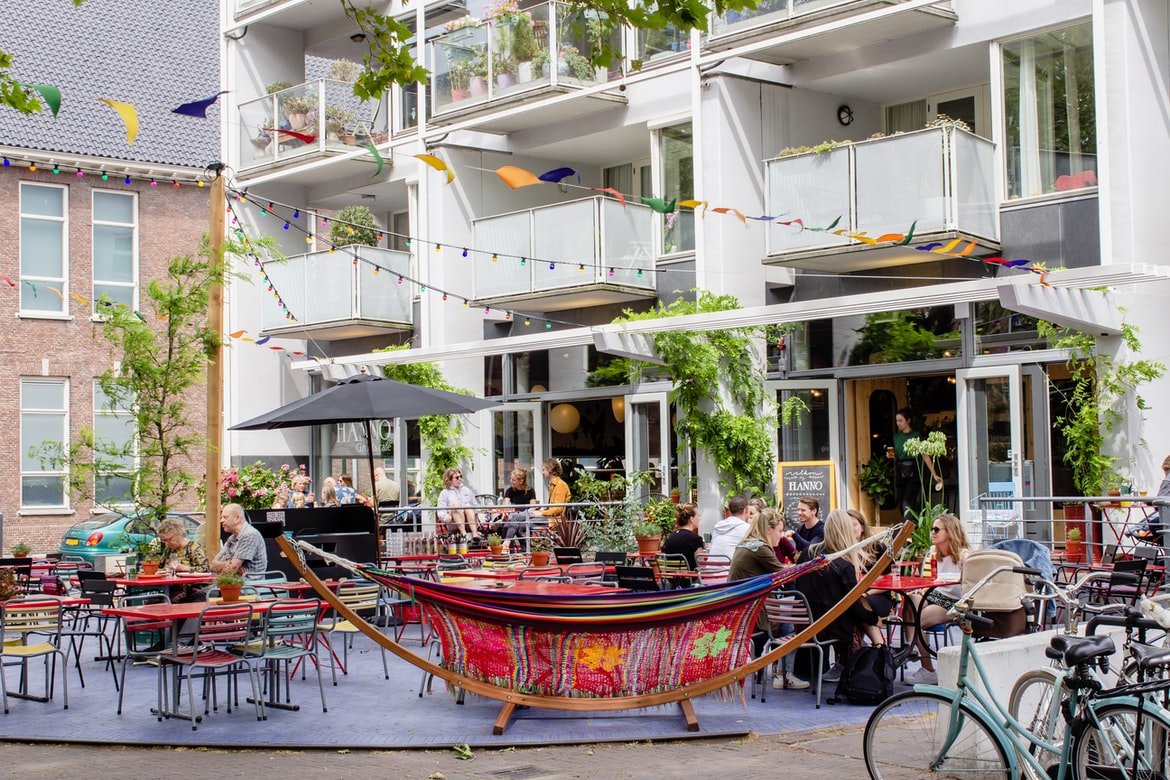 Similarly, you should consider designing your bathrooms in a way that all kinds of people can access them. Apart from that, bring in high chairs so toddlers and kids can easily sit on them. This would let families know that they are welcome, and they will feel more comfortable visiting your restaurant often. 
How Crucial Is Privacy? 
It is extremely crucial to consider how much privacy you can offer to your guests to design the restaurant space better. If you are planning to welcome office parties, you should create an atmosphere that can accommodate critical professional meetings.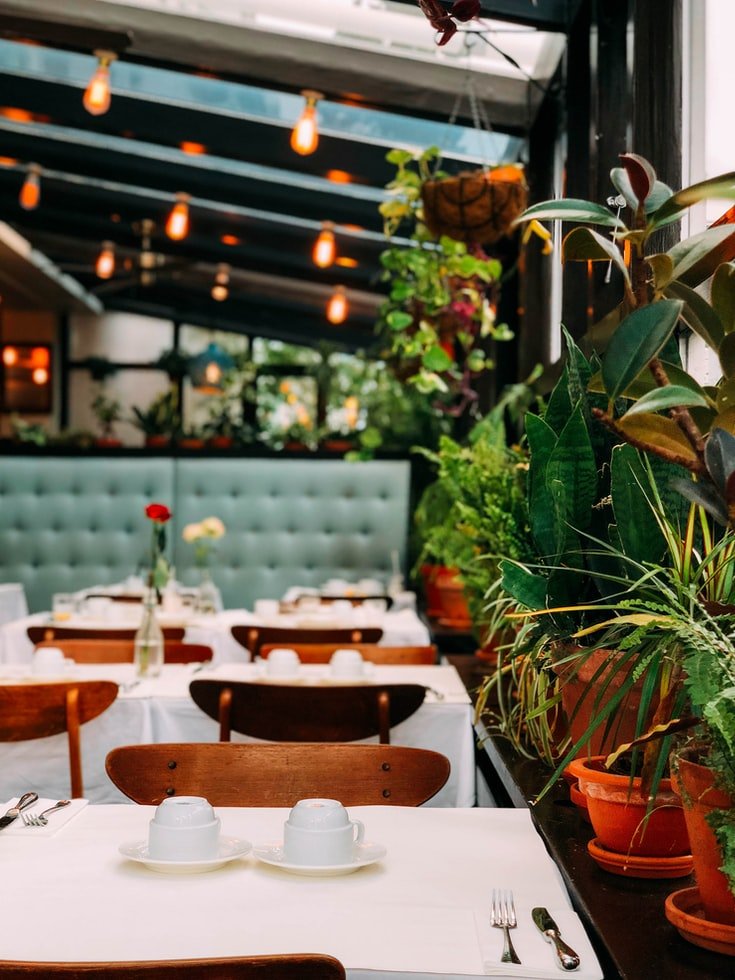 On the other hand, make enough privacy arrangements if you plan to create a romantic environment that couples would love. For intimate date nights, you can either design booths to accommodate your guests or simply install walls for added privacy. 
However, you might not like to erect walls all across the place, and there's a solution for that too. In such scenarios, you can simply establish a few private rooms for the said purpose. Furthermore, we would recommend creating these spaces in the nooks to create a more intimate and cozy atmosphere.
Think Of Ways To Increase Your Sales 
A good and effective seating layout will come in very handy for increasing the sales as well. For example, if you offer a bar in your restaurant, try to design the seating area in a way that people don't end up spending hours just sitting at the bar counter.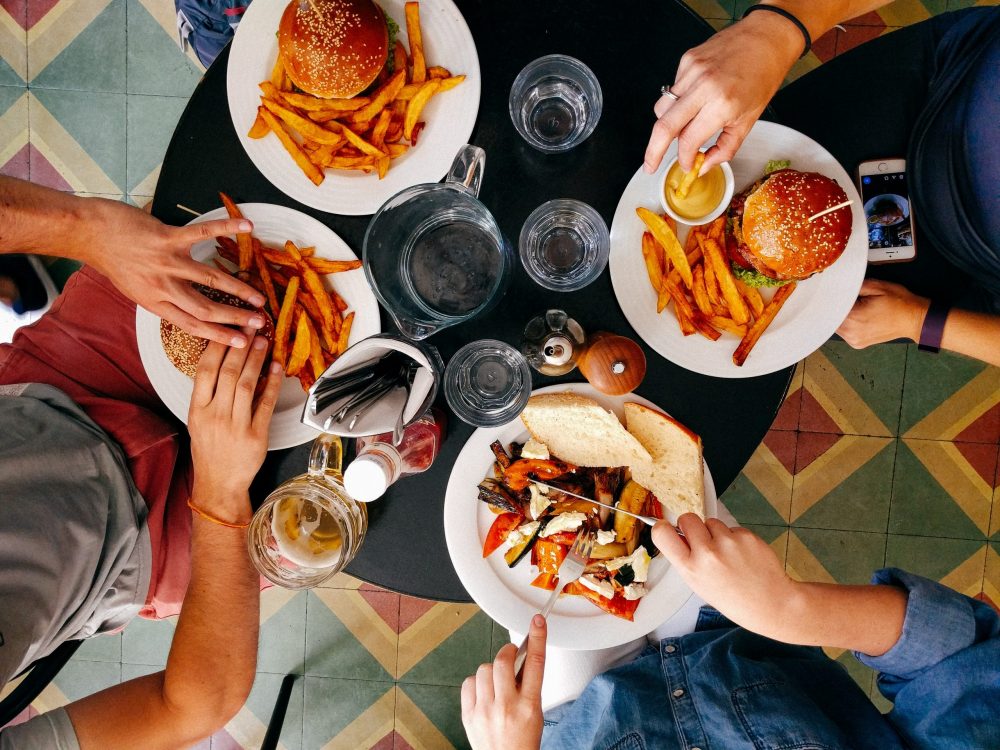 The trick here is to offer limited seating in order to first limit congestion around the bar and second to increase your sales. You might be wondering how this would enable your sales to shoot up? Well, when there's a limited amount of space to sit around the bar counter, people would soon move to the tables to order more drinks and appetizers. 
And in case they decide to hang out at your restaurant a little longer, they may even opt for a proper meal. So, design the place in such a way that it can covertly persuade the guests to splurge at your restaurant. 
How To Manage Seating Space Effectively
Making The Floor Plan 
You cannot start furnishing your restaurant without having a floor plan in place. So, it is best that you start with a well-laid out and detailed business plan. And before you can finalize that, keep in mind a few important things.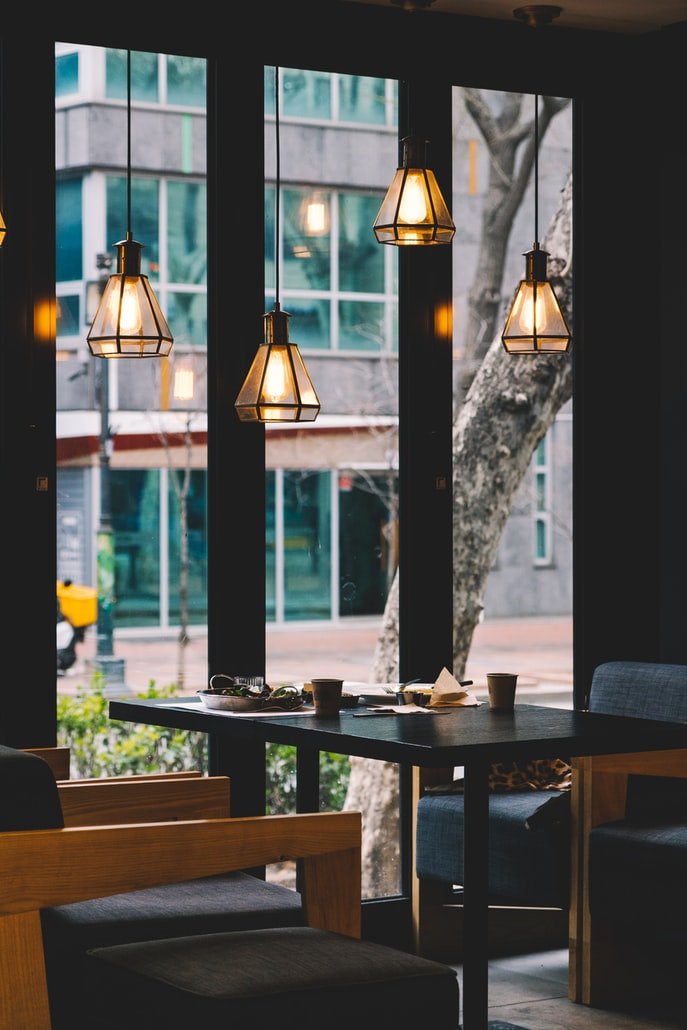 Firstly, it's crucial to understand your target clientele, the budget you have, and the available space. The idea here is to make a floor plan that not only looks good but is also efficient. Before finalizing the project, make sure that you talk with the designers to ensure you're making the most of the space. This is one thing that you should not compromise on. 
Multiple-Room Setup 
Before deciding the kind of furniture you want to put in the restaurant, you need to select a layout first. You can have one ample open space where you put the entire seating arrangement or small rooms for private parties. 
The advantage of having multiple rooms is plenty. None of the guests will be disturbed by others, and you can easily anchor tables without disrupting the restaurant layout. However, there are a few drawbacks to plans like these. It would get difficult for you to host huge parties as the area would get compartmentalized. 
And in case you plan to renovate your restaurant in the future, even that would become quite a task.
Open space  
The other option to try is to keep an ample open space where you accommodate all the tables and seating arrangements. This would increase portability manifold, and in case you are hosting a massive party, you can always add extra tables. 
It is also better in terms of the visual pleasure that you give your guests as they can view the entire space and do not have to restrict themselves to a small room. Moreover, when your arrangement is like this, your clients can better enjoy the music, too, as it spreads across the place. 
However, this arrangement comes with its fair share of downsides. If you end up playing music too loud, your guests may have trouble talking. Also, in one big space, the waiters and the guest might have difficulty moving in case there is aisle traffic. So, navigation under a scenario like this might be pretty challenging. 
Shape Of The Furniture 
You would be surprised to know the amount of effect that the furniture shape can have on your guests. You would see that in most Cafes, the tables are round, which encourages more extended conversations. If you are planning something similar, now you know what to do!
From our research, we also found out that square tables are more efficient when it comes to saving space. And if you are planning to create a restaurant that more couples would like to visit, it is best that you keep the table for two-person use and keep more tables with two seating.
Otherwise, if you keep four chairs with a table, most of the time, two seats are likely to remain empty. Now, that's not a good optimization of space, is it?
The Quality Of Furniture 
The kind and quality of furniture you plan to put in the restaurant depend entirely on your business plans. If you plan on having a fine-dining restaurant, there can be no compromise with the quality of food and furniture. Everything needs to be top-notch. This is not the case when you are planning for a more casual space. 
However, the simple rule to follow is never to compromise on quality irrespective of the décor you plan. If you go for cheaper furniture, the chances are that they will not be durable, and you'll end up spending more money in the long run. 
And to add to the feel, take into consideration smaller things like the fabric too. They are what put the final touch to the décor. 
Style Of The Furniture 
The style of the furniture that you select has a significant impact on the seating layout in your restaurant. It goes without saying that bulky furniture would occupy more space than sleek ones. So, the first thing that you need to do is study your space in great detail.
Once you are well-versed with that, it will become easy to decide on a theme that you can accommodate in the space. Go for old vintage décor, only if you have a big space and can accommodate hefty, carved-out chairs and tables. Alternatively, you can go for minimalist modern décor if you have less space to work with. 
When the space is less, you can even opt for a portable or anchored table to reduce floor space as much as possible. The trick is to use the space in an efficient manner to maximize the number of guests that you can host.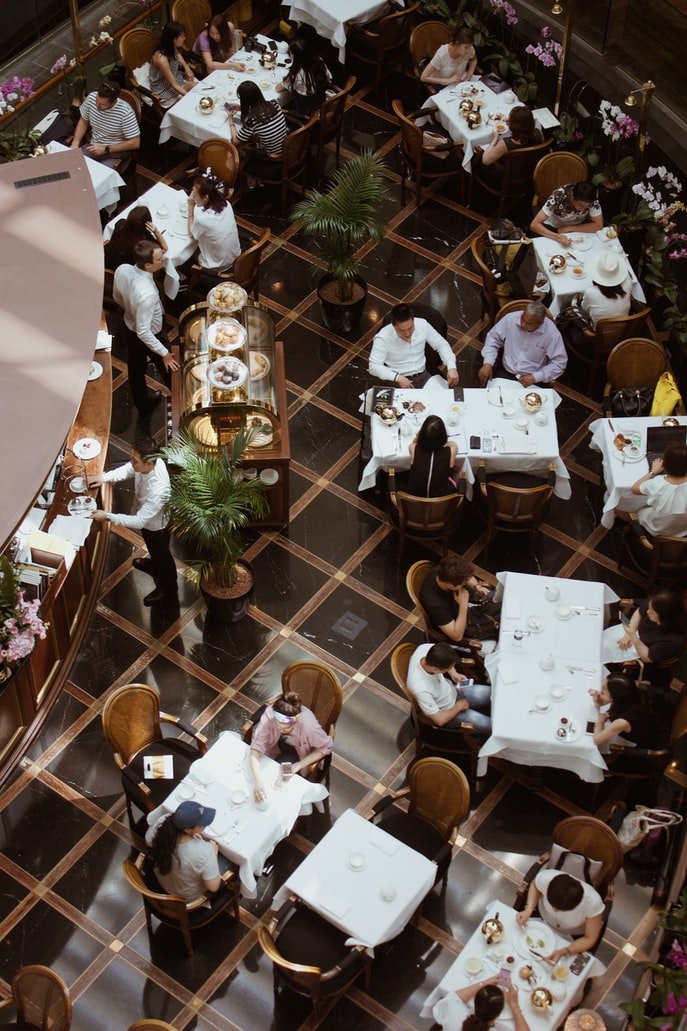 Selecting The Space Between The Chairs 
It will be a really bad experience if one of your guests ends up stepping on another guest's foot, right? To avoid problems like this, it is essential that you arrange the chairs in a way that there is a considerable gap between them. This will prevent the guests from bumping into one another or waiters while they serve food. 
In case you decide on going with a square or rectangular table, it is best that you keep a minimum of 25 inches gap between the chairs. On the other hand, when going for round tables, make sure that you maintain a gap of at least 30 inches between two diners. 
Moving on to the tables now, ensure that there is a gap of a minimum of 5 feet between them. And as I have mentioned before, in case you don't have so much space to spare, you can always erect walls and create compartments. 
Final Words
With that, it's a wrap!
We hope that you had a good time going through our guide. And that after reading this, you will be able to manage all the ​​restaurant furniture better and more effectively. Your point should always be to try and create an enjoyable overall experience for your clients. By now, you must have understood how important the seating layout is for this purpose. 
It is not really a big task, and you will be able to make the most of your space with a little effort. In case you have any further questions, feel free to drop them in the comments section below. And keep a watch on this space for more interesting reads. 
Until next time, fare thee well!