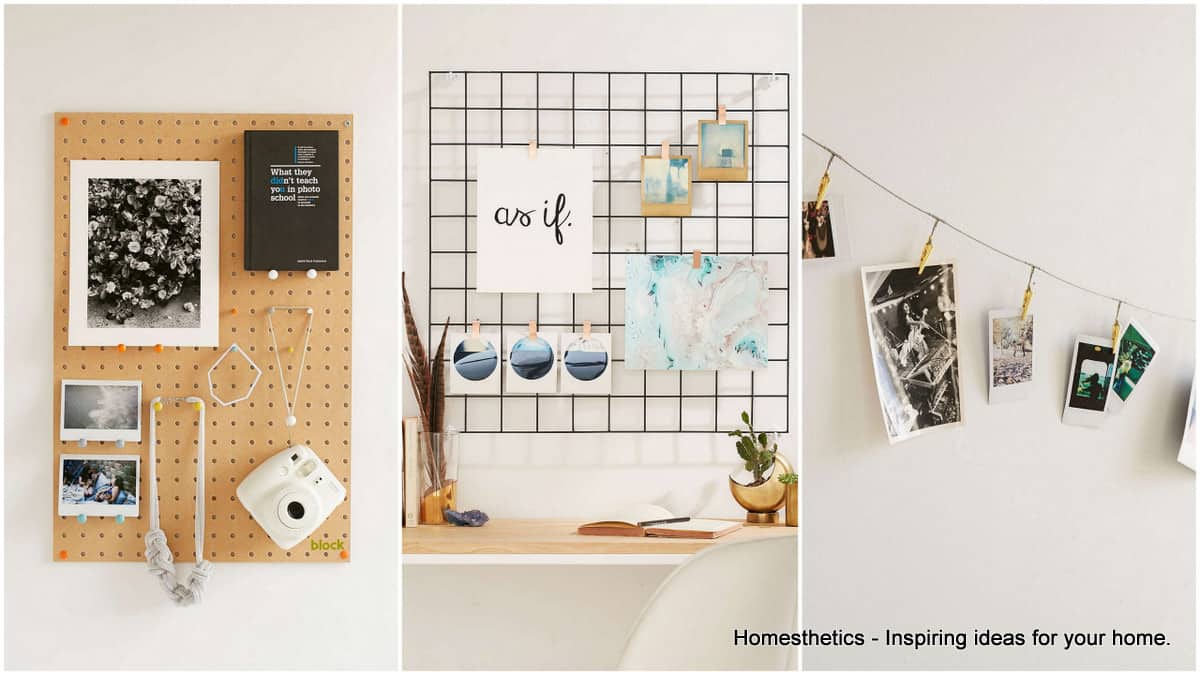 Cubicles are spaces often overlooked despite the immense amount of time that we spend in them. We earn our living in our cubicle, we experience emotions and we get attached to their tidiness, its organization or lack off without ever thinking how we could make it better, how we can shape a positive work-space through simple DIY cubicle organization projects. Simple means can make a big change and in the following gallery, you will find a suite of ideas that range from simple and fun purchases to crafts that can completely transform your workday in long term.
Your amazing cubicle is about to surface, simply cast a glance at the gallery below and get inspired.
Shape a Positive Work-Space With DIY Cubicle Organization Projects
via Piedmont Office Suppliers]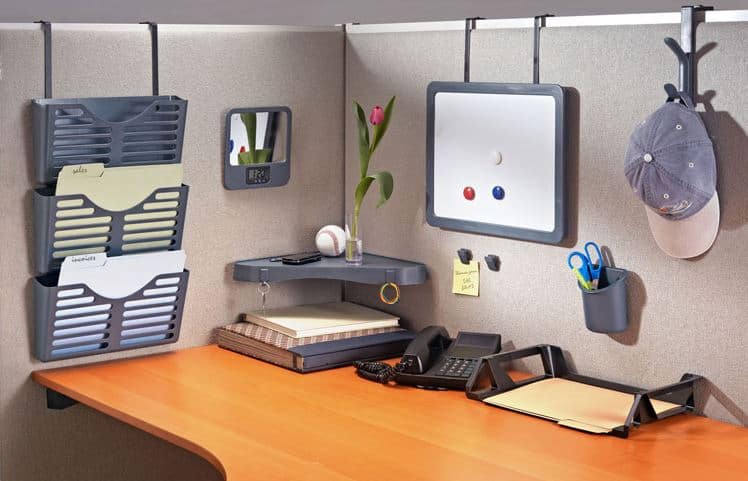 Brick wall cork-board
A simple backsplash can change the mundane look and set your cubicle apart and the Brick wall Cork-board below is one option that one could find on CB2. The backsplash creates an opportunity for an interesting gallery, important reminders, and dreams travel destinations, it can turn around the whole cubicle if you use it as an oasis of inspiration to surge energy from.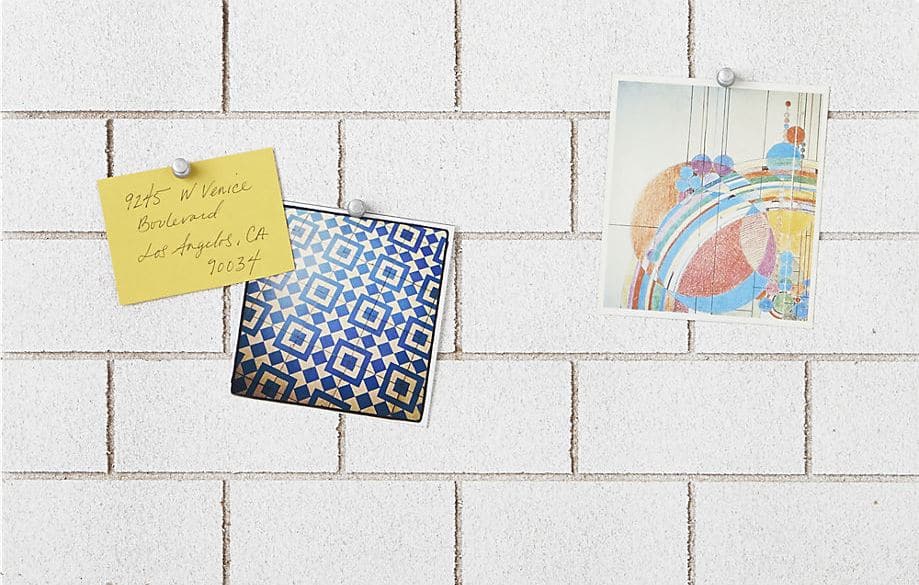 Use a metal grid
The right organizer can boost a retro look, one that goes with the natural flow of one`s dreams especially when aided by inspiring memories. The graphic element below can be found on Urban Outfitters and it comes in copper, black and white, and immense opportunities.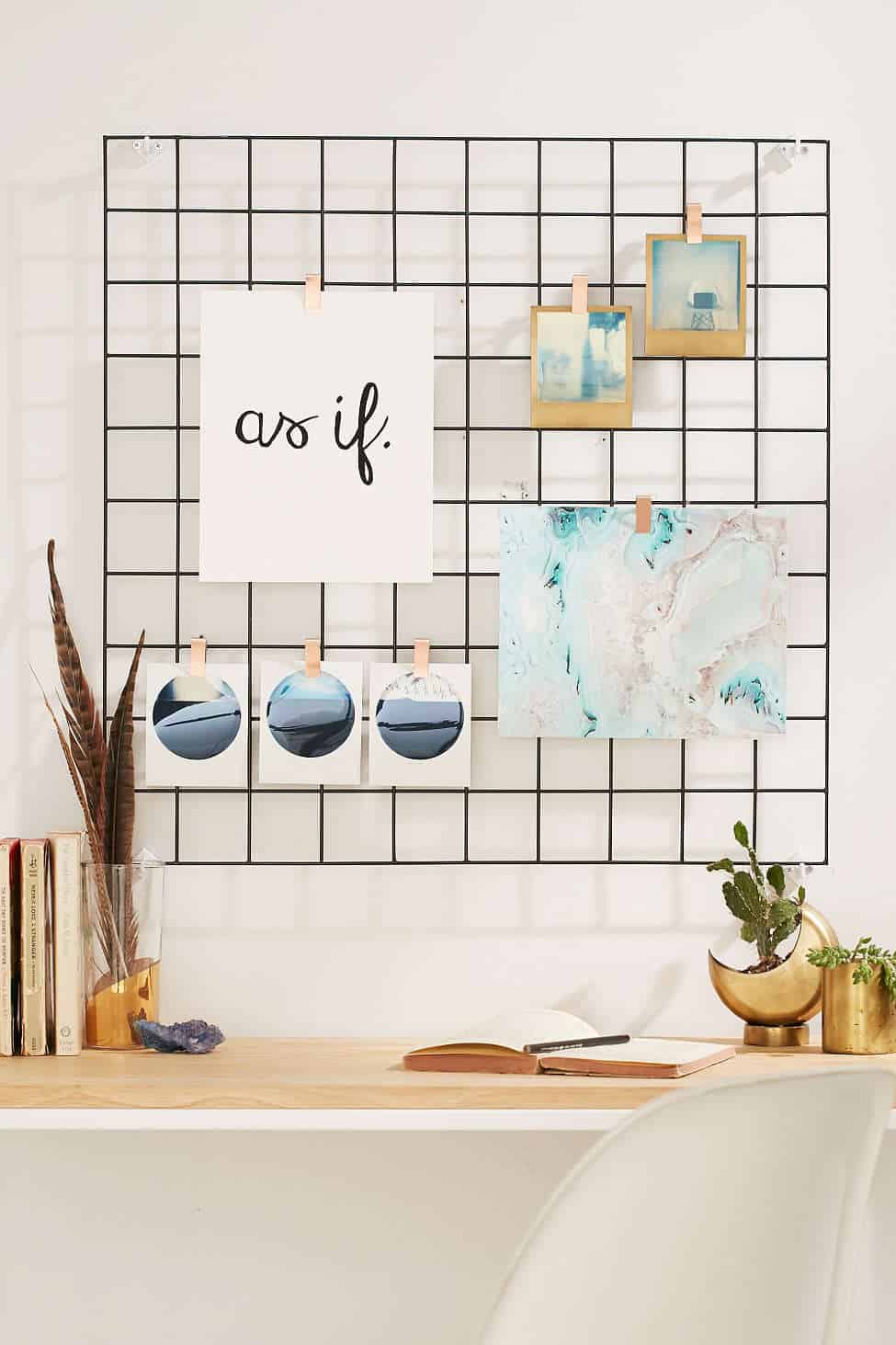 String and clips
Display timeless memories in a photo display constructed with string and clips. The item is utterly simple and it can be purchased or crafted in a matter of minutes.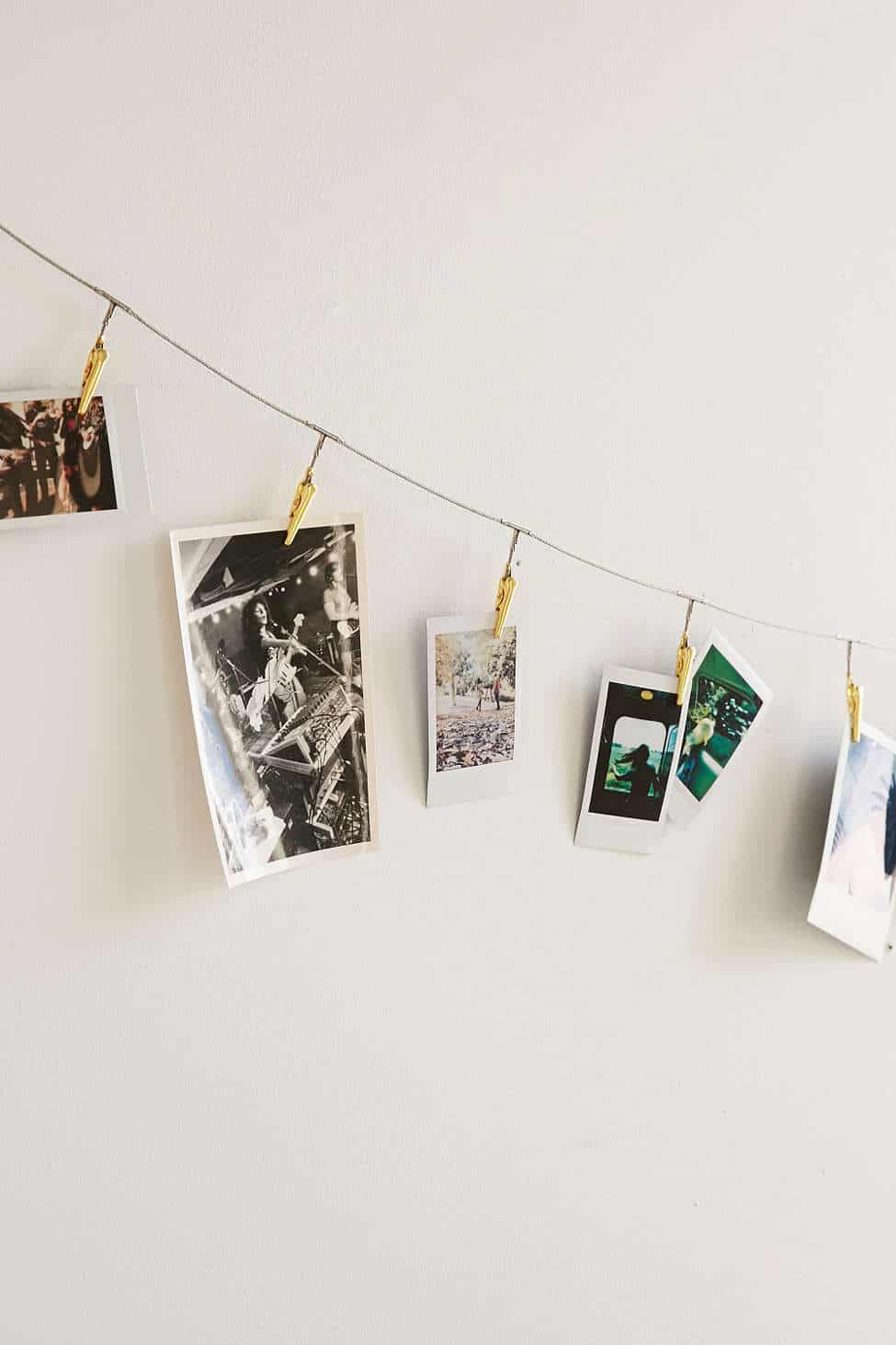 Craft a hand photo holder
A Beautiful Mess crafted a DIY photo display system that surely is creative, different, and spectacular as it contains petite cute hands holding your favorite photos, all in a fashionable golden finish.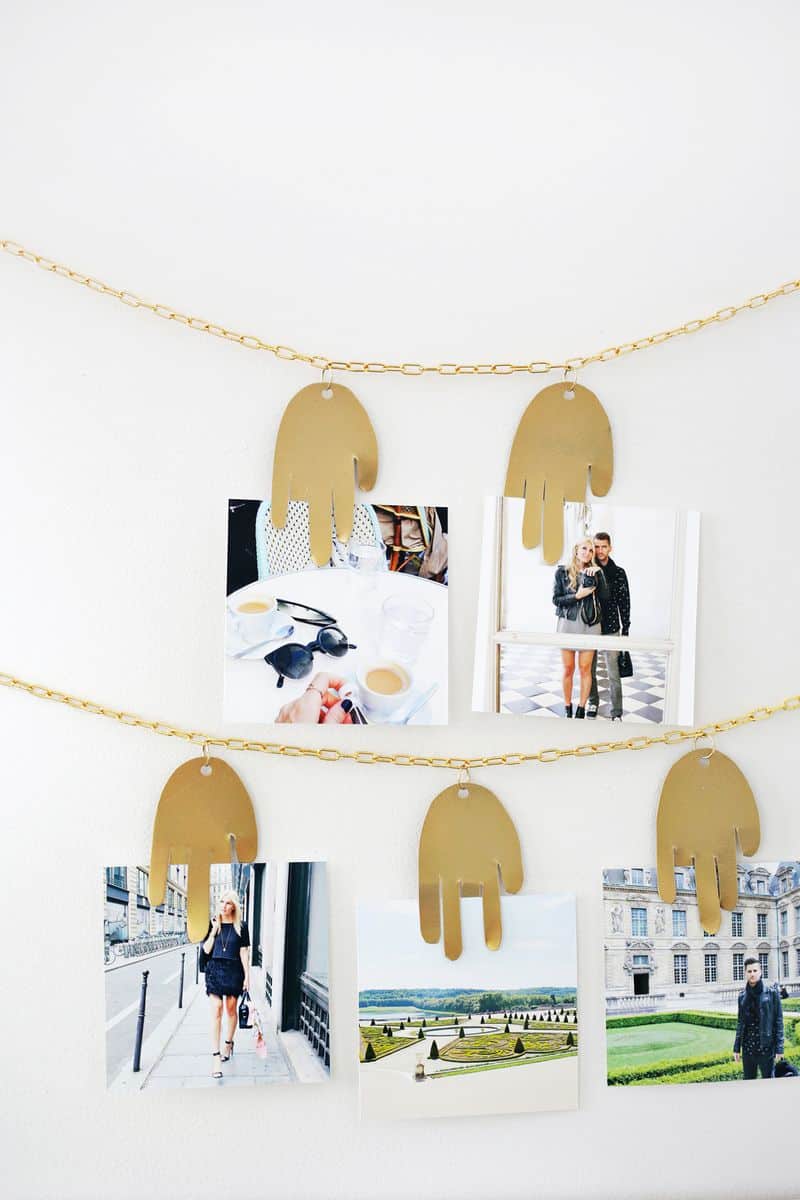 reshape the bulletin board
A memo board gone out of style can be reinvented with spray paint. The frame, the board, and even pushpins can be changed, details in full can be found on the Urban Girl Blog.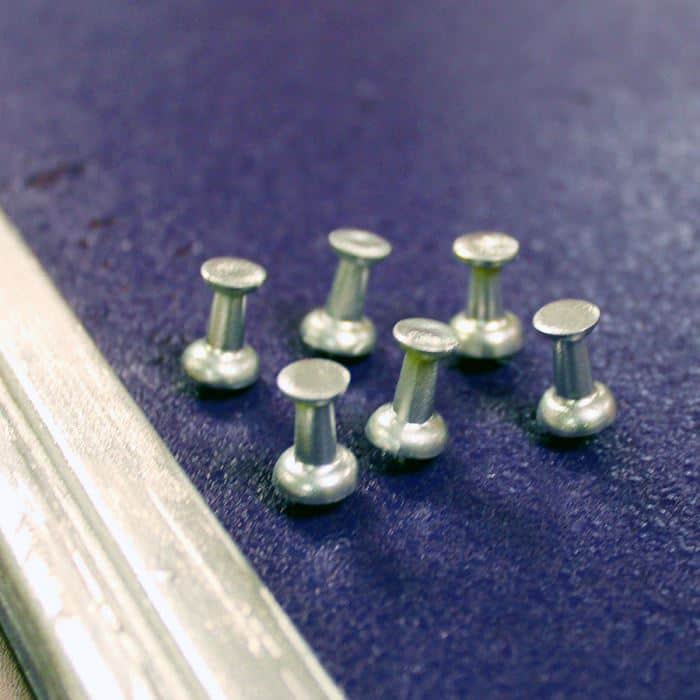 use a golden desk organizer
A new vibe can be brought in with brightness and a feel of airiness and using easy-to-remove contact paper on your desk surface can bring in light while upscale glamorous-looking accessories can make your cubicle look extraordinary. The Knox Box above can be found on CB2.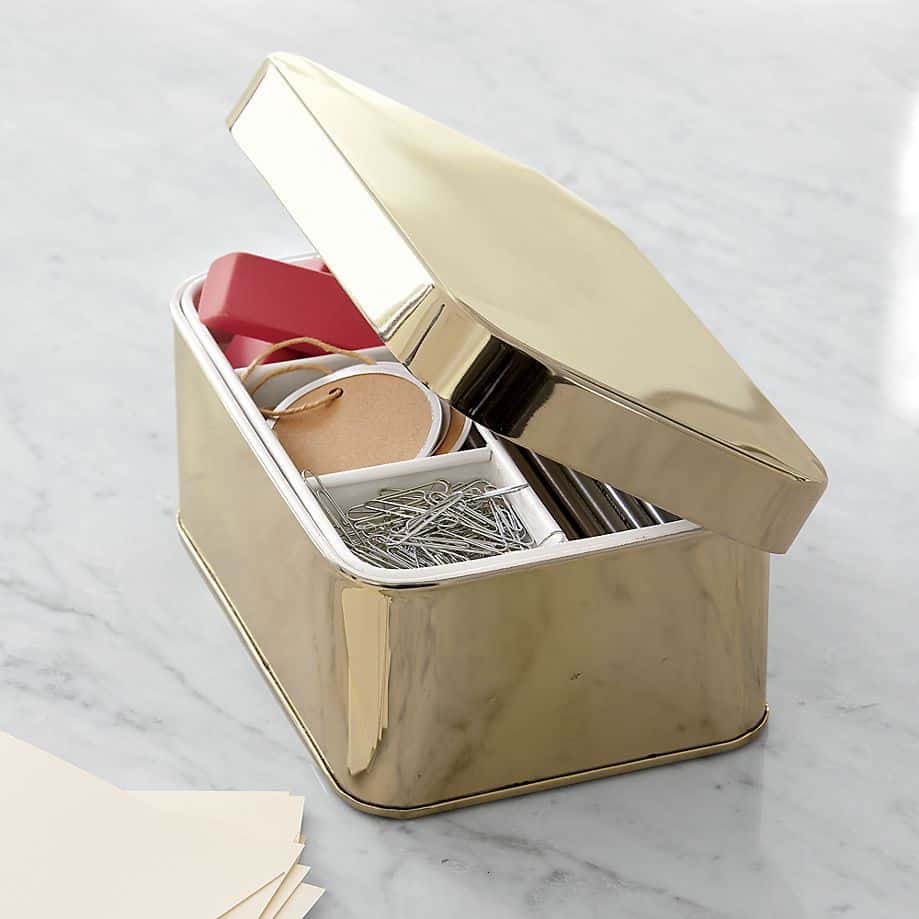 dhurrie rugs to fit your décor
A really graphic rug can change your cubicle. No big statement is needed but there are options for all budgets. A flat-weave rug is recommended as it will allow your office chair to move freely.
[via Serena & Lily]

organize in mint
One color scheme can help one`s organizing a great deal as it connects the elements able to de-clutter through color and as a result you can find and use them easier, moreover, the ensemble is unified and it works better in terms of aesthetics. The Color Pop Office Accessories in Mint from West Elm are a great example.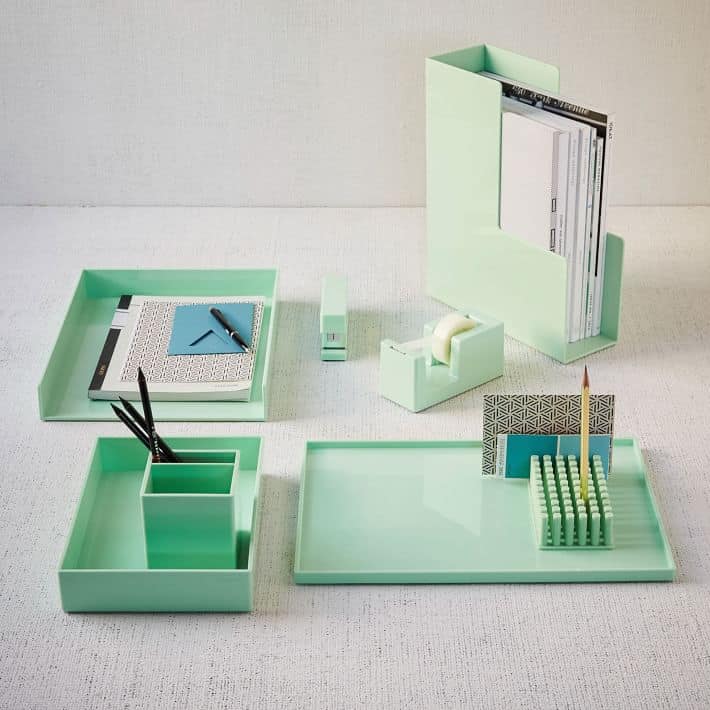 use pattern and color
A design motif has the same effect as a color scheme and it can invite into the theme additional organizers or decor pieces. Needless to say that simple organizers can be color or pattern-coded through simple DIY crafts.
The option below can be found on CB2.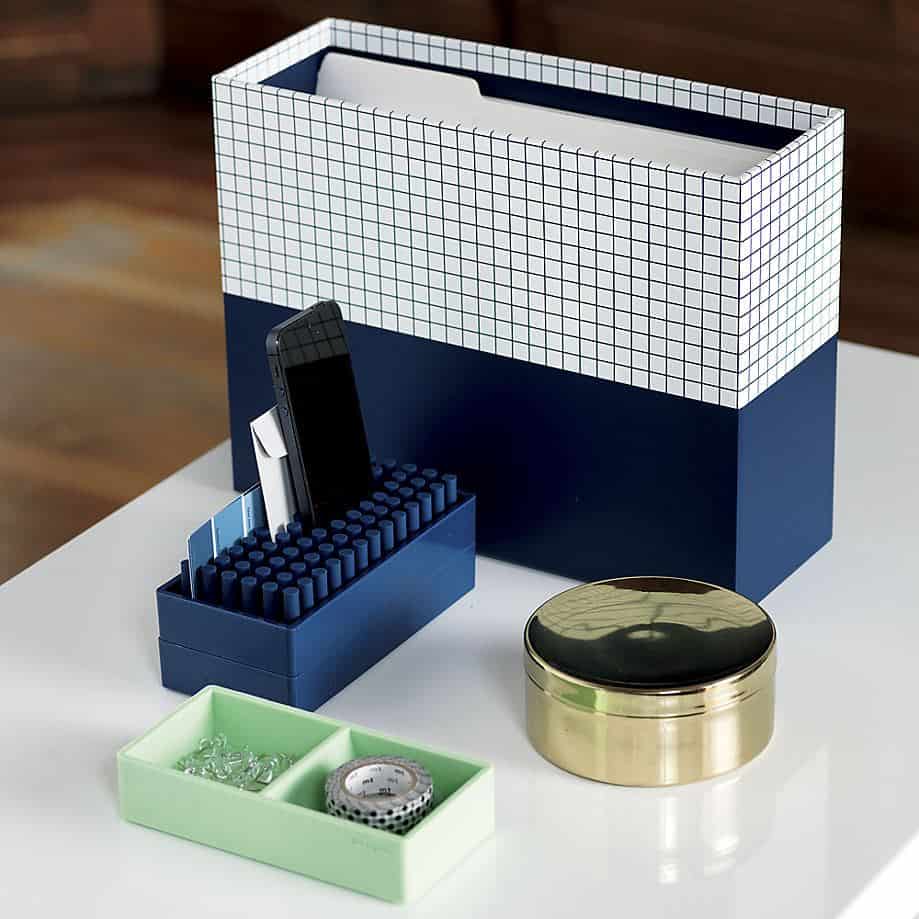 craft pvc desk organizers
Super simple PVC projects can change a great deal and when it comes to desk organizers the pipe does wonders. The detail in full can be found at Designs by Studio C.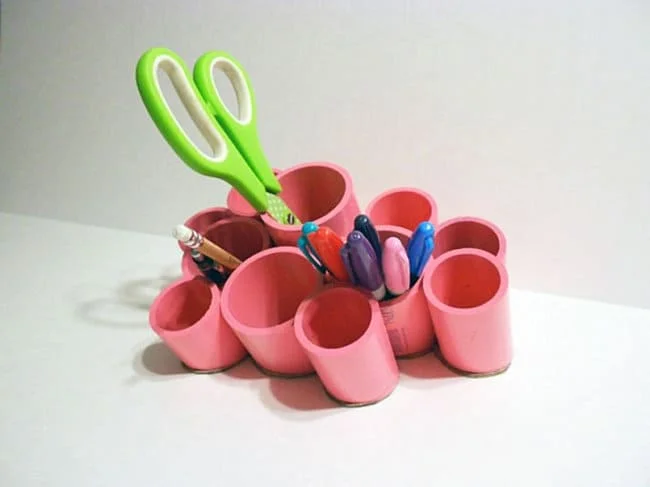 play with cork
Small stuff can go a long mile and nothing travels more on our desks than paper clips and rubber bands. They seem to have self-control but we cannot take control of items such as desk trays and organizers. A graphic option can be found on Urban Outfitters .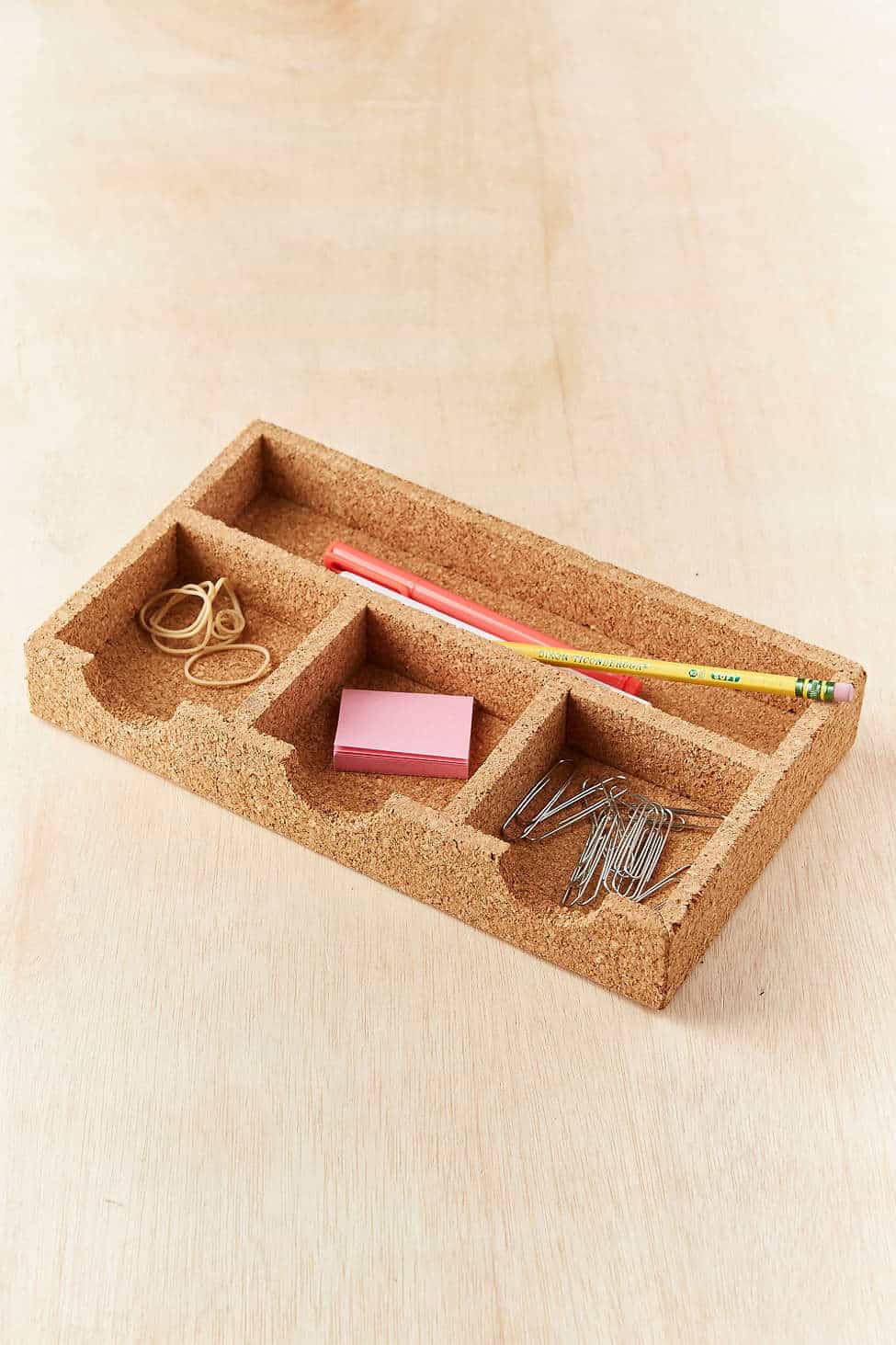 Use mason jars to contain candy
Mason jars can organize your entire desk in minutes yet candy should be a priority. Use a slightly modified mason jar to contain the energy you are about to devour with pure joy.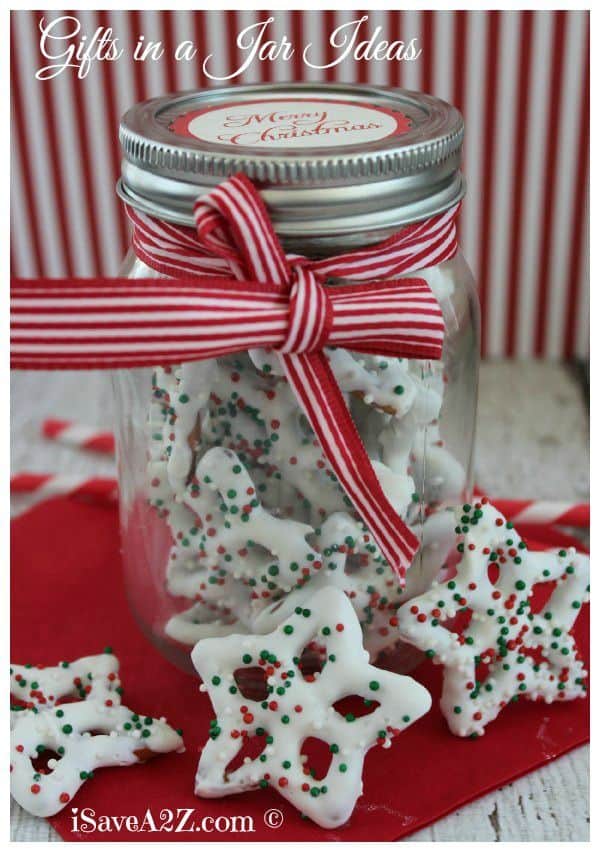 via iSaveA2Z.com
use transparency to your advantage
A mason jar promotes what it contains through transparency and it brings forward an airy look. Use color and simplicity to highlight this feature visually and you will have a great organizing tool at your disposal.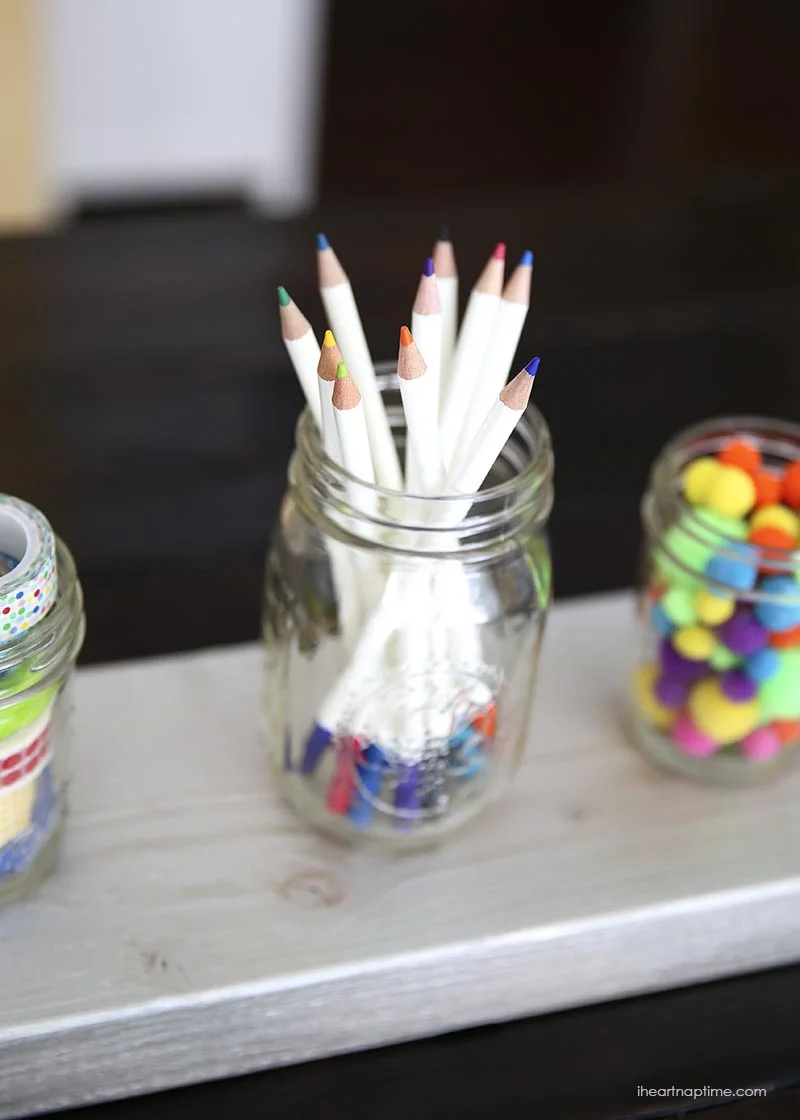 iheartnaptime.com
use a PEGBOARD
Move the clutter off your desk in the vertical plane, pin important memories, your camera, and a book that you barely read onto the wall, and enjoy the graphic effects. The retro-modern look can be easily crafted or purchased from Urban Outfitters.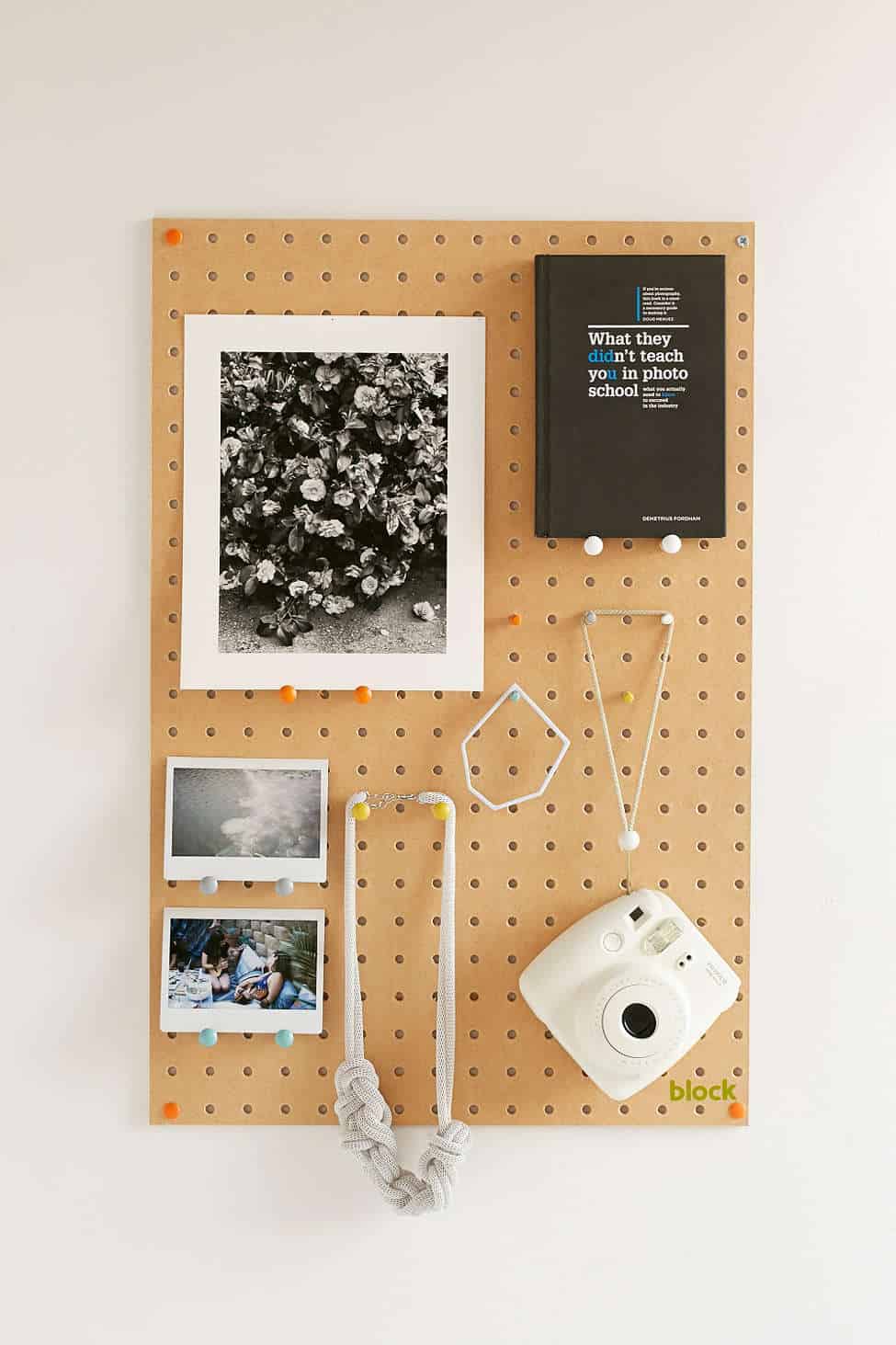 put your everyday utensil on display
Having the most used item on the wall highlights its importance and makes it easy to find at the same time.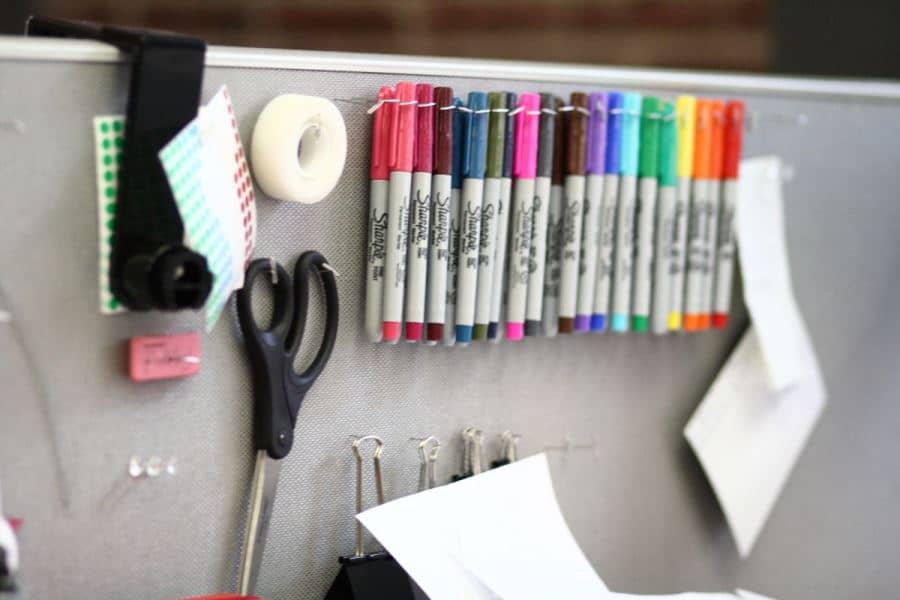 use simple tacos to organize cords
In an office, few things are more annoying than the number of cords and cables all over. With simple leather "tacos" one could put this issue to rest in a graphic manner as the elements are made out of genuine leather. Find them on  CB2.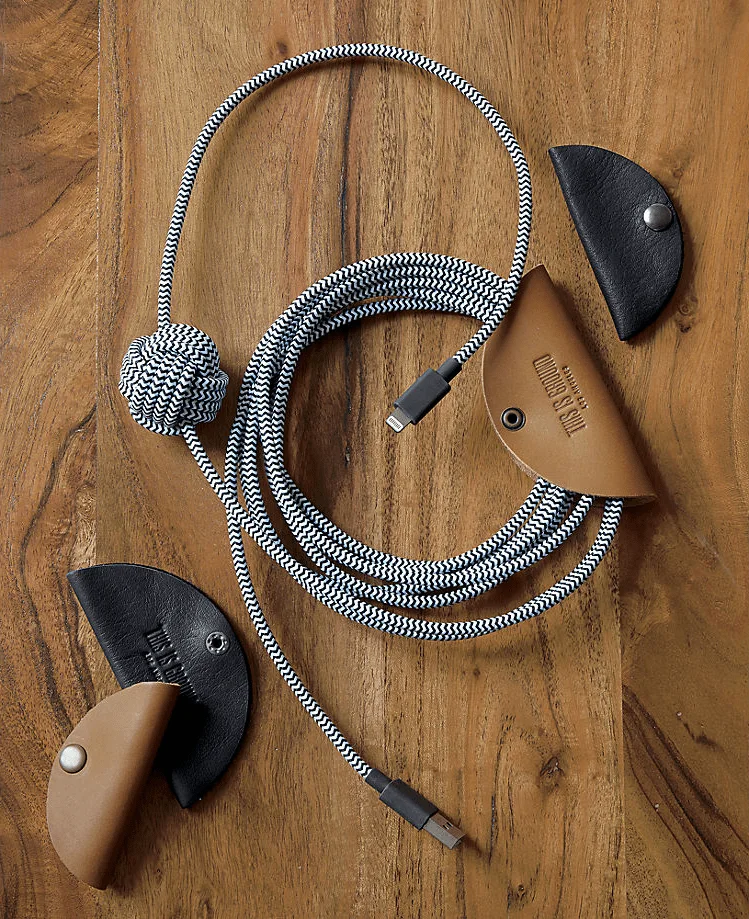 graphic geometrical choices
Marble and wood are a combination that one cannot miss. Tailored into a geometrical design object like the one below from West Elm the textures truly make a statement. The sculptural item is purely decorative yet on the desk it can double as a paperweight.

Geo object from West Elm
 potted plants
It can add balance and naturalness to a desk and it can refresh and purify your oxygen. Choose plants that work in little to no light or choose a faux plant.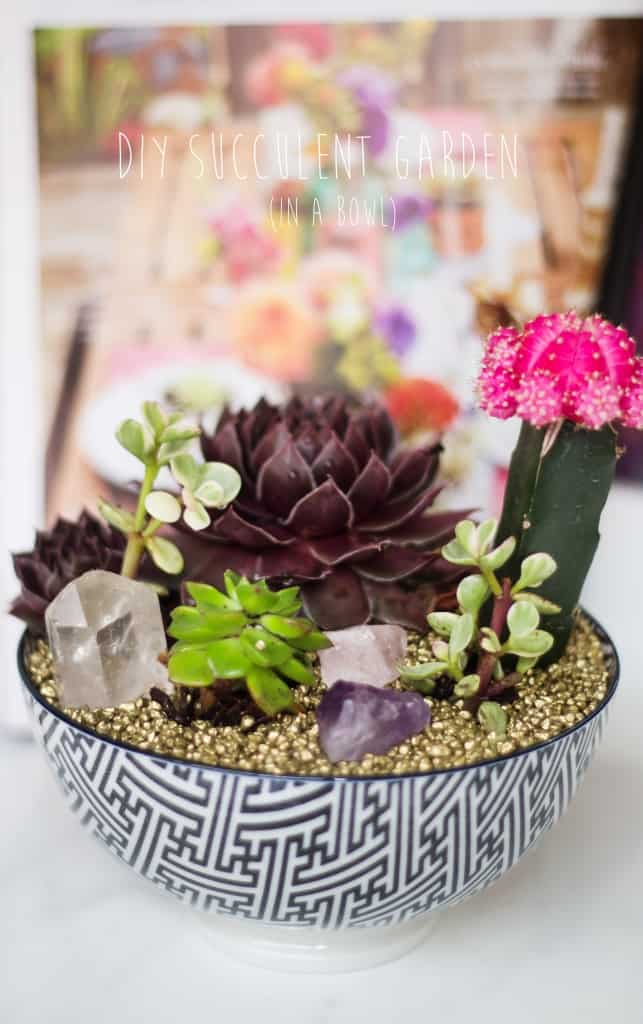 frame the meaningful
A classic frame can put a great timeless shine on something that means the world to you. Having the dearest and nearest at work makes tough decisions easier to take and handle. The option below from West Elm is highly elegant and discreet, acrylic and metal in clean lines.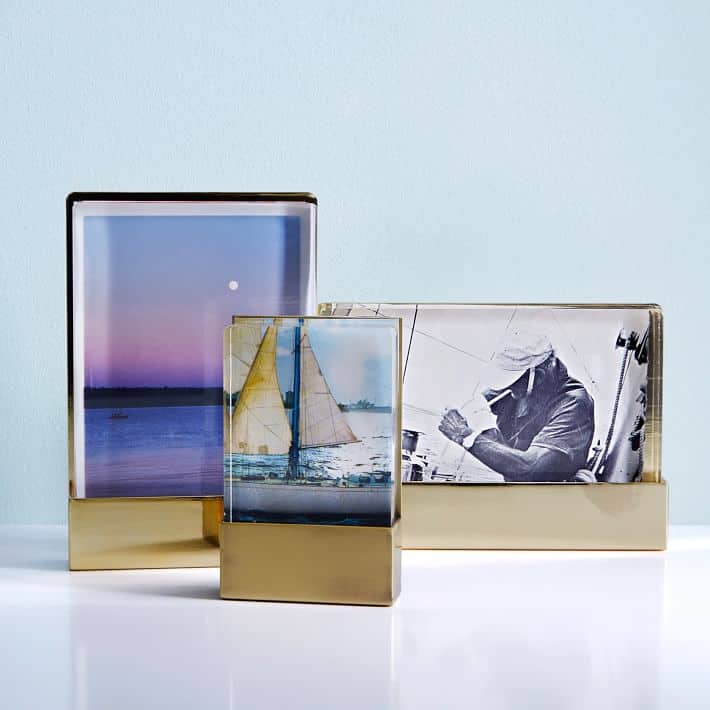 Nothing great comes easy yet with simple small actions we can construct the future we dream of. These simple ideas on DIY cubicle organizations are here to help on our journeys and we would love to hear your opinion on the gallery below.
Related Articles
23+ Ingenious Cubicle Decor Ideas to Transform Your Workspace