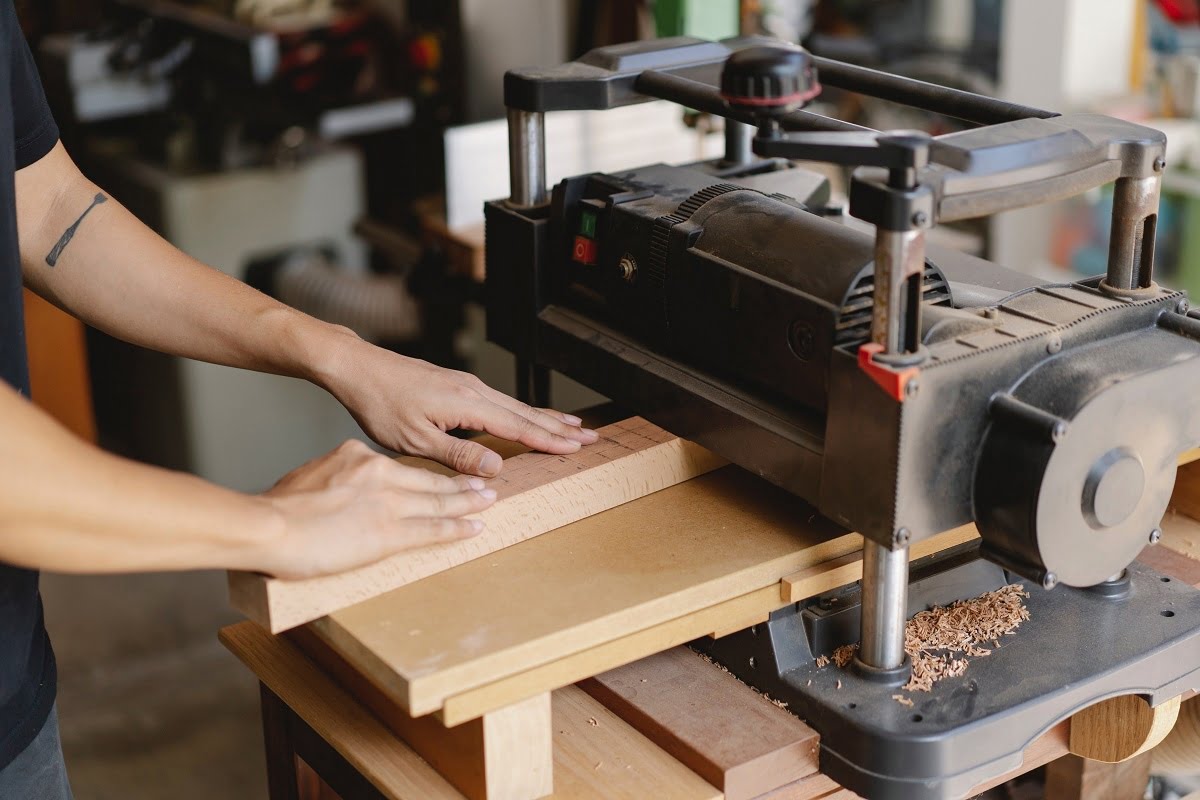 Using a planer in a workshop does not require the latest and greatest innovations to do a job well. 
However, there comes a point where a little more power or functionality is needed when moving onto more advanced projects.  Enter the WEN 6552 planer, a slight upgrade from its previous model with more features, packing a bit more power.  
It should be noted that this unit is more suitable for those who have more experience with using power tools. For beginners or casual users, the model will serve its purpose well. 
On the other hand, quality and efficiency are what it brings to the table. With several useful features, this benchtop planer is able to adjust and perform well, no matter what the project is. 
Read on to find out what the WEN 6552 has to offer and what makes it such a good pick-up. 
Why Buy This Product?
There are a few unique qualities that make the 6552 planer a standout above other average benchtop models. Some of these features are designed for specific purposes that can make completing a particular task that much easier. 
If you are on the fence about this planer, here are a few areas where it shines. Who knows, perhaps it is the upgrade you have been looking for all along. 
Increased Power And Three-Blade Design
There comes a point in woodworking where a power tool is unable to complete a cut or begins overheating due to the strain on the motor. More common in regular users and heavy-duty projects, this problem arises from time to time. 
To overcome this, the benchtop planer shines in its upgraded power thanks to the 15 amp motor powering it. It is by no means a light performer and can handle heavy-duty tasks with ease. 
Capable of reaching up to 8,500 RPM, it can give you the result you need in no time at all. To provide a specific benchmark on its speed, it can attain an astonishing 25,500 cuts per minute!
Taking full advantage of this increase in power, there is also an upgrade to the carbide blade system. Now packing three blades, the resulting cuts made by the unit are smooth to the point of making after-sanding an obsolete task. 
What's more, the number of blades has not only been increased, but the design of the carbide blade itself has changed. Now with a double cutting edge, these blades can be reused once it becomes dull on one side. 
Simply flipping the carbide blade to the opposite side will give you a fresh set of blades with performance on par with a new set. This can extend the life of the planer blades immensely, saving you money, time, and energy in replacing an old set. 
Precision And Performance
A feature on this model that more experienced woodworkers may appreciate is its built-in depth gauge. By controlling how much the planer cuts away from the material, you can achieve incredibly precise results. 
With the dial and measurement tool included on the planer itself, a number of cutting depths ranging from zero inches to 3/32" are possible. With such a variety of options to choose from, it is able to perform even the most precise cuts. Complete control and precision are the key benefits to using a more advanced planer, such as the 6552. 
Additionally, the tool is self-feeding, which means it is able to pull the boards into it automatically. The double rollers within the planer will align the board and minimize the snipe. As a result, these rollers extend not only the life of the board but the planer itself. 
Another helpful feature that improves the performance and efficiency of this unit is the upgraded support tables that make the most space on the planer. Located in the center of the worktable under the cutter head, they can fold away for a smaller footprint. 
Alternatively, these tables can be adjusted to accommodate larger pieces of wood. The table's surface has been improved to have a smoother transition when feeding wood into the planer. 
Build Quality And Portability
With a cast-iron casing, the WEN 6552 is built to withstand many uses over a long time. The protection of the inner mechanics by this housing allows it to last longer while maintaining its efficiency. 
Furthermore, the cast-iron shell is less prone to becoming brittle due to exposure than a plastic shell. This allows the planer to remain durable even if left exposed to certain elements. 
As far as benchtop planers go, this option lies more on the heftier side. However, it is by no means cumbersome to work with, but it may cause some difficulty in portability. 
Besides being a bit more challenging to carry around, the extra weight of the planer works to its advantage. Having extra weight brings more stability to the tool when being used. 
Coming in at 66 pounds, the WEN planer is quite heavy for a benchtop model. To compensate for this hefty weight, there are a few features to help make it as easily portable as possible. 
Carrying handles are placed on the sides of the planer for a solid grip to hoist it around. Additionally, the tables on the infeed and outfeed can fold into the planer itself for a smaller footprint. 
While these features may not lighten the load, it does help in making it more compact and manageable when on the move. Additionally, these features can be taken advantage of by those with smaller workshop spaces. 
Useful Features
WEN has included a few extra features that can make using this product a more convenient experience. These features add value in functionality and efficiency. 
An especially helpful feature is the built-in dust port. Having a dust port can make cleanup so much easier by having all your dust and debris collected in one place for easier disposal. 
However, a dust port on a planer is not a unique feature; there are many other models which make use of a dust port. The model differs by having a fan to blow the dust into the collection port. 
By blowing the debris into the collection system, there is minimal clogging of the machine's ports and internals. Overall, the dust collection system is top-notch and makes maintenance and cleanup a breeze. 
Another helpful feature is the mounting holes on the base for increased stability. For heavier tasks, these holes can add more security with little to no effort. 
What Could've Been Better?
While the WEN planer may have a durable cast-iron casing, the internal mechanism is not so sturdily built. Within the planer, the choice of materials used does not inspire the most confidence. 
Perhaps done to minimize the cost of the planer, WEN has used plastic molds to make up some gears. These gears are an integral part of the planer's mechanism and can handicap the entire machine if broken. 
Being made of plastic, the gears are more susceptible to breaking or being damaged. Of course, the brand compromises this by providing a two-year warranty. Additionally, it should be noted that the occurrence of the plastic gears breaking is not universal but rather a more case-by-case scenario. 
Another potential drawback to using this model is the loud noise level while using it. It is not to the point of being deafening, but it can become uncomfortable if operated for an extended period of time. 
Pros
Three-blade design for greater efficiency and quality results

Precise thickness adjustment

15 amp motor capable of up to 8,500 RPM

Cast-iron housing for stability and durability

Adjustable tables for infeed and outfeed
Cons
It can be uncomfortably loud when used extensively

Plastic gears are susceptible to damage
WEN 6552 Planer Buying Guide
Before fully settling on whether or not to pick up the WEN 6552T planer, keep in mind a few points that can sway your decision. Choosing the most suitable planer model for you can help increase your efficiency and quality of work, so make sure your decision is a well-informed one. 
Motor
Benchtop planers do not have the most outstanding stability as they are designed to be portable and compact. As such, the motor that powers the blades can determine how efficiently it is able to cut through different types of wood. 
A weak motor can struggle with hardwood by not providing enough torque to the blades to make a clean cut. Similarly, the quality of the resulting cut may not be as smooth as that of a powerful motor. 
In order to have the best result in a planer, look for one that is capable of at least 8,000 revolutions per minute (RPM). This speed is sufficient to handle most hardwoods with satisfying results. 
Additionally, having a more robust motor in any power tool helps cut down on heat production. The motor can handle denser and tougher materials easier, so the strain on it is less. On the other hand, weaker motors are prone to heating up more when working with these same rigid materials. 
Experience And Use Case
As is the case with any woodworking tool, every purchase is an investment. Choosing a power tool based on how experienced you are can help you to get the most out of it.
It may be tempting to go straight for the most advanced models available, but these do not come at a cheap price. Additionally, you may not have the expertise or knowledge to take full advantage of the features a more complicated model provides and use it to its full extent. 
Furthermore, depending on what task you have in mind for the tool, it can vary the options available to choose from. Light and straightforward tasks can be taken care of by a similarly simple tool. For complex and heavy-duty users, a more complex model may be necessary. 
Build Quality
Planers are subject to a high level of wear and tear while being used. Debris and wood chips flying about can damage sensitive parts and bring functionality to a stop. 
To ensure your planer has the best performance possible, it should be made of quality materials. Especially important in benchtop planers, the machine's build material can determine how well it holds up over time. 
Sturdiness can be a hit or miss with benchtop planers as they need to remain portable enough to fit on a workbench or table. Furthermore, the planer must also be able to support itself when being used. A shaky planer can only result in a low-quality result and potentially damage the machine or yourself. 
Blades
Typically, benchtop planers come with a two-blade system. It can be said that the more blades a planer has, the smoother the resulting cut will be. 
Having more blades is not just a marketing scheme to up the price of a planer. By having more surface area to cut away the material, the planer is able to make a cleaner cut with minimal strain. 
Additionally, more blades prevent wearing away to a certain extent. Instead of having two blades take the full brunt of the chipping and blunting brought on by usage, multiple blades can distribute the breakdown across the blades. 
Your blades will last longer while providing a higher quality finish. If possible, investing in a model with multiple blades can be an excellent investment. 
Cutter Head
Besides the number of blades a planer has, the type of cutter head can give differing results. There are two variants of cutter heads available-the straight knife cutter head and the helical cutter head. 
A straight knife cutter head is the more common head type of the two. This type is built to handle most daily use cases. 
However, for a more heavy-duty capable head, the helical cutter head is a better option. While this option is more expensive, it is also more durable and, as such, can handle tougher woods. 
What sets these two apart is the positioning of the sharp bits on the surface of the wood. Straight knife cutter heads have a more direct approach which can be susceptible to breaking and chip away faster when dealing with more challenging surfaces. 
On the other hand, the helical cutter has a slight spiral that allows it to pierce the wood at an angle. This gives the cutter head a sharper point for cutting into more robust surfaces. 
A quality planer will be capable of accommodating either cutter head type. Using these interchangeably is the way to go to maximise the efficiency of your planer. 
Maintenance
Keeping your woodworking tools clean is an important preventive measure to take to maintain the performance of your planer. Dust and dirt accumulation within the mechanism or on the body of the planer can cause malfunctions, decrease efficiency, and even cause health problems.
How easily a planer can be cleaned is another factor to keep in mind before making a purchase. You should be able to access and clean the planer easily as and when it is needed. 
Some models of planers have a dust collection bag system where most of the residue is collected by the planer itself. This waste is stored in a bag until it is full, making it only necessary to empty it out when full. 
Additionally, there are more advanced maintenance options available such as a fan to blow the dust into the collection system. This keeps all the dust flowing into the collection system with no refuse left behind. 
This collection system is more efficient than a regular dust collection system as it makes sure there is no blockage in the piping of the system. 
What's more, a regular collection system will not be able to collect every single piece of dust.  There are still some small traces that need to be manually cleaned up. A fan attached to the dust collection system removes this extra step of maintenance. 
Warranty
Purchasing a quality tool can be expensive, so selecting one with insurance against any potential mishap can save you a costly repair job. While not a requisite, it is still a good safety net should anything go wrong.
WEN 6552 Planner Verdict
Now that you know what makes the WEN 6552 planer so unique, is it a good idea to invest in? For those who are working with a large number of projects or need commercial-grade power, this model may not be the right one for you. 
However, if you are a moderately experienced woodworker and need an improvement from your old planer, it is a great investment. The useful features can help add a new level of quality and efficiency to your projects. 
Investing in this model gives you incredible performance and power for an affordable price.
Related Articles
WEN 6550 VS 6552 [A Clear Winner?]
Planer Or Jointer, Differences And Use Cases
DeWalt DW735X Planer Review [Should You?]
19 Different Types Of Hand Planes & How To Use Them
9 Best Benchtop Jointer for Woodworking