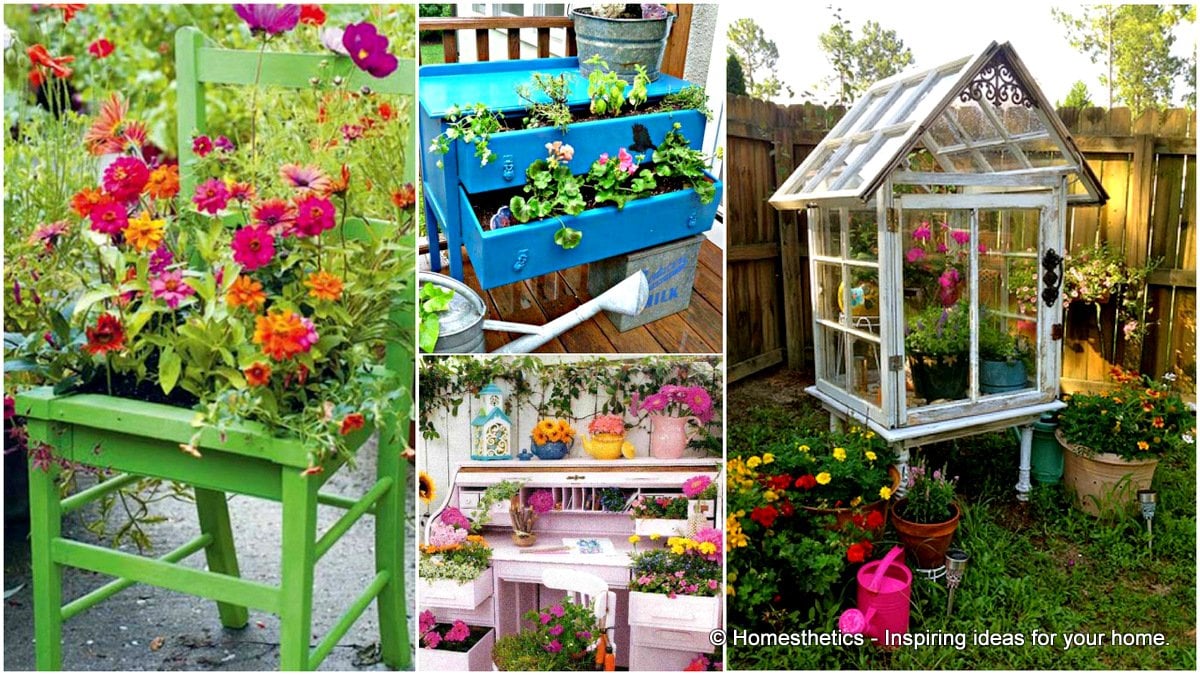 A beautiful season to start crafting and gardening is upon us and slowly, step by step along with nature we start shaping garden projects and simple diy projects alike, infusing our creative mindset into our cozy household. A short collection of up-cycled furniture ideas for your home and garden has been curated for this marvelous spring season, the gallery includes simple crafts that mainly present re-purposing crafts, these now wear color and vegetation, greatly emphasizing their new position.
If in your spring cleaning process you decide to make a furniture change the article below is here to help, showcasing how a simple element can be re-purposed in your garden or home in a matter of minutes, conserving energy. A refreshing change indoors can become a refreshing change outdoors, old windows, doors and headboards can become swing sets, pergola ensembles or garden sheds, items that could enhance your household, provide additional storage or comfort.
Cast a glance at the ideas showcased below and surge inspiration, we would love to hear your feedback in the comment section below.
Upcycled Furniture Ideas for Your Garden and Home
#1 Up-cycle a headboard into a beautiful outdoor couch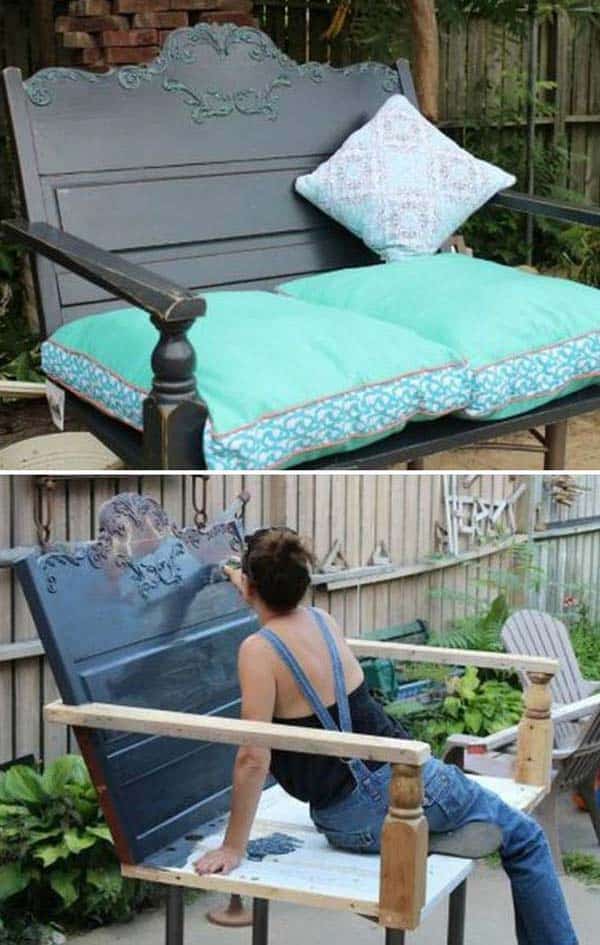 In a matter of minutes with and old door or headboard and wood from a pallet you can create a new patio furniture piece of great beauty.
#2 use an old dresser on your porch to adorn greenery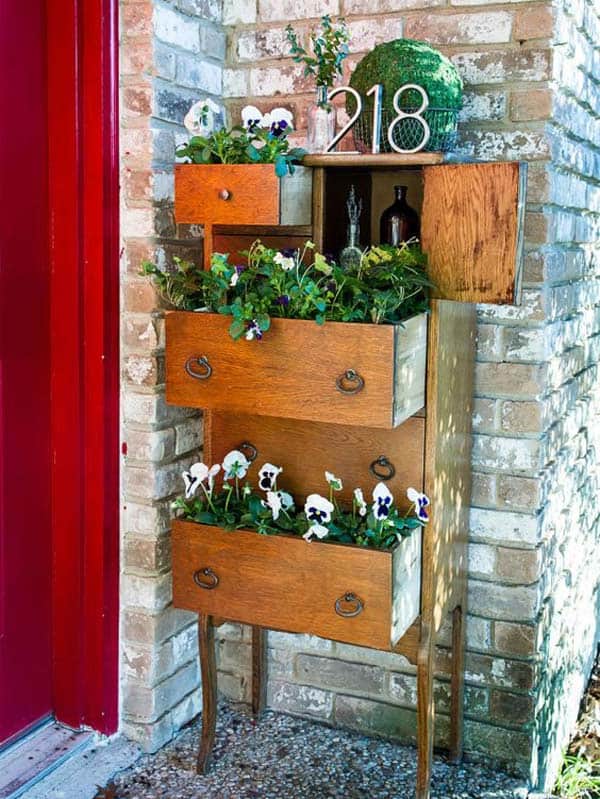 Feature greenery, vegetation, the most beautiful decor piece on your patio from an old piece of furniture. You can display the address as well along a welcome message.
#3 Build a small shed out of old doors and store your tools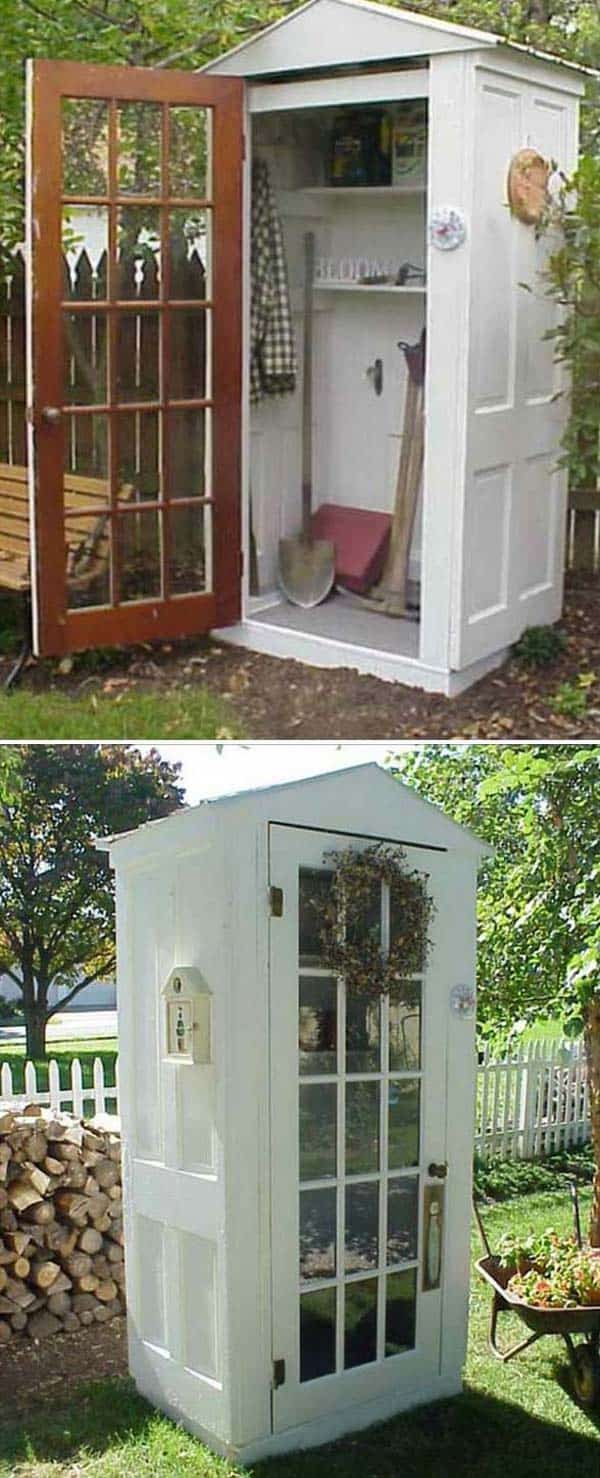 Three four old doors can become a new small shed to nestle your garden tools; an old phone cabinet can also do the job well but needless to say that they`re not easy to obtain. Get creative with simple elements.
#4 Re-purpose a damage baby crib into a beautiful patio swing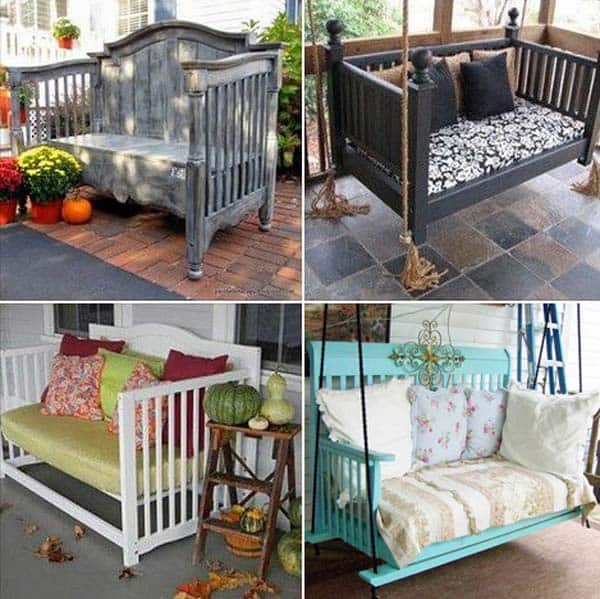 A broken baby crib that cannot be repaired for its main purpose can now become a beautiful swing sofa on your porch.
via Pinterest
#5 color a dresser for your patio and boost vegetation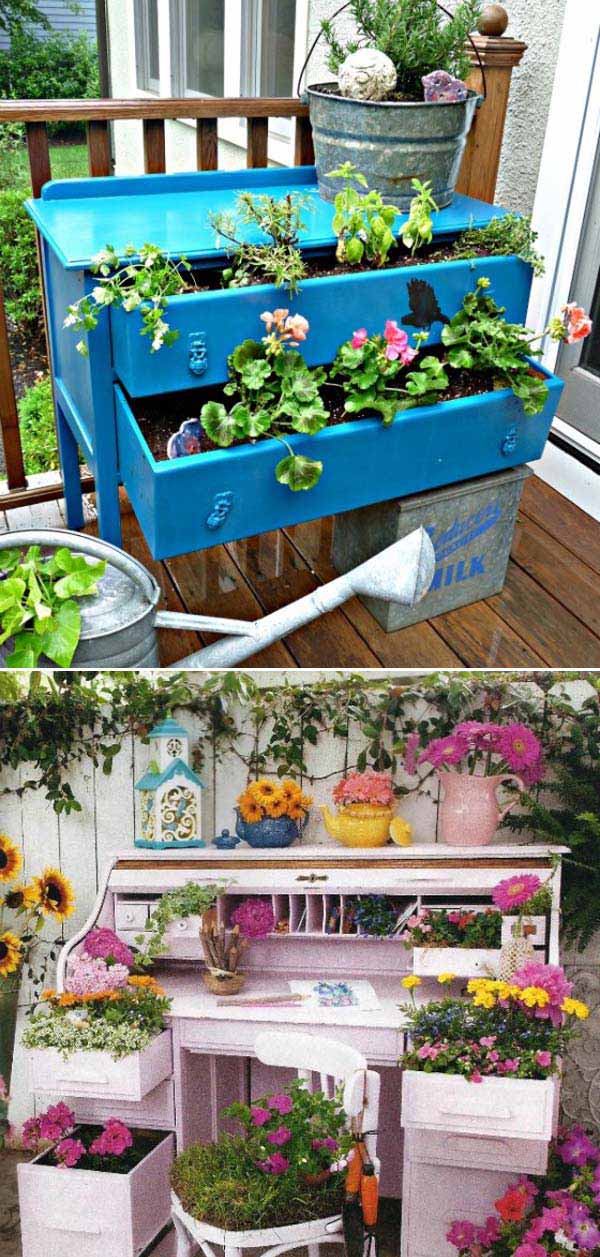 A simple desk or an old side table can now wear your flowers in the garden.
#6 create an outdoor suspended shelf out of old headboards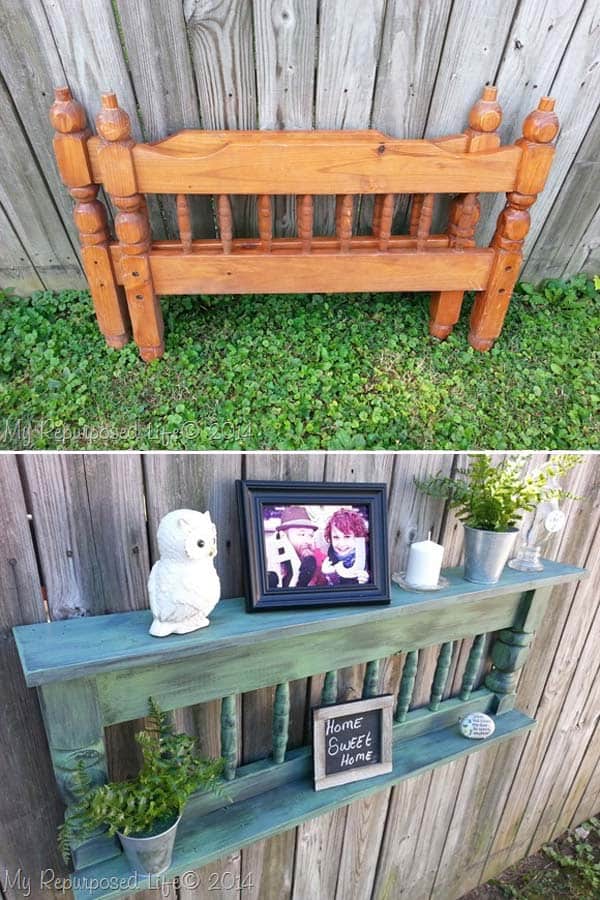 Offer your garden a grade of authenticity, boost everything with a simply gesture.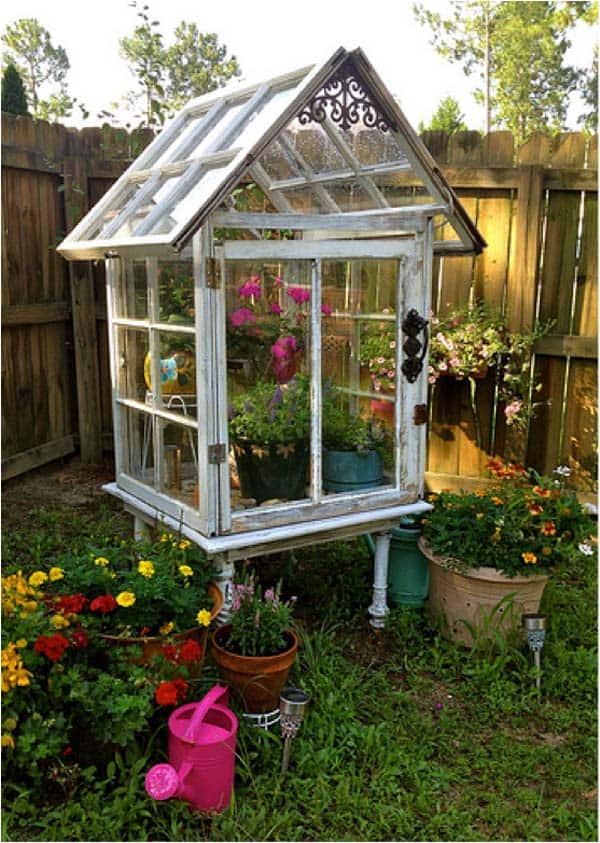 Shabby chic, elegant, useful and insanely beautiful a green house constructed out of old windows is. Get crafting. Up-cycle creatively.
#8 transform a small table into a colorful tiny bar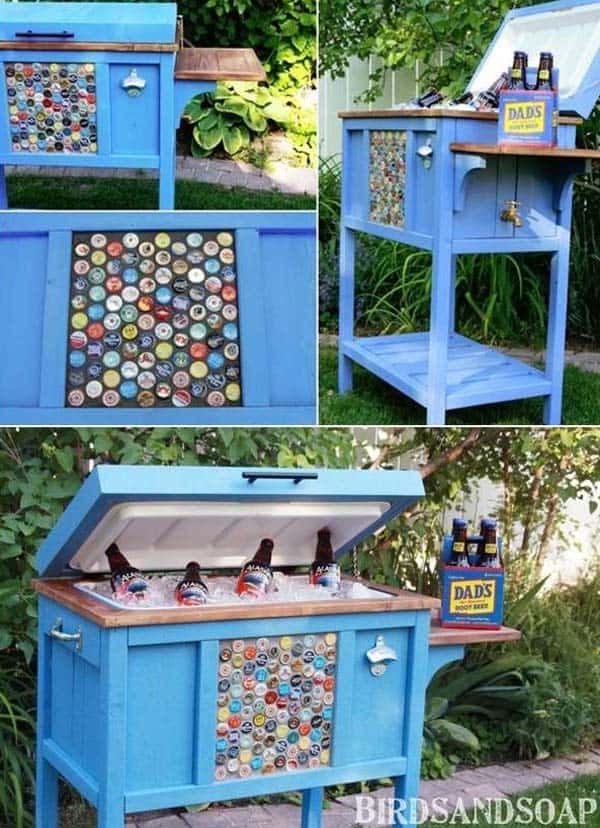 Enhance your entertaining skills this summer with a small bar to keep your beer cold and at your grasp.
#9 paint an old chair and transform it into a new flower garden ensemble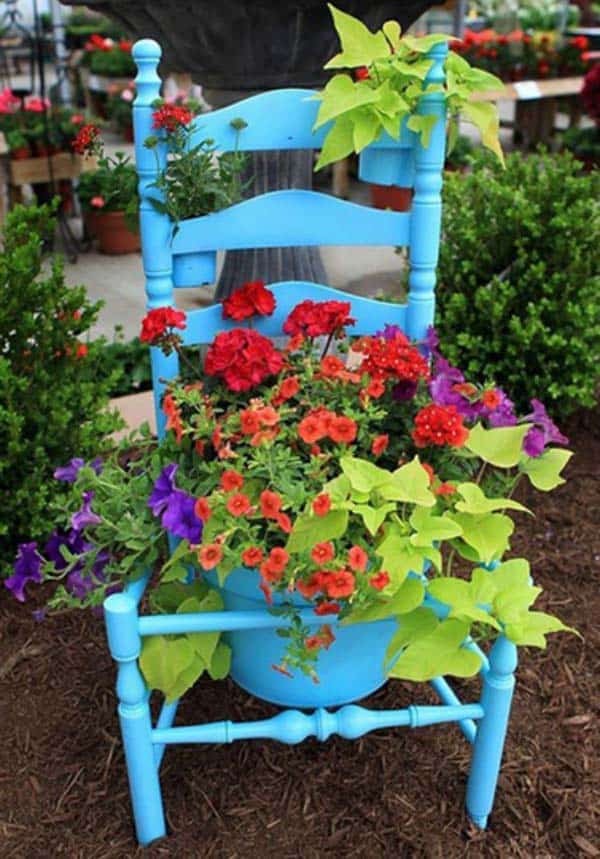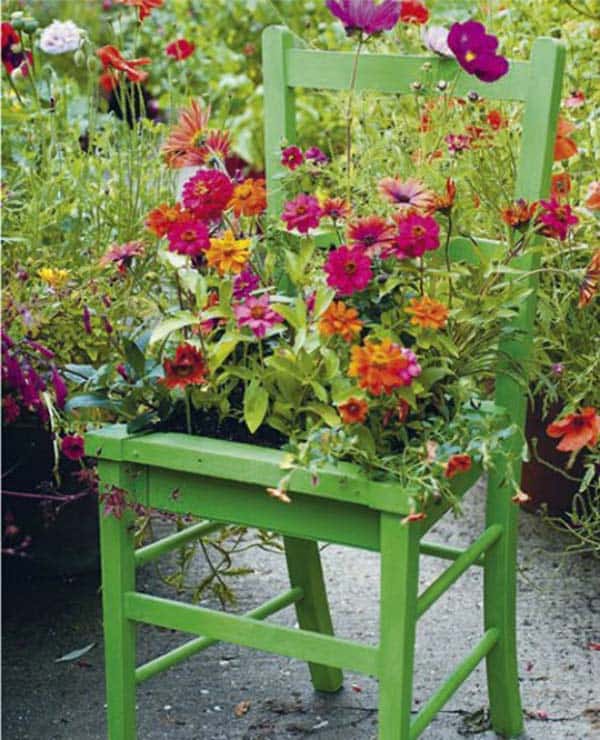 A chair treated like a raised flower bed can boost color and greenery a great deal; simple and fast to realize this craft will surely change the image of your garden or patio.
#10 Re-purpose an old kitchen cabinet into a potting station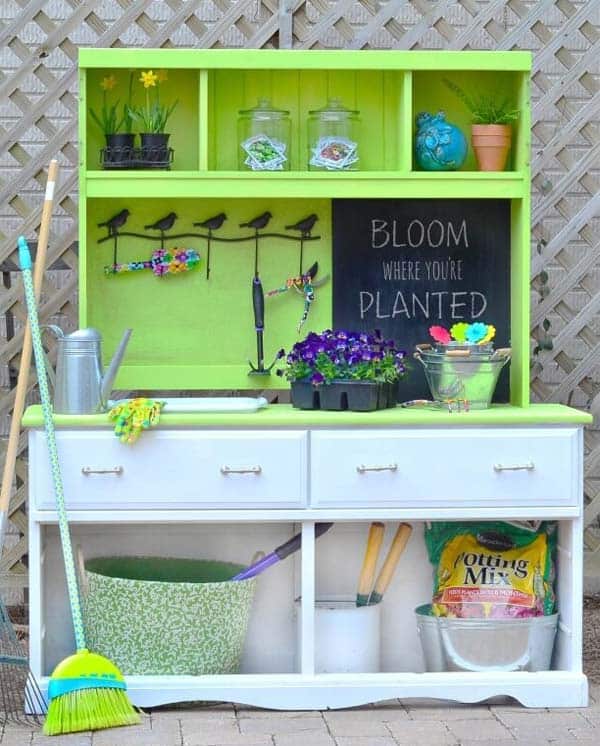 Your potting station should be properly organized for the sake of your flowers. Repurpose an old furniture piece, paint it in vivid color and make the process easier and more interesting.
#11 two old doors can become a beautiful arbor-pergola ensemble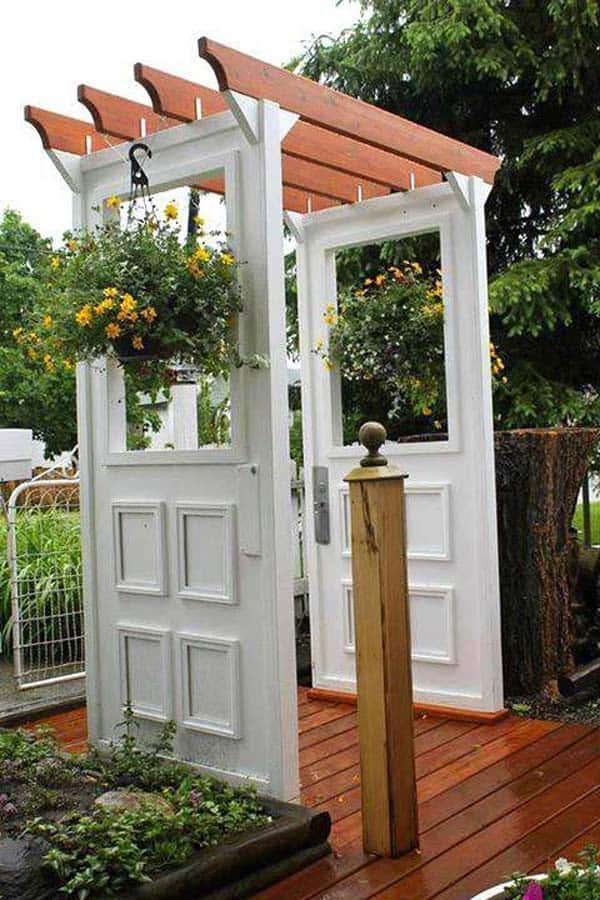 Two doors can sustain a few slabs; these will encourage vines to climb over the ensemble and beautify your garden.
#12 use your old sink to shape a small bird bath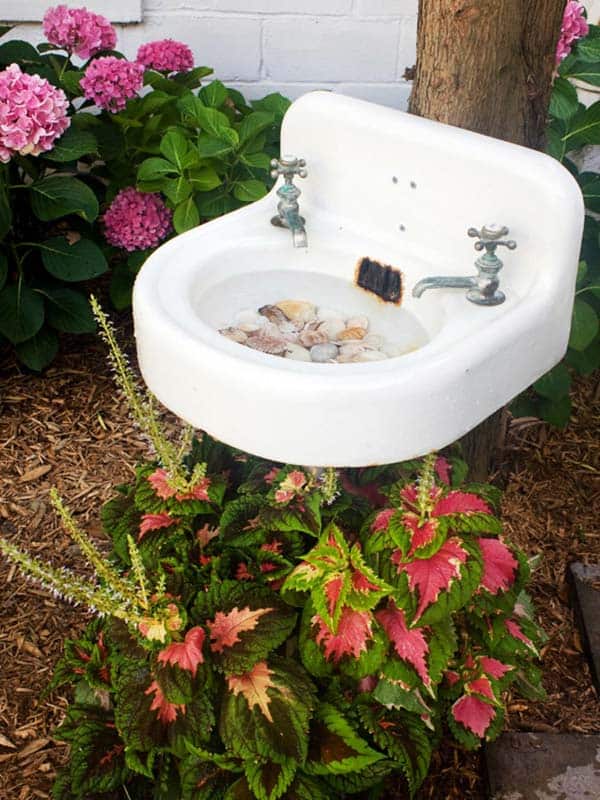 The sound of the little animals can really animate your garden. A sink can be their new bath.
#13 realize a diy bench out of two broken chairs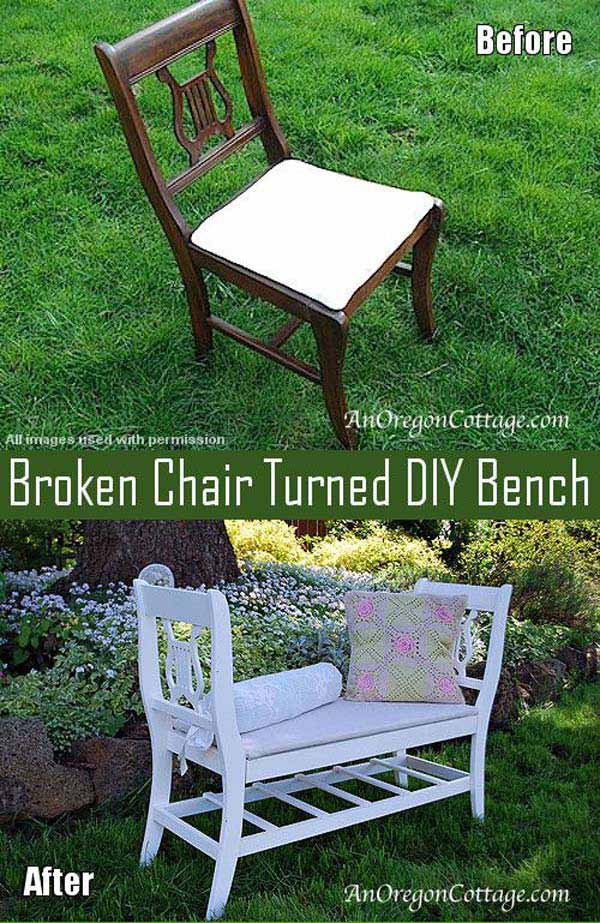 Insanely beautiful result out of two old chairs, easy to realize and inexpensive; a craft worth pursuing.
What do you think about these upcycled furniture ideas? We would love to hear your thoughts in the comment section below.
Related Articles
19 Different Types of Mid-Century Modern Furniture
What Makes Expensive Designer Furniture Worth the Added Cost?
37 Most Iconic Furniture Designs Of All Time
Unusual and Bizarre Furniture Designs You Have Ever Seen
19 Legendary and Timeless Furniture Pieces to Consider
15 Best Places to Buy Furniture Online
13 Acrylic Plexiglass Furniture Pieces to Emphasize the Feeling of Space
Alexandra von Furstenberg and Her Acrylic Furniture Design
9 Best Hand Sanders For Furniture