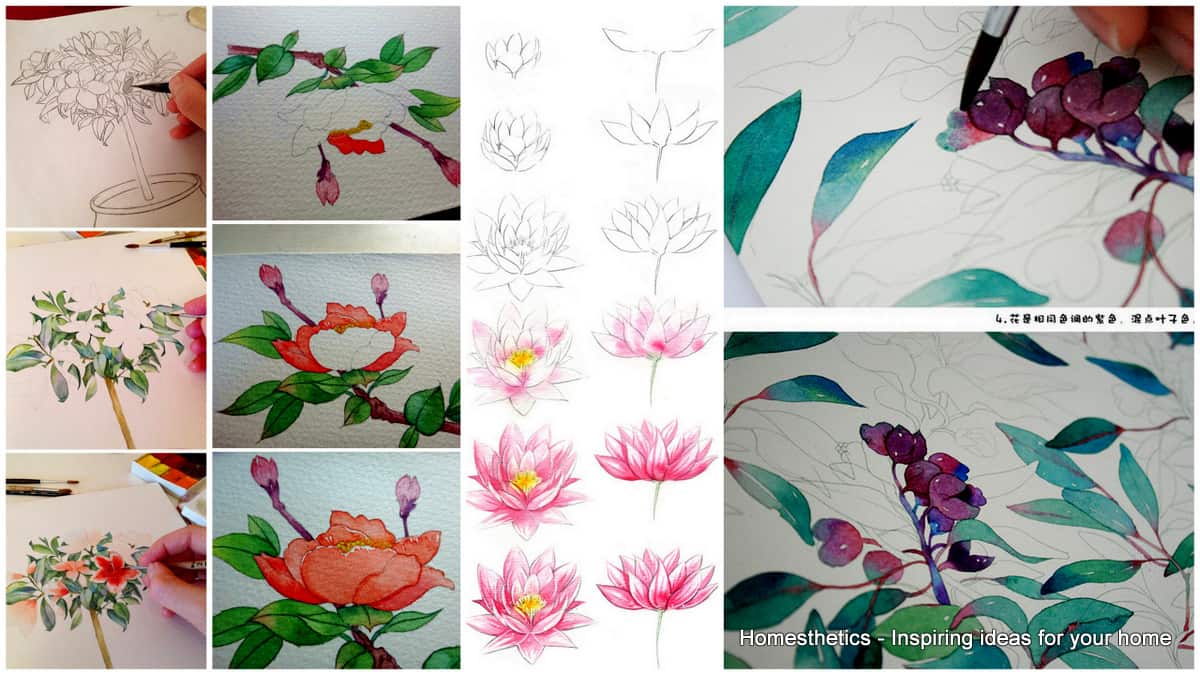 Watercolor paints are essential to your work as a watercolor artist. Taking up water-coloring might seem tricky at a first glance and not many beginners dare to use watery solutions for their creations when they are used to acrylics or oil painting. But in fact, the techniques revolving around water-coloring are really easy and recommended for painting beginners, as they provide methods easy to correct if something goes wrong, allowing you to go creative and daring in your creations.
You can start by simply sketching the future design and choosing your direction: the classical one that uses bold saturated hues and follows strict limits or the more abstract, artistic approach with diffused tones and splashes of colors. We have gathered a list of 20 Delicate Colorful Watercolor Flowers Painting Tutorials In Images meant to provide inspiration and courage into taking up this wonderful art with ease. Choose your favorite design and try to replicate it and to give it your own personal touch. Don't forget to share your project and ideas in the comment section below.
Watercolor Flowers Painting Tutorials In Images
1. draw bright red carnations starting with a sketch and two basic tones

2. draw a flower in a pot and add GORGEOUS tones

3. blue tones require delicate white insertions to smooth down folds and add light to the imagery

4. the basic rose can prove to be tricky in representation

Source unknown
5. water-coloring is all about layering tones and playing with water

5. dare to sketch directly with watercolors

6. a basic shape and a ground color can RECEIVE details layer after layer

7. start with some simple flowers like a BOUQUET of spring tulips

8. represent jasmine in delicate hues of green and the purity of white for the flowers

9. representing greenery involves using several shades of green
Source unknown
10. notice how each layer of watercolor adds more detail and depth

11. our favorite design is this surreal representation of a fig tree branch

Source unknown
12. the perfect watercolor piece will require some time if you wish to use bright tones

13. an artistic background will make your creation pop

14. use the white of the paper instead of actual paint

15. start your painting by attaching the watercolor paper on a wooden board

Source unknwon
16. a bit of contrast is required in each watercolor painting

17. learn how to draw and watercolor poppies

18. fill delicate water lilies with watercolor

19. use the natural to understand and replicate details

20. lush vegetation represented throughout a wide color palette

Have the featured watercolor flowers paintings inspired you to take this technique on? Feel free to share your ideas and own creations in the comment section below.
If you are looking for a guide on epic watercolor brushes see this one on Architecture Lab.
Happy painting!
Related Articles
45 Best Oil Painting Ideas [Reviewed]
103 Best Acrylic Painting Ideas
10 Best Paper for Acrylic Paint in 
10 Best Canvases for Acrylic Painting | Student & Artist Grade
8 Best Palettes For Acrylic Paint & How to Choose What You Need
Learn How To Make An Acrylic Painting Waterproof Right Now
Acrylic Painting Materials That You Really Need In The Studio
Learn How To Use Acrylic Paint Correctly as a Beginner
13 Best Acrylic Paints for Beginners & Professionals Reviewed
10 Best Acrylic Paint Brushes for Artists & Students Reviewed
Learn How To Get Dried Acrylic Paint Out Of Brushes Successfully
Cold Press vs. Hot Press vs. Rough Watercolor Paper Compared
What is Watercolor Paper & How is Different From Other Papers
Best Watercolor Painting Books Everywhere | Beginner to Expert Grade
9 Best Water Brushes for Beginners, Professionals & Calligraphy
9 Best Watercolor Markers With Legendary Results for Artists Everywhere
10 Best Watercolor Palettes for Beginners & Professionals Everywhere
13 Best Watercolor Pencils and Water Soluble Art Supplies Today
Best Watercolor Paper |Top Brands Reviewed + Plein Air
12 Must-Know Watercolor Tips for Beginners & Pros Everywhere
Why and How to Use Watercolor Mediums to Enhance Your Painting Game
Learn How to Use Watercolor on Wood | Professional Tips & Tricks
13 Best Watercolor Sketchbook for Creatives Everywhere
11 Best Watercolor Brushes for Beginners & Professionals Reviewed
15 Must-Have Watercolor Supplies for Beginners & Artists Everywhere
Stretching Watercolor Paper & How To Keep Watercolor Paper From Warping
Learn How to Paint Watercolor on Canvas Easily & Successfully
16 Must-Know Painting En Plein Air With Watercolors Tips & Tricks
Learn The Basic Watercolor Painting Techniques For Beginners – Ideas And Projects
Expand Your Knowledge With Watercolor Painting Ideas
19 Incredibly Beautiful Watercolor Painting Ideas
10 Best Canvases for Oil Painting | Beginner & Artist Grades Reviewed
11 Best Oil Paints for Beginners & Professionals Artists Alike
Learn What is the Best Surface for Oil Painting Right Now
How Long It Will Take Oil Paint To Dry  & How to Speed It Up
Oil Painting for Beginners Basics & How to Use Oil Paints
Learn How To Dry Oil Paint Faster Overnight
Learn How to Clean Oil Paint Brushes Successfully
12 Oil Painting Supplies That Every Oil Painter Needs in the Studio
Learn How to Clean Oil Paint Brushes Without Paint Thinner
5 Things You Should Know Before Painting Oil Paint on Glass
Learn How to Make Oil Paints Dry Faster
What Are The Benefits of Oil Painting?