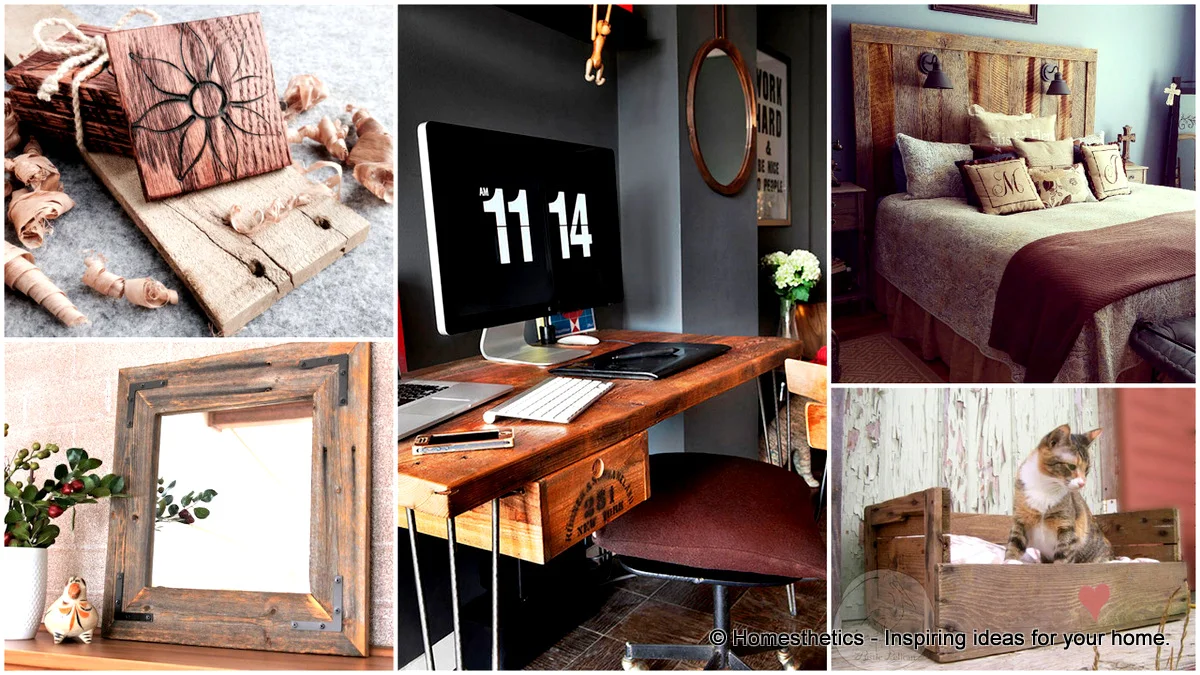 Reclaimed wood is different. It has a memory and a story to tell beyond its extraordinary cozy and warm aesthetics. You can actually read parts of his life and glance at its elegance texture for hours. Smart reclaimed wood furniture and decor projects envisioned for a green trendy home can offer you the opportunity to nestle elements with history in your scenery with little to no costs.
Old boats, pieces of railways, barn wood or old buildings are a few elements that can hide the mature texture that you`re looking for. Thousands of artisans worldwide surge inspiration from the dramatic organic pieces that you`re pursuing, using them to materialize actual pieces of art fully decorated with knots, burrows, nail holes, gray areas and discoloration.
If you choose to decorate with reclaimed wood you also get to use the energy invested into the item without any costs, saving the planet energy put into growing the tree that you would slice with the creation of a new piece of furniture and thus reducing waste. Be a responsible consumer and avoid mass produced furniture that depletes our resources at an alarming rate; you can construct your own working conditions, schedule and routine into the making of these smart reclaimed wood furniture projects. If crafting is not really your thing you can also consider purchasing handcrafted goods from small business owned families that invest love and time into them; you can find thousands of great items with memory on etsy.com.
Cast a glance at the gallery below and surge inspiration from the phenomenal crafts, we would love to hear your opinion on the subject in the comment section below.
Reclaimed Wood Furniture and Décor Projects
#1 Build a Useful Reclaimed wood Hallway table
The beautiful furnishing below has been built from cedar wood and adds a rustic touch to a simple hallway that can now welcome guests with a cozier feel. The item can be tailored to your needs to boost functionality.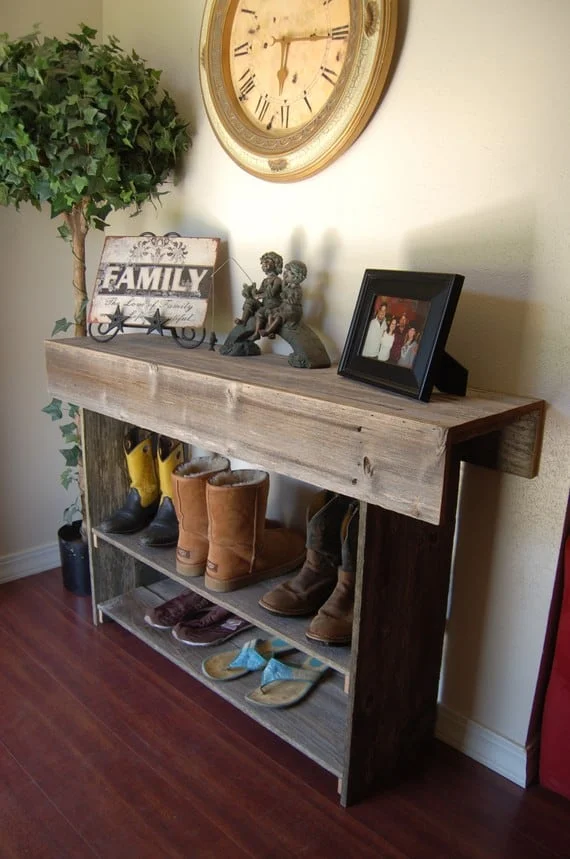 Reclaimed Cedar Wood Entryway Table via TRUECONNECTION
#2 Store your shoes in a salvaged wood shoe rack
You can create a modular shoe rack for your mudroom by using steel pipe legs and salvaged wood. The most extraordinary part is that you can design it as you want and by using the steel pipe modules you can also improve on it without sacrificing anything.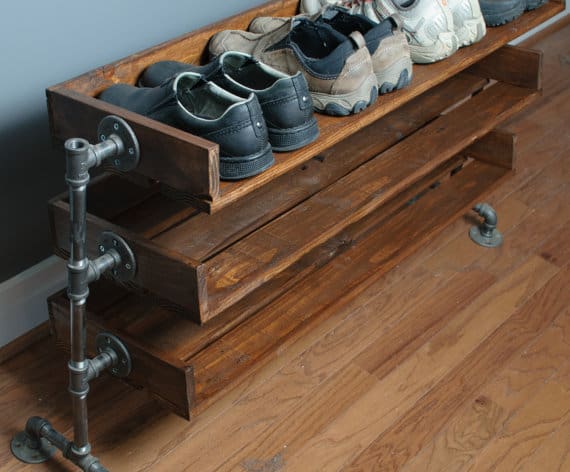 Reclaimed Wood Shoe Rack via ReformedWood
#3 Improve a bench in the garage with a wooden shoe rack
You can build a salvaged wood shoe rack bench from scratch or you can emphasize a wooden bench in your garage, porch or mudroom with an add-on that will boost functionality in a great manner.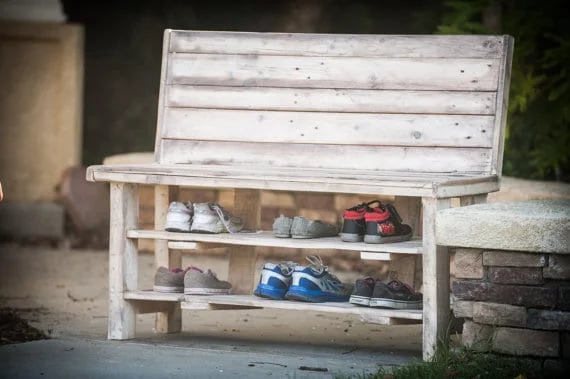 Reclaimed Wood Shoe Rack Bench via BreakingandRemaking
#4 Build a farmhouse dinning table
Rustic pieces do have a certain vibe that other pieces simply can`t grasp. Infused with coziness and warmth, the wooden textures have mesmerized the humanity for thousands of years. You now have advanced tools at your disposal to actually create reclaimed wood farmhouse dinning tables and benches for your interior decor. These will become a simple immortal addition to you home, becoming more beautiful and noble as time passes over them.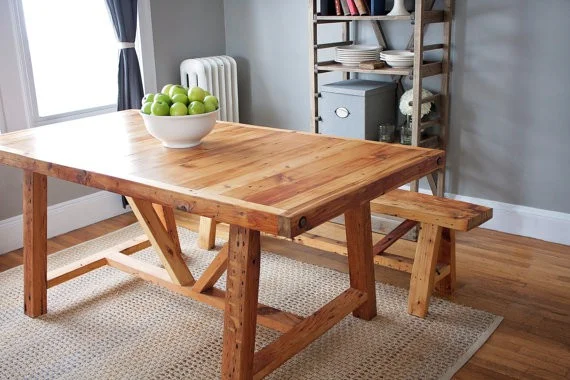 Reclaimed Wood Farmhouse Dining Table And Bench via UniqueIndustry
#5 Salvaged wood dinning room chairs
A rustic touch to a modern living space can do wonders. If you take a moment to glance at the unique details that add character to a space you will slowly realize that you need a wooden texture in your home.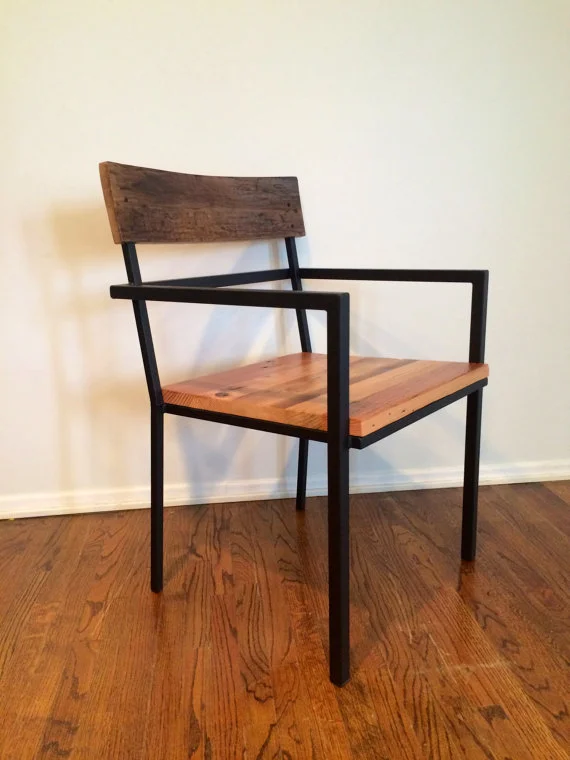 Reclaimed Wood Dining Room Chairs via KageDesignStudio
#6 Wooden planter box holding mason jars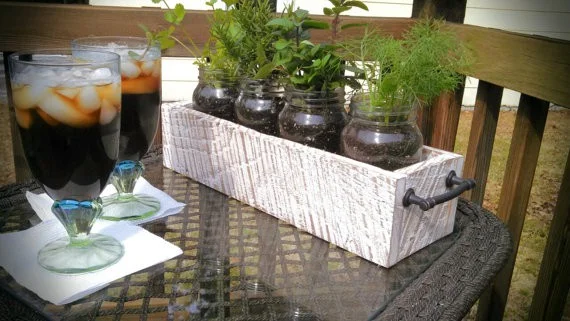 Simple to realize and insanely beautiful at the same time. Plant mason jars in it and transport them wherever you feel the fit best.
Wood Planter Box via RedClayWoodworks
#7 Craft a reclaimed wood kids' table
Spoil your kids with this adorable Reclaimed Wood Child's Table. It has the design of a miniature picnic table, but looks classy enough to fit in any grown-up space. The tabletop and benches are made from reclaimed walnut wood and are mounted on a solid, steel base making this a super sturdy table for rambunctious toddlers and preschoolers.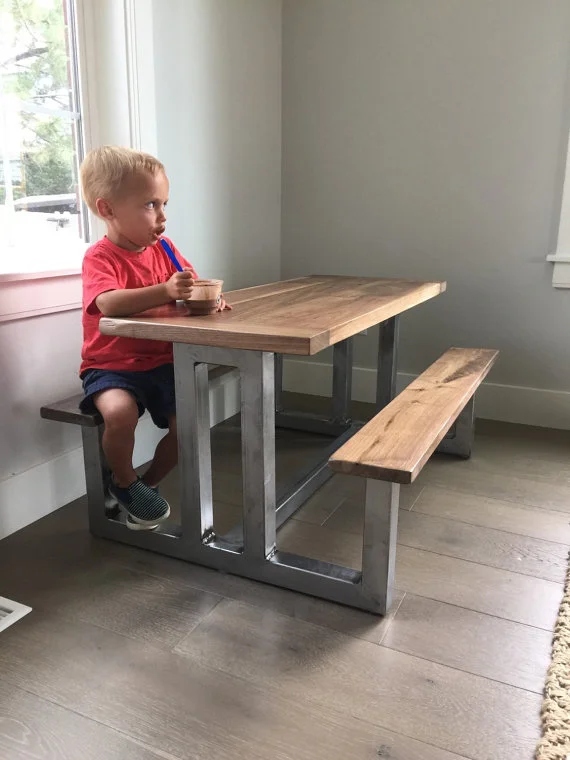 Reclaimed Wood Child's Table via TheWhiteShanty
#8 Extend your counter space with a reclaimed wood kitchen island
If you need just a little more counter space and storage you can design a beautiful wooden kitchen isle finished with butcher block top. In small spaces this piece on wheels can take versatile roles and boost practicality to great extent.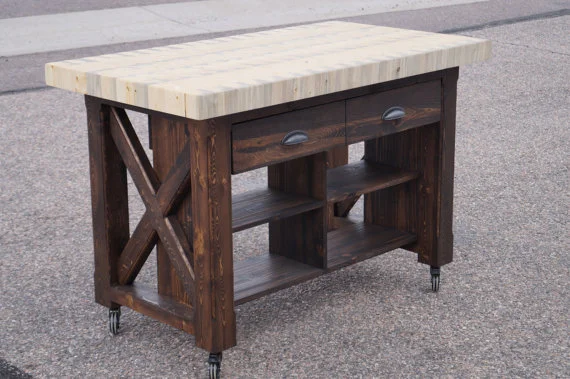 Reclaimed Wood Kitchen Island via ColoradoTablesLLC
#9 Create a reclaimed wood kitchen pot rack from an old beam
Salvage an old beam from a construction site and store your kitchen utensils in a beautiful noble manner. The farmhouse aesthetics are a great addition to you kitchen and you can customize this piece through lighting and gas pipe hangers.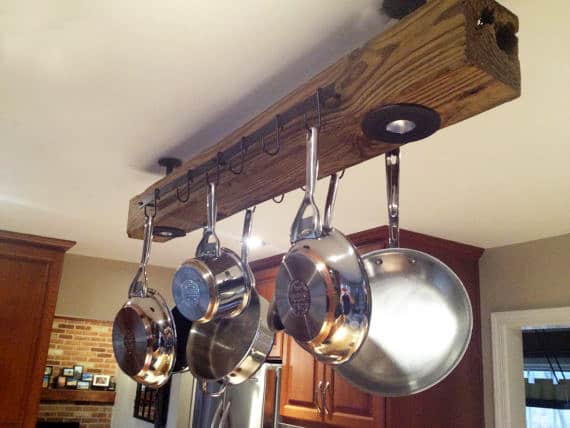 Reclaimed Wood Kitchen Pot Rack via JoyAllenDesigns
#10 Use a sculptural wood piece to create a bar
Simple and efficient to realize, a reclaimed wood bar height table can be a great addition for entertaining. The one showcased below has been realized from black walnut wood. The natural curve of the tabletop and its shine is bringing the wonderful texture forward making everything warmer and cozier.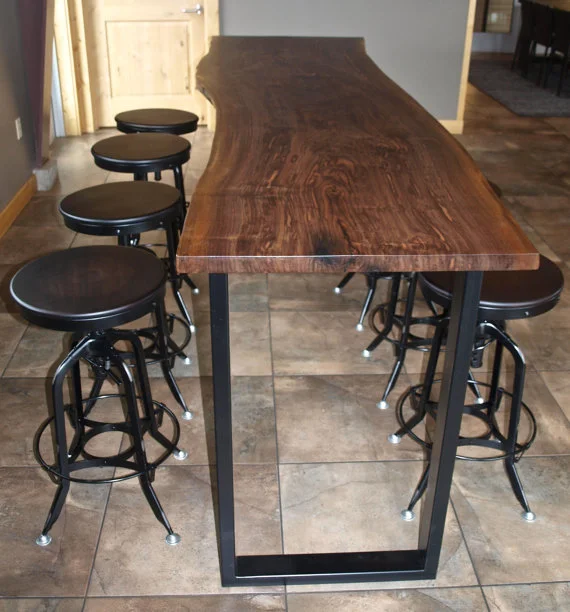 Reclaimed Barn Wood Bar Height Table via michaelheuser
#11 Wooden bar stools with metallic structure
Realized from stool and walnut barn wood in this case the pieces below do exude a sleek modern vibe. You can use them to transform your isle into a dinning table or to simply emphasize your home bar. Their industrial aspect is just a little more cozier thanks to the warmth of the wood. What do you think?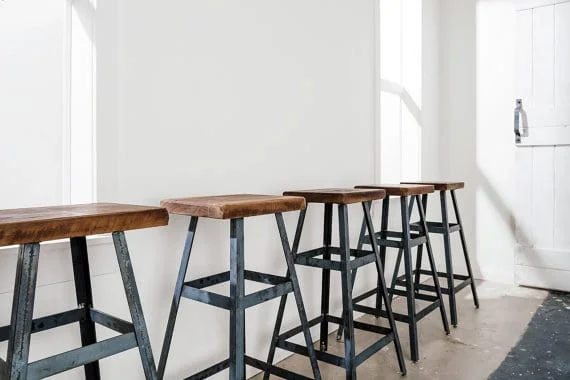 Reclaimed Wood Bar Stools via TheWhiteShanty
#12 Create stunning vintage reclaimed wood media consoles
The craft below is definitely not easy to realize but the results are simply breathtaking. If you are happy enough to find such a metallic structure somewhere take it under your wing and transform it to something memorable; here the steel mesh intensifies the piece and accentuates its vintage urban vibe in a splendid manner.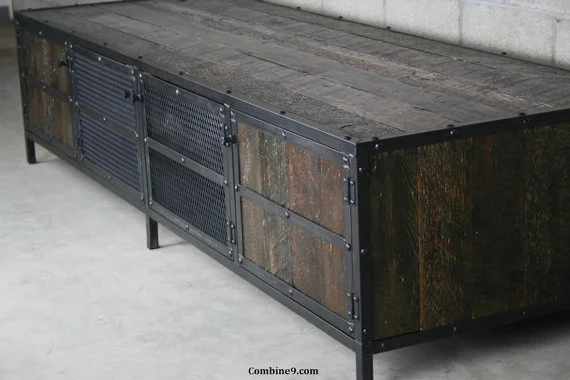 Urban Vintage Industrial Media Console via leecowen
#13 Accessorize your living room with a reclaimed wood coffee table
Simple and easy to realize the coffee table below takes advantage of a metallic structure and it completes its industrial allure with distressed barn wood. The simple setup can easily morph into an all wood setup in which knots in the wood and various footprints of time do come forward beautifully.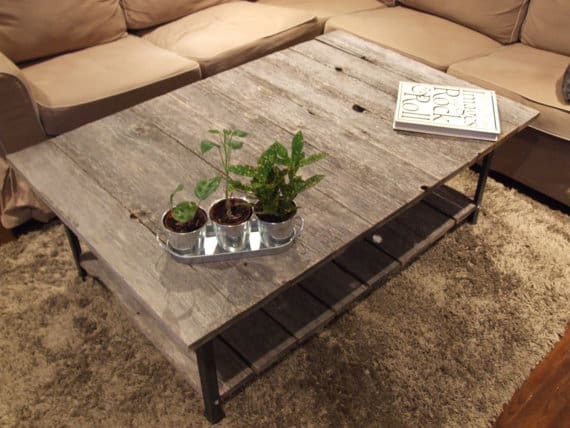 Reclaimed Wood Coffee Table via ArtistandCarpenter
#14 Create a modern reclaimed wood chair
This chair requires no introduction but its DIY alternative will definitely need a long how-to tutorial. Sleek and modern design lines are defining the cumulation of textures into a great piece, plan it through and have patience, you will make it.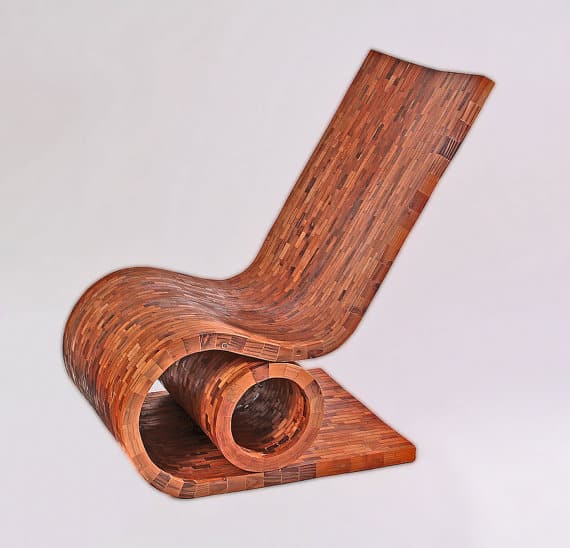 Modern Reclaimed Wood Chair via nicklopezart
#15 Reclaim your position with a salvaged wood desk
Thanks to the hairpin legs  and the rustic look of the top the piece below signals warmth in a contemporary design. The piece of wood carries a great story, being salvaged from a hundred year old Midwestern American structure. The mid-century vibe provided by these desk hairpin legs to a piece of Douglas fier wood is simple breathtaking.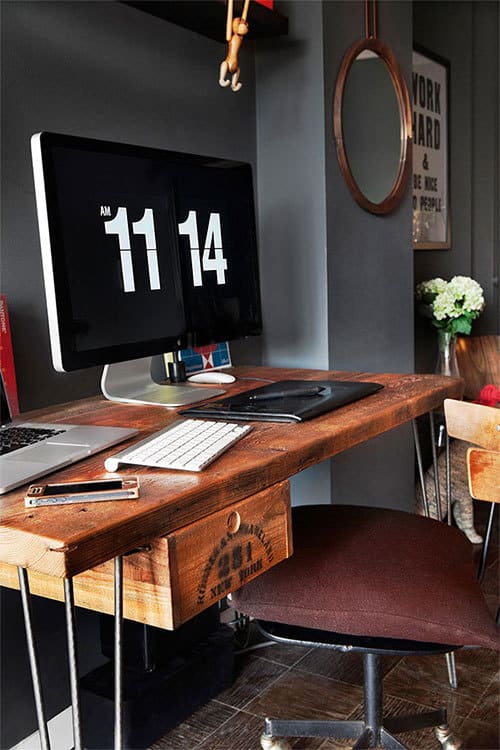 Urban Reclaimed Wood Desk via UrbanWoodGoods
#16 Reclaimed wood and leather lounge chair
A contemporary look worn proudly by a craft with wood and leather. The lounge chair below can can be nestled wherever you need it. The wood used is supposedly over a hundred years old and it uses soft cow leather hand stitched to obtain its cool domestic look.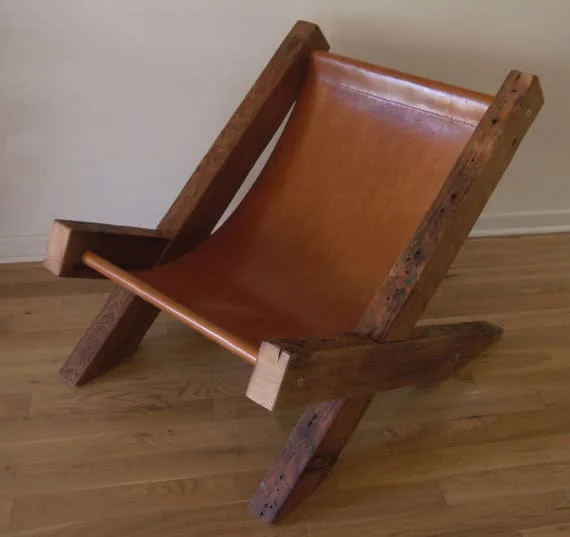 Reclaimed Wood And Leather Lounge Chair via TicinoDesign
#17 Superb rustic reclaimed wood standing shelves from a barn
These beautiful pieces have transformed the interior in which they reside in a breathtaking manner, mounted on an industrial flat, stainless steel frame the shelf adds authenticity to the space along with coziness and warmth.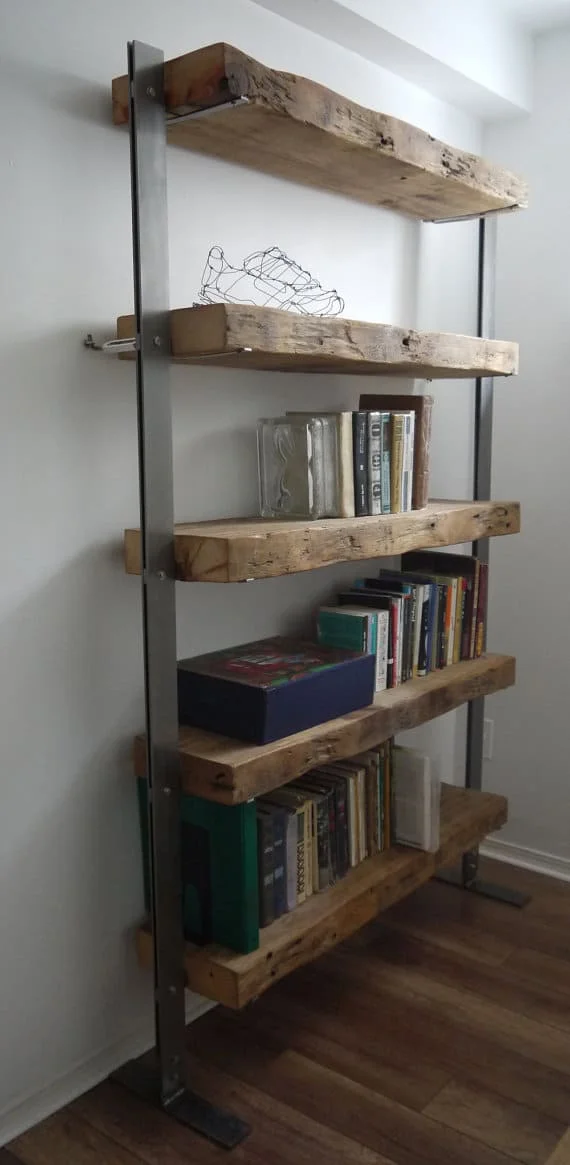 Reclaimed Barn Wood Standing Shelves via TicinoDesign
#18 Wood platform bed frame with bed hairpin legs
By tailoring your own furniture you get to create custom sizes that you actually want, and need. The wood platform below can count as a huge bed or a regular one with built in side-table. The end of a table can hold your books comfortably or serve as a bench to use when you need to change. The craft below is supposedly realized from Douglas fir wood salvaged from old buildings and it has a steel frame on steel hairpin-like legs.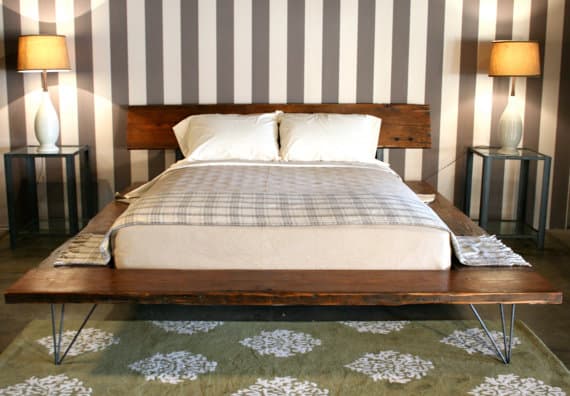 Reclaimed Wood Platform Bed Frame via CroftHouseLA
#19 Beautiful reclaimed barn wood headboard
Boost your bedroom look with a gorgeous salvage barn wood headboard close to its original state. Mount two rustic lights on it to boost practicality and enjoy the cozy aesthetics values. A great focal point in a mesmerizing interior design.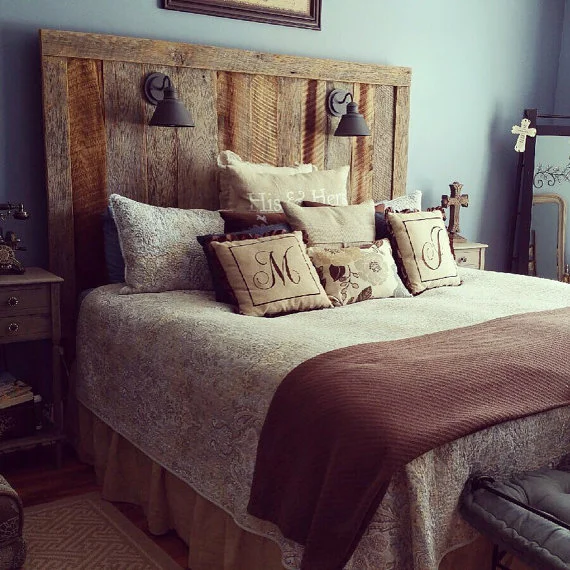 Reclaimed Barn Wood Headboard via ReBarnCHF
#20 Simple reclaimed wood bathroom shelf
Add some extra storage in your bathroom in a beautiful package. An elegant rustic charm can be achieved through a simple wooden shelf wearing that french country home finish.
Reclaimed Wood Bathroom Shelf via honeystreasures
#21 Salvaged pallet wood bed tray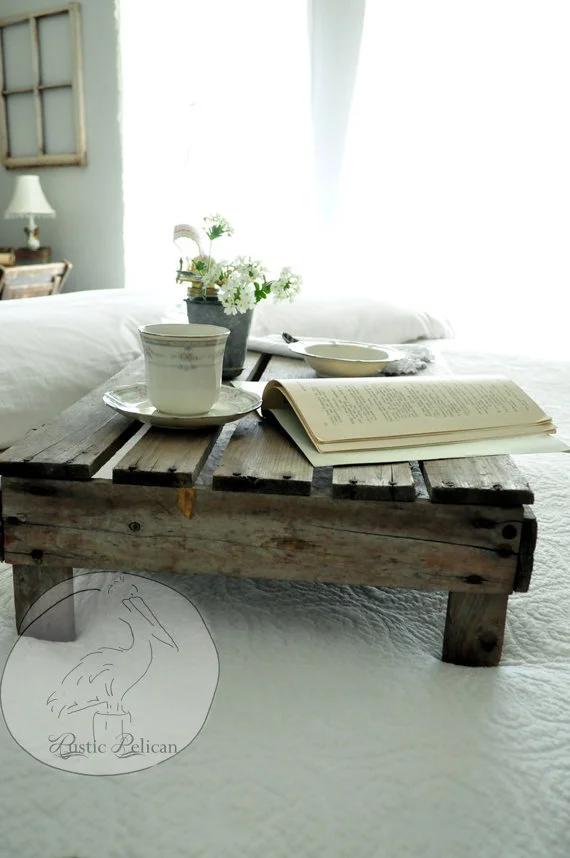 Serve your breakfast in bed or work with your laptop comfortably in fluffiness.
Reclaimed Wood Bed Tray via RusticPelican
#22 Construct a wood vanity cabinet for your sink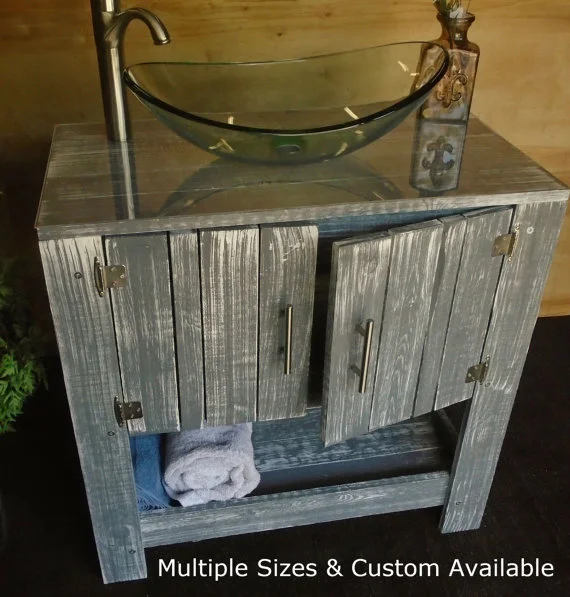 This craft, as well, can be tailored to your needs. You can build a vanity cabinet that uses galvanized buckets or galvanized bathtubs for a phenomenal industrial rustic look.
Reclaimed Wood Vanity Cabinet With Sink  via WoodArtWorld
#23 Reclaimed wood sliding barn door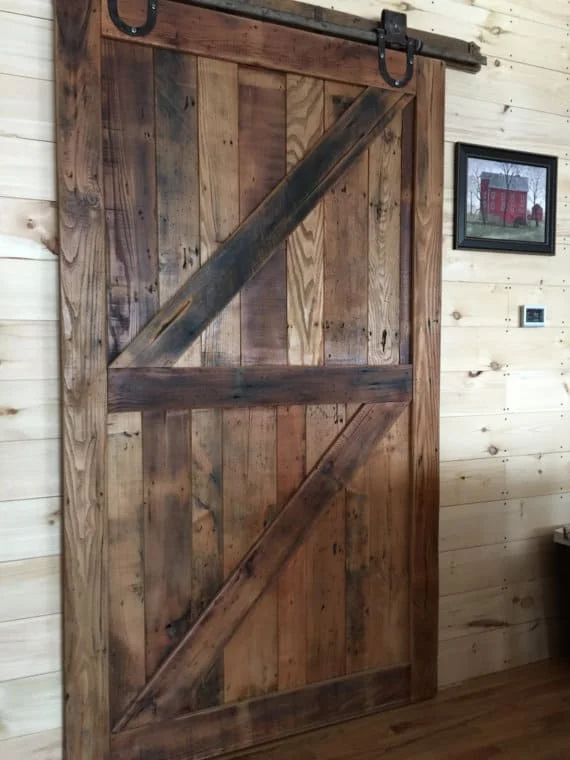 If you have the opportunity to nestle such a cozy solution in your decor do not hesitate, it simply works.
Reclaimed Wood Sliding Barn Door via DownHomeLiving
#24 Super cool reclaimed wood diy wall paneling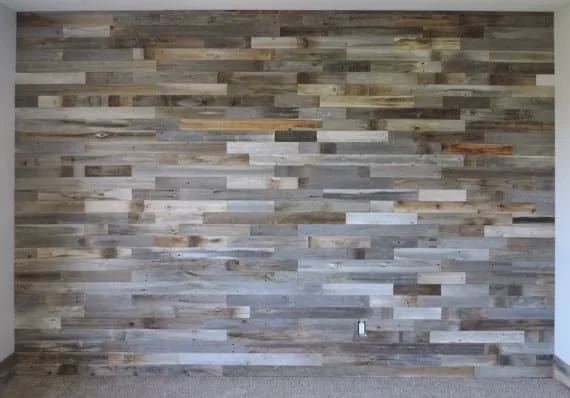 You can easily entitle this piece wall art. The coziness and warmth of the wood as a permanent background in your living room might be the most beautiful thing you can plant on your wall.
Reclaimed Wood DIY Wall Paneling via ABWframes
#25 Enhance festive entertaining with an oak barn wood beer cooler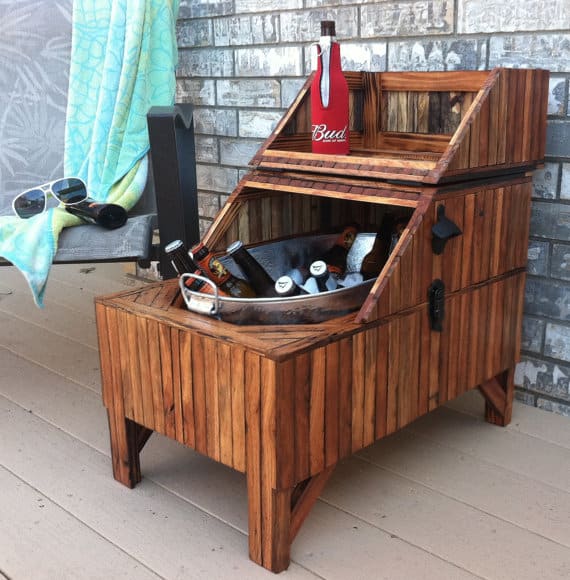 Reclaimed Oak Barn Wood Beer Cooler via TerramaeAndCo
#26 Industrial wood lounge chair and ottoman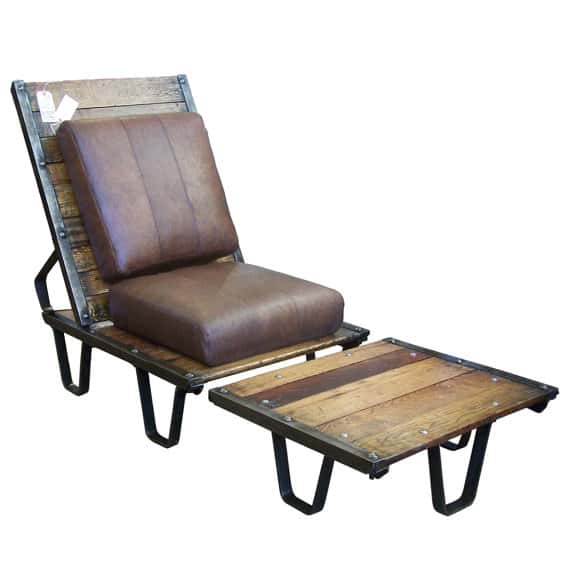 It might not be everyone`s cup of tea but the lounge chair wears a beautiful rustic industrial design that will beautifully enhance certain design lines.
Reclaimed Wood Lounge Chair & Ottoman via Mainstreetmercantile
#27 Build a reclaimed wood chest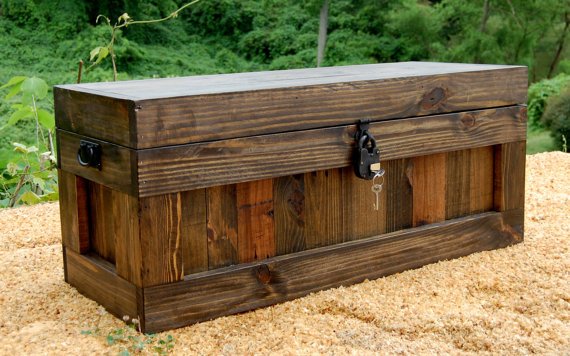 Reclaimed Wood Chest With Padlock And Key via LooneyBinTradingCo
#28 Graphic glass and wood installations
Details are making the difference. Everything lies in the details. Decorating with reclaimed wood highlights this fact, making a statement through its texture and density encapsulating memory. You can use installations of wood and glass to trigger feedback, emotion in plane environments.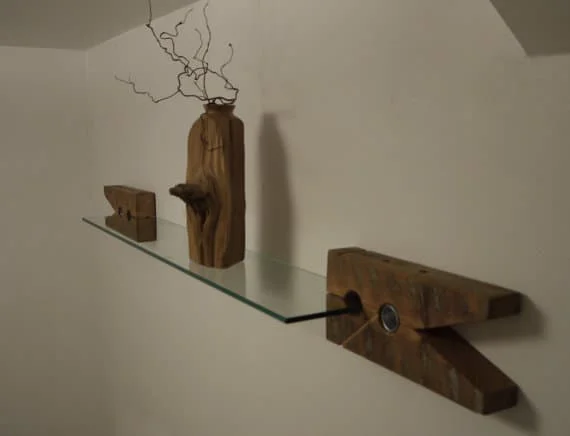 Reclaimed Wood And Glass Clothespin Floating Shelves via TicinoDesign
#29 Reclaimed wood mason jar lighting fixture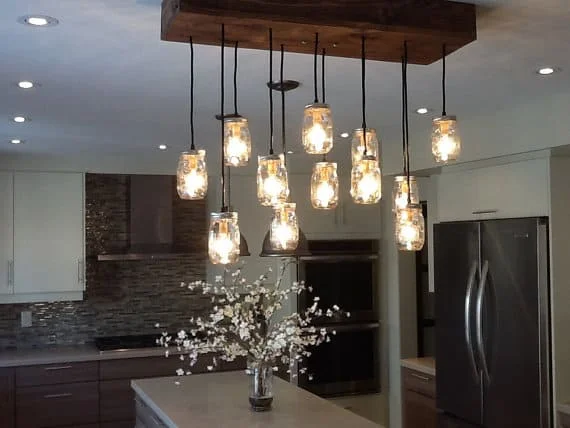 A touch if intimacy in an elegant rustic lighting fixtures can go a long way. In the setup above it simply transforms the space subduing everything around it.
Reclaimed Wood Mason Jar Chandelier via TheHoneydew
#30 Neat reclaimed wood railroad spike coat rack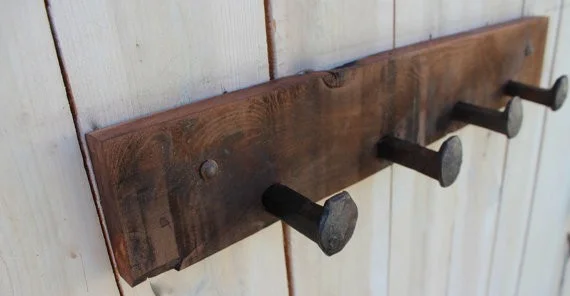 Simple and efficient, bagged with memory and meaning, the coat rack above simply demolishes pretty much everything that you can purchase now new.
Reclaimed Wood Railroad Coat Rack  via honeystreasures
#31 Bluetooth wooden speakers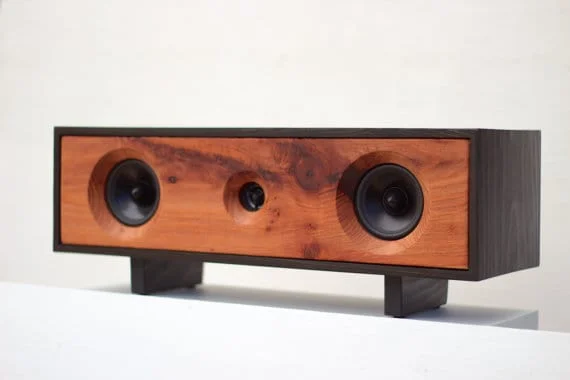 The audio wizard diy enthusiasts already know that this is an extraordinary option for its center piece. The wood required for such a craft requires certain parameters that are hard to match with salvaged wood. The piece that will match the requirements will change the game through exclusivity and authenticity/.
Bluetooth Reclaimed Wood Speakers via SalvageAudio
#32 Elegant rustic reclaimed wood mirror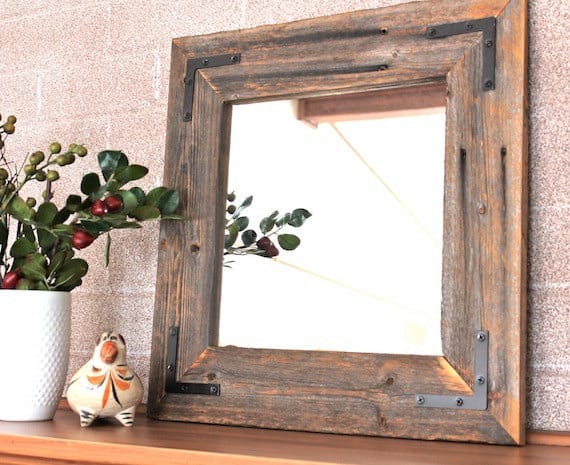 Reclaimed Wood Mirror via HurdandHoney
#33 Rustic pallet wood clock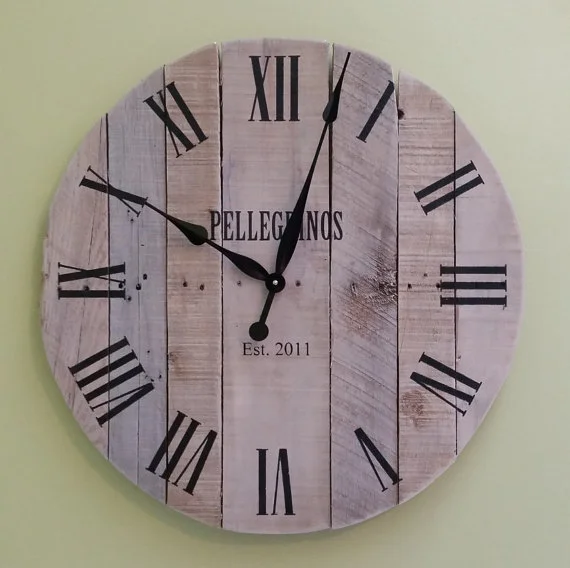 Beautiful and unique, your own elegant portion of time.
Reclaimed Pallet Wood Clock via Haleyjunebug
#34 Simple to realize wood wine rack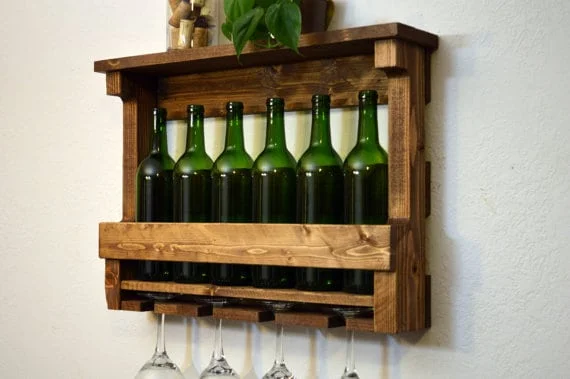 Enhance your entertaining kit with a simple and beautiful wood wine rack.
Salvaged Wood Wine Rack via RusticModernDecor
#35 Hallway mail and keys organizer from salvaged pallet wood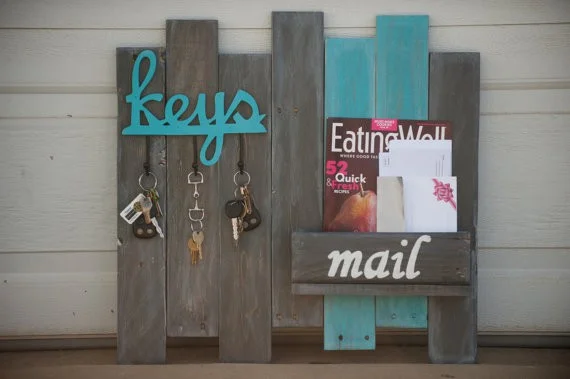 Pallet Wood Key And Mail Organizer via BreakingandRemaking
#36 Jute mail print on reclaimed wood mail box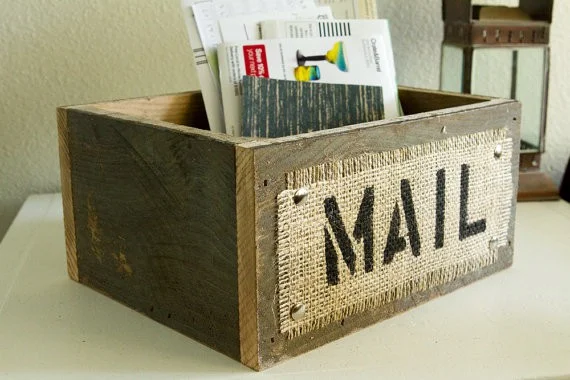 Salvaged Wood Mail Box via BordenSpecifics
#37  Wooden stool realized from reclaimed wood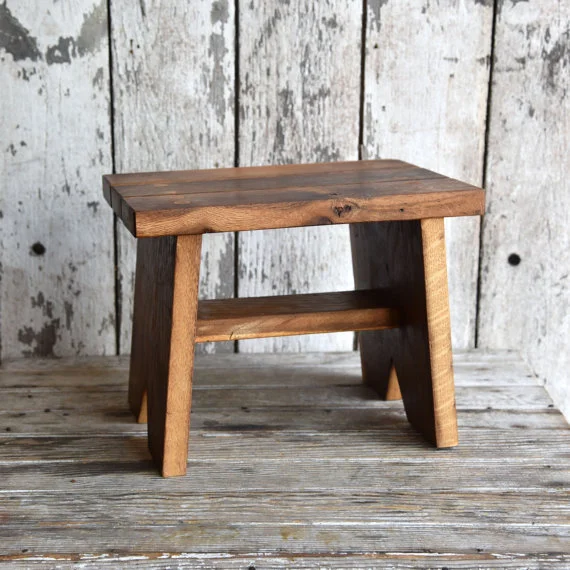 Very practical and beautiful wooden stool realized from salvaged wood. Notice the dark finishing that boosts its coziness and warmth.
Reclaimed Wood Stool via PegandAwl
#38 Wooden cutting board with handles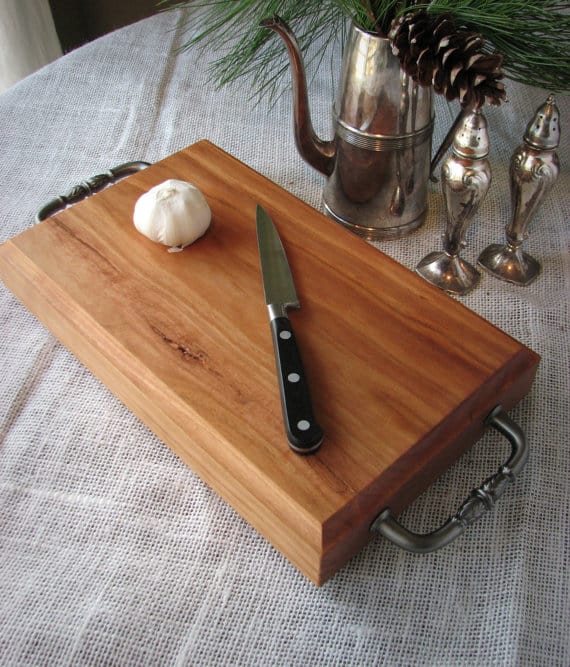 It is recommended to use a piece of hardwood for a longer life span. Adding handles might appear useful but think about its placement and utilization properly before installing them.
Cutting Board via ecoSMITH
#39 Beautiful wooden drink coasters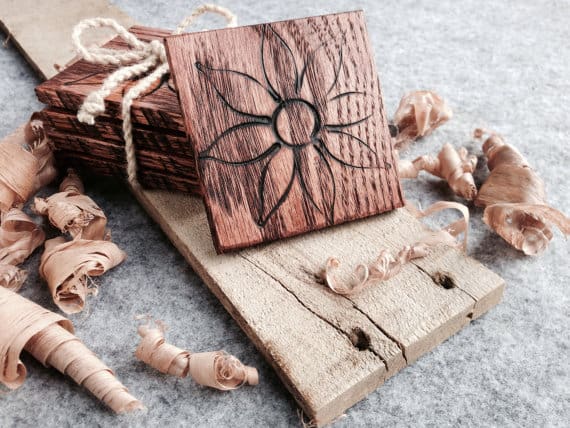 Immense beauty in a small package, everything you would like from a coaster.
Neat Coastersvia KimbleStudios
#40 Salvaged wood beer tote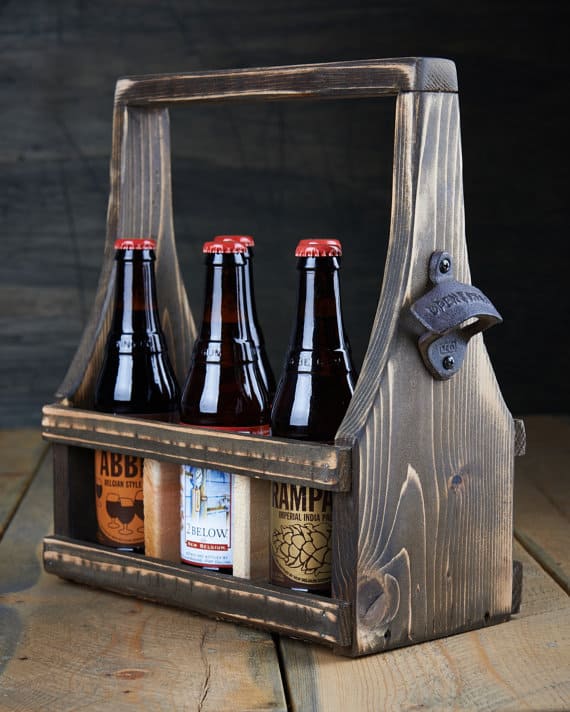 Beer Tote via RockyMountainWood
#41 Build or up-cycle a wooden stair

You can use it for towels in the bathroom or for blankets in the living room and in both cases, the effects will be splendid.
Blanket Ladder via PipeAndWoodDesigns
#42 Use salvaged wood to build your own chalkboard sign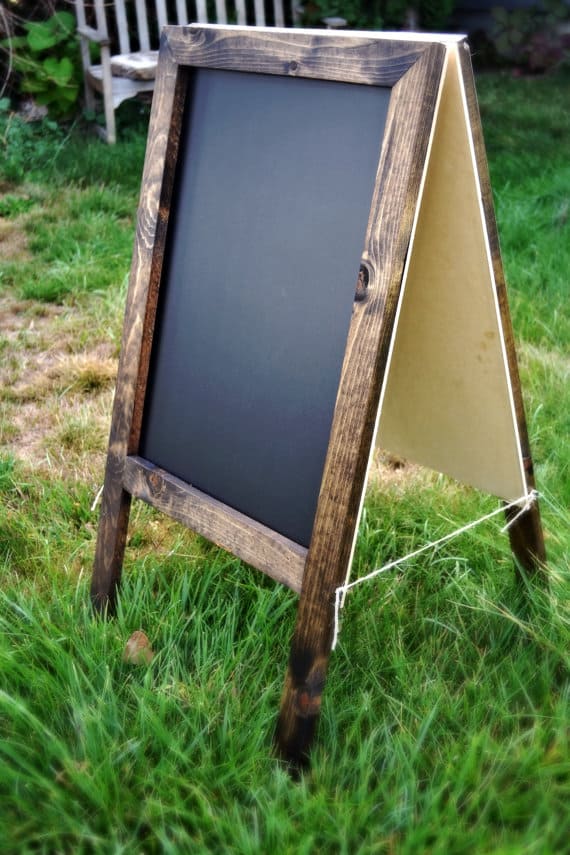 Neat and easy to realize craft. Use it to add a vintage touch to your shop, event or even home kitchen.
Chalkboard via MintageDesigns
#43 Reclaimed wood tub caddy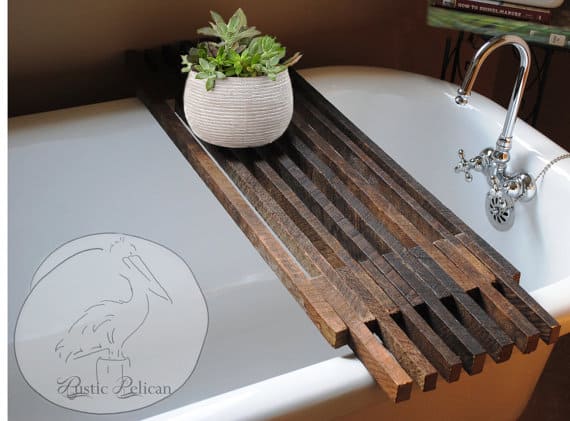 Simply breathtaking look for a relatively easy craft. If you soothe your nerves with hot long baths you will definitely enjoy this beautiful element of design.
Wood Tub Caddy via RusticPelican
#44 Tiny tiny reclaimed wood soap holder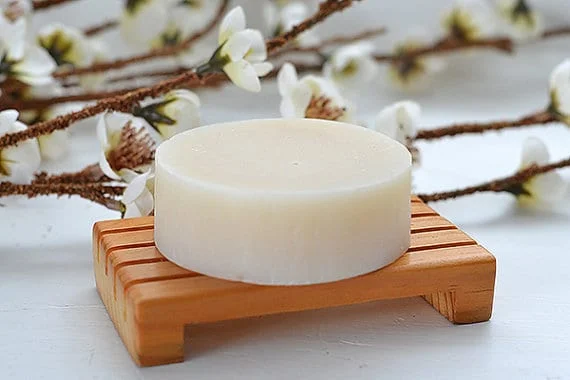 A small element of design that can easily transform your bathroom counter through its texture.
Salvaged Wood Soap Holder via OnceUponAHive
#45 Wood towel hooks for your bathroom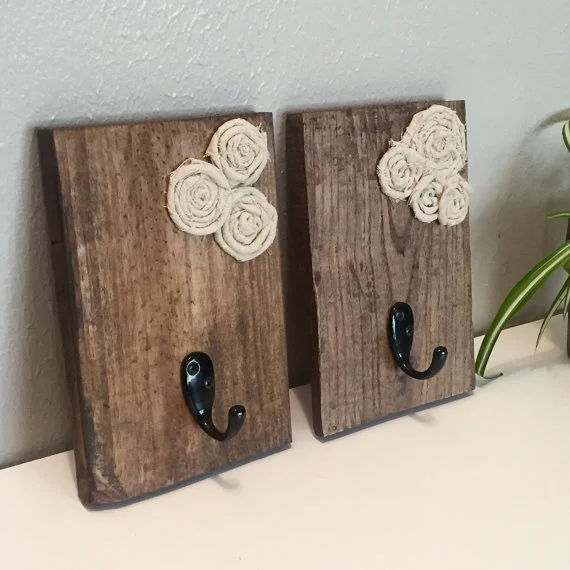 The wooden texture can be brought in pretty much any interior design though thousands of elements. Choose to insert it through towel hooks in your bathroom to see how it will look and adapt from there.
Towel Hooks via AmbersWoodenBoutique
#46 Wood toilet paper holder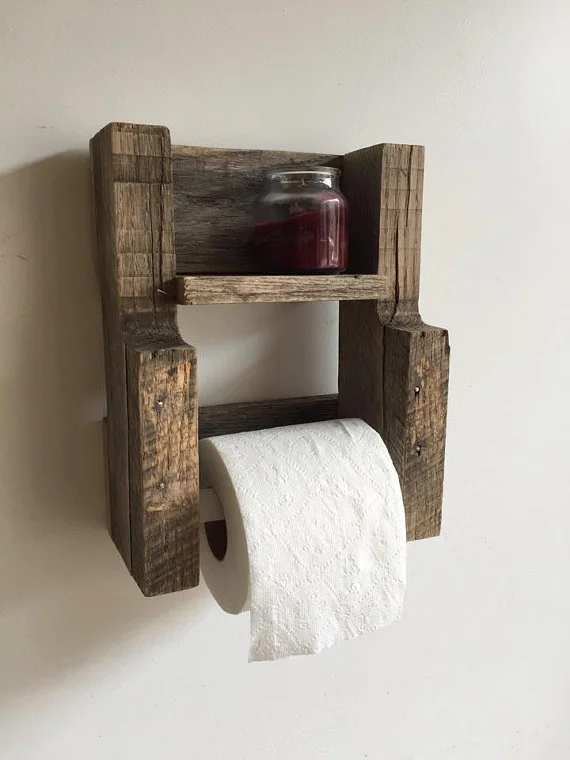 Rustic Wood Toilet Paper Holder via BandVRusticDesigns
#47 Salvaged wood tree rope swing realized in minutes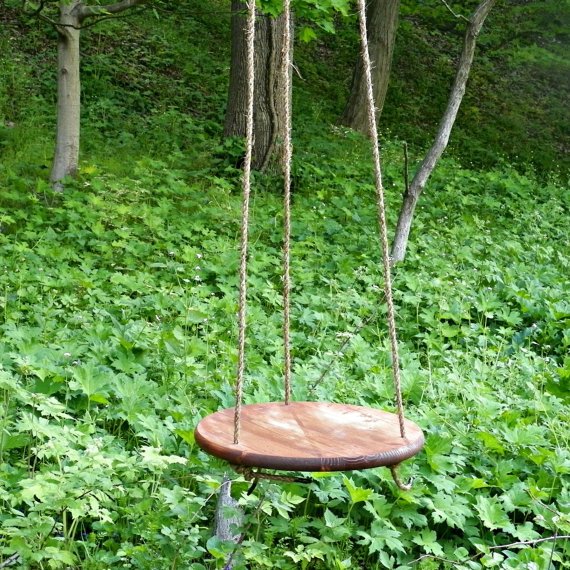 Realize a simple rope swing in just a few minutes and enjoy the beautiful weather outside.
Salvaged Wood Tree Rope Swing via knottypinedesigns
#48 Reclaimed wood dog feeding station with rustic look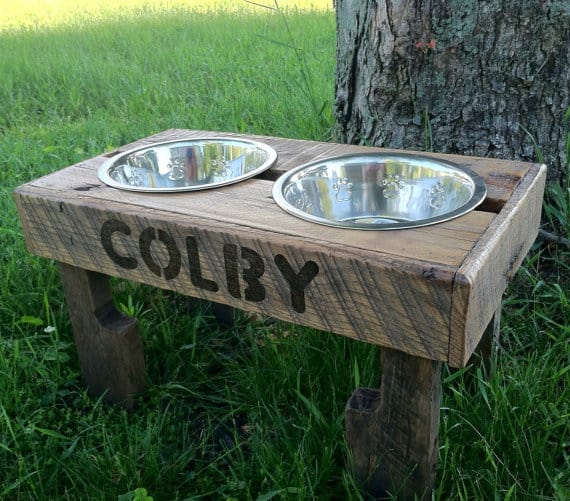 Make the life of your furry friend easier by raising its feeding station off the ground. If you use salvaged wood your costs will be next to zero.
Rustic Wood Dog Feeding Station via Kustomwood
#49 Use salvaged wood to construct a pet bed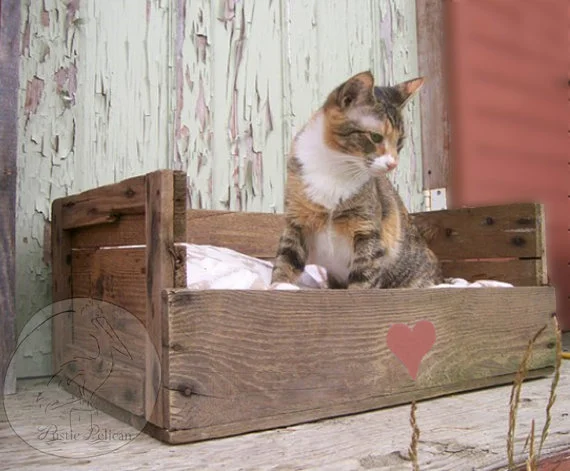 You can create a comfortable small bed for your friend and make his or her life just a little cozier.
Reclaimed Wood Pet Bed via RusticPelican
#50 Salvaged Wood Serving Tray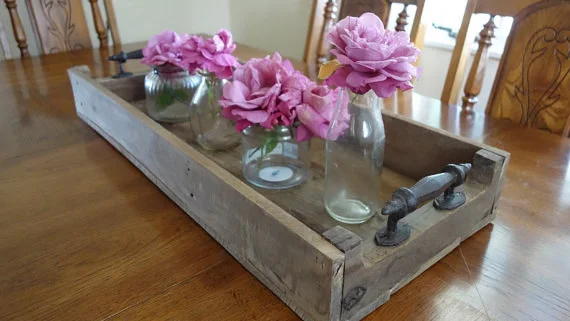 Wood Serving Tray via TheHarvestTrailJourn
What do you think about these crafts? We would love to hear your opinion on the subject in the comment section below. Salvaged wood is an immense resource and if collected and used properly it has immense potential too, it can transform space in a breathtaking manner..
Related Articles
19 Different Types of Mid-Century Modern Furniture
Unusual and Bizarre Furniture Designs You Have Ever Seen
9 Best Hand Sanders For Furniture