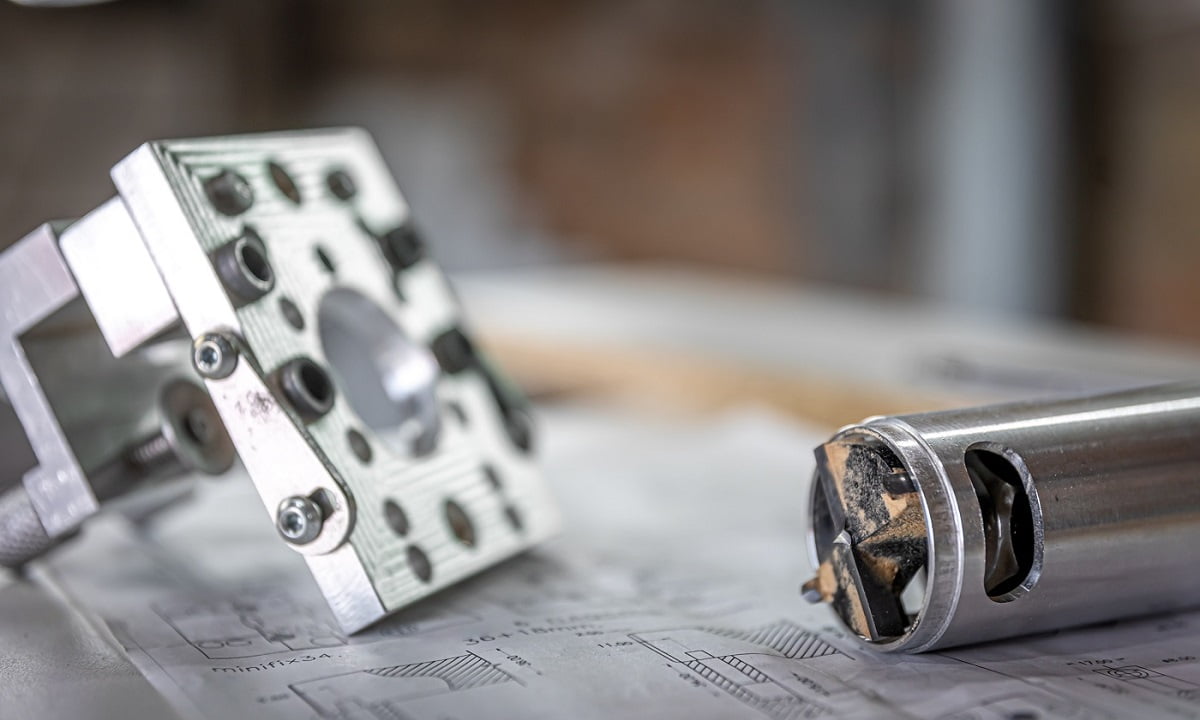 The Kreg name in the woodworking industry is associated with a high-quality jig pocket hole system. 
An extremely useful tool with one caveat: it can be expensive for many on a budget. So how can you get a jig pocket hole system that's on par with a Kreg system at a lower price point? This guide will dive into this very issue and lay out what you need to be looking out for when choosing a suitable alternative. 
Cheaper price points come with their own compromises to lower the cost. What then are the necessary features you should have in a pocket hole jig system? 
Let us begin and find out!
Alternative Jig Pocket Hole Systems
Some screws can perform to their utmost potential if used in conjunction with an appropriate jig pocket hole tool. Matching a screw to the jig is a matter of considering the strengths of the jig and comparing it to the limitations of the screw. 
Depending on how easy the jig is to use, the application of the screw can be a challenging task. Adjustments to angle, size of the hole and screw, and overall convenience are important factors that set jig pocket hole systems apart. 
Furthermore, the flexibility of the jig tool itself can determine how effective it is in drilling into different thicknesses in materials. This flexibility refers to the versatility of adjustments that the jig can operate with. Everything from the hole type drilled to angle and material thickness, a flexible jig can get the most performance out of a screw over a "rigid" model. 
By taking into account how the screw is designed and performs, the jig can either be a great asset or a hindrance. Either way, it is essential to consider how different jigs will affect the performance of a screw-based on their unique designs and features. 
A truly unique design choice by the Wolfcraft brand makes for a sturdy, lightweight jig pocket hole tool. It is an unbreakable, one-piece build made of nylon and mixed with glass. 
The pocket hole jig kit from Wolfcraft has any and every tool you could need to get started with making pocket holes. With a starting amount of 40 screws of varying lengths, as well as a ⅜" step drill, a ⅜" stop collar, and a ⅛" hex key, you will have everything you need to make pocket holes right away. 
All 40 screws included in the Wolfcraft kit is a square drive screw, similar to the Kreg screw. There are four sizes – 1", 1 ½", 1 ¼", and 2 ½" screws; ten screws for every length type—a decent selection of sizes to begin making pocket holes for different material thicknesses. 
This pocket hole jig kit is ideal for those who do not require any bells and whistles and want a simple tool that gets the job done. The Wolfcraft jig kit has pre-determined depths to control how deeply the screw is affixed into the material—these range from half an inch to an inch and a half. 
Additionally, due to the compact size of the jig kit, it can be used in hard-to-reach spots as well. Weighing only 1.6 pounds, this jig pocket hole kit is portable while remaining functional with enough versatility to be helpful.
General Tools offers an inexpensive jig pocket hole system in their 850 models. With a primarily aluminum build, these jigs are still great performers with acceptable quality output. What's more, General Tools includes 24 square drive self-tapping screws in the kit, similar to the Kreg screw design. 
Using this jig system may not give you the best performance, but it is a good choice for those who are on a budget. Similarly, it can get you started with using screws that are similar to the Kreg design, a similar performance for a lower price. 
Truly one of the more impressive advancements of a jig pocket hole system, the Armor Auto brand has pushed the envelope in woodworking engineering. 
What makes the Armor Auto system shine is the ability to create invisible screws to join materials. Using a preset system that automatically makes adjustments to the drill guide, there will be no need for any manual input. Simply determine the thickness of the material to be joined, and the jig will do the rest. 
In terms of the screw system on the Armor Auto-jig pocket hole model, it is phenomenal. With a color-coded classification, the screws are easily identifiable for different purposes. Determining which screw is suitable in terms of thickness and depth of the pocket hole is a much easier task using this color-coded system. 
Beyond the convenience of selecting an appropriate screw, the color-coding of the screws increases the longevity of the screw. Corrosion and other elements are not able to have as strong of an effect due to the painted surface acting like a protective layer.
Other features that may be helpful in the Armor Auto-jig are the auto-changing clamp, flexible drill bit, and the number of dust collection ports. Having these extra features can go a long way when it comes to productivity and efficiency. 
A standout jig pocket hole system, this model has the unique feature of automatic regulation of the material thickness. The jig will use the base of the self-adjusting clamp in order to determine how thick the material is and make adjustments to the angle and depth of the screw accordingly. 
Another helpful feature of the Porter-Cable jig system is the easy adjustment of the pocket holes. Due to the uneven bushings' spacing, the jig is able to work at a number of positions. 
Using a Porter-Cable jig system is convenient due to the autonomous adjustments it makes. What's more, a repeatable clamp system allows for multiple pieces to be worked on at the same time. 
What makes the Porter-Cable jig system an excellent option for screws is the adjustment of the length of the screw to match the material's thickness. Having a screw that is too deep or too shallow can be an inconvenience. Using the screw length gauge, the appropriate screw can be used with a suitable material thickness. 
Expensive models of jig pocket hole systems can be overwhelming in their large number of uses and features. If a simple system that does the bare minimum well is what you need, this system from Silverline is an excellent choice. 
Coming with three options for hole sizes, the Silverline system does not offer much besides getting the job done quickly and accurately. It provides a six mm, eight mm, or ten mm hole size in a small package. Additionally, the Silverline model screws pocket holes at a 15-degree angle. 
Overall the build is lightweight as it has one solid body construction. While it may be a simple system to use without any bells and whistles, it is still durable and can go a distance. The materials it is constructed from are heavy-duty aluminum, ensuring a long working life. 
Using any type of screw is not an issue as there are no prerequisites as to what screw is compatible or not. This opens up a world of experimentation to see which screw is the best performing option for a project. 
Due to the ease of use and portability, this Silverline model is a great starting point for casual users or those less experienced in this tool. 
Another alternative to the Kreg jig pocket hole system is the BigHorn Pock'It Jig. This model is great for those who get light to moderate use out of their jig pocket hole tool but need more control while using it. 
With a solid metal design, this is a sturdy system that does not have too many extra features. Rather, the Pock'It Jig gives control over adjusting the hole depth and the angle of the drill. A stop collar determines how deep the hole will be drilled, while an adjustable drill guide controls the angle of the drill. 
Included with this system are a square drive bit, a hex wrench, a ⅜" step drill, and a working clamp. Additionally, it also includes square drive pocket screws.
MASSCA is a fierce competitor when it comes to pocket hole systems. It is a popular choice for many woodworkers due to the budget-friendly price and a highly efficient setup. Exceptional performance in areas such as safety, ease of use, speed, and efficiency, makes this system stand out from other alternatives.
It is recommended to use this jig with materials of thickness ranging from ½" to 1 ½". A magnetic clamp will keep the board secure while also automatically gauging its thickness. The MASSCA system also has an adjustable drill depth setting which is intuitive and straightforward. 
Pairing this system with MASSCA's own jig pocket hole screws will give an outstanding performance in repair or joint work. All the features of the pocket hole screw jig set, with the performance of the specially designed screws, work in harmony to create a seamless joint. 
Alternatives To Kreg Screws
There are a number of screws that can replace a Kreg model with enough shared characteristics to act in place of the Kreg screw adequately. These come at a number of price points and build qualities to save you from spending a fortune. 
If using a Kreg jig pocket hole is not in your plans, there is a workaround method you can try. This method is known as a mortise and tenon joint and does not require any screws at all. However, this method requires more practice to get down. 
The mortise and tenon joint takes time to complete as it is highly technical and can be challenging to master. As a result, it is not a widely used method by many woodworkers due to the convenience that a jig tool brings. On the other hand, this joint provides a stronger hold than pocket holes. 
Another excellent method to finding a suitable replacement screw is simple trial and error. Buying a few screws from different manufacturers and brands can help you decide what you like or what doesn't work. However, this can be time-consuming and add up in cost if you don't know what to look out for in an alternative screw.
If there is absolutely no way to avoid purchasing Kreg screws, compare different outlets as the pricing may range between them. Additionally, bulk buying the Kreg screws can save you money in the long run. 
However, if an alternative screw is what you are looking for, several options are available that can work well with the Kreg jig pocket hole tool. These alternatives have the necessary characteristics, along with some of their own, to match a Kreg jig pocket hole screw. 
These screws are likely the most recommended alternative to using a Kreg jig pocket hole screw. It shares almost every important characteristic required in the Kreg screw.  
The CSH Pan-head screw, as evident from its name, has a pan-head style head. This design is similar to the washer head style of the Kreg screw. The Pan-head design has a flat underside that will keep the screw securely fastened and keep it from sinking. 
Additionally, the CSH screw also has a crucial self-tapping design in the tip. This is one of the essential characteristics of the Kreg screw as it allows for a clean and smooth drilling process. 
Purchasing these screws can save you lots of money as they come at a fair price. They can be bought in packs of 500 or individually at about four cents a screw—a great alternative to the expensive Kreg screw for its similar functionality and price. 
A zinc-coated screw from SNUG, this screw has enough shared characteristics with a Kreg screw to be a candidate for a replacement. The zinc coating and slightly longer length set it apart from a Kreg screw. 
For the characteristics that are shared with a Kreg screw, the SNUG screw has a self-tapping head and a square head bit. The self-tapping tip keeps it from slipping too deep into the wood, and the square head bit affords extra torque when drilling. 
If you are looking to replace not just the Kreg screws but the entire assembly as well, Massca may be the suitable choice for you. Massca has its own line of pocket hole screws that are priced lower, with their own pocket hole jigs to match. 
Selling their screws by 1,000 in a set, Massca gives a large volume as well as options for screws. The set comes with two types of screws for working on different projects and materials. These screws are either a finely threaded screw for hardwoods and a coarsely threaded screw for softwood. 
Finely threaded screws have the ability to have a much tighter grip on the wood as the space between threads bites into the surrounding recess better. On the other hand, coarsely threaded screws have more space between the threads. This spacing keeps the screw from splitting the fibers of the wood too much and causing damage or splitting. 
To get the most savings out of an alternative screw option, buying in bulk is a good idea. The Quick Screw line sells alternative jig pocket hole screws in large quantities for an affordable price. 
As for their compatibility with a Kreg jig pocket hole, they share the characteristics of the self-tapping and square-head bit, similar to the Kreg screw. Both of these characteristics are essential to achieve a similar quality work result than using the genuine Kreg screw. 
However, these screws are not zinc-coated, unlike the other alternative screws. This compromise means the Quick Screw alternative loses some resistance to corrosion and strength. 
These screws are ideal for those who are using a jig pocket hole tool extensively for a project. Quick Screw advertises their screws as being an alternative screw option that is compatible with any jig tool—as such, purchasing the Quick Screw bulk package is a great option to stock up on jig pocket hole screws for large projects. 
Strengths Of The Pocket Hole Jig System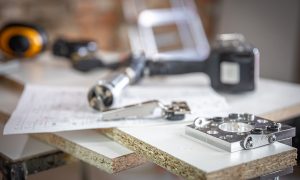 To establish an idea of what features a pocket hole jig needs, the basic understanding of what it does should be made clear. It is essentially the go-to tool for joining materials and creating high-quality joints. 
With the way the pocket hole jig system is designed, it is easy to access tight spaces where other joining techniques would fail. The drill bit is pushed through the holes on the pocket hole jig to create perfect, level joining points. These can then be used to connect the material to another surface having the corresponding recess to hold the screws.
It is a rigid, portable tool that can accurately produce the same result if used correctly. This consistency is what makes the pocket hole jig so great, especially for intricate projects that demand precision. 
The jig can be adjusted to achieve variations in angles or when working at different angles and tight spaces. A simple adjustment saves you the time and effort in calculating the angles of the hole required. The jig will adjust according to the angle and width of the board. 
Additionally, when using a pocket hole jig system, the ability to make repairs or interchange pieces at the joints is easy. This is as compared to using traditional methods, which are more permanent once joined.
It is never a bad idea to have a pocket hole jig tool handy in your woodworking shop. 
Types Of Pocket Hole Jigs
Pocket hole jigs vary based on their price points and quality. The price tag of the jig is directly related to the quality of the performance of the pocket hole jig. Higher-priced tools are usually superior in quality with a better build and output. 
Among the pocket hole jigs available, the models from Kreg are widely used for their top-notch performance. However, as they are a top-of-the-line model, they are also priced accordingly. This can make it inaccessible to those who have a limited budget. 
On the other hand, purchasing a lower-priced model is by no means a complete loss. There is simply a lower quality performance output that is still acceptable. 
Differences in the build quality of the jig itself are another different characteristic between an expensive and cheaper jig pocket hole model. Some may have a durable, metallic build, while others consist of some plastic components. 
Additionally, expensive jigs occasionally have unique features which can help boost the efficiency of the tool. Performance, as well as convenience, take a significant boost with these top-of-the-line models. 
If it is possible to purchase a high-quality jig pocket hole, then it is an excellent investment that will pay for itself in no time. 
Using A Kreg Jig Pocket Hole 
The advantage of using a high-quality jig pocket hole tool from Kreg is how well the screws are held in place. Rather than a straight insertion of the screw through the grain of the wood, the jig inserts the screws along the grain at an angle. 
In order to use the Kreg jig, simply use the clamp to secure the board to the jig. It will adjust the angle of the holes according to the width of the board. A helpful feature in the Kreg jig tool is the ability to use integrated slots in order to make them exactly sized recesses. 
Now, a common inconvenience faced by Kreg pocket hole jig owners is in the screws used for the tool. They have unique screws that their jigs are designed to accommodate. This means screws that are not similar to the Kreg screw model will not perform as well as using an original Kreg screw. 
As a result, finding a cheaper pocket hole screw model for the Kreg model can save a lot of money. But it will not be a suitable replacement option if there are not enough similar characteristics between the alternative screw model and the Kreg model. 
What Makes A Kreg Pocket Hole Screw Unique?
In order to find the best replacement screw possible, there are specific characteristics on the Kreg model that should be matched. If the screw has matching characteristics, then it is a suitable replacement for the Kreg model.
Square Head Bit
Kreg screws have a unique recess for the pocket hole that is squared off. Also called a "Roberts" head screw, the shape of this recess increases the overall grip of the screw without stripping it. 
This square recess in the head is not a required characteristic of a replacement screw; however, it can help to secure it better. Using a replacement screw that has a traditional Phillips head or other types of recession can make drilling it difficult and cause slippage. 
Self-Tapping Screw
An essential feature that a replacement screw should have is 'self-tapping.' A self-tapping screw means it can put threads into the recess to keep it securely fit. 
When drilling into a material, the drill makes a space that hides the head of the screw. The self-tapping screw will fill up this space with its threads that hold it in place. A small section at the head will dig into the space created by the drill to keep it in place. 
Washer Head 
Kreg jig pocket hole screws have a washer head style, which is a fundamental characteristic to match on the replacement model. A washer head-style screw has what appears to be a washer attached underneath the head of the screw. 
What makes these washer head screws so unique and a necessary characteristic for the Kreg pocket hole jigs? When drilling the screw into the material, it is pushed deep into the surface. This is due to the design of the washer head, which will dig into the material to be flush against the surface. 
Other benefits of using a washer head screw come in the future-proofing of the screw itself. Having the head of the screw flush increases the strength of its grip on the material. Any necessary repairs are possible as the head is accessible; it has not sunk too deep into the hole. 
Another benefit of the washer head is the control that is afforded in how deeply it pierces the material. If it is drilled too deeply, it can be retrieved because the washer acts as an anchor. Additionally, the washer can protect the wood grain from being split and damaged. Controlling the screw's depth can prevent it from going too far into the wood and damaging the fibers. 
Choosing An Alternative Jig Pocket Hole System
In order to choose an alternative to the expensive Kreg jig pocket hole system, keep in mind the different strengths and weaknesses of models. A screw's grip is only as good as the system that embeds it in the first place. 
Different manufacturers have designed their systems to give a balance between quality and an affordable price. As such, different models have various combinations of strengths and weaknesses. 
Choosing the right jig pocket hole system is just a matter of prioritizing what you would like in a system. Keep in mind some points to select a suitable combination for you. 
Build Quality
The jig pocket hole system should have a strong build for a better quality result. There is a correlation between the system's build quality and the performance you'll get. 
Having a system that can go the distance is highly preferred over one that will break down after only a few months of use. Looking into the materials that the system is made with can save you money in buying a replacement at a later date. 
For example, a full-metal body will be able to stand multiple uses for a longer time compared to one with a simple plastic body. If the jig pocket hole is a tool that you can see working with a lot in the future, invest in a sturdily built one now to save money in the future. 
Experience
Using a jig pocket hole screw can be a different experience depending on how familiar you are with the tools. A novice, for example, may not be experienced enough to take full advantage of the features of a complicated system. On the other hand, a professional will be able to utilize the system to its full potential. 
Choosing a system that matches your experience with the range of tools involved is a good route to go. However, if you plan on using the tool extensively or need a system with advanced features, a complex system is a great choice. 
Additionally, in order to get the most out of a jig pocket hole, look for a model that has numerous adjustments to angles, material thicknesses, and different drilling hole types. This range of options can help you get a variety of work done, no matter the project. 
Many jig pocket hole models have an included guide or manual that details the various functions the tool has. Going through these instructions is a great idea to use the jig pocket hole to its utmost potential if you are unfamiliar with the features. 
Maintenance
Simple systems are easier to maintain as the number of moving parts is less than complicated builds. Time spent cleaning the dust and debris as well as the jig pocket hole system varies on the level of maintenance required. 
On the other hand, more complex jig pocket hole models typically have a dust collection system built into them. This can save time in cleaning the system and the dust and debris around the workplace by keeping it in one, easily disposable bag. 
Sizing
Depending on the size of the workshop, the real estate that tools have can be a valuable resource. Smaller-sized systems can give you a different quality result as compared to a larger model. 
Stability is not too much of an issue as the jig pocket hole can easily secure itself to the material. As such, this gives you the freedom to have a portable system if needed. Not many features will be compromised if you choose a smaller system over a larger one. 
If a permanent setup in your main workshop is what you are looking for, you can invest in a system with many helpful extra features. On the other hand, smaller systems can give you a satisfactory result while maintaining their portability and ease of use. 
Alternatives for Kreg Jig Pocket Hole Screws FAQ
1. Where can a pocket hole be placed with the best result?
Pocket holes act as invisible connections between two pieces of wood. As such, to keep the joint between two surfaces clean, it should be used on surfaces that are not immediately visible.
Utilizing a pocket hole on a surface with complete visibility can destroy the effect of a clean joint. This choice to keep the pocket hole hidden away is purely for aesthetic purposes. If having a pristine surface is not an issue for you, then it does not matter where the hole is placed.
Using plugs or painting over the pocket hole is a great way to maintain the illusion of a seamless connection. This can come in handy when it is difficult to hide the pocket hole or if it is in an awkward position to drill a pocket hole.
2. What is the most robust connection to join boards?
Woodworking has many different styles of joints that have their own level of strength and skill attached to them. What would be the best joint to use to have the most secure fit between boards?
Some common joints used are the pocket hole, dowel, or mortise and tenon joints. Dowel joints can vary in their strength depending on the number of dowels used in the joint. Using four dowels in place of two can increase the joint's strength significantly.
A mortise and tenon joint is one of the strongest joints in woodworking. It is twice as strong as a pocket hole joint. Comparatively, a dowel joint is only 1.5 times stronger than a pocket hole joint. To achieve the same strength as a mortise and tenon joint, four dowels would be needed instead of the standard two.
That is not to say that the pocket hole is a weak joint by any means. It is still durable and sturdy enough to handle many loads. In fact, it is possible for the pocket hole joint to be stronger than a mortise and tenon joint.
In a study conducted, the pocket hole joint was able to withstand a trim load of 707 pounds. Meanwhile, the mortise and tenon joint only lasted 453 pounds before breaking. The strength of a joint is dependent on many factors, but using a pocket hole joint remains an excellent option for hidden joints.
3. What is the smallest board thickness that is compatible with a Kreg pocket hole jig?
Kreg jig pocket hole systems come with a guide specifically when working with smaller board thicknesses. The Micro-Pocket Drill Guide ensures the pocket hole won't pierce through the entire board.
Additionally, applying a layer of instant glue to the hole after drilling is a helpful step to take. This instant glue, when dried, makes the rim of the hole harder. A more rigid rim will help keep the screw securely fastened.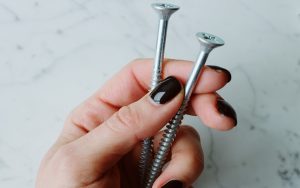 Conclusion
A Kreg jig pocket hole is definitely a great tool to have for working in any woodworking shop, especially for projects with precise joints like furniture. However, the high pricing of the Kreg system makes looking for an alternative screw a necessary route to take if you want to save money. 
Selecting the right screw for your project is simply a matter of finding a suitable screw with enough similarities to a Kreg screw that meet your needs. Keep in mind these qualities to find the best replacement: self-tapping, square-drive screw with a washer head. 
Mixing and matching these characteristics with others in the replacement screw can help you get the most out of your Kreg system without breaking the bank. 
Related Links
11 Best Kreg Jig Pocket Hole Alternatives To Consider
11 Best Dowel Jigs [Most Accurate & Durable]
Forstner Bit vs. Spade Bit [All You Need to Know & Winner]
11 Best Screws For Particle Board [Reviewed & Buyer's Guide]
11 Best Budget Drywall Screw Guns