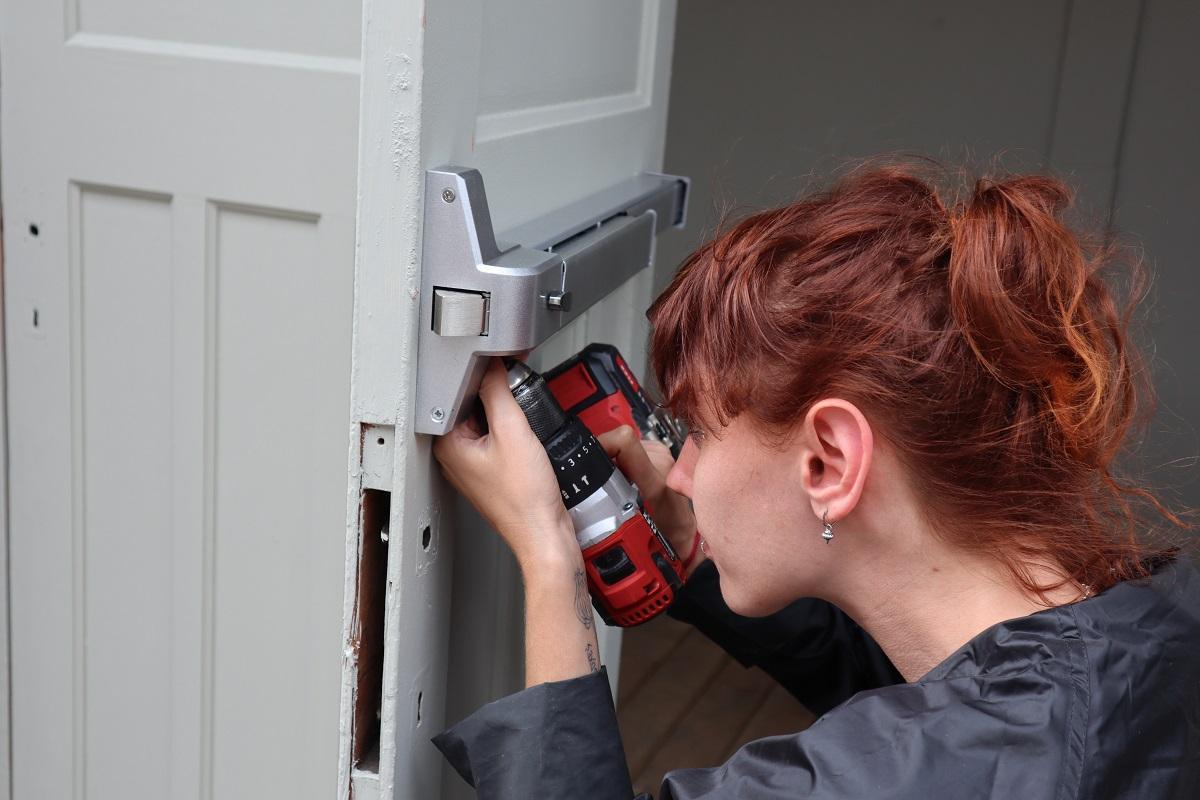 Out of the many options of Kreg jigs, which one is right for you?
The pocket hole jig by Kreg Tools is massively popular for its reliability. After all, if you are building a wooden project, you will need a tool that keeps both the material and the machine in place. 
If you are not familiar with jigs, they are essentially a device with an open frame or plate which holds wood or other materials in place. But, that's not the only function; jigs also provide direction for operating and cutting objects.
Kreg jigs are one of the most trusted brands when it comes to pocket hole jigs. Today, we will look at the differences between two of the most popular jigs Kreg K4 and K5. Let's attempt to find if one is better than the other.
So without further ado, let's get to know about each brand:
Kreg K4 vs K5 Compared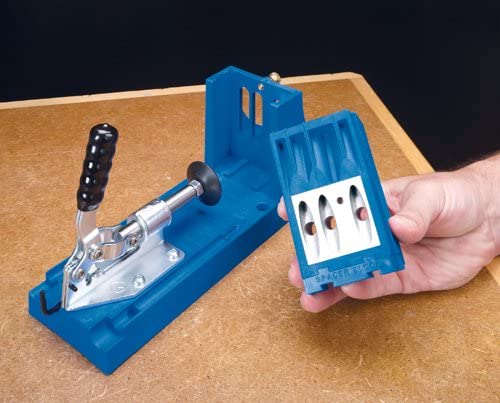 Kreg Brand 
Kreg is a well-known brand in the woodworking industry and has built a well-grounded reputation for itself for the past 30 years. They are the front runners in America for providing quality tools and equipment and solutions for joining, cutting, clamping, routing, and hardware installation. 
When it comes to pocket hole jigs and other tools like clamps and cutting tools, they have top-notch accessories that are used all over the world. There is a story about the conception of this company – it all started with one kitchen cabinet which was built in 1989. This was when Craig Sommerfeld, the founder of Kreg, was busy working on a personal project.
The First Kreg Jig
Craig had developed a U-shaped jig (single-hole) to hide kitchen cabinet holes, which he built for Kathie Sommerfeld. Soon after that, they saw the potential of this invention and began selling this new jig in stores.
The immensely positive response of customers to this product led to the foundation of the company "Kreg Tool." Craig and his son Todd would work to create patented products that became a massive success over the years. 
Expansion Into A Company
In the early 90s, Craig first patented the Kreg Jig and shifted work from the basement, expanding the company in Huxley, Iowa. Over the years, Kreg Tools made new and improved models like the K2000 jig, which was a game-changer in the industry. 
This model was different because it was made from injection-molded plastic instead of metal, making it a low-cost and durable option for woodworkers. Since then, Kreg products have been used by woodworkers of all skill levels globally. The tools are widely available in stores across the USA, UK, Canada, and Australia.
Now that we know how this brand started let's find out more about the jigs they make and about jigs in general.
What Are Jigs?
A jig is essentially a device that is used to hold and support a workpiece. It is also used to navigate other tools to perform specific functions. Mainly, jigs come in handy to provide accuracy in cuts along with the ability to repeat an action many times over. This is especially useful when there is a need to create consistent and even-sized wood panels. 
Often used in tapping, drilling, and reaming work, they are quite light, making them easy to use. Usually, jigs will not be attached to a machine table unless you have a larger project to finish. Also, gauge blocks are not required for these jigs. 
Essentially, woodworkers use these accessories to ensure the material is stable and positioned correctly before cutting any pieces. Without appropriate tools like jigs, a material might move from the position, making wrong cuts due to insufficient support. 
Also, there isn't one design that is the best when it comes to jigs. You can find various designs and features for all types of users. 
Moreover, jigs are usually more complex in design than fixtures that merely keep wood in place without guiding any direction of movement. However, jigs cost more than fixtures due to their longer manufacturing process. 
Types Of Jigs
There are numerous jigs available on the market, depending on your purpose. Some of the common ones are –
Plate jig

Template jig

Ring jig

Diameter jig

Angle plate jig

Pocket hole jig
Kreg Jigs
Kreg makes a variety of jigs for all purposes. They come up with various models to help DIYers and professionals with the right tools they need. The earliest jig they patented was the K3 model, which had many new features making them easy to use. 
The Kreg pocket hole jig 520 pro model is the latest design in a long list of accessories and jigs. This newer model is much more versatile and is designed to build any kind of configuration with ease.
Kreg K4 And K5 
Kreg products are known for their high quality and user-friendly build. And, if we talk about overall features, both provide intuitive and sturdy abilities which come integrated into both K4 and K5 models. 
The primary thing which differs is how you apply it with its individual machining functions for specific uses. But one thing is clear, some types of fabricators and woodworkers would benefit more from one model than the other.
In this section, we will take a comprehensive look into both Kreg K4 and K5 jigs, so you have a better idea of individual features. We recommend taking a look at the overview so that you can figure out if either one matches your requirements. 
Kreg K4 is built with the primary purpose of drilling pocket holes with unmatched precision and reliability. You may think that such a high-quality product would not be the best for students or novices. Actually, we'd be glad to tell you – this is absolutely not true. 
In fact, it is quite commendable that woodworkers of all experience levels can use a product as sophisticated as this. That is why it should come as no surprise that this model contains many design elements that make operating the jig effortless.
K4 Uses
Kreg K4 can handle smaller materials or pieces of wood and guide them for precise and even cuts every single time. This prominent feature makes it one of the most capable and dependable jig options in its price range. Since the model is originally designed specifically for cutting and shaping smaller materials, you'll find many uses for this jig for regular wood jobs. 
Whether you are making kitchen or tool cabinets, rolling storage crates, garden or balcony benches, work desk, small sliding wardrobe, the K4 won't disappoint. The jig can be adjusted according to the material thickness, enabling you to experiment with the settings and finding a comfortable fit for your projects.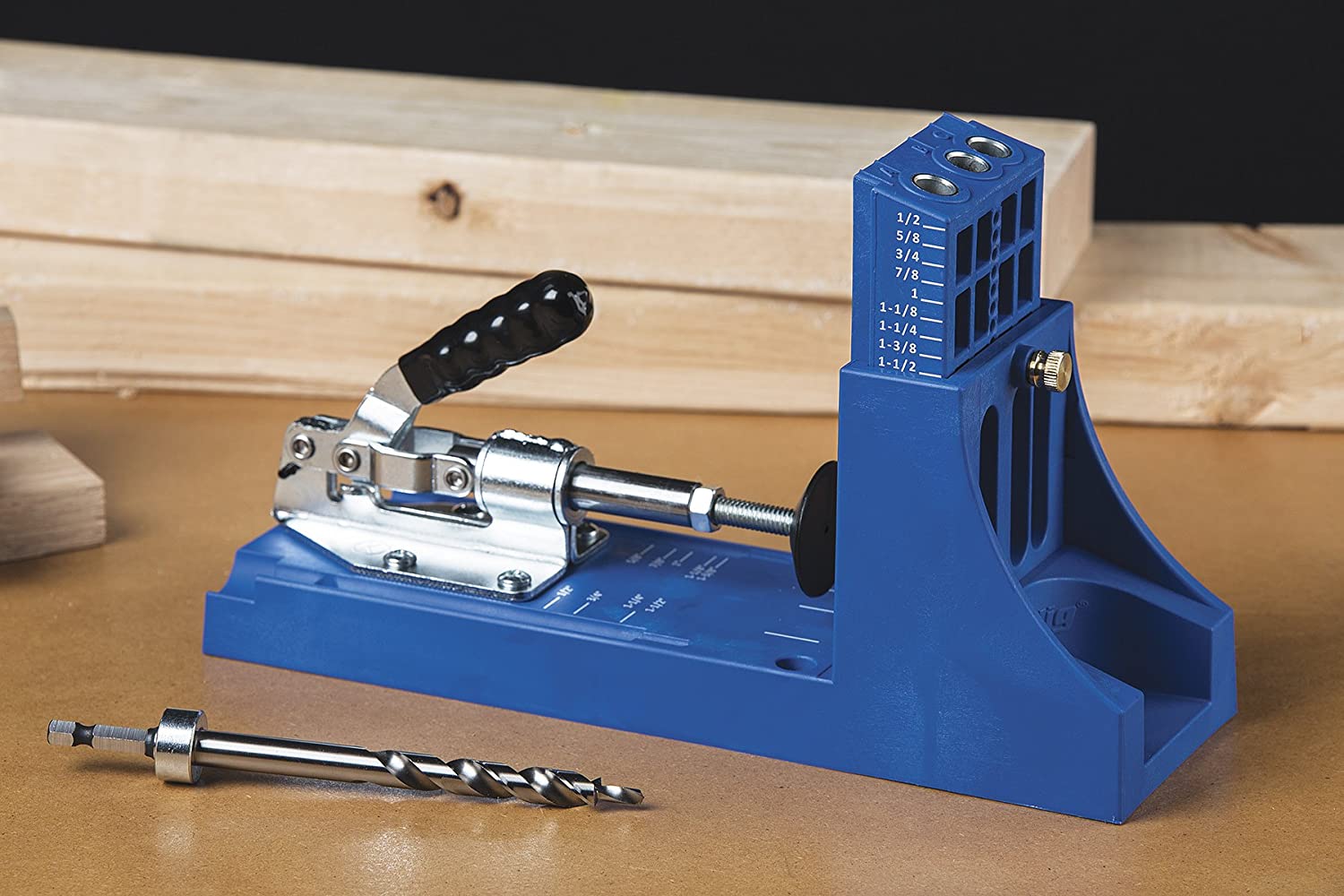 K4 Benefits 
Apart from that, this K4 jig also has a fast clamping system that makes sure the device is secure while cutting or shaping materials. Furthermore, this model is 100% compatible with other Kreg accessories and attachments, making work more straightforward, so you don't have to worry before buying. 
In other words, you can easily expand the abilities of this jig by adding more valuable accessories from the same brand.
Not only that, the Kreg K4 model has an integrated drill guide that helps with making the same types of cuts repeatedly. If you have no use for this feature, you can easily remove the accessory for additional mobility and experiment with lengths and styles of cuts. 
But if you choose to use the 3-hole drill guide, you'll find it is one of the best of its kind for precise incisions. 
Overall, the K4 is a superb option for people who are getting started and interested in DIY projects in and around the house. This device makes it easy to make home improvements without hiring expensive professionals and also to hone your skills as a woodworker.
Even though the K4 is not the most recent model by Kreg Tools, this jig variant is still relevant today for various building purposes.
Now, coming to Kreg K5 – we can call it an upgraded version of the previous models, including the K4 jig. They have substantially increased the range and power of this jig which helps improve its functionality. Professional woodworkers will find many uses for this model because it has many new beneficial integrations which will come in handy for various projects.
K5 Uses
One of the most distinctive features of the Kreg K5 is its front-mounted handle, making it easier to draw different angles. This makes it more versatile and gives the most accurate cuts making it a favorite option among seasoned woodworkers. Apart from that, the K5 also has a unique in-built clamping system which is absent in the previous model. 
This clamping mechanism is much sturdier than a separate clamp which might move upon manual pressure. But, that is not the case with this clamp; it has a better design that holds the material in place with zero movements. The advantage of this clamp is that it is more ergonomically designed and isn't too expensive either. 
Another good thing about this mechanism is that it contains a ratcheting function so you can independently move around the jig as per your requirement.
K5 Benefits
The Kreg K4 did not provide an additional wing for measurement and support, but the K5 comes with an onboard storage wing. This improvement/addition makes it easier for users to access tools and keep away all of the required accessories without needing extra attachments. Another thing to note is the size; the Kreg K5 is visibly larger than K4 and other models, which must be considered. 
If you are used to carrying equipment around, then there is a chance that you might not prefer the K5 because of its limited portability. On the other hand, consider if you are going to build larger pieces of wooden furniture like outdoor garden dining tables or wall-length bookshelves. If yes, there isn't a better option than Kreg K5. 
We say this because K5 is designed to support larger pieces of wood, and working with K5 will help you tremendously with cutting larger panels. Another new feature of the K5 is the new swiveling dust extraction system which allows for more movement of the dust vacuum pipes. 
This extra maneuverability may not seem like much, but it can prevent your pipes from tearing in case they are bent in the wrong direction. You can't find the same benefit in the Kreg K4, which has a locked dust extraction that does not allow any movement.
Lastly, K5 also comes with a small block that can be used to adjust thickness for cutting and incisions. It is portable, so you can move it around to conduct repairs and building work.
Who Can Use Kreg K4 and Kreg K5?
K4 and K5 indeed have similar features and provide almost the same functions for woodworking. But there are a few things that users might want to know about before purchasing. 
Both of these models can be used by professional woodworkers as well as people who are developing carpentry as a hobby or part-time work. However, each model gives different benefits for contrasting uses, and people might find one more suitable for specific tasks.
Who Can Use K4?
When it comes to the K4 model, this model was heavily designed for beginners and DIYers to make their tasks seem less daunting. The evidence for this can be found in its easy-to-use interface, which doesn't require prior experience or reading of extensive manuals. Even a novice can complete tasks like pocket joinery without the help of a professional. 
If you are looking to work with a straightforward machine that assists you well in all basic woodworking tasks, K4 might be the perfect design. It has intuitive features like a sturdy toggle clamp along with regular add ons like drill bits. 
Who Can Use K5?
What's different about the Kreg K5 is that it was built with a specific purpose in mind. The makers wanted to create a product that would excel at enhanced pocket joinery machining, which professional carpenters can make the best use of. It is easy to see that K5 is the more sophisticated and upgraded jig option when you compare them next to each other. 
The thing is, K5 provides many features which are not found in K4 and older models, so it becomes a good choice for specific reasons. One of the things you might like to note is the swiveling dust collector, which is exclusively available in the K5 model. 
So, if you are someone who cannot do without vacuuming large piles of dust while working, you definitely need to opt for K5. Also, the swivel is not available in K4; instead, the dust collector stays fixed in one place. 
In short, if we have to summarize who can make the best use of K5 – they make a perfect choice for a professional fabrication worker. We say this because even though many design elements overlap with K4, the K5 model is superior and better suited for bigger builds.
Kreg K4 and Kreg K5 Compared 
Now that we have seen Kreg K4 and K5 individually with their features, let's find out how they compare to each other. In this section, we will highlight the features of both models and see them one at a time to understand which one stands out. 
The primary purpose of this comparison is to explore all the details within both jigs and assist you in making an informed decision before purchasing.
Similarities
Both Kreg K4 and K5 have a 3-hole drill guide included. This features various settings for the width of materials which can be found on the main base of both jigs. In both devices, the main base has a clamping recess which allows you to clamp the tools to your workstation. Both of them also have dust collectors, but the design is vastly different.
Feature Comparison Between Kreg K4 And K5
Clamping System
Let's start with the K4 clamping system. The K4 features a large clamping mechanism, and the main purpose for this aspect is to secure any materials or tools you are working with. This feature makes sure that the wood you need to cut is firmly in place so that the cuts are even and error-free. 
Also, it's easy to secure to the workbench, so that is one less thing to worry about. 
But let's compare K4 to the clamping system of K5. Unlike K4, which has a separate clamp that needs to be adjusted, the K5 has an in-built clamping system which is far more superior. 
Attaching the tool and material to the table or workstation is pretty easy and cost-effective in the long run. We say it is cost-effective because of two reasons. The first being its sturdy nature which does not rust or spoil, thus lasting for years to come. Secondly, there is no need to purchase any extra accessories or attachments to fix the jib to your workstation.
Which one is superior? – Kreg K5 
Collection Of Dust
Any woodwork requires a lot of drilling, and creating pocket holes using jigs involves even more drilling leaving large quantities of sand dust. Ideally, you will need a jig system that can efficiently remove most of the dust as you work. 
K4 and K5 both have a dust port which allows for seamless collection of dust, saving your surroundings from sawing and cutting messes. However, one of the drawbacks of K4 is that it does not come with a method of integrated dust collection features. 
There is a port that you can attach to the shop vac and remove the dust, but it does not have much movability. This can result in dust falling to the ground if not used correctly and then sweeping it off, making it time-consuming. If you think this will be too much of a hassle, maybe you should steer clear of the K4 and check out the Kreg K5 instead.
K5 has a swiveling dust collector that can be attached to the vacuum to remove dust simultaneously while cutting materials. Since it moves from side to side, the added movement gives the hose/pipe more leeway to move around. This feature makes it easier to attach the shop vac and protects the hose from tearing overuse. 
So, even though both the jigs come with a dust collection feature, the K5 is definitely one step ahead.
Which one is superior? – Kreg K5
Portability
The K5 is physically larger in size and slightly heavier than the K4 model. The weight might not seem much at first, but it might get tedious when you need to carry it from one workplace to the other. Most users prefer to own a tool that fits in the truck and can be driven around to different locations. 
This is all the more important for professionals who need to carry their gear to a client's house. We think that both are well designed to carry and can easily be placed at the back of your truck. But, if we compare the two, the K4 model is lighter and gives better portability.
Which one is superior? – Kreg K4
Storage
When it comes to K5, this pocket hole jig is clearly superior because it fulfills all the needs of a jig while providing a storage area. The design has support extension wings on two sides which are absent in the K4 model. 
The second benefit of these wings is that they double up to make storage containers. This makes the woodworker's packing and storing job much easier, and there isn't any need to find a separate container to keep the jig in. 
Which one is superior? – Kreg K5 
Other Features
In the K5 master system, there is a recess that makes a place for the clamping tool to fit. The tool can be secured to your work table, and this is the same for both K4 and K5. However, the difference in the K5 jig is that it has a front mounting clamping system that includes an ergonomically designed handle. 
To use this, you have to apply a little pressure and move the handle downwards, away from the jib and the table. This is an update to the older model and allows for a firm grip of the material, which does not move while cutting. 
Functional Differences Between Kreg K4 And Kreg K5
Usage
Kreg K4 is designed keeping in mind newer woodworkers, so they are pretty easy to use and don't need elaborate instructions. Since it is made for beginners and DIYers, the parts aren't too complex either. On the other hand, if we compare this to the Kreg K5, it is pretty clear that this model is more advanced than the K4. 
There is nothing surprising about this because most companies like to release new and improved models from time to time. In the same way, you can consider the K5 as a better and improved version of K4 and other previous models. 
However, there is one specific function for which K5 is designed. Kreg K5 is pretty much the best jig when it comes to enhanced pocket joinery machining. So, if this purpose is essential for your builds, it doesn't get much better than K5.
Clamp And Dust Collector
Kreg K5 has a new feature that was not previously available with the K4 model. It has a swiveling dust collector port to allow the user to attach pipes for efficiently removing dust while working. Since this dust port can swivel, it gives a wider range of movement. They don't provide any other kit for dust collecting, so you'll have to purchase that separately. 
K4 does not have this feature, but it does come with a toggle clamp. This toggle clamp is pretty durable and can be used to secure wood components in position securely. The clamp provided with the K4 model can hold thicker materials firmly and are overall reliable.
Project Size
Those of you who are going to build elaborate wooden pieces, the Kreg K5 would be preferable. The overall features of K5 are more than enough to support large-scale projects and fulfill all the needs for evenly cutting larger wood panels. 
However, for smaller projects like wooden tables, kitchen cabinets, garden benches, crates, small dining tables, the Kreg K4 model would be good enough. 
Price
If we compare the price, the K5 is priced a bit higher compared to the K4. However, if you think about it, K5 significantly improves almost all the aspects of the previous models. It even comes with extra features providing much more versatility than the K4. This is why it also costs more than other models, including the K4. 
The Major Differences – Summary
Forward Facing Clamp Lever in K5 allows for smoother operation 

Storage Wings in K5 help with storage

In-built clamp In K5 makes for easier and faster woodworking
Our Verdict – Is There A Winner?
Without a doubt, the better jig is the Kreg K5. It has more features than the previous models and was a pleasant improvement to the K4. 
Not that K4 is a subpar product. In fact, K4 has plenty of valuable features, which make it a great product to start woodwork for newbies. Besides, not everyone needs an overly powerful and advanced system, especially not those invested in house repairs and DIY. 
Which One Should You Buy?
Making a selection of the best model will depend on your needs and purpose. Although one model is far better than the other in some ways, it might not be the right choice for you. 
If you are a woodworker or love to DIY for home improvement, the K4 would be enough to take care of all your needs. The older but functional model would be a reliable choice for repairs and building smaller objects in your garage or backyard. 
Since the K4 is priced on the lower end, you can keep that in mind if you are working within a budget. The best part is when selecting this option; you are not compromising on quality; thus, you get a low-cost yet good-quality product.
Alternatively, if you are a professional material fabricator or woodworker, you might need a robust system that can last many hours of heavy work. If that is the case, then the K5 would be better suited to your work since you might need to use it for long hours. 
Final Words 
So, here was our comprehensive comparison between two of Kreg jigs – the K4 and the K5.
We hope the information in this guide helps you to make the best decision based on your woodworking needs. As we already mentioned, we did find that Kreg K5 was the better choice out of the two. 
However, your work experience, the scale of work, and the frequency of work will decide which model you finally purchase. 
All you need to know about K4 and K5 jigs are listed in this article. So, feel free to come back if you want to check on some info again. If you already have either of these jigs, do you agree with our comparison? Tell us about your experiences in the comments below.
That's it for today. Bye-bye folks!
Related Articles
11 Best Kreg Jig Pocket Hole Alternatives To Consider
9 Best Dowel Jigs Most Durable & Accurate
Cobalt vs. Titanium Drill Bits
13 Best Screwdriver Sets on the Market Today
Top 13 Useful DIY Tools for Your Projects
11 Best Tap And Die Set on the Market Today
11 Best Wood Chisels to Enjoy Today
11 Best Sliding Compound Miter Saws
Kobalt vs. Husky vs. Craftsman | Husky Tools Reviews
13 Best Drill Bits for Metal Right Now
19 Different Types Of Hand Planes & How To Use Them