12,000 BTU air conditioners are the most popular units in the market, and the Midea EasyCool Window Air Conditioner is my top pick for its varied modes and washable filter. However, the Senville LETO series mini-split and TCL's window AC are also worth checking out, thanks to their smart controls and quick cooling.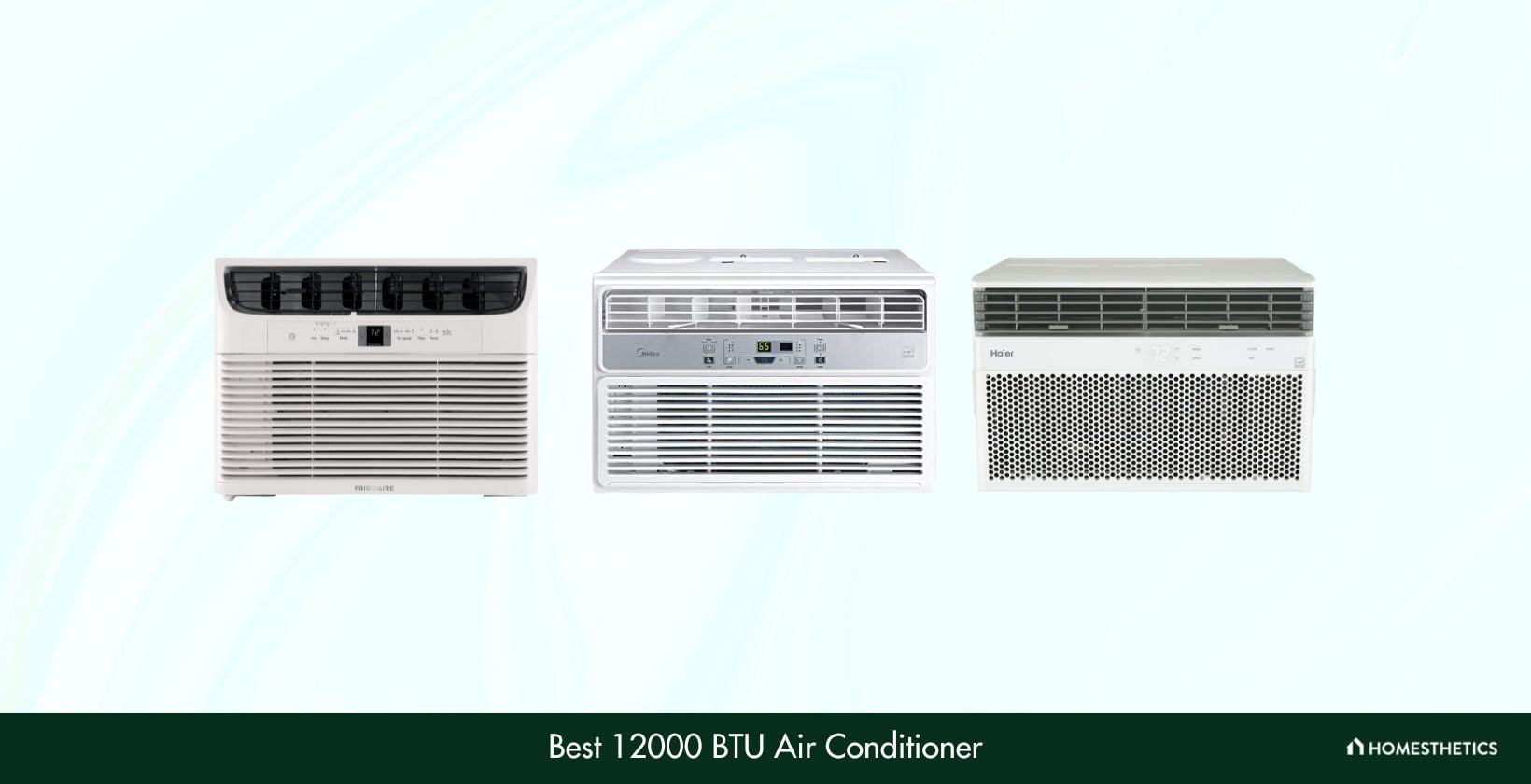 A 12000 BTU air conditioner (or a one-ton unit) can be used for cooling areas ranging from 400 to 600 square feet. Ideal for kitchens, mid-size apartments, and rooms with high ceilings, a 12000 BTU air conditioner is a practical choice with wide features like remote control, automatic mode, Wi-Fi connectivity, etc.
However, it can be quite challenging to find a suitable 12000 BTU air conditioner, so here are the detailed reviews and a buying guide on some of the best multipurpose units with heating and dehumidification modes included.
Listed below are the Best 12000 BTU Air Conditioners:
Midea EasyCool: The Midea EasyCool Window Air Conditioner is energy star-certified and equipped with a 3-in-1 capacity. It is notable for producing some noise during restarts.
Senville LETO Series: The Senville LETO Series Mini Split Air Conditioner stands out for its Alexa-enabled controls but requires professional installation.
TCL Window AC: The TCL Window Air Conditioner offers affordability and advanced 8-way cooling but does not come with a manufacturer warranty.
Koldfront AC: The Koldfront Air Conditioner distinguishes itself with its notable heating capacity, necessitating a 230V outlet.
DELLA Mini Split: The DELLA Mini Split Air Conditioner is renowned for its fluorine deficiency protection and comes with a high price point.
"Here's the list of the 15 best 12000 BTU air conditioners for cooling areas from 400 to 600 square feet, featuring remote control, automatic mode, Wi-Fi connectivity, and more!"
1. Midea EasyCool Window Air Conditioner - Best For Washable Air Filter
This affordable window air conditioner from the Midea Group is a three-in-one unit that also acts as a heater and dehumidifier. Besides, the three modes can quickly circulate cool air with their three fan speeds and reduce humidity in the space. Since Midea's EasyCool model is Energy Star-certified, it helps in energy conservation in every climate and even offers low ambient cooling. 
You can make it more energy-efficient by using custom settings, such as Eco mode and EasyTimer feature, to schedule cooling and reduce energy costs.
Even though this 12000 BTU air conditioning unit has cooling speeds, its quiet operation makes it more silent than most home appliances. Moreover, the battery-included remote control and LED display make it easy to set the AC unit at the desired temperature and mode. I found these window units especially easy to maintain compared to mini splits due to their reusable and washable filter that can filter out even the smallest dust particles and pet hair.
What's more, you can easily install these window air conditioners from Midea into a pre-existing frame close to the window sill, ideally measuring 23"-36"-14". Mounting accessories, including pilot holes and window brackets, are included with this air conditioner, so you just need to read the instructions and set it up. 
However, I have noticed that this unit makes a loud noise when it is set to restart - it gradually falls silent as the system runs for a while, though. 
2. Senville LETO Series Mini Split Air Conditioner - Best For Alexa-Enabled Control
Senville's LETO Series allows you to control your window air conditioner through a mobile app via Amazon's Alexa. Even simple voice control apps on your smartphone can set routines for the portable air conditioner, helping it increase energy efficiency by up to 40% while you're away. This 4-in-1 ductless mini split includes air conditioning, heat pumps, a turbo feature, a fan, and a dehumidifier to control moisture and maintain a comfortable temperature. 
Moreover, Senville's Mini Split Air Conditioner has a UL-listed and AHRI-certified DC power inverter with a 12,000 BTUcooling power and seasonally adjusted cooling capacity.
 Ideal for bedrooms, living rooms, and even commercial spaces like restaurants, this air conditioner has a durable and dependable build with an elegant design for aesthetic purposes. Further, its 2410A refrigerant, coupled with its premium compressor, quickly releases cold air or heat to achieve the ideal ambient temperature.
This LETO series air conditioner has a low noise output, so it doesn't keep you from enjoying good sleep or concentrating on work. And, although Senville provides a full 16 ft. installation kit, you must hire a professional installation service to fix it. On a lighter note, Senville backs up its product quality with a 5-year warranty on its compressor and AC unit parts.
3. TCL Window Air Conditioner - Best For 8-Way Cooling Technology
This window air conditioner from TCL is one of the most affordable window AC units available on the market. Highly rated by customers on Amazon, the TCL Home Series window AC has a powerful 12000 BTU cooling capacity that can quickly cool any room measuring up to 550 square feet. You can also choose multiple fan speeds to achieve your desired temperature and set it to sleep mode for efficient energy use. 
TCL has specifically designed this portable air conditioner for quiet operation with its noise level being as low as 55 Decibel. So, this unit will save you money in the long run since it is Energy Star-certified and has an eco-mode feature that actively saves energy during the day. And thanks to its compact build, this small AC is easily portable and quick to install without any unwanted hassle. 
The TCL Home Series Window AC also allows customizable air flow direction, so you can choose where, how and in which direction the air circulation works. With its 4-way directional vents, this window air conditioner can use its 8-way cooling technology to evenly change the room temperature. However, there's no manufacturer warranty for this air conditioner, so you'll have to pay for repairing it even if something goes wrong with the internal parts.
4. Koldfront Window Air Conditioner - Best For High Heating Capacity
Koldfront WAX12001W's powerful 12000 BTU cooling capacity can easily cool a room up to 550 square feet and comfortably heat it in colder weather. With a simple remote control with an LED display, this window air conditioner is easy to operate from the comfort of your couch and bed. 
What's more, Koldfront's window AC has electronic touch buttons on its surface for adjusting fan speeds, temperature, and timer operations. You won't need instructions to achieve optimal temperature as it is pretty simple to use, especially due to its big digital display. 
Its four-directional air louvers help evenly spread the cool air, while its energy saver mode quickly turns off the window AC unit or switches it to sleep mode for energy efficiency. Further, it is one of the few compact and durable window air conditioners with a high seasonal energy efficiency ratio and a prompt energy saver mode. 
The Koldfront WAX12001W window AC comes with fully-operational installation hardware and weather seals for easy mounting and maintenance. Finally, the Koldfront store promises to deliver speedy technical assistance and customer support in case of any issues related to their air conditioners. However, I recommend checking whether you have a 230V electric outlet since this AC unit doesn't function with the standard 115 V outlet.
5. DELLA Mini Split Air Conditioner - Best For Fluorine Deficiency Protection
Della's 12000 BTU ductless mini split comes with a pre-charged inverter to aid in dehumidification and heating, besides cooling, which can work for a space up to 550 square feet. 
Although this wall air conditioner can be expensive, I find it quite efficient, especially because of its smart sensor that automatically adjusts the airflow and temperature for optimal comfort and energy conservation.
Moreover, its WiFi-enabled remote control lets you adjust the temperature and fan speed from anywhere in the house using the Della+ mobile app. Another thing that's rare among AC units is its self-cleaning and diagnostic setting that automatically cleans the interior of the unit, removes dust and debris, and maintains air purity in the home. You can further maintain and clean the AC unit via its demountable underjaw and front panel, which can be easily mounted again.
Della's 12000 BTU AC has premium construction features such as the Blue Fin and anti-PM 2.5, which are anti-corrosive and prevent fine particles from polluting the home environment. Further, it's equipped with fluorine protection which actively detects any Freon leaks and protects the interior from any damage. It's also one of the quietest air conditioners with ultra-silent operation measured at 30-41 dB only.
6. FRIGIDAIRE Window-Mounted Air Conditioner - Best For Check Filter Alert
This portable AC unit from FRIGIDAIRE has a 12,000 BTU or 3.8 Pint per hour cooling capacity that can easily cool and dehumidify a room up to 550 square feet in a few minutes. With its inverter compressor, this energy-efficient portable air conditioner can activate itself with very low power, thus, removing the chances of sudden loads on the electric port. What's more, the exterior is made from high-quality PVC materials that last a long time. 
Its electronic touch buttons further improve the operating experience, as you can select various timers and sensors with just a touch of a button. Plus, it comes with a remote control feature that you can use to select different settings, including sleep mode, three-cooling speeds, multi-speed fan, 24-hour on/off timer, etc. The window unit also includes a washable filter that can be easily dismantled and cleaned for fresh air every time.
But how to know when to clean the air filter? You don't need to worry about that, as its check filter alert will notify you when it's time to clean. These portable units are also easy to install and maintain- all you need to do is haul the AC unit into the window frame and connect it to an outlet. However, you'll need some good muscle power to haul this unit since it is quite heavy.
7. SereneLife Portable Air Conditioner Home AC - Best For High Air Circulation
Want to avoid buying multiple air conditioners? SereneLife SLPAC12.5 is a portable air conditioner that you can move to different rooms when you need it, saving money in the process. Its lightweight, sturdy, and sleek design is ideal for bedrooms, living rooms, and garages, and its attached rolling wheels aid in smooth portability. This portable air conditioner from SereneLife can be operated with a simple electric plug without installation or mounting, thus saving space.
Equipped with easy-to-operate touch buttons, you can switch between three cooling modes, three fan speeds, and the dehumidifier for enhanced usability. SereneLife SLPAC12.5 also has an automatic swing mode with variable fans for better air circulation. Moreover, if you suffer from shortness of breath like me, this AC unit's built-in dehumidifier balances the moisture level at 1.8 liters/hour for better air quality. However, this air conditioning unit doesn't come with a heating mode, so you'll need to purchase a separate heater for winters.
Its 12,000 BTU cooling capacity is powerful enough to cool a room up to 450+ square feet, while it has a moderate airflow rating of 290 M3/hour. You can sleep peacefully without any audible disturbance due to its quiet operation, which has a maximum noise level of 56 dB. Lastly, its digital touch remote control has an advanced control panel with various modes, a timer, temperature, fan speed settings, and even a unit selector (Fahrenheit/ Celsius).
8. BLACK+DECKER Portable Air Conditioner - Best For 4-in-1 Function
BLACK+DECKER has come through in the air conditioner industry with its heating and cooling unit at an affordable price point. Its 12,000 BTU cooling capacity and 8,000 BTU capacity for heating can provide fresh, cool air during summers while keeping you warm and cozy during winters, respectively. Its adjustable fan speeds and auto swing feature can quickly change the room temperature from 61 to 88 degrees Fahrenheit.
Further, it maintains low noise levels in sleeping mode and reaches a max of 54 dB on the highest setting. Ideal for dorms, cabins, offices, bedrooms, and garages, this portable AC unit has enough cooling power to cool up to 350 square footage steadily. BLACK+DECKER's energy-efficient AC unit combines four functions, including cooling, heating, fan, and dehumidification, in one machine. 
Besides, its bucket-less, evaporating technology ensures zero spillage and keeps your space clean and dry. Its easily dismantled and washable filter also makes this unit highly efficient and improves energy savings by removing blocks in the air filter.
Moreover, its top-mounted display allows you to control the temperature and 24-hour timer settings precisely. BLACK+DECKER includes handles and castor wheels on the basic units for easier portability and also provides foam seal, slider bracket, air exhaust hose, and locking screws for daily operation. The only fault that I could find in this unit is its low height, which can prevent proper airflow, especially if there's too much furniture in the room.
9. TOSOT Window Air Conditioner - Best For Built-In Indoor Thermostat
This window air conditioner from TOSOT has a 12,000 BTU cooling output that can evenly cool rooms up to 550 square footage, especially closed spaces that remain fully occupied. This UL-listed and Energy Star-certified unit cools air without high electric consumption, while its R32 refrigeration doesn't negatively affect the environment compared to others. TOSOT's window air conditioners provide three modes in one machine, including fan-only and dehumidifier modes.
Further, unlike most air conditioners, the thermostat is present in the window unit itself for better safety and easier maintenance. The remote control also has a thermostat option, which helps the air conditioner adjust its temperature according to the ambience. What's more, the filter cleaning icon will alert you to clean the filter, which is washable with mild soap and water every 250 hours.
Like any standard air conditioner, it features an automatic swing louver that equally distributes the air throughout the space to maintain the desired temperature. Finally, TOSOT's window air conditioner has an easy installation process–you just need to insert it into the window frame and attach it to an outlet.
10. Haier Window Air Conditioner - Best For Google Assistant-Enabled Control
Haier's Window Air Conditioner with smart control is another affordable option with a 12,000 BTU cooling capacity, capable of cooling up to 550 square footage. Ideal for living and family rooms, this window air conditioner quietly operates with low noise levels and saves energy for low utility bills. 
With its Energy Star-certified inverter compressor and ECO mode, this window unit automatically turns off the fan and compressor upon reaching the set temperature. Further, it has three energy-efficient cooling modes and fan speeds for greater flexibility and temperature options that cater to individual preferences.
Moreover, this window air conditioner from Haier is integrated with the SmartHQ app that is compatible with devices like Amazon Alexa and Google Assistant. With such accessibility and versatility, Haier makes everyday use much simpler and more remote. Plus, the easy-to-operate user interface on the SmartHQ made it really easy for me to understand how to control the window air conditioner. 
To make things even easier, it comes with a washable air filter that can be removed and cleaned under running water. Besides these varied features, this window air conditioner is easy to install, as it has a fixed chassis that can simply mount on a double-hung window. Haier also provides an EZ Mount installation kit to help you with the process. 
11. LG Window-Mounted Air Conditioner - Best For Auto-Restart Feature
The LW1216HR is a traditional air conditioner model from LG that has a 12,000 BTU cooling power that can cool up to 550 square footage. In comparison, its 11,200 BTU heating output can heat rooms measuring up to 450 square feet. The unit works at 3500 Watts and has an airflow capacity of 265 cubic feet/ minute. Further, this window AC unit features two cooling speeds, two fan speeds, and two heating modes for better adjustment and flexibility.
Whether it is hot or cold outside, this unit allows you to enjoy a comfortable temperature while going big on energy savings, thanks to its 11.3 SEER. It can efficiently replace the stale indoor air with fresh outdoor air while maintaining a low noise output. LG has also equipped the unit with a smart auto restart feature that allows the fan to restart on the previous setting to prevent unexpected damage during power surges or load sheddings. 
What's more, it has an energy saver mode that automatically shuts off the unit when it reaches the set temperature. It comes with a full installation kit, including mounting brackets and a plug-in cord to facilitate the installation process. LG also fulfills its customer expectations by providing a one-year warranty on AC parts and labor.
12. ApooDr Mini Split Air Conditioner - Best For Anti-Corrosive Material
This all-in-one ductless mini split AC has a high-performance DC fan motor with high-speed levels ranging from grade 2 to grade 10. With its 12,000 BTU cooling capacity and AHRI-certified and UL-listed compressor, this mini-split effectively cools the room temperature within a few minutes. Further, it actively saves energy with its high SEER and 9.4 HSPF rating. 
Moreover, I find this mini split AC very functional and easy to maintain because of its easily washable air filter, which removes any hassle during maintenance. The 'golden fin' also removes any changes of interlopers, such as birds or pests, from breeding in the outdoor unit.
When set to the heating mode, the number of groove teeth on the tube increases the heat transfer area and efficiency by 7.3% while keeping the air clean. Moreover, the heat exchangers have a unique anti-corrosive golden coating which prevents damage from rain, air with high salt content, and other corrosive elements. 
Its backlit LCD remote with proximity sensor further allows you to access different AC modes, including auto, heat, dry, and fan modes. This air conditioner can also utilize the Self Diagnosis function with just the touch of a button. Further, the unit comes with a free installation kit and other accessories, including communication wires and a copper line set. 
The brand also offers a 5-year warranty on the compressor and a 2-year warranty on the other parts. However, the mini split AC unit requires professional installation to avoid system issues and wiring damage since there's no installation manual provided.
13. Whynter Portable Air Conditioner - Best For Activated Carbon Filter
The Whynter ARC-12S portable air conditioner is an affordable yet elegant option for cooling, heating, and dehumidification. With a 91-pint capacity and 12,000 BTU cooling power, this portable AC unit can easily cool up to 400 square feet with its three operational modes. But its low SEER rating can be a bummer for people looking for high energy efficiency. 
These modes include air conditioning, fan, and dehumidifier, along with multiple timers and temperature settings. Plus, this window air conditioner operates with low noise levels of 52.5 dB for a peaceful sleep.
Whynter's window AC unit stands out because of its auto drain feature that fully drains the condensate through the specifically designed lower rain port for smooth operation. Moreover, its activated carbon filter removes dust and allergens from the air before circulating them in the room. Simply wash it with mild soap and running water when it accumulates enough debris, and you're good to go.
Whynter has also come through with environmental consciousness by including CFC-free R-410a eco-friendly refrigerant and RoHS-compliant lead-free components. Furthermore, it has an advanced LCDI ( Leak-Current Detection And Interruption) plug that cuts off the electric supply when it detects even the tiniest current leaks.
It also comes with a programmable digital remote control for easy operation and temperature setting. A protective cover, window kit, pre-filter, and user manual are included with the window air conditioner. 
14. Rintuf Portable AC - Best For Wide 120° Blade Oscillation
Rintuf 2022 Portable AC's 12000 BTU cooling output allows it to generate up to 62 degrees Fahrenheit of cool air and cover an area of 550 square feet. It quickly cools down any space, be it your living room, bedroom, or office, so you can turn it off for energy conservation. When set to the cooling fan mode, its 120-degree blade oscillation with 20 ft. wind distance speedily spreads air evenly around the room. And you can choose between three cooling speeds and swing modes.
Rintuf's portable AC unit features a washable filter that you can detach and place under running water to clean. Its dehumidifier also works like a breeze with its ability to remove up to 59.2 pints of moisture from the air. I find this feature very handy in hot and humid weather, especially for issues like moldy furniture, musty smell, and wet clothes. 
Plus, it cares for your sleep, as its low noise sleep mode helps operate the unit below 53 dB while increasing the temperature by 2°F every hour. With an intuitive control panel and high-quality remote control, you can easily operate your portable AC unit from the comfort of the bed or couch. Rintuf also provides universal wheels and an ergonomic handle for improving the mobility of the product.
However, this portable AC unit doesn't have any heating feature, so you'll have to purchase a space heater to beat the cold. 
15. Tripp Lite Portable Air Conditioner - Best For Heat-Sensitive Compressor
Even though this portable air conditioner is compact and small-sized, it is quite efficient at cooling due to its 12000 BTU capacity. 
However, it limits itself to 3.5 kilo-watts to prevent the unit from overheating, thereby causing damage. So, it is ideal for heat-sensitive environments like the server room or other places with equipment. Tripp also comes through with their eco-friendly pledge by including a R-410a refrigerant that complies with worldwide standards.
The Tripp Lite Portable Air Conditioner has a self-contained design with no plumbing or internal circuit passageways. Its built-in evaporator removes the condensed matter through the exhaust duct, so you don't need a drain pipe, water collection pan, or tube. Besides, this portable AC unit has an additional flexible tube that you can use to direct the cold air toward an enclosed hotspot or overheated rack. 
It features a high-quality air filter and humidifier that produces cool, fresh air per the 100 percent duty cycle. You can remotely operate these portable units with the digital remote control for efficient temperature management. 
For advanced monitoring, install the SRCOOL network module sold separately to receive alerts, check logs, and control temperature from anywhere. Moreover, Tripp's portable AC comes with a two-year limited warranty and guaranteed technical support. 
But if you don't want to invest too much in an HVAC system, I suggest purchasing other models since this one is quite expensive.
What Are the Best 12000 Btu Air Conditioners?
When determining the most effective 12000 British thermal unit (Btu) air conditioners, a comparison along several critical operational criteria is necessary. This includes their Energy Star rating, the required Voltage for operation, the Seasonal Energy Efficiency Ratio (SEER), and their overall physical Dimensions.
Buying Guide For The Best 12000 BTU Air Conditioner
Room Size
Most air conditioners have different cooling and heating capacities; for example, an AC unit with 8,000 BTU cooling power can have only 5,000 BTU heating capacity. It is the same for 12,000 BTU air conditioners, although they are powerful enough to cover up to 400 to 600 square feet. You can also use these air conditioners for garages, living and family rooms, and large panel rooms. 
However, you might want to go for a higher cooling capacity if you're looking for an AC unit for a space with high ceilings or an open floor plan. You can also use two of these 12,000 BTU units to compensate for the space in this case.
Power And Electricity Consumption
Before ordering a 12,000 BTU AC unit, first, you need to check how much electricity the air conditioner consumes per hour. Even though these air conditioners are relatively energy efficient due to their high SEER ratings, you might need circuit breakers if you go past 10,000 BTU. You will also require at least 20 amp circuit breakers since operating these high-power units with low amperage circuits can cause power loss and damage to the appliances.
Portability
Many kinds of air conditioners can have a 12,000 BTU cooling power–from portable air conditioners and mini splits to window units–there are multiple options out there. However, mini splits and window air conditioners require installation and cannot be moved after they are mounted onto the window frame, wall, or ceiling. 
If you want to save shopping costs and would rather not buy multiple air conditioners, you can opt for portable AC units with cartwheels, ergonomic handles, and compact design. They are also easy to store if you want to put them in storage when you go on a vacation.
Energy Efficiency
One of the main factors people consider when purchasing any air conditioner or cooling system is whether it has an energy-efficient compressor or AC mode. As BTU increases, the energy efficiency rate of an AC unit usually decreases. For example, although a 12,000 BTU air conditioner has a much higher cooling capacity, a 5,000 BTU AC unit consumes much less energy and will reduce electricity costs.
On that note, these are the most common energy efficiency ratings for AC units:
i. Seasonal Energy Efficiency Ratio (SEER):
This ratio indicates the amount of British Thermal Units (BTU) used per watt during the unit's operation. As a thumb rule, the higher the SEER rating, the higher efficiency and energy savings. I prefer air conditioners with higher SEER ratings, even if they are expensive since they will save more money in the long run. Further, the U.S. Energy Department recommends consumers purchase ACs with SEER ratings higher than 10.
ii. Energy Star:
It has been quite common for a while for people to check the number of Energy Stars on any electrical appliance. And that's a good habit, as each Energy Star certification results in 10% lower energy consumption. So, if you find an air conditioner with five Energy Stars, you can potentially save up to 50% on your bills. Look for Energy Star-certified AC units if you find it difficult to find one with a high SEER rating.
Additional Features
Some additional smart features are worth spending a few extra bucks for. Usually, higher BTU units have more features and AC modes than their lower BTU counterparts. These include remote control, energy saving mode, turbo mode, self-diagnostic and self-cleaning function, WiFi and Alexa-enabled operation, and voice activation. Such versatile features can improve your overall experience, although the prices start scaling with additional features, especially ones with a smart app or remote.
Longevity
12,000 BTU air conditioners can last ten years with proper care and maintenance. Some manufacturers also provide a 5-year warranty on select models, while self-evaporating AC units can have a higher warranty period. For a better understanding, I have listed a few factors that contribute to the longevity of the best 12000 BTU air conditioner:
i. Usage
Like every other electrical home appliance, the longer an AC unit is used, the lower its longevity. If an air conditioner is only used for three to four weeks, it will definitely last longer than one which is continuously used for three or four months. Likewise, if you use an air conditioner when used for many hours at a stretch, it will likely last for a shorter time.
ii. Direct Sunlight Or Other Corrosive Elements
Since the external component of an air conditioner is made from metal, continued exposure to direct sunlight can overhear the unit, thereby damaging the interior. If you want to purchase a window air conditioner, I recommend installing it in a north-facing window to avoid direct sunlight and provide enough shade.
Go for portable AC units or mini-splits if you want to completely eliminate the chances of sunlight damage since most of the components are interior. 
iii. Cleaning And Maintenance
Of course, taking proper care of your air conditioner can exponentially increase its longevity, regardless of its cooling power. If your washable filter is clogged with grease, dirt, and debris, it will make your air conditioner work much harder and thereby decrease its longevity. So, cleaning the filter and other removable components is important for smoother operation.
Furthermore, if you live in a particularly polluted area where the air is full of dust particles, there can be considerable damage caused to the evaporator coil. In this case, I advise you to hire professional maintenance services once in a while to remove all clogs in the system.
Consideration For Space
If you tick off one of these reasons, a 12,000 BTU air conditioner might be beneficial for your home:
You have a very large space, measuring up to 500 or 600 square feet, that needs efficient and even cooling

You want one cooling unit with enough power to cool a mid-sized apartment or larger floor space

You want to add air conditioning to your large, open kitchen under 400-450 square feet

You have an average-sized room with very high ceilings that require a high cooling capacity to cool evenly.
How Much Square Footage Can A 12,000 BTU Air Conditioner Cover?
Technically, a 12,000 BTU unit should cover a room with 400 square feet dimensions. However, the air coverage heavily depends on the shape and insulation of your room. If you have an irregularly shaped room with a 400 sq. ft. area, the AC unit may take longer to cool the space compared to a regularly shaped one. Same goes for rooms with no air leakage versus ones with open air outlets or poor insulation.
How Much Wattage Of Electric Power Does A 12,000 BTU Unit Use?
Typically, a 12,000 BTU air conditioner consumes 900 Watts of electrical power per hour, assuming its SEER rating is above 13. However, the power consumption will steadily rise if your AC unit has low energy efficiency or is not Energy Star certified. Contrarily, higher SEER rating will lead to low wattage consumption.
What's The Voltage Of A 12,000 BTU Unit?
Most 12,000 units, be it a window or mini split AC, has an average voltage of 115. However, you'll find other AC units with different voltage specifications.
How To Choose Cooling Capacity in BTU?
To calculate the right cooling capacity (in BTU) required for your room, use a simple thumb rule – for each square footage space, there should be 20 BTU. Simply multiply the length of your room by its width to calculate the size.
But other factors, such as the ceiling height, size of doorways and windows can call for higher cooling power.
What Does 12,000 BTU Mean?
Simply speaking, British Thermal Units (BTU) help you measure the energy your AC uses to cool the room temperature per hour. So, if an air conditioner has a 12,000 BTU capacity, then it absorbs 12,000 BTU of heat per hour and expels it outside to reduce your room temperature.
After thoroughly testing and reviewing all the 15 products on this list, I have selected the Midea EasyCool 12,000 BTU air conditioner as my top choice due to its energy-efficient cooling and easy installation. The Senville LETO series mini-split comes second place with its voice-activated control and energy-saving modes that can save up to 40% energy.
Lastly, I've chosen the TCL Home Series Window Air Conditioner as the third best product since it has a unique 8-way cooling technology and multiple fan speeds that'll help you achieve even room temperature. However, the discretion of the purchase remains in your hands.
That being said, I'll be signing off for now. Until next time!