A garage is a pretty essential space in your home for various reasons.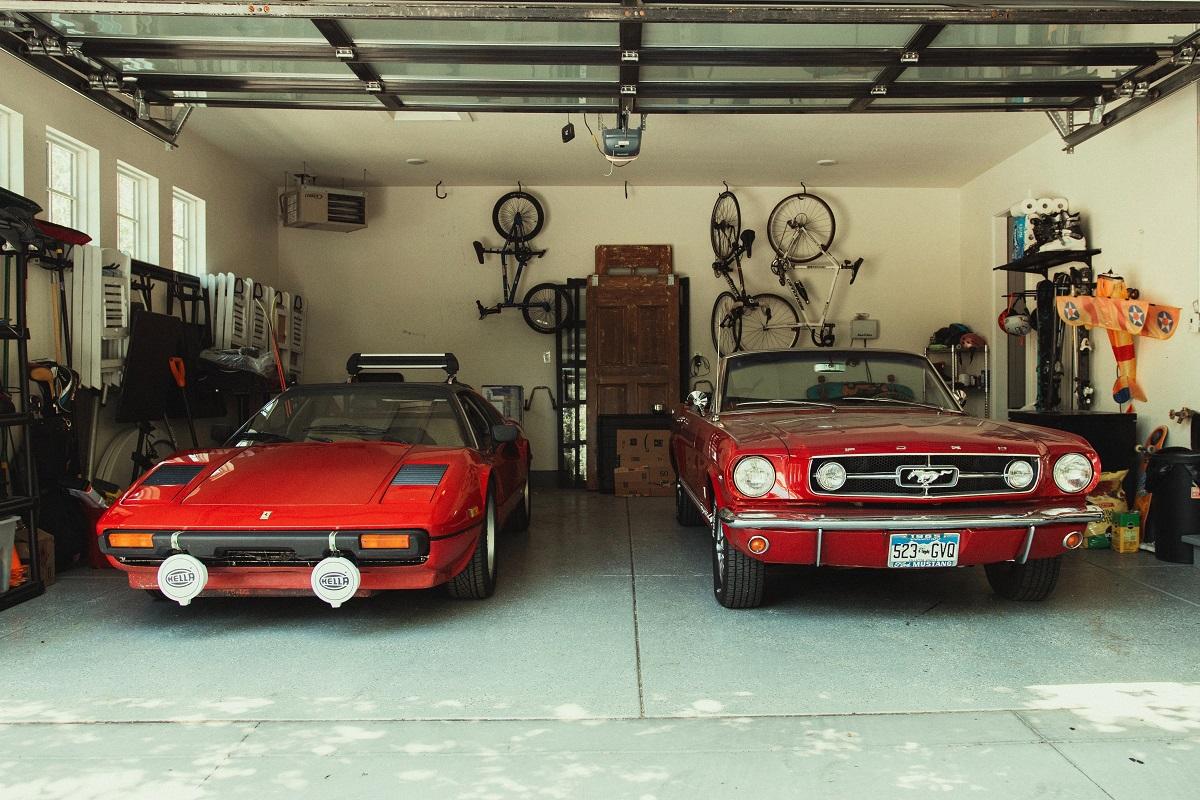 It houses a lot more items than just your vehicle. For instance, you can also store miscellaneous items like sports equipment, holiday decorations, storage bins, seasonal items, and more. And because you only need these items a few times a year, your garage space slowly turns into an inescapable maze. 
So, what do you do about it? You have to get into a 'garage organization' mindset and figure out the best garage storage system for you. Doing this will only make it easier to find what you need, as everything will have a designated spot. This way, you'll be able to use your garage as it was intended.  
So, let us take you through this list we curated of the best garage storage systems. 
Best Garage Storage Systems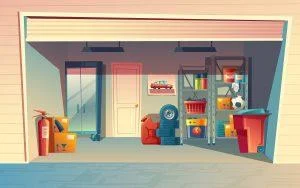 A good storage system allows you to neatly organize your items without taking up too much floor space. And with this Seville cabinet, you can easily store cleaning supplies, kitchen utilities, and a lot more while maximizing the storage space. At less than 1 square foot, this cabinet organizer is very space efficient. 
Why Did We Like It?
If you're looking to save space in your garage by adding a few racks for smaller products, then this cabinet organizer is ideal. Despite having a compact design, it can be easily hidden under your overhead storage racks or displayed by the doors where they're more accessible. 
You receive 4 poles, 3 shelves, 4 leveling feet, and 12 slip sleeves with this item. And while it may seem like a bit much to put together, it is easy to install. It shouldn't take more than 20 minutes, and you wouldn't need to use any tools either.
Moreover, the adjustable shelves allow it to be used for other purposes, such as doubling as a spice rack in the kitchen, a bathroom utility rack, or even a shoe rack for kids. Hence, you can save up more space in other rooms in the house as well.
What Could've Been Better?
While it is convenient if you're looking to save space, portability with this product could be an issue. And if you move these racks around frequently, the wheels may lose their mobility. While they are replaceable, who would want to purchase extra wheels every time they fall apart?

Pros
Compact design

Easy to install

Adjustable shelves

Multi-purpose use
Even if you have a clutter of things stored in the garage, you would want to avoid and protect them from any possible damage. Moreover, storing them on the garage floor can make them prone to water damage. And this overhead garage storage rack helps do just that.
Sale
Why Did We Like It?
Garages tend to be incredibly spacious, but if you're not smart about how to utilize them, it just ends up becoming a huge mess.
And being unable to use the ceiling space can often escalate that problem. However, this model helps you utilize the space much more effectively without any hassle.
These racks are easy to install, and you can conveniently adjust the height according to the contents you want to store up there. Besides, they are designed to be stable and sturdy and can hold up to 600 lbs easily. 
Plus, the adjustable drop-down feature allows you to optimize the rest of your space accordingly. You can also add hooks and clamps to the racks to store tools or bikes upright. Rest assured that the racks will keep everything safe from water damage, rodents, and insects. 
What Could've Been Better?
There are specific instructions to be followed to have the best working environment for this product. If you don't keep these instructions in mind before the installation, it could affect how these ceiling racks perform. Furthermore, they can't be installed parallel to the joists. 

Pros
Easy to install

Stable and sturdy

Optimizes your space well

Keeps your items safe from water damage
Cons
Performance failure upon ignoring instructions
Your garage storage most likely has a section specifically to keep your mops, shovels, and other garden tools. But they probably won't stay upright and would end up taking up a lot of space, creating a mess. However, this storage system is sturdy and will hold onto all of your tools easily. 
Sale
Why Did We Like It?
One of the many disadvantages of putting tools against your walls is that they can topple over or get tangled up easily. And that will only add up to the mess in the garage storage. But this garage storage system helps you hold your mops and tools in place, thanks to the hooks and balls design. 
Additionally, you can store smaller tools like a fly swatter, rags, and more just as easily on the hooks. It is easy to install with just a few tools, and you will be able to mount this mop and broom holder in under 30 minutes. 
Despite being made of plastic, this rack is strong and sturdy, and the ball bearings provide a lot of tension, making it easier to hold up to 10 tools. Overall, this multi-utility storage system will suit most garages.
What Could've Been Better?
Although the storage system rack can hold up to 10 tools each, it can't accommodate bigger garden tools like a rake, a shovel, and more. You could still lean it against the product, but it won't successfully hold it in place.

Pros
Easy to install

Strong and sturdy plastic exterior

Saves floor space

5 slots and 6 hooks
Cons
Won't be able to hold large garden tools
If you're a gardening enthusiast, then our next pick may just be for you. Storing your long gardening tools can be a task, as they can topple over and end up taking up a lot of extra space. But the Rubbermaid storage system helps store them easily. 
Why Did We Like It?
First and foremost, this garage storage system features special curved tubing that will securely hold your long-handled tools and keep them in place while you're taking them out or putting them back in. 
Apart from that, it features front clips that allow you to store your spades and brooms head-down, which in turn, avoids the rack from getting any heavier, making it all the more accessible. It also has clips that allow you to slide in storage from the side rather than sliding the tools from the top.
If you're afraid about your tools sliding off this product, the base of the tower has a grid pattern that prevents any of this. Additionally, there are four casters to make moving your items a lot easier. Instead of individually moving each item, you can just slide all of them all at once.
What Could've Been Better?
This storage system claims to hold up to a certain number of products, but once you go past a certain limit, it tends to lean on to its sides a little. And while it doesn't topple over, it won't roll along the floor any longer if it is too heavy. 

Pros
Special curved tubing

Front clips make storage easier

Base has a grid pattern preventing tools from falling

Four casters for easy portability
Cons
Can't handle more than 20 lightweight items
This storage system will help manage your garage space better by letting you store multiple heavy storage units. Not only does this help with better organization of the items, but it also means you have a lot more extra space for other items in the garage. 
Sale
Why Did We Like It?
A lot of the stuff we have in our garage storage tends to be pretty heavy-duty and ends up taking up a lot of space. But you'd seldom use any of these except for maybe once or twice a year.
However, this storage unit encourages heavy-duty storage. So, you can easily store all of your sports equipment, seasonal decorations, camping equipment, or gardening gear when not in use. In fact, each shelf can hold up to 200 lbs of items.
It is easy to install this product too. You don't need any tools, and it shouldn't take you any longer than 30 minutes to do it. The storage system is almost twice as heavy as any other plastic shelving unit, and it's 30% more sturdy than these too. 
But what if you have an uneven surface in your garage? The feet height of this product can be adjusted for added stability, making it easier to store these wherever.
What Could've Been Better?
The product can be paired with storage bins from the same company and is advertised to be able to accommodate 8 of these. However, the shelves are ½ -inch too small to fit them, which makes storing the bins a lot harder and slightly inconvenient.

Pros
Heavy duty storage

Weight capacity of 200lbs

Easy to install

Feet height can be adjusted
Cons
The storage bins aren't compatible with the storage rack
A garage is a very big space to scantily store your tools, especially if you need them regularly. But with this storage rack, not only will you be able to store these tools somewhere convenient, but you can also store other items like shovels, backpacks, helmets, and more.
Sale
Why Do We Like It?
If you're looking for sturdy storage solutions, then this storage rack would be ideal for various reasons. Built from heavy-duty steel, this rack can handle up to 300 lbs of gear. So, anything from your gardening tools, hammers, ladders, and more, the rack can accommodate it all. 
This rack is space efficient since it allows you to store all the necessary items on the side of the wall and out of your way. It leaves a lot more room for other items, either directly under or around it. And this makes it even more convenient the next time you're looking for your tools.
Installing this storage rack is very easy. All you need is a few power tools and a ladder, and you're good to go. You wouldn't need to measure anything either since the horizontal bar slides into the brackets easily. This is the ideal garage storage solution when it comes to keeping it organized.
What Could've Been Better?
While this storage rack seemed like the best solution to store all of our tools in one spot, it was the hooks that particularly drew us in. However, while the shorter hooks fit into the base just fine, the longer hooks did not line up with the holes in the metal base.

Pros
Strong and sturdy

Heavy duty steel body

Weight capacity of 300 lbs

Easy to install
Cons
The longer hooks don't line up with the holes on the metal base
There is nothing new about storing your tools in the garage space, especially if there's a designated workspace. But carelessly storing these in a tool chest isn't the best way to do it. But at 10.5 square feet, this pegboard organizer allows you great tool board storage versatility.
Sale
Why Did We Like It?
When it comes to organizing your tools, there are various storage options. However, if you're looking for something durable that can hold all the tools easily, then this pegboard organizer may fit the need. Not only does this let you store every type of tool you have, but this won't easily bend or give away with the weight. 
This product is easy to install with just the help of a couple of power tools, and if you're looking to add some extra storage space, you can put a number of these panels next to each other to make a larger pegboard.
Most pegboards often look very fragile and aren't that attractive, to begin with. But this product is stylish, very sturdy, and can be mounted to your wall. They also come with wall hangers, screws, hooks, and shelves that are cleverly designed and fit very well. 
What Could've Been Better?
But regardless of how attractive the panels are, they ended up coming to us with every corner oddly bent. But that wasn't the only thing that went wrong. We didn't receive a few of the screws and wall hangers, which would make putting this up slightly difficult. 

Pros
Easy to install

Extra storage option with multiple panels

Sturdy

Wall-mounted
Garage Storage Systems Buying Guide 
Organizing your garage storage and giving it a much-needed makeover is essential for a lot of reasons. 
And you get to avoid a lot of damage to your items. The items could either be insect-infested, rusting over, or just getting damaged due to being left on the floor too long. But you also get to have a neat garage space that's convenient and accessible if and when you need to find something in there. 
However, before you invest in any garage storage systems, there are a few factors to consider, and we've listed them down to help you find the best garage storage system. 
Flexibility
When you reorganize the garage, it is to make it a lot more accessible. If it isn't as easy to reorganize or switch around whenever you need to, it won't work well in the long run. So, to ensure that your garage space is flexible and convenient for you, stocking up on cabinets with built-in wheels, stackable bins, and more would be ideal. 
If you can't move around items to accommodate things like vehicles, the space for a garage door to open, or even sports gear, then it would be difficult to store these items efficiently. 
Functionality
 A storage facility should be able to store all the things you want and need. Before investing in a garage storage system, take a moment to understand what the space should look like and what needs to be stored. 
Prioritizing this process would help you understand what comes first. Whether it is changing up the space or cutting down on your items, only after you've gone through all of these steps should the garage organization system be purchased. 
Sturdiness
You have to ensure that the garage storage is sturdy, as it should be strong enough to hold all the stuff you need it to. Apart from that, it needs to be adequately durable to deal with the daily wear and tear. 
Hence, you should always look for durable materials that won't give away as easily. It should also have a high capacity to ensure it holds as much of your stuff as possible.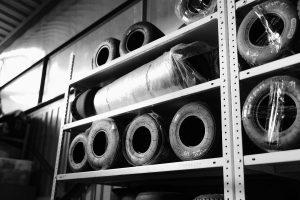 Final Words 
Organized garage storages make things a lot easier. Apart from avoiding a cluttered space, you have the freedom to store a lot more than junk in there. You can decorate it with lights to give it a unique look, or you could just organize and leave it as is. 
Before we bid adieu, we wanted to bring attention to a few of our favorites. The Seville Cabinet Organizer would be our first choice because of the adjustable shelves and multipurpose use. FLEXIMOUNTS overhead garage storage rack would be next because of how conveniently it takes care of all the negative space. 
And last, the mop and broom holder because we can stack our tools without worrying about leaving a pile of fallen tools. 
We hope our list helps narrow down your options and find what's best for you. Till next time! 
Related Links
8 Garage Door Alternatives For Your Future Home
7 Best Paint for Interior Garage Walls Right Now
13 Best Electric and Propane Heaters for Garage
10 Quietest Air Compressors For Your Garage
13 Brightest Light Bulbs For Garage