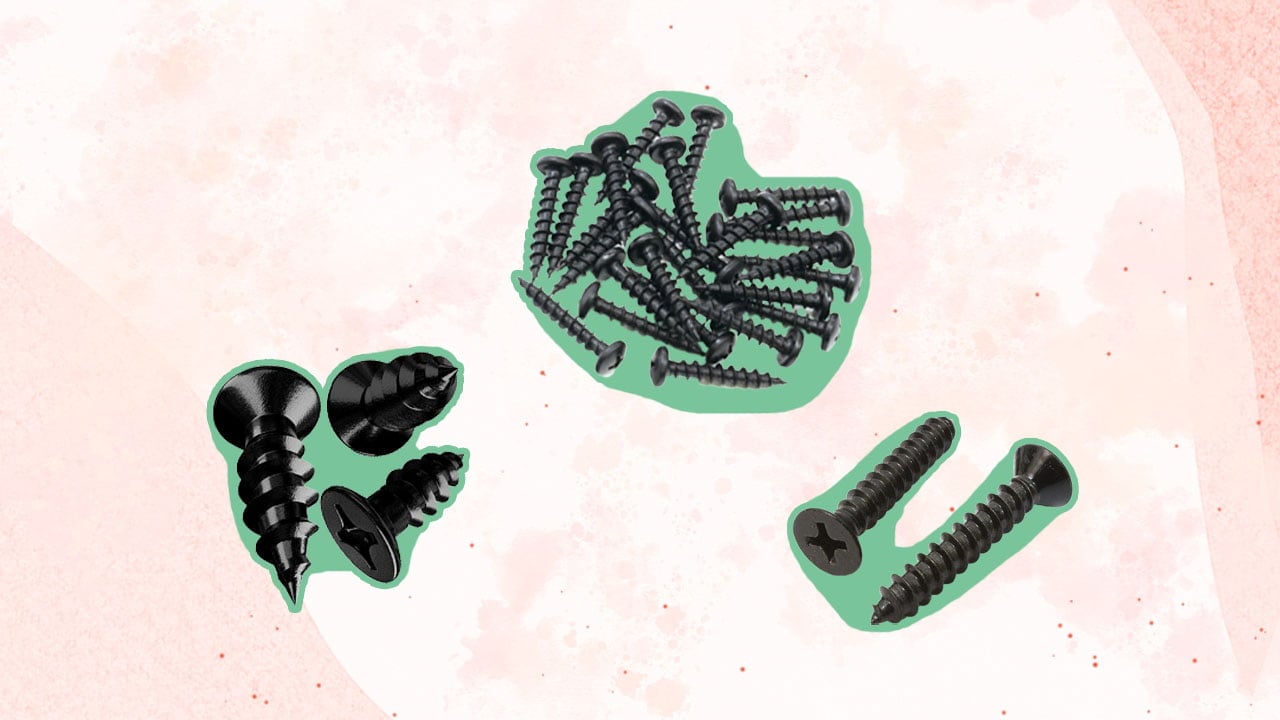 The Bolt Dropper flathead screw is ideal when working with particle boards, thanks to its stainless steel construction and full-threaded design. Similarly, the Kreg zinc pocket screw is another good option with self-tapping auger tips and a coarse thread design. 
When searching for the best screws for particle board, it is important to understand that such boards have a lower density than regular fiberboards. 
While this makes them easier to drill into, it also makes them more susceptible to damage. And using the wrong screw type can make the board unusable for any project. That's why we've reviewed the best particle board screws in this guide to help you out. 
5 Best Metal Screws For Particle Boards
What we like
High-quality, durable construction

Value for money 

Versatile

No-hassle lifetime guarantee
What we don't like
Slightly smaller head than regular screws
When searching for particle board screws, Bolt Dropper is often the first brand many people go with due to its range of high-quality home improvement hardware. These flathead screws from the brand are manufactured using high-quality stainless steel with a coating of black xylan, which makes them resistant to corrosion. 
They are one of the most durable particle board screws on the market, and you can use them in moist environments. Aside from that, this screw features a deep-cut Phillips drive, which prevents the screw head from getting stripped. Stripped heads can make it very difficult to use and even result in the screw getting stuck in the wooden surface.
Then, there is the full course thread which makes these screws very versatile, and you can use them in MDF or composite wooden boards. Since the flat heads lie flush with the surface of the board, they provide a clean and smooth appearance on any surface. 
The best part, however, is that the company offers a no-hassle lifetime guarantee on these screws. So, rest assured that getting refunds or replacements will be very easy.  
Drive System: Phillips | Head Style: Flat | Thread Coverage: Fully threaded | Thread Style: Right hand
What we like
Affordable

Easy to use

Rust-resistant

Sturdy construction
What we don't like
Zinc coating is not the best
If you're looking for pocket-hole screws, try the Kreg zinc pocket screws manufactured using carbon steel that feature a square drive system, ensuring the screws remain in place while driving. This drive system also minimizes the chances of stripping and slipping. 
Aside from that, one of the things we liked most about the Kreg screw for particle board is its self-tapping auger tips. These eliminate the need for pre-drilling your particle board, and the screws can be used directly, helping save a lot of time and effort. 
This ease of use is further enhanced due to the large diameter of the steel shank. The large diameter also makes the Kreg pocket screws highly durable, so you can rest assured they will easily last a long time. 
Speaking of durability, these screws have a zinc coating for rust resistance and can withstand considerable exposure to the elements, and hence, can even be used outside. 
Furthermore, the Kreg zinc pocket screws are available in both fine and coarse styles, making them suitable for several types of wooden surfaces. For softer wood, like particle boards, the coarse-thread ones are recommended since they can easily go through the softer fibers to create a secure hold. 
The Maxi-Loc head style of the screws also helps in this, as they are completely flat to match the flat shape of the pocket holes. These screw heads secure the joint properly without allowing the wood to deform or split.   
Drive System: Square | Head Style: Pan | Thread Coverage: Partially threaded | Thread Style: Right hand
Sale
What we like
Tough and durable

Versatile

Ideal for indoor and outdoor uses

Blend well with most wooden surfaces
What we don't like
The coating can feel slightly rough
Best known for its range of hardware and cabinets, Rok is a brand that also offers some of the best particle board screws on the market. 
The first thing that sets these screws apart from the competition is the black phosphate exterior finish over the steel body. This coating has a ceramic-like texture and appearance for enhanced durability, so the screws can last for an extended period.
What's more, the coating does not wear off, which is a common issue with such screws from most brands. And durability aside, they'll keep your hardware installations looking great even after several years. 
Since these are coarse screws, they offer much better resistance to cross-threading and stripping. Moreover, the pan head has a flat underside that offers a significantly larger surface for a more secure hold. This means you can use these screws even with enlarged holes, and the wooden surface of your particle board will not get crushed. 
Other than that, the fully threaded screws are perfect for retrofitting projects since they are suited for stiffer connections where lag screws cannot be used. Because of that, you can use them in various environments and for different purposes. 
We recommend using these screws for putting up signs, installing or restoring cabinets, and mounting music systems or TVs using wooden mounts. 
Drive System: Phillips | Head Style: Pan | Thread Coverage: Fully threaded | Thread Style: Right hand
What we like
Ideal for small spaces

Magnetic

Sturdy

Lifetime guarantee
What we don't like
Not suitable for composite wood
Finding tiny screws that offer impressive performance is not easy, which is why we were pleasantly surprised with these Phillips head screws from Phyxology Supply. Earlier known as Nova Pro Supply, Phyxology Supply is a leading manufacturer of hardware tools, and these screws are among the best offerings from the brand. 
Their small size makes them perfect for use in tight spaces, such as hinges and corners, where larger screws cannot be used. And it makes them the perfect option for small-scale projects since they are just ⅝ inches long and have a half-inch thread length.
As for durability, these steel screws feature a coarse thread design, making them perfect for materials like particle boards or medium-density fiberboard. That is why it is a popular choice among woodworking and furniture professionals.  
These screws also come with a magnetic steel coating, a very handy feature that can make working with them incredibly easy. This coating ensures you won't have to worry about losing the screws while working, and it provides them with a stronger hold when working with other magnetic surfaces.
Similarly, the high-quality construction of the screws provides them with an unmatched level of sturdiness. The brand also offers a 100% no-nonsense Lifetime satisfaction guarantee on these screws, which shows just how much faith it puts in its offerings.
If you're not satisfied, just send them an email, and the company will respond within 24 hours, offering quick refunds or replacements as required depending on the situation.
Drive System: Phillips | Head Style: Flat | Thread Coverage: Fully threaded | Thread Style: Right hand
What we like
Easy to identify

Durable 

Versatile

Affordable
What we don't like
No rust-resistant coating
If you're frequently engaged in DIY projects and require hardware tools often, chances are you've heard of the Hillman brand. This industry-leading manufacturer offers a huge selection of building solutions, such as this top-notch particle board screw. 
These are similar to drywall screws but have been designed specifically for use with particle boards and chipboards. The most notable difference between these and other screws is that these feature asymmetrical grooves. This design provides highly secure holds and makes the screws more resistant to pull-out, ensuring that the completed project holds up better. 
For durability, the Hillman screws are made from high-quality steel, which ensures that they do not damage easily. They also have a flat head, and the head lies flush with the chip board or particle board surface. This means that the screws can be covered to hide them, helping provide better aesthetics.  
Additionally, these screws have a yellow cadmium finish, which makes them stand out from other screws, which usually have a black coating. This can be very useful when working with multiple screws from different brands and prevents them from getting mixed up.
Designed for use with softer wooden surfaces like particle boards, these screws can be used for many different uses. Whether you are undertaking an installation of a wooden cabinet or repairing your TV mount, these screws are perfect for the job. 
And despite coming from a reputed brand, these are some of the most affordable particle board screws on the market. 
Drive System: Phillips | Head Style: Flat | Thread Coverage: Partially threaded | Thread Style: Right hand
Metal Screws For Particle Board Buying Guide
You now know about the top five options when it comes to particle board metal screws. But picking the right one from these can still be challenging. That is why it is crucial to consider certain factors before making a decision to ensure the screws meet your requirements. Here are some such factors to keep in mind.
1. Material 
Generally, screws made for wooden boards like particle boards are manufactured using stainless steel. But the quality of the steel can vary from one manufacturer to the next. Screws made from inferior quality material may not be strong enough, making it difficult to use them and affecting the durability of the completed project.
Aside from the material used to manufacture the screw, you should pay attention to the material used for coating it. Brands use different types of coating, such as magnetic steel, black xylan or phosphate, and others. Each material provides a unique advantage and may have a particular downside. 
So, you need to consider your requirements before deciding which screw to use. For that purpose, we recommend checking the product description and the customer reviews, which can provide information regarding the screw material and its impact on user experience.
2. Size
Another crucial factor you need to consider when searching for a particle board screw is its size. The size determines the width of the wood stock that it can be used on. For instance, a 2.5-inch long screw is ideal when you need to join boards having a width of 1.5 inches. 
Besides the size of the screw, it is important to consider the size of the wooden board. Generally, adding one inch to the board width is a good idea, which will provide you with the minimum size of the screw that should be used. 
3. Thread And Shank   
Screw shanks have a thread wrapped around them, which may be a full thread that covers the shank completely or a partial one that covers it only halfway. Some screws even have double threads divided between the upper and lower sections. 
Generally, full-threaded screws are considered to be better since they provide a stronger grip. And this grip is further enhanced when using screws that have a coarse thread since they can hold such materials more effectively without damaging them. 
You also need to consider the diameter of the shank, which is usually mentioned on the packaging and the product page. A higher number indicates a larger diameter; thinner screws may not offer strong support, while thicker ones require larger holes. That is why paying attention to the shank size or diameter is important. 
4. Head Type And Driving Slot 
Screws can come in all manner of sizes and also have different types of heads. Usually, the head shape is shaped like a washer or is completely flat. Screws with flat heads are better if you want them to remain concealed in the board, while washer-shaped heads protrude outwards from the surface.  
Like the head type, the driving slot of screws can also be shaped differently and may appear in the shape of a square, plus sign, or a star. Square and plus-sign-shaped slots provide more room and ensure a better grip, reducing the chances of pull-outs. In contrast, the Torx or star-shaped slot completely eliminates the chances of slippage.
5. Money Back Guarantee 
Many manufacturers offer a money-back guarantee on screws, and going with such options is always an advantage. If a brand offers such a guarantee, it shows that it is confident about the quality of its offerings, so you can rest assured you are getting a good product. 
Such guarantees help enhance the user experience since they make getting refunds or replacements easy. The warranty period may last for a specific period, or the brand may offer a lifetime guarantee. So, look for such an option on the manufacturer's website before deciding. 
Top Metal Screws For Particle Board Verdict
Those were the top 5 particle board metal screws currently available on the market. Hopefully, you now have some idea about which one to go for. 
But before concluding, we'd like to share our favorites from the list. The Bolt Dropper stainless steel screw, with its durable build and corrosion-resistant coating, is our top pick. It comes with a full-thread shank, is an affordable option, and the manufacturer even offers a lifetime guarantee. 
Another excellent option would be the Kreg zinc pocket screw, which has self-tapping auger tips, making it very easy to use. It is also quite durable and can be used outdoors.