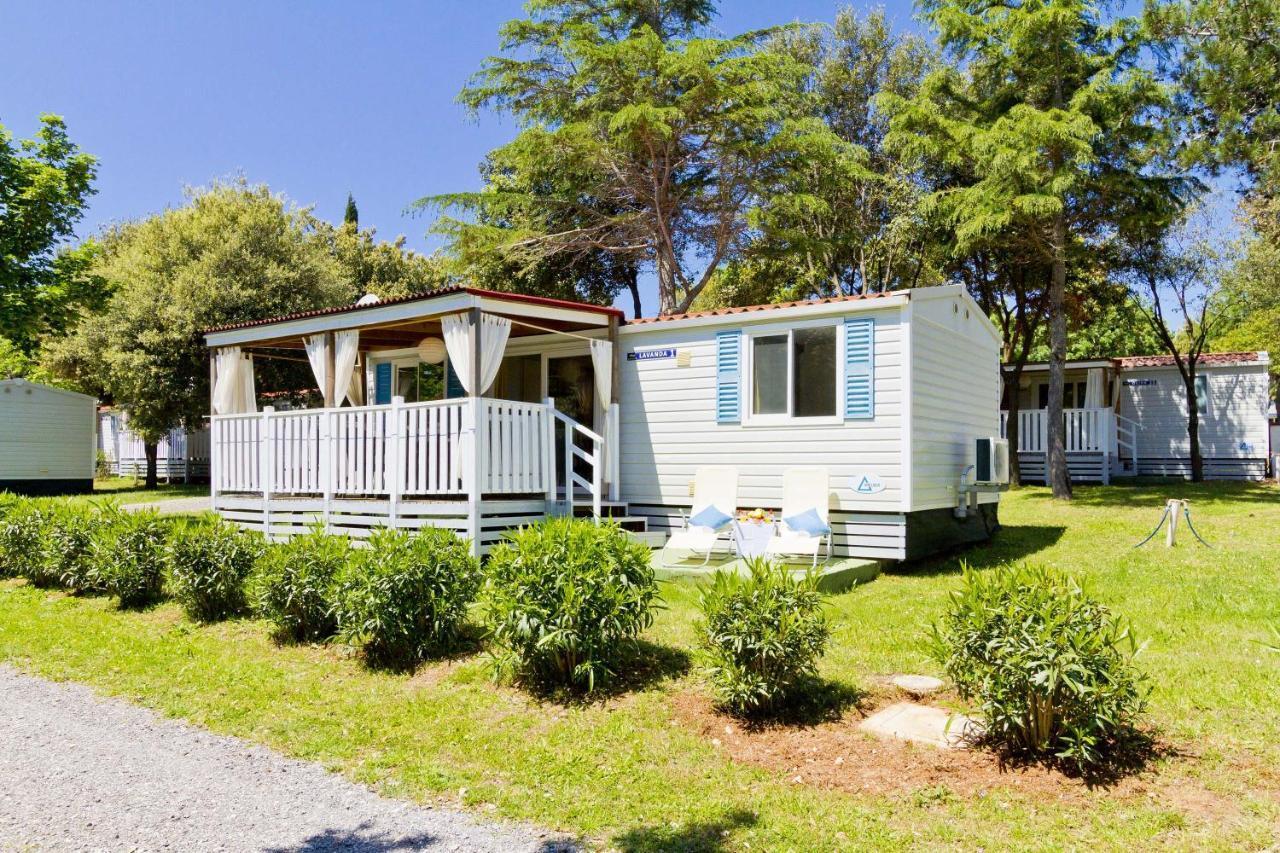 Putting up skirting on a mobile home is a great way to create a warm environment while adding functionality and protection to your home. 
Decorating a mobile home does not have to stop at just putting up artwork inside. Adding skirting creates a high-quality finished look that also protects the home. 
But deciding on a skirting finish can be a tough choice, with so many skirting options available. However, the right skirting layer can completely change the look of any mobile home for the better. 
And our in-depth guide has everything you need to know when it comes to choosing the best skirting option for you. Everything from the benefits of skirting to the different materials available will be covered. 
So, without further ado, let's get started!
Mobile Home Skirting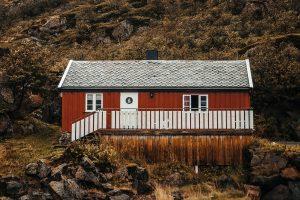 Types Of Skirting Panels 
Skirting panels are available in different materials, which offer various benefits to the mobile home itself as well as add aesthetics to the base. 
Depending on the material type, the price for each skirting material can vary. On one end of the spectrum are sturdy, more expensive materials like masonry. And lying on the other end of the spectrum, we have cheaper materials that are not as sturdy. 
Vinyl skirting panels are one of the most used types by mobile home owners. The benefits that vinyl brings in both aesthetics and durability make it a popular choice. 
Installing mobile home vinyl skirting is incredibly easy and affordable. That said, the price can increase if you choose to double layer it to create insulated skirting for the home. 
Another benefit of using vinyl siding and skirting is its environmentally-friendly composition, as it is made of chlorine from common salt and natural gas ethylene. Compared to other skirting options, it doesn't affect the environment as much as wood and brick. 
However, it's not the thickest of skirting options on the market. There is an insulated version that is thicker and can regulate the temperature better. However, these insulated models are usually more expensive than the standard ones. 
Furthermore, low-quality variants of vinyl skirting do not age well. They tend to break down quickly and lose their sheen. Weed eaters may also damage the vinyl siding, slowly breaking down the material over time.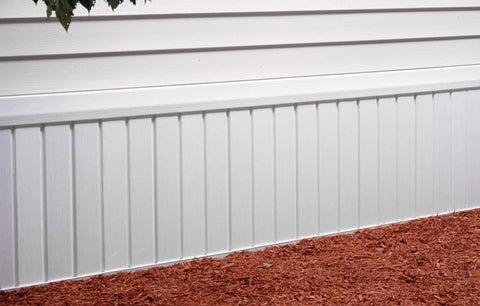 Vinyl skirting is easy to install and work with from a contractor's perspective. Usually, these skirting panels come in 12 feet sizes, but they can be cut to fit various terrain. In fact, it is possible to cut them as small as one-foot. 
Furthermore, the installation is relatively straightforward. Each ground track is secured to the foundation with long rods that are joined together. Meanwhile, the top back is placed along the bottom of the home and the top front secures the outside length of the panel. 
For a natural look, using a "rock" design as skirting is a popular choice. These are not actual rocks but rather made up of plastic that resembles a rock pattern. As such, these panels can be easily installed and are available in a number of neutral colors. 
Sandstone and granite are the two commonly used rock types that are replicated in these faux rock skirting panels. But there are other rock types that can be purchased to create different aesthetics and add some curb appeal to your mobile home. 
Moreover, installing these skirting panels is not very labor intensive either. They can be directly installed on the manufactured housing or in the same way that you would with the vinyl skirting. Whether you install them the DIY way or with the help of professionals, the labor costs can be kept minimal, thanks to the simple installation. 
What's more, the panels are not too expensive while still giving you a natural look. Overall, it makes for an affordable and popular skirting that is second only to vinyl in terms of popularity of the material. 
Similar to the simulated "rock" skirting, faux stone is designed to look like real stone. And much like the former, it's made of polyurethane. By having a plastic construction, the resulting skirting becomes a durable vapor barrier. 
However, choosing to install faux stone skirting can be pretty expensive. But the good news is that this type of skirting is actually seen as an investment that raises the value of your mobile house. This is opposed to simple vinyl skirting panels, which can lower the value of the home. 
Brick skirting is a high-quality option that can increase the durability of the foundation. But using real brick skirting is not always feasible, as it can become quite costly to install. That is why faux brick skirting is a popular alternative to actual brick. 
Moreover, a faux brick panel allows for the "brick" to be more lightweight than actual brick, as it's generally made from polyurethane. Another benefit of this material is the increased resistance it offers to shifts in temperature and various weather conditions. 
Additionally, an actual brick skirting entails a much more complex installation than a faux one. But depending on what you are aiming to accomplish with the skirting, either option can be viable. Whether it is for durability or aesthetics, a faux or brick skirting will definitely benefit the curb appeal of your mobile home. 
5. Concrete Skirting 
Concrete skirting is one of the most durable skirting options if you're looking for a permanent and solid connection to the ground. Once you install the concrete skirting, it won't be going anywhere as it is made of cinder blocks. The permanence of concrete skirting extends so far as being similar to a poured foundation.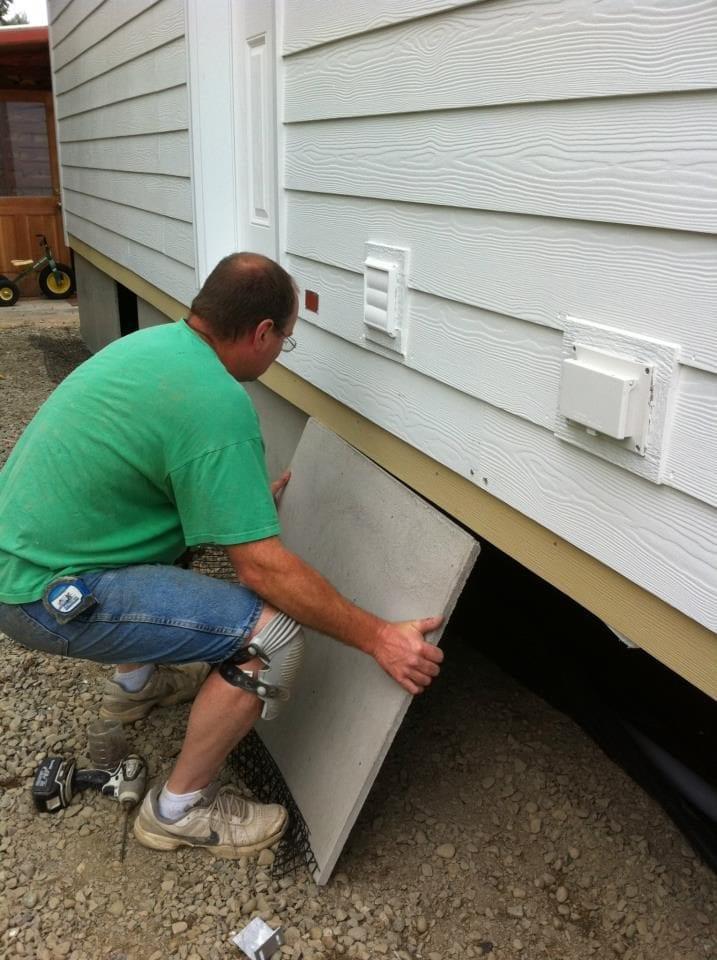 One caveat to using concrete is it utilizes cinder blocks to create the skirting. What this implies is that it involves a large amount of labor and time to install it. Furthermore, the blocks need professional work in order to secure them into the ground. 
Since you'll need the help of masons and contractors, it can raise the cost of installation considerably. Although the blocks themselves are solid, they can not be considered as a bonafide permanent foundation by industry standards. 
Long story short, cinder block skirting has the benefit of providing a solid foundation to mobile homes. Their strength and durability are unparalleled when compared to other skirting products. However, the cost of materials and labor fees can run quite high. 
6. Metal Skirting 
Among the many skirting variants available, metal is a cheap and easy to install option that is used widely. This skirting needs a two by two or two by four frame to support it.  And dirt can be filled in behind the frame to provide extra support. 
Not only is the metal durable, but they are also available in a variety of designs and patterns. If you choose to go the custom route, you will be happy to know these metal skirtings are paintable. Furthermore, the metal panels won't be damaged with weed eaters or other similar equipment.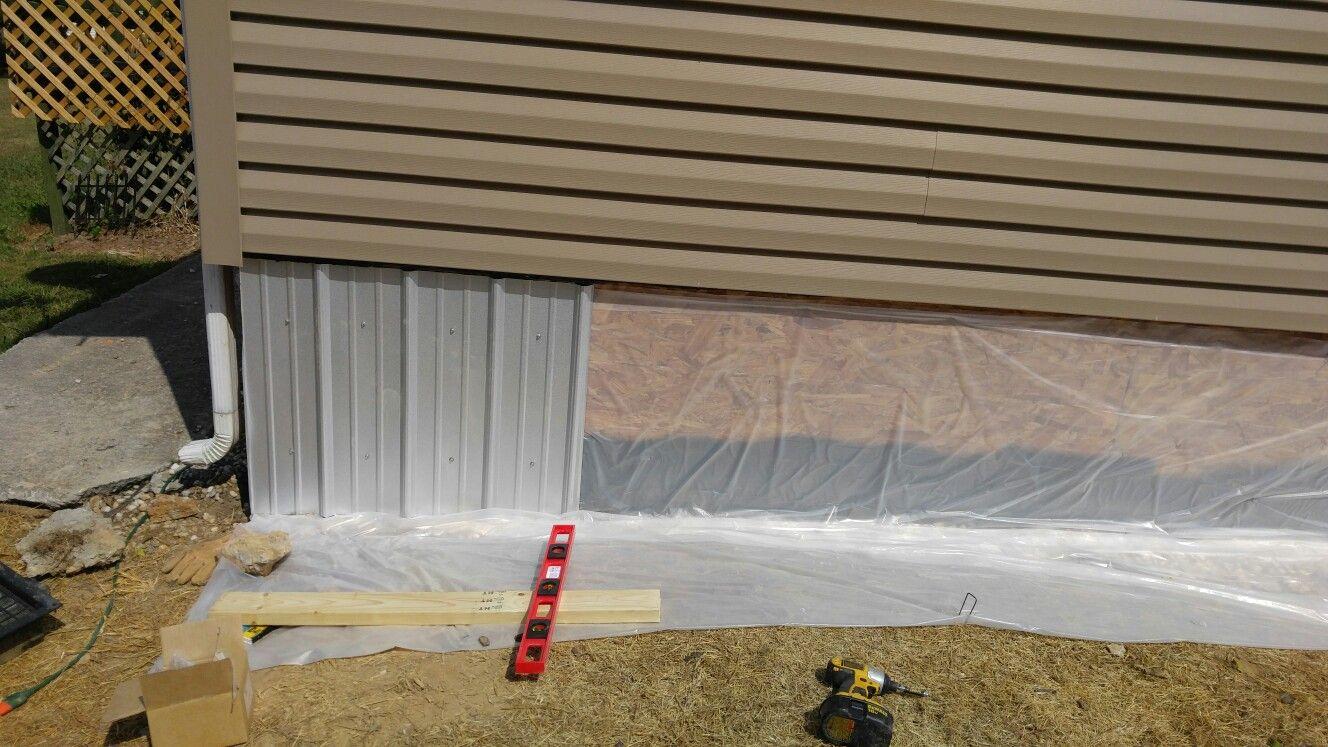 Patterns are also stamped onto the metal to create patterns, which in turn, enhances the curb appeal of the home. So, no longer are you limited to flat metal; it is the goal of the skirting company to give the customers almost any design they want. 
A few popular types of metal skirting options are available in tin or steel. These materials make for a skirting that's easy to install without compromising durability. 
7. Foam Skirting 
If you are looking for a skirting option that's high on energy efficiency, then foam skirting is a solid option. It provides insulation and regulates the temperature underneath the mobile house. 
Manufactured homes are usually at a loss when it comes to energy efficiency. Although a ground track can be effective to some extent in regulating temperature, it is not as good as insulation foam. 
Keep in mind that while using foam as a trim piece can save money in heating and cooling, it is not the best-looking skirting option. Depending on what you want, it is possible to manipulate and shape the siding to resemble brick, cinder block, and pebbles. 
Additionally, foam skirting is quite expensive, even though the panels are smaller as compared to others. Each of these panels is only two feet in length at a time, whereas others are four to five feet. These smaller sized panels are packed full of foam and are incredibly energy efficient. 
However, installing foam skirting is pretty simple; it follows a process similar to brick and stone materials. As such, the labor costs can be kept to a minimum. 
8. Wood Skirting 
Where wood skirting shines is the versatility it offers in customization. Typically, these wood products are custom made, so they can be tailored to match exactly what you need. As there are many variants of wood and finishes, the price to install this type of skirting varies. 
Furthermore, not only does the wood type vary, but the design of skirting can also be changed. Wooden skirting options are available in either the standard thick panels or as a lattice design.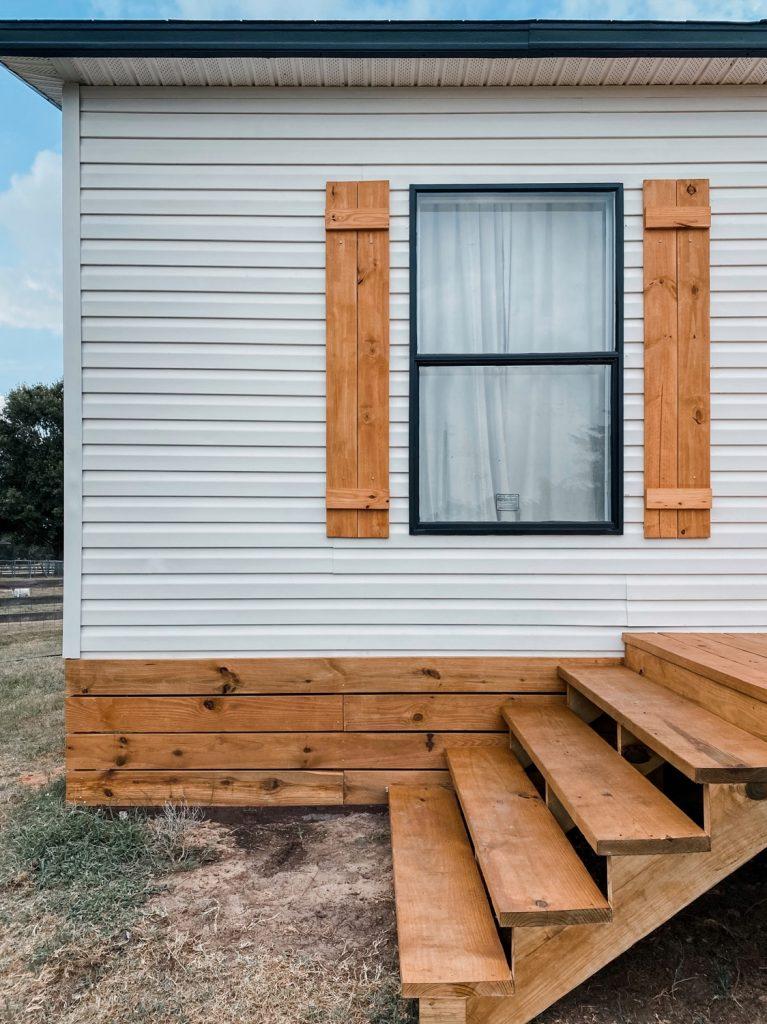 Using wood as a skirting material for mobile homes does not rank high in popularity among customers. There is no need to hire an outside company or contractor to prepare or install the wood. It is even possible to cut out the middle man entirely and complete the installation yourself. 
However, there are drawbacks to using this material for skirting. The most common concern is with the durability of the wood as it is regularly exposed to the elements. Wood has a tendency to shrink and swell with changing temperature, which in turn compromises its structural integrity over time. 
9. Other Skirting Materials 
Besides these materials, there are a few other creative options available that are easy to install and also durable. For example, old barn tin and railroad ties are two materials that are cost-efficient and sturdy. 
Utilizing different materials is a viable route to go if none of the traditional is to your liking. However, you should always consider the pros and cons of materials before deciding.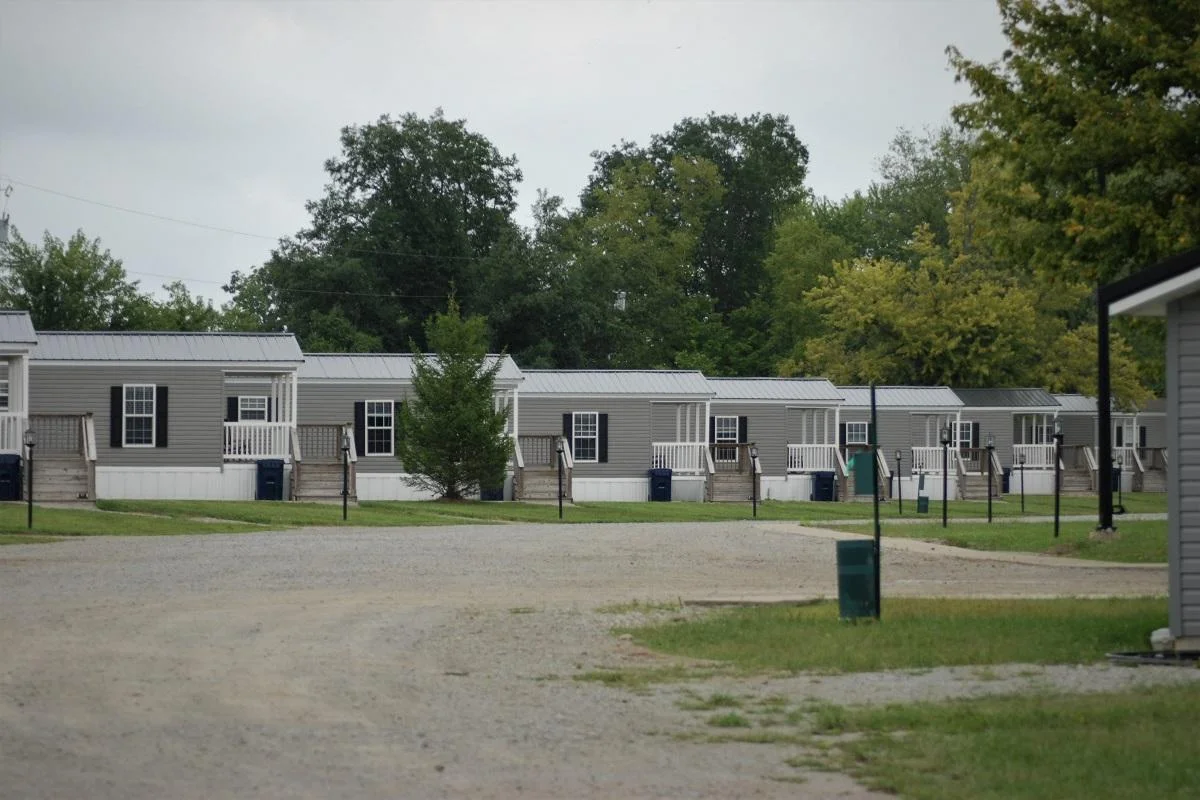 Calculating Costs 
In order to have a clear idea of where money is being spent, drawing up a budget plan is a good idea. For mobile home skirting, this involves a number of calculations of the dimensions of the base and how high the panels should be. 
First, a measure of the length and width of the house is added together. This measurement is then considered with the average height from the ground in mind to obtain the total square footage. The square foot measurement is simply how much paneling or material is needed to make up the skirting. 
Whether the materials being used are sold on the basis of panels or in square feet, a better estimate is gathered. Beyond material costs, labor costs to install the skirting track must also be considered. 
Regional differences in labor depend on the type of material being used and how much skirting is needed. Environmental factors such as slopes and ditches can also have an impact on how much material or expertise is required in order to complete the job. 
If you are using a unique material that is not already suitable for installation, consider the various factors carefully. In particular, pay attention to material cost, energy efficiency, and curb appeal.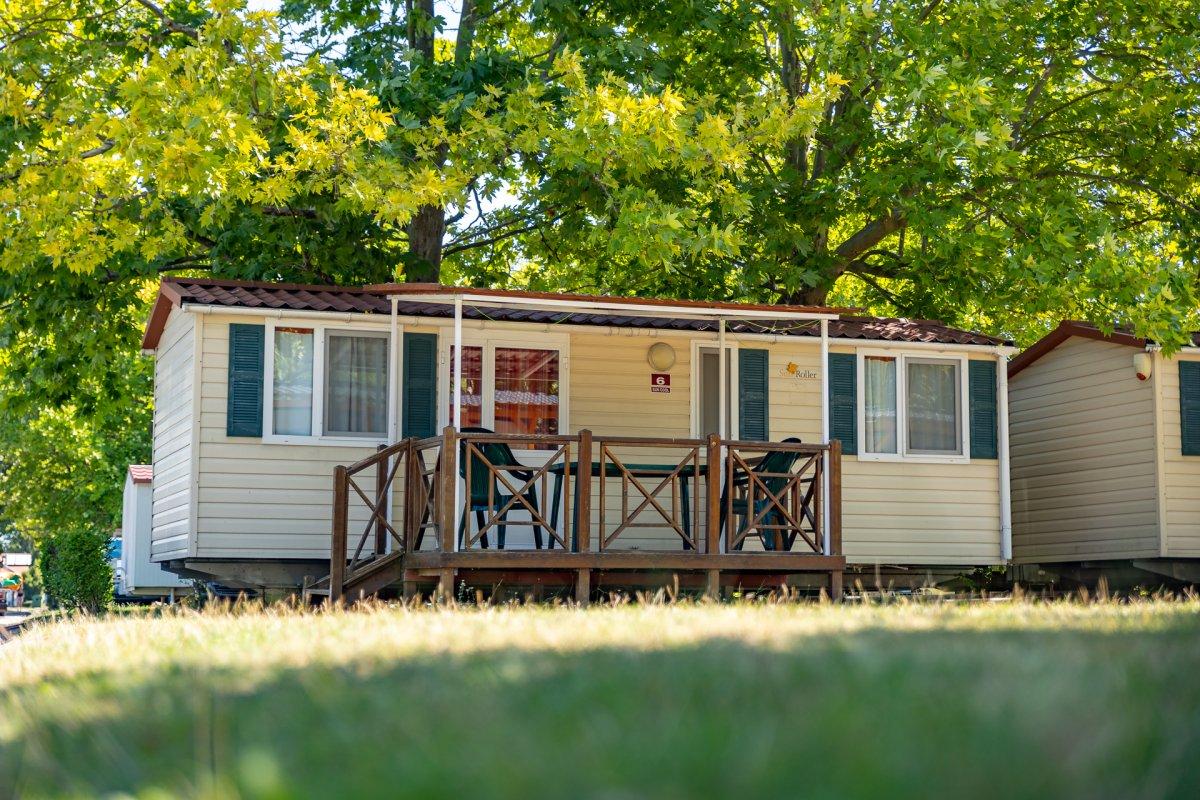 Besides adding or replacing skirting to your mobile home, there are a few other methods to make your home look nicer. Although skirting is excellent in adding an extra dimension of protection, it is not always the best to look at, especially for a residential building. 
As such, here are a few other options you can try to improve your mobile home's look. 
1. Doors And Windows 
One of the simplest things you can do to spruce up the outside of your mobile home is to install new doors and windows. These are usually what the eye is drawn to first subconsciously—as such, having a nice set of windows and doors can really change the look and feel of the mobile home. 
2. Installing Trim 
Another quick and easy fix to touching up a mobile home is changing out the pre-installed trim with a higher-quality one. Usually, mobile homes have a basic trim kit around the edges that make them blend into the sea of various other mobile homes. Having a unique trim can set your home apart without spending a large budget. 
Additionally, there are trim kits that can be bought and installed easily without the need for contractors. You can install the new trim yourself along with some crown molding if you so choose. These small additions add lots of character and personality to your mobile home, a great way to express yourself. 
3. Upgrading The Roof 
Admittedly, mobile homes are not always known for their quality roofing. Usually, they are thin and do not provide much in terms of insulation. Upgrading or installing a completely new roof can bring a new look as well as help in insulating the house better. 
Of course, this renovation will require a large amount of expertise and effort, but the payoff is definitely worth the investment. A roof is the culmination of all the lower elements of the mobile home. As such, a great looking roof not only speaks to your personal taste but can save you a few bucks in heating and cooling the mobile home.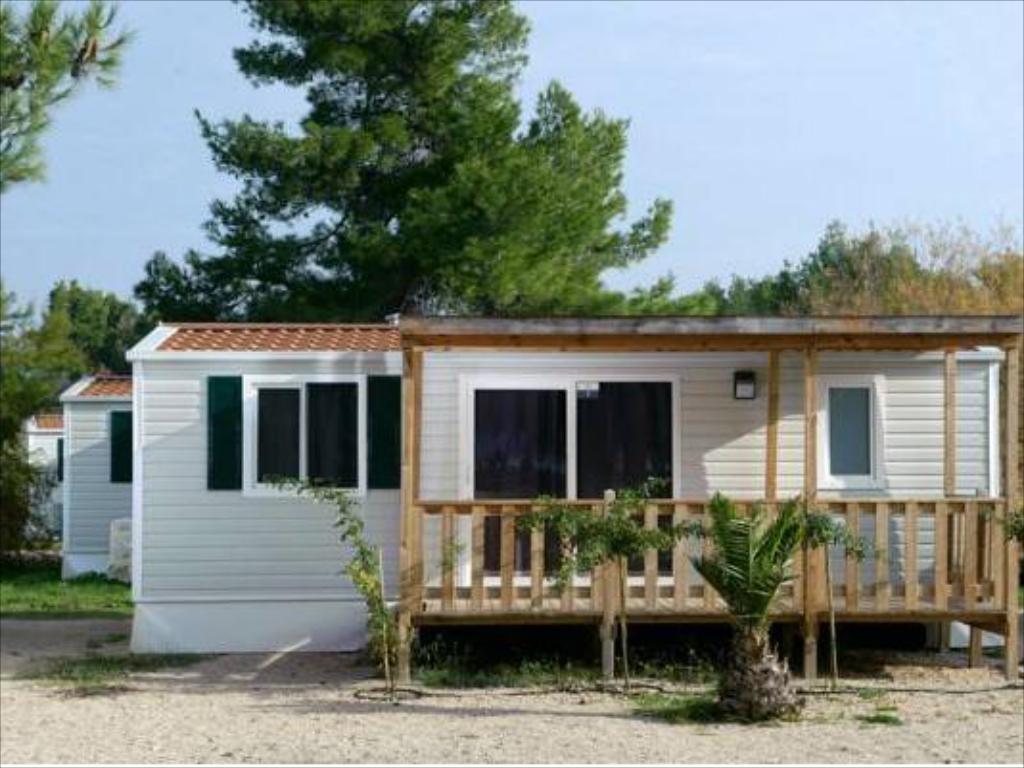 4. Adding A Basement 
If a basement is within the realm of renovations you would like to have for your mobile home, it will require a bit of forethought. The mobile home must be placed on top of the basement foundation as it needs to remain solid despite having a recession underneath it. 
Hiring professionals is always a good idea when working on large scale renovations such as this. After all, you don't want to risk having the mobile home fall through the floor to the basement. Once the renovation is complete, your mobile home will begin feeling like a higher quality, solid house. 
5. Installing Hardwood Flooring 
Another renovation you can do to step up mobile home living quality is to install a hardwood floor. Contrary to popular belief, it is fully possible to have a hardwood floor even in a mobile home. So long as the foundation of the mobile home is solid enough to support the weight, you should have no problems. 
Hardwood floors are great not just for their aesthetic value but also to help make the floors easier to clean and maintain. In a small living area like a mobile home, this becomes even more important as space is limited. 
6. Install Additional Rooms 
As a final suggestion, you can even install new additions to your mobile home that add more personality and functionality. These installations can be as simple as a porch in the front or a new bathroom to the side. Each room can then be given its own personality by decorating it. 
However, if you want to go the extra mile, installing a large room with higher ceilings is sure to catch the eye. After all, how often does one see a mobile home with towering ceilings?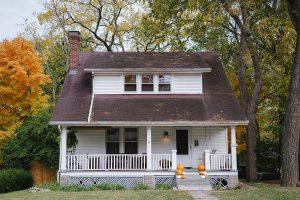 Conclusion 
Hopefully, now you know a bit more about how to pick a suitable skirting for your mobile home. These simple yet effective additions can elevate the quality of your home and also allow for a sturdier base. 
Mobile homes have become more complex over the years. Once the durability and safety of the skirting are taken care of, they can be adjusted to suit your personal tastes in color and texture. 
Every renovation and addition to the mobile home is an investment that goes towards increasing the street's value and the lifespan of your home. Mobile homes are not the most durable of residential places, but they can be made sturdier with this addition. 
Making this investment is a great choice that has many benefits for mobile homes. What are you waiting for? Elevate your mobile home living today! 
Related Links
37 Free DIY Tiny House Plans for a Happy & Peaceful Life In Nature
35+ Different Types of Houses for Your Future Home
19 Different Types of House Siding to Consider