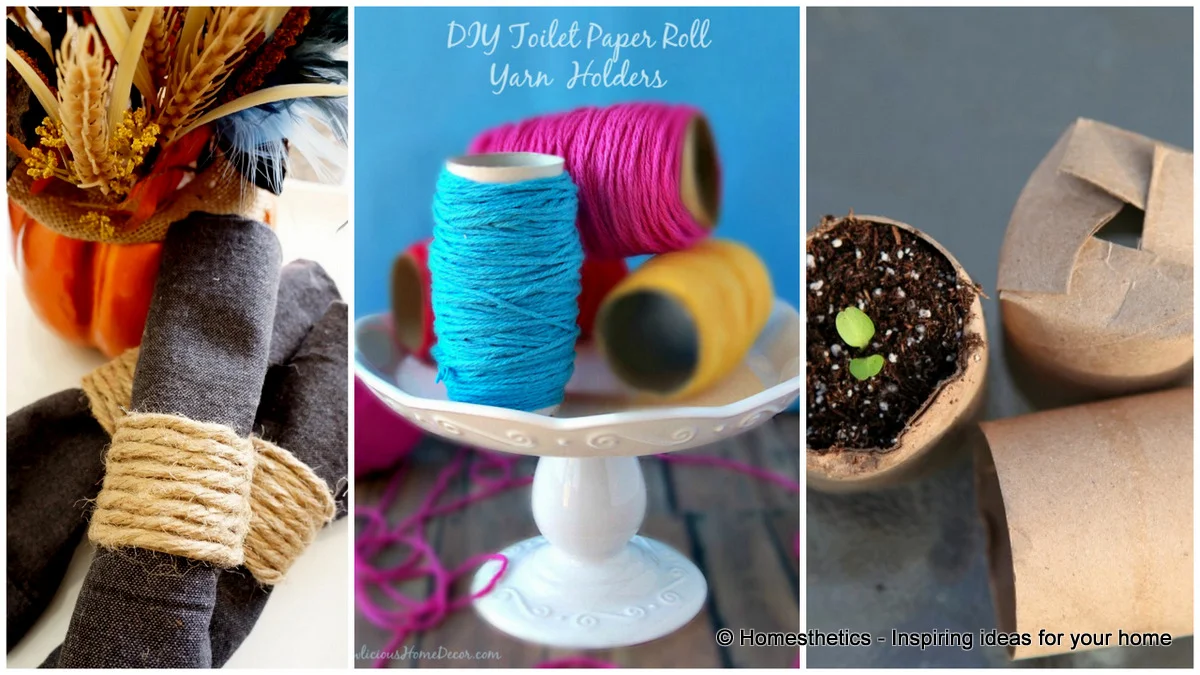 One of the motivations behind undertaking a DIY craft is to recycle the used products or emptied containers, which otherwise get thrown away and add up to the garbage pile.  A toilet paper roll is one such thing.You can undergo a series of crafts that revolve around recycling toilet paper rolls, some of which will be strictly functional, while others will provide purely aesthetic pleasure. In addition, there are some toilet paper roll crafts that manage to combine both the functional and aesthetic aspects, which this article hopes to talk about in the paragraphs that follow.
Toilet paper roll crafts
Toilet paper cables and chords manager
Digital civilization has many benefits. A large number of people are reaping the benefits of new technologies and changes made possible by them, but there is one thing that annoys almost everyone. It is the number of different cables and chords that have become a regular feature of our daily life. Managing them, storing them and keeping them properly organized poses a challenge that every user of modern technology faces. Technology is yet to reach a point where everything become wireless and cables will no longer represent an organizational challenge, but until that happens, we can use toilet paper rolls to build a cable and chord organizer like the ones shown below.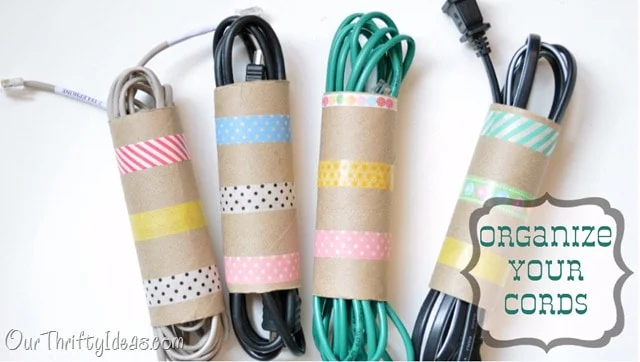 Source: Our Thrifty Ideas
Organize your workstation with toilet paper rolls
Another big challenge of the modern city life is a heavily cluttered work table or workstation, as they say. Almost everyone has tried many different ways to keep the table tidy, but the end result is never that satisfactory. The solution either lacks on functionality or on aesthetics. What if someone says that one can achieve a nice balance of functionality and aesthetics by using toilet paper rolls to organize your table? Will it look believable? The answer is yes.
There are many kinds of desk organizers that one can make from toilet paper rolls and to do so a DIY enthusiast only needs some paper rolls, various colors, paint brushes, colorful paper, glue, and decorative items, as per the need. The time and skill needed to make an organizer depends on the kind you are pursuing and its complexity.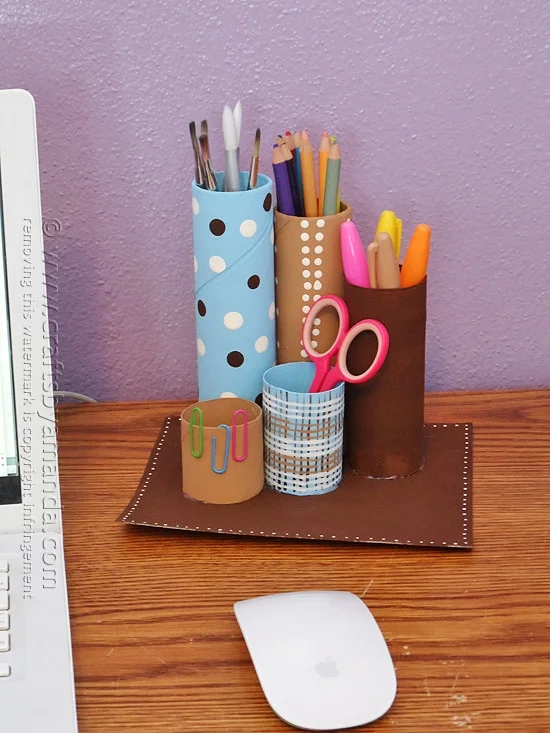 Source: Crafts by Amanda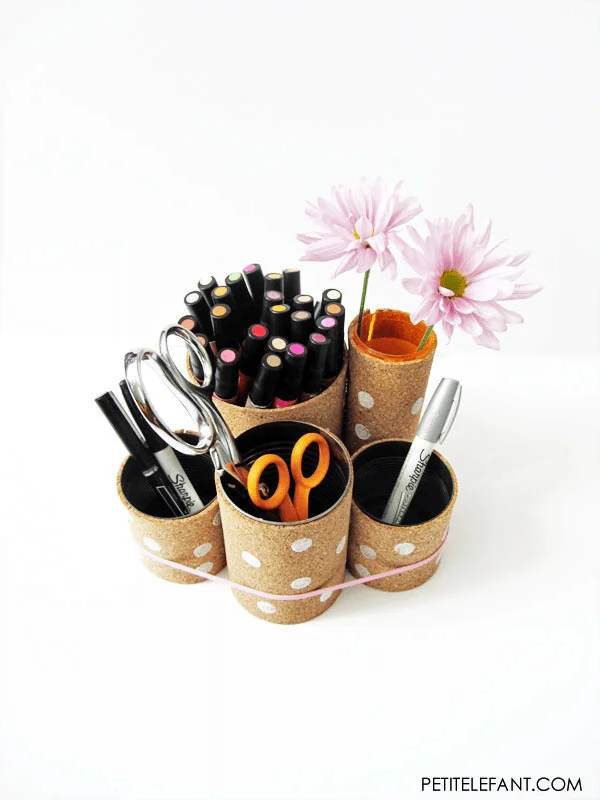 Source: Petit Elefant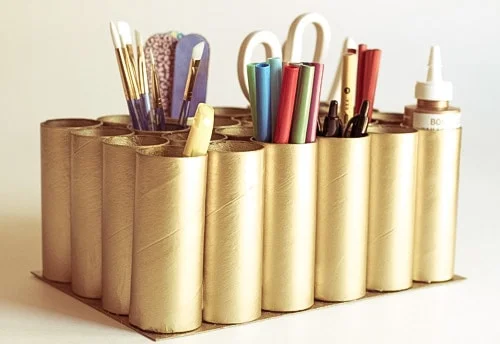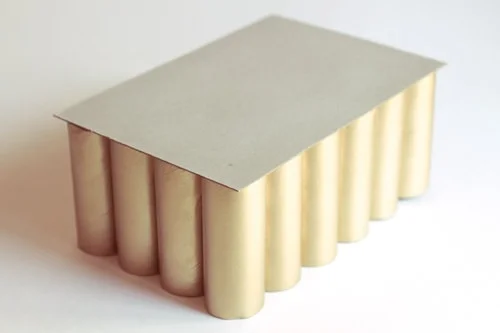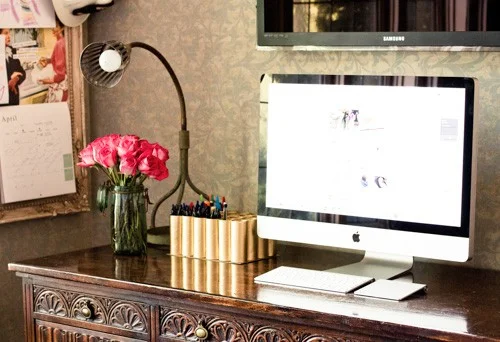 Source: Lily Shop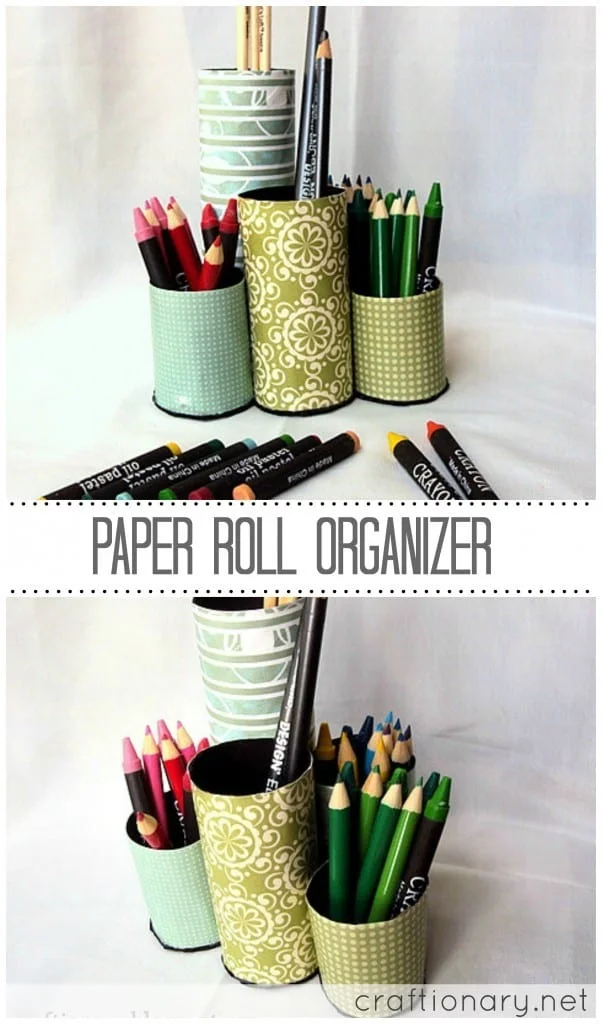 Source: Craftionary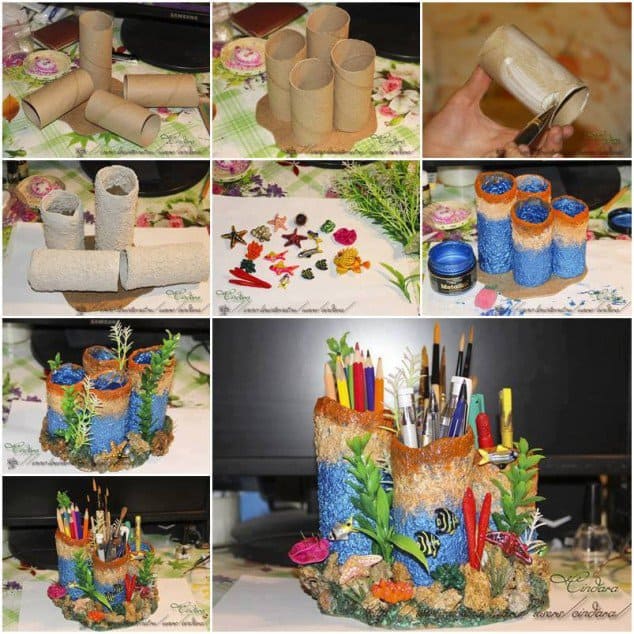 Source: Useful DIY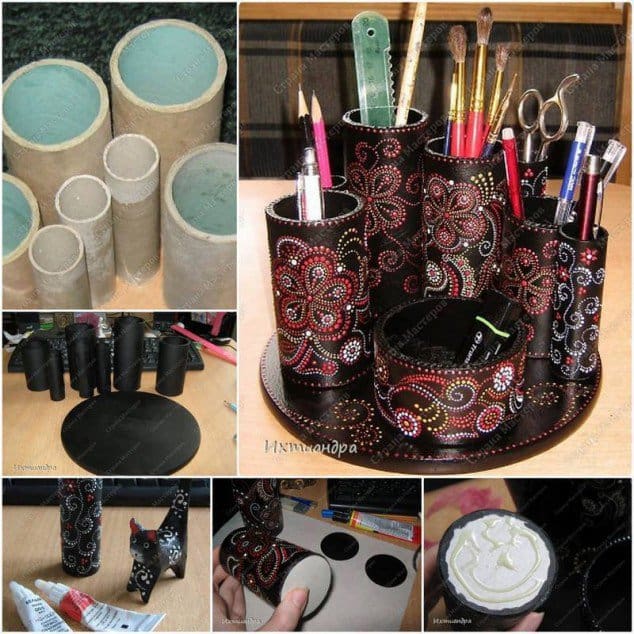 Source: Strana Masterov
Kitchen note taking
Talking of organizing, this article should emphasize the importance of having a notepad and pen within reach in the kitchen. This will help in the making of grocery lists or taking notes for diverse recipes. In this, toilet paper rolls can be helpful as well. As shown in the picture below, it can function as a pen and pencil holder that can be fixed to the wall near a notepad properly taped on the wall.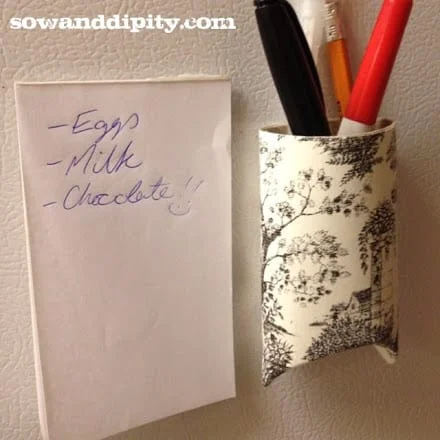 Source: Sow and Dipity
diy Napkin holders
Some people use napkins and paper towels daily and from here comes the necessity of napkin holders. Will it come as a surprise that toilet paper rolls can work well to produce cool-looking napkin holders like the ones shown below? To get that done, all one requires is paper rolls, colors, glue, decorative items, and some imagination. It is creative imagination that has allowed a DIY geek to use ropes to decorate toilet paper napkin holder in the second example and use colors wisely in the first one. So inspiration plays a key role in all DIY crafts.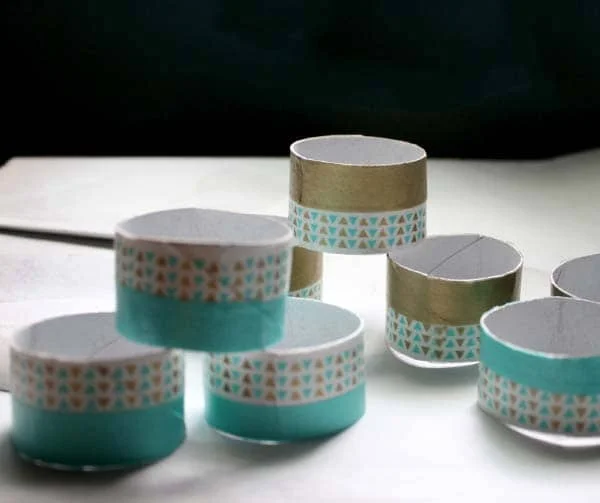 Source: Crafting a Green World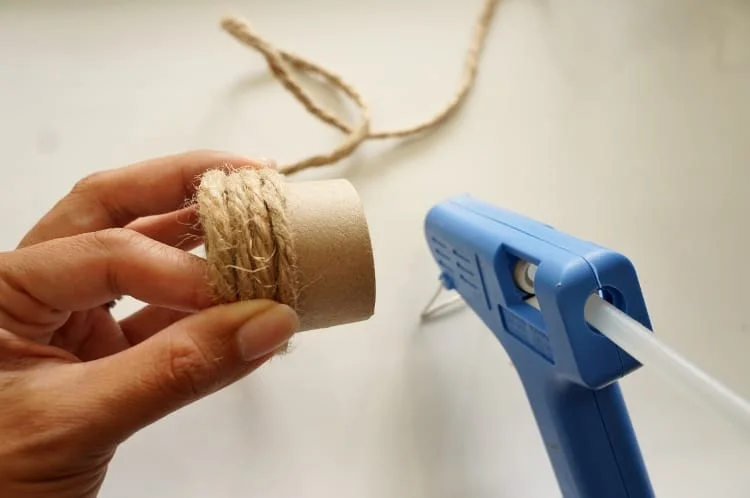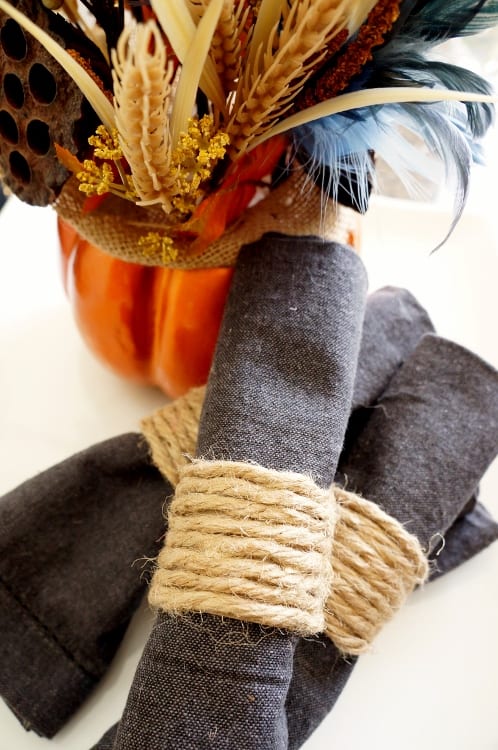 Source: DIY Inspired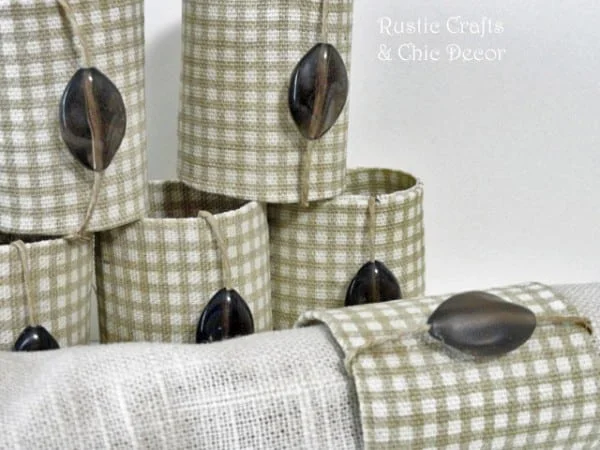 Source: Rustic Crafts
Yarn organizer
After facing a steep decline, knitting yarn and crocheting are picking up again as a hobby, in the recent years. And with it came a necessity to keep yarns and threads organized. Toilet paper rolls can be helpful in that as well. A lesser mortal could have accomplished that goal with any simple thing, but a DIY person is not at rest until it does not find an elegant solution for every problem it faces. Fortunately, for the geek inside all DIY experts there is a way to use toilet paper rolls to create an elegant looking yarn organizer like the ones shown below. The second one is, of course, just a simple basic re-purposing of the toilet roll, but it does the job, for lazy ones, who do not feel like undertaking creative projects to create a yarn organizer.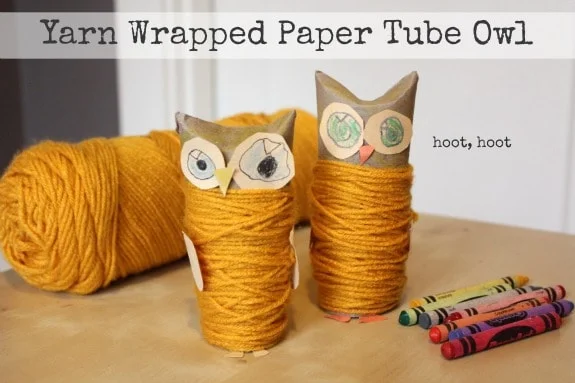 Source: Make and Takes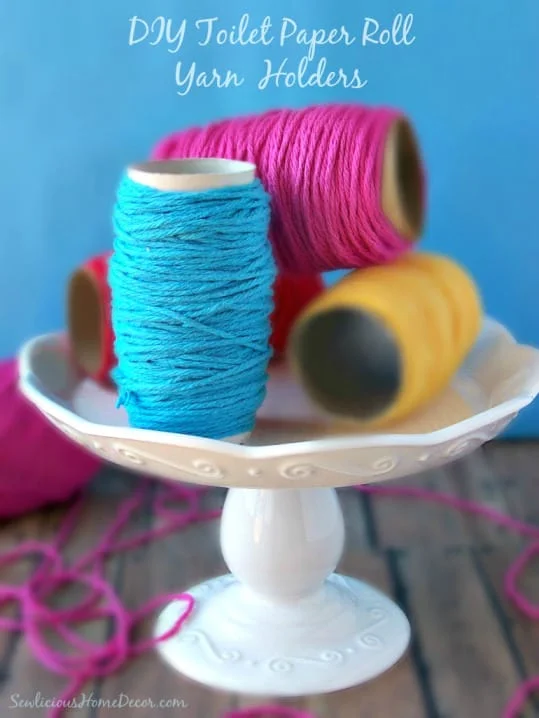 Source: Sewlicious Home Decor
Toilet paper Car garage for kids
For a house with a little boy, keeping toy cars organized, which counts in dozens if not hundreds, is a constant problem. The problem of organization becomes even more serious when the child asks for one particular car to pay and that very car is lost somewhere in the house. He will create ruckus until and unless that particular car is found and given to him.  There is a way to solve this problem and it involves using toilet paper roll crafts.
Like any other ideas shared above, to make a car garage from toilet rolls, one will need some paper rolls, adhesive, colors, paint brush, color papers and a box to stack all the paper rolls together, if one wants to build a garage like the one shown in the second picture.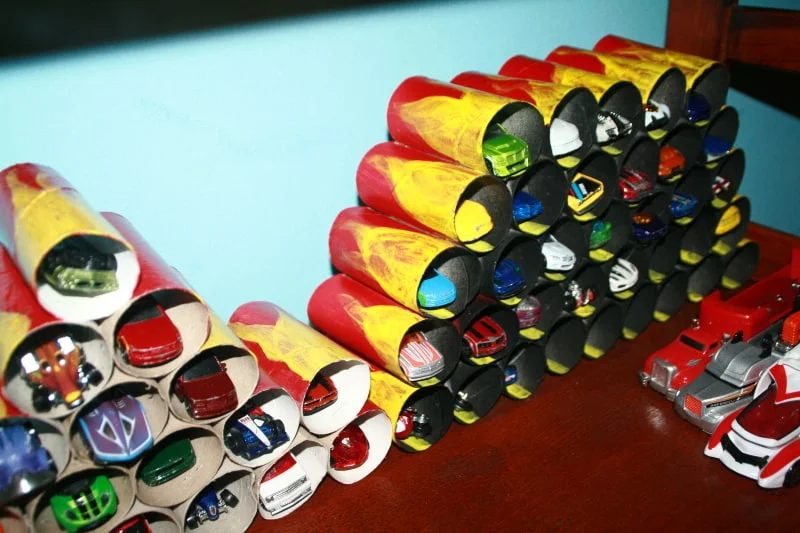 Source: Kreativ Oko Jatszohaz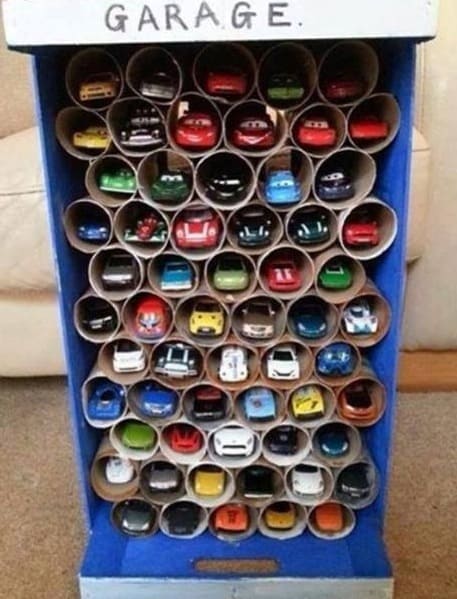 Source: The Boy's Store Blog
Organize your scarves
Time is always in short supply, particularly when you are getting ready to go out for lunch or to meet people or even to work.One thing that gives constant headaches is finding matching cloths and with it matching scarves. Chances are pretty high that you have a big collection of those, if you are like other women and instead of solving the problem, it makes it further difficult for you to choose the right one. In situations like this a toilet paper roll craft can come to your rescue by showing you simple ways to organize scarves in a cupboard in a manner that all scarves are at display at once.The toilet paper scarf organizer shown below is not very funky, but you can also make more appealing ones using some craft materials and ideas shown above or in other articles on Homesthetics.

Source: Instructables
Toilet paper roll seed starting container
One of the main motivations behind any DIY craft is to save the planet, which one does by recycling the use of already-used products or its containers. How exciting will it be if the used item can be reused in gardening? Will not it double the benefit?
One can easily make a sturdy seed starting pots using paper rolls by taking some simple steps. The benefits of pots made of toilet paper rolls is that it is sturdier than newspaper and like newspaper seed containers it can also be placed directly in the soil, for it also gets decomposed in the soil. However, one key consideration while converting toilet tissue rolls into a seed pot should be to properly seal the bottom in such a way that soil or nutrients do not flow out of the container.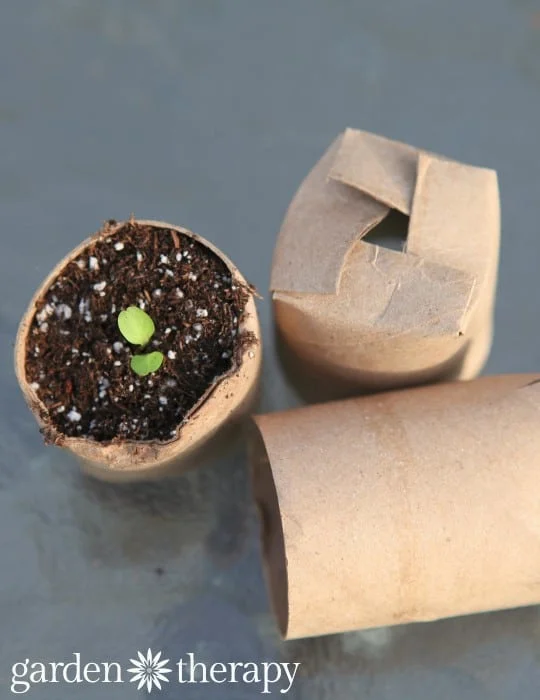 Source: Garden Therapy
Toilet paper roll DIY iPhone Speakers
The heading may sound like taking the idea of DIY toilet paper roll crafts a way too far, but it is not. Paper rolls may not function as the best speakers out there for iPhone, but it will work pretty well. Additionally, it does not take a whole lot of things to make a functioning iPhone speaker from toilet paper rolls.
Along with a paper roll, colorful paper to decorate and glue to fix it, you will need a knife to cut a slot in the paper roll for the iPhone to go inside, color paper to decorate the exterior of the toilet paper roll speaker and 2 push pins that will be placed on the other side of the slot and which will keep the speaker stable. The resultant speaker will make your phone sound louder and perhaps better.
Source: may Richer Fuller Be
Conclusion
As promised in the beginning, this article has shown some amazing toilet paper roll crafts to make quite a few functional as well as aesthetically beautiful items from used paper rolls. There are many more exciting crafts that can be made using toilet paper rolls, so you should think hard before throwing away the next one.
Related Articles
13 Best Soft Close Toilet Seats