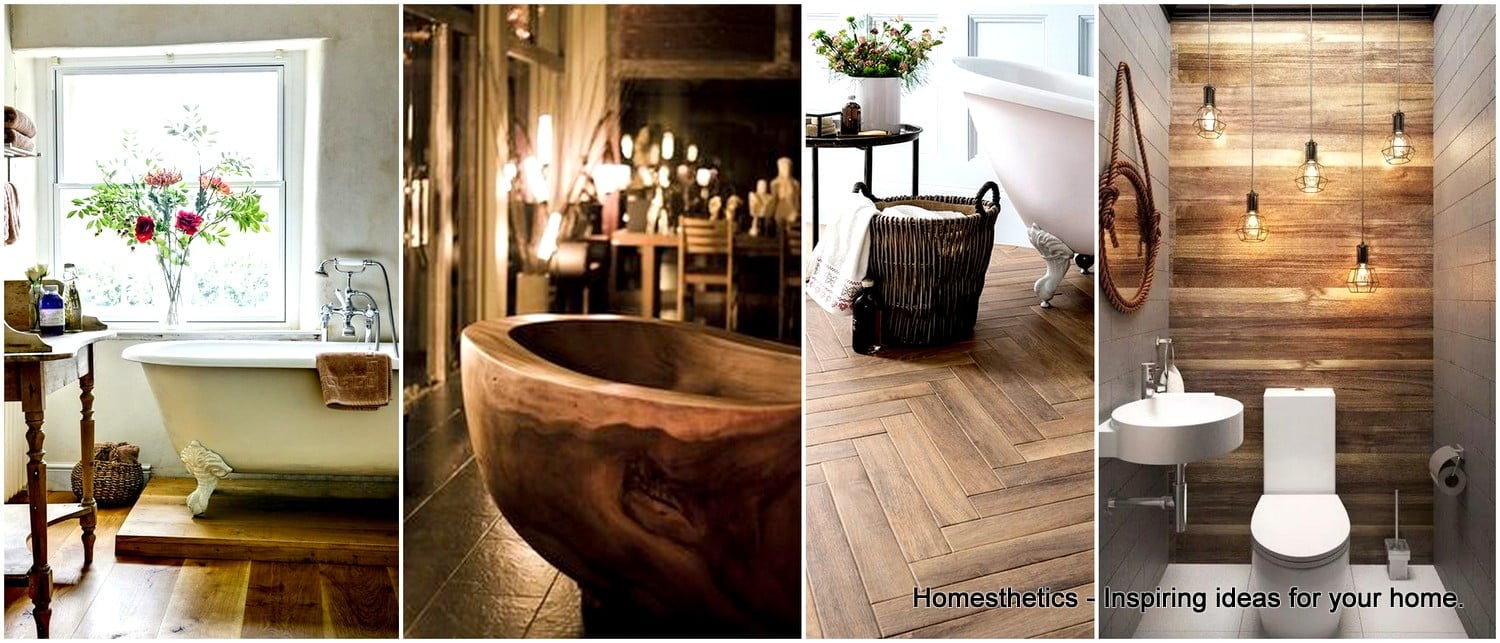 Yes, indeed, having wood in bathrooms is today considered a big no-no. Humidity, splashing water all around could damage and warp the natural essence in the long run indeed; is this true today or have we found solutions to these problems? More and more treatments surface each day, professionals today argue hat polyurethane coatings and pre-finished hardwood floors are far more resilient to water damage than they were years back, there are even parties claiming that hardwood flooring can easily become waterproof.
Does this sounds like a fairy tale?
It does indeed, mainly because hardwood floors still require great caution and professional hardwood manufacturers will always prompt caution when it comes to wet areas.
Caution does not translate into a big no-no though!
The oil-based polyurethane sealers and careful maintenance is aimed at sealing cracks between floor boards can bring wooden surfaces into the bathroom. No professional working with wood would call it waterproof regardless of their experience with sealants but many will call it water-resistant if the right treatments are used; simple water puddles for example must be mopped and dried in a couple of minutes if you want to actually claim that moisture-resistant warranty!
So we have options but we always have to keep in mind that with great power, comes great responsibility, a few things to keep in mind if you want to install wood in your bathrooms:
Hardwood floors, wooden walls in the bathroom and even vanity pieces will require express maintenance and possibly a yearly application of finish designed for wet environments
Moisture-resistant warranties are a thing yet manufacturers often challenge the claims if the products are not properly maintained and installed; also keep in mind that the moisture-resistant warranty does not translate into wood bathroom warranty, not all products that come with this warranty are fit for bathrooms, always consult with the specialists on this small but important detail
You will have to be far more careful in a bathroom that contains wood than in a regular one, spilled and splashed water must be addressed rapidly even if you are using the greatest waterproof treatments
To these treatments and this special maintenance thoughts one could add robust exhaust fans able to dry a bathroom quick and reliably, removing moisture, one of the toughest concerns when it comes to wood in the bathroom. Needless to say that the amount of care required makes this choice a bit less fit for children and people that see the bathtub as a pool yet for a small powder room or guest bathroom it is well worth the effort.
Naturally, for some people all the aesthetics benefits are worth the risk, if you are ready to put in the maintenance work, every room in house can boost this cozy, warm, splendid material. The clinical, cold look of most bathrooms can go out the window with its moisture rapidly when wood comes in, imagine the options in terms of texture, color, imagine how personal, warm and delicate your bathroom would look with a wooden wall or hardwood floors!
In terms of style and interior design is well worth it reason for which, extraordinarily beautiful project follow categorized in five big chunks, we invite you to browse our gallery and leave your feedback in the comment section below!
Wood in Bathroom Design Ideas 
Wooden Floors for Bathrooms
Hardwood floors are a feature sought by many homeowners, a must-have greatly appreciated able to change a room rapidly, one that starts to gain popularity in the bathroom too these days. The floors are of-course the most difficult place in which you can bring wood in the bathroom but is also the most popular by far.
A very important step is to fill the cracks between the boards, after that is secured you will need several oil-based polyurethane coats to seal the deal.
Keep in mind that even after this point you still have to apply a yearly treatment on wood as well as great care daily, mopping potential puddles and splashes as soon as possible.
Always pay attention to the top coat of the finish and test it out when you have doubts, spill a couple of drops of water on the surface and observe the process, if the beads remains fully formed on top, you are good; if it sinks, you will need to add another coat of polyurethane as soon as possible.
1. Use White Withered Wooden Flooring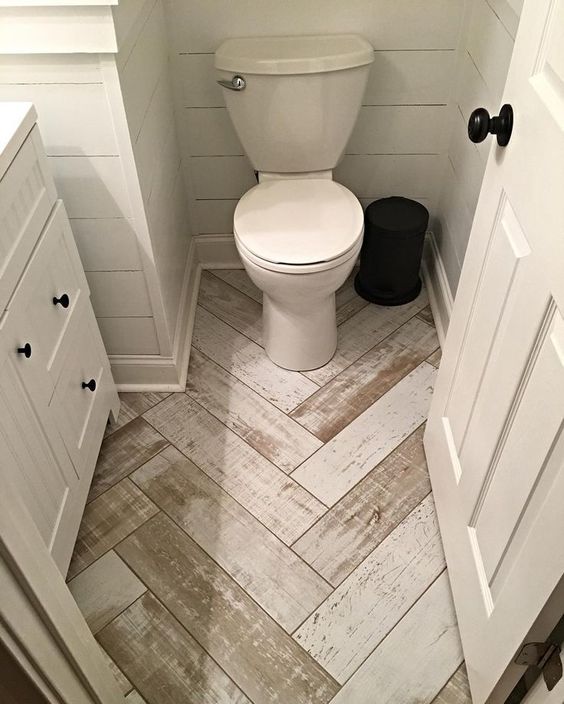 A simple and chic finish for the bathroom, it emphasis the feeling of space, brings coziness and has a touch of that farmhouse that we often search whilst looking modern.
Image via Instagram
2. Wooden Flooring Paired With Gray and White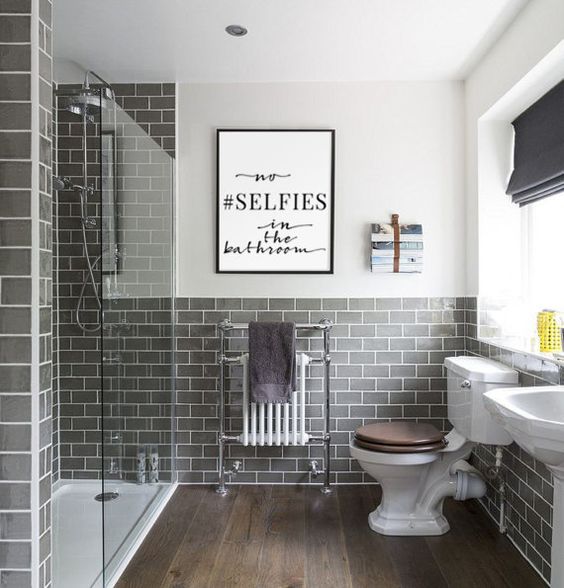 Yes, a timeless and fail-proof color scheme can be brought into the bathroom and it will transform it epicly! Notice the size of the window and the openness of the shower cabin and you immediately realize that this ordinary bathroom; gaze next at the radiator and piping  and the leather strap holding magazines to surge inspiration from an interior with great attention to details.
Image via Etsy
3. Wooden Flooring in Bathroom Flooded by Light
There are a few things in this world which would suffer from light, the bathroom above is certainly not one of them; note the airiness and the amount of light, how do you see this bathroom?
Image via lonny.com
4. Herringbone Patterned Wooden Floor for Bathrooms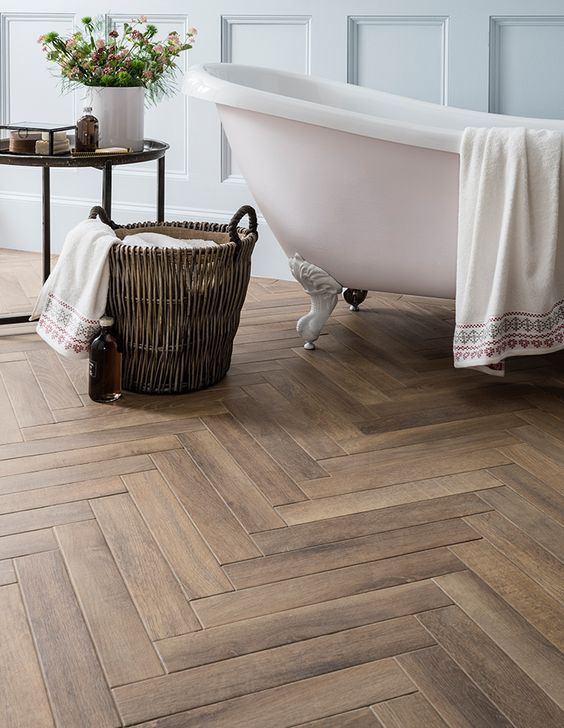 Simple, natural look bringing in the coziness and warmth in the elegantly-sophisticated herringbone pattern that we all love.
Image via toppstiles.co.uk
5. Green Mint, White and Wooden Floors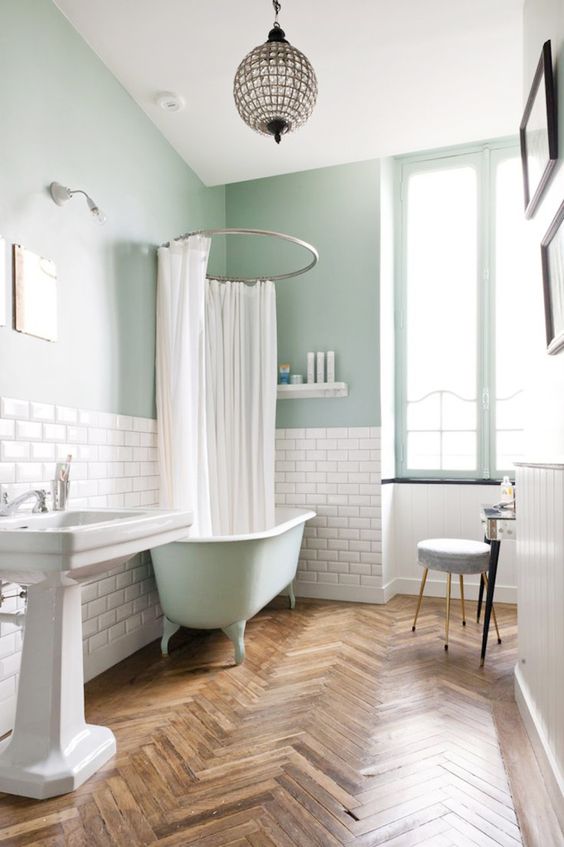 A spectacular chromatic balance enjoying a really sunny spatiality; Scandinavian design enthusiast will surely appreciate this interior!
Image via glitterinc.com
6. Elegance and Wooden Floored Bathroom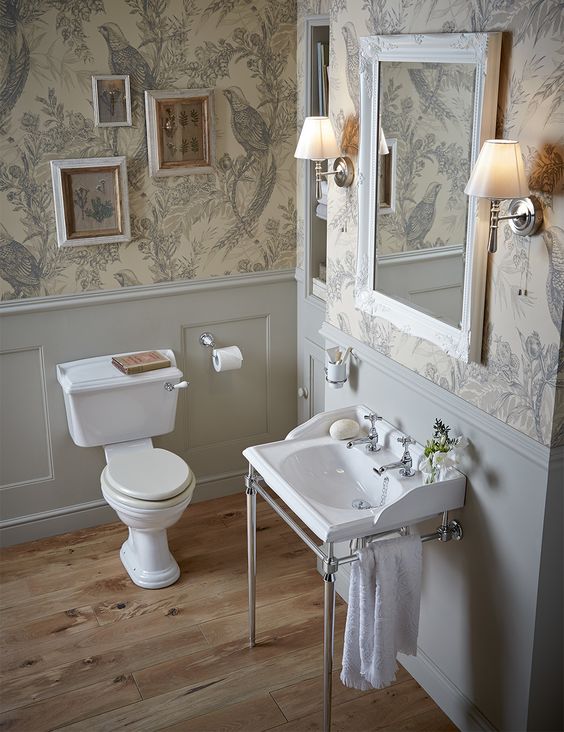 A bathroom design with classic tendencies can be greatly emphasized through the naturalness brought by wooden floors.
Image via Pinterest
7. Large Wooden Planks Floor the Bathroom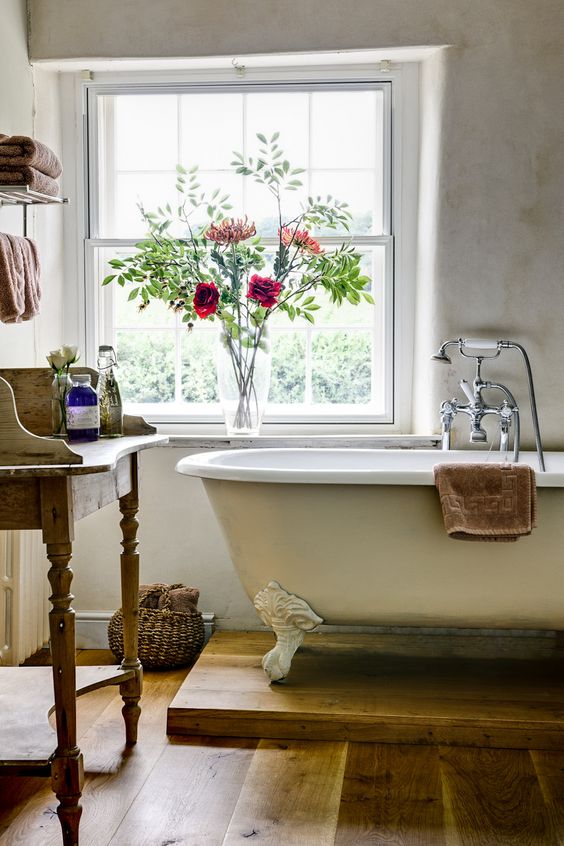 When you have wooden floors in your home by default it is your duty to refresh them; these days such features are rare in the world of plastic, one ought to take advantage of them.
Image via jasoningram.co.uk
8. White Brick, Wooden Ceiling and Wooden Floored Bathroom
A sublime recipe for success is the white wall trapped between wooden floors and painted bathroom ceilings yet when the white wall is on textured brick, everything changes, sheer beauty, at its best!
Image via Imgur
9. All Wood Cabin Bathroom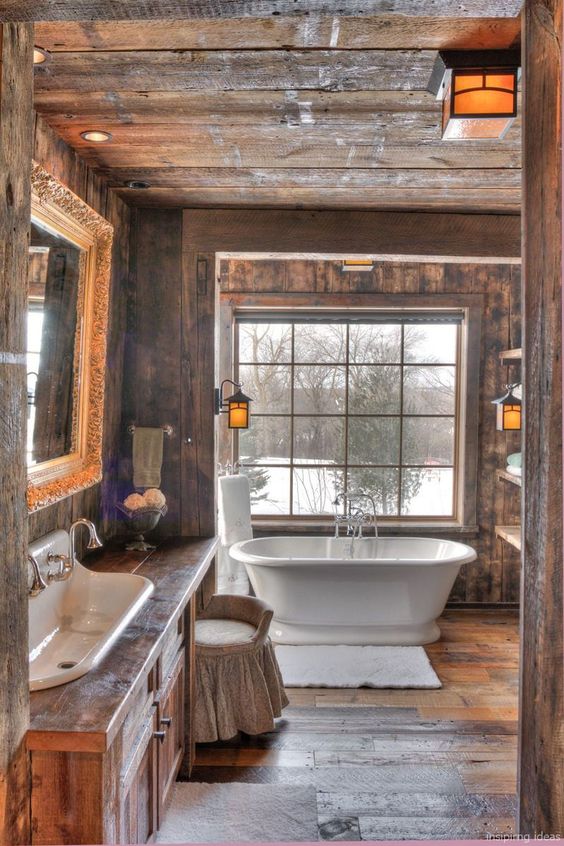 Elegance in a wooden chalet, one stand alone bathtub centered to an immense windows allows the user to enjoy expansive snowy landscapes nestled a cozy an warm shelter. Does it get better than this?
Image via Pinterest
Wooden Countertops
A rich texture brought in the bathroom, under the sink, to an area with which you interact daily, can you imagine the impact?
Moreover, let's imagine that this is reclaimed wood, aged, with memory and background; it can even be fresh wood from the family tree that felt in the last storm, the piece immediately gains far more importance that it already had: a rich texture of sublime beauty that brings in coziness and warmth, sounds amazing right?
It does, reason for which you need to do it and you need to make sure you take great care of it! Tung oil is an option, a naturally-derived oil used waterproof ship hulls; if we were to recommend a brand rapidly, Waterlox would be the top choice. You can also use Rubio Monocoat, a product friendly to environment that brings both color and protection in a single layer, basically a mix of wax, linseed oil and catalytic driers aimed to protect from stains. If you really want to bring in the big guns, you need epoxy you need epoxy, the most durable, most expensive treatment for wood, a plastic-like resin most commonly known for coating surfboards. The downside of epoxy is that it comes with a plastic look, it changes the overall appearance quite a bit but it also makes it impossible to penetrate in theory.
Sounds good?
Let's bring that wooden counter-top into the bathroom then!
10. Warmth in a Wood Carved Sink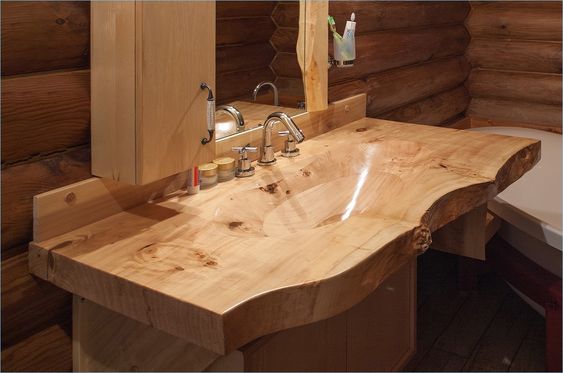 It may not be everyone's cup of tea but is is certainly spectacular and one can easily state that it is one of a kind. Notice how the wood shines and reflects the light heavily? It is the wood epoxy  wood epoxy protecting the natural material, a side effect of the finish.
Image via Pinterest
11. Living Edge Wood Nestling Metal Sink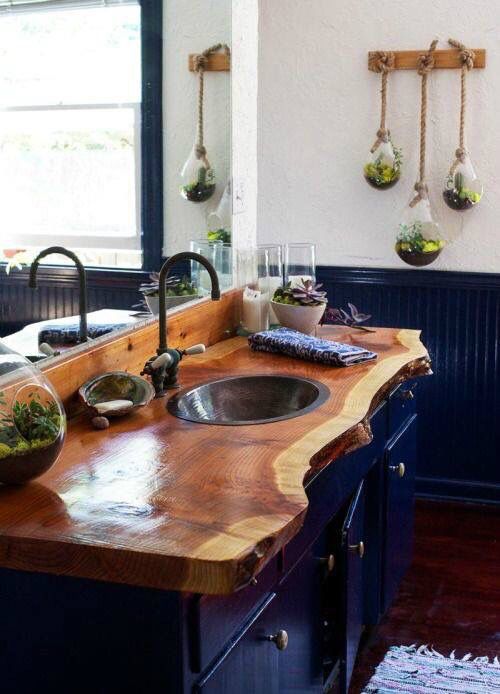 A rather simple and extraordinarily rewardful DIY project once you find the right piece of wood, a project that surely uplift your bathroom heavily and more importantly one that you can replace or change easier than wooden floors or walls; do note that floors are wood here as well but in the picture above they're heavily shadowed by the live slab.
Image via Pinterest
12. Double Living Counters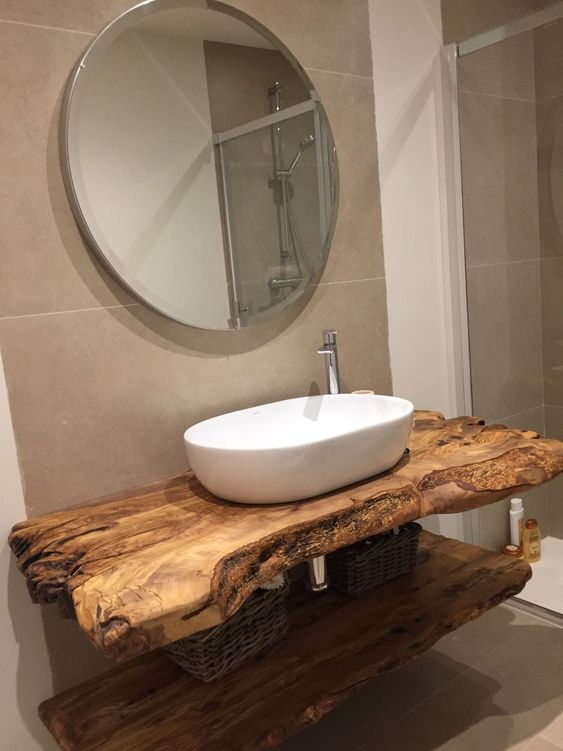 An extraordinary bathroom design stands above; two counters of sheer beauty sit in a rather plane and uninteresting bathroom perfectly, they are the key elements, nothing challenges them, everything is subdued to them; one could argue that it would be a bad move to add other interesting pieces to this scenario. As a result, this legendary scenario can become truly affordable if one would start hunting for the pieces of wood and save the budget for them from the ceramics and decorations that you should avoid in order to declutter.
Source Unknown
13. Wooden Beams Become Bathroom Counter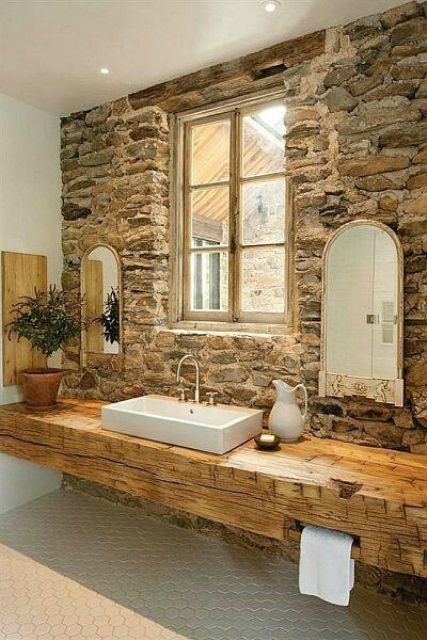 A bold, strong solution for that speaks of greatness just as much as it speaks of sensibility, coziness and warmth; a solution that become a sculptural focal point in their own by default but which at scale be supported in the gesture by other complementary textures, here, the rock wall and the window.
Image via Pinterest
14. Wooden Counter on Regular Furniture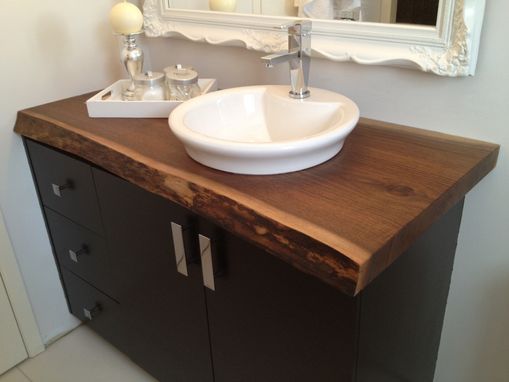 Small pieces of furniture can too receive the warm support of a wooden counter; here a sober vanity is topped with a splendid texture to spice things up. Note that the furniture piece is a clean black that puts the focus on the counter itself; in a small space, challenging the countertop fixture with a highly decorated vanity might defeat the purpose.
Image via custommade
15. Living Edge Counter & Rock-Sculpted Sink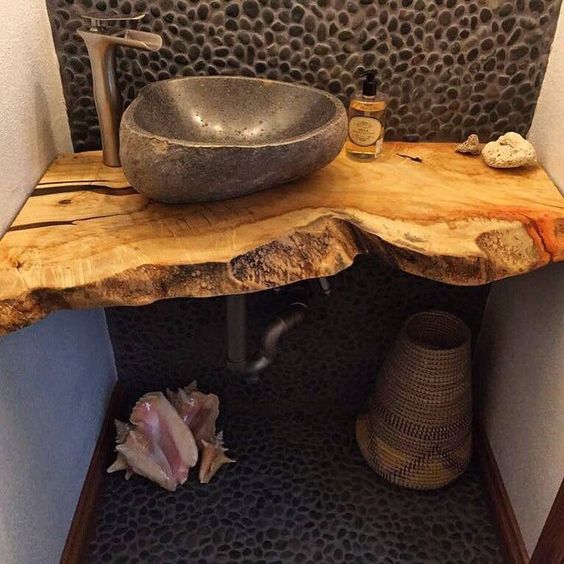 Nature nestled with in a bathroom, river rocks tailored on the floor and wall accent holding a splendid living edge that seems to move and breathe. On top, an immense boulder has been sculpted into a sink, a sculptural water faucets serves it.
Image via dekoration19.ml
16. Simple Wooden Counter Boosts a Timeless Design
Modern, splendid interior carrying conservative elements into contemporaneity, notice the vintage look of the faucets and lighting fixture as well as the horizontal slats in the accent wall. All of them in a balance that does not put the wooden counter-top forward but it supports it beautifully and discreetly.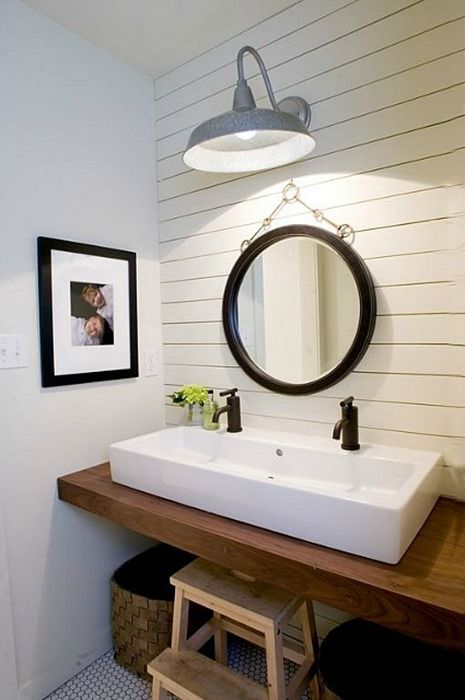 Image via Pinterest
17. Wood and White Elegant Bathroom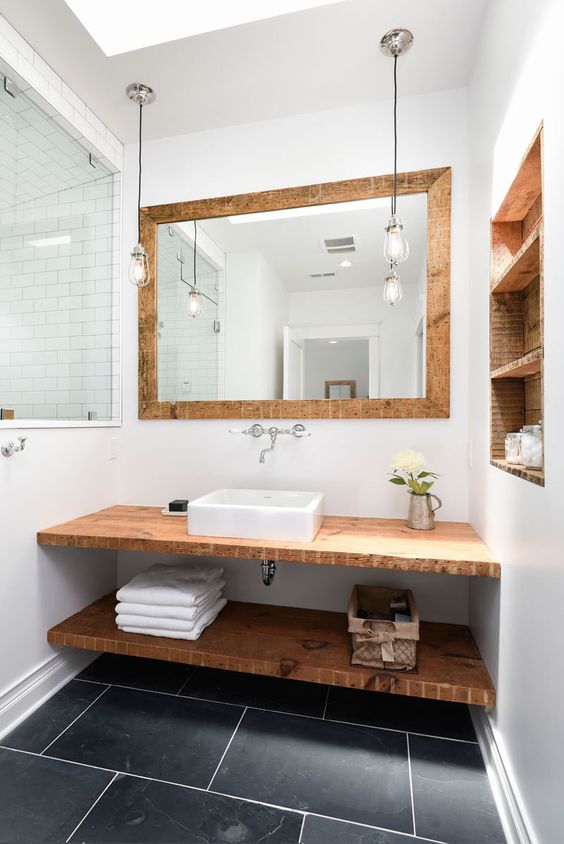 Now what we have above is something else entirely.
Why, you might wonder?
Simply put, a insanely simple white space flooded by light receives as focal points elements with very powerful, rustic feel, roughly finished wood abruptly enters the picture with a very natural warm feel; here the wood is not in disguise, his beautiful imperfections are present and greatly enhanced by the amount of light and attention they receive thanks to he lack of details around them.
Image via Pinterest
18. A Carpenter Bench Becomes Vanity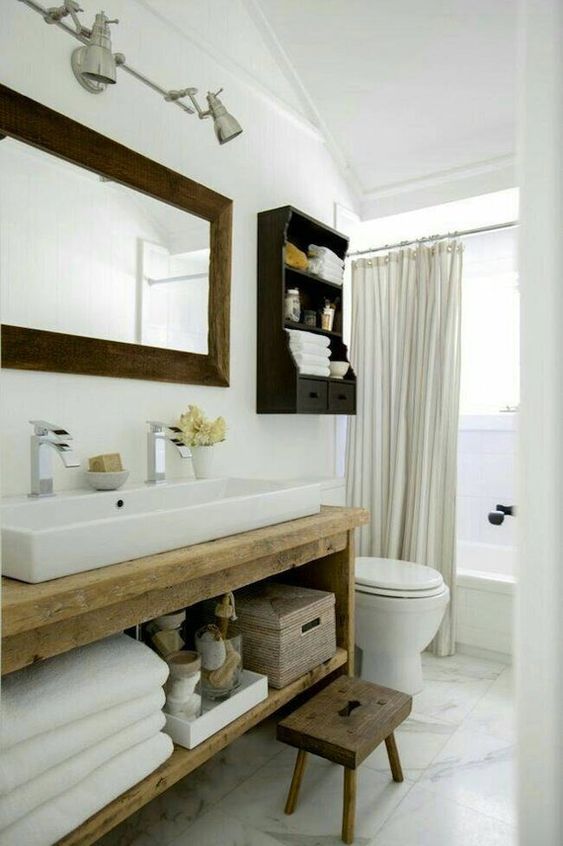 If you are not convinced yet, take a look at the adorable little stool and imagine how the owner's memories may be packed into these pieces, how with the support of these former utilitarian he or she built his or her career or how their relatives, friends did. Items that stand the time of time have a story to tell, you have the choice of continuing it or putting to rest.
What do you do?
Image via etsy
19. Salvaged Wood at Home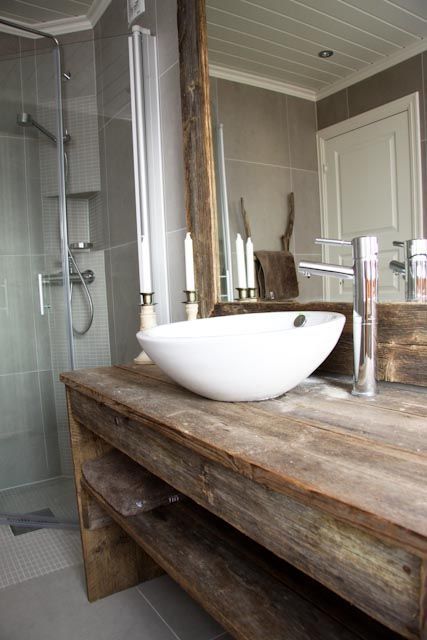 It is not for everyone but it is extraordinarily beautiful whether you like or not. A wooden surface is enriched in time and so was the one example above; if you feel like it's too rustic or too harsh, ask around, list it on Craglist, you will surely find people to cherish such pieces.
Image via Pinterest
20. Suspended Wooden Counter Caries 2 Sinks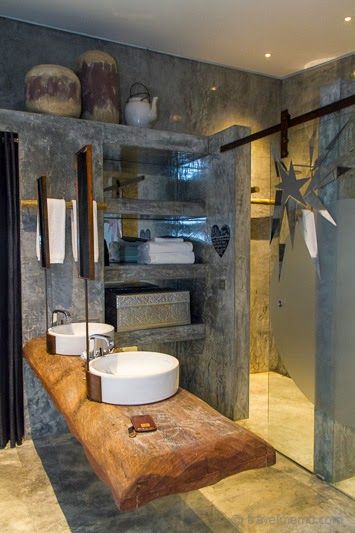 Might look unnatural, might look surreal but who could argue that they setting above is something else but beautiful?
If the harsh concrete feel of the surrounding bothers you, imagine the suspended ensemble in any other setting, complete black bathroom, complete white or two-three toned bathroom; would it affect its aesthetic values? One could argue that a less cluttered scenario in terms of texture would actually enhance the piece.
Image via Pinterest
21. Sinks Sculpted in Stone Rest on Wood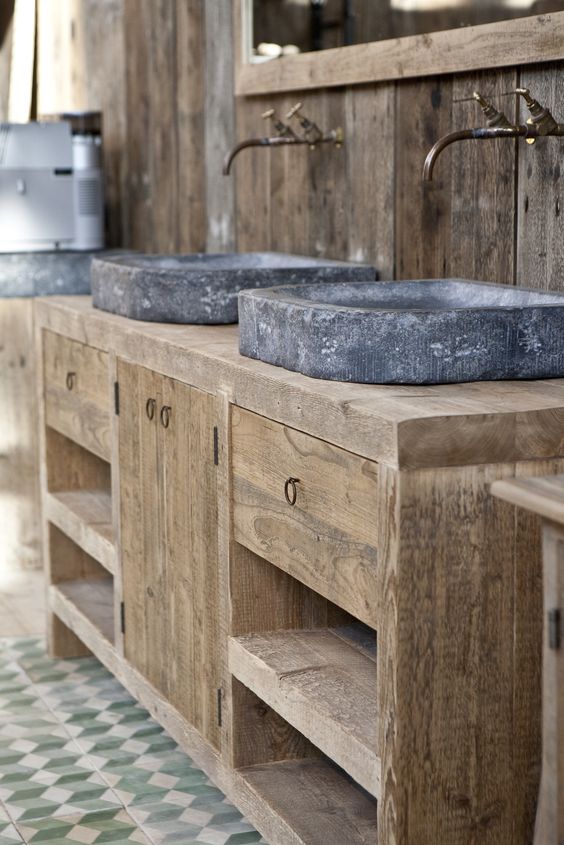 Image via Pinterest
Reclaimed Wood Vanity
Reclaimed wood or not, a wood vanity in the bathroom can be most sustainable way to bring in the cozy material if you are not certain yet that you can keep up with the maintenance of a hardwood floor. Using salvaged wood would certainly boost the aesthetics whilst keeping the costs down but any wood vanity would do as long as you love it.
The Achilles heel of the wooden vanity is often the area at the base of the sink which is in most cases in the shadow of the sink; this area becomes a bit gray though making it harder to see clearly each time if there is spillage. This should not stop you though. Simply pay attention and enjoy every moment, a wood vanity or counter are extraordinarily beautiful pieces that bring in a splendid farmhouse look that one cannot simply overlook.
22. DIY Rustic Vanity Made from Beams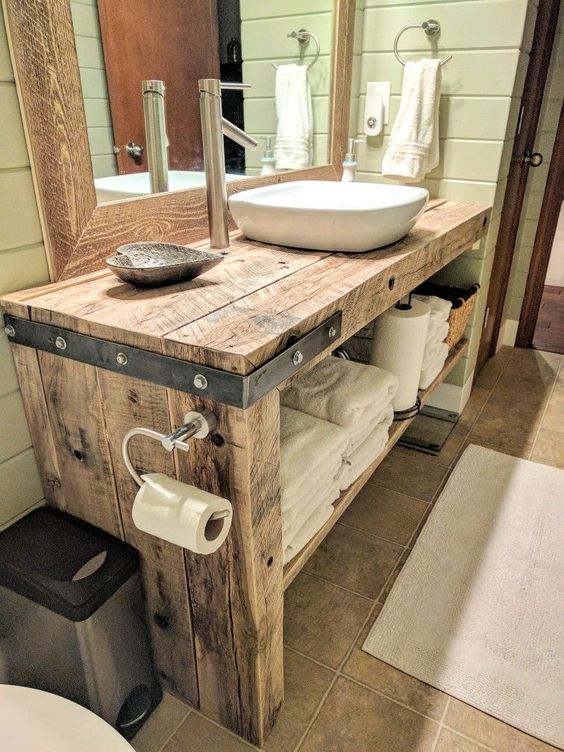 While it looks rustic, note the surface can be made smooth at silk without affecting aesthetics. Open-shelving underneath is the usual go-to design option when it comes to such design projects but you can also fill the open shelving with boxes and containers that you find interesting.
Source Unknown
23. Modern Bathroom Features Wall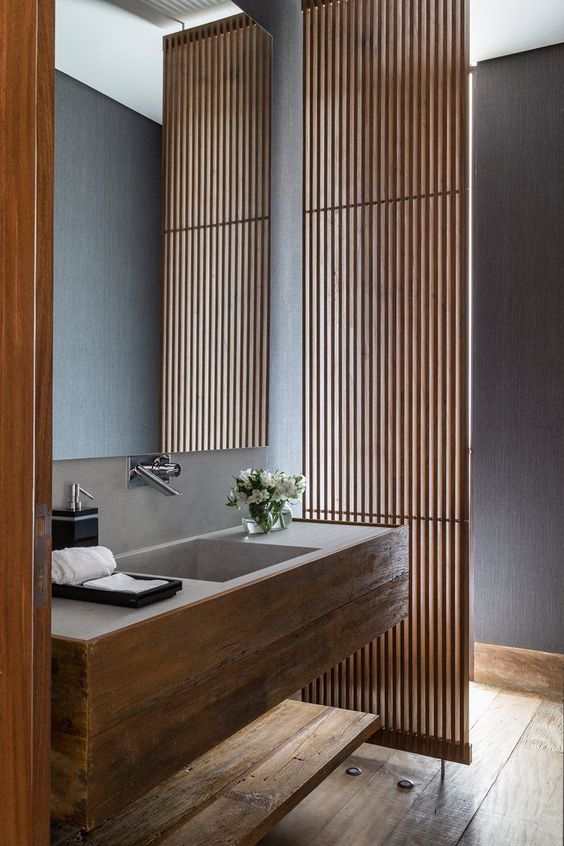 While the subtitle might sound odd, in here the wood is subdued to the sober ambiance, everything seems to be still, frozen, only the highly contained but extensive wood surfaces seem to bring in warmth to an otherwise cold setting. How do you see it?
Image via archilovers.com
24. Iron Window Mirrors Bathroom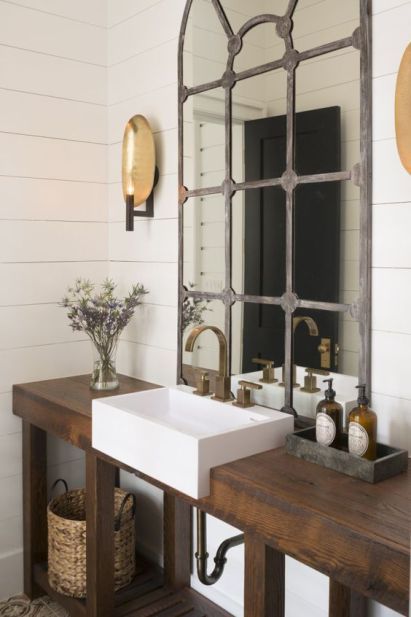 he wooden presence here is notable but the interior is buit around the old window frame which is now a mirror, the splendid metal piece enhances the bathroom through its presence, the rest of the materials, while important, are subdued. Note how the sink joints the wooden counter.
Source Unknown
25. Wooden Wall Meets Wooden Counter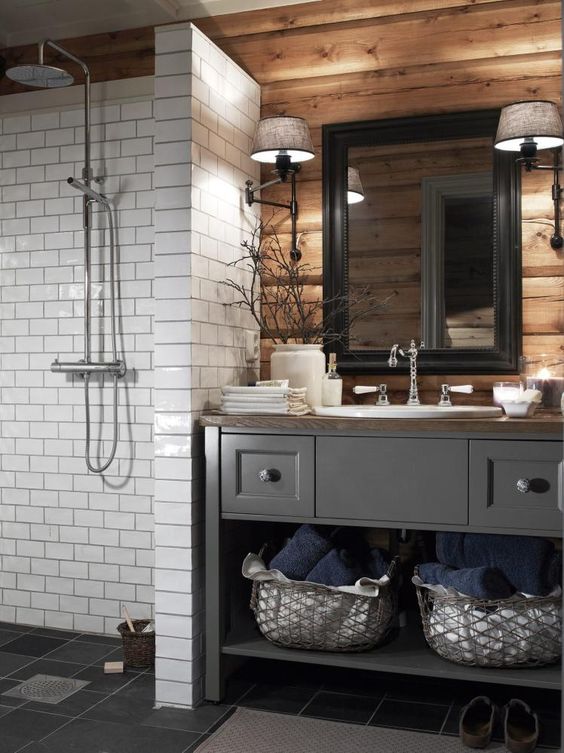 The vanity has been re-painted and supports through a neutral palette, thanks to it, a slim and elegant wooden counter meets the immense wooden wall accent.
Source Unknown
26. Bathroom Wooden Counter With Concrete Top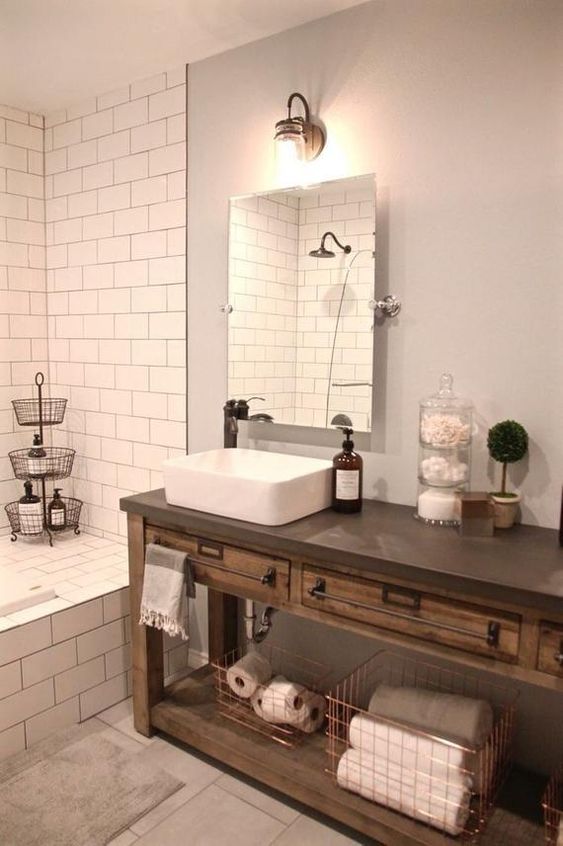 An extraordinarily showcase of power this vanity is, a top heavy concrete presence rests on a salvaged vanity that looks to have priorly called home a carpenter's workshop; together, the mix defines the bathroom completely, nothing else matters.
Source Unknown
27. White Sink Submerged In Bathroom Wooden Counter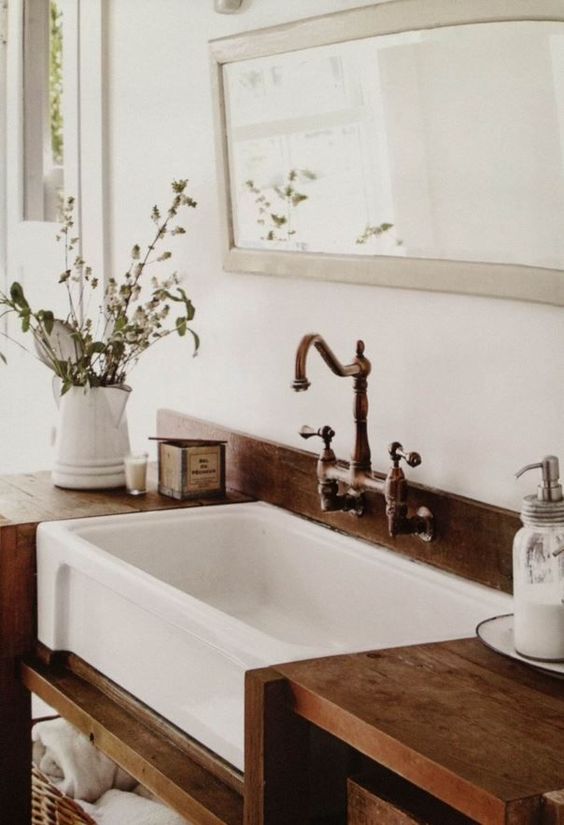 This can be the result of a DIY project, a custom vanity piece tailored around the sink of choice; a vanity can also be sliced and sculpted to shelter it. Regardless, ensure stability of the heavy sink and imagine that in rare occasions, this reservoir might be filled with water, prepare the structural load for these events.
Source Unknown
28. Intricate Wallpaper Textures Around A Wooden Vanity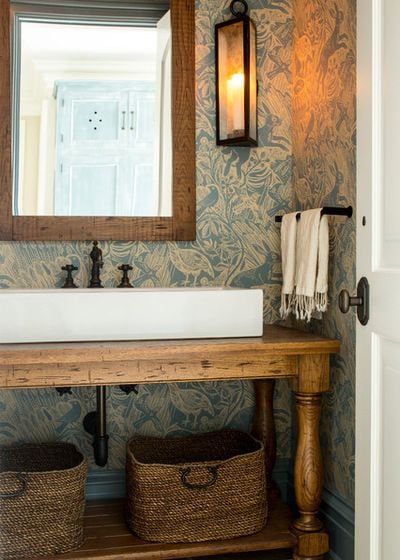 A simple setting can invite intricate textures, it can invite complementary or contrasting colors, you are the creator of your old universe.
Source Unknown
29. Copper, Wood and Flowered Tiles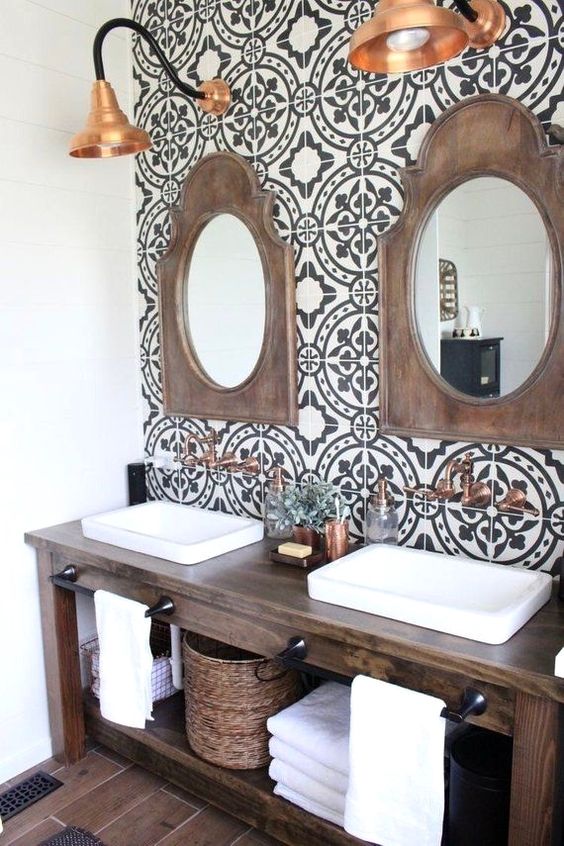 Powerful elements with strong visual presences may challenge one another in a bathroom relentlessly as long as you understand this duels. One could argue that above the accent wall paired with copper faucets and light fixtures are in a permanent contradiction but it is not always that simple, if you like, it makes sense, it's that easy!
Source Unknown
30. Wooden Vanity in an Ocean of White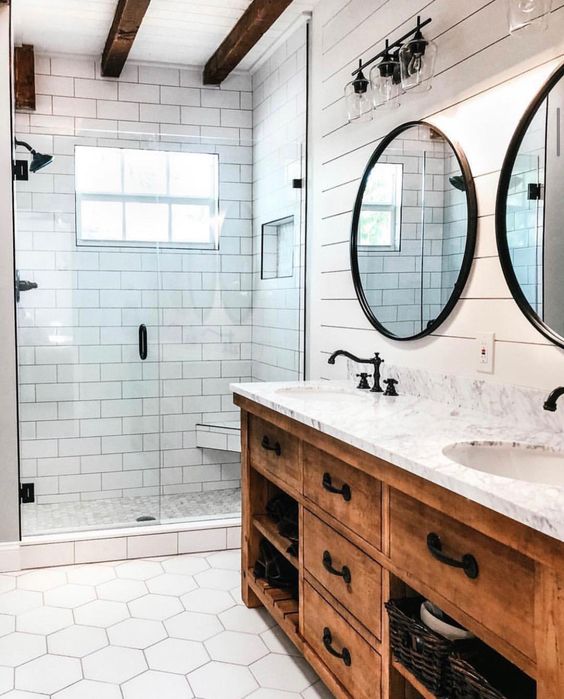 It can be lonely up there indeed, the wooden vanity above caries a marble top between a multitude of different white texture, everything around it is white but nothing is alike, in this airy ambiance, the wooden beams up-top salute the cozy wooden presence.
Image via Pinterest
31. White Bathroom Receives Wooden Vanity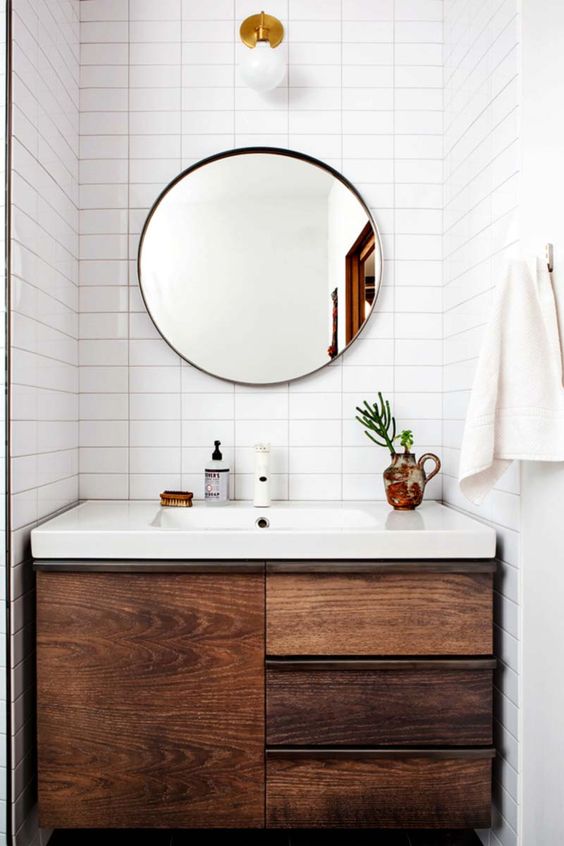 A small bathroom by no means less aesthetic values, cast a glance above, the sheer beauty of this this simple setting will surely impress you; from the round mirror to the cozy warm wooden textures, everything fits, the scale and relation between elements is crystal clear. Source Unknown
32. Copper, Wood and Black Marble Bathroom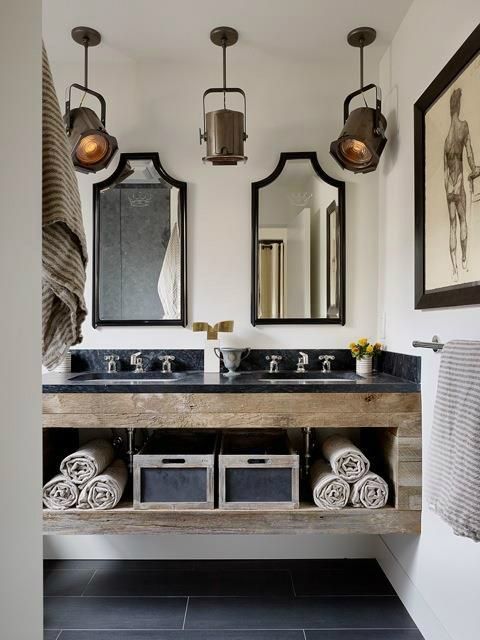 There are more elements in the bathroom above of-course but these do seem to stand out, do they not? The light texture of the wood above and the support it receives from textiles contributes to the overall balance; no one element control the setting above but they all contribute.
Source Unknown
33. Modern Bathroom Invites Wooden Surfaces In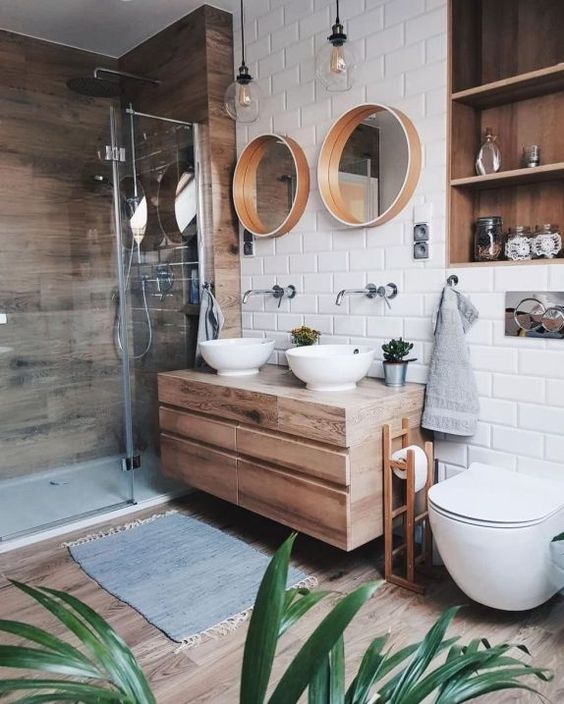 In the bathroom above, wood seems to dominate in square meters covered yet the overall look is airy, tropical almost, very light on the eye; is the lightness of the wood used helping?
What do you think?
Image via Pinterest
Wooden Sinks and Tubs
A tricky one, a wooden bathtub or a washbasin made out of wood sounds like a dangerous design choice isn't it?
No, not really, wood has been used for bathtubs for a long time now even without the really state of the art treatments that we have today; and wood barrels are still a thing right?
Cedar, hinoki, walnut and other aromatic hardwoods have been the main resource of Japan in the making of ofuros  or deep soaking tubs in English. Sailors and shipbuilders around the world have showcased the resilience of teak and it's water capabilities.
Why would a wood sink or tub scare us then? In Japan and Denmark, wooden tubs are revered traditions, in no way a novelty as seen by most of us in United States.
As you can imagine, most of the wooden bathtubs that you would really love are custom designed off the hardwood of choice yet mass produced wooden bathtubs are readily available too!
In terms of maintenance all solutions above stand; it is recommended to rub the tub or sink with linseed oil every few months and rinse the surfaces well to get the soap off them. remove the soapy residue.
34. Wooden Lines Embrace a Bathroom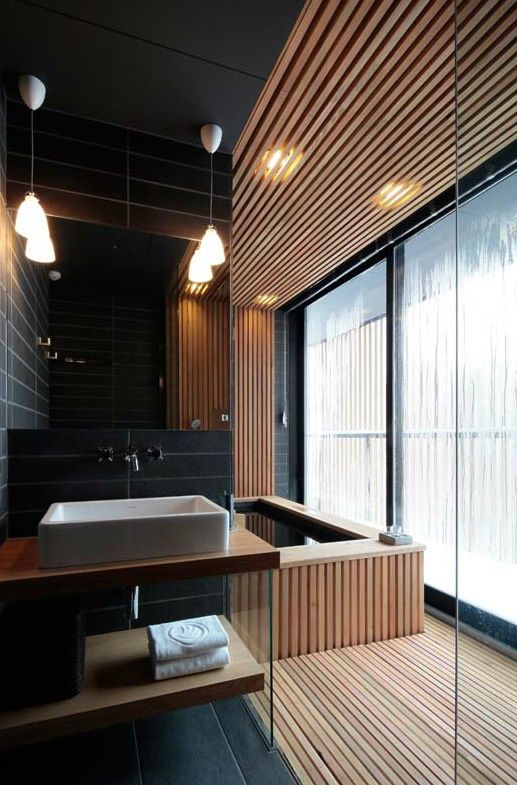 Half of the bathroom is black, half wooden, extraordinary extensive views can be captured from the bathtub and everything is flooded by light; it doesn't get much better than this.
Image via dishmonusa.com
35. Utter White Simplicity and Wood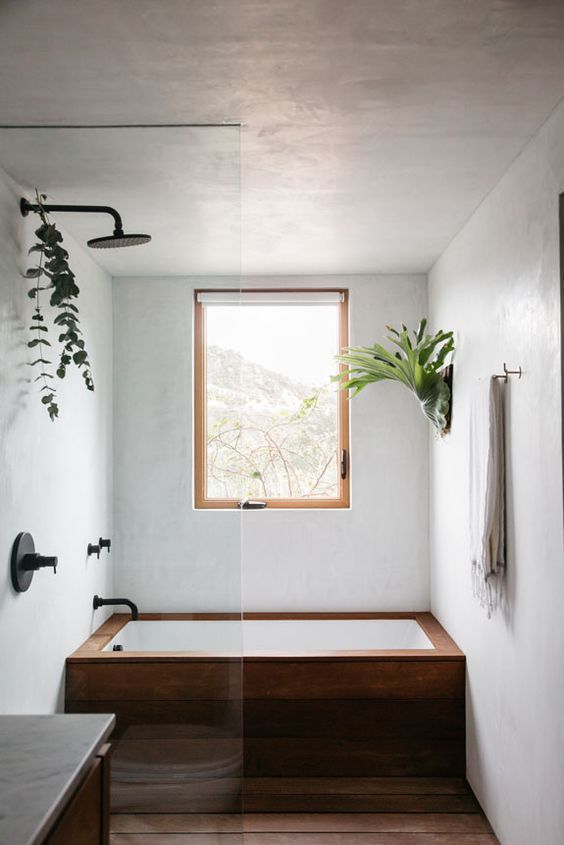 Wooden flooring continues upwards a tad to embellish a bathtub in coziness and warmth, a huge window invites light in and serves as a live snapshot of the green surroundings. Vegetation is brought in the too, tranquility is key.
Image via sfgirlbybay.com
36. Skylight and Wood in a Warm Bathroom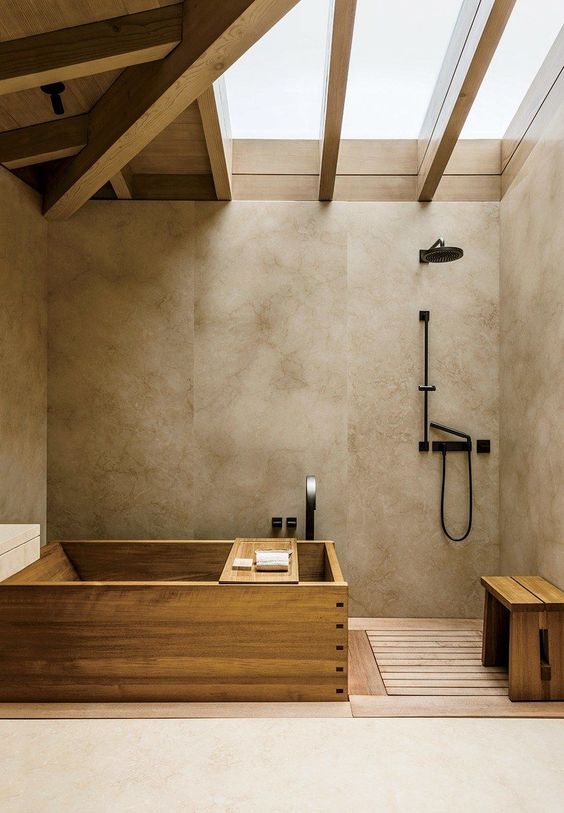 A splendid bathtub, ready for you ritual, and a large shower area stand side by side splendidly, playing under the light of a skylight supported by exposed wooden beams.
Image via Pinterest
37. White Bathroom With Wooden Bathtub & Flooring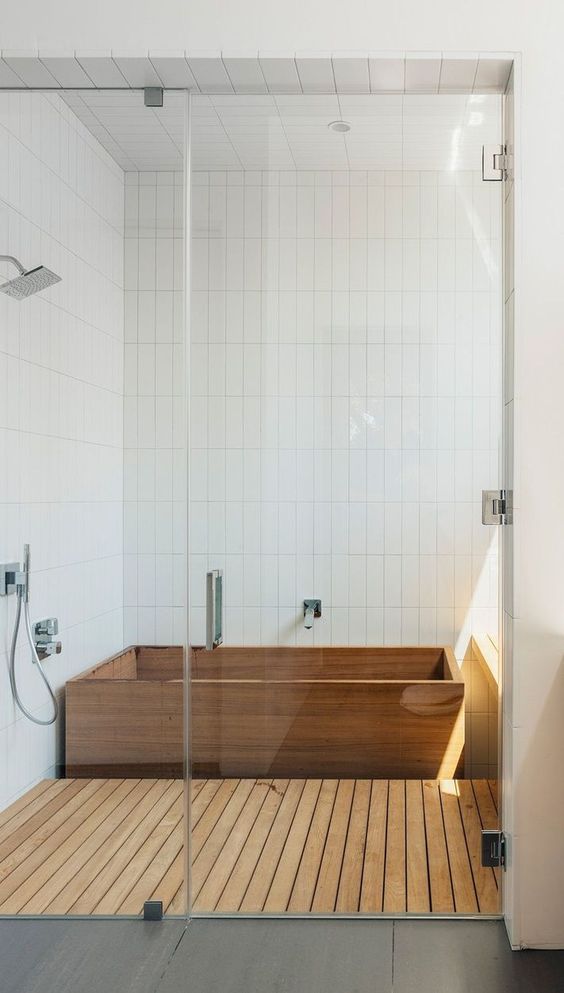 Notice the joints between the ceramic pieces, how delicately sensible they meet to forward one's focus downwards onto the bathtub and wooden flooring, adding dynamicity through elegant rhythm.
Image via lalulalang.site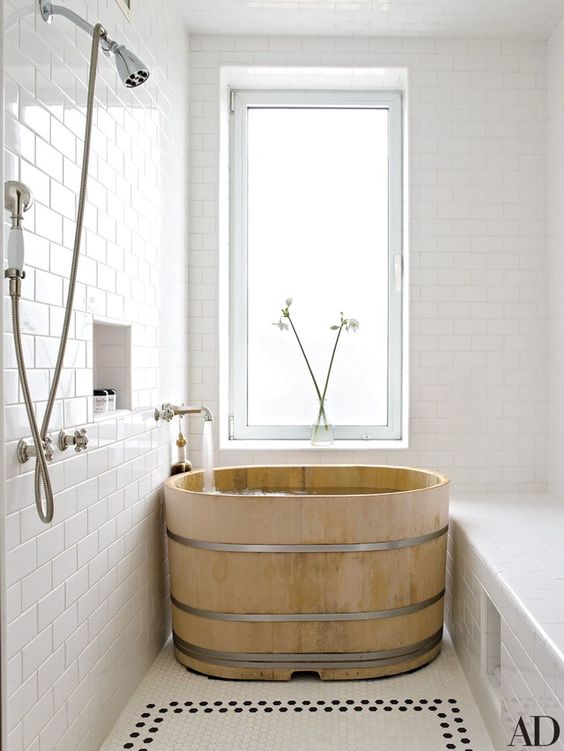 It can be that simple, construct the right neutral ambiance for you and place one element of focus, a cozy wooden bathroom that you can purchase with two clicks off Amazon.
Image via architecturaldigest.com 
39. Oval Shaped Custom Bathtub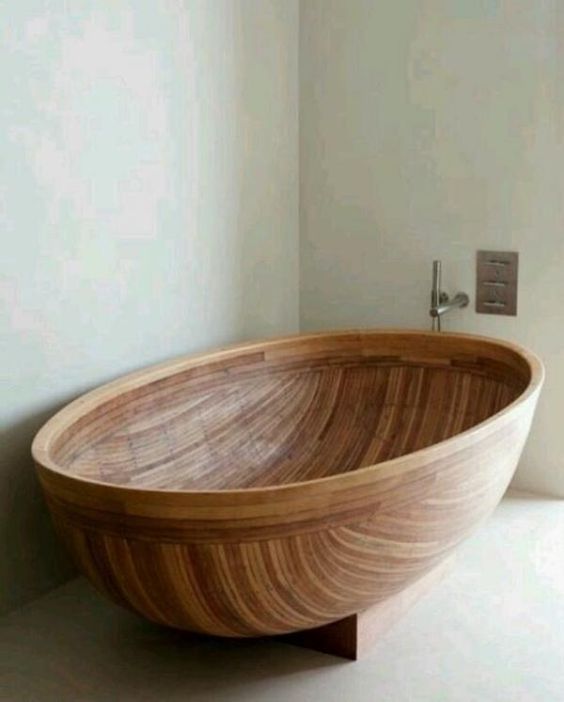 Just cast a  glance at the lines shaping it and tell us in the comment section below if you like it or whether the wooden texture has been lost in the details.
Image via addictdecor.com
40. Sculpted Wooden Tub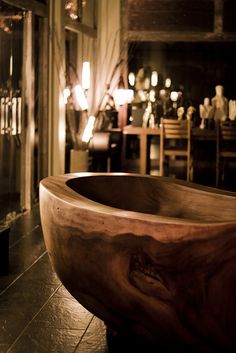 It looks like one piece, priceless one of a kind presence.
Image via Flickr
41. Golden Accents Enhance a Wooden Tub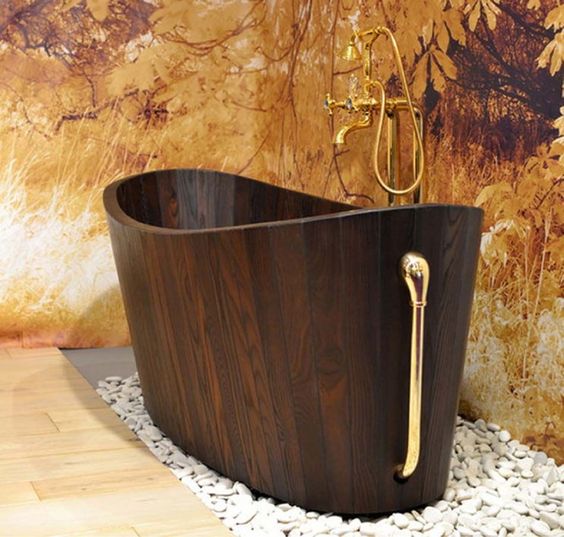 The tub appears to nestle in a meadow.
Image via covethouse.eu
42. State of the Art Walnut Bathtub Craftsmanship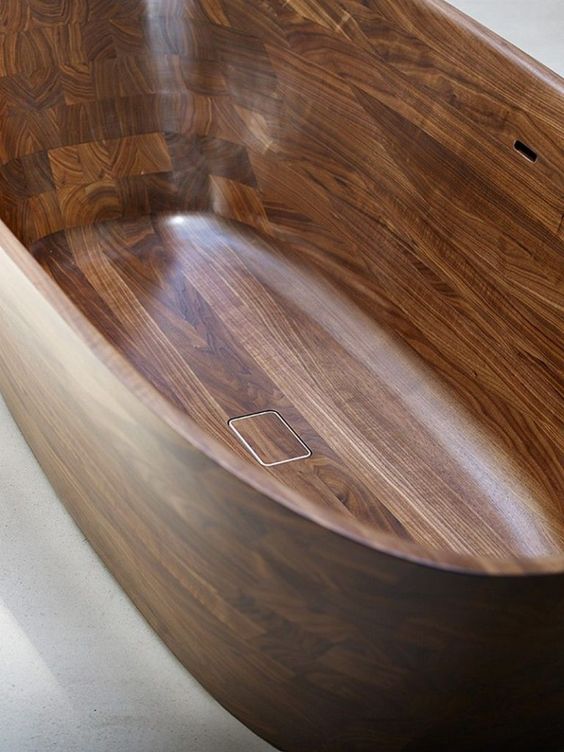 One simply cannot describe this beauty.
Image via Nina Mair Architecture
43. Organic Wooden Bathtub for Two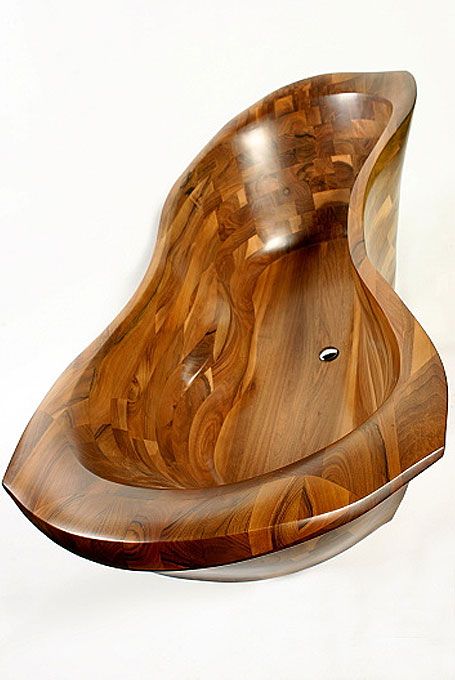 Everything is better when you can share it with someone.
Image via vauu.eu
Wooden Wall Designs
After hardwood floors, wooden floors are definitely the most desirable option when it come to wood in the bathroom and one could argue that they're also the easiest to install and easiest to maintain as these can avoid areas where water splashes are common completely.
They also have gravity on their side, puddles are not an option right?
Wooden wall designs can be extraordinarily inexpensive if you use salvaged wood, an extraordinarily impactful move, immense coziness and warmth will change your bathroom rapidly.
Shower and bathtub area might be avoided, yes, but if you are ready with linseed oil, wax treatments, epoxy in no way you should worry; as the gallery above will showcase, wood can be featured in wet areas flawlessly boosting the style of choice; whether you are going for a modern cozy look or for the rustic farmhouse look, wooden walls will be by your side, literally!
44. Bathroom With White Bottom Half, Wood Top Half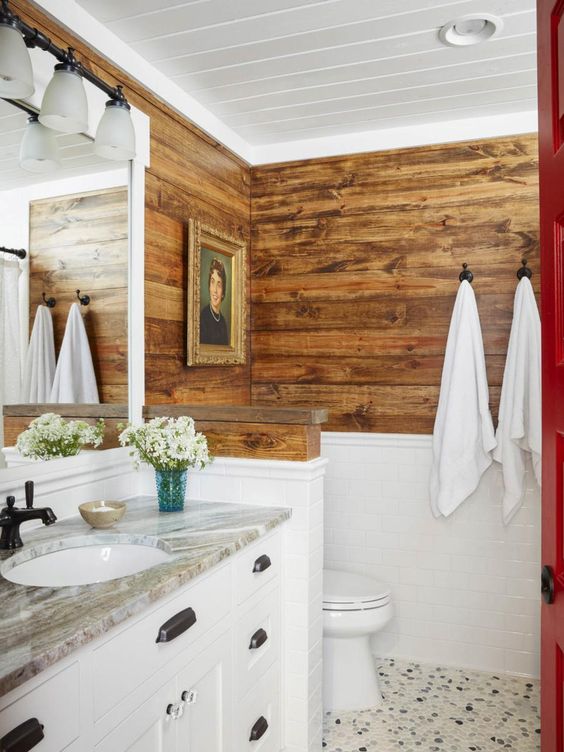 It is usually the other way indeed, how do you like the norm challenged?
Image via HGTV
45. Rectangular Wooden Patchwork Bathroom Wall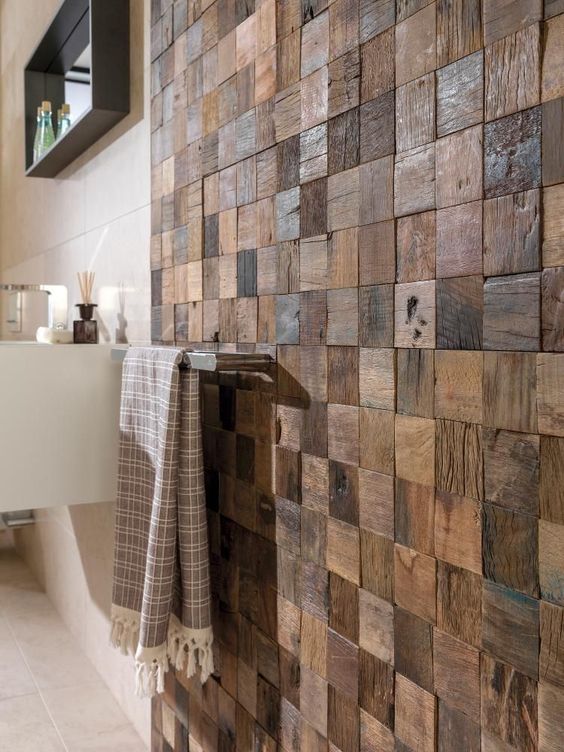 A incredibly simple design to realize with the right tool and patience, one that can change a bathroom in an instant; simply salvage wood and collect different essences, textures and hues and start assembling your own wooden puzzled wall!
Image via Pinterest
46. Ceiling and Accent Wood Wall Distort Space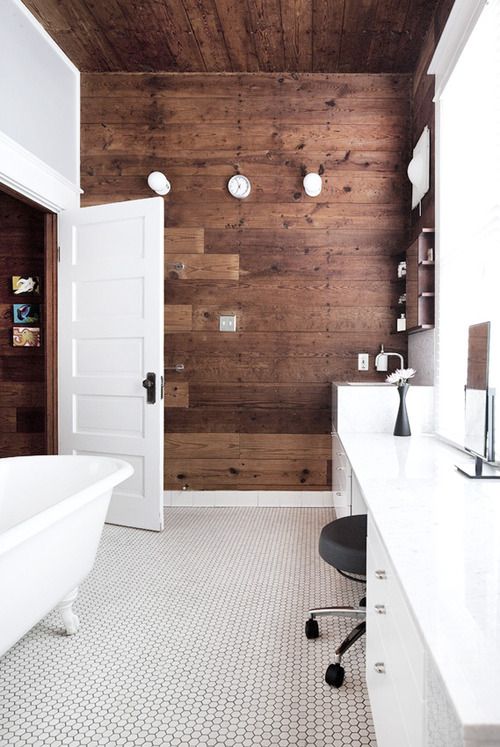 It looks upside down and yet brilliant, all you have to is to reverse the traditional placement of wooden surfaces, go for an accent wall and the ceiling and everything and the perception of your bathroom will change rapidly.
Image via Pinterest
47. Wooden Wall and Gray Colors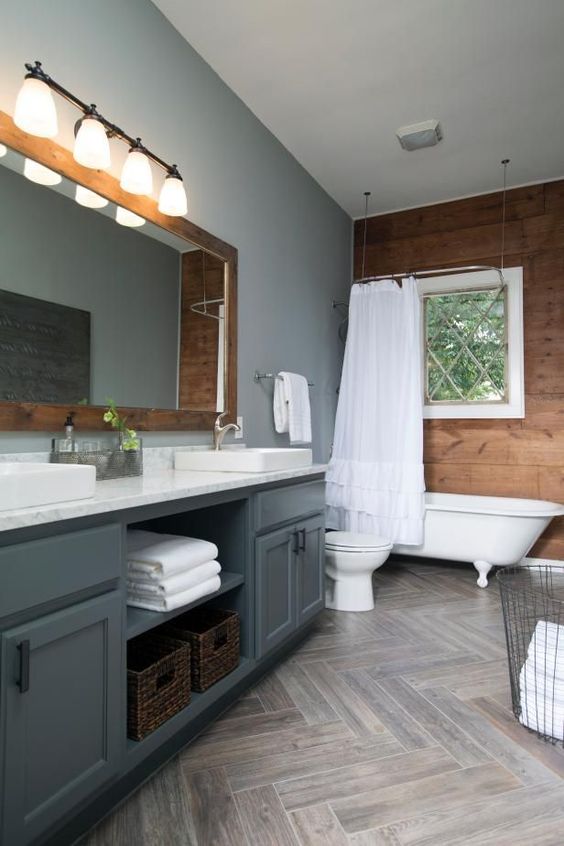 One can argue that two textures of wood might be too much, wood is an easy thing to overdo, find the right balance in your interior.
Image via HGTV
48. Exquisite Wood Embraces Bathroom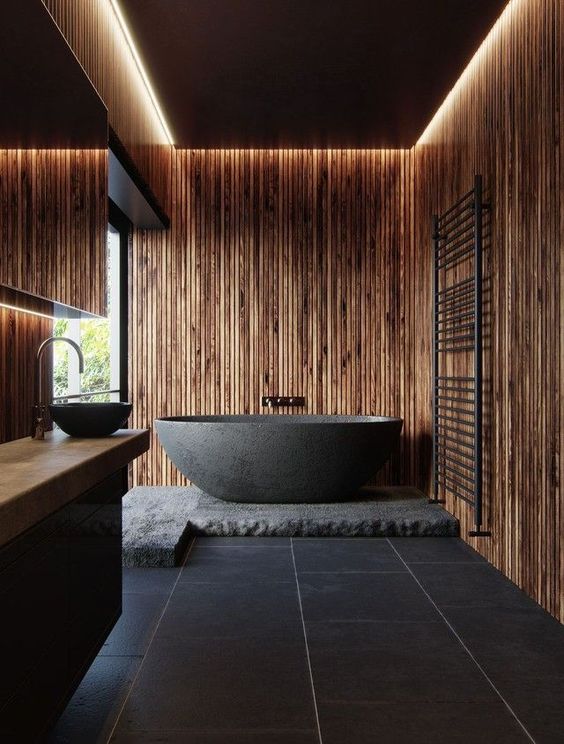 Image via Pinterest
49. Colorful Salvaged Wood Bathroom Wall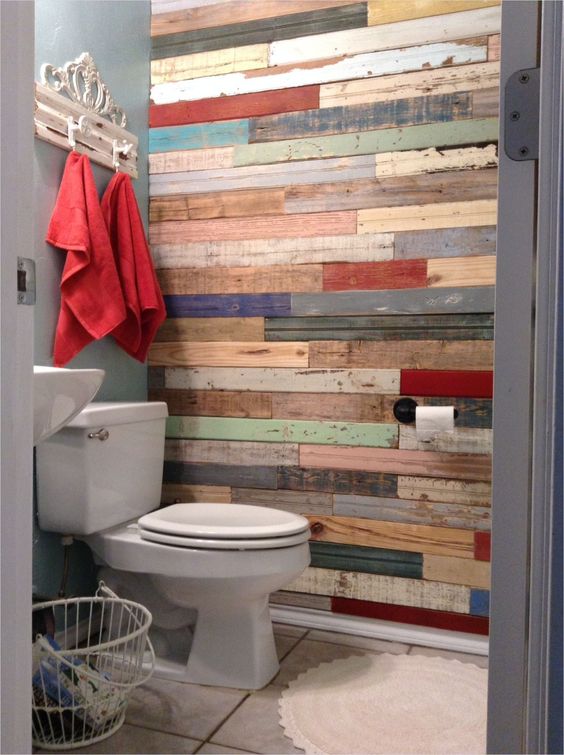 If you salvage wood, color can be kept, a beautiful patchwork can be tailored.
Image via Pinterest
50. Wooden Panels Replace Bathroom Tiles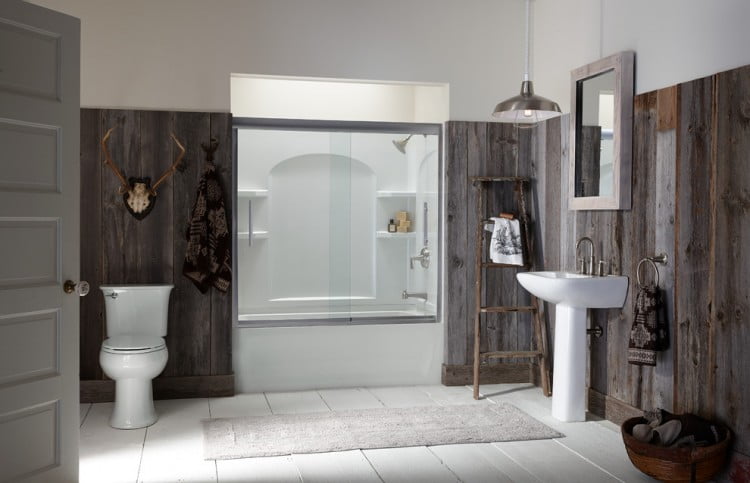 In the bathroom, the wet area is contained, the rest is embellished in wooden textures. White Contrasts this presence, completing the scene.
Image via gcicenter.com
51. Wood and Marble Bathroom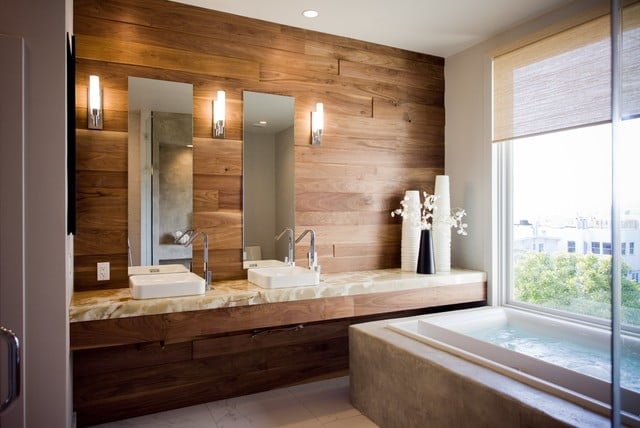 Source Unknown
52. Black Wooden Accent Wall Dominates Bathroom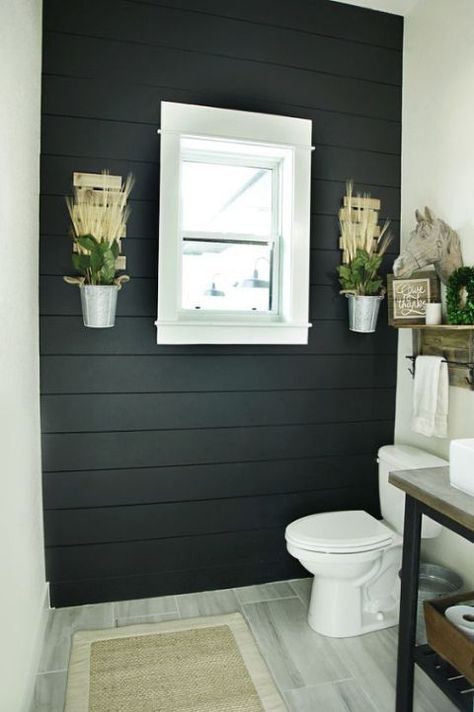 One could argue that painting the accent wall black defeats the purpose but the brilliant interior above is pretty hard to contest.
Image via Pinterest
53. Modern Chromatic Balance With Wood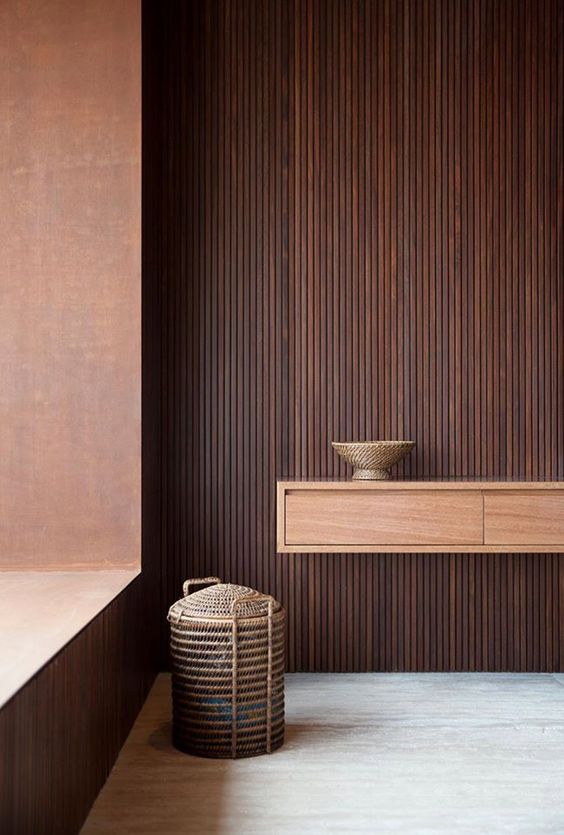 Image via stylebyemilyhenderson.com
54. Herringbone Patterned Bathroom Wall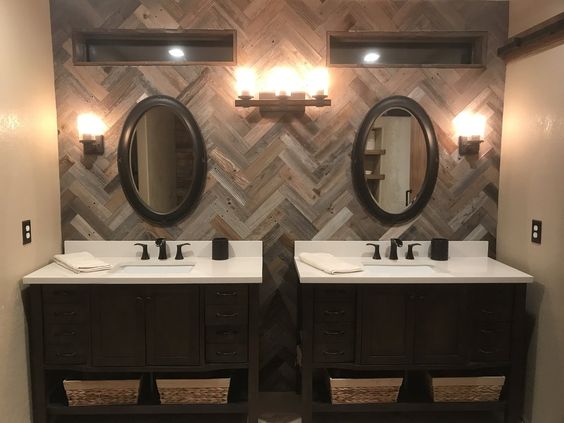 As clearly expressed above, one can use salvaged wood to bring in coziness and warmth, arranged in a herringbone, sophistication is brought into the picture as well.
Image via Pinterest
55. Washed Green Mind and Wooden Wall Bathroom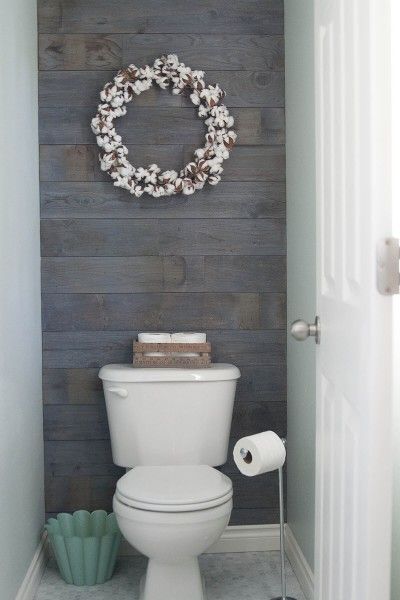 So simple and so great, note the trash, how original in color and shape it is, just like garland!
Image via homebnc
56. Farmhouse and Industrial Meet in a Bathroom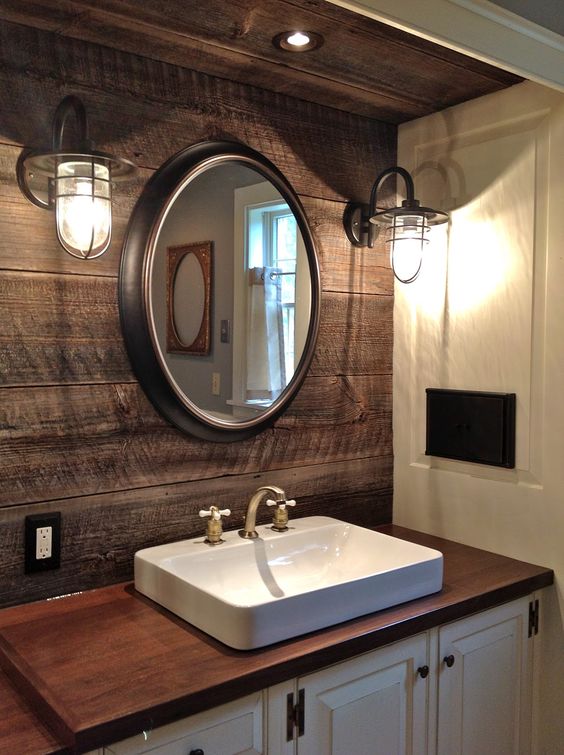 It fits, it works, what else can one say? Pick the right elements and the composition can hardly ever go wrong.
Image via Pinterest
57. Wrap the Everything Around Wood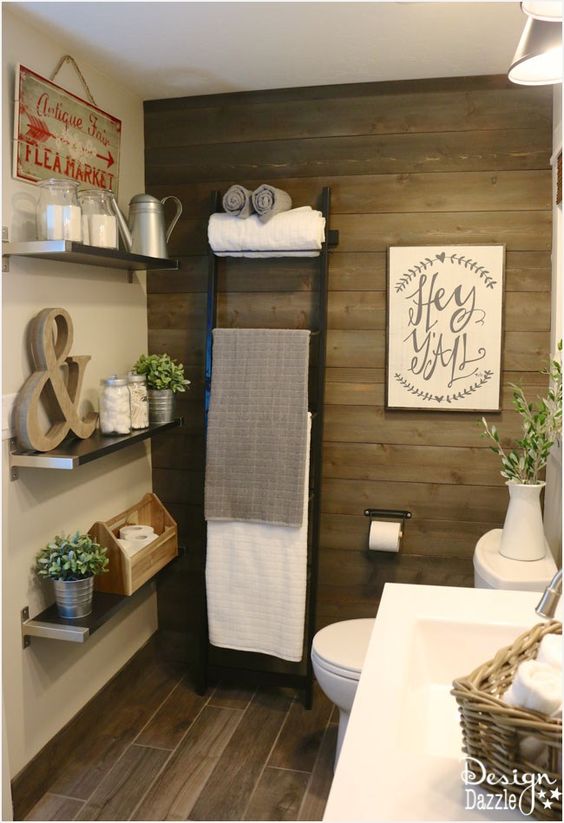 Note that in this bathroom, the farmhouse style is at home; it is clear that every element in the design has been picked to match the wall; they all complement and support each other, there is no contradiction, no contrast.
Image via Design Dazzle
58. Salvaged Wood Accent Bathroom Wall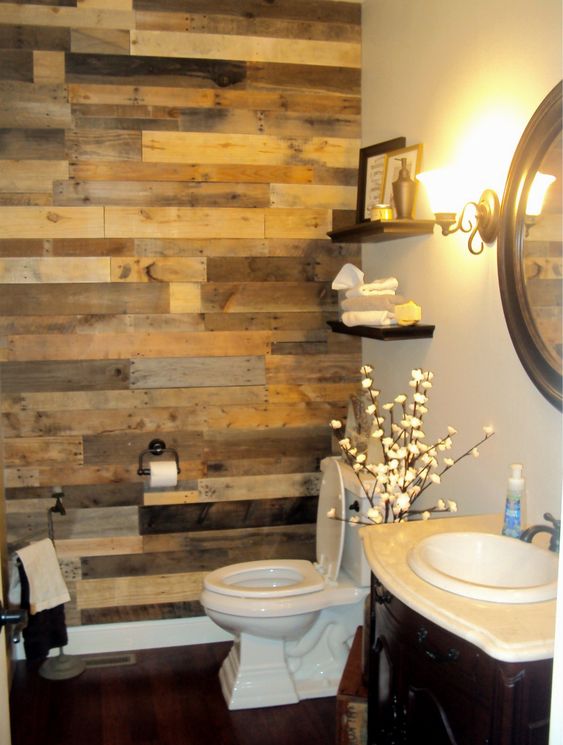 Regardless of how one sources the wood, the aesthetic values remain the same, you simply cannot dismiss how much wood, and natural materials in general can do.
Source Unknown
59. Neutral Pastel Contains Wooden Wall

Yep, it is that easy, it looks that good and you can create it that fast, most of the work with this DIY project is naturally, in planning; what do you think?
Image via citygirlmeetsfarmboy.wordpress.com
60. Frame Your Oasis Bathroom in Wood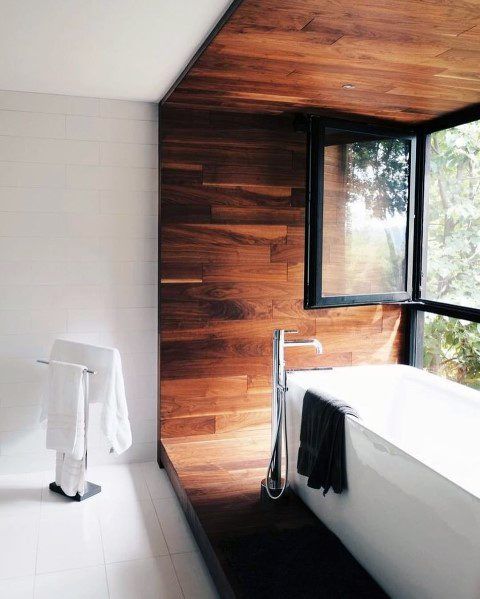 It goes without saying that for a couple of us, the most important place in the bathroom is the tub and one can easily imagine cherishing this place with expansive views and a different finish in its area; wood may embellish you in coziness and warmth, would this be your choice?
Image via Pinterest
61. Gray Borders Wooden Wall Bathroom Accent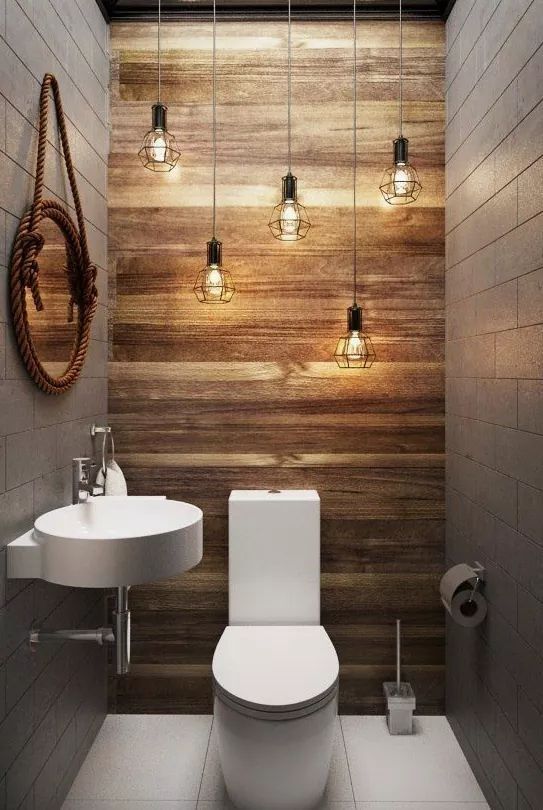 Looks simple but extraordinarily good, nothing fancy nothing grand, just superb elements brought together in balance in a bathroom. Do not overlook how perfect the plane intersections are and pay great attention to this aspect in your future design; as the intersections are visible, creating a frame, you would need to ensure you have control of the way the frame pans out.
Image via Pinterest
62. All Wooden Bathroom With White Wall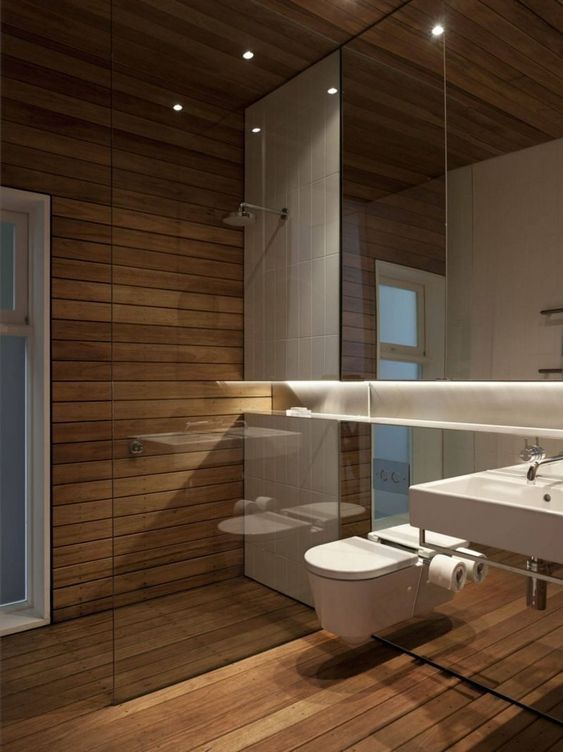 You would expect it to be the other way around but just gaze at it, notice how the white fixtures and a small portion of wall are exceptions here, notice how light is used to illuminate a carved shelf.
Image via Pinterest
63. Chromatic Balance With Expansive Wood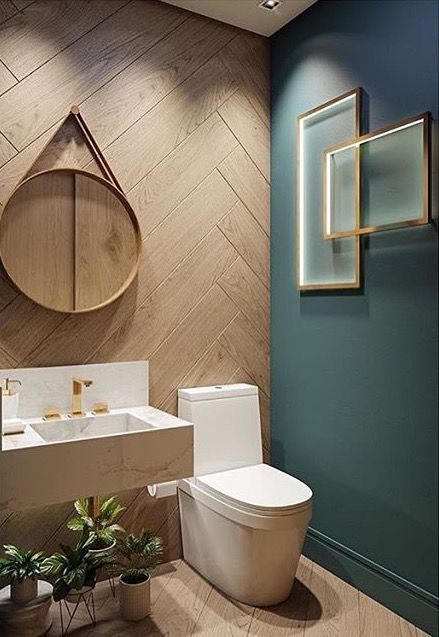 Color is a very powerful color, with great power comes great responsibility, if you would like go down this path create mood boards, find the right bathroom color scheme for you, on Homesthetics we dissected more than 100 bathrooms into color palettes, cast a glance here.
Image via Pinterest
64. Half Wood Bathroom Wall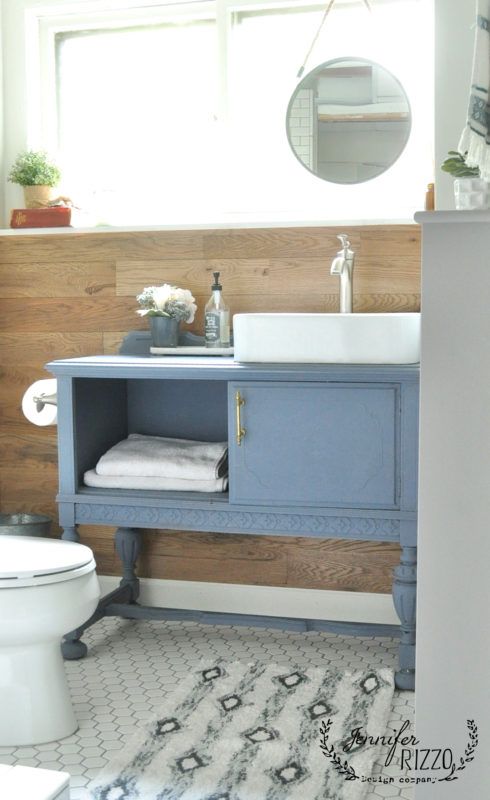 You can treat sections only, just make sure you have clear limits, clear ways to definite why only that section is wood.
Image via jenniferrizzo.com
65. White Wood Discreetly Enhances Neutral Bathroom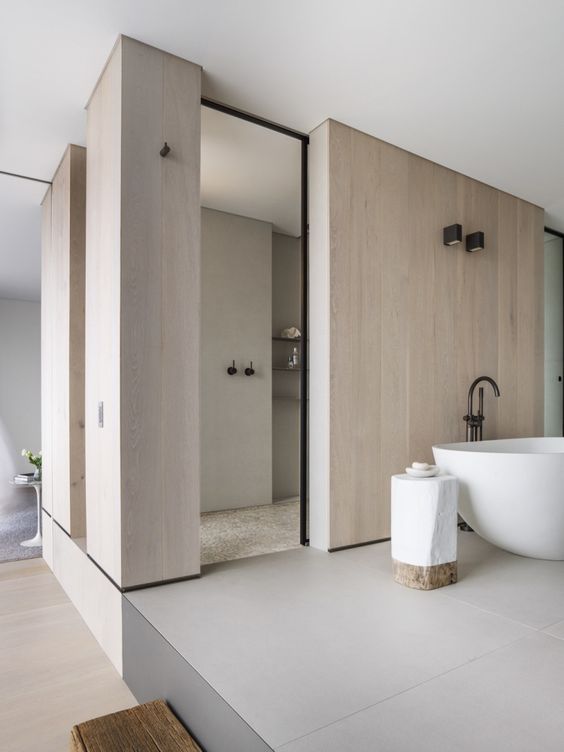 If you would like to avoid actually having the strength of the wood essence in your interior, you still have options, you can always modify the color and impact of wood with the right finish, above wood is present with a wooden trunk, a step for the level difference and two whole walls but the texture complements the elegant subtlety, they're not the focal point, they're presence is not a statement.
Image © Justin Alexander
66. Wooden Wall and Concrete Gray Bathroom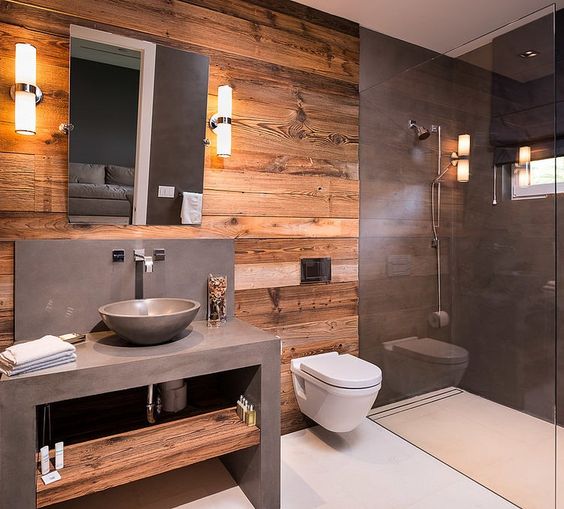 Once more the wooden walls take the vertical planes, gray stands down, literally, beautifully covering the floors.
Source Unknown
What do you think, how do you see the awesome design ideas above?
Have you considered that these wooden surfaces can also be made out of exotic materials? Bamboo flooring are quite popular!
Do keep in mind that to protect wooden surfaces, besides finishes you can also use felt patches felt patches that would prevent furnishings from scratching the surfaces as well as hairpin leg protectors and other ways of saving other posh, sensible and awesome surfaces.
We would love to hear from you in the comment section below!
Related Articles