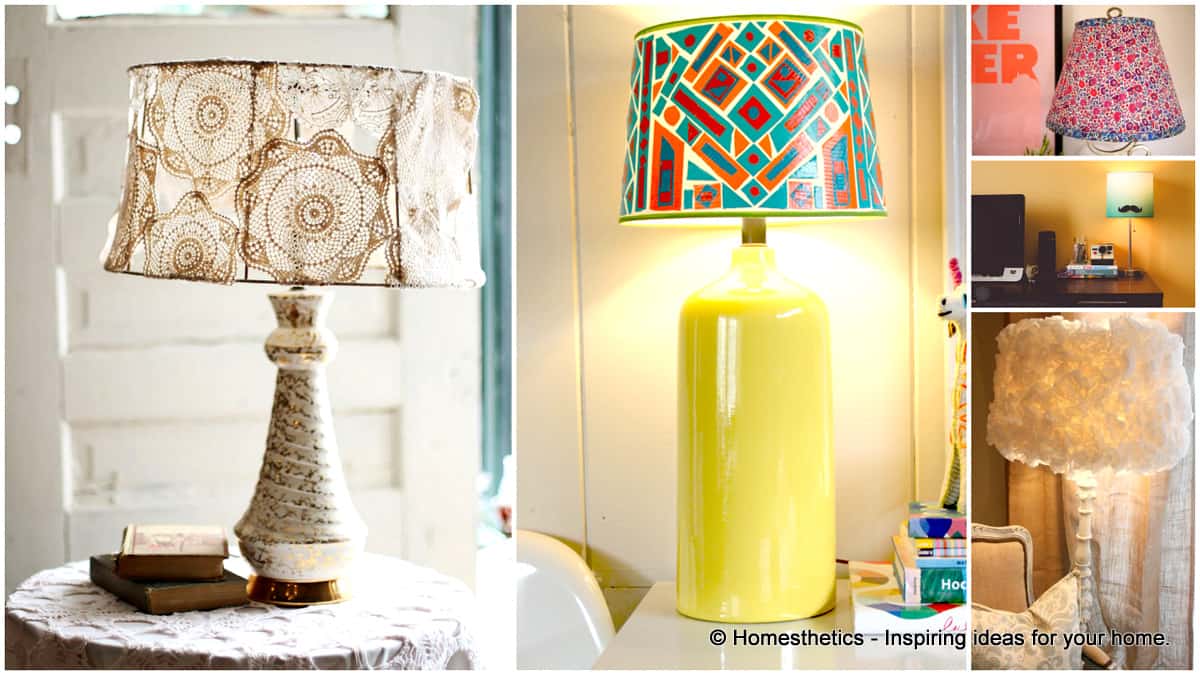 Refresh.
We all need a refresh from time to time, we need to change something different in our household, something new, something that simply moves forward, updates our home.
We have found a simple way to realize this changes in our household, through small discrete updates in things that we use often, things on which we focus indirectly everyday. We have curated a list of 25 spectacular luminous ways to redo a lampshade, 23 different  ways to change your decor a little; you can bring color in, you can emphasize your home through a whimsical upgrade, you can simply make a mass produced lamp on your own through this craft, personalizing it, bringing it closer to the home`s core.
Cast a glance at the gallery and feed your imagination; we would love to hear your valuable feedback in the comment section below.
We highly encourage you to give the redo a chance before you go ahead and buy a different lamp; however, if you are looking to redo the lamp to change it's function we encourage you to consider your options first, lampshades are very different from table lamps, architect desk lamps or ambient lamps like the ones made out of salt rock.
This being said, the ideas are breathtakingly beautiful and easy to realize, cast a glance!
Luminous Ways to Redo a Lampshade
#1 paint your lampshade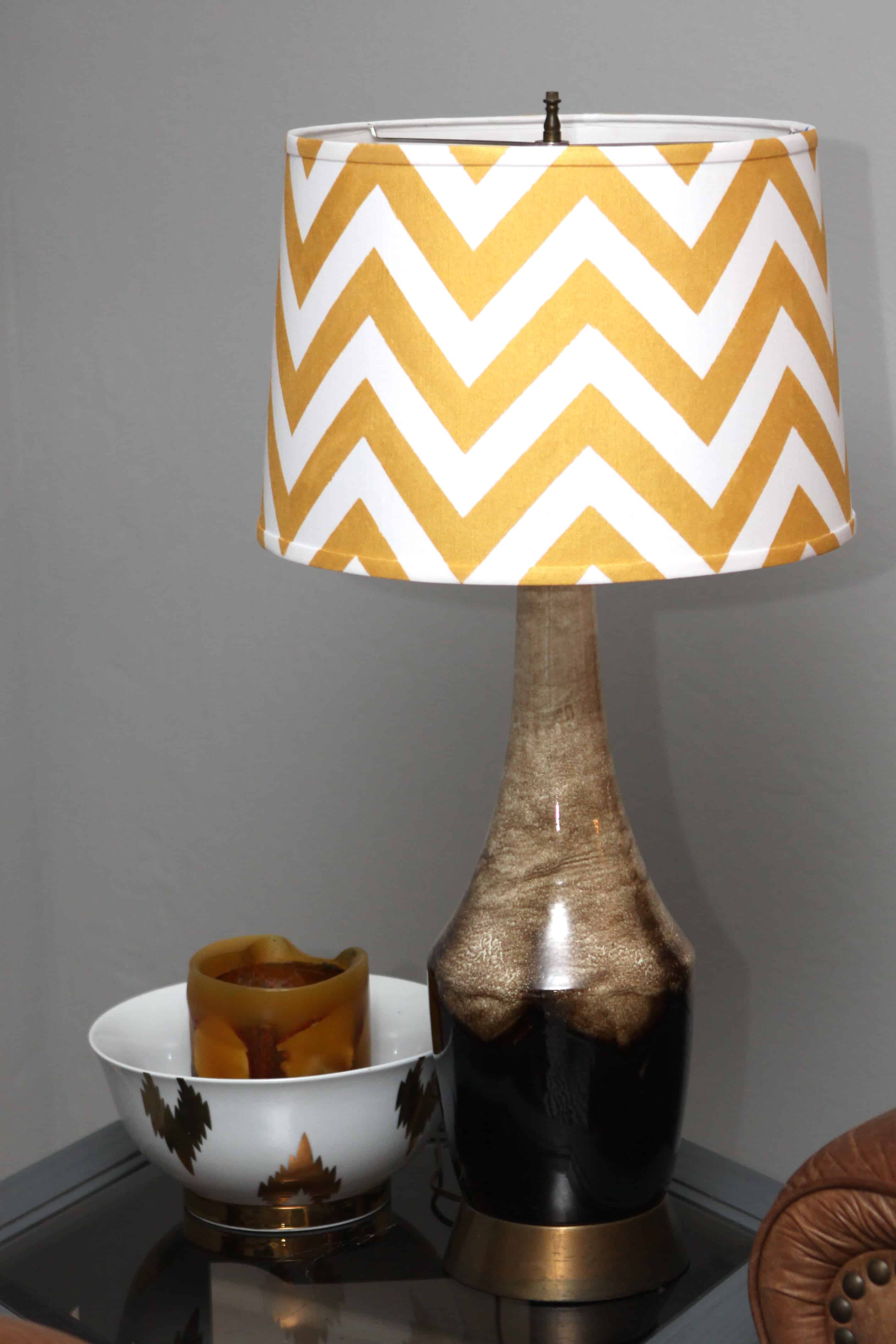 Pomp and Circumstance have designed this lamp with the help of yellow chevron, a very versatile look that`s easy to realize and will fit in most decors with ease. An older lamp would do really well with this face-lift.
#2 add a funny dimension to  a regular lampshade with a mustache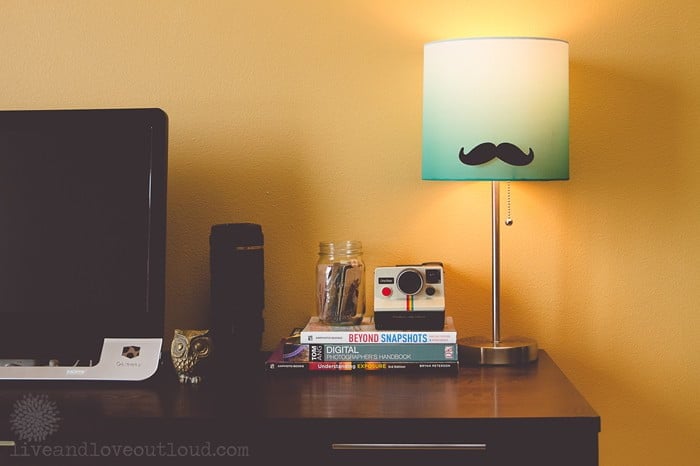 This mustache went live on Live Explore Click! A simple and efficient method to add smiles to your schedule everyday.
#3 decorate a blank lampshade through handwriting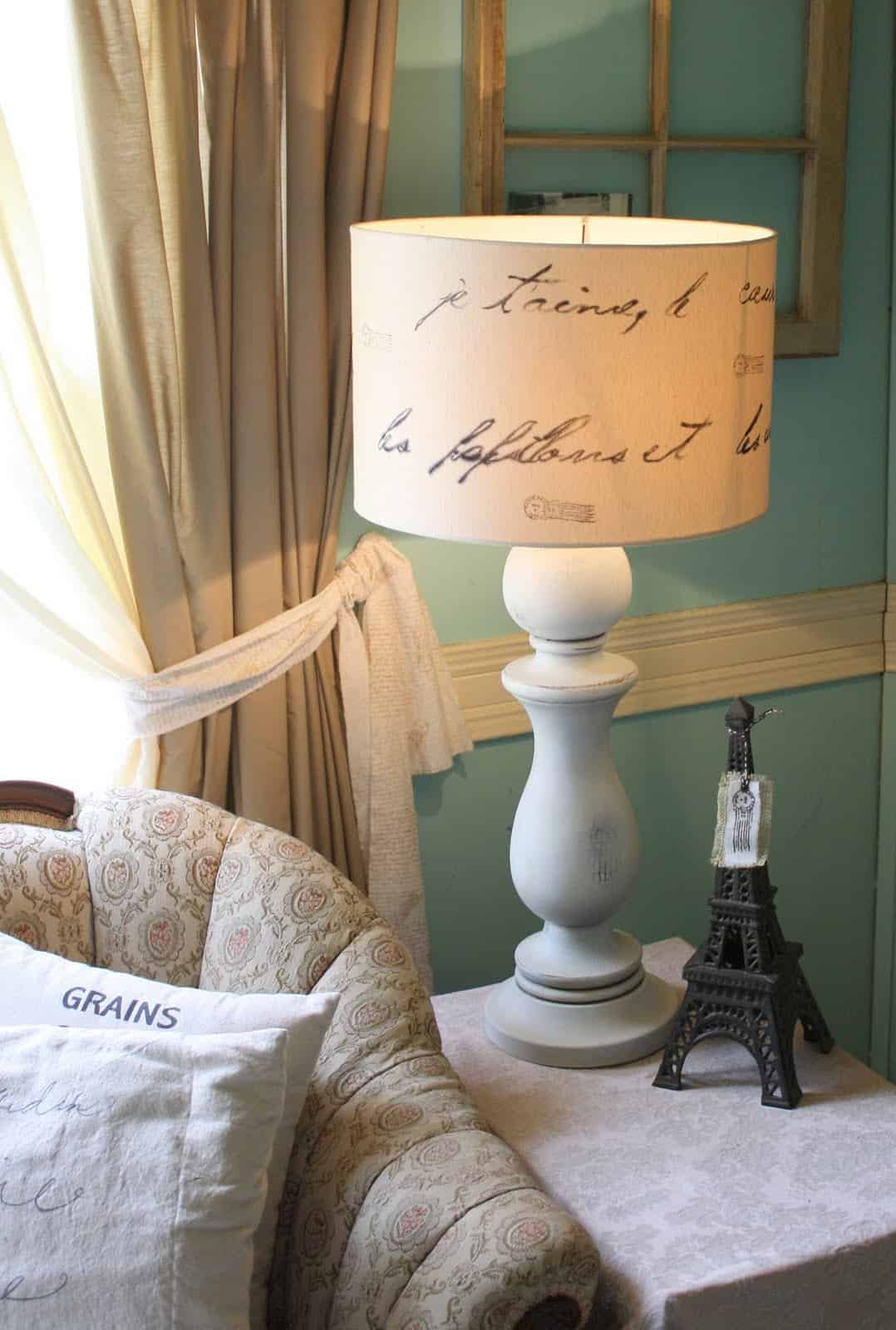 The Shabby Creek Cottage  has realized this simple craft, they`ve been inspired by a Pottery Barn Lamp and the result is magnificent. The lamp does have a romantic vintage appeal now, something that makes everything better, soothes the nerves.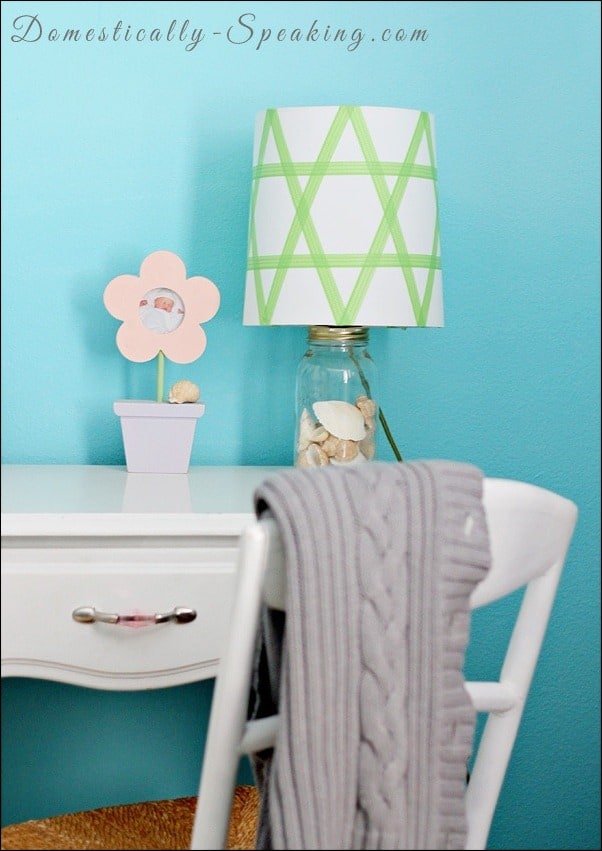 Use your washi tape collection in a lampshade makeover. They`re endless possibilities and you can change the look whenever you want in just minutes.
#5 add intricate floral blooms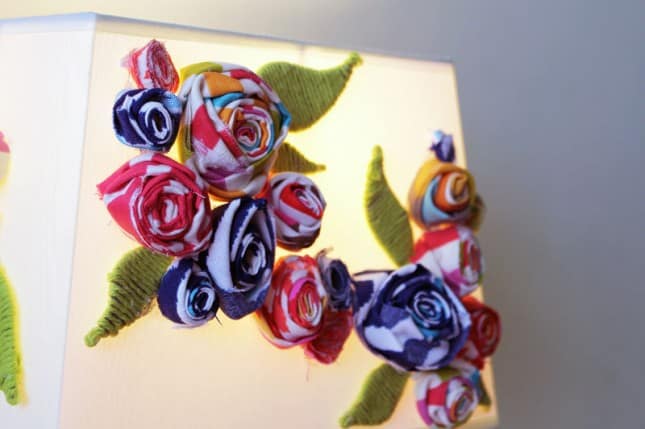 Brit + Co have materialized something beautiful, colorful and joyful. Inspired by the springtime flair this flowers can blossom your lampshade right away.
#6  Enhance you lamp with a custom printed shade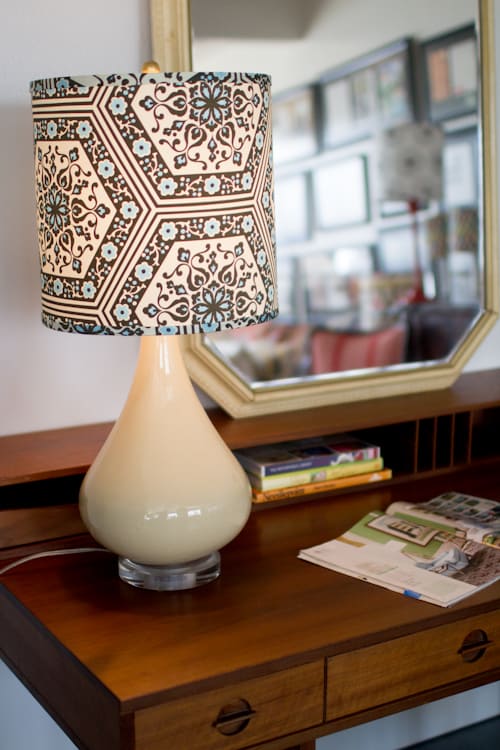 Today you can actually realize absolutely everything on your lampshade, you can print on textile in any decent print shop and happily the internet is full of colors, textures, ideas and directly, joy.
#7 beautify through sensibility by using doily on the lamp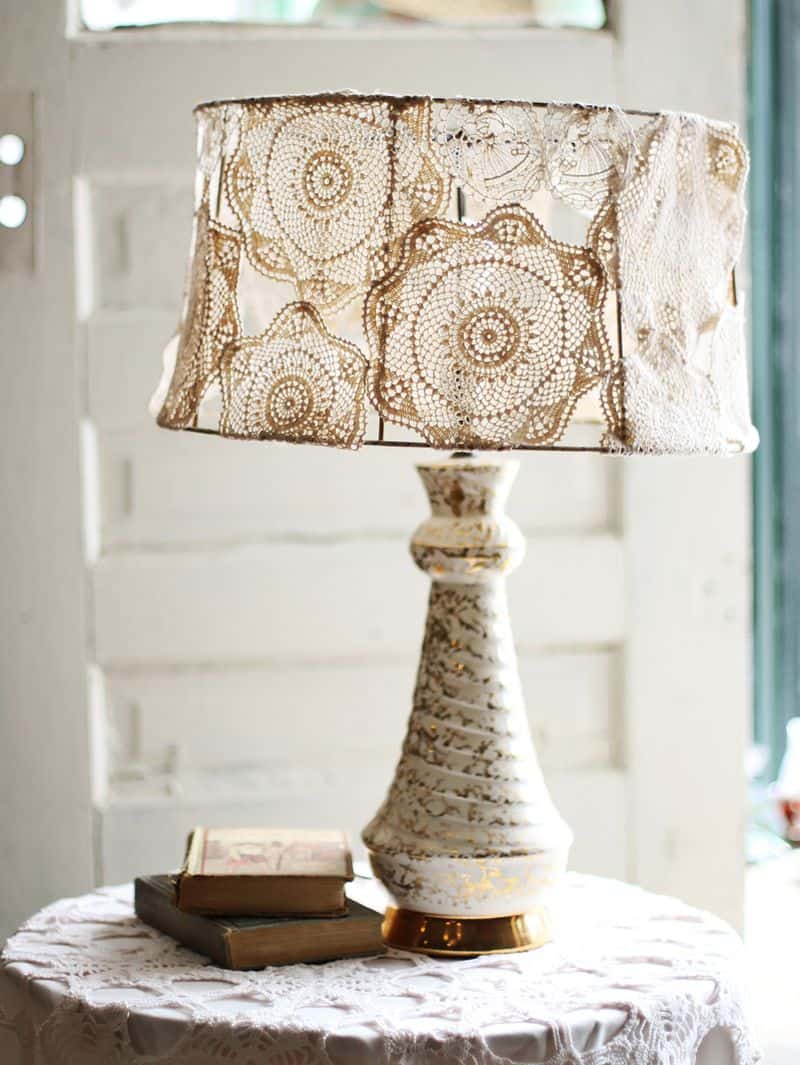 The special allure of this lamp has been emphasized though a dolly. Simple and beautiful. A sculptural light filter that adds sensibility to a regular item.
via A Beautiful Mess
#8 tailor a brand new lampshade

A project that add coziness and warmth. Put your crocheting skills to work and dress up your household with coziness and warmth. A superb winter idea.
via Shelterness
#9 add ruffles to a textile lampshade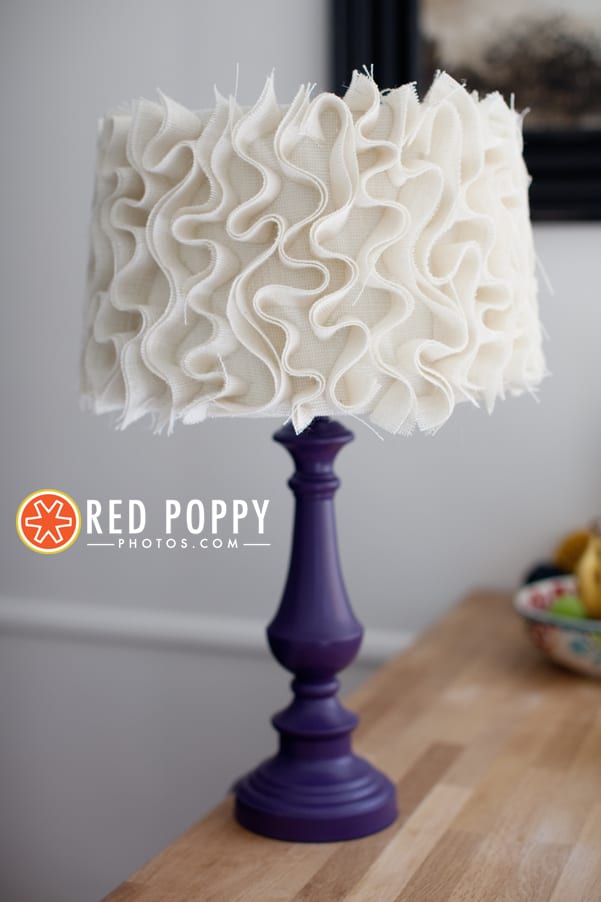 Get a whimsical feel out of a regular lampshade. Simple craft from Rep Poppy .
#10 update your lampshade with floral fabric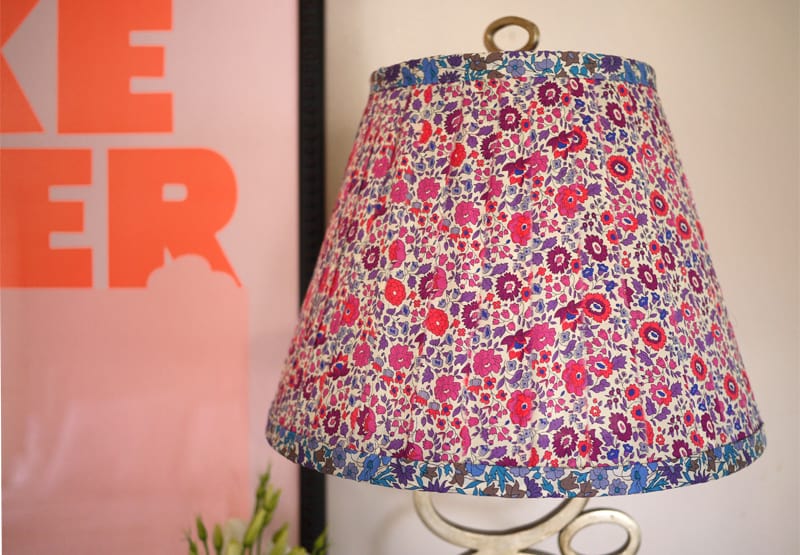 Update your old lampshade with new floral, colorful lampshade.
via Honestly WTF
#11 materialize a cloud with coffee filters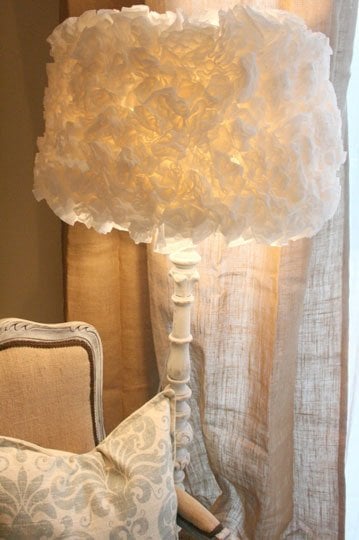 The craft realized by Apartment Therapy mesmerized us. Creative and inventive method to create a tiny cloud in your room, probably the most whimsical way to use coffee filters in DIY projects.
#12 use paper plates to create a sculptural lampshade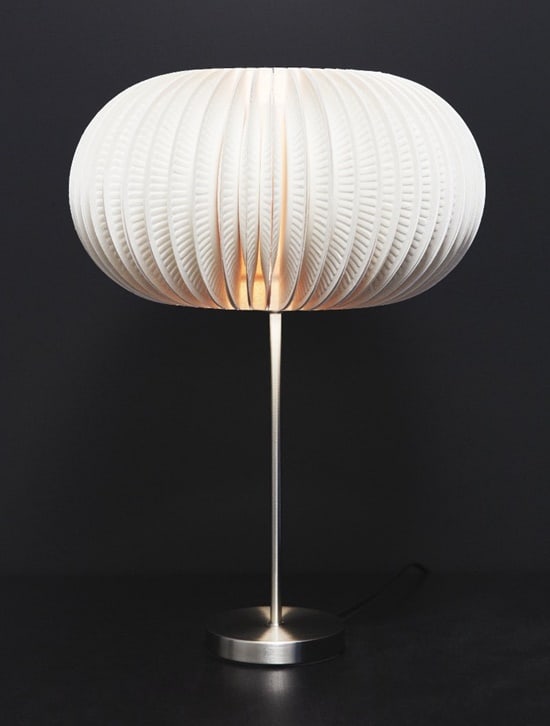 Unique super creative and modern piece from Wonderful DIY! You need paper plates, that`s all you need to transform your floor lamp into something beautiful, sculptural.
#13 up-cycle a piece of old sweater into something cozy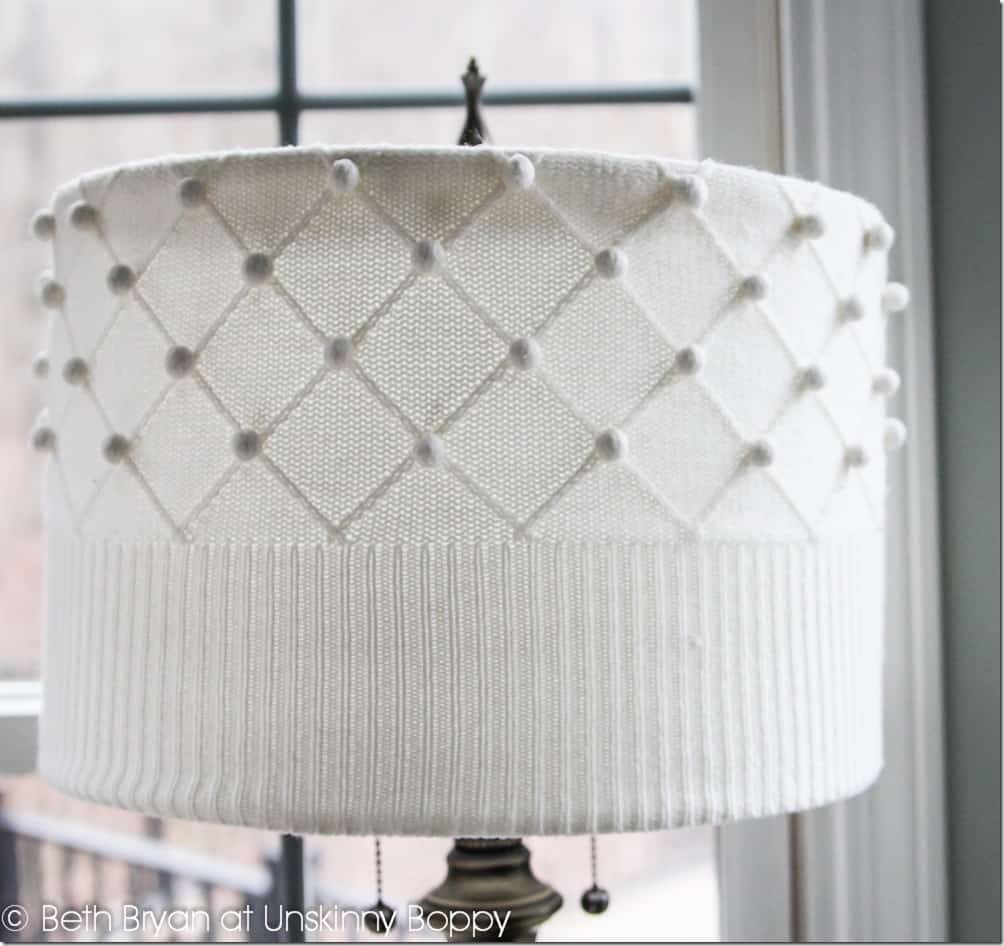 Super cozy and warm solution for a lampshade. Spread light through your sweater!
via Unskinny Boppy
#14 use duct tape to obtain a colorful geometric motif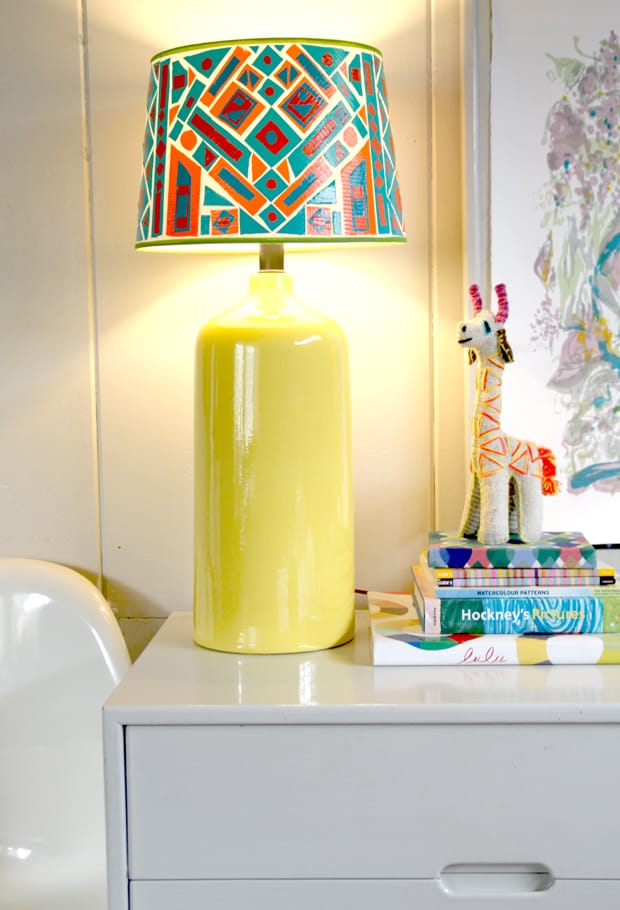 Playful, colorful and beautiful yet reversible. Use duct tape to customize various lampshades in your home whenever you need them, you can chance your decor every season.
#15 illuminate your room with pictures of joy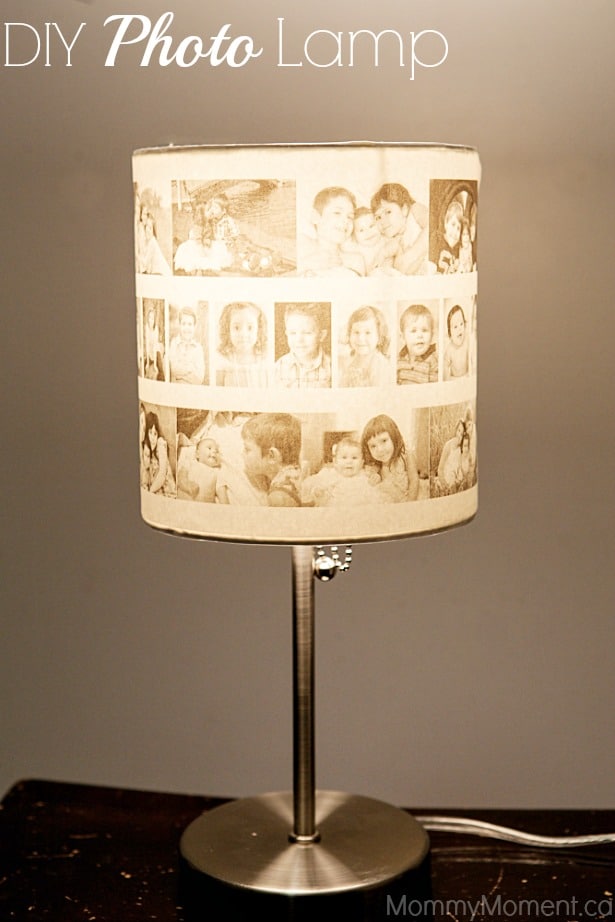 Choose your lovely memories and showcase them on your nightstand, animated by light, you will see them every morning, every evening.
via Mommy Moment
#16 use a vintage lamp to reveal your traveler side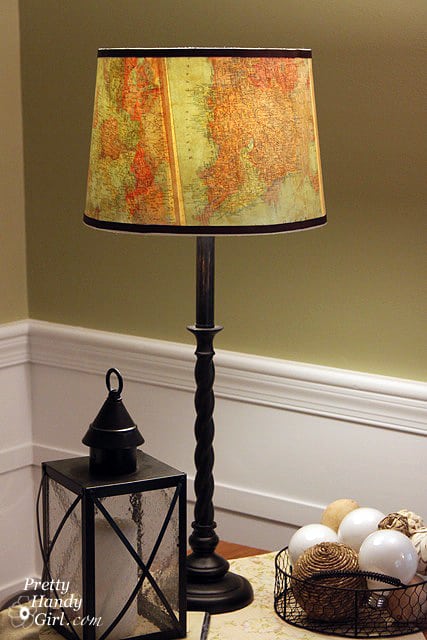 Add an entire world on a lampshade. A Pretty Handy Girl did so and the result is magical.
#17 brooches can be hosted on your lampshade in an installation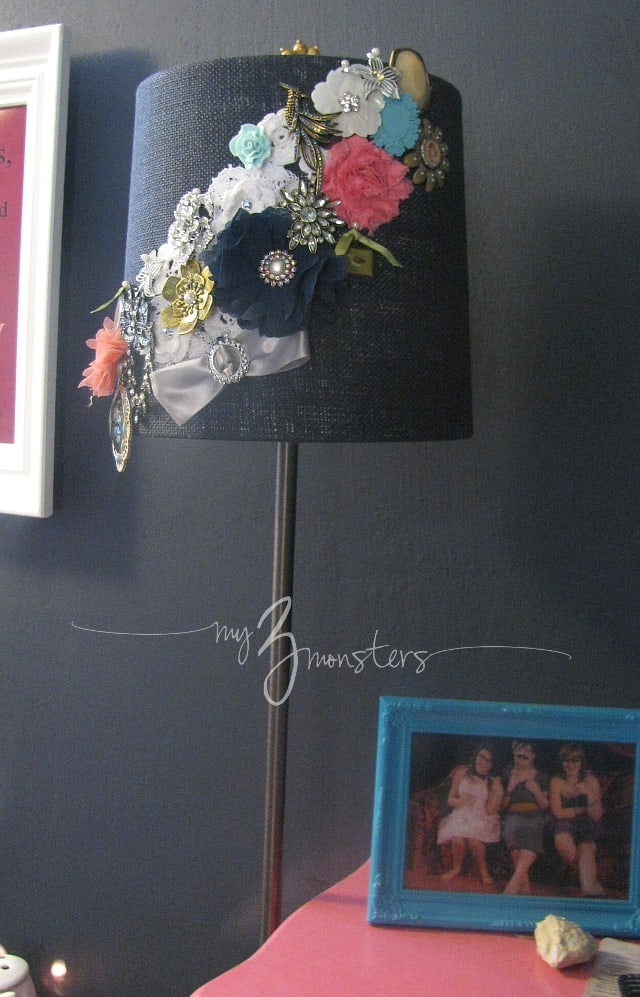 Use the lampshade as a blank canvas. You can obtain magnificent results just by moving your brooches from the jewelry box to the lamp.
via My 3 Monsters
#18 add pom poms to your lamp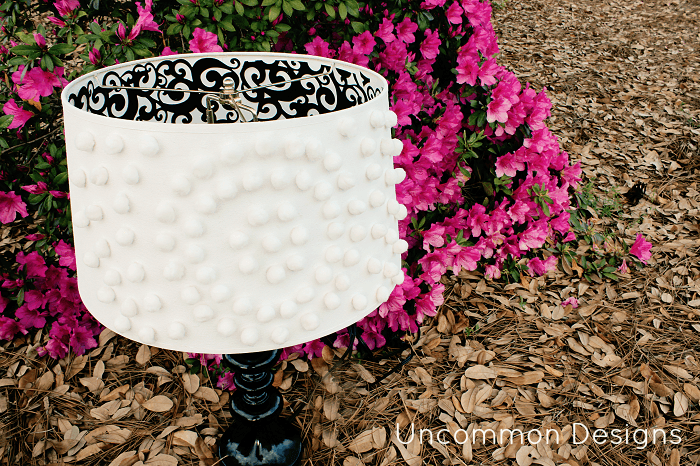 Poms Poms are trully Uncommon Designs for a lampshade by they definitely work! Get crafting!
#19 use tape to create a golden geometric design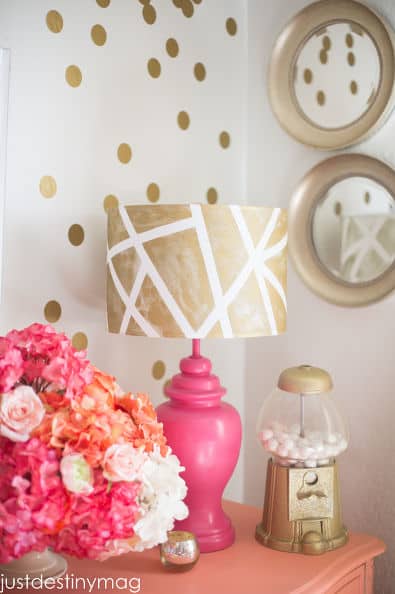 Gold shades have been featured on Hometalk! Elegant modern look that can be materialized in just minutes.
#20 sculpt beautiful canvas rosettes on lampshades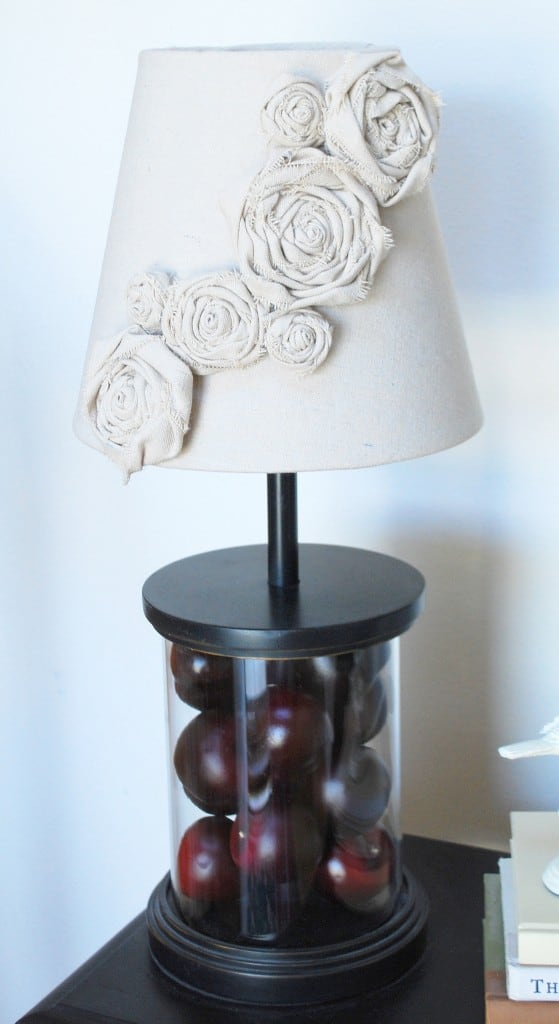 Realized by Creations by Kara this lampshade is definitely one of a kind. Sensible and cozy, it will transform your space discreetly.
#21 silver leaf your fixture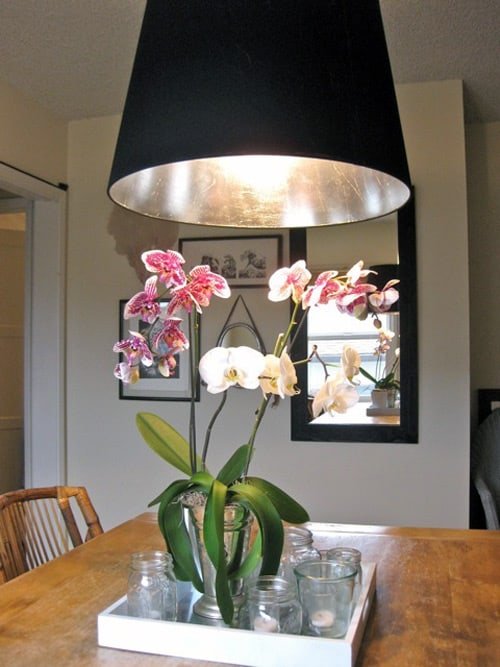 A simple change can make your dinning experience better.
via Design Sponge
#22 dim the light with color by using paint chips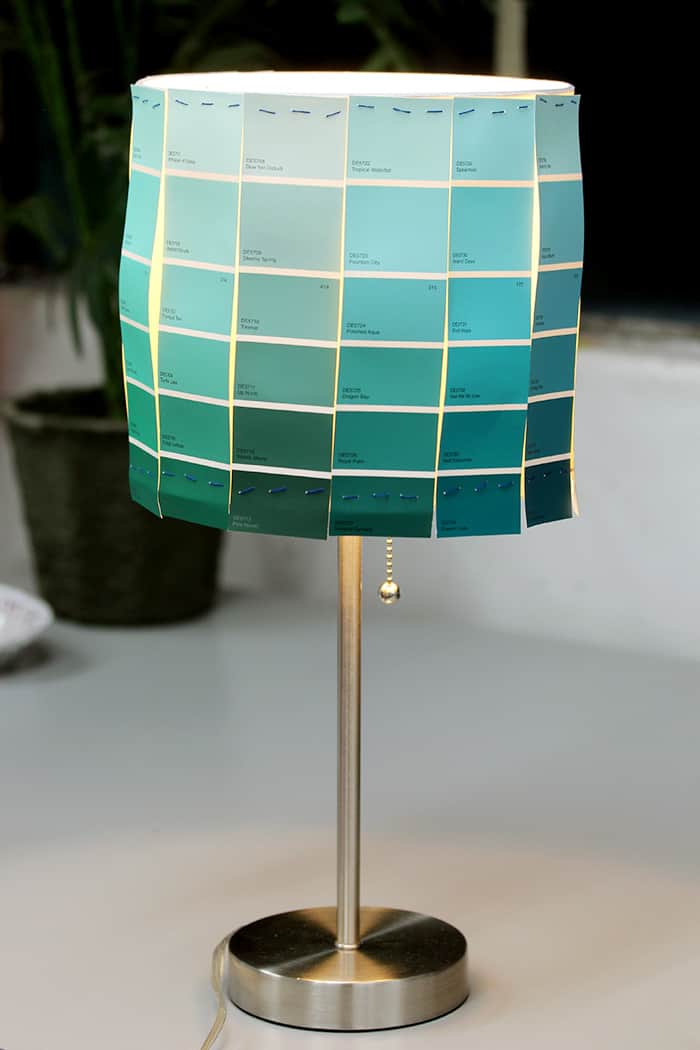 Pick up this paint chips from your local store and follow the example of Karen Kavett with this smart craft; it`s a temporary solution to dim light through a color pallet of your choosing. You get to showcase your own charm in this piece, make it count.
#23 use basal wood to wrap your lamp in naturalness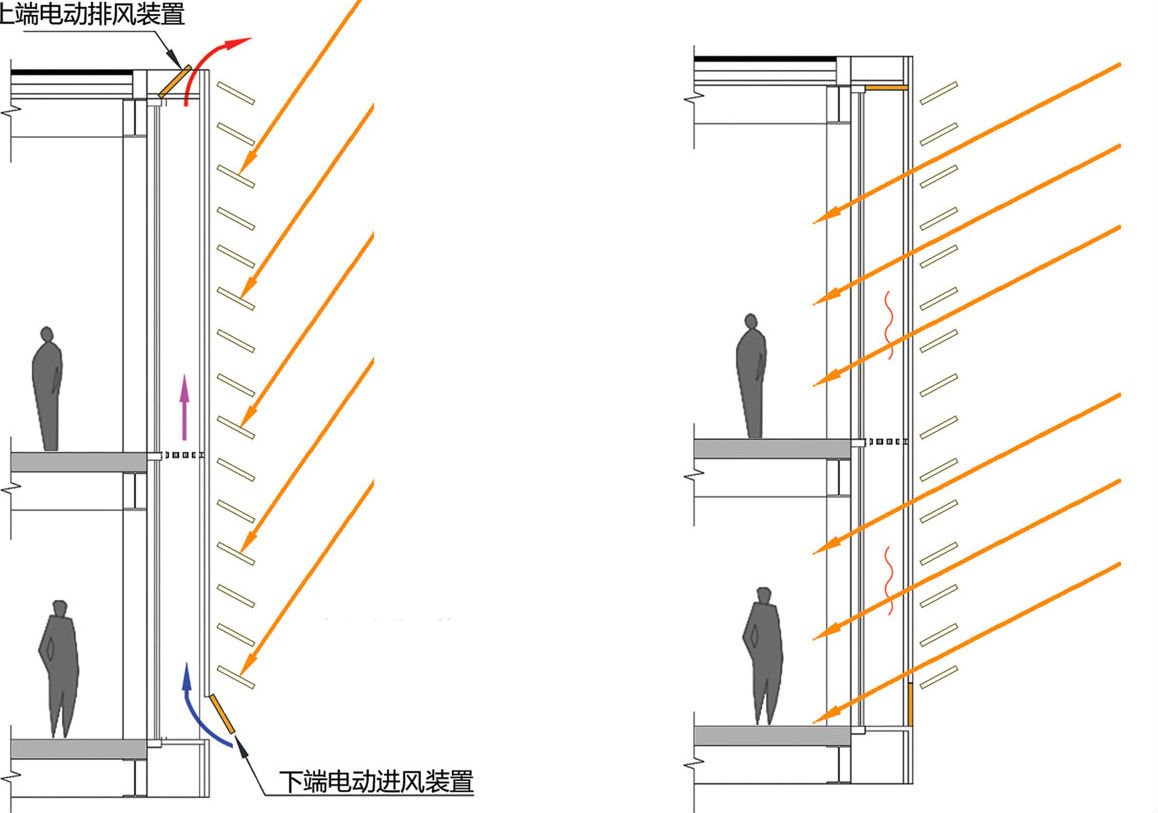 Only basal wood has been used by Pomp and Circumstance to create this magnificent, sculptural design. Use different materials, get creative.
What do you think about these luminous ways to redo a lampshade? We would love to hear your opinion on the subject in the comment section below.
Related Articles
21 Ingeniously Creative Handmade DIY Lamp Projects For Enthusiasts
20 Interesting Do It Yourself Chandelier and Lampshade Ideas For Your Home
16 Beautiful and Inexpensive DIY Wood Lamp Designs to Materialize
16 Sculptural Industrial DIY Pipe Lamp Design Ideas Able to Transform Your Decor
41 Stunningly Beautiful Vintage Lamps Enhanced by the Light-bulbs Contained
15 Breathtaking DIY Wooden Lamp Projects to Enhance Your Decor With
25 Beautiful DIY Wood Lamps And Chandeliers That Will Light Up Your Home
30 Easy DIY Beautiful Shimmering Luminaries and Lamps Ideas You Should Definitely Try Now
Zaha Hadid for Slamp: Aria and Avia Lamps Unveiled
Modern Colorful Mini Me Lamps Designed by Filip Gordon Frank
Simplicity Empowered – Concrete Lamps and Bullet Collection
13 Best Solar Powered Solar Desk Lamp
15 of the World`s Best Himalayan Salt Lamps
5 Best Long-Distance Friendship Lamps