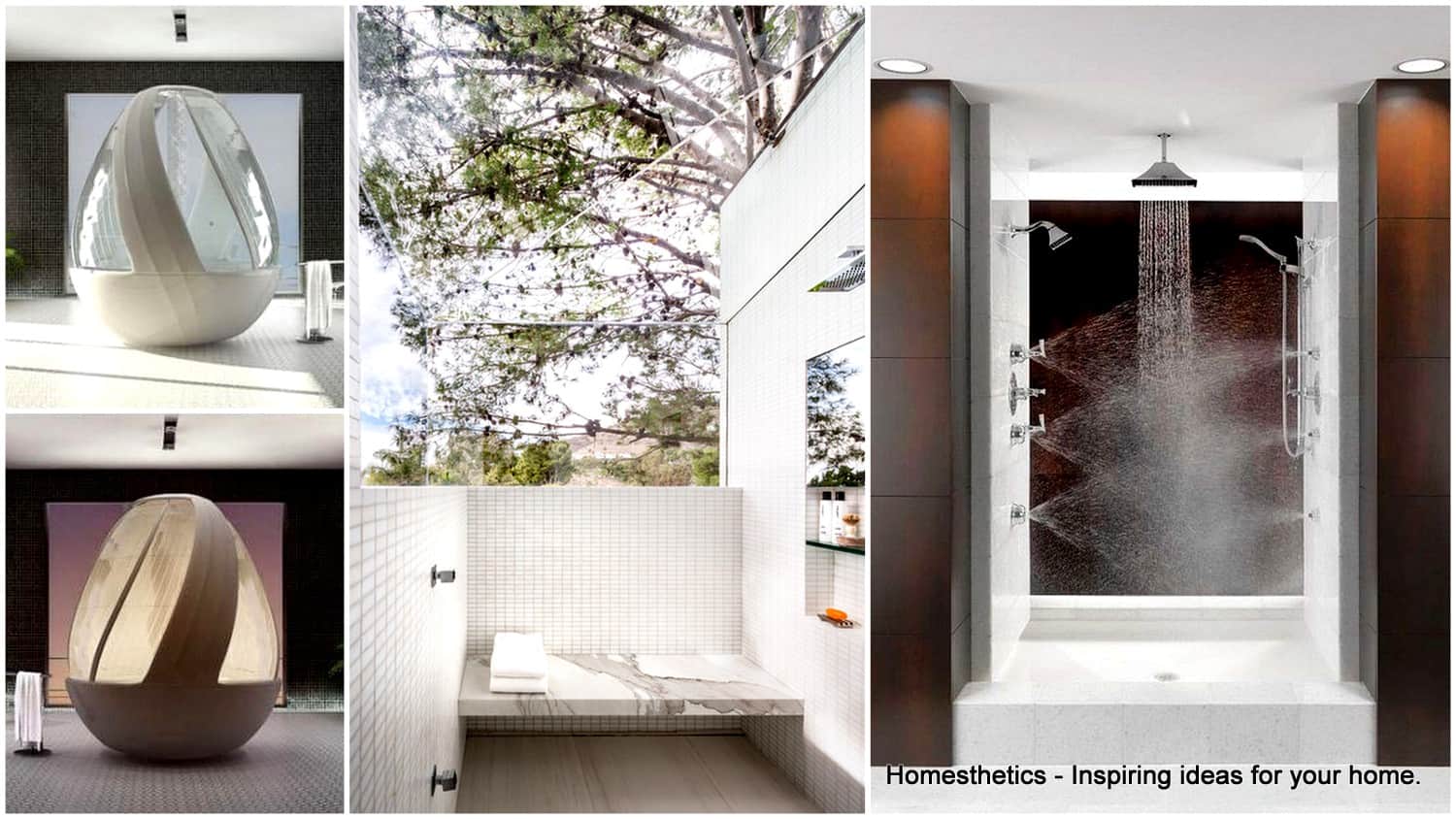 There is nothing quite like a relaxing warm shower after a long hard day at work. You just cannot put a price on that experience.
This article is meant for those who are looking to elevate their shower experience with a design that is worthy of being featured in any modern sci-fi movie. And we have something for everyone. Be it ultra-luxurious, minimalistic and modern, whimsically futuristic, or showers with cool tech; we have them all. So, read along to get inspired to build your very own dream futuristic shower.
Related Articles
Top 10 Best High Pressure Shower Heads | Editor's Top Choices
99 Super Cool Shower Curtains to Transform Your Bathroom Today
7 Best Grout Sealers For Shower
Coolest Futuristic Shower Designs
Effortlessly Futuristic – The Beautifully Simple Shower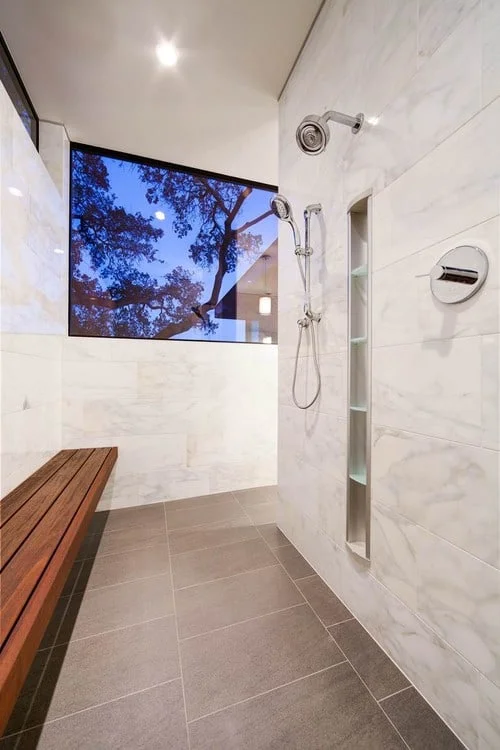 Minimalistic, modern, and beautiful, these are some of the words that can aptly describe this cool shower design. This truly is a shower that you can envision in a home of the 2040s. The impressive part of this design is that it manages to look futuristic without any special lighting effects or hi-tech shower gadgets.
One of the design elements that certainly help with the futuristic appearance is the surreal frameless window. Needless to say, it is the most dominating element in this shower. The rest of the elements are minimalistic, and that results in an understated elegant look. An item we recommend you use to get this look is the KES X6223 Bathroom Single Handle Shower Faucet Trim.
More details at www.houzz.com
A Futuristic Shower With An Incredible Floor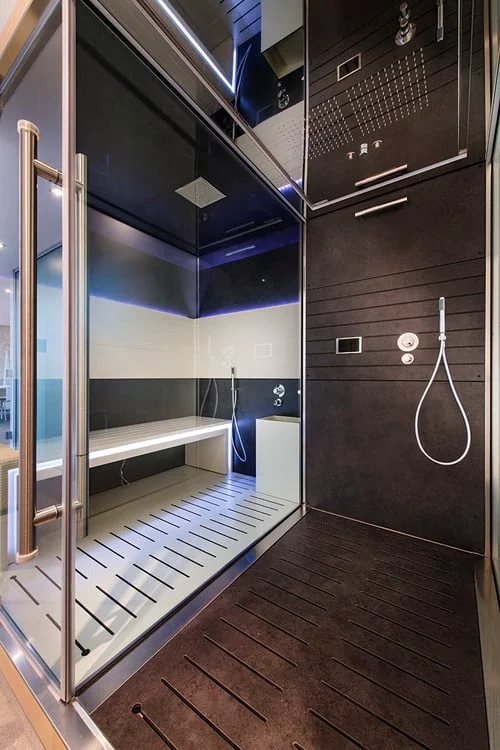 If the last shower design was too simple for your taste, then you should surely check out this incredible shower enclosure. Although this shower looks quite ostentatious, it is mainly due to the highly contrasting floor and wall elements.
While this shower has large rainfall showerheads, we absolutely love the unique hand showers. However, the star of the show is surely the ingenious drainage system integrated into the floor. It is not only functional, but it also looks quite amazing, wouldn't you agree?
All in all, this shower enclosure is tastefully finished, and all the elements along with the lovely blue accent lighting work cohesively to give it a futuristic vibe. We recommend using this product to bring about the futuristic look: SR SUN RISE SRSH-F5043 Bathroom Luxury Rain Mixer Shower Combo.
More details at www.houzz.com
Diego Granese's Masterpiece – The Amazing Loop Shower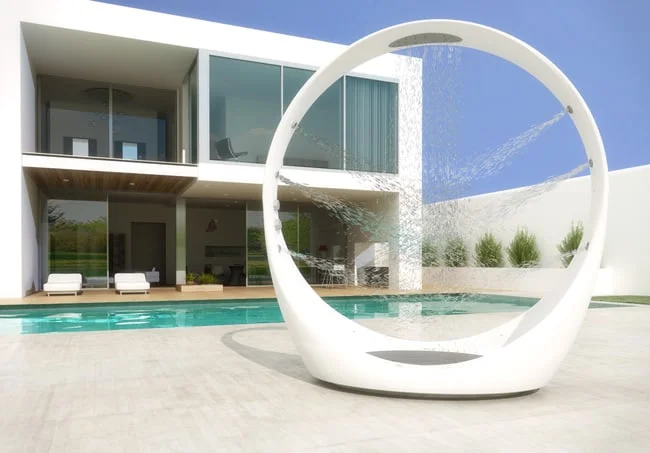 The futuristic Loop Shower is not just meant to wow people with its amazing design; it is actually one of the most thoughtful and functional showers we have ever come across. How, you ask? Well, all the showerheads are positioned perfectly to offer you with the ultimate massage experience. Moreover, you can not only place it in an indoor environment but also install it outdoors. That is impressive to say the least.
Now that we have introduced the shower to you let us talk a bit about the man behind this incredible idea. The Loop was designed by Diego Granese for idiha Design,and we believe this is one of the most iconic shower designs in the contemporary world.
This shower can only be afforded by the highest echelon of the society. And if you are one such person, then go right ahead and click on the link mentioned below the illustration. The rest of us can only dream of experiencing this grandiose shower.
More details at www.granese-design.com
The Incredible Shower Column With Chromotherapy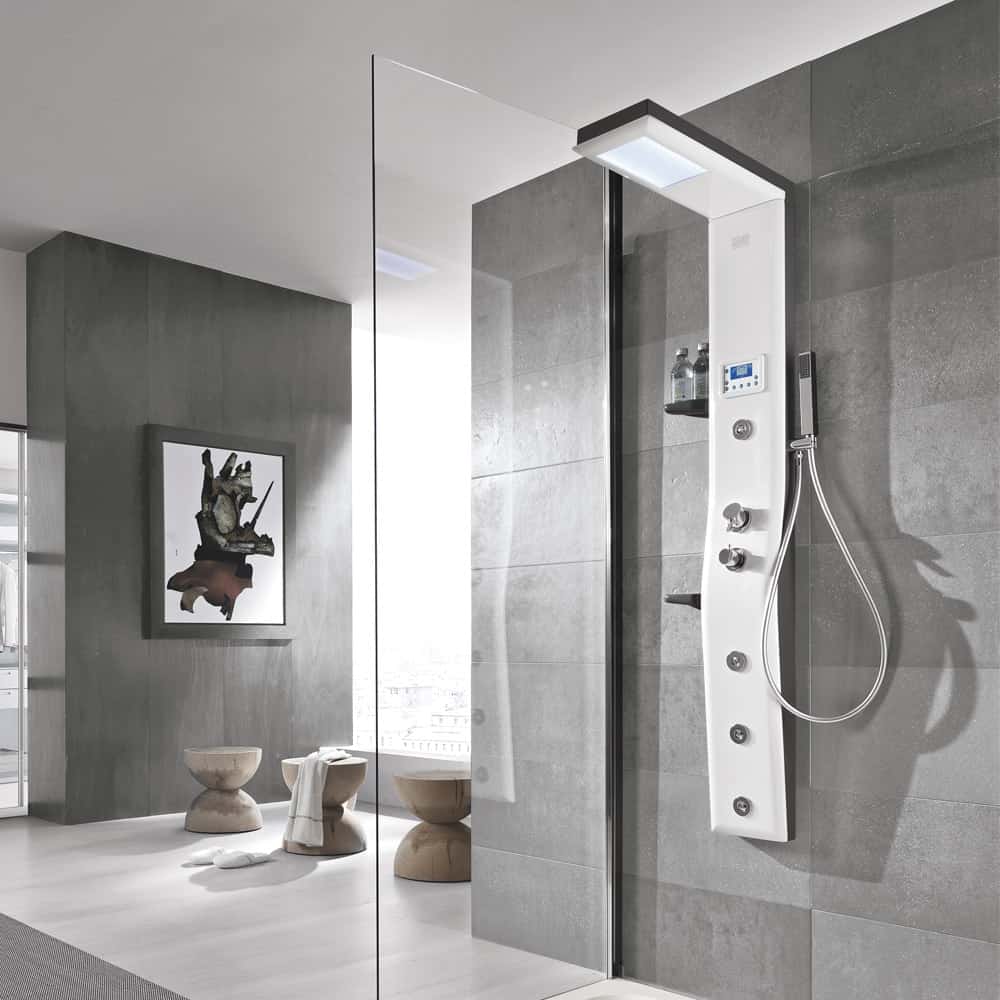 Take a look at this futuristic shower column. It looks absolutely stunning, doesn't it? This particular shower column is the etoile 160 from HafroGeromin. It is the pinnacle of the etoile range and one of the finest shower columns from the luxury brand. Needless to say, it does not come cheap.
However, unlike the Loop Shower featured above, it is more reasonably priced. In fact, depending on the model, you will be spending somewhere between $ 1250 and $ 2700.
The top-of-the-line model featured in the illustration below comes with a dispenser, showerhead with chromotherapy, radio, thermostatic taps, handheld showerhead, three whirlpool jets, and two shelves. While the radio is surely a unique feature, we believe that the most impressive element of the shower column is the amazing showerhead with chromotherapy. In other words, the showerhead can change colors to adjust body vibrations to frequencies that result in health and harmony.
This stellar shower column manages to combine futuristic technology with luxury, and that surely makes it worthy of any high-end contemporary home.
More details at hafrogeromin.it
The Sleek and Minimalistic Shower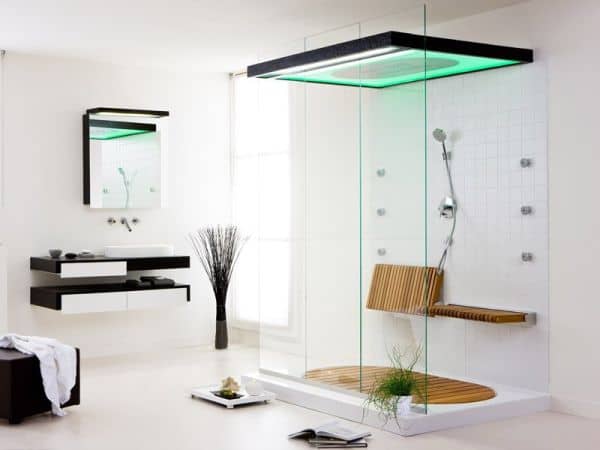 Few showers can be as cohesive in design as the one featured in the illustration below. Impressively, it does not have any ostentatious or high-tech elements, and yet it seems like it will feel right in place in any luxurious home 20 years from now.
There are a few elements which truly stand out in this shower, and those are the impressive showerhead with teal accent lighting, the wooden benches, and the wooden floor which also integrates the drainage system. In fact, the floor is quite similar in functionality to the second shower design featured on our list, and the wooden benches also follow the same design philosophy.
Use the product given below to get this system up and running.
More details at www.zillow.com
Baby Blue – A Futuristic Shower With Amazing Blue Elements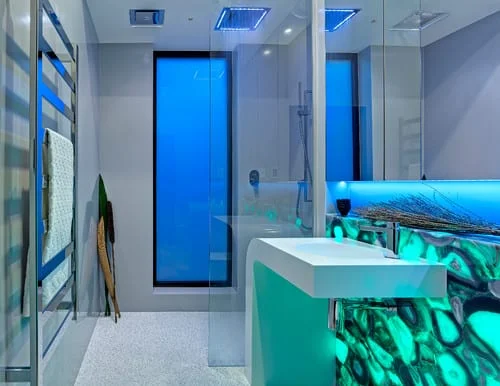 One simple way to make anything look futuristic is to adorn it with blue accent lighting. And this shower does exactly that and then some.
We absolutely love the unique glowing teal wall.
More details at www.houzz.com
The Magnificent White Shower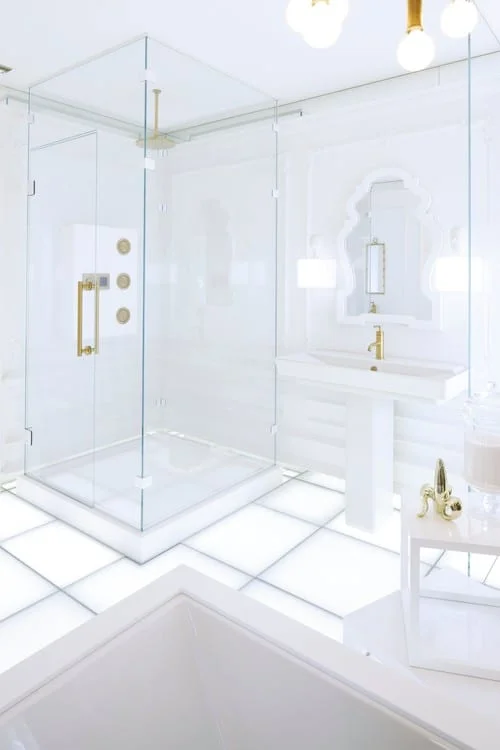 Who said that you need cool accent lighting and hi-tech gadgets to make your shower look futuristic? Just take a look at this magnificent shower featured in the illustration below. Not only does it look extremely classy, but it also looks well-suited for an elite bathroom of the 2040s.
Although the shower cubicle looks fantastic, the standout element for us would have to be the glowing white floor. It truly looks mesmerizing, doesn't it? To top that, we're leaving you with an excellent suggestion as well!
More details at www.houzz.com
Vertebrae by Paul Hernon – The Swiss Army Knife of Showers
Feast your eyes upon the Vertebrae. This is a shower from the future and for the future. Although this might not have the most elegant design, there is no denying the fact that this is the most versatile shower ever made. In fact, it is so much more than a shower.
The Vertebrae houses an adult shower, children's shower, a module for flushing toilet, two storage units, basin along with shower controls, and last but not least, a toilet with two cupboards for toilet rolls and brush. This truly is the Swiss Army knife of showers.
This magnificent shower is the brainchild of award-winning designer Paul Hernon. Hernon designed the Vertebrae with small apartments in mind, and a versatile shower such as this can really save a lot of space. However, we must say that it does not come cheap. This product will set you back by at least $ 12,000. Then again, the Vertebrae is a revolutionary product and one that can make a major impact, if used across many homes.
More details at www.dailymail.co.uk
The Brilliant Roca Cocoon Shower By Arina Komarova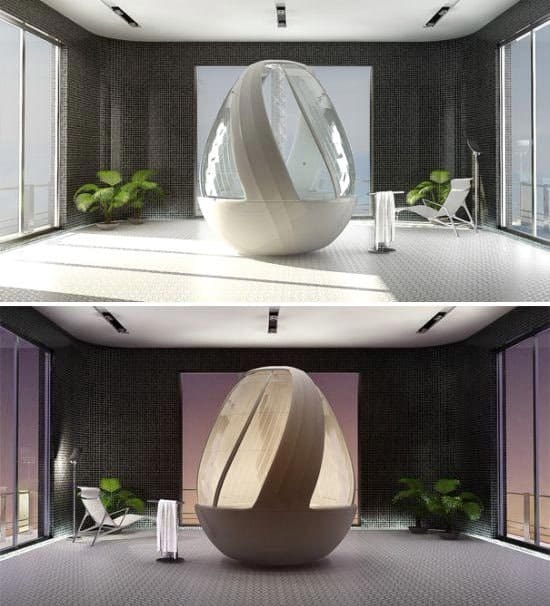 Just take a look at this magnificentshower.  Although the Roca Cocoon Shower and Bath exists in our current timeline, it looks more fitting in a high-end bathroom from the latest Blade Runner movie, doesn't it?
This incredible shower was designed by Arina Komarova, and while it may be incredibly ostentatious, it surely does not lack any functionality. In fact, the Cocoon Shower integrates a bathtub, hydro massage, shower into a single enclosure. Moreover, it features a customizable lighting system that lets you set the mood for any occasion.
More details at www.apartmenttherapy.com
The Futuristic Shower Enclosure With A Comfortable Seat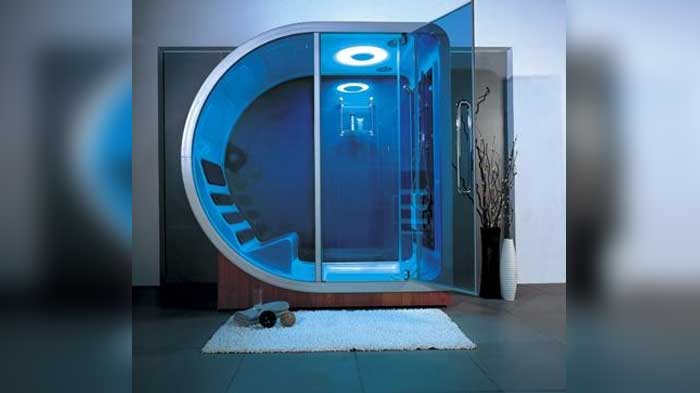 If the last shower design was a bit too whimsical for your taste, then you surely need to check out this amazing shower enclosure from the future. This shower's post-modern era vibe is surely due to its unique inverted D shape, and the cool blue LED lighting.
If you are looking to build a shower enclosure similar to this one, then we suggest you invest in a high-end hand shower as that would be the most comfortable while you are sitting down. Moreover, we believe that you should switch the standard blue LED light with a customizable RGB one.
If you already have a shower, feel free to use the seat given below.
More details at www.providr.com
The Opulent Granite ShowerEnclosure
Grandiose? Check. Futuristic? Absolutely. Opulent? Without a doubt. This epic shower designed by the Young Brothers is one among many incredible shower designs. Their resume is truly incredible.
Other than the Granite walls, we love the rainfall showerhead with integrated lighting. However, if we had to change something about this shower enclosure, then it would have to be the hand shower. We believe that a premium shower column with body jets and a minimalistic hand shower would look much better.
More details at youngbrosinc.com
The Ultimate Blend Of Industrial And Futuristic Design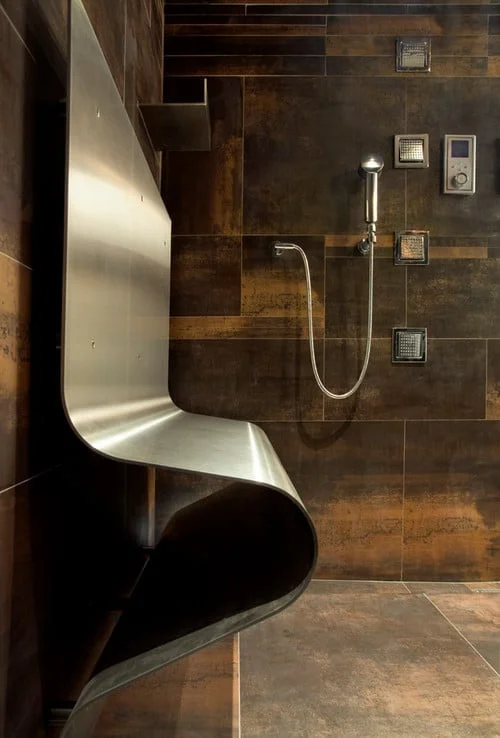 Not everyone is after minimalist futuristic designs. Some people also love an industrial look. And this shower is exactly meant for those people.
This shower has a brilliant blend of industrial design with futuristic elements. We love how the rustic walls complement the hi-tech shower gadgets. It truly is a work of art.
More details at www.houzz.com
50 Shades of Gray – The Ultra-Sleek Shower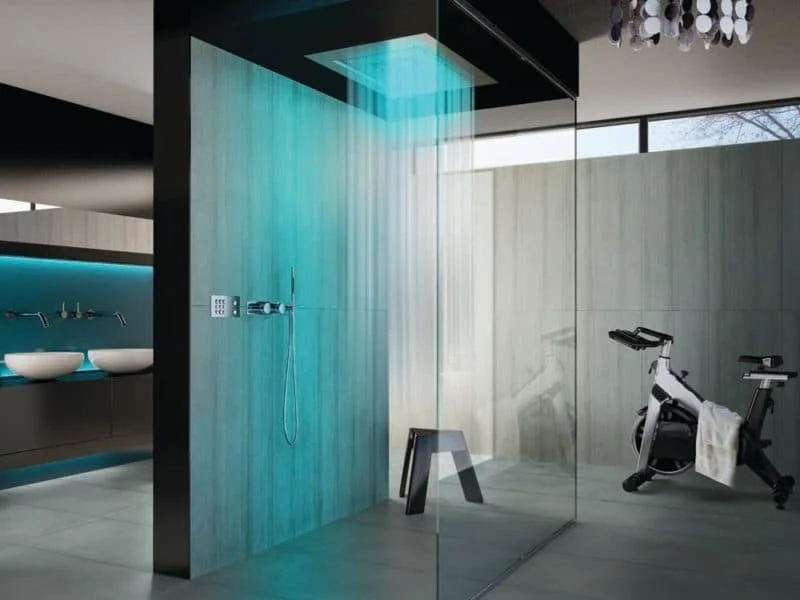 Take a look at this sleek ultra-modern shower. Looks surreal, doesn't it? Needless to say, the dominating element of this bathroom is the incredible shower cubicle. We absolutely love the rainfall showerhead with integratedteal accent lighting.
Notice how the colors of all the elements save for the lighting, falls only in the grayscale. That really makes it feel way ahead of its time.
Delta T17264-SS-I is an excellent model to achieve this look.
The Award-Winning Futuristic Bathroom By Jordan Smith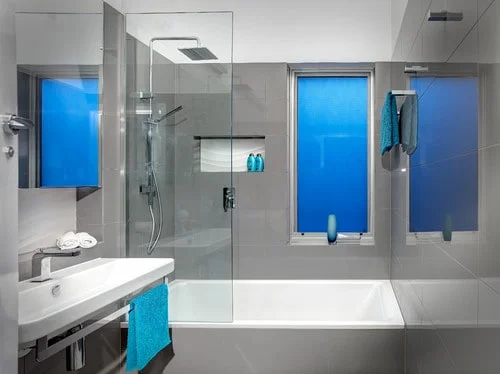 Tasteful use of colors in the grayscale means that you will almost certainly end up with a futuristic design.And this stellar bathroom does exactly that.
Although the design may not be as mesmerizing as the last one, it will surely appeal to those looking to build a medium-sized bathroom. Moreover, this futuristic bathroom has a cool trick up its sleeve. The blue tinted window you see in the background has the ability to change colors. Yes, that's right! Now, now, before you get too excited, let us tell you that it can only switch between clear and blue. But,that is impressive nonetheless.
More details at www.houzz.com
The Shower from a Sci-Fi Movie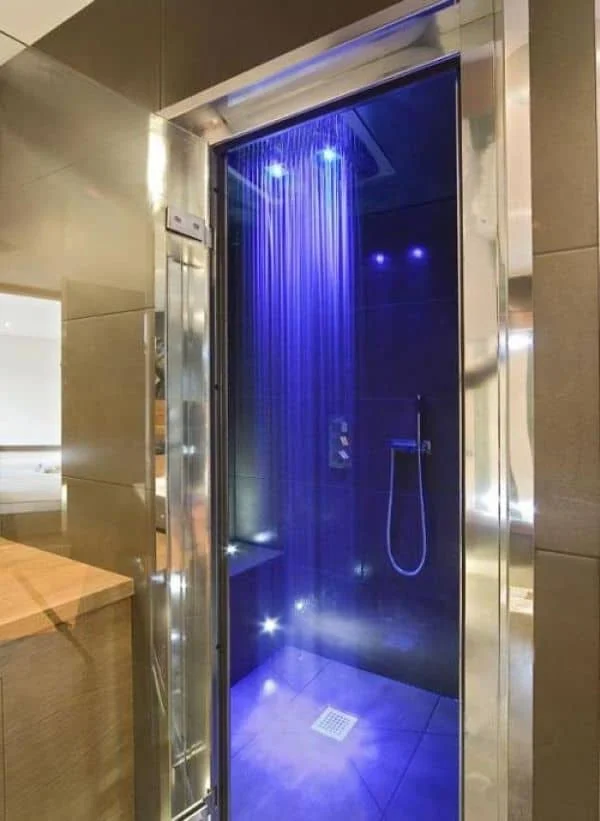 Cool blue LED lighting? Check. Tastefully finished Stainless Steel inserts? Check. High-quality shower components? Check. Ladies and gentlemen, we have the makings of awinner here!
This feels like a shower from a Sci-Fi movie, doesn't it? Moreover, the impressive part of the shower is the fact that it does not need any lavish or hi-tech elements to look futuristic. It does so with the use of intelligent lighting and a stainless-steel door frame. However, if we had to add something to this stellar design, then it would have to be RGB mood lighting.
Get your own LED shower by clicking on the image right below!
More details at www.espacebuzz.com
The Futuristic Shower in an Upscale High-Rise Apartment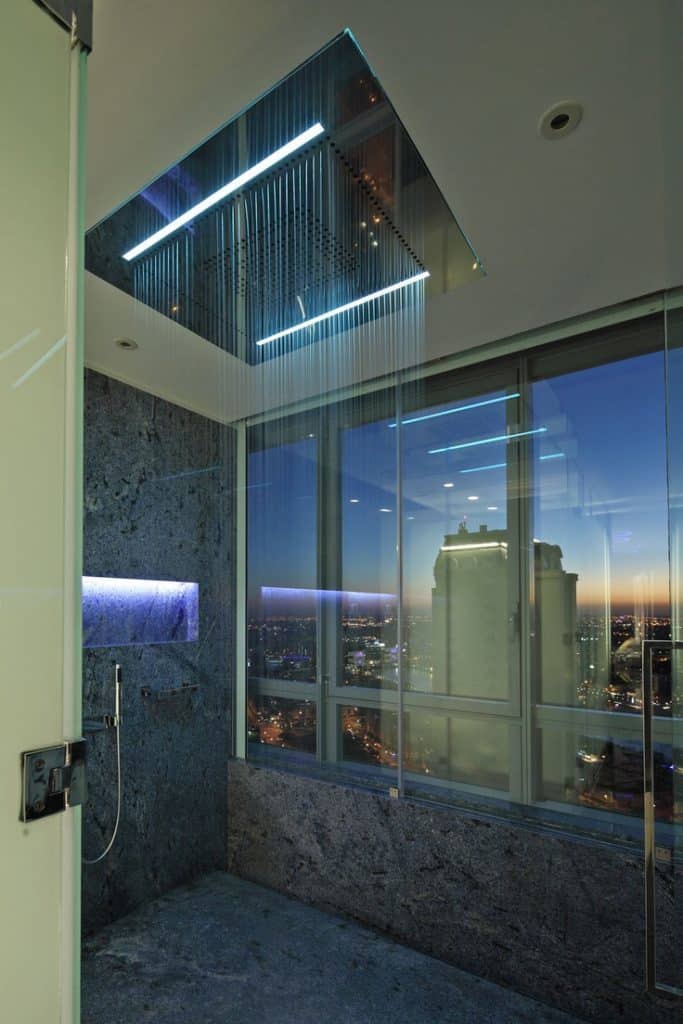 Have you wondered what a shower would look like in afuturistic upscale high-rise apartment? Well, wonder no more. Just take a look at this amazing shower design.
While the interior of the shower is quite incredible, it is the view outside that is truly mesmerizing. We can only imagine the sense of relaxation you would experience in this shower.
When it comes to theinterior, we absolutely love the rainfall showerhead with integrated LED lights. Even the wand-like hand shower looks quite fitting in this environment, doesn't it?
However, if we had to change something, then it would surely be the windows. We believe that only frameless windows can do justice to the incredible view.And it would be even cooler if it hada frameless color changing window like the one from the "The Award-Winning Futuristic Bathroom by Jordan Smith" featured earlier.
More details at allarchitecturedesigns.com
The Perfect Blend Of Minimalism and Luxury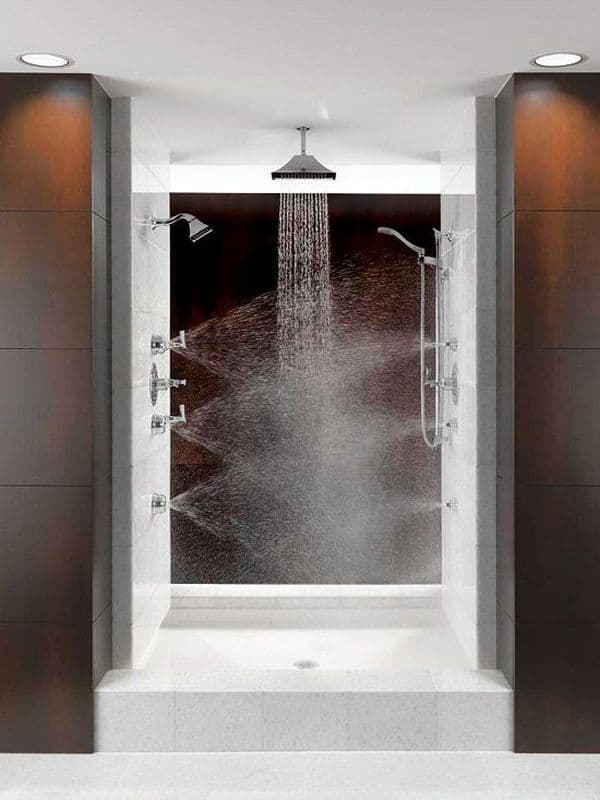 If you are someone who has not bought into the cool blue LED lighting craze, and want something that is luxurious and futuristic, then this shower design might just be it. This amazing shower manages to look futuristic with just the use of classy colors and premium shower components.
We absolutely love the contrast between the white tiles and dark wooden walls. It looks stunning, doesn't it?  Moreover, since this is a compact shower area, the placement of body shower jets on either side of the walls results in a serene experience.
More details at www.espacebuzz.com
The Pinnacle of Comfort and Convenience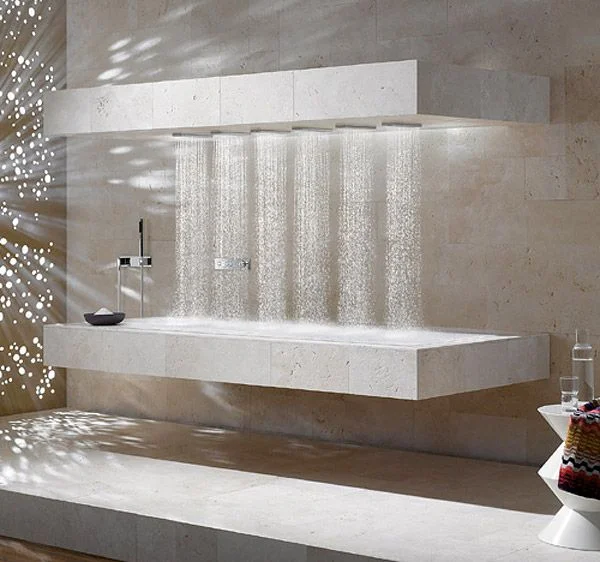 As we progress through the timeline, our gadgets, homes, cars trend towards greater comfort and convenience. So why not showers? And this is exactly where the incredible laying down shower steps in.
This luxurious shower features six rainfall showerheads which are meant to cover the entire length of your body. On top of that, it also has a cool wand-like shower for added convenience.
All in all, the laying down shower is not only a lavish experience, but it also feels futuristic.
More details at www.providr.com
Be One With Nature With This Stellar Shower With Frameless Glass Walls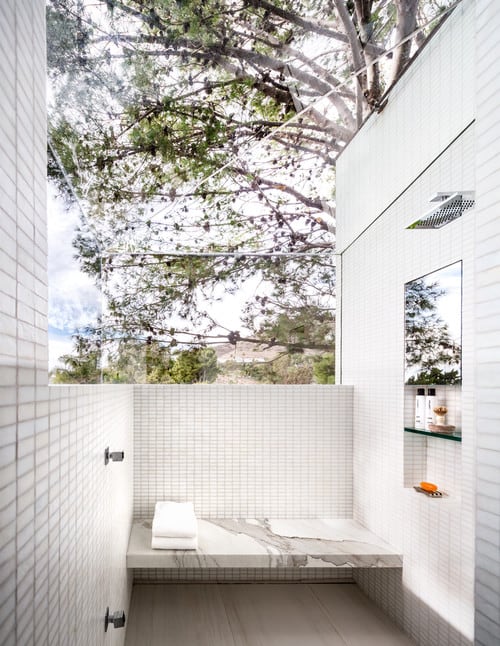 What better way to finish of our list than with this surreal shower! At first glance, it may seem like an outdoor shower. But, look again. Yes, this shower is covered by frameless glass walls which truly let you be one with nature while having the comfort and convenience of an indoor shower. We can only imagine the experience of taking a warm shower under a starry night sky.
Although this shower does not have any lavish elements apart from the frameless glass walls, it does come at a cost. And that would be the constant maintenance to keep the glass crystal clear. Then again, for an experience as amazing as this, we are quite sure that many would be more than willing to do so.
More details at www.houzz.com
That brings our article to an end. We hope that you are now inspired to build your very own futuristic shower. And remember, simplicity is the key. You do not always need to install stupendous gadgets to make your shower feel ahead of its time.
Related Articles
Top 10 Best High Pressure Shower Heads of 2022 | Editor's Top Choices
Walk-in Showers 101 | Pros & Cons, Tips & Tricks, Design Ideas
99 Super Cool Shower Curtains to Transform Your Bathroom Today
11 Best Shower Body Sprays Today Reviewed
5 Best Shower Systems With Body Jets
11 Best Shower Curtain Rod Reviewed