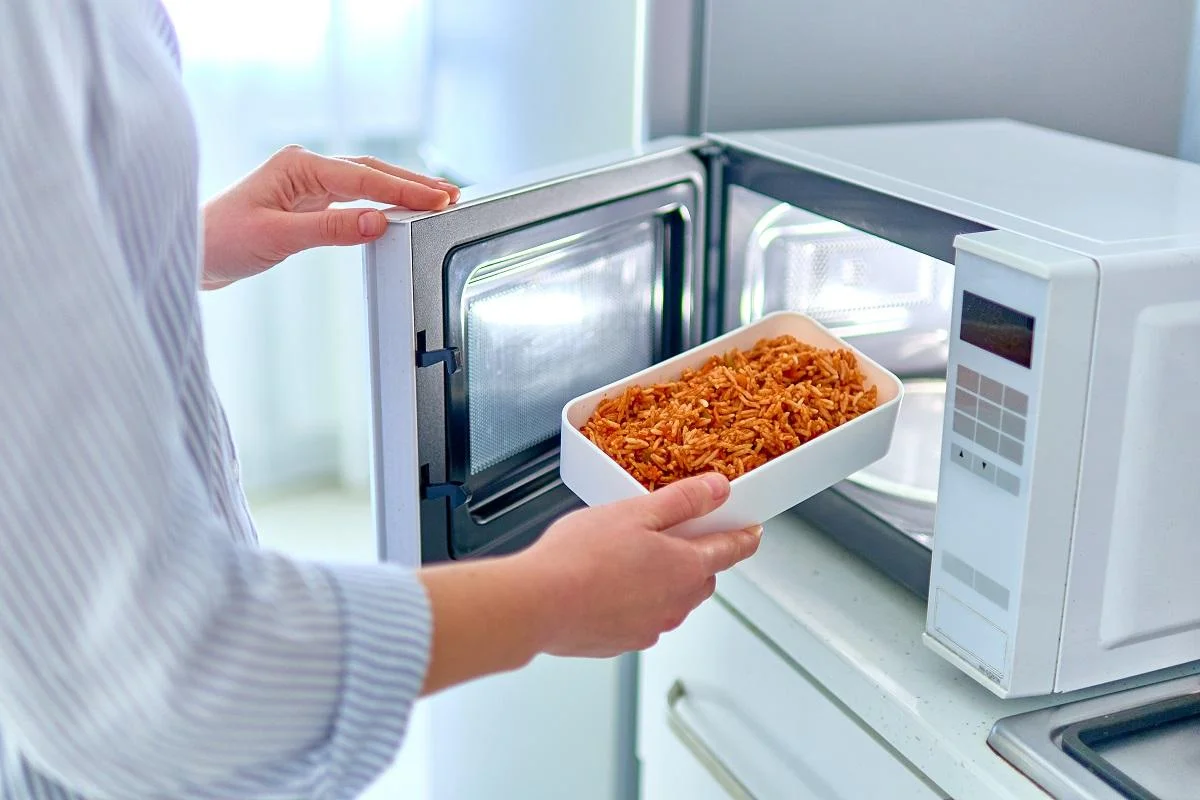 Who doesn't like a hot plate of food after a hectic day?
Fortunately, you don't need to wait for more than a few minutes for hot food with microwaves around. While heating food has become a piece of cake with microwaves, keeping the dinner plates from breaking inside the microwave is a different story altogether. 
Regular ceramic plates cannot withstand the high temperature inside the microwaves and tend to crack and break more easily. 
Moreover, you can't use particular plastic or paper plates as they'll melt or burn at high temperatures. And that's where microwave-safe plates enter the picture. With these, you can safely heat food in the microwave without worrying about breaking the plates. 
But, choosing suitable microwave-safe dishes can be overwhelming. So, we're here to talk about the best microwavable dishes to help you with your decision. 
And, without further ado, let's begin! 
Best Microwavable Dishes Reviews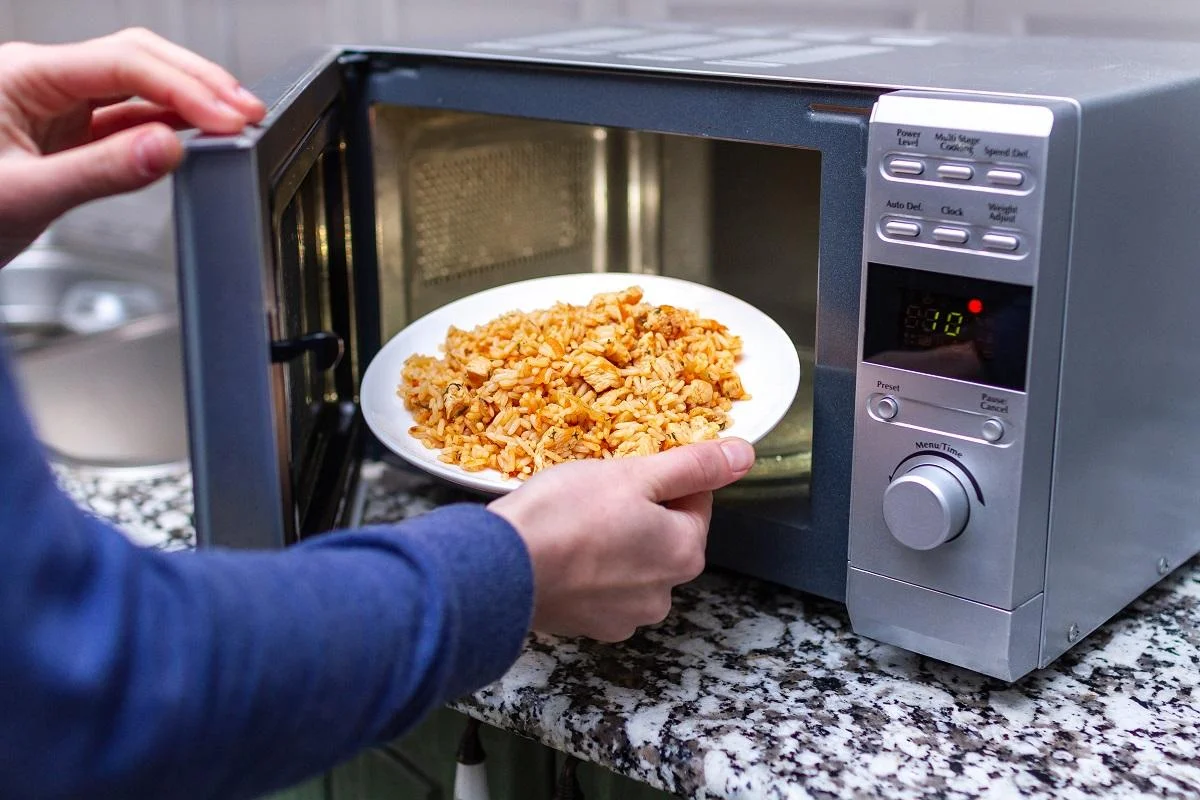 The first product on our list is the dinnerware set from Amazon Basics. It is an 18-piece set that includes microwave-safe dishes and bowls. The modern and elegant design will go beautifully with any dinner table setting and is ideal for a warm and hearty meal with your family during the festive seasons.
Why Did We Like It?
Never judge a book by its cover. Although the saying is true, we were initially attracted to the elegant and modern design of this white coup-colored set that can go well with any modern dinner table decor. 
And it is not just about the looks; the dinnerware material is AB-grade porcelain that is perfect for everyday use. The high-grade porcelain dinner plates and bowls are both lightweight and durable. Plus, the dinnerware set contains dinner plates, dessert or salad plates, and bowls that are enough to serve six people, making it ideal for small family gatherings.
Additionally, the AB-grade porcelain makes the dinnerware set freezer-safe, dishwasher-safe, and microwave-safe. Not to mention how the plates and bowls can easily withstand a temperature as high as 575℉ without getting any cracks. Hence, you need not worry about cracking these plates every time you try to use them for heating the food inside a microwave. 
What Could've Been Better?
The only drawback to this dinnerware set is that it has only enough pieces to serve six people. A single set cannot be of any service in large family gatherings. So, if you're planning to entertain many guests for a lovely evening dinner, you may need pieces from other sets. 
Pros
AB-grade porcelain

Lightweight and durable

Modern and elegant design

Freezer-safe and dishwasher-safe
Cons
Not suitable for big family dinners
Next up is the beautiful multicolor rice bowl or soup bowl set from Duoluv, which is entirely eco-friendly. The bowls are made from organic and natural wheat straw fibers and do not contain plastics or other toxic materials, making them a sustainable and fashionable solution. 
Why Did We Like It?
The most impressive feature of the bowls is their durability. That said, they are almost unbreakable, even if you drop them on the ground. And the sturdy dinnerware material makes them microwave and dishwasher-safe. Also, the bright colors of the bowls are beautiful. So, if you have kids at home, they'll have a fun time eating from these colorful bowls. 
Furthermore, they are safe for kids as they contain no harmful chemicals or plastic. The organic materials ensure the health of your kids and the entire family. Plus, they are incredibly lightweight, which makes it very easy to handle these bowls for everyday use. 
What's more, you can simply use soap and warm water or chuck them inside a dishwasher for a thorough cleaning. Additionally, the bowls are suitable for microwave ovens as they do not become too hot. Moreover, they are deep enough to be used as cereal bowls, rice bowls, or even soup bowls without any spills. 
What Could've Been Better?
Although the bowls are microwave-safe, they cannot withstand high temperatures for a long time. You won't face any problems if you're trying to quickly heat a bowl of soup. However, these bowls might start to melt inside the microwave in the case of more intense and prolonged heating of food. 
Pros
Lightweight and durable

Environment-friendly

Dishwasher-safe

Multipurpose deep bowls
Cons
Cannot withstand high temperatures
The third product on our list is the microwavable cookware set from Rapid, which makes cooking your favorite bowl of ramen much easier. Indeed, gone are the days when you needed a pan and a stove to cook delicious instant noodles.
Why Did We Like It?
This microwavable cookware is ideal for cooking ramen if you're running late and have less time on your hands. Cooking ramen has never been easier — all you need to do is add the ramen with some water and chuck the bowl inside the microwave oven, and you're done. It is that simple and hassle-free. 
Also, the dinnerware material makes this bowl a perfect choice for reheating food in the oven. If you're feeling lazy and not in the mood to cook, you can use this microwavable bowl to reheat the leftover food from last night after taking it out of the freezer. 
Moreover, cleaning the cookware is super-easy. It is dishwasher-safe, so you can just put it inside the dishwasher if you don't have the time to scrub it with soap and water. Thus, to sum it up, this product is excellent for microwave use and can save you a lot of time and energy while cooking. 
What Could've Been Better?
While the bowl is ideal for quickly whipping up a delicious and warm plate of ramen in the microwave, it is not suitable for long-term uses. So, if you're thinking of using this bowl for heating food for years to come, think again, as it is not designed for long-term uses. 
Pros
Easy cooking solution

Microwave-safe

Easy to clean

Perfect for reheating food
Moving on with our list of best microwave-safe plates, we have the microwave collection noodle bowl from Sistema. It is ideal for cooking noodles, pasta, stew, soup, and many more dishes. In other words, this versatile cooking equipment does away with the need for pots, pans, and stove tops. 
Sale
Why Did We Like It?
The noodle bowl is entirely safe for use as it is made of 100% virgin plastic-free of phthalate and BPA. Also, the plastic material makes it microwave-safe. So, you need not worry about ingesting harmful chemicals every time you heat or use this bowl for cooking. 
Another nifty addition is the easy-to-use locking clips that help keep the food fresh and hot. On that note, the product can double up as a lunchbox. Additionally, the high-grade plastic material of the noodle bowl ensures that the cookware stays cool to the touch even after reheating. It also comes with easy-lift tabs to safely open the bowl. 
Moreover, the noodle bowl has a steam release vent on the lid, which prevents the food from splattering everywhere during heating. Thus, you can rest assured that it won't leave behind any unwanted spots inside the microwave oven. 
What Could've Been Better?
Although the noodle bowl comes with easy-to-use locking clips, it is not exactly leakproof. If you're using the bowl to store food in the freezer, you won't face any trouble. But, if you're planning to carry food in this bowl for traveling, be sure to pack dry food to avoid spills. 
Pros
100% virgin plastic

Easy-to-use locking clips

Dishwasher and microwave-safe

Steam release vent present
The fifth product on our list is the beautiful wheat straw 16-piece dinnerware set from Narve. It is 100% organic and eco-friendly and comes without toxic, harmful substances. In fact, the dinnerware set is BPA-free and contains food-grade PP material to make it increasingly sustainable and safe for use.
Why Did We Like It? 
The 16-piece dinnerware set has a rich and elegant design that can go well with any modern dinner table setting and tableware. Apart from the stylish design, the set is extremely lightweight, making it ideal for everyday use. 
Plus, it is completely non-toxic and free of any harmful chemical substances; the wheat straw fiber makes this dinnerware 100% organic and eco-friendly. Furthermore, the material is almost unbreakable, even if you drop the plates. On that note, this durable plastic material makes it a microwave-safe dinnerware set. 
Additionally, the set comes with 16 pieces of different plates, bowls, and drinking glasses, which you can use on different occasions. So, if you are planning a family gathering or a picnic with your kids, this dinnerware set can be a perfect choice. 
On top of that, the manufacturer offers a 100% money-back warranty with this product. 
What Could've Been Better?
Getting off food stains from this dinnerware set can be a messy ordeal. It is suitable for serving kids' food, but if you're planning to serve spaghetti or spicy food on these plates, you'll have difficulty removing the stains after dinner. That said, it takes up food stains very quickly and turns yellowish after a while. 
Pros
Non-toxic materials

Durable and long-lasting

Lightweight and elegant design

100% money-back warranty
The next product on our list is the dinnerware set from Stone Lain, which comes with a hip and trendy stoneware design. The stoneware material offers an earthy and organic feel to the dinnerware set. The fashionable and cool design of the set makes it an ideal choice to amp up your dinner table decor. 
Sale
Why Did We Like It?
We were majorly attracted to the stoneware material of the dinnerware set. It is unlike any other dinnerware material that we've come across. The stoneware offers an organic look to the set that is both unique and elegant. Furthermore, the color combination of green and cream goes beautifully with the stoneware design of the dinnerware set. 
In addition to all that, it is perfect for a small family gathering. It comes with four salad plates, four dinner plates, four bowls, and four drinking glasses. Hence, the dinnerware set is ideal for serving four people at a time at any dinner party. 
Plus, when we talk about the stoneware material, it is not just about its elegant look but also about its high quality. The dinnerware set is made of top-quality stoneware that offers excellent durability to the pieces. And that's why this is one of the best microwave-safe dinnerware sets. It is also dishwasher-safe, so you'll hardly face any trouble cleaning it.  
What Could've Been Better?
Although the dinnerware set is quite attractive and microwave-safe, it is not lightweight. It weighs 23 pounds, making it heavier than other microwave-safe dinnerware sets. You need to be very careful while handling it so that you don't drop and break the set owing to its heavy weight. Hence, it is not suitable for everyday use. 
Pros
Cool and trendy design

Plates, bowls, and mugs included

Organic stoneware material

Dishwasher and microwave-safe
The seventh product on the list is the microwavable dessert bowls from Mora Ceramics that come in an attractive vanilla white color. They have a solid pattern that reminds you to hit the pause down on your busy life and have a pleasant and peaceful meal. This bowl set also comes with a lead-free ceramic glaze. 
Why Did We Like It?
Mora ceramic plates are made from ceramic that comes with 20% stronger Paladin clay that adds to the durability of the oven-safe plates. They have no added colors or other toxic substances, so you need not worry about ingesting any harmful materials while using these bowls. These ceramic dinner plates also come naturally lead-free, ensuring your safety. 
Additionally, the design of the bowls helps you to save space while storing them in your kitchen cupboard. You won't even need to clear up any extra space. You can just safely tuck them in a corner. The clean and modern design of the ceramic bowl also makes you enjoy your meal a little more. Also, the rounded edges of the bowls make them chip-resistant. 
Plus, the crystallized scratch-resistant formula makes the bowls ideal for daily use. You also get superb customer service and easy refund and replacement with this product. If you are not happy with the product, you can simply contact the customer service team and apply for a refund or replacement. It is that simple. 
What Could've Been Better?
Even though the bowls are microwave-safe, they tend to get a bit too hot if you keep them long inside the microwave oven. They are safe for quick heating. But, if you're planning to use these bowls for prolonged and intense heating, they might crack inside the microwave. So, you have to be extra careful while using these bowls in a microwave oven. 
Pros
Lead-free natural glaze

Crystallized scratch-resistant formula

20% stronger paladin clay

Easy refund and replacement
As we move on to almost the end of our list, we have the high-quality glass casserole from Zyer that is ideal for preparing microwave food. It is made from tempered glass, which is often considered the best dinnerware material for making hot food inside microwave ovens. So, it can be a great choice if you're looking to buy new oven-safe cookware. 
Why Did We Like It?
The most attractive feature of the glass casserole is that it is non-porous and doesn't attract any food stains or absorb any food odor and flavor. You don't have to worry about the glass casserole turning yellow after a while due to food stains. 
The non-porous glass material also makes it very easy to clean the casserole. You can simply use some soap and a sponge or just put it in your dishwasher. Furthermore, the glass lid helps avoid splattering the food while cooking. It also helps to keep the food fresh and store it safely in the freezer. 
Plus, it is an all-purpose glass casserole that can be used to cook delicious chicken stews to mouthwatering baked potatoes. It has the perfect size to whip up a sumptuous meal for your family without any hassle. Additionally, the glass casserole is a space saver. You can stack your dinner plates and bowl over the flat surface of its glass lid. 
What Could've Been Better?
The major drawback of this microwavable casserole is the substandard quality of the glass material. It is not made from food-grade tempered glass, which naturally questions the durability and safety of the product for preparing food inside the microwave oven. So, you might notice cracks and breaks on the glass casserole owing to its poor quality. 
Pros
Clear round glass casserole

Comes with a glass lid

Non-porous

All-purpose cookware
Cons
Substandard glass quality
Finally, the last product on our list is the wheat straw dinnerware set from Homienly that comes with 20 pieces of unbreakable microwave-safe plates, bowls, and cups. The set is reusable and 100% BPA-free. It is non-toxic, odorless, and environment-friendly. So, it can be a healthy alternative to regular ceramic plates and dinnerware sets. 
Why Did We Like It?
The dinnerware set is reusable and made from sanitary wheat straw fiber, making it completely eco-friendly. The synthetic structure of the wheat straw is highly durable, which makes the dinnerware set literally unbreakable. So, rest assured, it won't break that easily if you drop it like a regular porcelain dinner plate. 
Furthermore, the 20-piece dinnerware set is ideal for hosting a large dinner party. It is available in four different colors, adding to its attractive factor. Also, the modern style and design of the set help it go with any tableware decor. 
And most importantly, it is extremely lightweight and safe for microwave ovens and dishwashers. It can withstand a temperature of 248℉ for five minutes inside the microwave. Additionally, you can use it safely in the dishwasher for two whole hours. It is also more than adequate for dinner parties, picnics, and even camping trips. 
What Could've Been Better?
The only thing that irked us a bit about the product was the size of the bowls and cups that came with the dinnerware set. When you purchase a dinnerware set, you expect cereal bowls. But, these bowls were more like dessert bowls or soup bowls at best. And, the cups were in no way like regular coffee mugs. They were much smaller, which can be an inconvenience. 
Pros
100% natural material

Unbreakable structure

Dishwasher and microwave-safe

Multiple uses
Cons
Bowls and cups are pretty small
Microwavable Dishes Buying Guide
There are a number of factors at play when we talk about selecting the best microwavable dinnerware set. You can't just randomly choose a dinnerware set based on a whim. It can be a pretty time-consuming task. 
So, to make your job easier, we have discussed some of the key features that you can consider before making the final purchase. Let's take a look! 
1. Material 
You get a lot of options here – stoneware, porcelain, microwave-safe plastic, wheat straw, and even-tempered glass. These materials can be perfect for cooking and heating food in the microwave. 
Stoneware dinnerware sets are pretty tough and durable. In comparison, wheat straw dinnerware sets are 100% organic and natural without harmful toxic substances. So, it comes down to your preferences. 
2. Utility 
Well, if you're buying microwavable dishes, utility is a significant factor to consider. You can't use porcelain or stoneware dinner sets for cooking purposes. They can only be used for heating and serving food. 
However, glass casseroles or wheat straw bowls can be used for whipping up quick ramen or stew. So, it is best to decide whether you want cookware or a dinnerware set before selecting and purchasing the product. 
3. Design 
When it comes to selecting the right microwave-safe dinnerware set, design plays a major role. You want the dinnerware set to go with your dinner table setting. 
Beige or white-colored porcelain dinnerware sets are always a safe option. They come in a modern and elegant design that usually goes with any dining room décor. So, try to choose a dinnerware set whose design will go well with your existing tableware.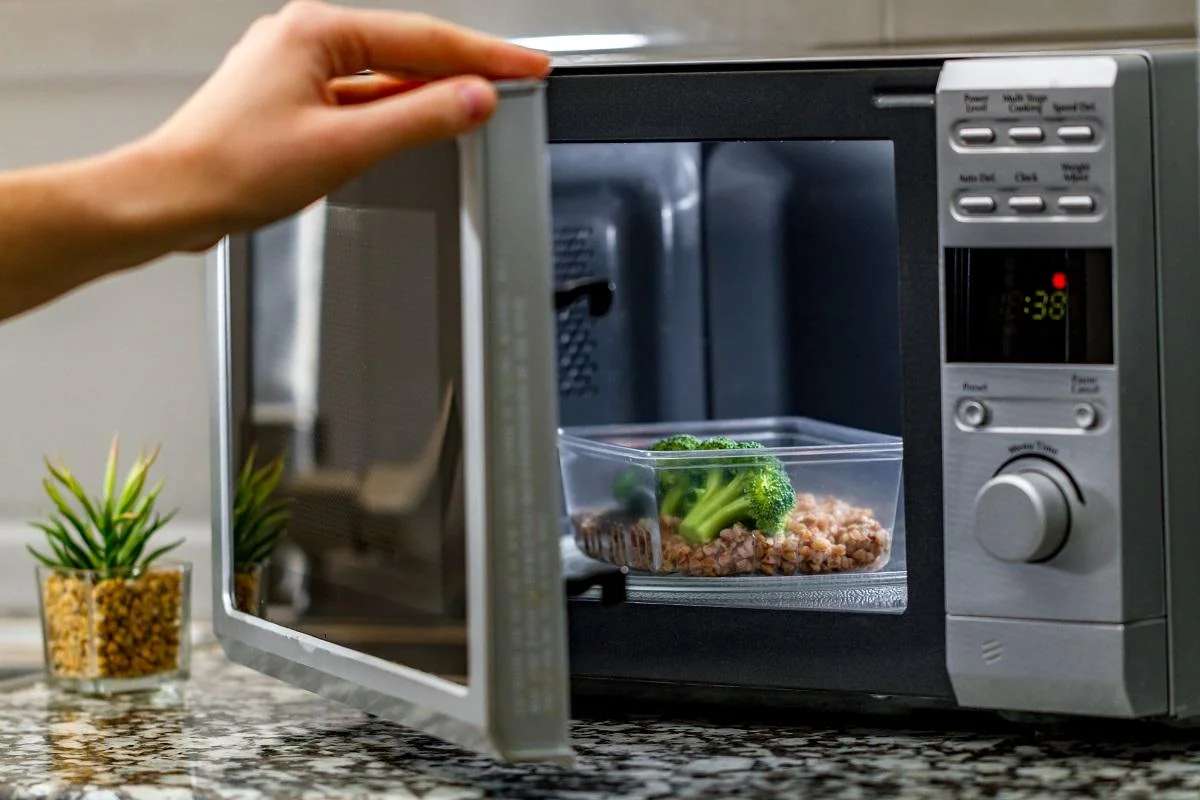 Verdict
Choosing a suitable dinnerware set that won't break inside your microwave oven can make you waste hours on pointless window shopping. Anyhow, we hope our article has helped you gain a better perspective regarding the best microwavable dishes that are trending in the market today.
If you ask us about our favorites, we'll point you straight toward the Amazon Basics and the DUOLUV dinnerware sets. They are attractive, durable, and won't crack inside the microwave oven. So, go ahead with our top picks to prepare and serve a fresh and hot oven-cooked meal today. 
But, you can always roll up your sleeves and do some more research before choosing your favorite microwavable dinnerware set.
And on that note, we'll be signing off. Let us know about your favorite microwavable dinnerware sets. Take care, and we'll see you next time! 
Related Articles
13 Best Small & Compact Microwave
11 Best Chef Knife Bags Under the Microscope
11 Best Electric Knife Sharpeners
12 Kitchen Hutch Ideas That You Actually Want
11 Ideas for Basement Kitchens and Kitchenettes
49 Exceptional DIY Coffee Bar Ideas for Your Cozy Home
4 Best Ways To Reheat Chicken Wings
13 Tile Design Ideas For Your Countertop
7 Best Broan Range Hoods Reviewed
19 Smart Kitchen Storage Ideas That Will Impress You