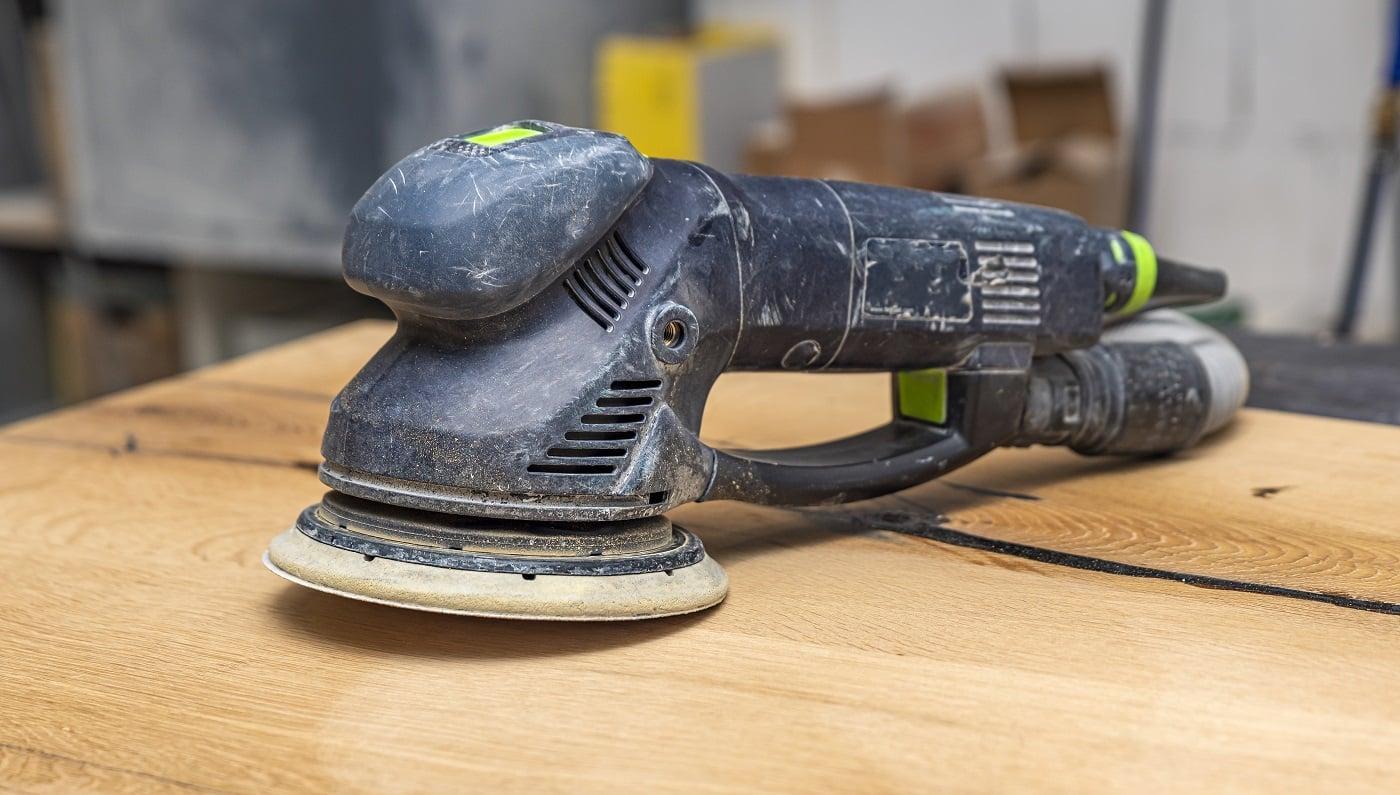 Are you a woodworking enthusiast confused between buying an orbital and palm sander? Well, you've come to the right place!
Whether you are a seasoned professional or someone just starting out in the woodworking game, a sander is an essential tool to own. It not only helps you shape wood but also enables you to remove leftover paint and varnish to create a smooth and paintable surface.
Although sanding is a process that can very well be achieved with sandpaper and a little manpower, it is not always the ideal way to do it. Most experienced woodworkers will always prefer owning a sanding tool to sanding by hand, especially when working on larger projects.
This is chiefly because sanding by hand can be very tiresome, especially since it requires you to exert a large amount of force continuously. Hence, in this context, sanders come in particularly handy because they drastically reduce the exertion required while providing a more professional finish to the process.
Orbital Sander Vs Palm Sander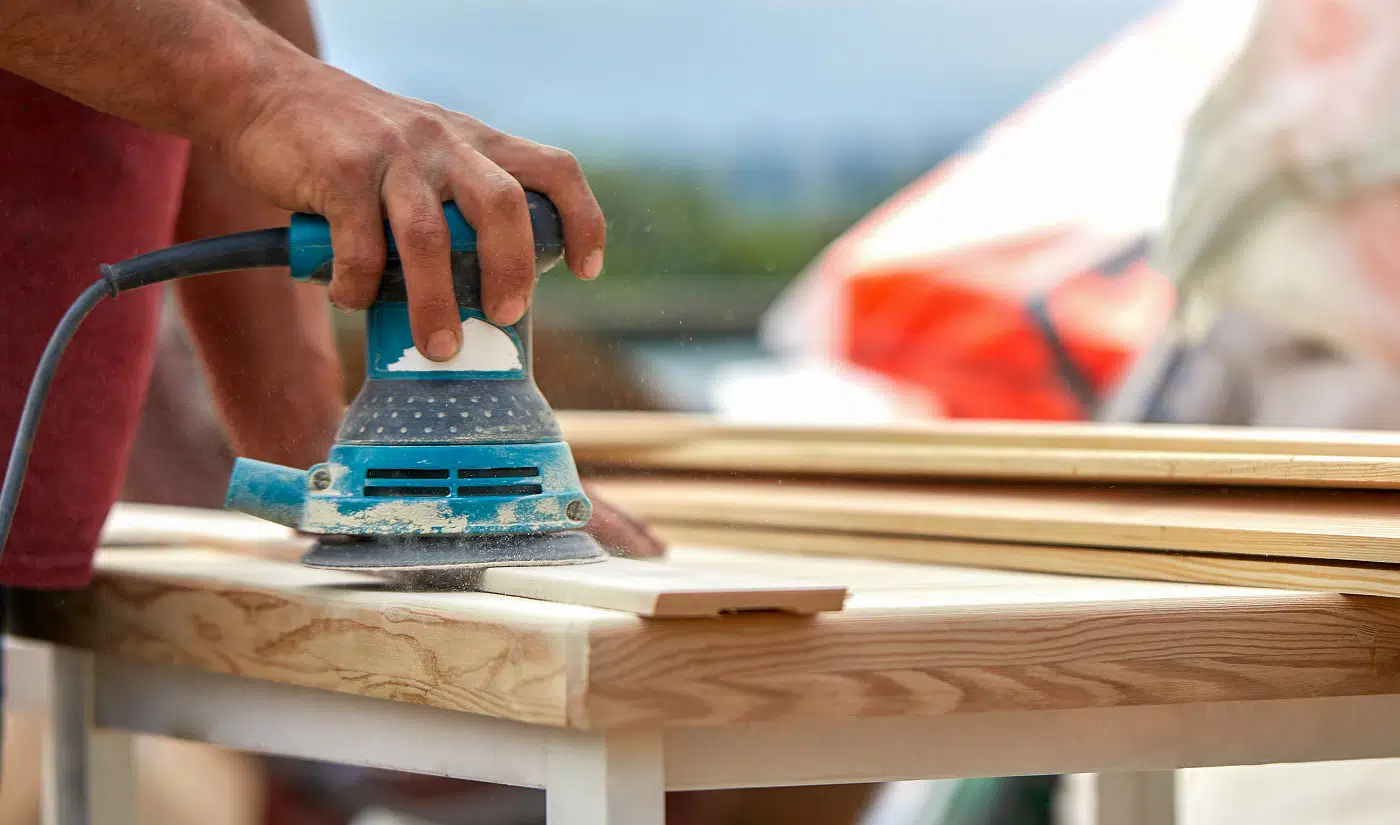 There are many different types of sanders available on the market, such as disc, belt, drum, oscillating spindle sanders, etc. But the two variants that we will primarily be focusing on today are the commonly used orbital and palm sanders. 
Both these power tools are almost equally efficacious and popular amongst professionals and DIY enthusiasts alike. So, how do you figure out which is the better tool to invest in? Well, that's what we're here to help you figure out. 
While both tools are essentially handheld sanders, they differ in how they are structured and function. Hence, to make this choice a little simpler for you, we have compiled this guide detailing the important features and differences between the two. 
First off, we will start by providing you with one-to-one introductions and details regarding both types of sanders. After that, we will discuss the critical differences between them to help you understand the features that set them apart. So, without any further ado, let's jump right into it, shall we? 
What Is An Orbital Sander?
Sale
An orbital sander is a tool that works by spinning small sanding plates in circles (also known as orbits) against wooden surfaces. They are substantially sized and ideal for sanding and finishing large wooden projects.
Now, there are mainly three kinds of orbital sanders available on the market: standard, random, and finishing orbital sanders. The standard orbital sander is built with square-shaped pads and enables users to sand difficult-to-reach edges and tight corners with particular ease. 
On the other hand, the random orbital sander has round pads that facilitate a separate sanding process, leaving zero marks behind after usage. And finally, the finishing sander is smaller or compact in nature and is meant specifically for sanding tricky edges and corners. 
The first classification of sander discussed above is what people usually refer to when they speak of "orbital sanders". This type can be further classified into subcategories differentiated according to the size and shape of their sanding pad. The two most popular ones are quarter-sheet orbital sander and half sheet orbital sander. 
While the first variant can be fitted with a quarter sheet of sandpaper, the second is supposed to be equipped with half a sheet of sandpaper. Moreover, the former provides users the chance to get four usable pieces out of one sheet of sandpaper. And the latter only provides two usable pieces. Hence, the main difference between them is the size and not the device's functionality. 
These sandpaper sheets are usually attached to the sander with a spring or metal clamp system that holds the paper against the sanding pad. Both these sanders move in the same tight orbital motion and hence facilitate faster sanding and material removal. 
Features
Power And Speed
Amps usually measure the power of any device. However, to measure the power of an orbital sander, one also needs to look out for its 'orbits per minute'. This measurement represents how fast the sander rotates; the standard rate is around 10,000 orbits per minute. 
The higher orbits per minute automatically signify a higher speed of the device, which is perfect for sanding large wooden projects in a short period. However, the fast pace of the sander offers less control and may lead to more sand marks being left behind on the surface of the finished wood. 
A few orbital sander models come with speed customizations that can be handy when you require more control while sanding a tricky area. In contrast, a faster-paced sander will always facilitate faster sanding and project completion. Hence, when considering a unit, buying one with speed customizations is always a better option. 
That being said, a drawback of this sanding tool is that it is not powerful enough to remove wood material and shape surfaces effectively. Hence, this is a good option to consider when you want to actively avoid sanding too much wood from the project while you're at work. 
Handles And Grip
There are quite a few varieties of handles and grips available for orbital sanders. The Pistol-grip, for example, is considered the most preferred option by professionals. It requires you to use both hands simultaneously, where one is used to direct while the other is used to apply pressure. 
Other than that, there are the unusually structured jug-grip handles. This kind is usually better suited for projects where you might need to reach under a wooden piece to sand it. Finally, we have the most common handle, also known as palm grip handles. These are the most lightweight options equipped with a comfortable grip that makes them easy to use. 
Sandpaper
Orbital sanders are very versatile when it comes to the installation of sandpaper. They support both Velcro as well as peel-and-stick design applications that make attaching sandpaper extremely easy. 
Additionally, you don't need to buy any special kind of sandpaper for this particular sanding tool because it already supports all the standard types of sandpaper. Hence, you can use pretty much any sandpaper you get for operating this device. 
Corded/Cordless
They are available in both corded and cordless variants. The choice between the two kinds usually depends entirely on the user. Some people prefer the cordless type to eliminate the disturbance of the cord getting in the way of their work. However, one letdown of this variant is that you will need to charge the batteries regularly between usages.
Alternatively, although a little trickier to maneuver, the corded sander is usually much more powerful than its cordless counterpart. It further requires no charging intervals and hence can be used for sanding multiple projects for extended periods of time.
Dust Collection Mechanism
The formation of dust is a natural outcome of sanding any wooden surface. Therefore, sanding with a device as fast as the orbital sander can create a lot more dust than people can handle. Hence, most models of this equipment come equipped with relatively robust and dynamic in-built dust collection mechanisms. 
The dust collection system is usually either passive or vacuum powered. A passive dust collection mechanism usually involves attaching a dust collecting bag to the regular vacuum hose to aid dust removal. Alternatively, a vacuum-powered mechanism works by automatically sucking up the dust while you're operating the device.
What Can You Use It For?
An Orbital sander is a sturdy piece of equipment that works best with big expansive projects. The larger the project, the better performance this device will deliver. Furthermore, its ability to reach tricky corners and grooves makes it ideal for finishing projects like wooden staircases. 
If that wasn't enough, this sander is also excellent at stripping off the remaining paint or varnish from a project. So, other than stairs, it also works remarkably well on second-hand furniture you plan to redo or other similar projects. 
What To Look Out For?
As we mentioned earlier, the term "orbital sander" in this article automatically refers to the standard orbital sander specifically. It is, however, common for newbies in the woodworking game to get confused between the standard and random orbital sander because of their similar structure. Hence, we wanted to make sure you understand the difference between these two types before moving on. 
The round-shaped sanding pads of the random orbital sander make it functionally entirely different from its standard counterpart. While the former provides a cleaner finish with no sanding marks after use, they cannot sand deeper corners and edges as effectively as the latter. This device is also constructed with varying speed customizations that enable users to pick a particular speed for their project in hand. 
Alternatively, the square-shaped standard orbital sanders do not have any such additional features and speed customizations. The speed of this device is set at a constant high speed that facilitates quick and efficient project completion. However, it also tends to leave behind sanding marks on the wooden surface, which the former does not. 
Pros
Has high speed thereby covers large projects fast

Square shape allows it to fit into project corners seamlessly

Works effectively in tricky and tight spaces
Cons
Leaves sanding marks behind sometimes

Not capable of shaping wooden projects effectively
What Is A Palm Sander?
Sale
Palm sander, also commonly known as sheet sander, is a small and compact power tool used to shape and finish woodworking projects. It derives its name from the compressed structure and size of the device that easily fits in the palm of your hand. 
This power tool provides a smooth and subtle finish on wood and is ideal for projects that you don't plan on painting. Hence, this is a rather popular tool in carpentry workshops that build furniture with the original wooden finish. It's a versatile piece of equipment that can be used on a variety of projects depending on the kind of sandpaper that you choose to utilize.  
Much like the orbital sander we discussed above, this one also has a square or rectangular sanding pad. This particular shape enables the sander to reach corners and other tricky spaces with relative ease. 
Furthermore, all palm sanders are available in two standard sizes: quarter sheet and half sheet. The first is operated with a quarter sheet of sandpaper and provides four workable pieces from one sheet. The second operates using half sheets of sandpaper and hence only provides two workable pieces from a sheet. 
When it comes to the motion of this sander, it has a circular and patterned back and forth movement. It oscillates and vibrates in the user's hand at a low speed giving you more control over its general direction. Additionally, this device is very affordable, making it quite ideal for novice woodworking enthusiasts to invest in.
However, one of the drawbacks of this machine is that it does not have a very effective dust collection mechanism. Although constructed to minimize the formation of dust, most models are unable to eliminate the dust entirely. 
Features
Power And Speed 
palm sanders are comparatively gentle tools that run on an average power of 2.0 amps. Most models of this sander thereby have a motor ranging between 2-3 amps that are great for a versatile set of projects. Purchasing a tool with more than 3 amps of power consumption is essentially a waste of money because this device works optimally in low-power settings. 
When it comes to speed, a palm sander has no customizable variations provided. It functions at a relatively low constant speed that naturally consumes less power. However, this low speed usually lengthens the process of finishing a project. Hence, it is not considered very ideal for shaping or finishing substantially big wooden projects. 
Handles And Grip
palm sanders are constructed with a lightweight and compact body that is easy to maneuver and control. Hence, they do not require a variety of handles on them to operate with ease. 
Some models, however, come equipped with a comfort-grip handle that makes it more comfortable for users to hold on to. And, as we all know, handles are integral in providing users with a safe and enjoyable operation experience. 
Sandpaper 
This sanding power tool is compatible with all kinds of regular sandpaper, making it as wonderful and hassle-free to operate as its counterpart. Standard sandpaper is also really affordable and thereby makes the sanding process rather budget-friendly. 
However, one thing to note regarding the palm sander is that it consumes a lot of sandpaper during operation. Equipped with hook and loop fasteners, this piece of equipment operates while continuously feeding on sheets of sandpaper.
Hence, you're required to constantly feed the sandpaper into the machine as you work. This thereby substantially increases paper consumption, forcing you to invest in more sandpaper in the long run, which can be draining for the pockets. 
Corded/Cordless Machine 
palm sanders are also available in both corded and cordless formats. The cordless devices are all battery operated and thereby optimize the maneuverability of the machine. Apart from that, most cordless sanders use batteries that can be interchangeably used with other power tools. This will enable you to use the same battery for multiple power tools, which can come in very handy. 
One way to ensure that your tools function on the same battery is by buying products from the same company. For example, if all your power tools are from the company DeWalt, then the chances are that they are compatible with the same kind of battery as well.
Now, purchasing a battery-operated sander also implies that you will need to recharge and change the battery between uses. However, since the palm sander does not consume that much power, it usually runs on a single set of batteries for much longer. 
Dust Collection Mechanism 
The dust collection system of a palm sander isn't as robust or effective as we would like it to be. This is, in fact, one of the main drawbacks of this particular variant of sanding tool. 
In most cases, you will need to fit your sander with a separately purchased dust bag. These bags are freely available on the market; however, it is vital to look through user reviews to ensure it has reliable sealing technology. 
A handful of palm sanders also come equipped with vacuum-based dust collection mechanisms. However, these models tend to be more expensive than their standard counterparts. We additionally recommend looking for a sander model with pre-sealed filters and switches meant to protect the device from the dust it creates. 
What Can You Use It For? 
A palm sander is an ideal investment for people who either don't see themselves using sanders very often or only require them for small projects. The flexibility and versatility of the product enable you to use it on a variety of DIY projects. Hence, it's also a great choice for woodworking hobbyists who require portable, compact, and lightweight tools that are both easy to store and budget-friendly. 
The small size of this sander enhances the overall precision provided by it. Hence, it doesn't leave any sanding marks on the surface being finished and it's also good at removing material and shaping wood effectively. This property makes them the perfect tool to sand down a previously treated or painted project. 
Furthermore, the sander is the ideal tool to purchase when working on projects that won't be painted or refinished after sanding. This includes certain types of furniture that are meant to maintain their original wooden finish. 
Pros
Lightweight and compact structure

Compatible with standard or regular sandpaper

Budget-friendly price tag

Does not leave sanding marks after usage with practice
Cons
Consumes a significant amount of sandpaper

Not ideal for larger projects

Not equipped with a very robust dust collection mechanism
Differences Between Orbital Sander And Palm Sander
Now that we've given you a comprehensive idea regarding how each sander functions, we can highlight the most significant differences between them. This comparison will provide a clear picture and help you ascertain which sander is the better option for investment.
Shape And Size
As we discussed earlier, orbital sanders are square in shape and much more heavy-duty in size as compared to a palm sander. Alternatively, the latter is usually rectangular in shape and is more lightweight and compact in comparison. Both are equally good at sanding and finishing difficult-to-reach or inaccessible corners because of their four-sided sanding pad. 
Furthermore, the orbital sander is usually preferred by seasonal professionals and workers in the woodworking industry. However, the substantial size of this machine makes it less than ideal for home-based woodworkers to invest in. 
In this context, the palm sander becomes a good alternative for DIY enthusiasts to invest in. These are not only lightweight and easy to carry, but they are also effortless to store in cramped or limited woodworking stations and other spaces. 
Sanding Motion
The sanding motion of a palm sander is a back and forth movement paired with a circular pattern movement. Compared to this, the orbital sander has tight circular and elliptical motions that help it clean and shape the surface faster. The distinct way each of these sanding power tools moves has a huge influence on its functionality, and hence is a significant difference to note between them.
The fast motion of the orbital sander, while allowing it to cover more surface area in a long time, also gives it a more unpolished finish. The high speed also makes it difficult to maneuver the machine in the direction that you want it. 
Speed Of The Sander
As we previously established, the orbital sander has a more tight orbital motion that leads to a comparatively fast-paced movement. The average orbital sander makes about 10,000 orbits a minute, which, as you can probably tell, is impressively high. 
When compared to the above, the palm sander is a relatively gentler and slower device. The slow speed lends it higher precision but also makes it time taking and exhausting to sand large surfaces. 
Project Specifications
The sizable and heavy-duty construction of the orbital sander along with its enhanced orbiting speed, make it ideal to sand large projects. Other than that, the square or rectangular-shaped sanding pad gives you access to difficult-to-reach corners and flat edges. 
As compared to this, the palm sander is only recommended to be used for small to medium-sized projects. It is, however, equally good at sanding inconveniently placed nooks and crannies of a project 
Furthermore, since the orbital sander leaves swirly sand marks on the surface, you should only use it on projects that will be repainted or refinished. Otherwise, the scars left behind may give an unprofessional look to the project. Compared to this, palm sanders provide beautiful and smooth finishes on most surfaces. Hence this is the ideal device to provide the final finish or a wooden project. 
Sanding Finish
As we mentioned earlier, the lower speed and gentler motion of the palm sander gave it precision that is unmatched by its orbiting counterpart. This precision further enables the device to provide a more subtle, fine, and smooth finish on a variety of different surfaces. 
Furthermore, it has the ability to leave no swirly sanding marks on the surface, as long as it's used right. However, it might take some practice before you can create completely flawlessly sanded surfaces. Additionally, this sander has really good shaping and removing capabilities and is ideal for removing old paint and varnish from surfaces.
On the other hand, the orbital sander, while being high speed, tends to leave a lot of swirly textures behind. This is an even more common phenomenon when used the wrong way. 
Hence, during operation, it is crucial to sand in the grain direction of the given piece of wood. If users are not cautious about this, it will end up leaving some really stark cross-grain scratches on the surface that are difficult to remove later. 
Furthermore, although this device can cover a  large surface area easily, its enhanced speed disables it from doing so with precision. Hence, this is not the product you're looking for if you're planning to attempt pre-painted surfaces. Similarly, this device is also not very effective in removing material and shaping surfaces when compared to its counterpart.
Price Points And Features
The price of a palm sander is decidedly lower than that of an orbital sander. This can be attributed to a variety of reasons, however, there are only two main ones.  Firstly, the orbital sander is markedly bigger than the former and secondly, it comes equipped with a lot more adjustable features and mechanisms. This includes its innovative and robust dust collecting mechanism as well as its customizable speed options. 
What's more, this sander also comes with a variety of different handle options. Some models of this device come equipped with a jug-grip handle that is specifically designed to enable inversion. This process gives you access to sand the underside of any given project. This feature is exclusively available in orbital sanders. However, not all orbital sanders are equipped with the jug-grip handle and hence are capable of performing it. 
The palm sander, compared to this, is structured rather simplistically and lacks most of the inbuilt mechanisms of its counterparts. While certain models may have a dust collecting mechanism installed within themselves, it usually requires users to buy the disposal bags separately. Lastly, it also only comes with one type of 
Maneuverability And Usage
As we mentioned above, the orbital sander has a rather substantial build and structure. The enormity of this device thereby hinders the overall maneuverability of the same. And since directing and controlling the sander is crucial to the finish it provides, most people find it quite challenging to operate optimally. 
Consequently, numerous models of this device come equipped with a variety of different handles. The pistol-grip handle, for example, is a dual grip handle constructed to give the user more command over the device. However, even with its enhanced handling features, this device is admittedly more difficult to control. 
The palm sander, as compared to this, is incredibly easy to maneuver and operate. Since the stature of this device is substantially smaller than its counterpart, it's perfect for most beginners and woodworking novices to try their hand with. 
Moreover, the lightweight structure of this device in no way hampers its finishing and shaping performance. Additionally, this should not be operated with too much body pressure. The excess pressure usually eliminates the tool's spinning motion, thereby reducing the overall quality of your finish. Hence, it is recommended you allow mostly the tool's weight along with only a little bit of pressure from your hand to work the tool.
Which One To Choose: A Clear Winner?
With that, we've come to the end of our list of differences between the orbital sander and the palm sander. Both devices have some rather compelling and impressive features to consider. But how do you decide which device is the better one? 
Well, we're of the opinion that you're asking the wrong question. The right way to approach this dilemma is not by asking which device is better but rather which device is more useful for your needs?
Now that you've glanced through a detailed analysis of both these popular sander models, it is clear to see that they each provide different functionalities. So, if you're someone looking to expand into the professional woodworking field, the orbital sander might be better for you. The same is true for any and all people planning to attempt substantially large-sized projects.
Alternatively, if you're just starting out in the woodworking game or just do them for fun, you might want to consider purchasing the palm sander. They're easy to store and even easier to operate making them a wonderful beginner-friendly piece of equipment. Apart from that, this sander is the single best device to purchase for people who only attempt small to medium-sized projects. 
Lastly, it is also crucial to remember that both sanders require a fair amount of practice to provide optimum results. However, the orbital sander is always more challenging to control and therefore only recommended to be used by professionals.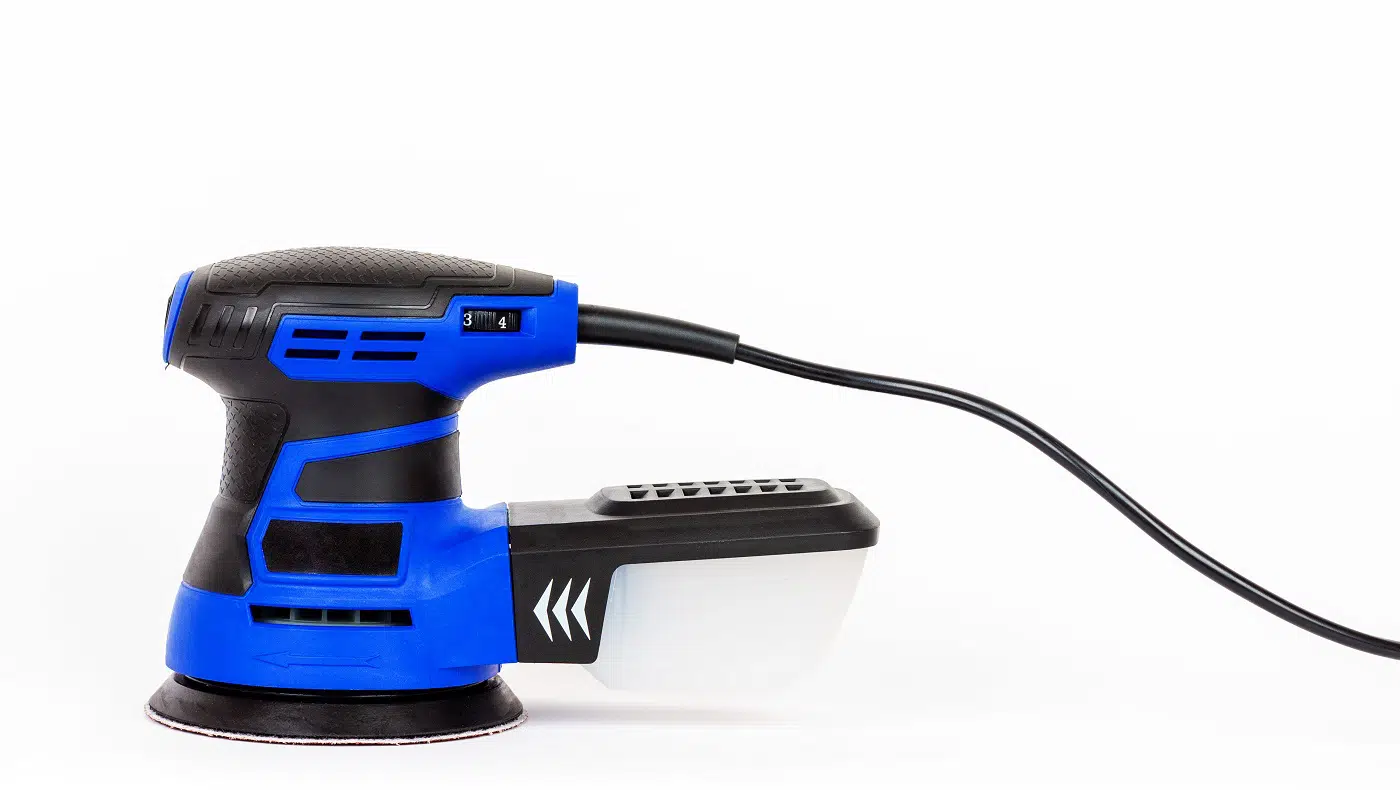 Final Thoughts On Orbital Sander Vs Palm Sander
So, it's clear that both the orbital and palm sander are unique in their functionalities. The best way to determine which product is the best for you is by matching them to your personal project specifications and requirements. 
If you are a seasoned woodworker trying to decide between the two, we would recommend you go for the orbital sander. Since it's comparatively versatile and equipped with more features, it comes in handy while finishing a variety of woodworking projects. 
However, this recommendation is only relevant under the assumption that you will mostly be handling large projects. If you're a professional who specializes in smaller projects, then the palm sander is undoubtedly the better option. 
Hence, it's evident that there can be no clear overall winner between the two. But hopefully, with the help of this guide, you can ascertain which of the two is your best bet! 
Related Articles
5 Best Orbital Sander With Vacuum Attachment
8 Best Sanders For Deck Refinishing
13 Best Random Orbital Sanders