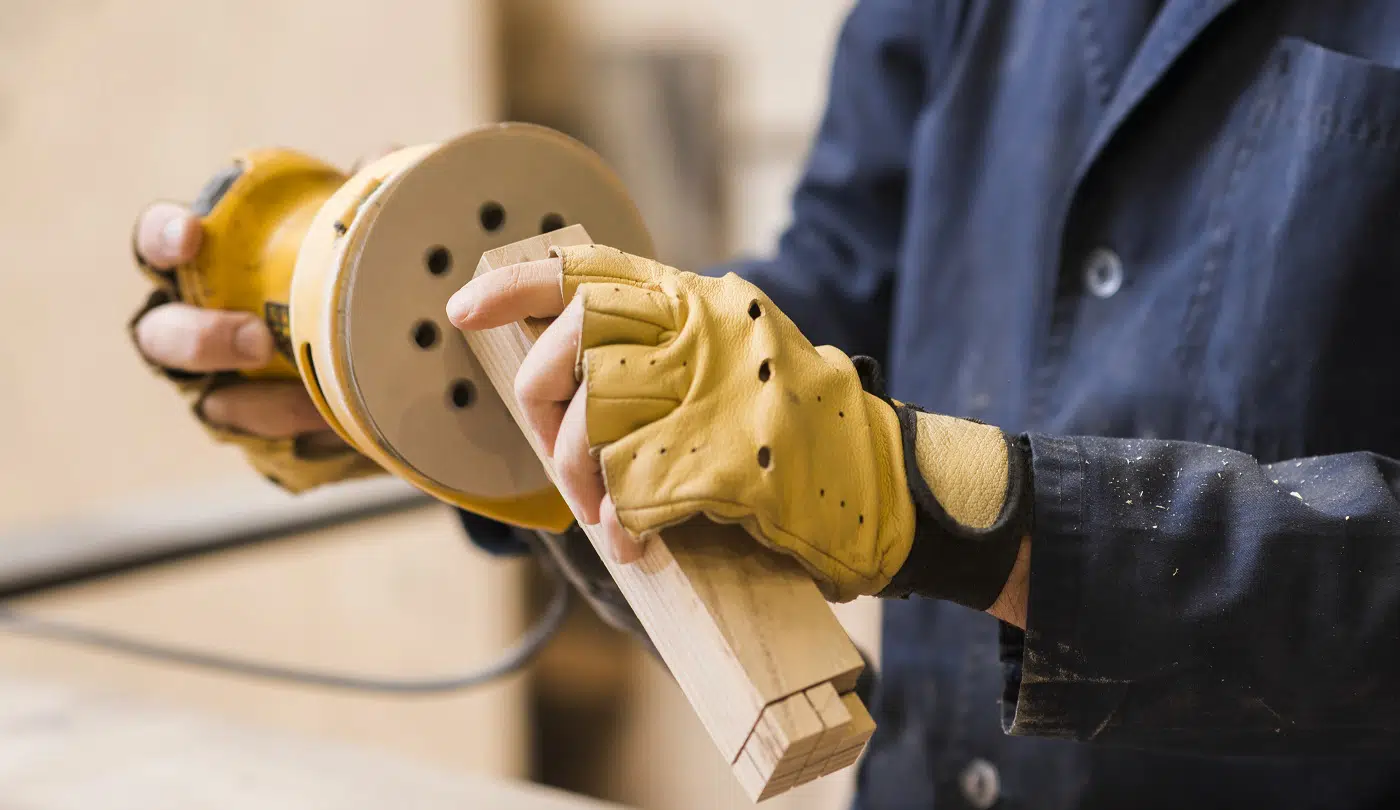 Without sanders, polishing and prepping surfaces would have been one hell of a job!
While most of us may not be professionals in the field, we certainly don't mind a little professional help in this regard. Yes, you have guessed it right- we're referring to power sanders. But many people drop the idea simply because the plethora of options leave them confused.
That's why we have taken it upon ourselves to review the best power sanders on the market and help our readers make the right decision. So, let's begin, shall we?
Top Sanders For Deck Refinishing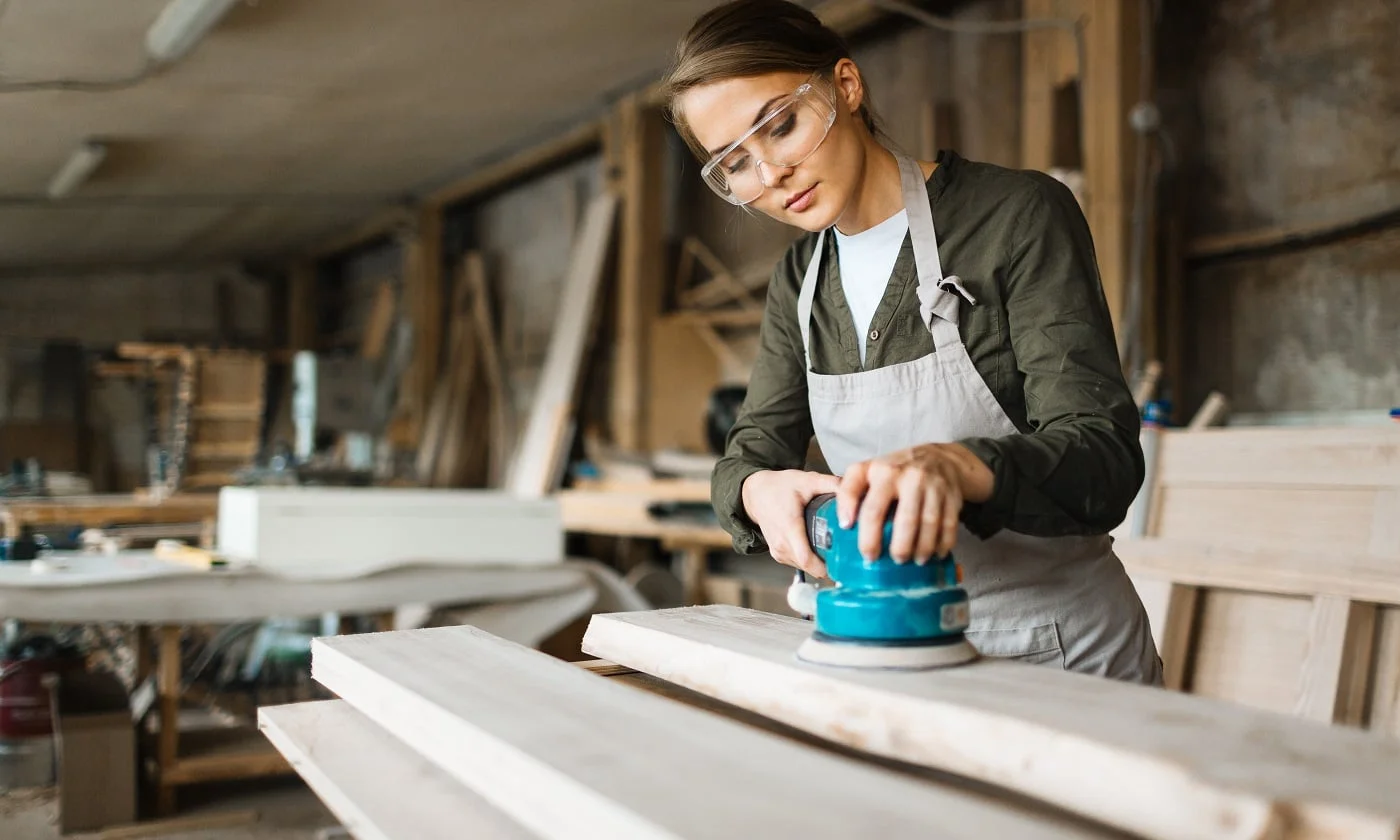 No list of power tools can be complete without mentioning Dewalt, so here it goes. The Dewalt DCW210B Max Orbital Sander is a cordless model designed for optimal runtime efficiency. With a compact design, it will easily reach the hard-to-access corners on various surfaces.
Sale
Why Did We Like It?
To begin with, let us just say that this cordless sander truly upholds the reputation of the brand. At the heart of it lies a robust, brushless motor that's powered by a 1.5AH rechargeable battery. It supports 7 different speed options, with an oscillation count ranging from 8,000 to 12,000 per minute. 
Beyond that, the 5-inch sanding surface has an 8-hole hook-and-loop sanding pad. Depending on the requirement, you can stick on a suitable sanding paper for superior finishing. This design allows for better dust pickup, ultimately prolonging the life of the sanding paper.
Even at the highest speed, we could get around 45 minutes of intense, uninterrupted sanding. Further, the low-height design allowed us to reach remote corners easily without losing control. The rubber over mold grip also plays a crucial role in ensuring user comfort.
Lastly, the dust collector bag has an easy one-handed locking mechanism for secure attachment. You may remove it to directly connect the sander to any compatible vacuum for dust removal. 
What Could've Been Better?
It may be useful to know that the Dewalt DCW210B isn't the most affordable option out there, and nor does it include any battery or charger. In that sense, the budget may be a constraint for potential users.
Pros
Overmold rubber grip negates hand fatigue

Fast sandpaper change

Optimum control and long run time

Detachable dust collector bag
Another one of our top recommendations is the Bosch ROS20VSC Palm Sander. It has a powerful motor and long service life to take on most heavy-duty sanding jobs. Besides, the conveniently located controls make the overall operation a breeze.
Sale
Why Did We Like It?
At first glance, it looked a lot like the Tacklife PRS01A Orbit Sander, and thankfully, the performance wasn't too different either. The Bosch ROS20VSC runs on a powerful 2.5-amp motor with an oscillation range of 7,500 and 12,000 OPM. You can change the speed via the red knob located beside the power cord inlet.
Its biggest advantage is the integral pad dampening system that has been specially designed to eliminate any swirl marks on the surface. Furthermore, it has the brand's trademark HookTight hook-and-loop disc attachment, which doubles as a velcro adhesion for the sanding papers. It has around 35,000 long-life hooks to prolong the service life of the attachment.
Additionally, this palm sander has an in-built microfilter system to trap particles as small as 1/2 microns. It attaches to a twistable dust canister for making the dust level visible to users during use. And with the soft-grip top, you can hold it in any position comfortably. 
What Could've Been Better?
Since the sand canister tends to get full rather quickly, some users may find it annoying to constantly clear the canister during operation. Also, we observed that the low-speed settings disturb the control for fine sanding and just make the unit bounce around. So, you might as well use it at top speed!
Pros
For both smooth and contoured surfaces

Low-vibration operation

Dust preventing microfilter

Dust-sealed power switch
Cons
Dust canister fills up quickly

Low-speed settings may interfere with the control
The Makita BO5030K Random Orbit Sander comprises the right blend of aggression sanding with an ergonomic design. It accounts for professional-grade finishing, ideal for users looking to best-in-class orbit sanding in different surfaces.
Why Did We Like It?
If you're familiar with power tools, then you don't need us to introduce Makita! Its BO5030K Random Orbit Sander comes across as a suitable tool for sanding all types of wood. For this, it utilizes a high-torque 3-amp motor with up to 12,000 OPM. At the same time, the large ball bearings prolong the service life even with continuous use.
Combined with the ⅛-inch random orbit action, it offers a smooth finish. In addition, the pad control system takes care of the speed setting during startup. This is a good way to ensure that the sanding pad doesn't initiate vigorous sanding from the get-go. And since the switch is dust-sealed, users don't have to worry about contaminating the circuit with all that dust.
It has a dual grip design in the sense that you can hold it either at the top or just around the sanding pad. Both of them are wrapped in a thick layer of rubber to reduce vibration for maximum comfort. 
What Could've Been Better?
For all things good, we feel that the unit could have employed an adjustable speed mechanism, especially since the motor tends to heat after some time. Also, it doesn't come with any sanding paper, which is a bit disappointing for the price.
Pros
Through-the-pad dust collection

Rubberized palm grip

Conveniently located switch for one-hand operation

Wide-mouthed fabric dust bag
Cons
Not variable speed

Doesn't include sanding paper
At the halfway mark, the Skil SR211601 Random Orbital Sander makes an entry. This affordable unit has all the features of a high-end model to facilitate precise sanding on varied materials.
Sale
Why Did We Like It?
Frankly, we weren't expecting a lot from this humble-looking tool, but we were proved wrong in time! Firstly, it runs on a powerful 2.8-amp motor with 13,000 OPM, which is in line with light to medium-duty sanding. 
And unlike the Makita BO5030K, it doesn't miss out on the variable speed controller, thereby enhancing the versatility factor quite a bit. It's located conveniently for practically one-finger operation.
Not that it produces immense vibrations, but we'd still say that the rubberized grip does a good job at counterweighting the overall balance to ensure comfortable user convenience. The elongated extension prevents cramping from long hours of operation.
Moreover, the compact design easily fits in cramped spaces without letting the user lose control of the process. The clear X-flow dust collector utilizes a distinct cyclone force to collect the dust to the tee, which then gets transferred to the clear easy-to-empty container.
Last but not least, the package comes with 3 sanding papers. At this price, there's hardly anything more than we could have asked for. 
What Could've Been Better?
Similar to the Bosch ROS20VSC Palm Sander, the small dust container fills up quite quickly. Also, the instructions don't state that the pressure applied during sanding will influence the speed, meaning users may need some time to figure out the amount of pressure needed according to the sanding speed.
Pros
Swirl-free finishing

Quick changing sanding sheets

Rubber grip and low vibration

Easy to attach dust collector
Cons
Small dust canister fills quickly

Inadequate pressure can disturb the speed
For those of our readers who want to do away with the hassle of corded sanders, we have just the right option. The Black+Decker BDCRO20C Cordless Orbital Sander has earned rave reviews from users and as such, finds a place on our list.
Sale
Why Did We Like It?
First and foremost, it runs on a 20V battery and delivers up to 12,000 OPM, which in turn provides fast speed while sanding almost any surface. However,  it's surprisingly lightweight and weighs around 3.5 pounds even with the battery installed. The 30% more compact design than some of its leading competitors facilitates trouble-free access. So, that's a bonus!
It has an efficient hook and loop system that allows users to attach the sanding papers in one swift motion. All you have to do is align the holes of both the 5-inch sanding pad and paper, and stick the latter on top. The sanding pad also doubles as the "dust collector" and transfers the accumulated sawdust or sanded paint into the dust collection attachments.
In the absence of a dedicated grip handle, we liked how almost the entire exterior has rubber padding for users to adjust their grip as convenient. 
What Could've Been Better?
We aren't particularly impressed with the battery life as it doesn't last more than 30 or 40 minutes with a single charge. Hence, you may want to use it exclusively for lightweight DIY or intermittent sanding jobs. And the power switch may be a bit tricky to locate, especially for first-timers.
Pros
30% compact design

Rubber grip

Detachable dust collector

Easy paper changes
Cons
Low battery life

Power switch is difficult to locate
True to its brand name, the Craftsman CMEW231 Random Orbit Sander is an efficient tool for beginners or hobbyists looking to get superior finishing on any surface. It operates at a relatively high speed to help you get through the task in a jiffy!
Sale
Why Did We Like It?
As opposed to the Skil SR211601 Random Orbital Sander, the robust appearance of this sander made us set high hopes, which were met for the most part. Firstly, it operates on a high-power 3-amp motor with 12,000 OPM for optimum speed. Besides, the cooling vents located on the grip and near the sanding pad negate the chances of overheating for injury-free sanding.
We absolutely loved how the on/off switch is located right at the front for users to operate it with one finger. Plus, its dust-sealed design makes it completely resistant to continuous sanding. 
The onboard dust bag is made of high-quality fabric to prevent sawdust contamination into the surrounding air. Once you remove it, the resultant port is meant to be directly connected to a compatible vacuum cleaner for a thorough cleanup.
Overall, the Craftsman CMEW231 Random Orbit Sander comes across as one of the most cost-effective options on the market. 
What Could've Been Better?
Although the instructions say so, it was extremely challenging to connect a standard 1 ¼ shop vac hose to the cleaning port. Other than that, we felt the grip is slightly large compared to some of our other recommendations. Thus, some users may find it difficult to get a firm hold on the tool.
Pros
Dust-sealed switch

Includes dust bag and one sanding disc

Rubberized grip

3-year limited warranty
Cons
Doesn't really fit the standard vac hose

Big grip
As we near the end of the list, we thought it's only fair to include one more cordless sander in the form of the Ryobi P411 One+ Random Orbit Power Sander. It offers good quality, high-speed sanding without compromising user control.
Why Did We Like It?
For the unversed, Ryobi is known to manufacture power tools for homeowners within a reasonable price range, and this product is no exception. Despite coming across as somewhat intimidating at first glance, we were decently satisfied with the operation. For instance, you can control it using either the top or middle grip, both of which have a rubber coating.
Running on an 18V battery, it can produce up to 10,000 OPM, making it perfect for any sanding or polishing job on various surfaces made of wood or metal. With the right pressure application, it can accomplish the job rather quickly. 
Similar to all of our other recommendations, the sanding pad uses a hook-and-loop mechanism that correlates to quick and easy attachment of the sanding papers. Besides, the package comes with a dust bag that attaches to the vacuum port. We also appreciate how it's located on a side and not in the middle to hinder proper grip. 
What Could've Been Better?
Unfortunately, it couldn't solve a couple of issues that we have already faced earlier. First, the small-sized dust collector bag needs to be emptied frequently during constant sanding. Second, we'd have liked the battery to last longer than 35 minutes on a full charge. In hindsight, you may use it for smaller touch-ups around the house.
Pros
Includes sanding pads

Rubber grip minimizes vibrations

Detachable dust bag

Lightweight and easy to control
Cons
Fast draining battery

Small dust bag
The Porter-Cable 7346SP Random Orbit Sander is a premium power tool from the brand that's designed to meet all your polishing and sanding needs. Integrated with multiple user-friendly features, it will suit both novices and pros.
Why Did We Like It?
First things first, it's powered by a 4.5-amp motor, in-built with high overload protection for prolonged service life. Moreover, it runs on the standard residential power supply of 120V which won't rack up the electric bills. And just like all random orbit sanders, it doesn't leave behind swirl marks on the surface for a clean finish.
An all-out highlight is the removal side handle that can be detached and fixed in different directions. In other words, users have the luxury of "customized grip" according to their convenience. The proprietary 6-inch counterbalance facilitates use with 6-inch polishing or sanding pad. Aside from that, the ball-bearing supported sanding pad resists the wear and tear of regular use.
Finally, the variable speed system ranges between 2,500 and 6,800 OPM (controlled by the electric speed-control dial) for top-notch versatility. 
What Could've Been Better?
As we've mentioned before, it's a premium product that may not fit every budget. But we're pretty bummed out that even at this price, it doesn't come with a single sanding paper or any related accessory.
Pros
Overload protection motor

Two-position removable handle

Roller bearing construction

Variable speed controller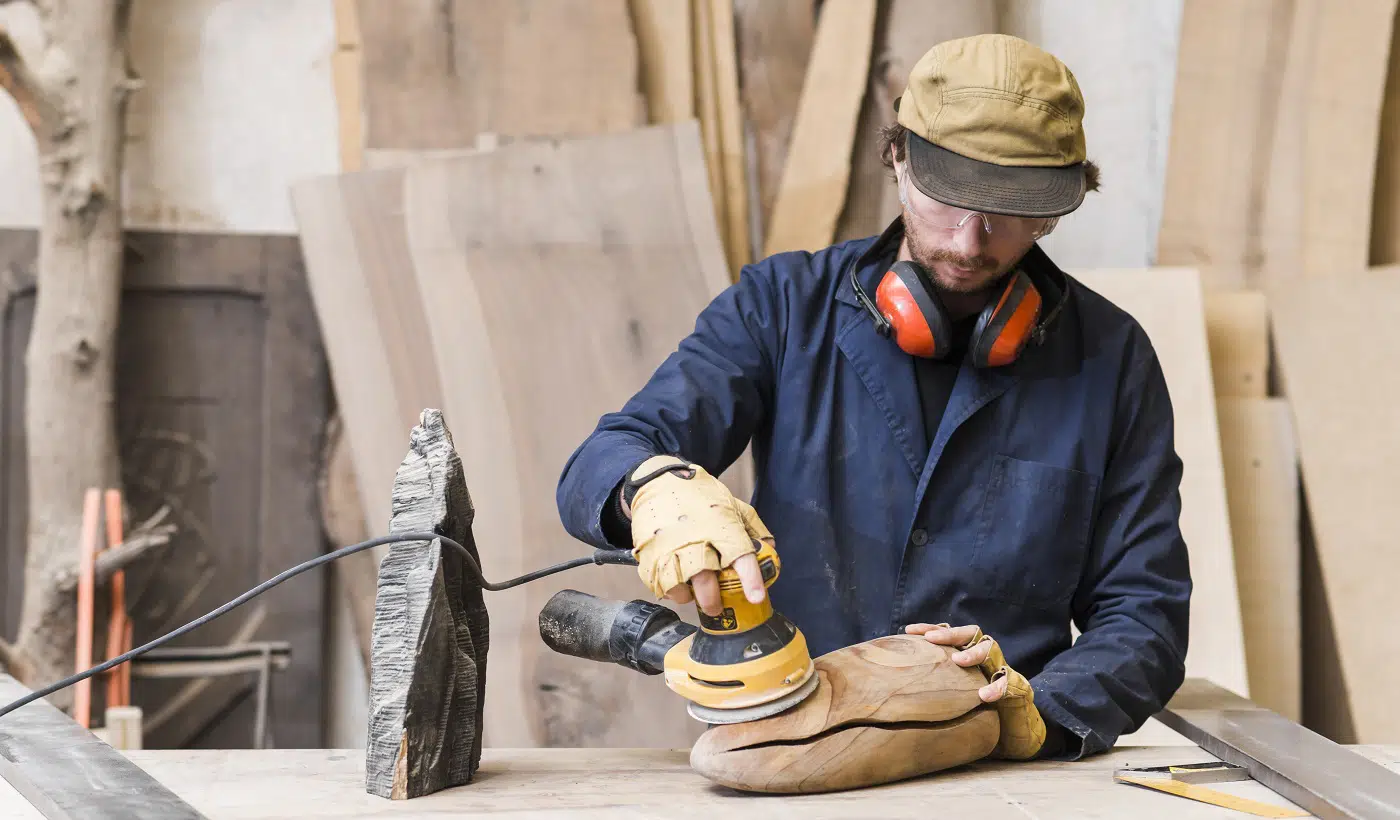 Deck Refinishing Sander Buyer's Guide
Having a list of the top names worth considering, albeit important, doesn't complete the job of getting the best sander. Why, you ask? Because without some key features, it's highly likely that you'd end up with a model that doesn't fit your requirements. And to help you avoid that, here we are with a short buyer's guide, so hang on tight!
Disc Size
Undoubtedly, the disc size is a crucial feature to consider even before you can set eyes on a particular model. Also known as the disc diameter, it gives you a fair idea about the area the sanding pad can cover. If you plan to take on larger projects, we'd suggest going for a 6-inch disc. Otherwise, a 5-inch disc should be enough for intermittent or small-scale DIY tasks.
Speed
The speed of a sander is directly related to the strength of the motor of the tool. A powerful motor will produce high OPM (oscillations per minute), thereby enhancing the speed of the sander. Another thing to note here is that many models come with a variable speed mechanism to suit different sanding requirements. That's why we'd strongly recommend going for such a model.
Corded Vs. Cordless
Generally, users who use their sanders indoors prefer corded sanders, which are also suitable for long hours of operation. Likewise, cordless sanders are portable and a good option if you don't have a power source nearby. But in that case, you will have to carry the charger and extra batteries for uninterrupted operation. 
Grip
Although the grip design is a matter of convenience, we'd advise getting a model that has a rubber over mold to reduce vibration and prevent hand fatigue, especially during long hours of sanding. 
Dust Protection
As far as dust protection is concerned, there are two main things to look out for- a dust-protected seal and a dust collector container. Most sanders have detachable dust bags/containers for quick cleanup.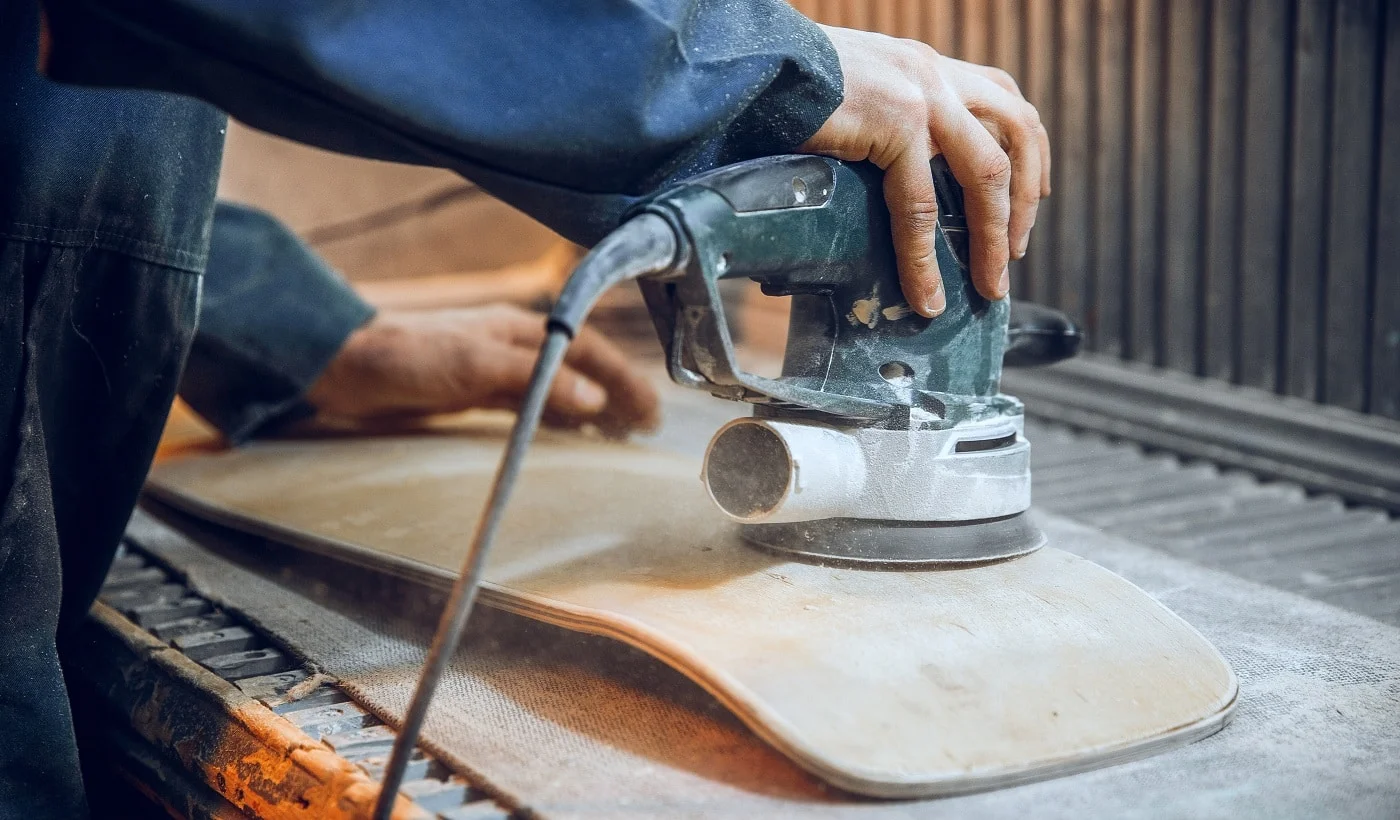 Verdict
That brings us to the end of today's guide!
Given the advantages and convenience of a sander, we don't see why you should delay purchasing one any longer. After all, there's no better feeling than being able to accomplish seemingly professional tasks on your own! So take your time and go through all the information. In the meanwhile, let us name our top three favorites from the list.
The Tacklife PRS01A Orbit Sander has variable speed settings, and the Bosch ROS20VSC Palm Sander has a pad dampening system. And if you want to go cordless, we'd suggest trying the Dewalt DCW210B Max Orbital Sander.
Agree with our verdict? Let us know in the comments down below.
Till we meet again!
Related Articles
13 Best Cordless Oscillating Tools 
Simply the Best Stained Glass Ring Saws 
49 FREE DIY Router Table Plans For an Epic Home Workshop
10 Best Shop Vacs For Dust Collection 
11 Best Hammer Drills on the Market Today
11 Best Tap And Die Set on the Market Today | Buyer's Guide
13 Best Tile Saws Reviewed | Buyer's Guide
6 Best Chainsaw Brands to Consider 
11 Best Sliding Compound Miter Saws
Different Types of Saws & How to Use Them 
Table Saw Vs. Circular Saw [Differences & Winner]
Single Bevel Vs. Double Bevel Miter Saw  
11 Best Belt Sanders Right Now
13 Best Random Orbital Sanders